Fernando Alonso: Back on Top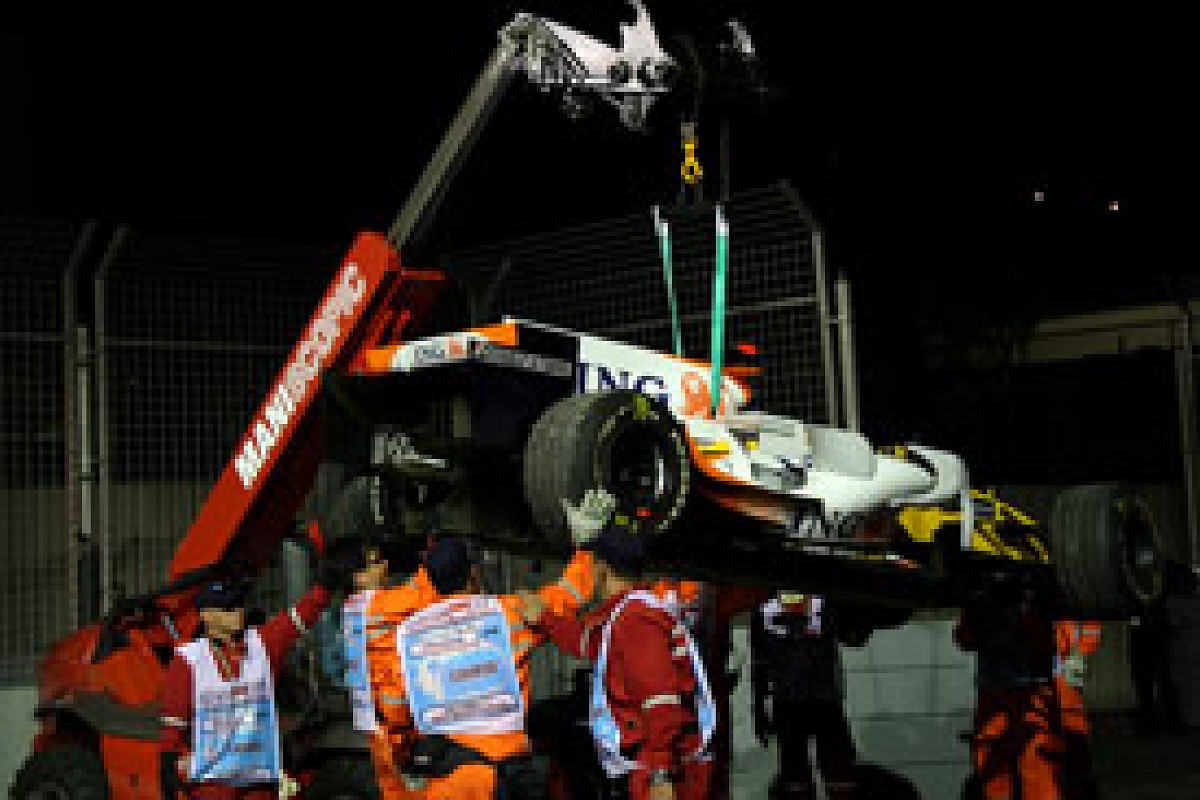 For a second successive race, Formula One threw up an unexpected winner in Singapore. This season was supposed to be all about McLaren and Ferrari, but three other teams have won, and only once - in Spain - have we had a podium comprised only of drivers from the top two teams.
If any other combination was going to win a race this year, it seemed likely to be Fernando Alonso and Renault. Even when unexpected opportunities do arise, it often takes experienced winners to fully take advantage, although that wasn't the case in Monza. But then Sebastian Vettel and Toro Rosso won from pole, and Fernando Alonso and Renault did it from 15th.
"I had no expectations," said the Spaniard after the flag. "We were hoping for rain, safety cars, whatever. It was just more a hope than a reality. Our simulations said P12, P11, maximum. And today was a very big surprise."
Qualifying: A missed opportunity
In fact, Alonso looked good from the very start of the meeting. Aware that Singapore was something of a level playing field, he went for it from the off. He was seventh in the first session, behind all the usual suspects and the equally impressive Nico Rosberg. But he then topped both the second Friday session and the crucial Saturday 'morning' session.
There was the usual stuff about who was running what fuel and so on, but he certainly looked committed out on track. Later he said bluntly: "I was much heavier than people think."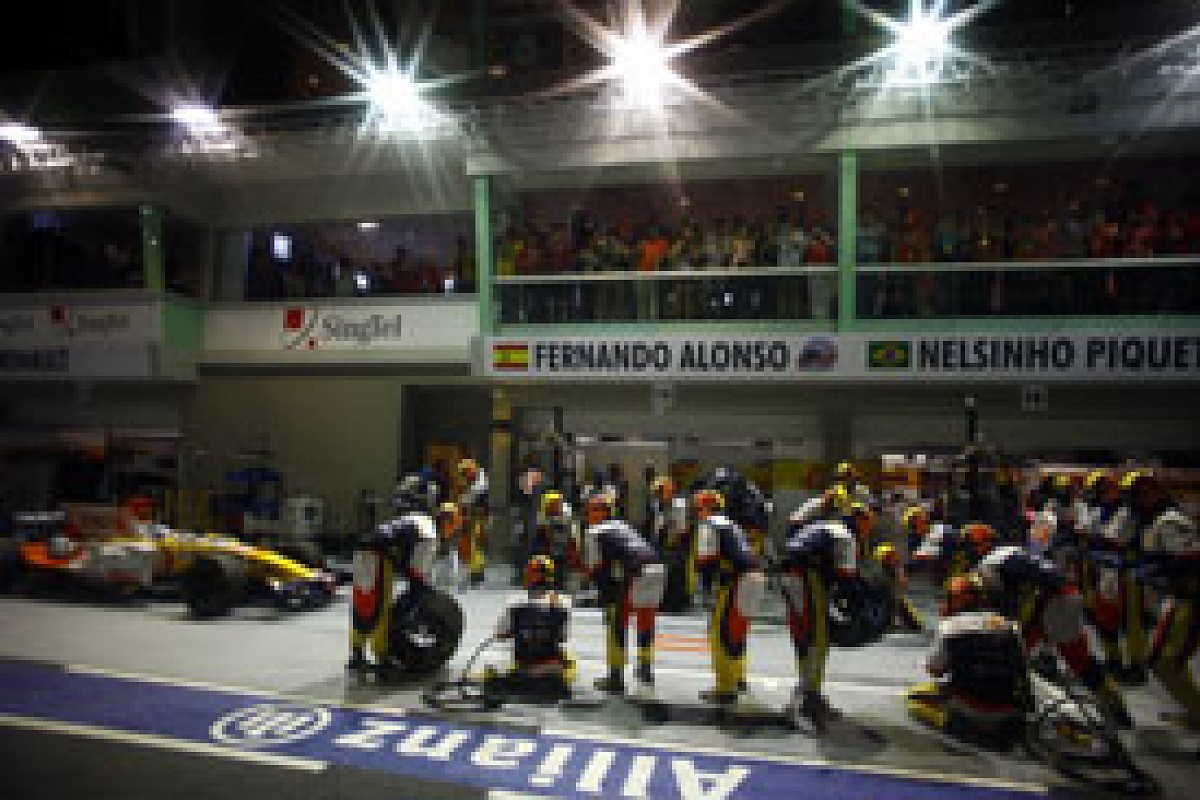 Marshalls crane away the Renault of Fernando Alonso during qualifying © XPB
Going into qualifying he was obviously confident. Sixth in Q1 was a good start, again behind the four world championship contenders, plus Kovalainen. He even had a quick spin exiting Turn 13, albeit on a lap already spoiled by yellow flags.
"It was my mistake. I went onto the throttle too early, I had wheelspin, I tried to control it, but it was too late. It was no good because we had yellow flags two corners before that."
He went into Q2 fully expecting to be solidly in the top ten. He would then able to juggle with fuel loads to get in amongst the McLarens and Ferraris in Q3. But then the car coasted to a halt before he'd even done a time, leaving him stranded in 15th at a track where overtaking was clearly going to be difficult.
The cause was a bizarre fuel system problem, as Pat Symonds later explained: "You have to have a dry break coupling so that if the car crashes and the engine comes off, it seals. That popped off."
The body language as Fernando got out of the car said everything. He made his frustration clear after the session.
"I am very confident with the car, I learned the circuit very quickly, I enjoy driving here, and I had a special motivation this weekend. Everything went very well.
"In Q1 we found that, at least for us, the prime tyre was much better this weekend. We were running with supersofts just to be in the top six and I really think Q2 was a very good opportunity for us to be competitive. Also I think if we were in Q2, then maybe Hamilton would be P11, because he was P10. And with all these things a podium tomorrow was maybe not too difficult."
His focus on Hamilton's problems was intriguing - was it a little sign that he's taken a close interest in his old pal's progress? In fact he was making the simple point that had Lewis not been in Q3, thanks to Fernando bumping him out, then the chances of everyone else near the front would have been improved.
Strategy: Tomorrow never knows
The usual strategy for a driver in such circumstances is to fill the car up, go for a one stop, and hope that something like a safety car plays into your hands. That's what propelled Nelson Piquet to second place at Hockenheim when Timo Glock's crash occurred just as his ultra-late stop was due.
In Singapore, Jarno Trulli went for what turned into a marathon 33-lap first stint from 11th on the grid - four places ahead of Fernando.
Things are not always so clear cut however, and there are always other factors to take into consideration. Alonso was obviously not happy with the performance of the supersoft tyres, despite setting quick times on them at the end of practice. He certainly wasn't keen to commit to them for half a race distance.
"It was the only set remaining so I had to use the supersofts just at the end of the session, because I'd used all the primes during the session. I knew already on Friday and Saturday I was quick, but with the prime I was even quicker, so the pace was there all weekend."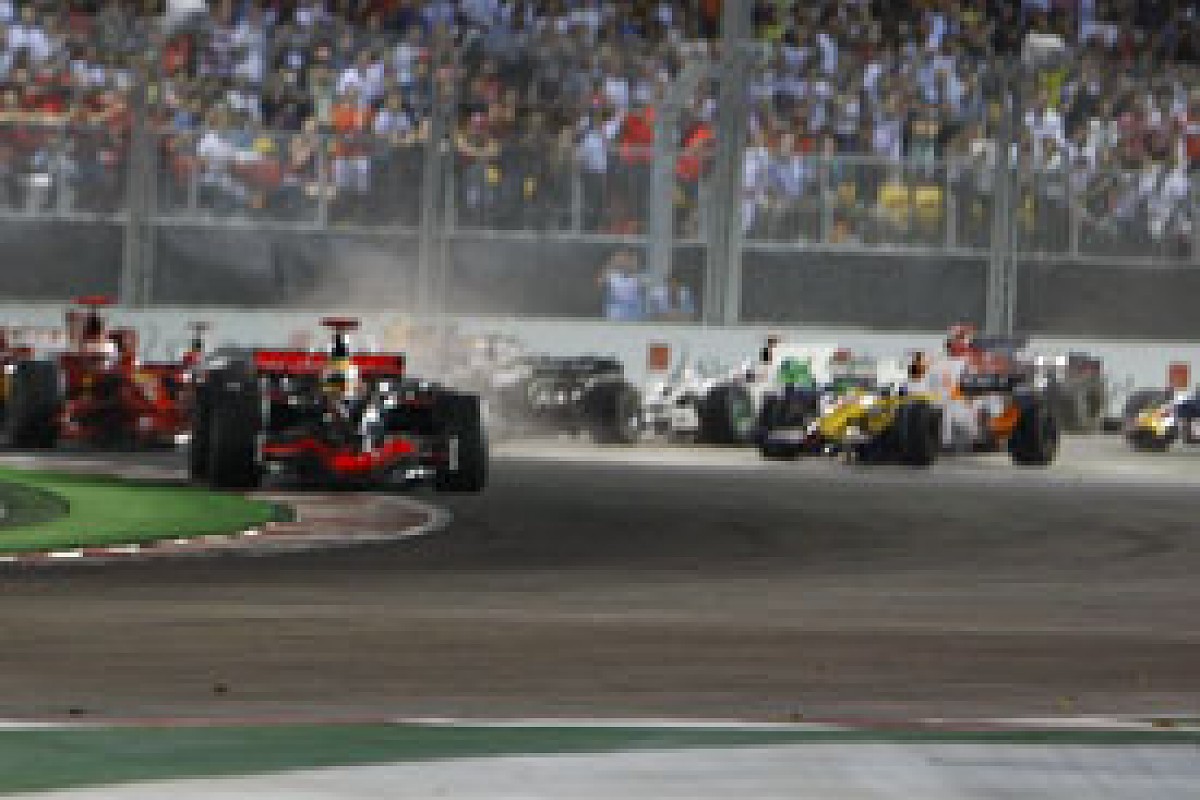 Fernando Alonso makes an early pitstop © LAT
The other major concern was brakes, which appeared to be marginal for Renault in Singapore, as they have been in the past in Canada. It was that more than anything else that drove Renault towards an early first stop.
The hope was that being lighter than most of those around him would help Fernando gain a few places in the early laps. By then, dropping out of the group at an early stage he would potentially have a clear track for a while and be able to run at his optimum speed. If a safety car then popped up before most of his rivals had pitted, so much the better.
"I had decided we were going to sort of reverse everything," says Pat Symonds. "Get rid of the supersoft tyre, which we didn't like, and get out of the traffic quite early. I think the dilemma was that if he'd had one of these stunning first laps and put himself up into fourth place, or there had been a shunt, then it would have been a bit difficult. We definitely would have been on the back foot then."
It was a gamble, a real roll of the dice that could have backfired. Flavio Briatore was clearly in a sort of 'nothing to lose' mood, because he even told folk from other teams exactly what Renault was up to. I heard on the paddock grapevine some time before the race to expect an early stop from Alonso.
The start: You can't do that
There was a lot of pressure for Fernando to make up some ground on the first lap and he did an impressive job, getting the three guys immediately ahead - Coulthard, Webber, and Button - at the first corner. And thereby hangs a tale.
I watched most of Saturday's practice and qualifying action from the first corner, in part because I wanted to see how the controversial pit exit was turning out (it was terrifying).
Generally, drivers coming out had to brake hard to let anyone on the track by, but if it got a little too tight, there was another solution - drive inside the kerb, across the dusty painted run-off, and rejoin the track. A few people did it on Friday and, while it was actively discouraged by the FIA, Sebastian Vettel did in Saturday practice.
In Q1 there was an interesting moment when Alonso and teammate Nelson Piquet came out together and, since someone was coming, they both cut across the run-off area in team formation, throwing up clouds of dust.
My point is that come start of the race, Fernando aimed for exactly that spot. And I say aimed, because it wasn't that he had to avoid a spinning car or anything.
To be fair, a few cars in front, Nico Rosberg, squeezed by Sebastian Vettel, went across the kerbs. But funnily enough, the only other driver to cut across the run-off - albeit not quite so obviously - was Piquet. Presumably, the two Renault guys knew they would find sufficient grip.
I was standing right there on the inside of the corner, a few metres from the apex, so I had a pretty good view. So too did my little camera and when I showed the footage to Button at Singapore Airport on Monday, he just grinned: "He passed about three of us doing that," which was a pretty good assessment. In fact it could have been four, because he was pretty much ahead of Kazuki Nakajima as well. It almost looked like Fernando felt a little guilty and thought he'd let at least one car back in front.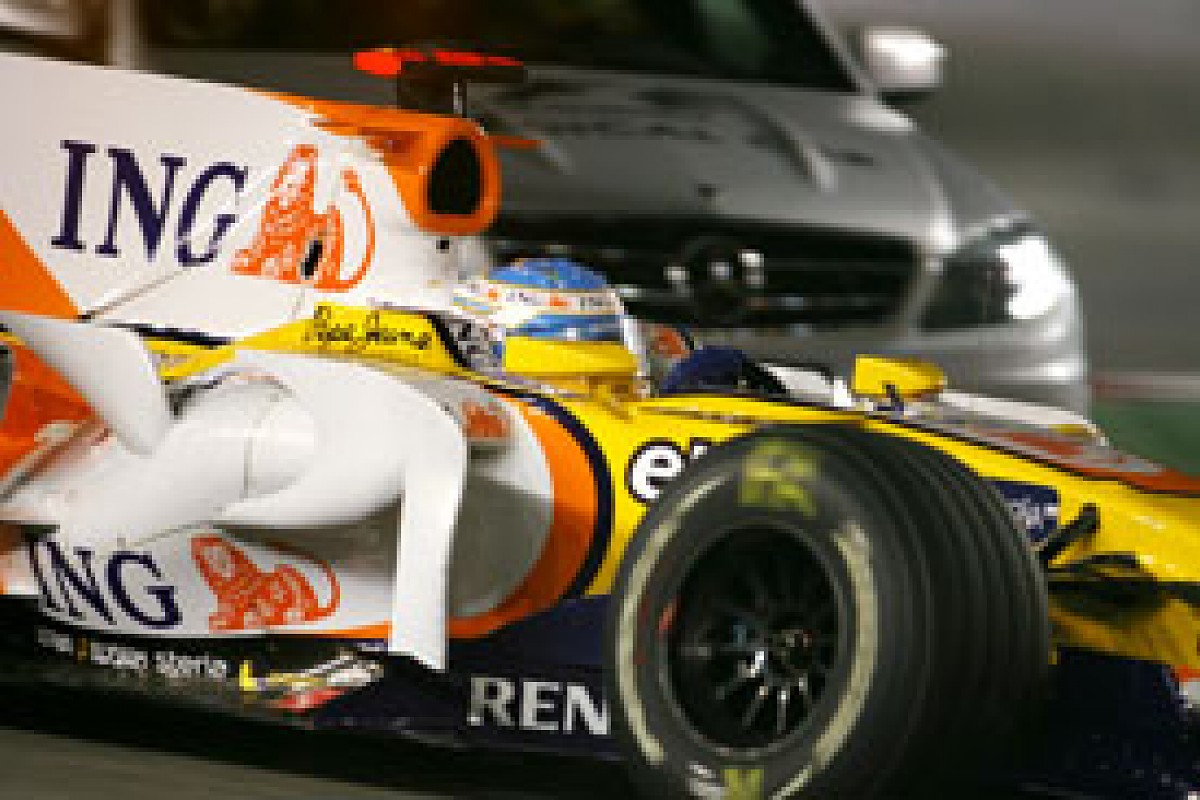 Fernando Alonso short cuts the chicane at the start © LAT
Bearing in mind all the recent fuss about gaining an advantage, was Fernando lucky to escape punishment? The precedent is not so much Spa, but Magny-Cours, where Hamilton was penalised for passing a car in a first lap scramble.
Obviously things can be a little scrambled in the opening seconds of a race, but is there a difference between gaining an advantage on the first corner, and later in the first lap? Or is there a difference between a world championship challenger and someone who, at least at that stage of the race, could not be regarded as a contender for anything other than a midfield finish? Interesting questions. Anyway, the stewards apparently later decided that the matter was not worthy of further action.
Alonso was now in 12th place, behind Trulli, Rosberg, and Nakajima. A huge fuel load ensured that Jarno wasn't going very quickly, and everyone behind him lost ground, although eventually they began to force a way past. But the damage was done and by lap 11 Fernando was a massive 52s down on leader Felipe Massa. On the following lap, he dived into the pits.
"We stopped two or three laps before we ran out of fuel," says Symonds. "We had fuel for 14, it looked like we would get to 15, but we stopped on 12 because we were stuck.
"The plan was a three-stop. If we'd got through and got into the top six in the first few laps, it would have been a disaster in a way, because we were short. Knowing Fernando, we thought that's where he could be, so in fact our primary strategy was a three-stop. When we were stuck, we knew how to convert to a two, because we'd pre-prepared it all."
He meant stuck behind Nakajima, but in fact the Williams was over 3s clear and even in those two or three extra laps Fernando would not have caught it. More to the point was that he'd had enough of the supersoft tyres.
He emerged from the pits firmly in last place, now an incredible 1m24s behind Massa - enough to get you lapped in many races - and 4s off Giancarlo Fisichella, who had started from the pit lane. And then on lap 14 a miracle happened - his team-mate crashed and triggered a safety car period.
The safety car: Payback for qualifying
"It's like Hockenheim, you just didn't dream that one was going to happen," says Symonds. "At Hockenheim we absolutely put ourselves in the position to take advantage of that sort of that sort of thing.
"Here it was a little bit different. I never at any point thought 'OK, what about an early safety car?' You might think of it on the first lap, but you don't think of it on the 14th lap or anything like that. To be honest you don't think that. Somewhere in the back of your head it's there, but you're not thinking it's going to happen."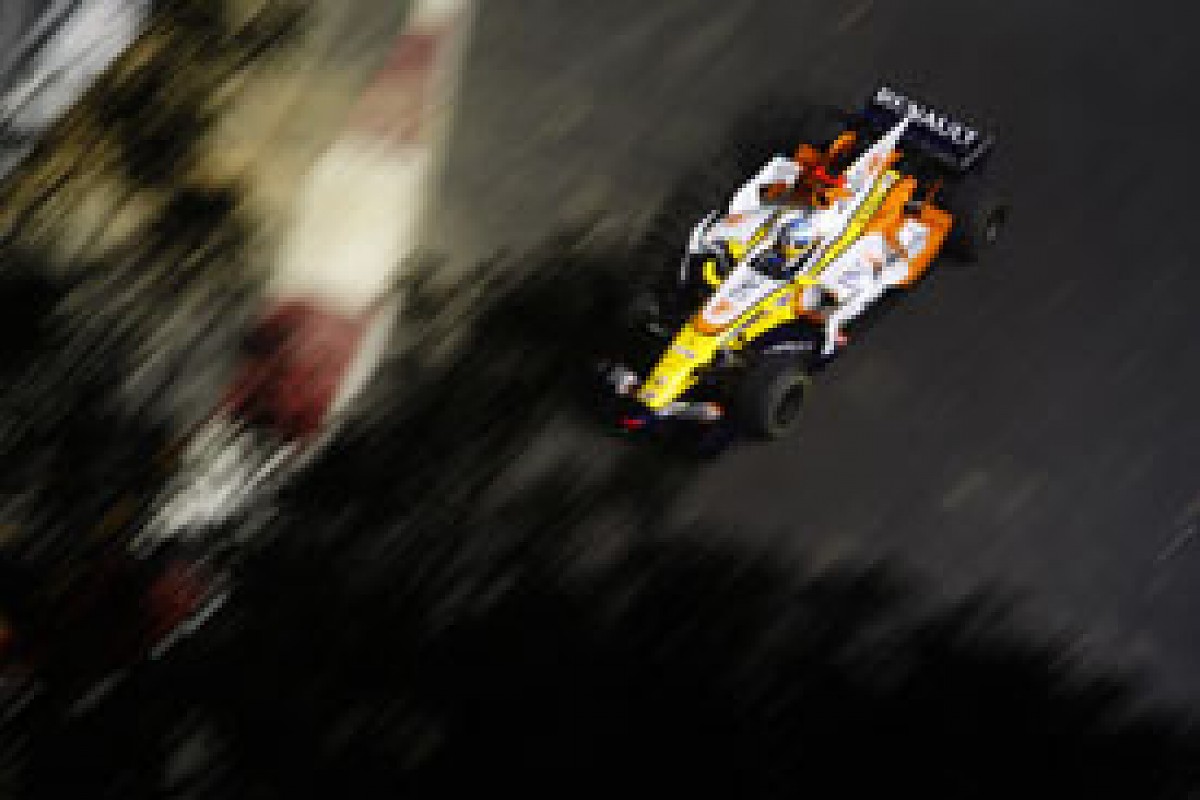 Fernando Alonso between the safety and medical cars © XPB
In fact, Fernando did suffer a bit of bad luck at this point. The safety car came charging out right in front of him - in fact it almost collected Fisichella - so while everyone else was still able to run pretty quickly as the queue formed, he was trapped. Had he just missed being caught, he would certainly have been ahead of Kubica in the queue.
There's no space here to go into detail about who did what and when during the safety car but, as they lined up for the restart, the order was Rosberg (due a penalty), Trulli (without a stop but clearly slow on a heavy load), Fisichella (ditto), Kubica (due a penalty), Alonso, Webber and Coulthard (both having gained by just beating the pit closure), and Hamilton - the first of the original lead group.
You didn't need a super computer to realise what all this meant. The race was now Alonso's to lose and it was a question of whether Hamilton could fight his way past the Red Bulls.
Even if he could, Fernando clearly had the pace, not to mention the motivation, to hold off the McLaren.
It got a bit more complicated when the delay in issuing the penalties allowed Rosberg to unexpectedly build up a lead, but that's a whole other story. Everything else panned out perfectly for Renault. It didn't help that Webber soon dropped out, but Coulthard did his engine supplier a huge favour by keeping Hamilton behind until the second stops.
Of course, at the time it wasn't all that straightforward. An unintentionally hilarious team radio message revealed that Renault had dropped a few of the balls its strategists were juggling.
"In all honesty our strategy system wasn't working properly," said Symonds. "We weren't getting a proper feed from FOM, so I was doing quite a few hand calculations and things. We got it back prior to the end, but at that stage we weren't even sure if it was a 61 lap race or a two-hour race, we were that far out with everything."
"Some of the time the team were talking with me they were very aggressive with me," said Alonso. "Like telling me 'drive on the maximum.' I'm driving 100 per cent guys, don't worry!"
The key was for Fernando to get his second stop done and dusted before a second safety car could pop up and influence the situation. In the end, he came in on lap 41, immediately after second-placed Rosberg. It would have been silly to do anything except respond. Crucially, he came out just in front of the Coulthard/Hamilton battle, so now it was clear cut - this was Fernando's race. They in turn pitted in response.
"I was trying to understand which ones pitted under the safety car conditions," said Alonso. "Then there was a moment when we were leading the race, but if there was a safety car in that moment, maybe we were in a problem. After the second stop, when I joined the track, it was 100 per cent victory."
Fernando Alonso at speed on the Marina Bay circuit © LAT
It wasn't a walk in the park, however, as Rosberg was close enough to be a threat and there was no margin whatsoever for a spin or a trip up an escape road. In the end, it was an impeccable performance.
"The last lap was very, very gentle, no big movements with the car, just to cross the line. It was very physical because the humidity was very high, no time to relax in this track. It's corner after corner, maximum level of concentration as well, because maybe you touch the barrier.
"We've been two times on the podium this year, one in Hockenheim with Nelson and one here and both times maybe thanks to the safety car, so we've been lucky in that aspect. We were thinking to do a one-stop strategy, but we had no brakes to do it, so we found a very aggressive strategy with only 12 laps in the first stint. It worked at the end, so obviously we have no complaints with the strategy.
"It was a great race, I did no mistakes all weekend and it was nearly a perfect weekend for us, apart from qualifying. The race worked so well. I don't know if we can repeat this performance in the next three races, but thanks to everybody today."
It was a superb team effort, as the Renault guys showed their world champion credentials and took full advantage of an opportunity that fell into their lap. But it could all have looked very different. The man Fernando should really have thanked was, of course, his teammate.