PRACTICE
Practice 1 - Friday AM
It's never a surprise to see rain at Spa and so it was that only 10 runners actually recorded dry lap times in the 28 minutes before the clouds released their cargo on the Ardennes circuit.
Jarno Trulli was fastest in the opening practice session © LAT
Of those 10 cars, Jarno Trulli was the quickest - setting a 1m49.675s - shortly before a heavy and persistent downfall changed the characteristics of the track for the rest of the session. Behind him, Jenson Button was second fastest ahead of Fernando Alonso.
The world championship leader was not happy about the rain however as the Brawn team lost valuable time in its search for low temperature grip with Bridgestone's tyres.
Of the wet runners, Giancarlo Fisichella was fastest in the Force India ahead of Nico Rosberg's Williams and Alonso's Renault. Amazingly there was very little broken carbonfibre on the track post-session, despite the predictable flurry of offs. Only Sebastien Buemi required a new nosecone after spinning at Pouhon.
Practice 2 - Friday PM
World champion Lewis Hamilton produced a sequence of ragged, on-the-limit laps at the end of a sunnier second session to go fastest ahead of the ominously quick Toyota of Timo Glock. But the McLaren driver would later claim his pace would not be enough for him to be a contender over the weekend.
Behind those two were Kimi Raikkonen's Ferrari and Mark Webber's Red Bull. Renault rookie Romain Grosjean attacked the circuit with vigour and was an impressive fifth fastest - more than 0.5s faster than team-mate Fernando Alonso. Interestingly, Giancarlo Fisichella showed dry pace as well as wet to go sixth fastest.
Another rookie, Jaime Alguersuari, also impressed in ninth place for Toro Rosso. His STR4 did cause havoc at the end of the session when a failure appeared to cause problems at the Fagnes chicane. Both Raikkonen and Hamilton ran off the track at the same place shortly afterwards.
Meanwhile at the back, Ferrari's stand-in Luca Badoer completed another day as the slowest runner, just over 2s off the pace of the leaders.
Saturday Practice
A rather uneventful final practice saw Nick Heidfeld spring a surprise with the improving BMW Sauber to emerge on top of the times just when it looked like Adrian Sutil, who had dominated the session for the most part, would go fastest in FP3 for Force India.
In the end, Sutil had to settle for third place, as Trulli and his Toyota continued to show strong pace at Spa. The unusual top of the timesheet was completed by Grosjean, fourth in the Renault, and Glock, who like Trulli was again on form thanks to the competitive pace of the TF109.
Championship leader Button had another low-key session and finished in 10th position, with team-mate Barrichello down in 16th.
There was trouble again for Red Bull, with Mark Webber suffering the team's third engine problem in two races. The Australian, who got a new engine for qualifying, managed just three laps and failed to set a time.
QUALIFYING
1. Giancarlo Fisichella - Force India-Mercedes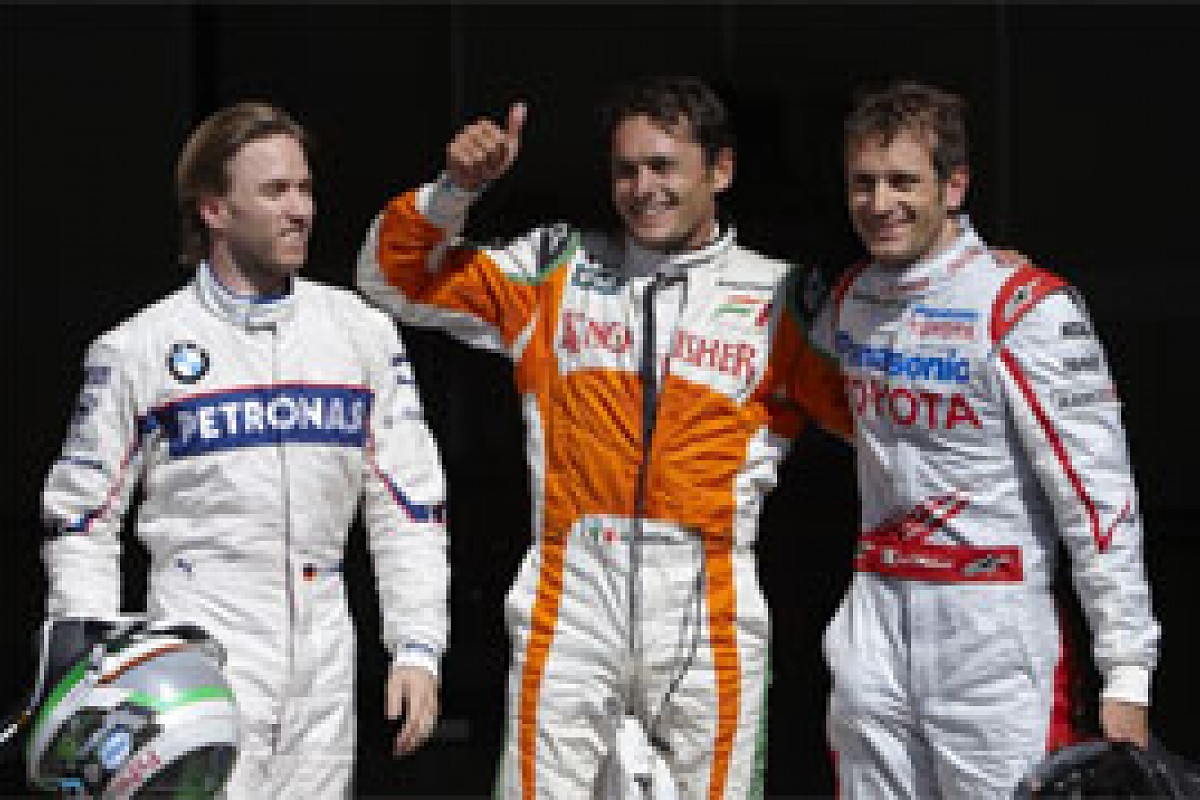 Nick Heidfeld, Giancarlo Fisichella, and Jarno Trulli were the surprise front runners © LAT
Shocking was the best way to describe what Fisichella managed to do on Saturday at Spa. The Italian had shown his speed already in Q1, but the fourth fastest time in Q2 suggested there was more to come, and such was the case. With the second lightest car of the field, Fisichella gave Force India its maiden pole and set the team up perfectly for its first point-scoring result of the season.
2. Jarno Trulli - Toyota
Having not modified much on the car since the previous race, Trulli was at a loss to explain Toyota's return to form in Belgium after a poor showing in Valencia. It was nonetheless a welcome surprise for the Italian, who showed his pace right from the start of the weekend, culminating with a fantastic front row slot.
3. Nick Heidfeld - BMW-Sauber
Another team which was surprised by its sudden return to form was BMW Sauber, which found the missing pace thanks to the nature of the Belgian circuit. Heidfeld made the best of the most competitive car he's had all season and gave the German squad a boost as it continues to fight for survival.
4. Rubens Barrichello - Brawn-Mercedes
Brawn admitted the tyre warm-up 'curse' was back at Spa, despite the optimism following Barrichello's victory in Valencia. The weather, however, was very different in Belgium. Despite that, Barrichello put on a good effort to make it to Q3, although the Brazilian was using the lightest car of the field.
5. Robert Kubica - BMW-Sauber
Like Heidfeld, Kubica felt BMW's improvement straight away and looked set for a stronger result in qualifying. However, the Pole had an engine change ahead of the grid-deciding session and from then on he felt his car was not as fast as it had been with the previous unit. Fifth was still a good result, but Kubica believed more was possible.
6. Kimi Raikkonen - Ferrari
Despite qualifying down on the third row, Raikkonen looked like one of the favourites for victory on Sunday considering the cars he had in front of him. The Finn was not too pleased with his position, but with KERS on board and a decent fuel load, there was reason for optimism at Ferrari.
7. Timo Glock - Toyota
Although he was carrying less fuel than team-mate Trulli, Glock was unable to extract the maximum from his Toyota to get closer to the front positions. He was still happy that his team had managed to solve its qualifying issues and, given his strong race pace, a good result was very much possible.
8. Sebastian Vettel - Red Bull-Renault
Probably everyone expected Red Bull to be much more competitive at Spa, so it was hard to explain why the team was not fighting near the top. Vettel, whose running in practice was cut short because of his engine situation, admitted a mistake in his final run ruined his chances of a better result.
9. Mark Webber - Red Bull-Renault
The engine problems that Red Bull had at Valencia continued at Spa, and Webber was forced to have an engine change ahead of qualifying. The issue with the Renault unit meant the Australian faced the session having not managed to set a time in final practice. He was still close to Vettel, but also far from the positions the team expected.
10. Nico Rosberg - Williams-Toyota
Rosberg was quick to discover that his hopes of a first podium finish of the season were gone, despite talking up his chances before the first wheel turned. As it turned out, Williams was not in the same form as in previous races and it was a good effort that Rosberg managed to reach the top ten.
11. Adrian Sutil - Force India-Mercedes
Unlike Fisichella, Sutil was unable to get the softer tyres to work at their best during qualifying. Although the German was happy with his car, the problem meant he could not find the extra tenths needed to go into Q3 to complete a sensational day for Force India.
12. Lewis Hamilton - McLaren-Mercedes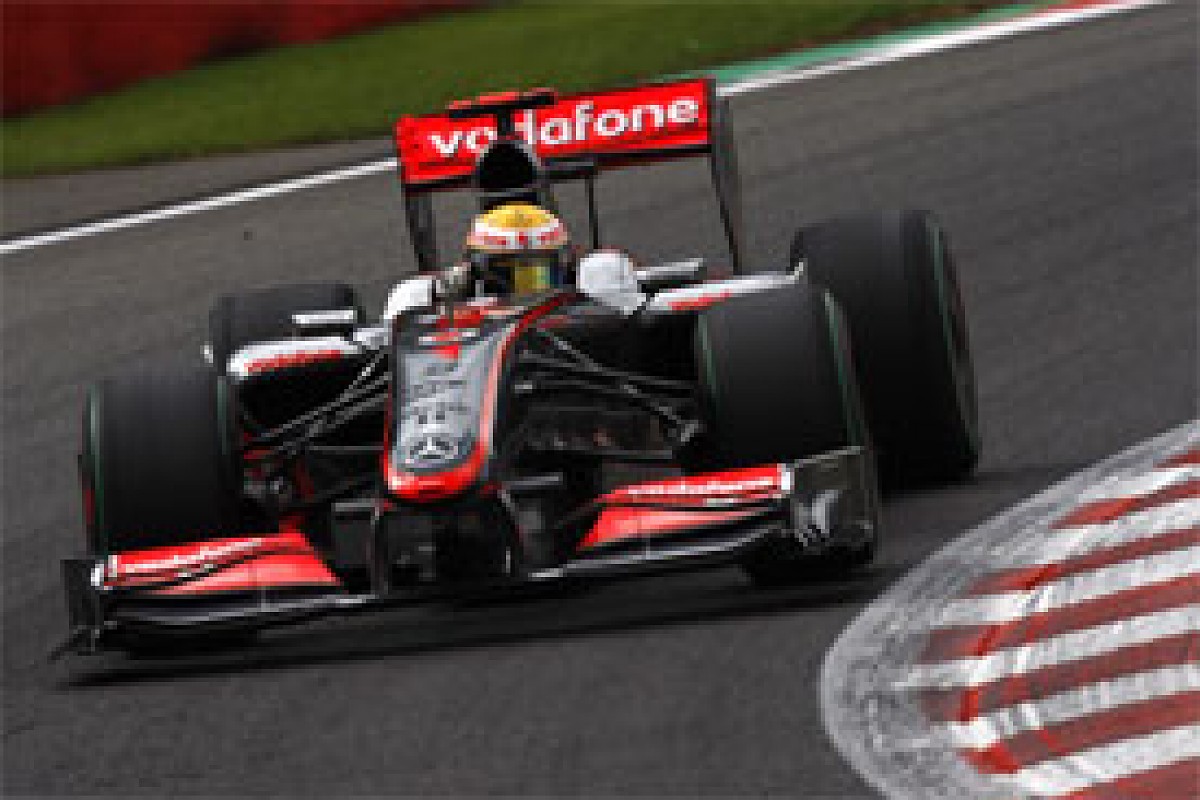 Lewis Hamilton failed to advance to the final ten © LAT
The world champion conceded there was simply no more speed to extract from his car, and that the two tenths he needed to make it to Q3 were simply not there. In such an extremely close session, the McLaren's lack of downforce proved a crucial factor, leaving Hamilton with very slim chances of repeating the success of previous races.
13. Fernando Alonso - Renault
Like Hamilton, Renault driver Alonso discovered that his car was not capable of more at Spa, despite having fared better in the last few races. The Spaniard admitted he did not know what to expect from qualifying, and he too was stuck in the group of famous names failing to reach Q3.
14. Jenson Button - Brawn-Mercedes
"I just could not find the pace with the soft tyre," was Button's explanation for his struggles in qualifying. The championship leader had no answers to his team-mate's pace and so was left in a difficult position for the race, again. It was no wonder he was worried about his championship lead after the session.
15. Heikki Kovalainen - McLaren-Mercedes
The Finn conceded his team was likely to struggle in qualifying despite a decent showing on Friday. Although McLaren has made progress since the early season, Spa's middle sector was too big a challenge for the MP4-24 and Kovalainen wound up half a second behind Hamilton.
16. Sebastien Buemi - Toro Rosso-Ferrari
Buemi felt confident that he had a fast car after Friday's practice, but his prediction did not prove to be accurate come Saturday, when the Swiss driver missed the Q1 cut by a mere 0.002 seconds. Traffic and a mistake at the end of his second run left the Toro Rosso driver disappointed.
17. Jaime Alguersuari - Toro Rosso-Ferrari
The Spaniard showed more progress in his third Formula 1 grand prix, finishing less than a tenth behind team-mate Buemi and in his best position to date. It didn't hurt that Spa was the first track where he had previous experience and where he had shone in Formula 3.
18. Kazuki Nakajima - Williams-Toyota
It was clear that Williams was in trouble at Spa right from the start of the weekend, when both Rosberg and Nakajima struggled to repeat the kind of pace shown in recent races. With that in mind, there was little the Japanese could do in qualifying, ending up nearly a second off his team-mate's pace.
19. Romain Grosjean - Renault
Grosjean looked to be in promising form in practice, having outpaced team-mate Alonso in two of the three sessions. Qualifying was a different story, however, and the Frenchman was over half a second off the Spaniard's pace. Traffic didn't help his cause, but it was still a disappointing day for Grosjean.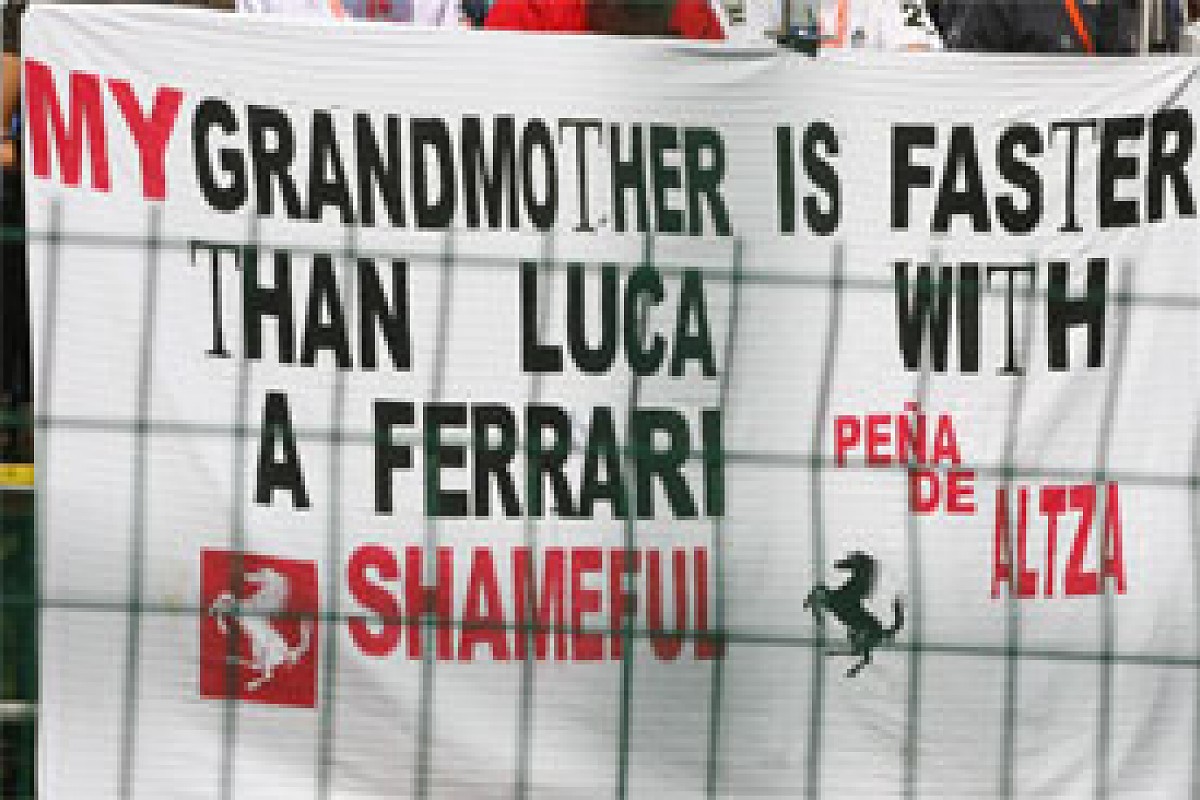 Fans show their support for Luca Badoer © LAT
20. Luca Badoer - Ferrari
To his credit, Badoer fared much better than in Valencia in terms of pace, but it was far from a competitive performance from the Italian, who only managed to outpace a rival in final practice. The rest of the time he was at the back of the field, and his hope of making it to Q2 - already slim - vanished when he lost control of his car and crashed on his final run.
QUALIFYING RESULTS
Pos  Driver        Team                      Q1        Q2        Q3
 1.  Fisichella    Force India-Mercedes (B)  1:45.102  1:44.667  1:46.308
 2.  Trulli        Toyota               (B)  1:45.140  1:44.503  1:46.395
 3.  Heidfeld      BMW Sauber           (B)  1:45.566  1:44.709  1:46.500
 4.  Barrichello   Brawn GP-Mercedes    (B)  1:45.237  1:44.834  1:46.513
 5.  Kubica        BMW Sauber           (B)  1:45.655  1:44.557  1:46.586
 6.  Raikkonen     Ferrari              (B)  1:45.579  1:44.953  1:46.633
 7.  Glock         Toyota               (B)  1:45.450  1:44.877  1:46.677
 8.  Vettel        Red Bull-Renault     (B)  1:45.372  1:44.592  1:46.761
 9.  Webber        Red Bull-Renault     (B)  1:45.350  1:44.924  1:46.788
10.  Rosberg       Williams-Toyota      (B)  1:45.486  1:45.047  1:47.362
11.  Sutil         Force India-Mercedes (B)  1:45.239  1:45.119
12.  Hamilton      McLaren-Mercedes     (B)  1:45.767  1:45.122
13.  Alonso        Renault              (B)  1:45.707  1:45.136
14.  Button        Brawn GP-Mercedes    (B)  1:45.761  1:45.251
15.  Kovalainen    McLaren-Mercedes     (B)  1:45.705  1:45.259
16.  Buemi         Toro Rosso-Ferrari   (B)  1:45.951
17.  Alguersuari   Toro Rosso-Ferrari   (B)  1:46.032
18.  Nakajima      Williams-Toyota      (B)  1:46.307
19.  Grosjean      Renault              (B)  1:46.359
20.  Badoer        Ferrari              (B)  1:46.957


All Timing Unofficial

THE RACE
The Belgian Grand Prix was a quite extraordinary race, following on from a spectacular qualifying session that left engineers from every team scratching their heads as they tried to work out what was going on with their own cars, never mind everybody else's.
When the fuel weight figures revealed that pole man Giancarlo Fisichella was on an aggressive but not unrealistic strategy, he became a possible winner. This was not a freaky wet weather pole that would see him swallowed up by quicker cars.
The key was always going to be the start. Could Fisichella get away safely and avoid getting involved in any silly incidents at a corner notorious for first lap trouble? Fortunately for him he did, but the bad news was that some of those behind didn't. Contact between Romain Grosjean and Jenson Button sent both into the Les Combes barriers, with Jaime Alguersuari also ploughing into Lewis Hamilton as the McLaren tried to avoid the carnage ahead.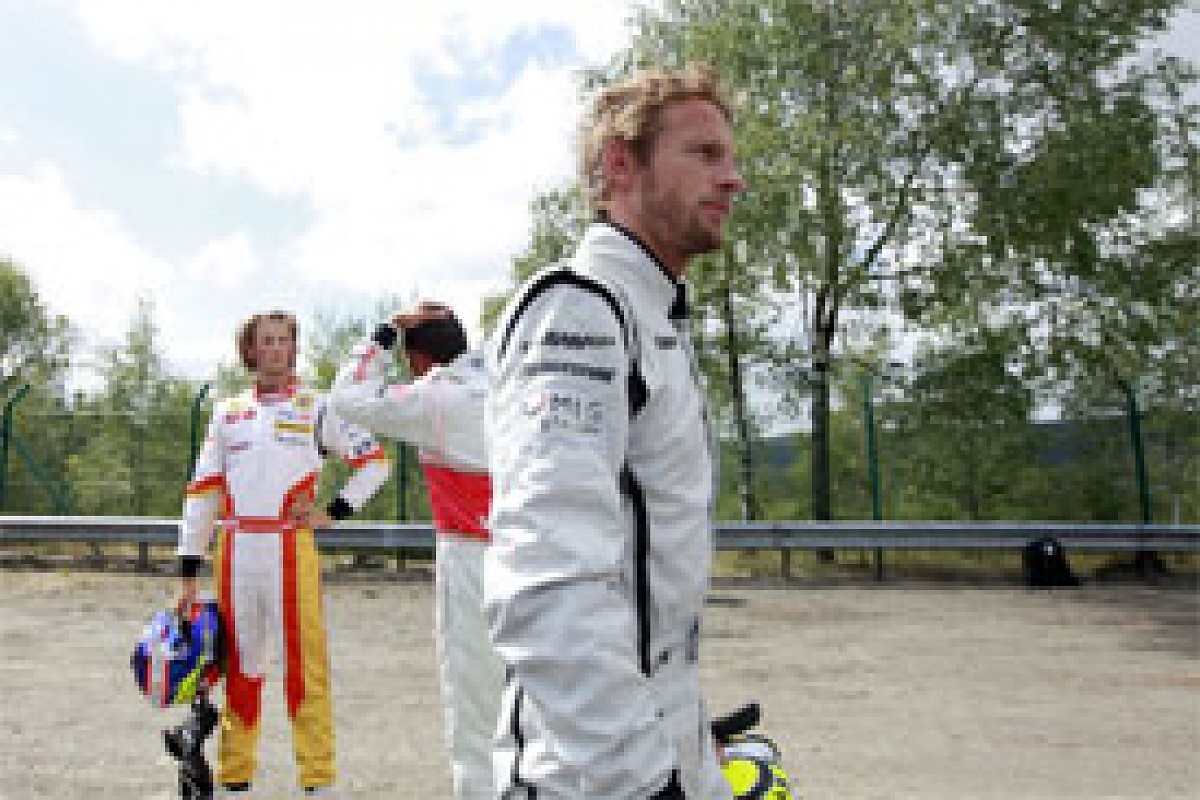 Jenson Button, Lewis Hamilton, and Romain Grosjean ponder the rest of their afternoons © LAT
That triggered an immediate safety car, which was a major blow for Fisichella. From the start he had opened up a useful advantage, helped by the fact that second qualifier Jarno Trulli hit Nick Heidfeld, and Rubens Barrichello barely got away at all from fourth.
Benefiting from his KERS boost, Kimi Raikkonen charged brilliantly up to second, but by the time he got there, Fisichella had already opened up a cushion. Not very much, but enough to ensure that he was probably going to be safe from attack on subsequent laps, with or without the Ferrari's KERS influence.
But the safety car spoiled things for Force India. When the track went green, Raikkonen in effect had a second chance. He was right with Fisichella as they crossed the line, and helped by a great tow down the hill and the inevitable push on the KERS button, he dragged past on the run to Les Combes.
It was the decisive move of the race. Fisichella had potentially the quicker car, but he couldn't use all of that speed as he spent the rest of the race staring at the back of a car he may well be driving in the next event. He might only have been a few tenths faster - not enough to get back past - but that combined with his impressive straightline speed could well have kept him ahead of Raikkonen for the duration.
"I was quicker than Kimi, it was possible to win the race," said Fisichella. "I have been unlucky with the safety car. Just after the start up to turn eight I was two-and-half or three seconds ahead of him and it was perfect. We had the same fuel load. I was a little bit lighter but maybe the consumption was less and I did a very good job behind the safety car. It was about the same strategy and I could win the race easily as I was quicker than him."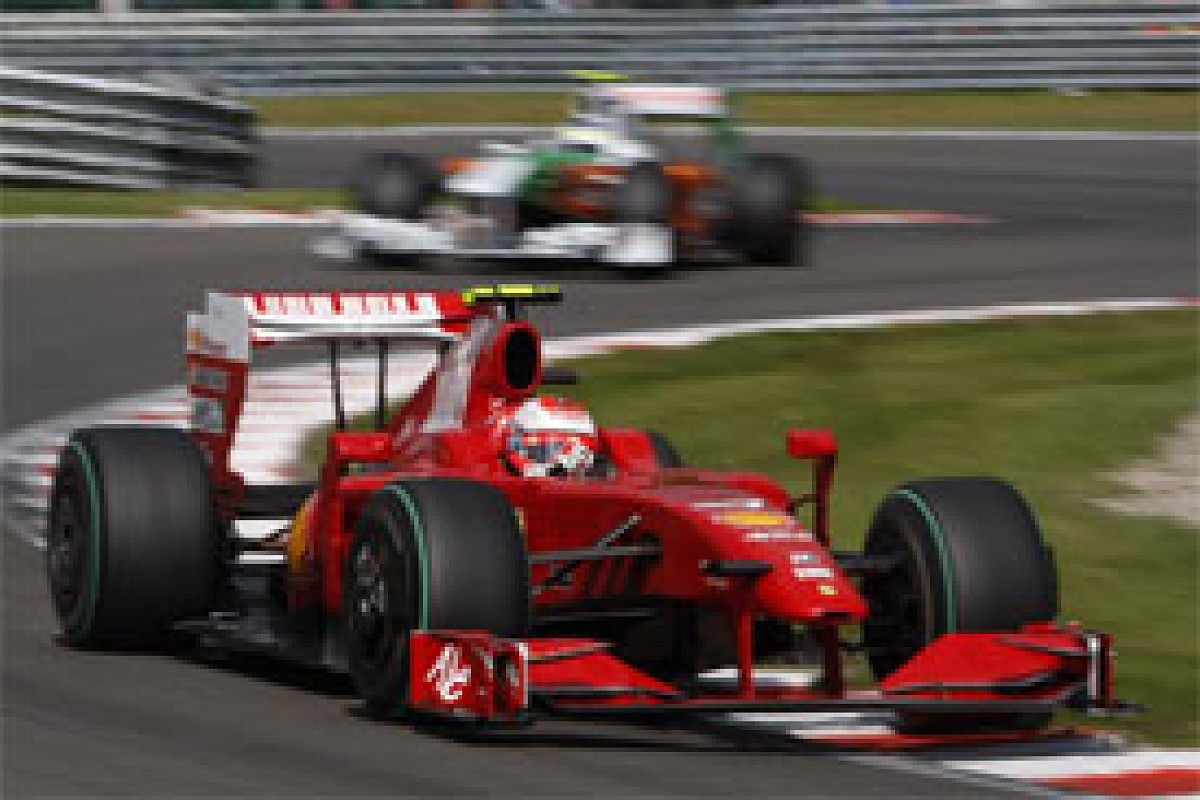 Kimi Raikkonen was pursued all race long by Giancarlo Fisichella © LAT
The only way to change the outcome was to pass in the pitstops. That seemed highly unlikely to happen since the fuel figures suggested that he was stopping a couple of laps before Raikkonen. But in the event, they came in on the same lap. That was a strange development, and the only logical explanation was that Fisichella had saved more fuel during the safety car period, and found a little more on those laps when he was sitting behind the Ferrari.
Had Force India put just one more lap of fuel into the tank at that stop - and given Fisichella the chance to make his second stop a lap later - he might well have found a way past. As it happened both teams had come up with identical ideal fuel loads for the middle stint, and they subsequently made their second stops together. This time Fisichella wasn't able to eke out enough to create an extra lap.
Ferrari was certainly concerned that Fischella had been fuelled further, and the team warned Raikkonen of the possibility, urging him to find an extra tenth or two to give himself a chance to avoid being jumped in the pits.
Once the final stops were done, they ran in convoy to the flag, neither man putting a foot wrong. However, it was more exciting in the cars that it may have appeared from outside, and different tyre choices for the second and final stints - at the first stops Fisichella stayed on options and Raikkonen went to primes - added to the intrigue.
"I knew that he was faster," said Raikkonen. "Probably we did a little mistake to put on the harder tyres at the first pit stop and they just did not warm up and maybe like three laps before the stop they suddenly started to work much better. I was able to push harder. I knew that if I could keep him behind at the pit stop it is pretty difficult for him to get past.
"They were very fast in the middle sector, coming back to the last chicane. Sometimes they got very close but I just started to use the KERS in a slightly different way to make sure he was not going to get a run on me and it was not so difficult. I mean it is hard to overtake anyhow, so it was very easy."
The battle for third place was less clear cut. Trulli was many people's tip to win, but his chances ended with his first corner brush with Heidfeld, which damaged his front wing. He stopped under the safety car and dropped to the back, but unlike some of the other cars that were delayed, he didn't have the speed with which to claw back positions. He eventually retried with brake problems.
From third Heidfeld was also well placed, but he gambled on the harder prime tyre for the start, and at La Source found that he didn't have any grip when he turned in. Then at the top of the hill he went straight across the grass, further compromising his race. With Barrichello failing to get off the line, Robert Kubica gratefully accepted third place, and held it for the two first stints.
However, by running five laps longer to his final stop, Sebastian Vettel jumped the BMW man to claim the final podium spot. This was a clean, intelligent drive from the German, who has endured such bad luck lately, and threw away a shot at victory with a mistake in qualifying that left him in eighth. However, things didn't go his way on the first lap, and he was wrong footed by various dramas ahead.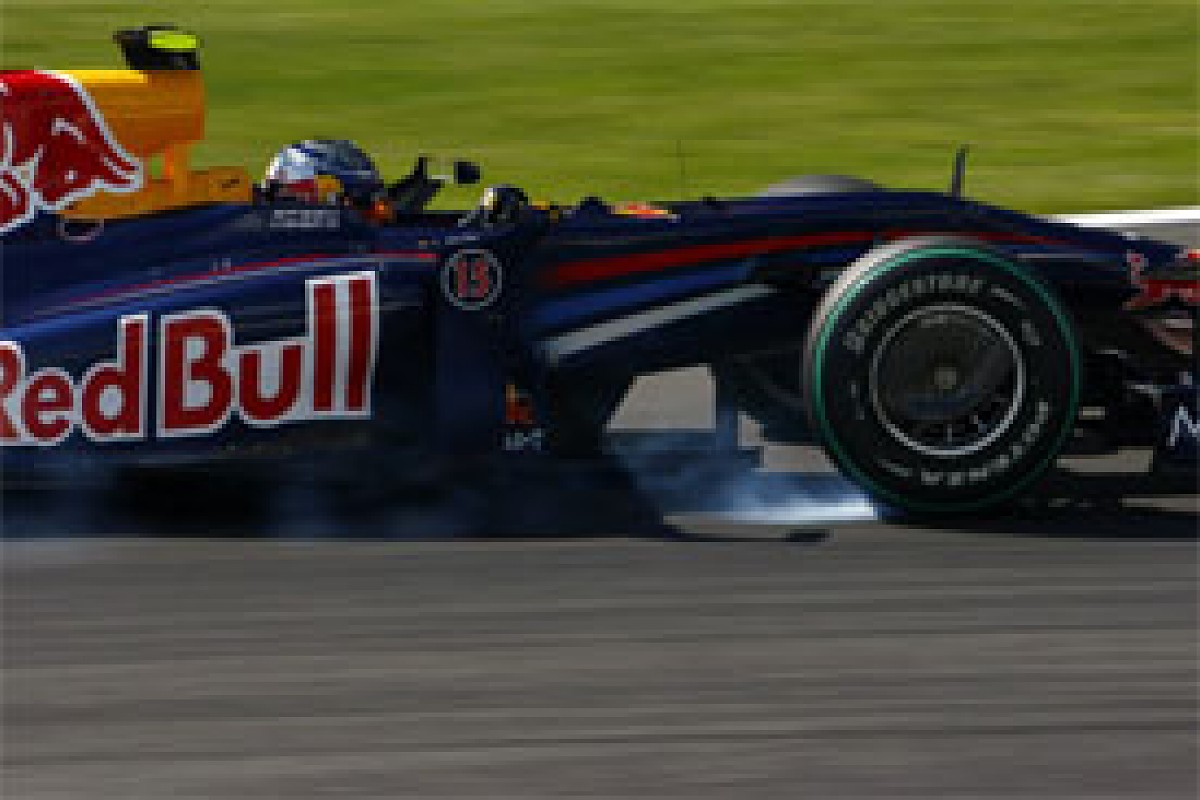 Sebastian Vettel worked his way up to 3rd at the end © LAT
"I lost the train in front a little bit up the hill through Eau Rouge," said Vettel. "Mark [Webber] was able to get in my tow, passed me around the outside and then I was probably a bit too cautious when I saw people going off. I think it was Heidfeld running wide. Yeah, I lost a place to Rosberg, because very likely the car could come spinning back, like I experienced in qualifying yesterday."
He lost touch a bit with the cars ahead. However, apart from Rosberg (who he passed early on) he was the last of the top 10 qualifiers to pit, and that moved him up to sixth in the middle stint, and two of those ahead were out of sequence one-stoppers. Fast lappery and that later second stop did the rest as he managed to move up to third. In the latter stages he was the fastest man on the track, benefiting from a clear road to close down on the leaders.
"After the restart I was able to pass [Rosberg], which was important because he was heavier and then, just because of the action, the first couple of laps after the restart again we lost too much ground to the guys in front," said Vettel. "You know it's quite different, the cars have their gaps in between. And then onwards it was difficult to catch up.
"I think we did a very good job. We had an extremely good race after that, very, very good pace. I think we were one of the longest in the second stint and still catching up the leaders as well as Robert, which then brought us to third place, and then catching up again in the last stint."
Kubica held on to fourth, while Heidfeld followed him home just 1.3s behind in fifth. A podium would have been welcome, and Heidfeld confirmed that he should have been there. But this was a useful helping of points for a team that is trying to advertise its abilities, and which had scored only one point in the previous four races.
Sixth placed Heikki Kovalainen was one of a group of midfield qualifiers to opt for a heavy starting fuel load, and a one-stop strategy. Button and Hamilton did the same, and their first lap retirements meant that we never got to see how that unfolded.
Fernando Alonso was another, and he was as high as fourth - and ahead of Kovalainen - when he made his single stop on lap 24. Once again Renault had a drama with a wheel change, but this time as a result of first corner contact which had damaged the left front corner. Having lost a ton of time he returned to the track, but the team decided that the problem was terminal. Mindful of the recent penalty and appeal, he was warned in very careful terms to head slowly back to the pits.
With these three guys out of the picture it was left to Kovalainen to demonstrate the worth of the one-stop strategy has he brought the car safely home in sixth place, and from a starting position of 15th, that was a positive outcome.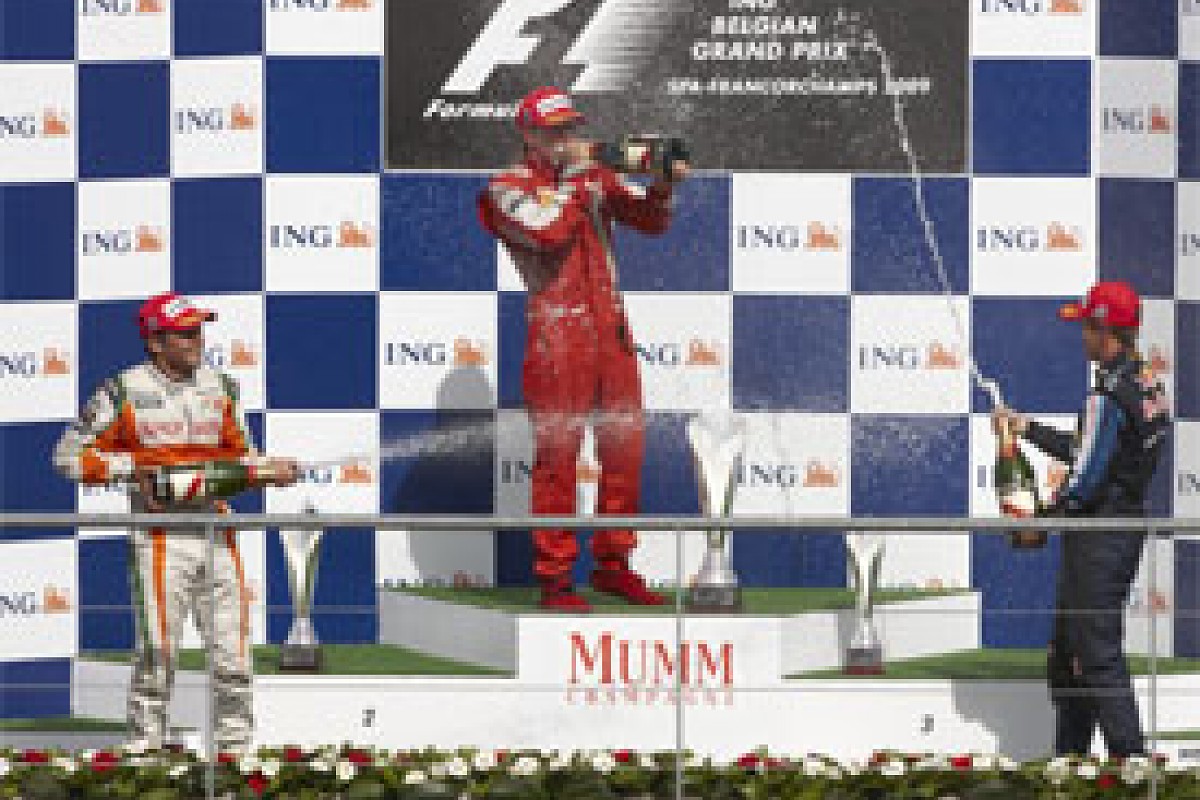 Giancarlo Fisichella, Kimi Raikkonen, and Sebastian Vettel on the podium © LAT
However towards the end he came under pressure from Barrichello, who had in effect started from much further back. Once again Barrichello got away badly and had to watch the whole field go by, before literally having to duck to avoid pieces that fell off clashing cars ahead. When the safety car came out Brawn decided to take advantage by bringing him in and fuelling him up for what was in effect a one stop, and it worked out well as it brought him home seventh.
He had a scare in the closing laps when smoke began pouring from the car, but he couldn't feel any loss of power, and pressed on to the flag. As he headed into the pitlane it caught alight in a big way, showing just how fortunate he was to make it home and earn two vital points.
The last point went to Nico Rosberg, scoring for the eighth race in succession, and consolidating 'Team Rosberg's' solo sixth place in the constructors' championship. The weekend had started out badly for Williams as the cars were clearly off the pace, and 10th in qualifying was already seen as something of a bonus, so eighth was a reasonable result in the circumstances. Rosberg didn't quite make it by the smoky Barrichello at the end, but he did hold off the attentions of Mark Webber.
Once again the Aussie failed to score a point, and his title challenge seems to have lost momentum. He started behind team-mate Vettel, but had the better first lap. After the restart he ran in a promising fifth, but at the first stops he was deemed to have impeded Heidfeld as they battled for position out of the pits.
It was a clear cut decision for the stewards, and for a second time in four races Webber received a drive through penalty. It didn't do any harm at the Nurburgring, but this one ruined his afternoon, and he was never able to make it back into the points. After a race that promised so much for Toyota, Timo Glock could deliver only 10th, a frustrating fuel rig problem ruining his afternoon.
Finally we must mention Luca Badoer, who after a race with no obvious delays or interruptions - aside from flat spotting his tyres in the first lap chaos - finished last, some 47s behind Kazuki Nakajima. His best lap was more than 2.1s off that of Raikkonen. The case for Fisichella appears to have been decisively proven...
RACE RESULTS

The Belgian Grand Prix
Spa-Francorchamps, Belgium;
44 laps; 308.052km;
Weather: Sunny.

Classified:

Pos  Driver        Team                      Time

 1.  Raikkonen     Ferrari               (B)  1h23:50.995
 2.  Fisichella    Force India-Mercedes  (B)  +     0.939
 3.  Vettel        Red Bull-Renault      (B)  +     3.875
 4.  Kubica        BMW Sauber            (B)  +     9.966
 5.  Heidfeld      BMW Sauber            (B)  +    11.276
 6.  Kovalainen    McLaren-Mercedes      (B)  +    32.763
 7.  Barrichello   Brawn-Mercedes        (B)  +    35.461
 8.  Rosberg       Williams-Toyota       (B)  +    36.208
 9.  Webber        Red Bull-Renault      (B)  +    36.959
10.  Glock         Toyota                (B)  +    41.490
11.  Sutil         Force India-Mercedes  (B)  +    42.636
12.  Buemi         Toro Rosso-Ferrari    (B)  +    46.106
13.  Nakajima      Williams-Toyota       (B)  +    54.241
14.  Badoer        Ferrari               (B)  +  1:38.177

Fastest lap: Vettel, 1:47.263

Not classified/retirements:

Driver        Team                      On lap
Alonso        Renault               (B)    27
Trulli        Toyota                (B)    22
Button        Brawn-Mercedes        (B)    1
Grosjean      Renault               (B)    1
Hamilton      McLaren-Mercedes      (B)    1
Alguersuari   Toro Rosso-Ferrari    (B)    1


World Championship standings, round 12:                

Drivers:                    Constructors:             
 1.  Button        72        1.  Brawn-Mercedes        128
 2.  Barrichello   56        2.  Red Bull-Renault      104.5
 3.  Vettel        53        3.  Ferrari                56
 4.  Webber        51.5      4.  McLaren-Mercedes       44
 5.  Raikkonen     34        5.  Toyota                 38.5
 6.  Rosberg       30.5      6.  Williams-Toyota        30.5
 7.  Hamilton      27        7.  BMW Sauber             18
 8.  Trulli        22.5      8.  Renault                16
 9.  Massa         22        9.  Force India-Mercedes    8
10.  Kovalainen    17       10.  Toro Rosso-Ferrari      5
11.  Glock         16       
12.  Alonso        16       
13.  Heidfeld      10       
14.  Kubica         8       
15.  Fisichella     8       
16.  Buemi          3       
17.  Bourdais       2        
       
All timing unofficial

Lap-by-lap as it happened on AUTOSPORT Live
TEAM BY TEAM
Ferrari
The signs were there for a strong weekend on Friday when Kimi Raikkonen ended the day third fastest just 0.084s off the pace - despite a late spin in FP2 at the Fagnes chicane. Sixth position in qualifying was deceiving, for only Jarno Trulli was heavier. Luca Badoer slowly worked closer to the rest of the pack, and off the track lost his patience with the unforgiving press. In the end he qualified last, having crashed at Les Combes.
Raikkonen made a blinding start, taking full advantage of Barrichello's bad one to blast into second by the exit of Eau Rouge. After the safety car period he lined up surprise poleman Fisichella on lap five and passed him the uphill run to Les Combes with the benefit of KERS. After that the pair ran together, flat-out, for the rest of the race as the Finn secured Ferrari's first win of 2009. Badoer meanwhile, finished last.
McLaren-Mercedes
Lewis Hamilton was unconvinced by his own pace after setting the fastest time in Friday's free practice. The world champion and his team-mate Heikki Kovalainen both complained of a lack of grip through sector two, which of course included the high-speed Pouhon left-hander. Qualifying proved Hamilton's theory correct as neither made it through Q2.
Starting 12th, Hamilton always risked getting caught up in a midfield melee, and so it was the case when Jaime Alguersuari speared into him at Les Combes in a safety car-prompting incident. Both cars were eliminated. Starting from 15th Heikki Kovalainen opted for a one-stop strategy and put it to good use, climbing to sixth by the flag with confidence-inspiring consistency.
BMW Sauber
The omens for the lame-duck team were good when Nick Heidfeld went fastest of all in FP3. Qualifying established the BMWs pace with Heidfeld third and Kubica fifth - the Pole having rued an engine change that made his car slower!
Heidfeld was annoyed with himself for starting on the harder tyre. Despite the fact that he passed Trulli at the start, his team-mate passed them both down the inside of La Source. Heidfeld's tyres still hadn't warmed up by the time they reached Les Combes and he lost more places running off the track. He believed this fundamentally cost him a podium. He flew late on as he recovered to fifth.
Kubica ran third early on after a lap one dice with Raikkonen through Eau Rouge, but could do nothing to stop Vettel stealing the last podium place at the final stops.
Renault
By the end of qualifying Alonso was mystified as to why he had not made more progress as he faced up to starting the race from 13th - he had expected more. Rookie team-mate Romain Grosjean had been impressive throughout practice, ending FP3 in fourth place. But he would start the race from the final row, having been baulked by Toro Rossos on his flying laps.
Alonso turned it around in the race and went for a long first stint. That, combined with a high number of pit fumbles and accidents in front of him, meant that by the time he pitted he was in third. But those incidents came back to haunt him, for he had hit Sutil's spinning Force India at the start which had caused terminal damage to the left-front of his car. Grosjean caused terminal damage to his entire car when he hit Button on lap one at Les Combes, eliminating both from the race.
Toyota
The team looked strong from the off and put a car in the top two in each practice session - Trulli fastest of all in FP1. It was surprising then that no one seemed to know why, given how forlorn Toyota had been in Valencia. Undeterred, Trulli produced his usual qualifying brilliance to grab a front row slot. Glock made it into Q3 to go seventh.
Trulli's race was ruined at La Source on the first lap when he hit Heidfeld's stuttering BMW on the exit of the hairpin. He pitted to change his nosecone, but this put him at the back and he eventually retired, distraught, with a brake problem. Glock ran fourth early on but a problem with the fuel rig at his first stop rendered him 10th.
Toro Rosso-Ferrari
Alguersuari ended Friday inside the top 10, which was encouraging for the Spanish rookie, while Sebastien Buemi's 11th promised good things for Toro Rosso. Qualifying brought the team back to earth as the Swiss grided 16th and Alguersuari 17th.
Buemi made his way up to 11th early on in the race but then found he couldn't get by Kovalainen's KERS-equipped McLaren, even though he believed he was faster. The team brought his second stop forward to try and jump the Finn but the plan backfired and he ended up 12th. Alguersuari's race ended at Les Combes on lap one when he hit Hamilton.
Red Bull-Renault
The team had expected to be fast with the high-speed corner loving RB5. But neither car featured at the front in free practice and Webber was forced to take an engine change after FP3. Vettel made a mistake at Stavelot in qualifying which put him eighth, but he was still surprised to be so far away from Fisichella's pole. Webber too was mystified to be ninth on the grid.
Vettel put in a champion's performance to finish third and close the gap to Button in the championship. He drove flat-out, making up for an over cautious first lap as he avoided the chaos around him. The same could not be said for Webber, who made a brilliant start but lost his race in the pits when he was released too early into the path of Heidfeld. That cost him a drive-through and any chance of points. He finished ninth, livid and behind Button, Barrichello and Vettel in the title race.
Williams-Toyota
There were long faces at Williams on Friday night when both drivers reported poor handling and bad lap times - Rosberg was 19th. Overnight changes were made and were enough to get the German through to Q3, which he completed heavily fuelled, to qualify 10th. Nakajima could not find any pace however and started 18th.
Rosberg drove out of his skin to finish eighth as his car stubbornly refused to bring its tyres to life. Nakajima had less fortune making his car work and finished a distant 13th. This was perhaps the team's most uncompetitive performance of the summer.
Force India-Mercedes
Force India had looked strong in Valencia, but the low downforce upgrade it brought to Spa turned the car into a potential race-winner, to the surprise of everyone. When Fisichella took the team's first pole, the F1 paddock nearly fell over in shock. They shouldn't have though, for the Italian was in the top 10 for much of practice. Indeed his pace was evident in Q1 and Q2 too. Sutil qualified 11th.
Fisichella took the lead at the start and broke clear of a fast-starting Raikkonen, but a crash behind him brought out the safety car. This perhaps cost the Italian a famous win, because when the pace car pulled in the Force India was defenceless to stop the KERS-equipped Ferrari from blasting by. After that, Fisichella ran happily in Raikkonen's draft and finished less than the distance behind the Ferrari that he had forsaken on lap one.
Sutil finished 12th after being punted into a spin at La Source and having to pit for a new front wing.
Brawn-Mercedes
After the joy of Valencia came the cold disappointment of Spa as Button and Barrichello ended Friday 17th and 18th. Despite this, both drivers were confident that the BGP001 would be competitive through the weekend. It was in Barrichello's hands as the Brazilian qualified fourth. Button was mortified to find himself 14th having been utterly unable to unlock the potential of the soft tyre in Q2.
That cost the world championship leader in the race when he was eliminated by Grosjean in a midfield melee. Barrichello was furious to suffer another repeat of his clutch problem at the start. He immediately pitted under the safety car, changed his strategy and charged from the back to take seventh. The Brazilian suffered an oil leak late on, which curtailed his pursuit of Kovalainen for sixth place, and actually finished the race with his car on fire.