The Belgian pole curse
Ayrton Senna won the Belgian Grand Prix in four consecutive years between 1988 and 1991, starting from pole position each time. Since then, the pole-sitter has only won three times in 15 races.
Here is what happened to the pole-sitters in those years:
| | | |
| --- | --- | --- |
| Year | Polesitter | Result/notes |
| 1992 | Nigel Mansell | Led two thirds of the race, but suffered an exhaust problem and finished second |
| 1993 | Alain Prost | Led two thirds of the race, but finished third claiming problems with the car and backmarkers |
| 1994 | Rubens Barrichello | Spun off |
| 1995 | Gerhard Berger | Electrical failure |
| 1996 | Jacques Villeneuve | Passed by Schumacher at the exit of his second stop, finished second |
| 1997 | Jacques Villeneuve | Chose the wrong tyres for the wet start and had to make an additional pit-stop. Finished fifth |
| 1998 | Mika Hakkinen | Spun off and was hit from behind at the first corner |
| 1999 | Mika Hakkinen | Beaten by team-mate David Coulthard |
| 2000 | Mika Hakkinen | Winner |
| 2001 | Juan Pablo Montoya | Started from the back due to a clutch problem, then his engine expired |
| 2002 | Michael Schumacher | Winner |
| 2004 | Jarno Trulli | Led the first laps, but after his pitstop a loss of grip relegated him in the middle of the pack. He was also hit by Juan Pablo Montoya. |
| 2005 | Juan Pablo Montoya | Lost the lead to Raikkonen and was then hit by Antonio Pizzonia. Finished a lap down |
| 2007 | Kimi Raikkonen | Winner |
| 2008 | Lewis Hamilton | Won, but was handed a 25s penalty which dropped him to third |
Fernando and Renault
Fernando Alonso began his career with Renault with testing duties in a Benetton B200 Playlife © LAT
Fernando Alonso will make his 100th start for Renault. He is easily the team's longest-serving driver, ahead of Rene Arnoux (58) and Giancarlo Fisichella (53).
The driver who served the most time with one team is Michael Schumacher, who raced 179 times for Ferrari. David Coulthard (150) and Mika Hakkinen (131) follow for McLaren.
British poles
Lewis Hamilton's pole position in Valencia was the 199th for a British driver, so he could make it 200 at Spa. Britain is the country with the highest number of poles, ahead of Brazil (124) and Germany (82).
Personal scoreboard - Belgium
• Lewis Hamilton finished fourth on his F1 debut at Spa in 2007, behind team-mate Fernando Alonso. He won last year's memorable race, but was pushed down to third by a penalty after cutting the final chicane while battling Kimi Raikkonen. He gave the place back to the Finn, only to re-pass him at Turn 1.
• Luca Badoer has finished one of his three Belgian Grands Prix, finishing 13th, two laps down, in 1993. His best qualifying performance at Spa was 19th place in 1995.
• Kimi Raikkonen has won the Belgian GP three times, in 2004, 2005 and 2007, tying Juan Manuel Fangio and Damon Hill in fourth place on the all-time list, behind Jim Clark (4), Ayrton Senna (5) and Michael Schumacher (6).
• Nick Heidfeld scored his best result in seven races at Spa last year, when he finished second.
• Fernando Alonso has never started the Belgian GP from the front row. He finished the race second in 2005 and third in 2007, but has never won it.
• Jarno Trulli has only scored one point in 10 races at Spa. He took pole in 2004 and has a 9-1 record against his team-mates in Belgium, only losing out to Jean Alesi in 2001 in mixed weather conditions.
• Mark Webber retired on his first two visits to Spa in 2002 and 2004, but has finished in the points in the three races since - the best result being fourth in 2005.
• Sebastian Vettel scored his first points at Spa last year in fifth place, following a retirement in 2007.
• Adrian Sutil finished 14th and 13th in his two Belgian GPs to date, but he won at Spa back in 2005 in the Formula 3 Euro Series.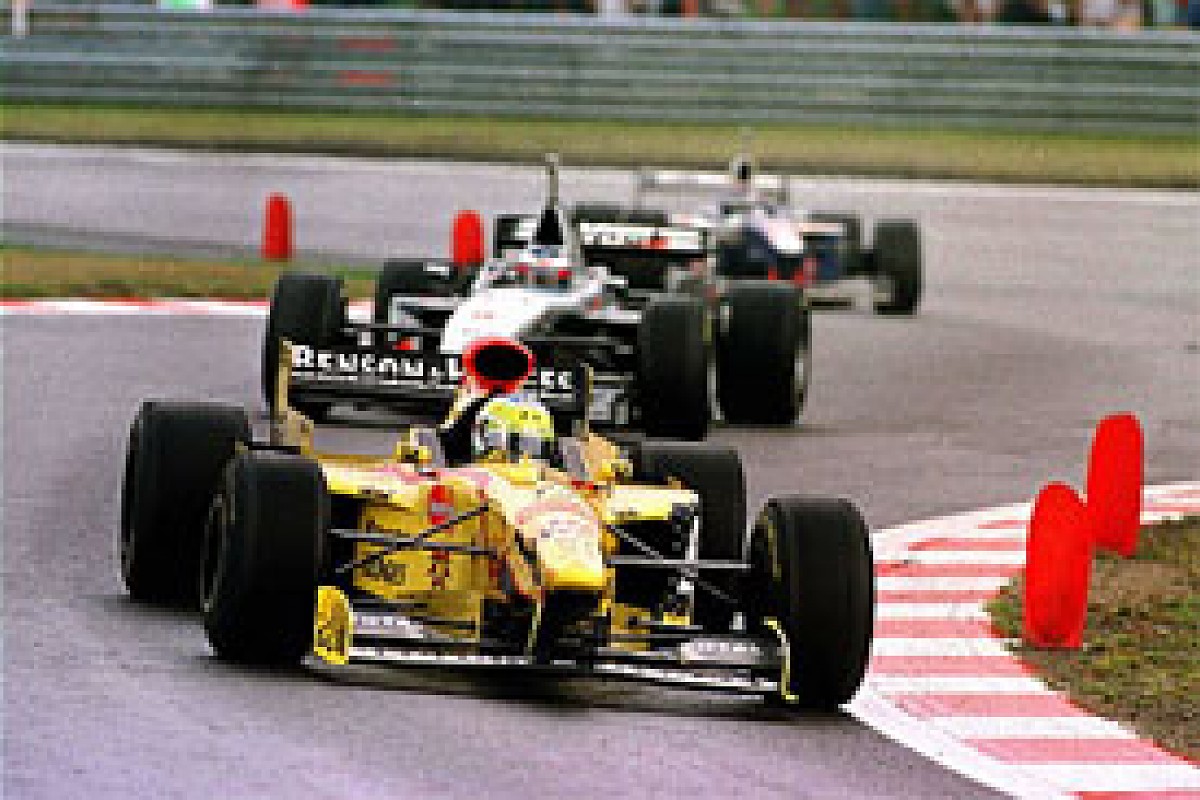 Giancarlo Fisichella (Jordan 197 Peugeot) en route to second place, followed by Mika Hakkinen (McLaren MP4/12 Mercedes) and Heinz-Harald Frentzen (Williams FW19 Renault) during the 1997 Belgian Grand Prix © LAT
•
Giancarlo Fisichella
has twice finished on the podium at Spa in 1997 (second) and 2001 (third), and last finished in the points in 2004 (fifth).
•
Jenson Button's
best qualifying performance at Spa came at the first attempt in 2000 (third) and his only podium in Belgium was a third place in 2005.
•
Rubens Barrichello
took his maiden F1 pole position at Spa 15 years ago. He has twice finished second in the race, to Michael Schumacher in 2002 and 2003, but has retired seven times.
Other notes
• Only Ferrari and McLaren have won in Belgium since 1999, with four each. The last win for another team was Damon Hill's success for Jordan in 1998.
• In the 41 races held at Spa, it has rained 14 times (34 per cent). In the races held in August or September it has rained nine times in 20 races (45 per cent).
• Toyota has not scored a point at Spa since 2005, when Ralf Schumacher finished seventh.