What a difference a break makes. Before the mid-season pause, the title appeared to be sliding out of Brawn's grasp as Red Bull marched inexorably on. Although Jenson Button only pulled two points on Mark Webber last weekend, Rubens Barrichello's win moved him back up to second in the drivers' championship and put Brawn firmly back in the pound seat. Most importantly, it proved that, in the right conditions, the team can still win races.
Most expect Red Bull to have a serious chance at closing that gap at the high-speed Spa-Francorchamps circuit, and the team needs to with only five races after the Belgian Grand Prix to chase down Button, Barrichello and Brawn.
But it's not simply about Brawn v Red Bull when it comes to race wins. It has been a topsy-turvy season, and in the last few races McLaren-Mercedes has gone from backmarker to frontrunner with Lewis Hamilton following up his win in Hungary with second in the European Grand Prix.
Add to the mix strong recent showings from Ferrari and Williams, and it's possible to conceive a scenario where one of the title pugilists wins, and the rest are firmly out of the points.
Spa is where the title run-in begins in earnest.
Talking points
1. Brawn likes it hot
The team, not Ross that is. After three lacklustre races, the Brawns were back on form in Valencia where track temperatures were resoundingly in the mid-40s all weekend. The car isn't quite as strong in the high-speed corners as it is in the slower stuff, but if it's warm at Spa, it's good news for its title chances. But if track temperatures are lower, Spa will reveal whether the team has made any real progress in solving its tyre warming problems.
2. Red Bull's engine quandary
Sebastian Vettel suffered his third and fourth engine failures of the year last weekend, leaving him desperately short of powerplants for the final six races. With just two fresh units available, the team has admitted that it is inevitable he will have to bring a ninth into play, earning a 10-place grid penalty in the process, so another Renault engine problem in Belgian could kill his title chances.
Kimi Raikkonen (McLaren MP4/19B Mercedes) 2004 Belgian Grand Prix © LAT
3. Raikkonen's moment
Kimi Raikkonen has done a quietly good job this year, and Spa is his stage. He has won here three times and deserves to have more victories even than that. Last year, he dominated until rain intervened in the final laps, and, fresh from two consecutive podiums, he represents Ferrari's best chance so far this year to win a race. Do not count out a first win since the 2008 Spanish Grand Prix.
4. Look how bad you are
Luca Badoer was a laughing stock in Valencia, with multiple drive-throughs, spins, a general lack of pace and parc ferme prangs. But he's no idiot behind the wheel and is sure to improve at Spa. Whether he will improve by enough to have the faintest chance of getting near the points is the question. If he doesn't, there are plenty of drivers ready to take his place at Monza.
5. Williams marching on
Nico Rosberg's last five results read very promisingly for Williams. Fifth, fifth, fourth, fourth, fifth at tracks ranging from the high-speed Silverstone to the twisty Hungaroring says that it is a strong all-round package. The team reckoned that a podium was in its grasp at Valencia and, almost a year on from his last top three finish in Singapore, Rosberg will be determined to oblige.
Predictor
AUTOSPORT's F1 experts get out their crystal balls and predict the podium for the Belgian Grand Prix.
Jonathan Noble (AUTOSPORT group F1 editor)
1. Sebastian Vettel
2. Mark Webber
3. Jenson Button
Mark Glendenning (AUTOSPORT deputy F1 editor)
1. Mark Webber
2. Jenson Button
3. Lewis Hamilton
Andrew van de Burgt (AUTOSPORT editor)
1. Mark Webber
2. Sebastian Vettel
3. Lewis Hamilton
Glenn Freeman (AUTOSPORT news editor)
1. Mark Webber
2. Sebastian Vettel
3. Kimi Raikkonen
History
There aren't many grands prix that can boast as illustrious a history as the Belgian, which was first held in 1925 at Spa-Francorchamps. On a nine-mile version of the legendary track - albeit before the awesome Eau Rouge/Radillon section that we know today was in existence - Antonio Ascari triumphed at a canter before being killed in a crash in the French Grand Prix at Montlhery a month later.
In the pre-war years, the likes of Louis Chiron, Rudolf Caracciola and Hermann Lang all tasted victory, and the Belgian Grand Prix was an obvious choice to appear on the inaugural world championship calendar in 1950. Juan Manuel Fangio won that race, the first of three triumphs at Spa, establishing a pattern of superstar drivers excelling around the high-speed circuit.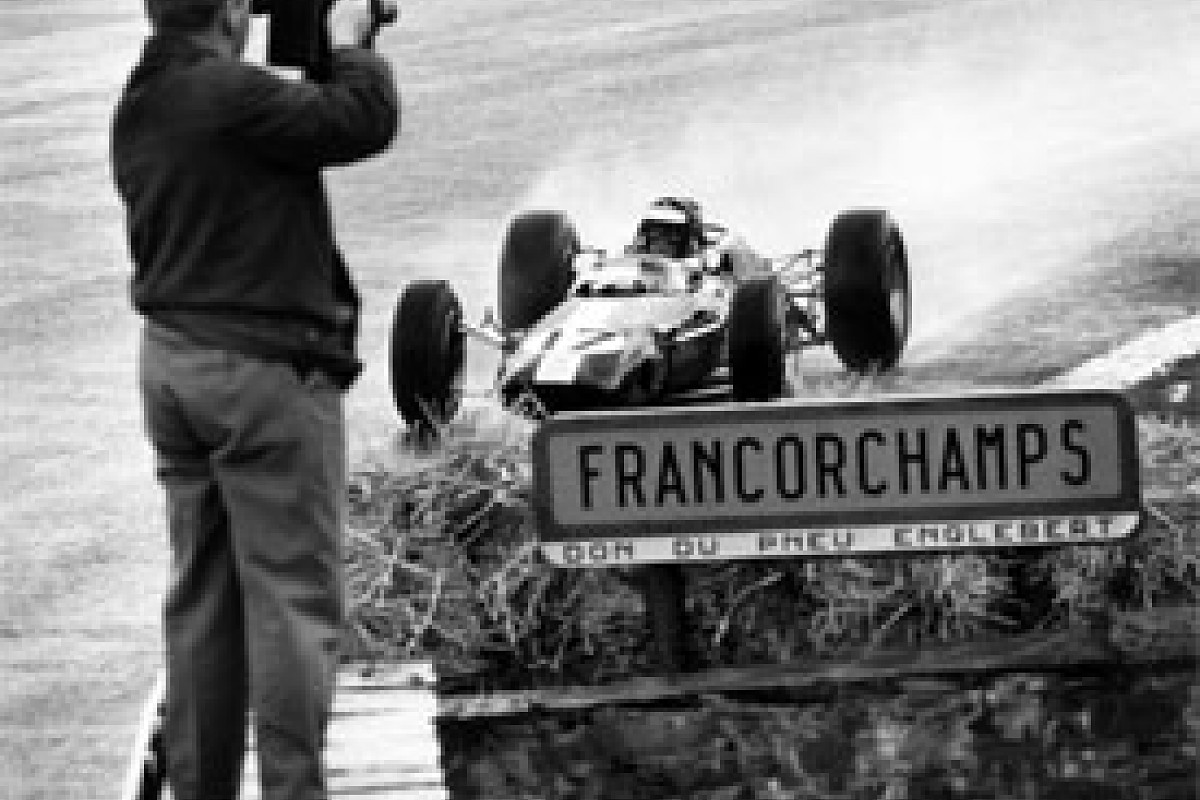 Jim Clark (Lotus 33 Climax) 1965 Belgian Grand Prix © LAT
Alberto Ascari, the son of Antonio, also won at Spa during both of his championship years in 1952 and 1953, and from 1962-1965 it was Jim Clark who emerged as the dominant force. In 1970, Pedro Rodriguez ended BRM's four-year win drought in what was the last F1 world championship race at Spa until 1983.
Spa dropped off the calendar amid safety concerns and the Belgian Grand Prix moved to Nivelles after a one-year absence in 1972. At just over two miles, it was unpopular with both drivers or spectators, and the track held just one more world championship race, in 1974, before it fell off the calendar for good - despite an attempt to return in 1976 that was thwarted by poor quality rack surface.
Zolder, which had held its first Belgian Grand Prix in 1973 - a race won by Jackie Stewart, then became the permanent home of the race from 1975-1982. Niki Lauda won twice, in 1975 and 1976, with Gunnar Nilsson claiming his sole world championship race win in 1977, just 16 months before losing his life to cancer.
In 1981, tragedy hit at Zolder. During Friday practice, a young Osella mechanic - Giovanni Amadeo - either stepped or tumbled off the pitwall and was hit by Carlos Reutemann's left-rear wheel, suffering a fatal injury.
Two days later, Arrows mechanic Dave Luckett leaped over the pit-wall just before the race began to restart Riccardo Patrese's stalled car. Siegfried Stohr, in the second Arrows, seeing a gap in the traffic as the rest of the field parted around Patrese's car, dived into the space and hit both Patrese's car and Luckett. Fortunately, the mechanic escaped with his life and leg injuries.
The following year, Gilles Villeneuve lost his life during qualifying, an accident which continues to cast a shadow over the circuit to this day.
In 1983, the Belgian Grand Prix returned to Spa, albeit now with a revised configuration that cut the lap length in half. Alain Prost won for Renault, and following a brief return to Zolder in 1984, where Michele Alboreto took his first win for Ferrari, Spa once again became the permanent home of the Belgian Grand Prix - despite embarrassingly having to postpone the race for three months when the track surface proved not to be up to the job in 1985.
Once again, the pattern of great drivers dominating emerged. Ayrton Senna won four times from 1988-1991, with Michael Schumacher winning six times between 1992 and 2002, not to mention taking an on-the-road win in 1994 that was awarded to Damon Hill after he was disqualified.
In recent years, Kimi Raikkonen has emerged as the man to beat at Spa, with three wins, as well as a near-victory last year when only late-race rain managed to end his march to victory.
Spa has also suffered in recent years, with the 2003 race being cancelled because of tobacco advertising laws and the 2006 race not happening because of redevelopment works.
From the forum
"With the changing fortunes of the teams seeming to be a product of track temperature I think that Red Bull will return to competitive form at Spa. The RBs have been at their best where getting tyres up to temperature is a problem for some other teams. I think Red Bull and Kimi, possibly Lewis, will be on the podium and Brawn will lose a lot of points to their closest rivals with poor qualifying."
Muz Bee
"McLaren will romp it: their KERS package is too strong and Spa is a power circuit. They are obviously getting the rest of the package sorted, too. Regardless of start position, Hamilton will take first place by the end of Kemmel straight. A mention for Brawn - it's not a hard circuit on tyres and Brawn's car has good balance, should be good for a podium there."
cheapracer
"The aero grip of RBR will give them a 1-2, with a Brawn in the mix. I dont think KERS will be a big benefit here."
Lazy Prodigy