Negative milestone in sight?
There was no McLaren or Ferrari on pole position in the first 10 races of the season - the same number of races as between the 1996 Belgian Grand Prix and the 1997 Spanish Grand Prix, when all the poles were taken by Williams.
An 11th race without a Ferrari or McLaren on pole would move the reference point further down memory lane. There were 13 poles recorded either by Williams (eight) or Benetton (five) from the 1994 European Grand Prix to the 1995 Hungarian Grand Prix.
Trulli like Berger
Jarno Trulli will reach 210 race starts in Valencia, the same number as Gerhard Berger, reaching the sixth place in the all-time list.
'To do' list for Luca Badoer
Luca Badoer (Forti FG03-96 Ford) 1996 British Grand Prix, Silverstone © LAT
Luca Badoer returns to grand prix racing after he left the scene at the end of 1999. He has since then driven for Ferrari as a test driver, amassing 131,944 kilometres in 469 days of testing, which is nearly the double amount of kilometers raced by the all-time record holder Rubens Barrichello (67,891km). By contrast, Badoer has raced only 10,642km to date.
Badoer has only previously raced for teams that struggled for performance, and is present in some of F1's negative records. Here is what he has to do to improve his status:
• Score points: Badoer has the highest number of race starts (48) without points in F1 history, ahead of Toranosuke Takagi and Brett Lunger (both at 32). However, at Valencia this coming weekend he will be driving Felipe Massa's car, which scored points in the last five races before the Brazilian's injury.
• Reach the top 10 in qualifying: In 56 qualifying attempts, Badoer's best result was a 12th place in the 1995 Hungarian Grand Prix. In contrast, in the last five races both Ferraris were able to reach the top 10 - only in Great Britain was Massa lower, in 11th.
Badoer is not first in this ranking, however, as the driver with the most participations without qualifying inside the top 10 is Piercarlo Ghinzani (111).
• Qualify better than last: Badoer has qualified last on the grid 10 times. He is fifth in the all-time ranking, followed by Giancarlo Fisichella (nine).
• Finish the race: Badoer has retired from 25 of the 48 races he started (52 per cent). The active driver with the worst score in his ranking is Force India's Adrian Sutil, with 20 retirements out of 45 starts (44.4 per cent).
• Crossed fingers: Racing in another era for teams with shoestring budgets meant that Badoer was often the victim of mechanical failures, and his percentage of breakdowns is substantially higher than the ones of the current drivers.
He retired 18 times due to mechanical failures (37.5 per cent), while the active driver with the worst score is Toyota's Jarno Trulli, with 23.4 per cent (49 out of 209). The last mechanical failure for Ferrari happened at the German Grand Prix, when Kimi Raikkonen retired with a broken radiator.
Other curiosities relating to Badoer include:
• He is the only one on the 2009 starting grid to have failed to qualify in his F1 career (six times). Technically, Rubens Barrichello also missed one - at the 1994 San Marino GP; as did Giancarlo Fisichella in France 2002. But their entries were withdrawn after injures sustained in practice.
• Badoer is also the only active driver who has started a race from the 23rd position or lower on the grid (nine times);
• Despite starting always near the back of the grid, Badoer was only once classified last at the end of a race. It happened in the 1993 Brazilian Grand Prix, where he finished 12th.
Europe personal scoreboard
• In 2007, Lewis Hamilton suffered his first F1 career setback. He arrived at the European Grand Prix (held then at the Nurburgring) with three poles, two wins and nine podiums in nine races. The Briton was then a victim of an accident in qualifying and ended 10th on grid. He then spun off early in the race, resumed, but only finished ninth.
Last year, Hamilton suffered from neck problems but managed to finish second, behind Felipe Massa.
• Heikki Kovalainen finished his two European Grands Prix in the points - eighth in 2007 and fourth last year.
• Luca Badoer has entered four European Grands Prix. He did not qualify in 1993 and 1996, while he finished 11th in 1995. He was running fourth in the 1999 edition when his gearbox broke, depriving him of his maiden points finish.
• The European GP has also been ill-fated for Kimi Raikkonen, who has suffered from five mechanical failures in the last six editions (including three engine failures). Particularly costly was the 2005 event, when Raikkonen had to retire due to a suspension failure while leading the race, just one lap before the end.
Raikkonen started the European GP from pole in 2003 and 2007 and has never qualified outside the top 10 in the event.
• Fernando Alonso has won the European Grand Prix twice, in 2005 and 2007. Curiously, in those two races he only led for a few laps - five in 2007, overtaking Massa in the final stages, and nine in 2005, when he inherited the lead on the last lap.
In 2006, Alonso started from pole, led for 30 of the 60 laps, but lost out to Michael Schumacher. Last year, he endured his only retirement, due to a collision on the opening lap.
• Mark Webber's best European GP result to date was in 2007, when he finished third. Furthermore, the Australian has only qualified inside the top 10 twice out in seven attempts: in 2005 (third) and 2007 (sixth).
• Rubens Barrichello won the European Grand Prix in 2002 and finished on the podium five times, despite never starting from the front row. His last points finish was in 2006.
Other notes about the European Grand Prix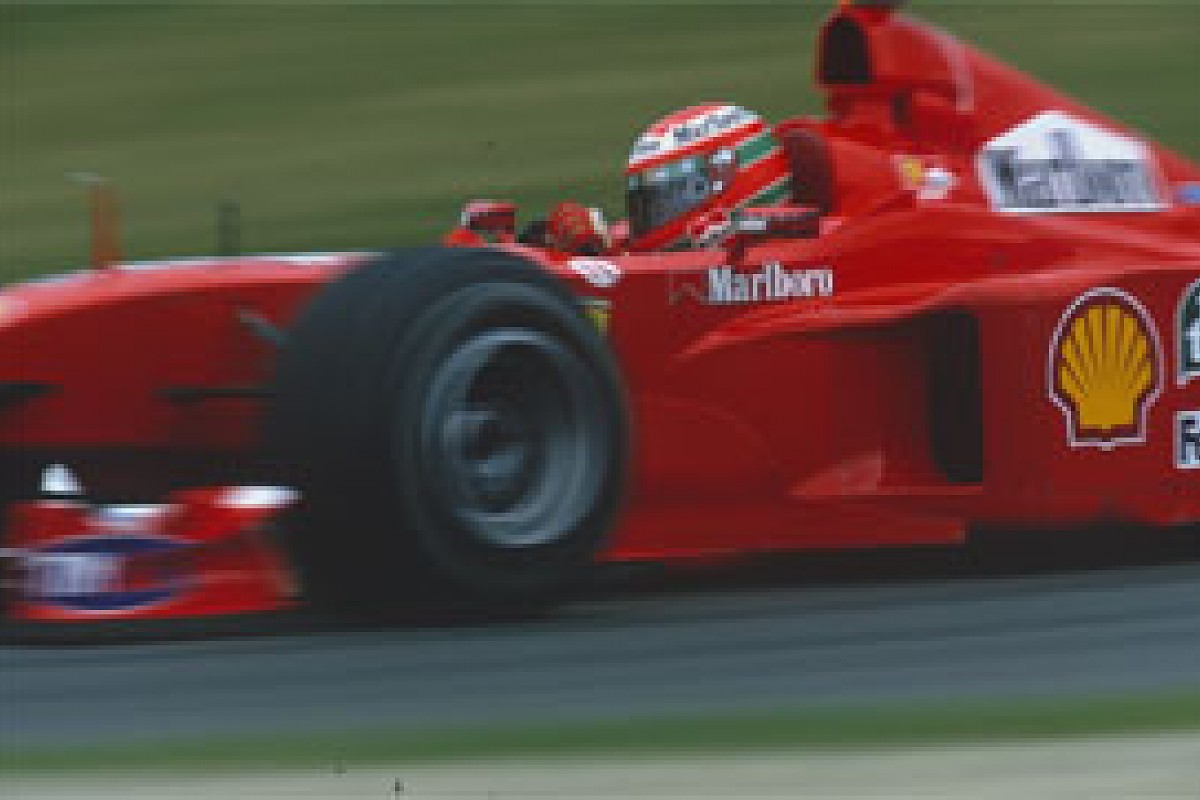 Eddie Irvine (Ferrari F399) finished 7th in the 1999 European Grand Prix at the Nurburgring © LAT
• 1999 was the last year without a Ferrari on the European GP podium. The red cars have won the race six times since then, starting from pole on four occasions.
• McLaren has won only once in the last 11 years, in 2007 with Fernando Alonso.
• Toyota's best result is a fifth, scored last year by Jarno Trulli, and a seventh by Timo Glock. Up until the 2007 edition, the Japanese team had only finished in the points once - an eighth place for Trulli in 2005.
• Williams has been in the points every year from 2001, including winning the 2003 edition with Ralf Schumacher.
To continue reading this feature, subscribe to Autosport Plus today.
Expert opinion. Technical insight. Unbeatable analysis. Subscribe today for unlimited access to the world's best motorsport journalism.
Get unlimited access now
No more monthly limits. Get complete access to all our news and Autosport Plus features.
Subscribe to Autosport Plus
Completely ad-free environment.
Access Autosport Plus - the best motorsport analysis, insight and opinion.
No monthly news limit.
Explore Forix, the world's most comprehensive motorsport stats database.