Look in the back of last week's AUTOSPORT and you'll see BMW recruitment ads for the Formula 1 team. That's how sudden the pull-out was. It's about the global meltdown and its catastrophic effects on the car industry, of course. But BMW Sauber's performance on track this year and the circumstances behind it must have made the decision a lot easier than it otherwise would have been.
For one of the iconic performance brands, the fact that the withdrawal comes after only limited success in more than a decade of trying is plain embarrassing at a corporate level. Other marques can get away with merely competing in F1, but not BMW. This is not how it was supposed to happen. BMW had a plan, one that had to be revised once or twice, but only in its timetable, not its final outcome. That was never in doubt.
It arrived, after a 13-year absence, as an engine partner to Williams in 2000 when the world was so much more financially optimistic, the company in so much better health. Dr Mario Theissen, a bright, engineering-steeped high-achiever was in charge of the programme and has remained at the helm ever since. He typifies the DNA of the company - cool, precise, with an underlying purpose, a huge fan of the sport.
F1 was a natural fit with what the company was all about and how it wished to project itself: high technology, all-out performance. It was extra important that its F1 presence was more than just cosmetic, that there should be engineering links. Hand-in-glove with the new V10 F1 programme, a road-going V10 was also developed.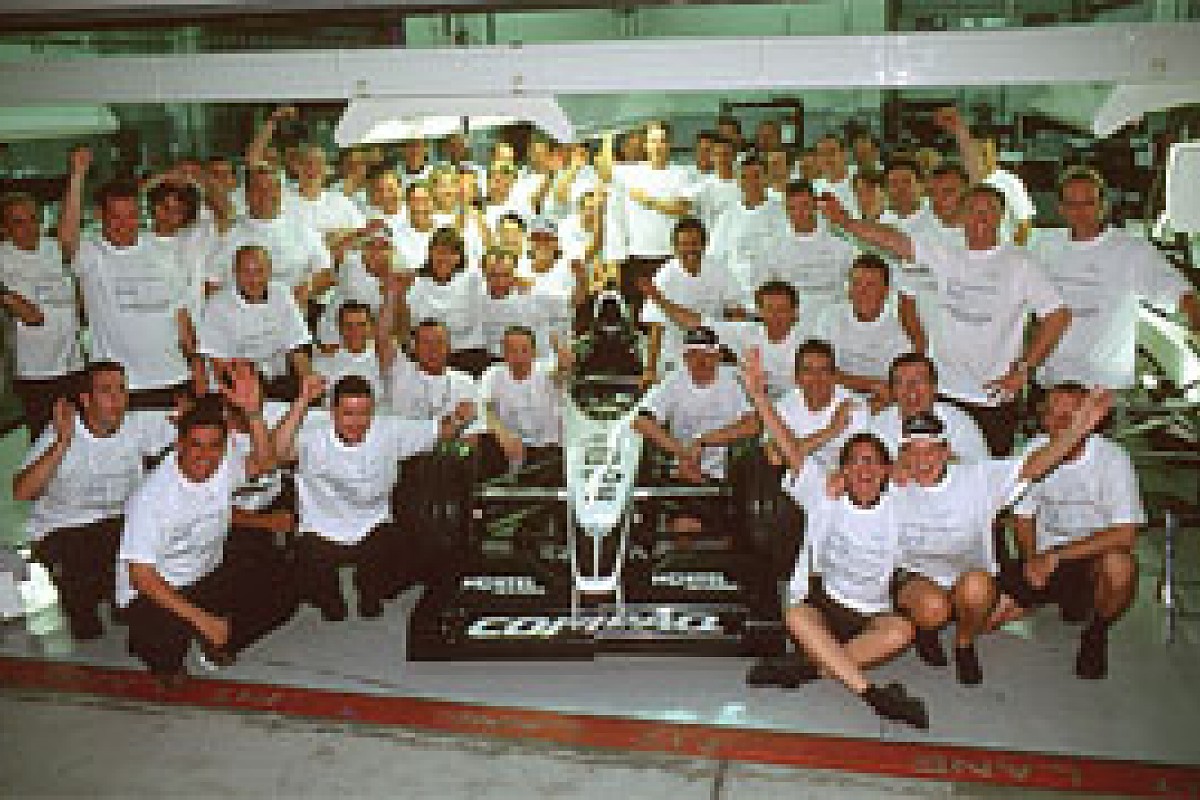 BMW Williams celebrate clinching 3rd place in the constructors championship in 2000 © LAT
The BMW Williams team took third place in the constructors' title in that inaugural season with what was a conservative, somewhat overweight engine that allowed lessons to be learned while a more aggressive design was readied for the following season. This was the P80 and it quickly established its place as F1's most powerful engine, a hugely impressive feat so early in the programme. The expectation and self-pressure of its ambition was summarised by BMW's ad at the end of the season which read: '2000 - podiums, 2001 - victories, 2002 - ?' That question mark never did yield what seemed the logical progression, not in another eight years of trying.
In 2002 the BMW P82 was the first F1 engine to breach 19,000rpm, fitted in the back of Juan Pablo Montoya's Williams at Monza as he secured F1's fastest ever pole lap at 161.449mph.
The relationship between Williams and BMW was by this time more than a little tetchy, however, BMW feeling it was doing its part in providing the best engine but being let down again by a car with not enough downforce. The waters were calmed slightly in 2003 when the Williams FW25 was frequently F1's fastest car, one that gave Montoya a realistic, but ultimately fruitless, shot at the title.
At around this time BMW was making overtures into the purchase of Williams, wanting more control of its own destiny. It felt if only the team would follow BMW's logical step processes, then success would come. Williams, with seven drivers' and nine constructors' trophies in its cabinet, felt that was a somewhat presumptuous attitude.
The culture clash was huge. Williams is a very British operation, its essence still that of a specialist garagiste, deeply combative and intuitive but not always that structured. BMW is logical, highly structured, competitive but not intuitive. Williams was not for sale and BMW began to re-evaluate how it conducted its F1 programme, especially with the competitive downturn of the partnership in 2004. By the following year the two parties were simply marking time in a failed marriage and in June 2005 it was announced that BMW was buying Sauber and from 2006 would compete as its own entity. Engine manufacture would continue at Munich but everything else would be operated out of the Hinwil factory.
So the Williams partnership was over. It had taken BMW less than two seasons to deliver F1's fastest engine and it felt frustrated that Williams wasn't living up to its end of the bargain. It was about to find out that delivering a fully competitive chassis is a hugely more complex endeavour than just making the engines. In buying out Peter Sauber's team the BMW timetable had to be adjusted. This was a case of taking one step back in order to go two forwards. The Sauber operation was small by the standards of the top teams, with only 275 employees. A state-of-the-art windtunnel was nearing completion, however.
Now in full control
BMW was now a team owner rather than simply a partner and had thus gained its desired autonomy and control. A huge expansion began in bringing the Hinwil facility up to the standards of a top team. They recruited aggressively and invested hugely. Rapid recruitment is never easy, however. There are invariably problems in getting the required calibre of people as well as the inevitable tensions of combining an existing core staff with a lot of new employees.
Projects such as the Albert and Albert II super-computers added an enormous cost. Compared to its project as an engine supplier this was on an entirely different scale. Some of this was laid off against agreements with existing and new technical and commercial partners, but the underlying cost commitment was huge and when those sponsors began leaving with the economic downturn it would leave BMW liable to a cost massively in excess of its time as an engine supplier.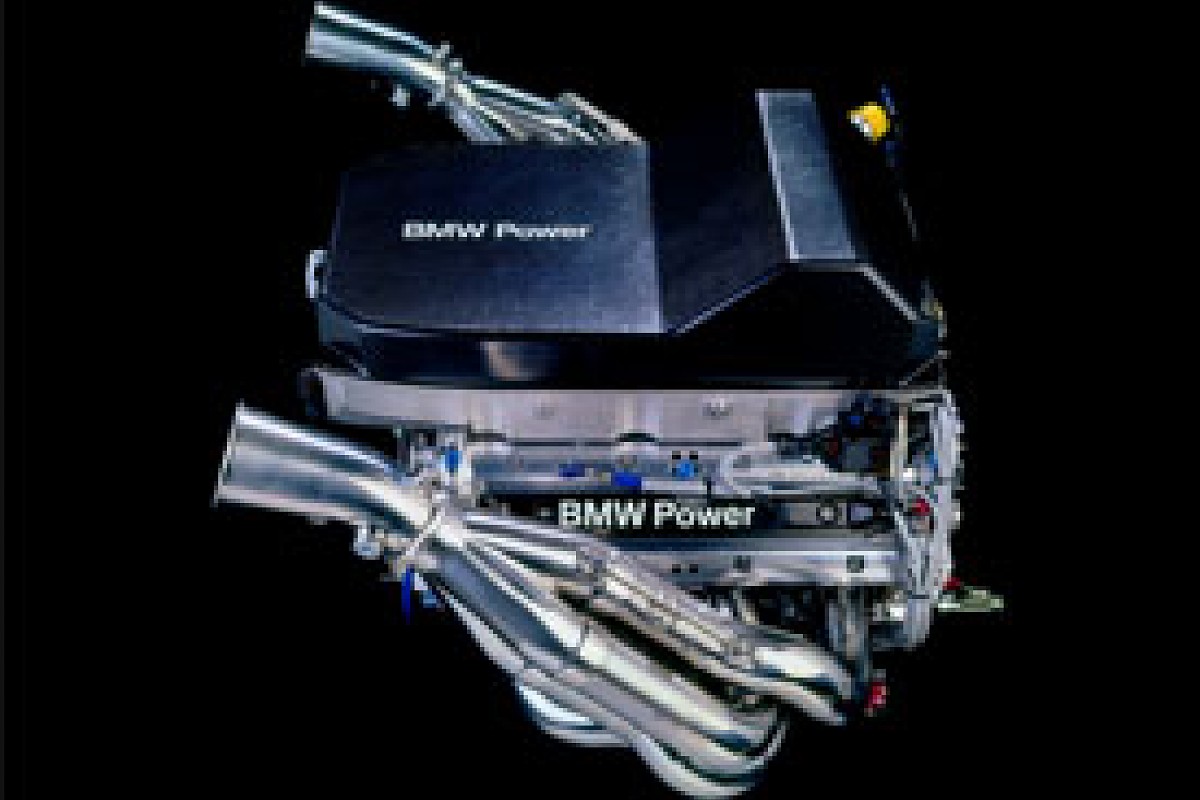 The P86 V8
Meanwhile, the sport was delivering ever fewer opportunities to deliver parallel road-going projects. BMW was one of several manufacturers bitterly opposed to the abandonment of the V10 formula for 2006, angry that this came just as it had completed its V10 road car engine. The V8 2.4-litre formula was highly prescriptive, giving BMW's engineers little opportunity for creative work. It had welcomed the reintroduction of traction and launch control in 2001 as an opportunity to use its electronics expertise and even introduced a launch control feature on its M-Sport road cars. But this feature too was subsequently banned from F1. Even worse, it was banned via a standardised ECU for all the teams, thus completely cutting off that field of competitive endeavour. For those anti-F1 members on the main board, this project was becoming vastly more expensive for ever dwindling benefits.
Back at the coal face, Theissen and his team focused on getting the foundations in place for the future world championship they were tasked to deliver. Respectability was all that could reasonably be expected in the first year of 2006, as it campaigned what was essentially a further update on a Sauber design that dated back to 2003. But there was a plan: points in 2006, podiums in 2007, the first win in 2008 and a fight for the championship in 2009. It all rather smacked of that advert at the turn of the decade. Racing is never so predictable.
But impressively, the team was bang on target between 2006 and '08 and furthermore now it was in full control, the personality of BMW more fully expressed than ever it had been during the Williams days. Jacques Villeneuve had been a generally unwanted inheritance that was contractually watertight but he was gone before the end of the year, replaced by one of BMW's own proteges, its Friday test driver Robert Kubica. Sebastian Vettel then slotted into the former Kubica role, these changes somehow reflective of BMW beginning to properly flower as its own entity. Old rival Mercedes was however quick to point out that here was BMW in its seventh season, only just beginning to put the foundations in place. It was a riposte to an earlier BMW jibe that it made its own engines at its own factory in Munich, rather than putting its badge on motors built by someone else in rural England.
The podiums were delivered early, Nick Heidfeld taking third in Hungary '06, Kubica the same result at Monza in just his third race. The lap-time deficit to the front reduced through the year, the opposite of the traditional pattern at Sauber when it was a team too tightly budgeted to have much development power. In 2007 Heidfeld added two more podiums and the gap to the leading cars was on average down to half a second, about half the deficit of the previous season. The factory expansion was now complete and fully staffed. The 21-ton Albert II super-computer was installed and operational in the basement, giving the engineers a hugely powerful simulation tool. This was key to the team understanding the full implications of the move from Michelin to standard control Bridgestones in '07. In particular it allowed accurate simulation of the tyre deformation that would have such a key effect on the aerodynamics. BMW got a handle on this much better than most teams.
Since BMW had taken over, the CFD department had been expanded by a factor of four, the windtunnel hours by 2.5. There were now more than 400 people at Hinwil in addition to around 200 in Munich. Third place in the constructors' championship (second after McLaren was stripped of its points) showed such muscle being translated into hard results. If anything, it was ahead of its self-imposed schedule of success. This was underlined in 2008 when Kubica and Heidfeld delivered that historic 1-2 result in Canada. At that moment Kubica led the drivers' world championship.
Seeds of its downfall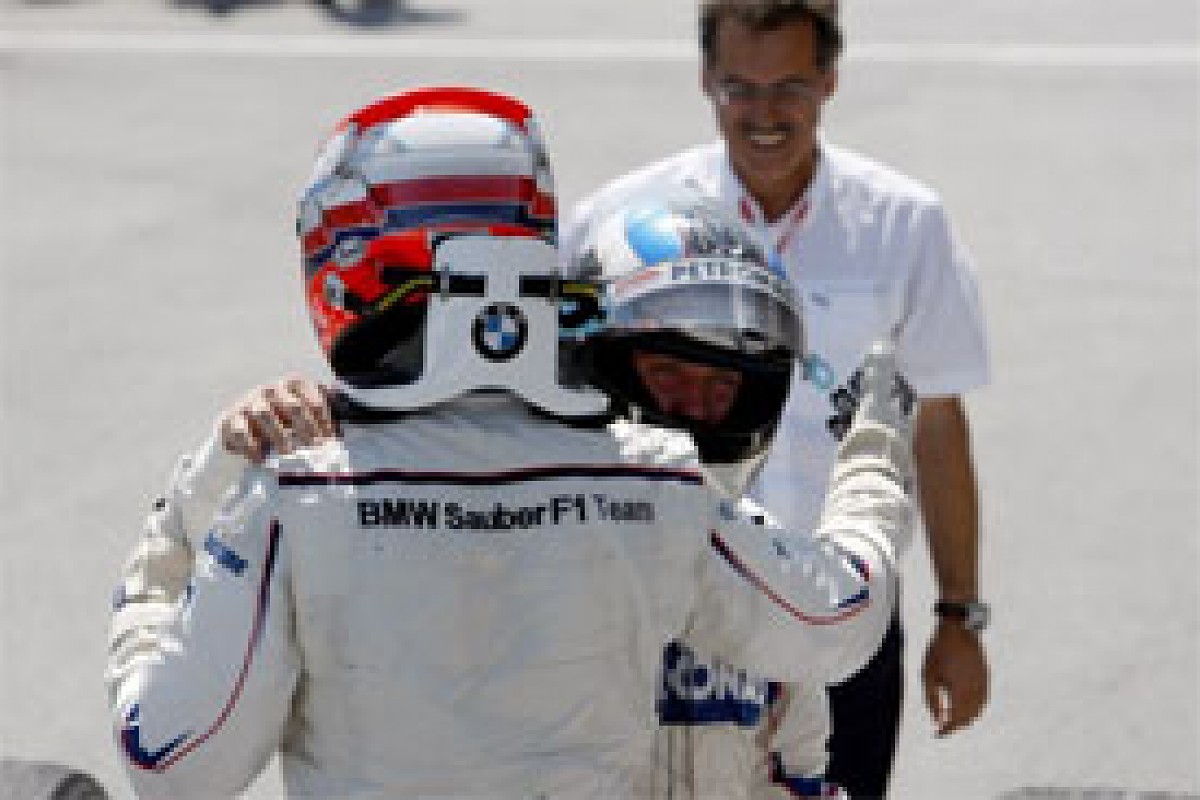 Robert Kubica, Nick Heidfeld, and Dr Mario Theissen celebrate BMW's first win as a constructor with a 1-2 finish in the 2008 Canadian Grand Prix © LAT
Yet almost from that moment the project has been in competitive decline. There was another third place in the constructors' championship, but that was largely built upon the results achieved in the first half of the season, and Kubica's half-way lead had dwindled to only fourth place in the final table, 23 points behind. By the end of the year the BMW was, at best, only the fifth fastest car. Kubica was openly critical of the emphasis being switched to the 2009 project.
Who knows what might have unfolded had resources been devoted more aggressively into the 2008 car's development? Might BMW have delivered a world championship? But the focus on 2009 was understandable. Coming up was probably the biggest regulation change in the sport's history, with a fundamentally different set of aerodynamic requirements, the reintroduction of slick tyres and the introduction of KERS as a permitted technology.
Energy recovery was intricately associated with BMW. It was - and is - the biggest focus of the road car development project and its introduction to F1 at last allowed a parallel technology with which the F1 programme could be justified to the internal sceptics, much against the trend of the previous few years. BMW had in fact been heavily influential in the FIA's thinking in introducing the technology, former board member Prof Burkhard Goeschel lobbying the governing body heavily for it.
But this was before the catastrophic economic downturn. By the middle of last year it was apparent that the huge development costs likely to be associated with the new system were not compatible with the urgent need to reduce costs now that income from car sales and external sponsorship was taking a dramatic nosedive. The team body FOTA suggested a voluntary and unilateral pact between them all not to introduce the technology which, under the regulations, was not compulsory. Every team agreed - with the exception of BMW. A KERS project was too important, it said, to its continued support from the board for F1 participation. The other members reluctantly accepted this reality and pressed on with their own expensive KERS programmes. Estimates put the cost of KERS development as high as £50 million per team.
This was the seed of the downfall of BMW's F1 project. The F1.09 was conceived with KERS as its starting point, the company confident that it would lead the way with this technology, happy that a field of unrestrained technical competition was available after years of such avenues being progressively closed off. KERS would play an intrinsic part in keeping with its stated schedule of fighting for the championship in 2009 to form a powerful justification for F1 as an image booster at a time when the need to promote and differentiate the core product in the showrooms was more important than ever.
This was a fragile, high-stakes basis on which to remain in the sport. While the prime focus of the BMW design team, just like those at McLaren and Ferrari, was about the development of the KERS technology and its optimum packaging within the car, others looked elsewhere. It's probably not a coincidence that those preoccupied with KERS did not see the loopholes within the new aero regulations, whether that be the double diffuser or the enhanced advantages of a pullrod rear suspension. This was at a time too, in the early days of a new technical era, when the advantages of any new interpretation will be at their maximum. With hindsight there was hugely more lap time available from these interpretations than from KERS. Furthermore, the installation of KERS compromised the basic aero potential of the cars - and gave fewer set-up choices in optimising the cars for the tyres at any given circuit.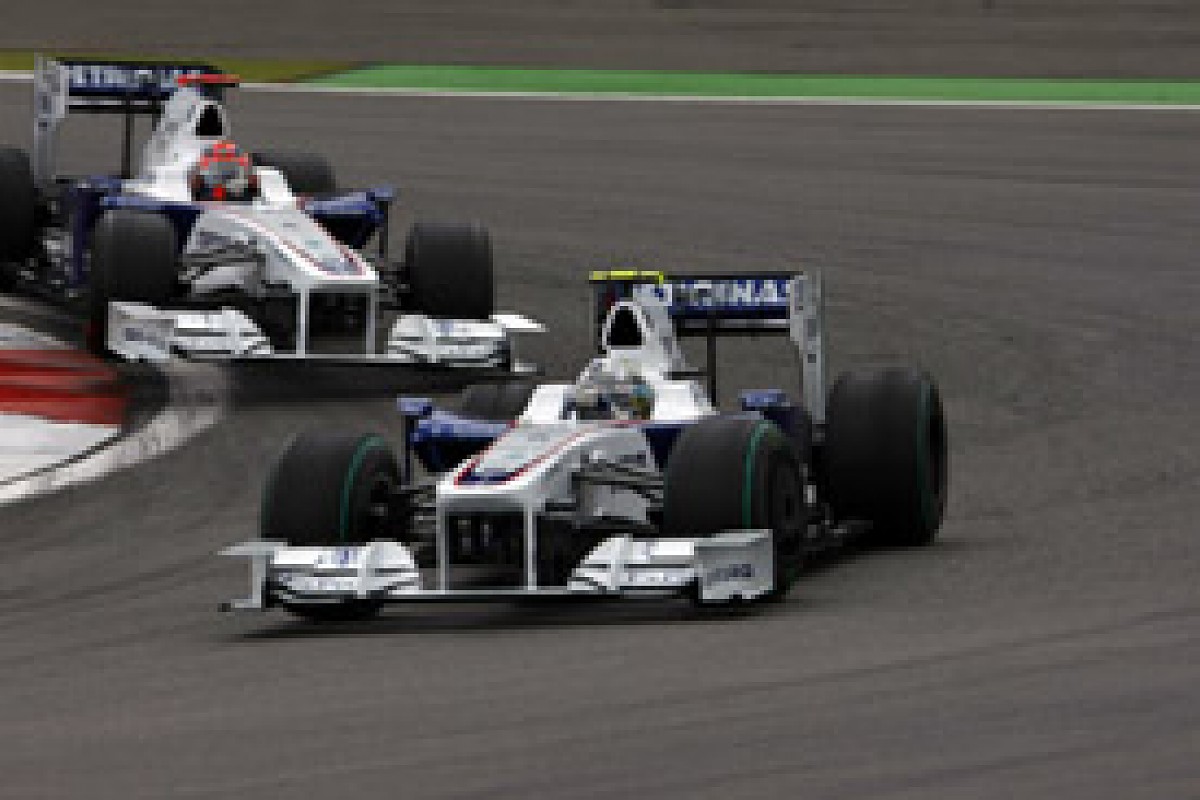 BMW Sauber teammates Nick Heidfeld and Robert Kubica en route to 10th and 14th place finishes in the 2009 German Grand Prix at the Nurburgring © LAT
All the pieces were thus in place for a horrible BMW embarrassment. The car was uncompetitive, though Kubica disguised this at the first race by a brilliant qualifying effort and an unusual tyre sequence in the race, only to crash out attempting to take second from Vettel's Red Bull. But that Melbourne performance came at a track not particularly demanding of a car's aerodynamics and, what's more, Kubica was not using KERS. His weight disadvantage over the smaller Heidfeld meant he could not get the desired weight distribution with KERS fitted. For the first three races, only Heidfeld was using the technology. It was fitted to both cars in Bahrain where the track's layout made it more valuable, but since that time it has not been seen again.
The embarrassment is even more acute given how poorly the car has performed. Far from contending for the championship, as so publicly stated, BMW has frequently struggled to get out of Q1 and to date has scored just eight points, 102 behind the KERS-less Brawn. That logical progression of achievement has been catastrophically broken, something that can easily happen in motor racing. Heaping yet more embarrassment upon the team, McLaren-Mercedes and Ferrari have continued with their KERS programmes and just last week a KERS-equipped car took victory, a one-two no less, for the first time.
So the team that committed the others and itself to the huge extra expense of KERS at the most inappropriate time had abandoned it early while others made it work. It was a nightmare situation for BMW, the absolute worst-case scenario. It could have been disguised perhaps if the cars had been successful regardless, but conceived as they were that was never going to happen. The cost has had a serious impact on the car's development too.
Uniquely among all the teams, no new parts were developed from the first race until an update package in Spain. The gap to the front has widened considerably.
Other manufacturer teams might have been able to live with this, but BMW, as a performance icon, could not. For a brand as aggressively sporting as BMW, being beaten badly by Ferrari or Mercedes is bad enough, but getting nowhere near such mundane mass-market brands as Toyota and Renault is disastrous - and ultimately not sustainable.
At a time of financial meltdown, is it any wonder the board looked at the embarrassment of its F1 programme and identified an easy nine-figure saving each year? BMW was the victim of a confluence of factors: a progressively technically strangled F1, the inopportune advent of an expensive technology with an economic downturn, its brand's sensitivity to lack of performance and its own very specific and confident timetable for success, something that always made its prospects somewhat brittle.
It's a sign of the times.