Take your mind back to Silverstone in July 1999. David Coulthard had just won the British Grand Prix for McLaren, but the talking point of the afternoon was the accident that befell Michael Schumacher. It had been confirmed that he had a broken leg - he'd be out for some time, and his world championship challenge was over once more.
Pondering the consequences at the time, I caught sight of the then Minardi driver and Ferrari tester Luca Badoer leaving the paddock unnoticed. I wandered across and quietly asked for his mobile number, telling him that I'd give him a call for a quick interview if there was some big news in the coming days.
Knowing what I meant, he smiled and obliged.
It was a call I never made. Instead of following the most obvious path and putting Badoer in the car alongside Eddie Irvine, Ferrari went for outsider Mika Salo, who'd done a couple of races for BAR earlier that year, but was otherwise available.
That 1999 scenario came to mind last Saturday evening in Budapest as I wrote a story about the latest on Felipe Massa. In the hours after the accident reports of his condition became more serious, from the initial 'cut on the head' to bone damage and an emergency operation. The horrific pictures that emerged on the internet told their own story.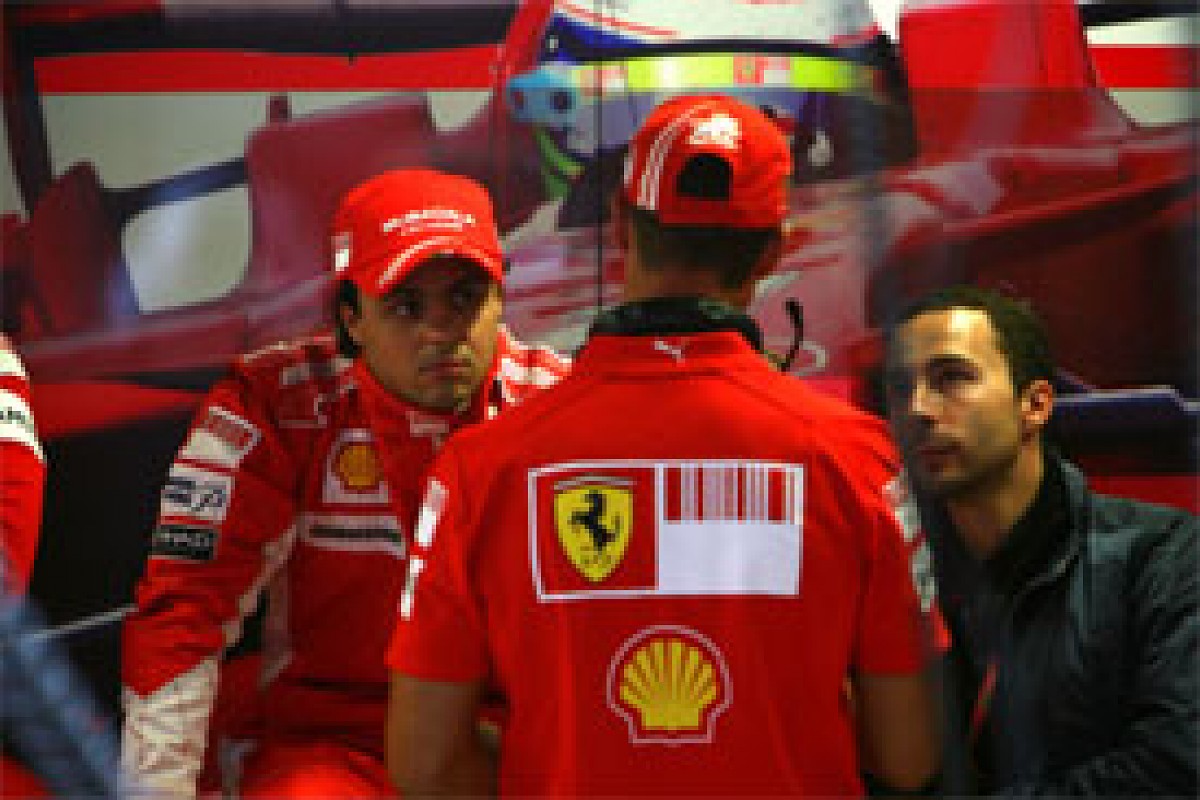 Felipe Massa, Michael Schumacher, and Nicolas Todt © LAT
It was quickly becoming obvious that Massa would probably be out for the season, rather than one or two races, so I began to consider the likely scenarios. It didn't seem likely that Ferrari would call on either of its test drivers.
Then the blindingly obvious answer hit me - it's going to be Michael Schumacher. I couldn't see any real reason why he wouldn't want to do it, or the team wouldn't want him.
Sunday morning was spent telling more or less anyone I bumped in to that Schumacher was the man for the job, and asking for their thoughts. In general the initial reaction was one of laughter - "Yeah, right" - followed, as I explained my rationale, by a gradual realisation that just maybe, it could make sense. Nico Hulkenberg, Williams test driver and another Willi Weber client, thought it was a great idea. He was already pretty sure that it wouldn't be him!
The bottom line was simple. Schumacher had virtually nothing to lose. He would come back and say, "I'm doing this for the team, and for Felipe." Everyone would know that the difficult circumstances - his lack of recent mileage and unfamiliarity with the 2009 package - and he'd be given the benefit of the doubt if he was a few tenths, or a little more, off Kimi Raikkonen.
His reputation could easily withstand that. The obvious parallel was with Lance Armstrong, who that very day confirmed his third place in the Tour de France.
Nobody denounced him as a silly idiot becasue he came back and got beaten. Instead the very fact that he tried, and still finished ahead of 177 other competitors, just added to his legend.
And then there was Bernie Ecclestone. One could envisage him on the phone to Luca di Montezemolo, saying, "Whatever it takes, I'll help," just as he played a role in getting Nigel Mansell back to Williams in 1994. Who knows, maybe he even rang Schumacher himself this week to state his case, or offer an inducement. More than anyone Bernie would understand that the return of Schumacher would have huge implications at the box office.
What's in it for Ferrari?
Had it been clear that Massa was out for say one race, and had Valencia been the usual fortnight away, the team just might have called on Marc Gene. A Spaniard in a Ferrari at home? Good story.
A decade after his last disappointment, poor Badoer could be discounted. Not having sat on a grid since Suzuka 1999, he was always going to be behind Gene, who has more recent F1 racing experience and of course won Le Mans this year.
Badoer also cracked two ribs in karting a couple of weeks ago, and that didn't help his cause...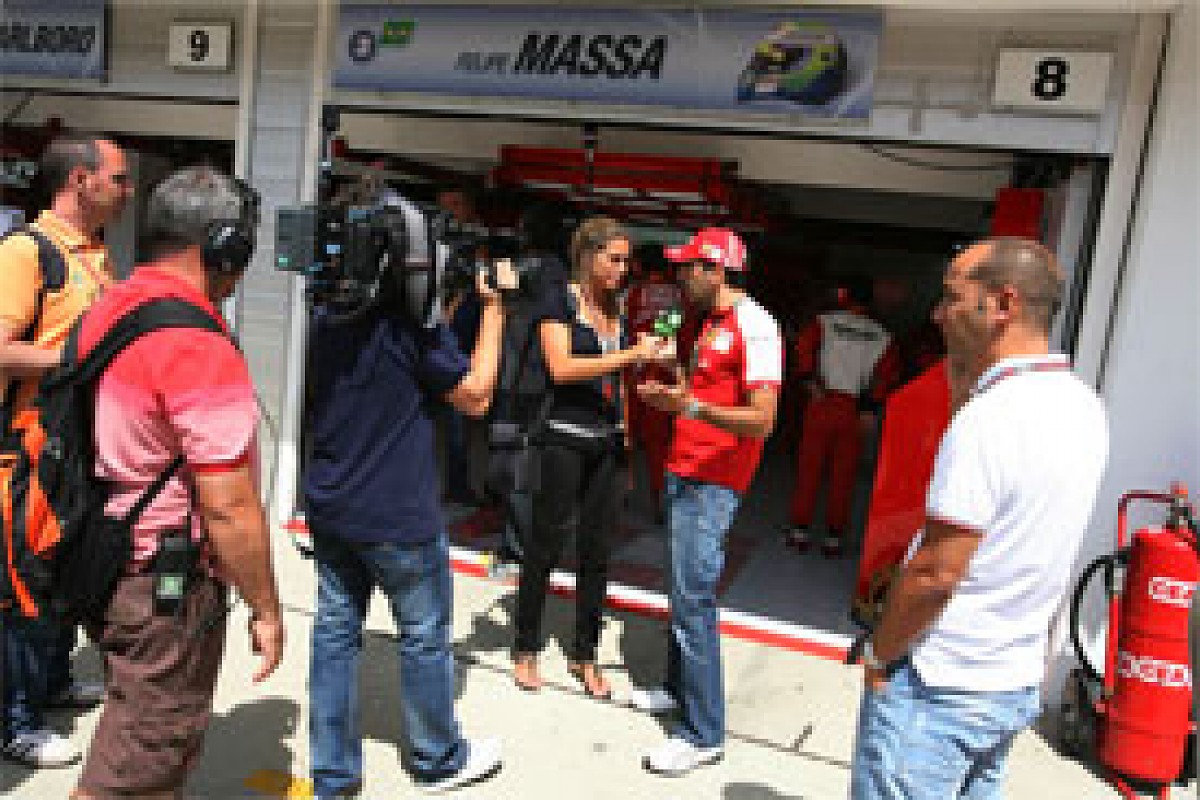 Marc Gene at the Hungarian Grand Prix © XPB
It's Gene rather than Badoer who usually attends the races, ostensibly for Spanish TV but ready to step in should one of the regulars eat a dodgy fish on a Friday evening, or slip over in the shower. He's done the job before with Williams, but like all other test drivers he has not had any mileage during this season. In fact the only running he's done at all in the F60 has been straightline aero tests.
That lack of experience of the current package just added to the fundamental problem. Nice bloke that he is, the team felt that Gene did not have the pace to do full justice to a car that was capable of getting on the podium in Hungary.
As a Ferrari man said on Sunday evening, "The last thing we need is a slow guy in the other car." In other words the team had to find someone capable of keeping Raikkonen on his toes, rather than a steady pair of hands. It's only natural for a driver to react to the performance of their team mates.
The key to all of this was the prognosis for Massa. Through Saturday evening and into Sunday estimates as to when he might be back in the cockpit varied wildly. Eventually the consensus was that he would be out for the season, although there were also suggestions from good sources that this could be a career threatening injury.
This week the news has been better, but while Massa himself has made it clear he wants to be back as soon as possible, common sense suggests that it would be inadvisable to reach too far, too soon.
In making its choice, first and foremost Ferrari had to consider Massa's mental wellbeing. Number three is still "his" car, and the last thing he wanted to see would be a superstar, quickly headhunted from another team, who he might perceive as a threat.
Earlier this week, before Michael was confirmed, one well-connected F1 insider gave me an insight into what might be happening at Maranello.
"When a driver is injured they know they have to keep his seat, they are sorry for what happened to him," he said. "This is Ferrari's mentality, and they will respect the driver in his seat more than anything, and protect him if they can. Sure, they want to look after their own interests, so they have to make sure that the person in the car scores points for them to keep the third place in the constructors' championship. Therefore they will look for the best solution possible.

"But at the same time, they want to protect the driver. So if the driver is recovering, and he wants to go back in the car, you can't have a driver who is going to stay, like a Fernando Alonso-type of solution.
"In 1999 Todt went for an easy solution to protect Michael, so you would think that is probably something they would do again. The choice would be a choice to protect. Unless they've got another strategy in mind."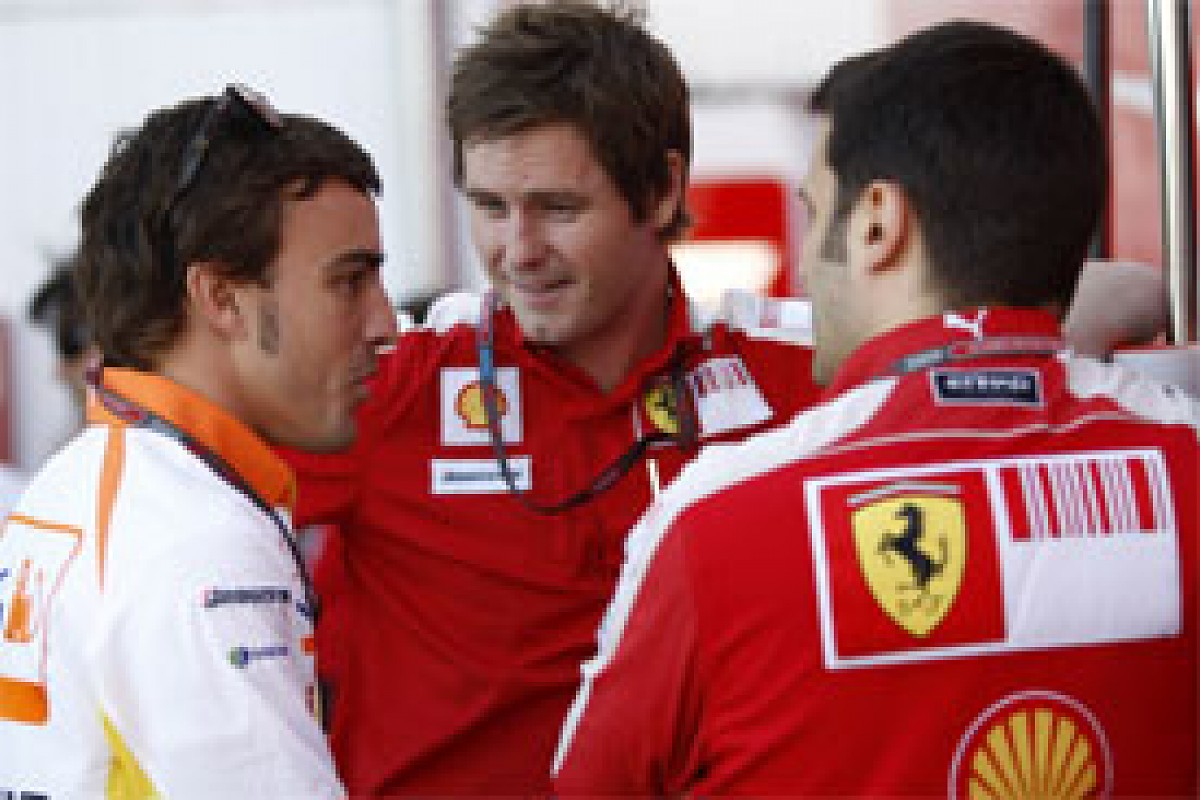 Fernando Alonso speaks to Rob Smedley © LAT
It's widely assumed that Alonso could come on board as early as next year, and indeed on Sunday there were already suggestions that he might be wearing red by Valencia, especially after Renault was excluded from the Spanish event.

But while Flavio Briatore is not averse to doing spectacular deals, even he would find this one hard to pull off. Whatever the price tag, how could he explain to Renault and his sponsors that his prized asset Fernando was off and he now had a Nelson Piquet/Romain Grosjean line-up? Especially at a time when the team appears to be gaining momentum, as it did last year.
To be honest, it wasn't worth the hassle or the cash for Ferrari to attempt such a coup, and Alonso's arrival, with Kimi already in place, would not have done much for Massa's morale.
Hours prior to the Schumacher announcement, Robert Kubica also emerged as a candidate. While it seemed highly unlikely that any works team would be in a position to allow a driver to go to Ferrari, one source insisted that the BMW withdrawal announcement triggered a clause in the Pole's contract that made him available immediately. By the time that happened the Schumacher return was well on the way however, and while Kubica is potentially a Ferrari driver somewhere down the line, there would have been one too many names in the mix.
Looking elsewhere, Ferrari struggled to find suitable candidates. The only man with recent experience of 2009 cars and tyres is Sebastien Bourdais, but the only thing really working in his favour was the common element of Nicolas Todt, manager of both Massa and the Frenchman. If Todt Jr did make a pitch for his man, it didn't get very far.
Whatever way Ferrari looked, and whether the team thought with its heart or its head or both, there was one answer.
"Of course Michael has got to be choice number one for one or more races," said the same source. "He is probably capable of getting in the car and being as fast as before. Then you have to see if the team really want Michael, if the team really want to continue to be Michael dependent."
And that's another interesting aspect to of all this. Jean Todt, Ross Brawn, Nigel Stepney and others have all gone. Schumacher, who for the past three years has had a contract with the team, is in many ways a link back to a past era. A great one for sure, but one from which the team has tried to move on.
Nobody - probably not even the man himself - knows exactly what his job entails. Of course he does some road car stuff and has a roving ambassadorial role. He's continued to attend races over the last three years, always watching from the pit wall with the headphones on, and sometimes making contributions, even though he doesn't appear in the chain of command.
In Malaysia this year the team made a dreadful mistake in standing on its times after the first run in Q1, and a helpless Massa found himself bumped down the order. Then in the race came the unfortunate decision to stick Raikkonen out on wets while it was still dry.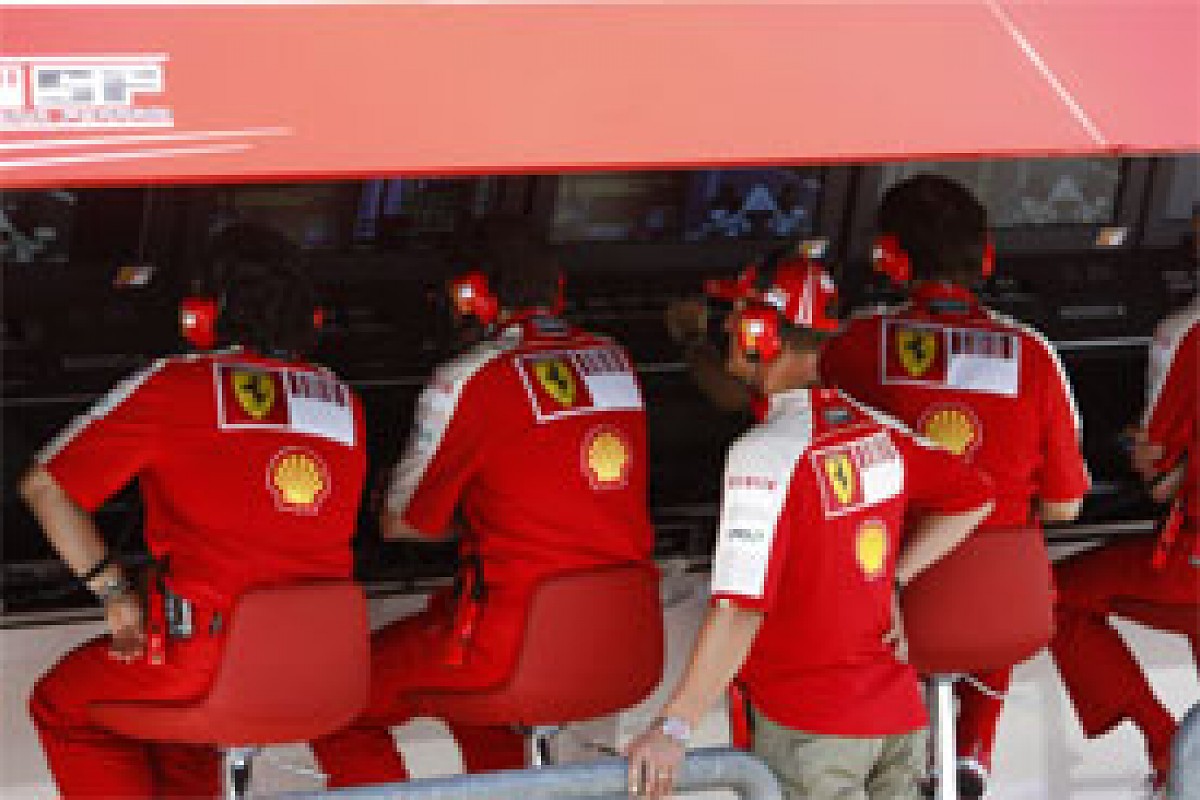 Michael Schumacher on the pitwall at the Malaysian Grand Prix © LAT
After that race there were strong suggestions that Schumacher had a hand in either or both of those decisions. Just a few days later it was announced that Luca Baldiserri, the team's race engineering guru and the man who was once Ross Brawn's understudy, had been moved to a factory job. The suggestion was that he had carried the can for those decisions, and he was rather too willing to be influenced by Schumacher.
It had already been reported that Schumacher's contract was not going to be extended into a fourth season. Apart from anything else, it cost a lot of money, and indeed he has probably been earning more standing on the sidelines than most of the current grid. So that situation certainly gave an interesting context to the discussions when Luca di Montezemolo and Stefano Domenicali first made contact with him this week. The announcement that he will drive in Valencia was quickly followed by suggestions that his relationship with Ferrari will after all continue into 2010, but that's not been confirmed.
No other candidate could provide a bigger morale boost for Massa, or be perceived by him as a threat to his continuing employment. Indeed the two men get along well, and it's been Massa rather than Raikkonen who had adopted Schumacher as a sort of mentor. And don't forget when Schumacher announced his retirement, he made it clear that his decision had been influenced by a desire to see his Brazilian pal keep his job in 2007. At the time many people felt that the German had been pressured into jumping early by Montezemolo, something else that may have added an extra spice to negotiations this week.
Internal financial and political considerations aside, Schumacher was a no brainer for Ferrari. While he hasn't driven this season, he was in the car last year, and there were no signs of a diminishing of his talents. And from the moment his name was announced, there would have been an extra bounce in everyone's step, and the whole team will work that 10% harder. As a motivating force, at a time when the team needs exactly that, there could be no better choice.
What's in it for Schumacher?
So why would Schumacher do it? Well, why not? The only reason sceptics could come up with last weekend was that he wouldn't want to be beaten. That's certainly true, and indeed not being beaten was the whole reason why he raced so hard, for so long. But he's clearly analysed the situation and decided that he can get the job done, and will have the tools to do so.
Most F1 drivers stop for reasons of self preservation, but his exploits on bikes since the end of 2006 prove that he's certainly as bold as ever. It would be easy to view his antics as some sort of mid-life crisis, or at the very least a sign that he still seeks the adrenaline rush that normal life doesn't bring. It's simpler than that. He just loves competition, and speed, in all its forms, and that hasn't gone away. In addition, let's face it, he also likes being in the spotlight.
As stated earlier, he really has nothing to lose. His reputation is so strong that it would take a complete disaster to do any real harm it. Valencia might be a bit of a shock to the system, and if it doesn't come together in qualifying, he could well be beaten by Raikkonen.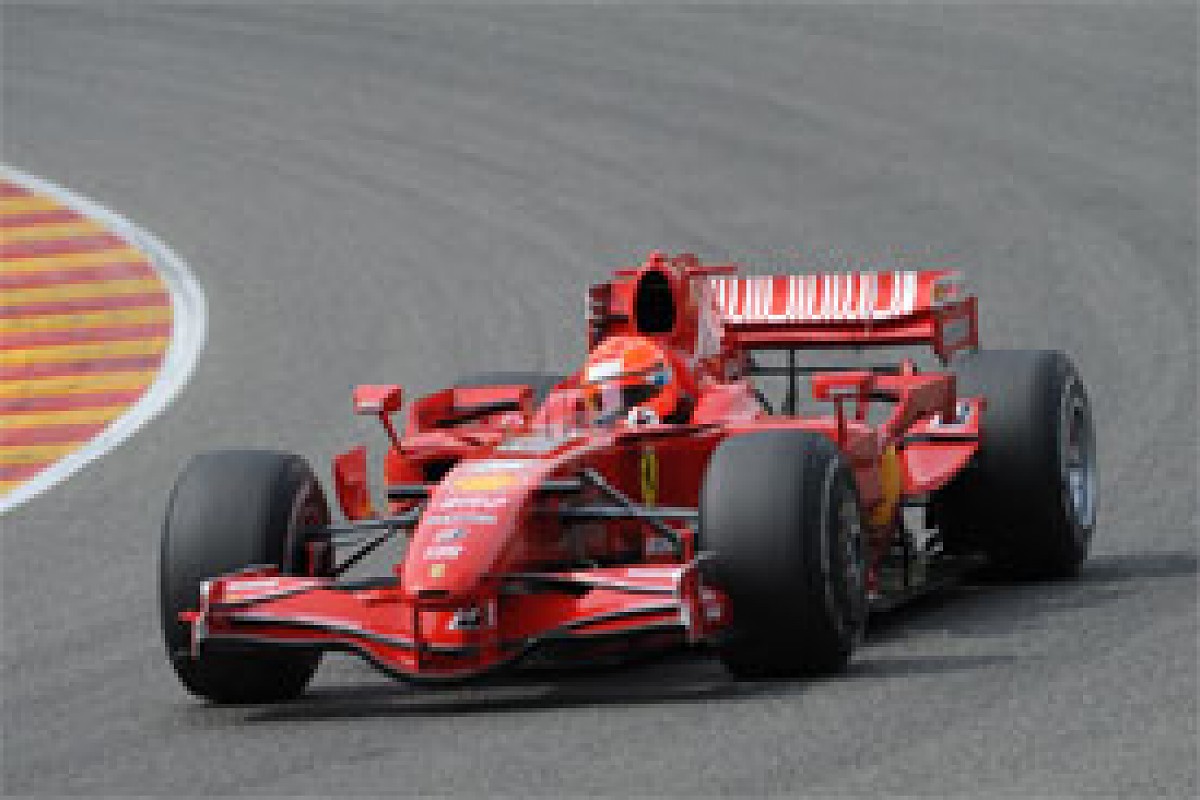 Michael Schumacher testing the Ferrari F2007 on GP2 tires at Mugello
But any sensible observer would take full account of his circumstances. A few tenths behind his team-mate, even half a second. So what? Both Ferrari drivers have had suffered major embarrassments in qualifying this year when they didn't quite get things right.
The frustrating thing for Schumacher will be the race itself, on a track that last year produces a dull procession. Whether he starts sixth or ninth or 12th there won't be any miracles on Sunday, and the chances are he'll be stuck in a line of cars.
But next comes Spa. On a track where he has made so much history, and where the driver still has a reasonable input into lap time, he will be in his element. He can also drive around Monza with his eyes closed, and ditto Suzuka and Interlagos.
Indeed nobody has raced at the Japanese track since Schumacher was last there in 2006. And at all of those high speed venues, don't forget, he will have a KERS button...
Aside from Valencia, Singapore will also be new to him, while everyone starts afresh at Abu Dhabi. All three are to a greater or lesser degree street venues, lined by walls, where precision is required. See where I'm going with this?
Unfamiliar tracks have never presented a problem for Schumacher, and he probably relishes the challenge of tackling Singapore at night, especially as it's a venue where Monaco (and Hungary) form suggests that Ferrari will be right up there.
All of this assumes that Massa won't be back in 2009, and it's fair to say that we can only properly judge the wisdom of Schumacher's comeback if he gets all seven races, and he's probably banking on exactly that. And of course the more events he does, the higher the chance that it will rain somewhere. We all think that the Red Bull is the car for the wet, but Massa was looking pretty good in China at one stage...
KERS is one thing that has surely caught Schumacher's attention. Michael loves gizmos, and the combination of a power boost button and an adjustable front wing is absolutely tailor made for a man whose speciality is multi-tasking while driving at 200mph.
He's always had the brain power left over to run flat out while dealing with complex controls and simultaneously discussing the car behaviour on the radio and calculating Ferrari's position in the constructors' championship all at the same time.
A lot of other guys might be quick, but some use all their mental capacity to do it.

Slick tyres will also no doubt appeal to him. He spent the first six and a half years of his career on them, and veteran F1 engineers concede that knowledge from that era is not completely useless. One thing is for sure. Whatever the conditions, however tricky the tyre management situation at a given track, he won't whinge about the car not suiting his driving style. He'll just get on with it.
There remain question marks over his fitness. He'll be 40 and eight months when he gets to Valencia. Mansell was a couple of months shy of 42 when he drove his last race in Spain in 1995, and since then no one over 40 has started a grand prix. Of course, Schumacher was super fit when he stopped, and remained in pretty good shape when he was last testing for Ferrari in early 2008.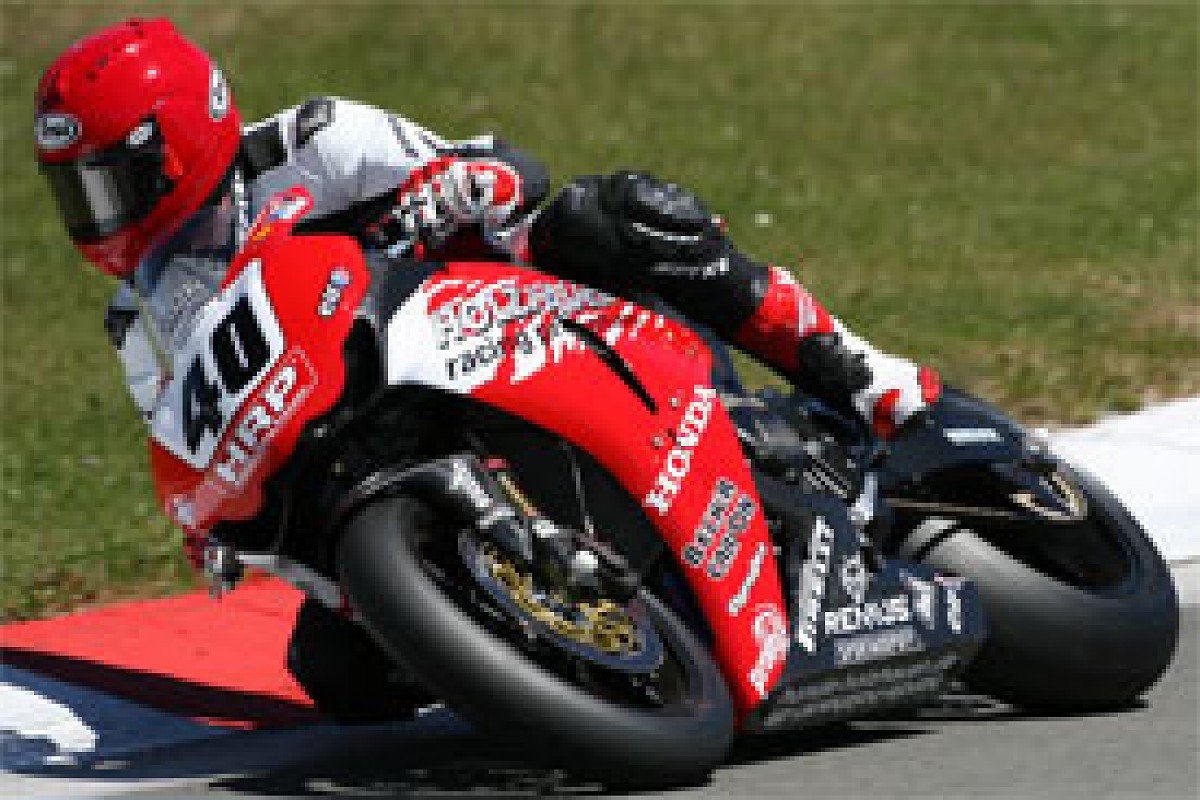 Michael Schumacher in the German Superbike race at the Nurburgring © XPB
He hasn't completely gone to seed since then, but obviously he's not been following the same punishing regime as he used to, because amateur two-wheeled racing doesn't really call for it.
He hasn't raced a bike this year, a result of a crash in Spain in February while preparing for the German Superbike Championship. He hurt his shoulder that day and clearly that has been an issue over recent months, but it didn't seem to slow him down when he beat all the current F1 hotshots in a kart event a couple of weeks back.
Nevertheless there are some doubts, and that's why Ferrari put him an F2007 at Mugello on Friday. Most assumed that he wouldn't be able to sit in a car until Valencia, so it was a brilliant bit of lateral thinking by the team to use its 'F1 Clienti' department. The guy who runs it used to work on Michael's car and there were probably a few other familiar faces in the garage.

In theory he can drive that car every day from now until Valencia. Demo cars are not subject to the usual test ban, and the Clienti guys are not obliged to take part in FOTA's mandatory August factory shutdown.
Nevertheless all the other teams received an e-mail on Friday morning asking permission for Schumacher to have an official test, in other words in an F60 on current tyres. The purpose, said the letter, was "in order to properly evaluate the possibility for his comeback."
Not all have agreed, but most gave a positive response - a "sporting gesture" John Howett called it - but one wonders how they felt when they discovered that within a couple of hours of the request Michael was already out in an F2007, albeit on GP2 tyres. Surely that would have been a perfectly adequate way of evaluating his physical situation without the need for him to try KERS, 2009 slicks, et al on an F60...
You can't help but smile. He's only been in the frame for a few days, and yet Schumacher and the team are already trying to extract every possible advantage from the system, just as they always did. If Ferrari does get permission from all its rivals then the test will likely be in the week of the European GP, and that too will be unprecedented.
Schumacher will be busy too on a simulator in the coming days. A Ferrari spokesman confirmed that while he can't use the team's usual one at the Fiat Research Centre, because that is subject to the factory shutdown, there were other outside facilities that he can use.
The fascinating thing is how it will all work out with Raikkonen. When the Finn arrived as Schumacher's direct replacement the world seemed to think that the former champion would watch over him like some sort of big brother. Raikkonen didn't feel the need for such assistance, and Schumacher has focussed his energies on Massa's half of the garage ever since.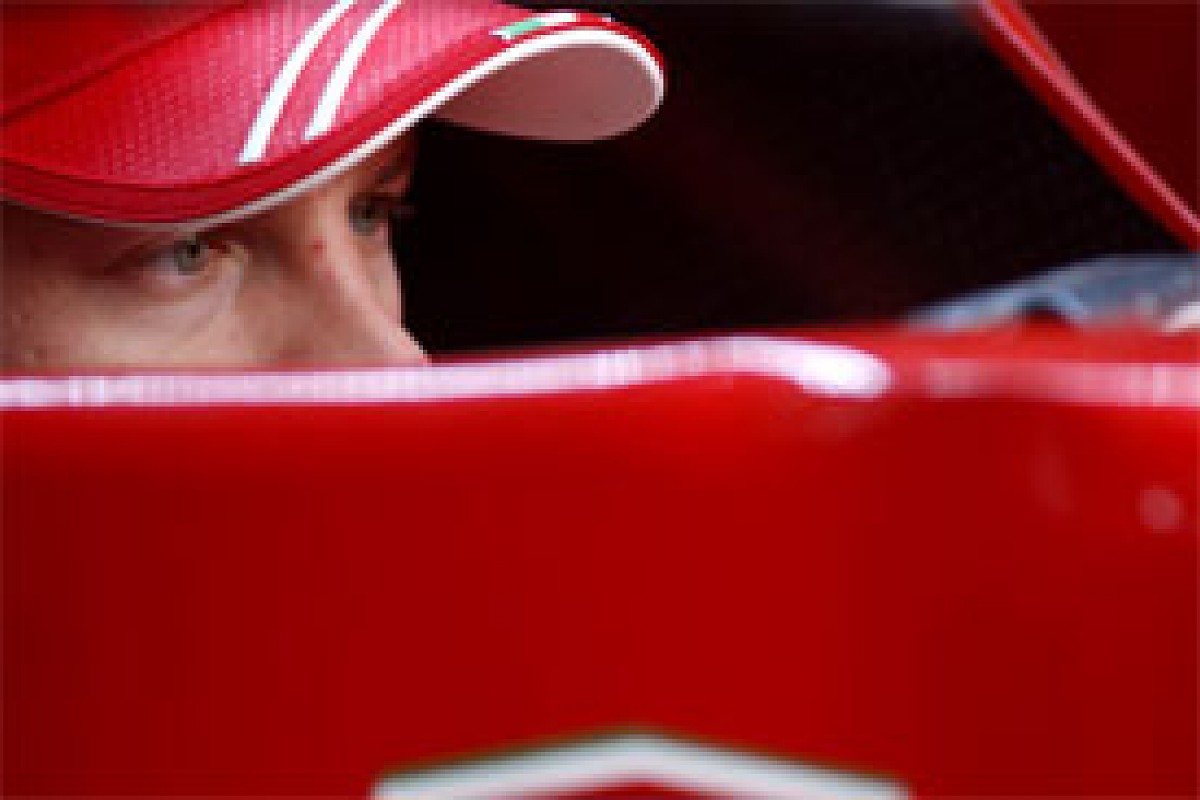 Kimi Raikkonen © LAT
Raikkonen was brilliant throughout 2007, but things went awry last year when he didn't feel comfortable with the car, and he seemed to attract most of the bad luck going in the first part of the season. As Massa emerged as the title contender, so the Finn found himself a little isolated in the camp.
This year they have been much more evenly matched, although various qualifying disasters - and the fact that they are no longer racing in the spotlight at the front - means it's been harder to properly assess them. Raikkonen did have a good run to second in Hungary, but there was a feeling in the Ferrari camp that Massa would have won. The man himself said as much apparently when he finally learned in hospital that Lewis had triumphed in "his" race.
Ferrari's best result of the season could not have been better timed, however.
Sitting in Switzerland and watching Raikkonen finish 11s down on Hamilton, Schumacher probably came to the same conclusion as Massa. If I'd been in that car, I would have been ahead...
It's obvious that Raikkonen doesn't fit in with the team's long-term plans, although the situation is not 100% transparent. Just as there was a log jam of potential drivers for 2007 until Schumacher took his name out of the hat, so there is now. But while Massa's doctor says that he will be fit to race again, Ferrari still has to consider the possibility that things don't quite work out for 2010.

"You have to also think of what they want to do with their drivers next year," said the insider. "If they want to do an Alonso/Massa deal, they probably have not finalised the exit of Raikkonen yet, they are probably all on to that. If on the contrary they have already negotiated the Raikkonen 'off' then they have to think who could replace Massa? Then they have to look at a short-term situation and a long-term situation..."
The bottom line is we should all just sit back and enjoy these seven races, or however many it turns out to be should Massa's recovery prove to be a swift one. It really is a little bit of history, like a one-off reunion of a much-loved rock group. We'll see Hamilton on the same grid as Schumacher, just as Michael raced against Senna, and Ayrton against Lauda, and so on.
One final thought. The Ferrari mechanics have apparently taken to calling Schumacher the "gufo", or owl. It's because he sits on the pit wall and brings the bad luck that the animal apparently symbolises in Italy. Indeed whenever he shows up, Raikkonen has a nightmare of a race...

Check out the Schumacher Special Journal issue we ran when the seven-time champion retired in 2006