PRACTICE
Practice 1 - Friday am
Mark Webber picked up where he left off at the Nurburgring - following his first victory by leading much of first practice at the Hungaroring.
But he would end the morning only fourth, as Heikki Kovalainen, Nico Rosberg and Lewis Hamilton jumped into the top three places with late laps.
All eyes were on Jaime Alguersuari, who made the most of the empty track in the opening 45 minutes as the frontrunners waited for the dust to be cleared. The Spaniard ended up last, but made no mistakes and was respectably close to team-mate Sebastien Buemi.
Practice 2 - Friday pm
The same four drivers filled the top four in the afternoon, albeit in a slightly different order. This time it was a McLaren one-two, with Hamilton ahead of Kovalainen.
Rosberg was third, while Webber hung on to fourth despite a late hydraulic problem.
Jarno Trulli also hit trouble, stopping on track with an electrical issue.
Jenson Button had only been 10th in the morning, but slipped further still in the afternoon, ending up 13th. Yet the championship leader remained optimistic, feeling his pace on high fuel was strong.
Practice 3 - Saturday am
The weather, probably one of the most talked-about factors over the past weeks, took a turn for the worse - at least for those having problems to heat up their tyres - and Saturday was a lot cooler than everyone had expected, with even a few drops of rain hitting the track.
But that didn't change much at the top of the timesheets in final practice, with Hamilton completing a clean sweep for McLaren ahead of the surprising Nick Heidfeld and Rosberg. The championship contenders were nowhere to be seen near the top of the times, as both Red Bull and Brawn continued to hide their cards ahead of qualifying.
Two men, Timo Glock and Adrian Sutil, hit trouble during the session, the German missing most of it following a hydraulic leak. Sutil was worse off, however, after crashing his Force India, leaving his mechanics with the task of rebuilding his car for the grid-deciding session.
QUALIFYING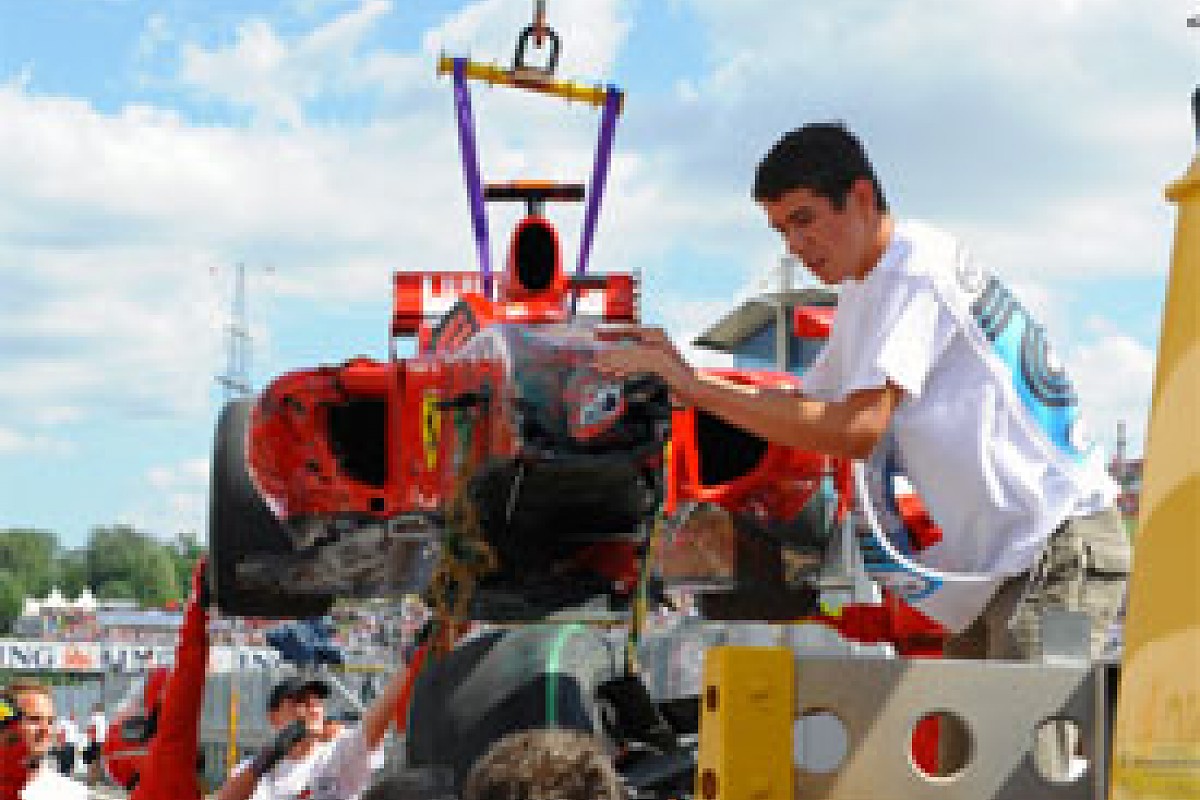 Felipe Massa's damaged Ferrari F60 © LAT
1. Fernando Alonso - Renault
An excellent effort from the Spaniard gave Renault its first pole position since the 2006 Chinese Grand Prix, showing the French squad is making progress towards the front. The Spaniard, however, had the lightest car of the field and the two-time champion himself admitted after qualifying that victory was out of reach. Bizarrely he had to wait several minutes to discover he was the polesitter as a timing system failure left drivers, teams and fans alike totally in the dark.
2. Sebastian Vettel - Red Bull-Renault
After struggling with his car's balance at the start of the weekend, things improved considerably for Vettel on Saturday, as he set himself perfectly for a great result thanks to the right fuel load. With Button so far behind, Sunday's race was a unique opportunity for him.
3. Mark Webber - Red Bull-Renault
Despite being three kilos lighter than Vettel, Webber could not join his team-mate on the front row. It was hardly a bad day for the German Grand Prix winner, though, who completed an excellent day for Red Bull Racing as rival Brawn struggled far from the top positions.
4. Lewis Hamilton - McLaren-Mercedes
Clearly suiting his car, the Hungaroring was expected to be Hamilton's and McLaren's best chance of victory this season so far. With a good fuel load on board, Hamilton put on a superb showing to put himself in a great position to shoot for the lead thanks to his KERS.
5. Nico Rosberg - Williams-Toyota
Rosberg was looking good right from the start of the weekend, the German talking up his chances of a podium finish after first practice. His form was confirmed on Saturday thanks to a strong run to fifth which put him in a good situation to achieve his goal.
6. Heikki Kovalainen McLaren-Mercedes
Completing McLaren's strongest qualifying of the season, Kovalainen was nonetheless left hoping for more. However, the Finn had a hard time trying to find the same amount of grip than in the morning, with the now common tyre warm-up issues striking again.
7. Kimi Raikkonen - Ferrari
Raikkonen was encouraged after a positive Friday and he continued to fare well on Saturday, albeit never in contention for a place near the top. Raikkonen put on a decent effort to qualify in seventh, but at Ferrari that mattered little on a day marked by his team-mate's accident.
8. Jenson Button - Brawn-Mercedes
The championship leader put on a brave face after qualifying in eighth, but there was no denying that starting from the fourth row in Hungary was far from encouraging. The positive note was the Button had the heaviest car of the top ten, but on a track were overtaking is virtually impossible, the Brawn driver was set for a challenging race.
9. Kazuki Nakajima - Williams-Toyota
Despite a decent performance, the Japanese driver felt he could have done better in Q3, but he struggled to get his tyres up to the right temperature with more fuel on board. Nonetheless, Nakajima completed a promising day for Williams and set things up perfectly for its first double points finish of the year.
10. Felipe Massa - Ferrari
The Brazilian was, sadly, the man making the headlines on Saturday. After a solid Q1 run, Massa was completing his final run in Q2 when a spring flying off Barrichello's car impacted against the left side of his helmet when approaching Turn 4. Massa's car careered off track and hit the tyre walls at high speed and the Ferrari driver stayed motionless after the accident.
It took a few minutes for the medical assistance to arrive and remove him from the car, taking him straight to the medical centre before he was airlifted in stable condition to a Budapest hospital, where he underwent surgery after being diagnosed with a damaged skull and brain concussion.
Massa was out in an induced coma for 48 hours before further scans would determine if there was brain damage and how long his recovery will take. In any case, the Brazilian is likely to miss several races and Ferrari will have to find a replacement.
11. Sebastien Buemi - Toro Rosso-Ferrari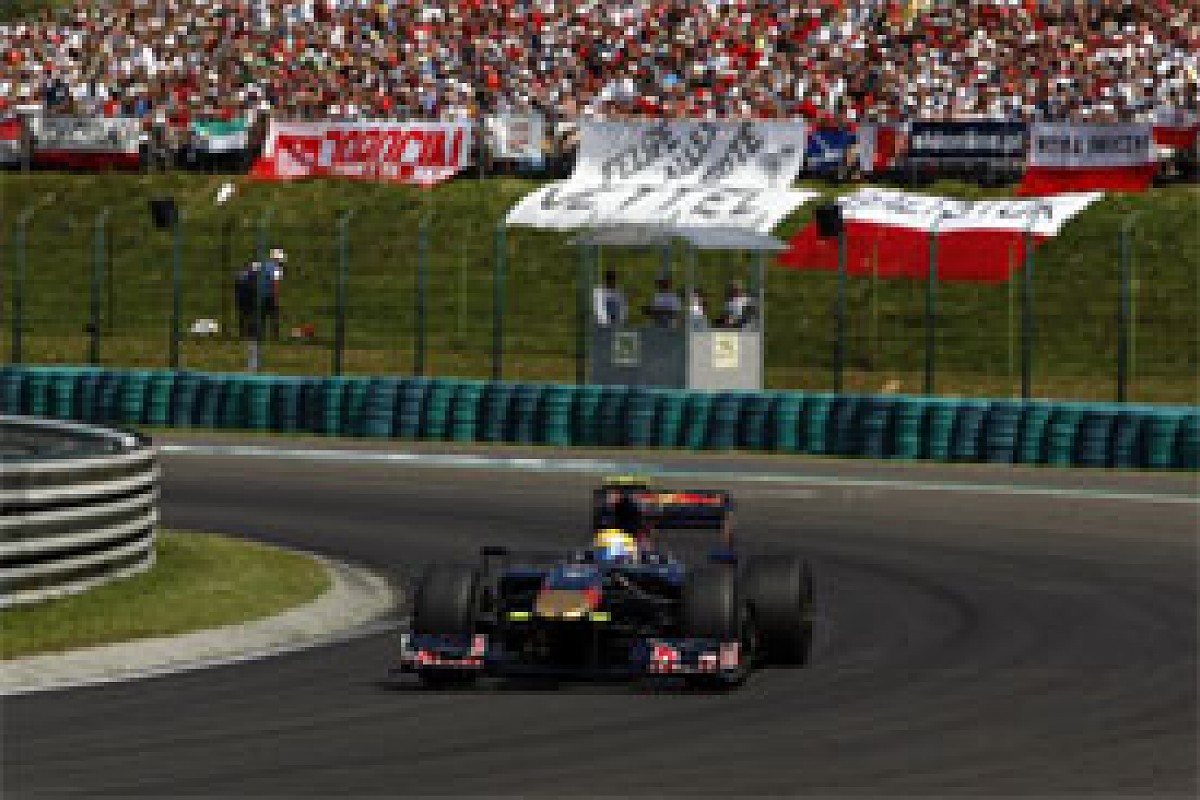 Sebastien Buemi qualified 11th with the updated Toro Rosso © LAT
Showing that the major upgrade introduced by Toro Rosso in Hungary was a success, Buemi made a big jump in performance compared to the previous races. The Swiss took full advantage of all the improvements to return to a position that would allow him to fight for the points again.
12. Jarno Trulli - Toyota
Trulli was not completely happy with his car's handling all weekend, the Italian conceding Toyota simply did not have enough pace to fight nearer the top. He wasn't too far off the pace in Q2, but just a few tenths made a significant difference in such a closely-matched field.
13. Rubens Barrichello Brawn-Mercedes
Completing yet another poor day for Brawn, Barrichello was not thinking about his performance but about his friend Massa's condition. Nonetheless, looking at the championship situation, the result was far from ideal. Barrichello thought a place in the top ten was possible, but the problem with his car left him with no chance to go out and complete his final run.
14. Timo Glock - Toyota
Although Glock was encouraged by his pace after final practice, the German admitted he was baffled about why he was unable to get a good laptime in qualifying. Some traffic in his final run did not help his cause, but it was clear that Toyota were far from the top in Hungary.
15. Nelson Piquet - Renault
The under-pressure Brazilian was under no illusions for qualifying following a rather difficult Friday, which he spent acclimatising to the new parts introduced for his car. And, as he had predicted, it was a tough session on Saturday too, not only finishing in 15th, but seeing his team-mate take the same car to the top spot.
16. Nick Heidfeld - BMW-Sauber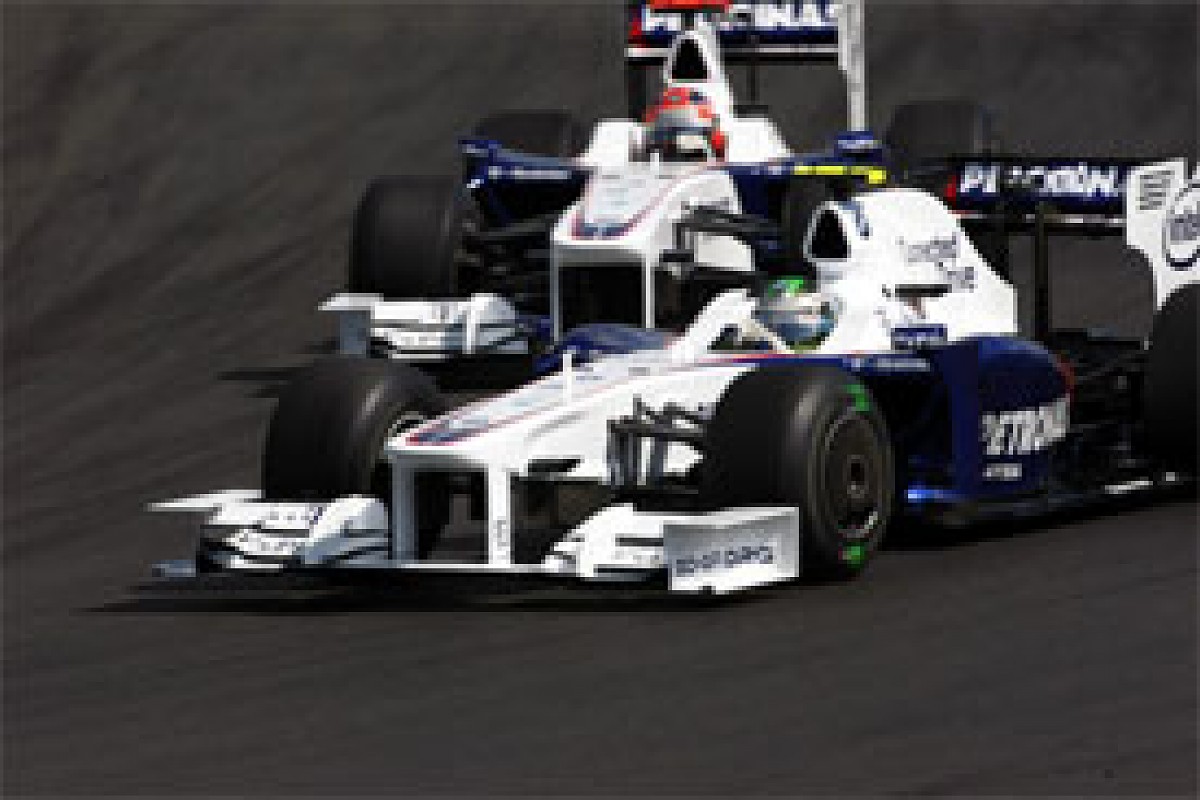 The BMWs failed to advance from the first round of qualifying © LAT
It was a disastrous day for Heidfeld. The German felt his car was good enough to be in the top ten, so going out in Q1 left him extremely frustrated. After being quick in his first run, Heidfeld was slowed by traffic in his other two and thus ended up less than a tenth off Q2.
17. Giancarlo Fisichella - Force India-Mercedes
Despite the progress shown in the previous race, Force India had a tough time in Hungary. Fisichella struggled with the lack of grip and, although he was just two tenths off the Q2 cut, the Italian was knocked out and was left facing a difficult race.
18. Adrian Sutil - Force India-Mercedes
Ahead of the weekend, the German was adamant that reaching Q2 would be pretty straightforward given the progress made by Force India lately. But it all went wrong when Sutil crashed in final practice, forcing his team to work against the clock to have the time ready in time for qualifying. They made it, but Sutil managed just one flying lap, which was not enough to avoid going out in Q1.
19. Robert Kubica - BMW-Sauber
Like Heidfeld, Kubica paid the price for his problems in dealing with traffic, completing a dismal day for BMW Sauber. He was also hindered by the yellow flags on his first attempt and the end result was the prospect of another tough race without points.
20. Jaime Alguersuari - Toro Rosso-Ferrari
After a more than decent performance in all practice sessions, the young Spaniard continued with his mistake-free weekend in qualifying. Alguersuari's car, however, suffered an engine problem when he was ready to begin his final flying run, and he was forced to park it.
QUALIFYING RESULTS
Pos  Driver       Team                       Q1        Q2        Q3     
 1.  Alonso       Renault               (B)  1:21.313  1:20.826  1:21.569
 2.  Vettel       Red Bull-Renault      (B)  1:21.178  1:20.604  1:21.607
 3.  Webber       Red Bull-Renault      (B)  1:20.964  1:20.358  1:21.741
 4.  Hamilton     McLaren-Mercedes      (B)  1:20.842  1:20.465  1:21.839
 5.  Rosberg      Williams-Toyota       (B)  1:20.793  1:20.862  1:21.890
 6.  Kovalainen   McLaren-Mercedes      (B)  1:21.659  1:20.807  1:22.095
 7.  Raikkonen    Ferrari               (B)  1:21.500  1:20.647  1:22.468
 8.  Button       Brawn-Mercedes        (B)  1:21.471  1:20.707  1:22.511
 9.  Nakajima     Williams-Toyota       (B)  1:21.407  1:20.570  1:22.835
10.  Massa        Ferrari               (B)  1:21.420  1:20.823
11.  Buemi        Toro Rosso-Ferrari    (B)  1:21.571  1:21.002
12.  Trulli       Toyota                (B)  1:21.416  1:21.082
13.  Barrichello  Brawn-Mercedes        (B)  1:21.558  1:21.222
14.  Glock        Toyota                (B)  1:21.584  1:21.242
15.  Piquet       Renault               (B)  1:21.278  1:21.389
16.  Heidfeld     BMW-Sauber            (B)  1:21.738
17.  Fisichella   Force India-Mercedes  (B)  1:21.807
18.  Sutil        Force India-Mercedes  (B)  1:21.868
19.  Kubica       BMW-Sauber            (B)  1:21.901
20.  Alguersuari  Toro Rosso-Ferrari    (B)  1:22.359

All Timing Unofficial

THE RACE
An improving Renault on pole on an ultra-aggressive strategy that required an early sprint. Two Red Bulls right behind with a championship to chase. A reigning world champion, who had already declared his intention to lead out of Turn 1, in an increasingly competitive McLaren on row two. Two more KERS cars close behind, and then a points leader only eighth in the line-up but confident that his long-run pace would make him a factor.
Add a tight first corner and a circuit notoriously grip-less off the racing line, and a busy start to the race was inevitable.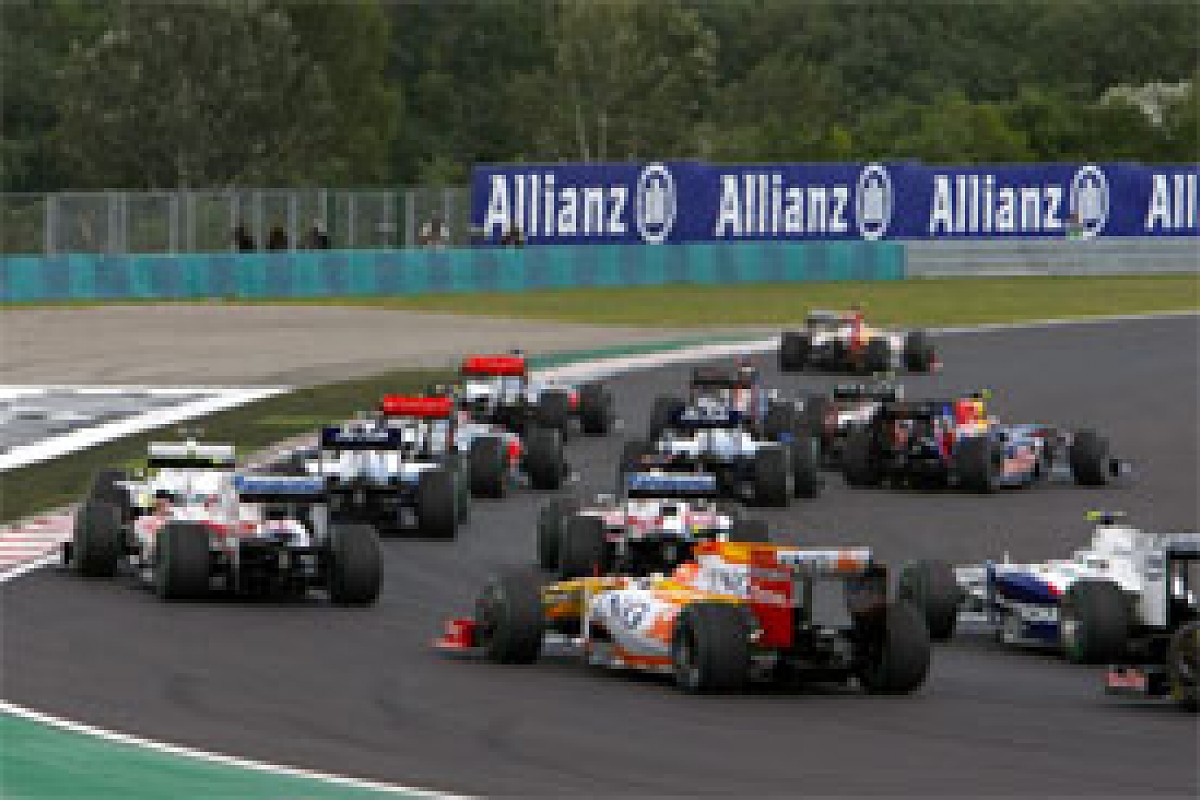 Sebastian Vettel, Kimi Raikkonen, Mark Webber, and Lewis Hamilton jostle for position at the start © LAT
All the action happened behind Fernando Alonso though, as the Renault made a clean break from pole and reached Turn 1 comfortably clear of the traffic jam that ensued as Lewis Hamilton and Kimi Raikkonen hit their KERS buttons and flew between and around the slower-starting Red Bulls. Mark Webber came out okay - regaining second on the exit of the corner as Hamilton went a little wide - leaving the Australian somewhat relieved and surprised: "I was very, very happy to survive the first lap in second place. I expected to go further back. It looked like there was a lot of elbowing..."
Most of it affected his team-mate Sebastian Vettel. He escaped one near miss off the line as Hamilton jinked to avoid Raikkonen and nearly collected him, then did get clouted on the way out of Turn 1 as Raikkonen squirmed across the track under power. Vettel fell right down to seventh behind Nico Rosberg and Heikki Kovalainen as he regained momentum, and was already radioing his team to report "something broken" on the Red Bull.
Before the race Jenson Button had hoped that the KERS cars would impede the Red Bulls and keep the pack tightly bunched as he worked his way through. But things weren't turning out as he had predicted: for one thing his Brawn was in terrible trouble with tyre graining within a handful of laps, and after passing Kazuki Nakajima for eighth early on, he was unable to stay in touch with Kovalainen and Vettel. Also, it wasn't the KERS cars being held up, rather than the other way around, for Hamilton was all over the similarly-fuelled Webber.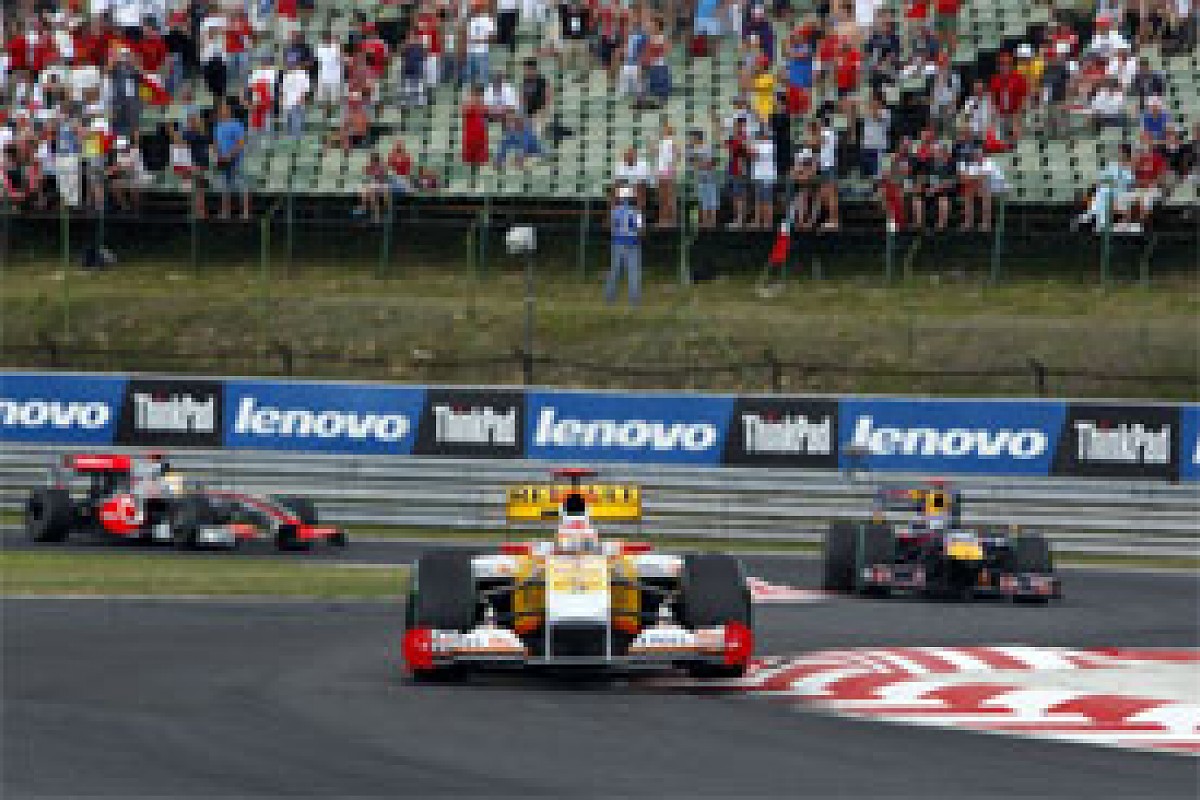 Fernando Alonso leads the early laps from Mark Webber and Lewis Hamilton © LAT
On lap five the McLaren went down the outside of the Red Bull into Turn 1, then capitalised on Webber's tight line and a burst of boost to surge into second by Turn 2.
While Raikkonen then crept up on Webber, Hamilton quickly closed on Alonso, whose strong early pace had faded as a fuel pump problem developed. This forced an even earlier than planned pitstop on lap 11, and it was here that an already compromised race turned into a disaster for Renault, as Alonso was sent out without his right front wheel fully attached.
Immediately aware of a problem at the front, he tip-toed back around to the pits, but even at reduced pace he could not prevent the wheel from flying off halfway around the track.
Alonso rejoined at the tail of the field, but only briefly before the fuel pressure issued returned to end his day completely. Much worse was to follow, when the stewards judged that Renault had contravened the rules by allowing Alonso to leave with the wheel insecure and then not informing him by radio, and took the shock decision to bar the team from the next grand prix in Valencia.
That was one of three incidents on the officials' post-race discussion list, along with Raikkonen's first lap brush with Vettel, and a near-collision in the pitlane between the Ferrari and Webber as both made their first stops on lap 19. "A little bit of confusion" in the Red Bull stop saw Webber released just as Raikkonen came alongside, with contact averted as Webber jinked away and fell in behind the Ferrari. There would be no penalty, with the stewards deciding not to intervene over this moment or the first lap incident.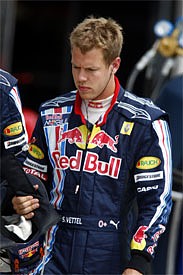 Sebastian Vettel failed to finish © LAT
Hamilton had been 5s ahead of Webber and Raikkonen prior to the stops, and extra lap on low fuel, some handy traffic gaps and the McLaren's relentless pace then saw that cushion extend a little. while Webber fell away from the Ferrari as his unique choice of soft rather than super soft tyres for the middle stint failed to pay off.
The gaps would ebb and flow - Raikkonen briefly looked like he might close on Hamilton and mount a challenge for the lead, Webber later came back strongly at Raikkonen - but the race for the podium places was effectively settled once the first stops were complete.
Webber did still have a few moments of pressure from behind though. His first threat was Kovalainen, whose long first stint and short first stop got him ahead of Rosberg and onto Webber's tail. But the brief middle stint that gave him the pace to worry the Red Bull for a while was a disadvantage later on, allowing Rosberg to reclaim fourth from him. The Williams also gave Webber a bit of mid-race hassle, before the Australian pulled away when back on super softs for the final laps.
After their poor qualifying results, the Toyotas opted for extremely long first stints and showed much better race pace. Glock got as high as third by virtue of not pitting until lap 32, and yet again he made this strategy pay off and emerged with sixth.
Trulli, who stopped slightly sooner, looked to be on course for seventh, ahead of Button, who spent most of the afternoon fighting a rearguard action as drivers who had been in the midfield all year found themselves faster than the man who couldn't stop winning just a few weeks ago. He picked up enough pace later on to get back ahead of Trulli in the final stops, but seventh at a track where he had expected to revive his title hopes was an ominous result.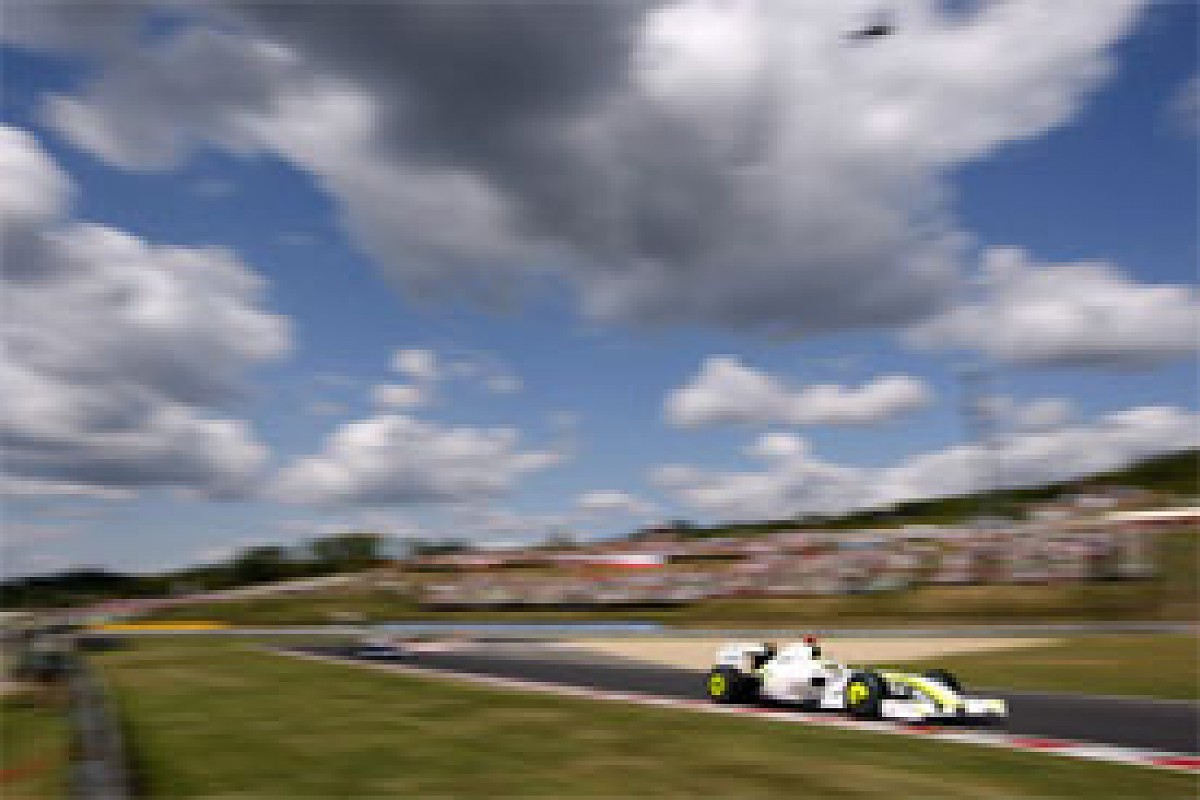 Jenson Button had a long and lonely afternoon to salvage the final point © LAT
"The Red Bull is a lot quicker and obviously McLaren, Ferrari and Williams have stepped up their game. But our car is not what it was to drive a few races ago," said Button.
"It's not that we've got the same paced car and everyone has overtaken us. Our car is not driving as it has done from the start of the season so there is obviously an issue."
His team-mate Rubens Barrichello lost a lot of places at the first corner, made a few of them back thanks to a long first stint, and finished 10th, part of a queue that finished the race on Trulli's tail as the Toyota's grip faded. Nakajima was at the front of this line, with Nick Heidfeld, Nelson Piquet and Robert Kubica following Barrichello in the snake.
Force India vanished into obscurity again after its recent star showings, with Adrian Sutil out on the first lap due to rising engine temperatures, and Giancarlo Fisichella only beating the Toro Rossos, which finished in an unexpected order as a mid-race spin for Sebastien Buemi meant Jaime Alguersuari beat his team-mate to 15th.
The only consolation for Brawn was that Red Bull's run of perfect weekends had come to an end, for while Webber's third place reduced Button's lead to 18.5 points, Vettel could not capitalise at all as his suspension damage forced him to pull out on lap 30.
But for the first time all season, the race was not about Brawn and Red Bull, but McLaren and Ferrari. The combination that had been so crushingly dominant in the years prior to 2009 was back on top. While Raikkonen was not starting much fanfare about a Ferrari resurgence (describing his car as "okay, nothing special"), Hamilton was as thrilled as he was surprised to be winning again just two races after failing to get beyond Q1 at home.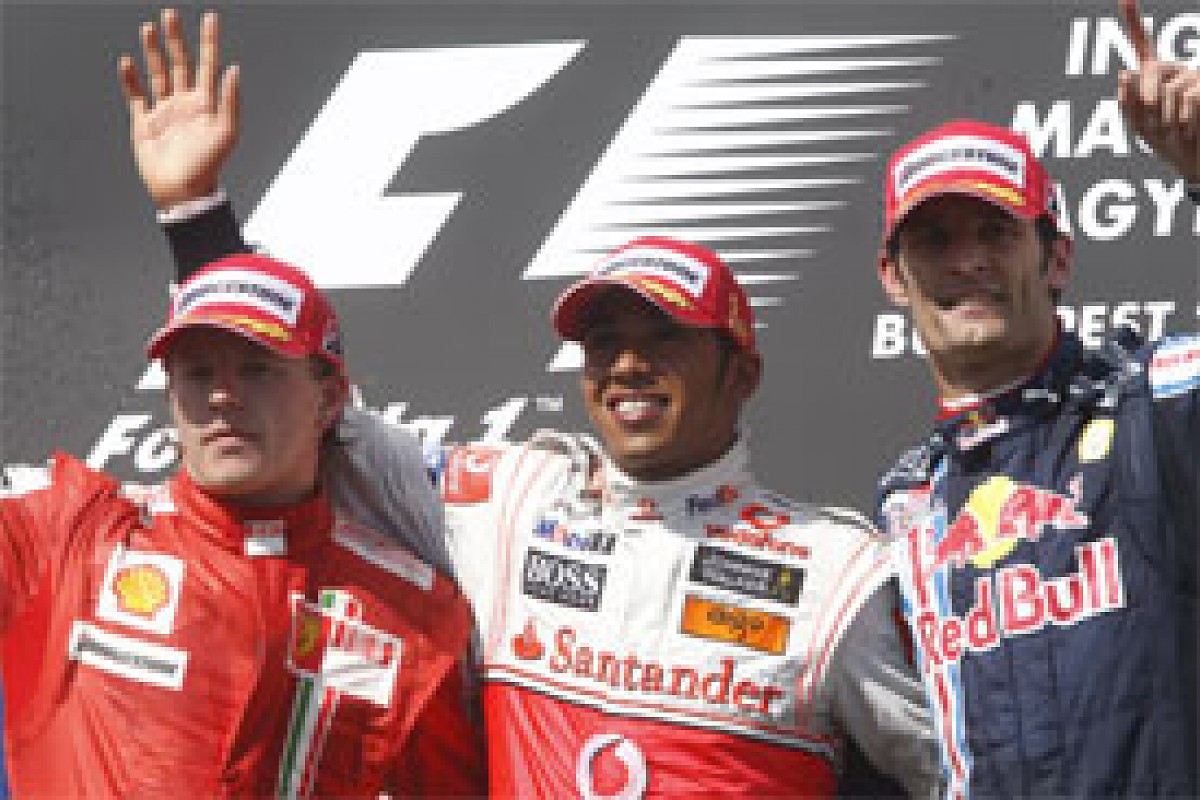 Kimi Raikkonen, Lewis Hamilton, and Mark Webber on the podium © LAT
"It's an incredible feeling to be back here after what feels such a long time away and with such a struggle for me and my team," said the world champion.
"I am just so proud of the guys. Everyone wants to win just as much as I do and they never gave up. I am very, very proud of them.
"We didn't expect to win this weekend. Undoubtedly we have caught up quite a bit but we never felt we had the pace to win. But the car felt fantastic and it is incredibly special to get back up here, not only on the podium, but to get a win. It is amazing."
RACE RESULTS

The Hungarian Grand Prix
The Hungaroring, Hungary;
70 laps; 306.663km;
Weather: Sunny.

Classified:

Pos  Driver        Team                      Time
 1.  Hamilton      McLaren-Mercedes      (B)  1h38:23.876
 2.  Raikkonen     Ferrari               (B)  +    11.529
 3.  Webber        Red Bull-Renault      (B)  +    16.886
 4.  Rosberg       Williams-Toyota       (B)  +    26.967
 5.  Kovalainen    McLaren-Mercedes      (B)  +    34.392
 6.  Glock         Toyota                (B)  +    35.237
 7.  Button        Brawn-Mercedes        (B)  +    55.088
 8.  Trulli        Toyota                (B)  +  1:08.172
 9.  Nakajima      Williams-Toyota       (B)  +  1:08.774
10.  Barrichello   Brawn-Mercedes        (B)  +  1:09.256
11.  Heidfeld      BMW Sauber            (B)  +  1:10.612
12.  Piquet        Renault               (B)  +  1:11.512
13.  Kubica        BMW Sauber            (B)  +  1:14.046
14.  Fisichella    Force India-Mercedes  (B)  +     1 lap
15.  Alguersuari   Toro Rosso-Ferrari    (B)  +     1 lap
16.  Buemi         Toro Rosso-Ferrari    (B)  +     1 lap

Fastest lap: Webber, 1:21.931

Not classified/retirements:

Driver        Team                      On lap
Vettel        Red Bull-Renault      (B)    30
Alonso        Renault               (B)    16
Sutil         Force India-Mercedes  (B)    2
Massa         Ferrari               (B)    DNS


World Championship standings, round 10:                

Drivers:                    Constructors:             
 1.  Button        70        1.  Brawn-Mercedes        114
 2.  Webber        51.5      2.  Red Bull-Renault       98.5
 3.  Vettel        47        3.  Ferrari                40
 4.  Barrichello   44        4.  Toyota                 38.5
 5.  Rosberg       25.5      5.  McLaren-Mercedes       28
 6.  Trulli        22.5      6.  Williams-Toyota        25.5
 7.  Massa         22        7.  Renault                13
 8.  Hamilton      19        8.  BMW Sauber              8
 9.  Raikkonen     18        9.  Toro Rosso-Ferrari      5
10.  Glock         16       
11.  Alonso        13       
12.  Kovalainen     9       
13.  Heidfeld       6       
14.  Buemi          3       
15.  Bourdais       2       
16.  Kubica         2       
       
All timing unofficial


Lap-by-lap as it happened on AUTOSPORT Live
TEAM BY TEAM
Ferrari
Ferrari's weekend was totally overshadowed by the horrible accident in qualifying that left Massa hospitalised with head injuries, having been struck on the helmet by debris from Barrichello's car before hitting the barriers heavily.
Raikkonen qualified seventh, then raised the team's spirits with second in the race. A great start got him up behind Webber, who he then passed at the first stops.
McLaren-Mercedes
A clean sweep of fastest practice times - one for Kovalainen, two for Hamilton - announced McLaren's return to top form. Given that progress, fourth and sixth on the grid (Hamilton ahead) was perhaps a little disappointing.
Hamilton couldn't quite achieve his aim of taking the lead at the start, but he made up one place, passed Webber early on, then hit the front once Alonso pitted and never looked back, duly clinching his first 2009 win. Kovalainen hassled Webber for third for a while mid-race, before falling back to fifth with an early final stop.
BMW Sauber
Heidfeld and Kubica line up only 16th and 19th on the grid, but feel traffic and ill-timed yellows are as big an impediment as the car's lack of speed.
Both made progress in the race, but not enough to score points, although they were in the queue behind eighth-placed Trulli in the end as Heidfeld came home 11th and Kubica took 13th.
Renault
Alonso makes great use of an aggressively light fuel load to take Renault's first pole in three seasons, while Piquet complains a little about traffic as he ends up a lowly 15th.
Although Alonso holds the lead at the start, he's shown in trouble with a fuel pump problem, then loses more time - and finds his team banned from Valencia - when his right front wheel comes off following his first pitstop. More fuel pump issues force him out soon after.
Unimpressed team boss Flavio Briatore leaves the circuit early, not wishing to wait to see Piquet finish a quiet 12th.
Toyota
Trulli and Glock rue the set-up time lost to practice electrical and hydraulic problems respectively as they struggle to 12th and 14th in qualifying.
But carrying plenty of fuel for the first stint allows them to make up a lot of ground. Glock goes right through to lap 32 before his first of two stops and is able to finish sixth, with Trulli eighth after losing out to Button at the final stops.
Toro Rosso-Ferrari
The question of whether Algueruari is ready for F1 dominates the build-up, but he acquits himself well, driving sensibly all weekend. A throttle problem strands in qualifying, leaving him 20th on the grid, while Buemi revels in the team's upgrades to qualify 11th.
A bad start then sends Buemi towards the back, with a later spin ensuring he finishes 16th and last - a place behind the steady and consistent Alguersuari.
Red Bull-Renault
Vettel and Webber qualify second and third and hope to again capitalise on Brawn's troubles.
Webber isn't fast enough to beat Hamilton and Raikkonen - the former passing him on track after a spirited early joust and the latter getting ahead in the pits - but hangs on for third and get to within 18.5 points of Button.
Vettel's suspension removes a blow from Raikkonen at a frantic first corner, costing him time and ultimately forcing him to retire while looking set for at least a top five.
Williams-Toyota
Rosberg is quick throughout practice and takes fifth on the grid, with Nakajima ninth after admitting to a lacklustre Q3 lap.
The Japanese finishes ninth too, frustratingly close to separating Trulli from the final point.
But there is better news for Rosberg, who pushes Webber for the final podium spot and takes another strong points haul in fourth.
Force India-Mercedes
Back down to earth after the Nurburgring. Fisichella takes 17th in the qualifying, with Sutil one place behind after hurried repairs to the damage in a practice crash.
He doesn't feature in the race for long either, rising temperatures forcing him out virtually immediately. Fisichella plugs on to finish 14th.
Brawn-Mercedes
Another worrying weekend for Brawn. The team makes no impression in practice, but insists it is quick in race trim.
Barrichello accidentally triggers Massa's awful crash when a component from his suspension comes loose and strikes the Ferrari driver's helmet.
The failure leaves Barrichello only 13th on the grid, and he loses more ground with a poor start. Long stints allow him to eventually recover to 10th.
Button takes a season-worst eighth on the grid, and does not have the pace to join the lead pack on race day, leaving him baffled and frustrated. He finishes seventh.