Everything finally fell into place for Mark Webber at the Nurburgring. In winning his 130th grand prix, the Aussie established a new record for the longest drought before a maiden Formula 1 victory, although the likes of Andrea de Cesaris, Martin Brundle, Derek Warwick and Jean-Pierre Jarier started more races and never managed one. And after 159 grands prix, the currently winless Nick Heidfeld could yet take Mark's record away.
It was certainly a popular success, since Webber has few if any enemies in the paddock. What's not to like? He's a decent, unpretentious guy who has always just got on with the job, and is hugely respected by his colleagues. And as the man himself said, he scored his first win not by default, but in crushing style from the front. Beating the drive-through penalty he got for bumping into Rubens Barrichello made it even sweeter.
The funny thing is that if there is an area that rivals might criticise him for, it's his starts. In fact when discussing what might happen before last Sunday's race, several drivers said Mark could be a little aggressive on the run to the first corner. Anthony Davidson used the word 'clumsy' and he used it several times in his BBC radio commentary when discussing the start controversy during the race itself.
Of course such things are not always noticed when you're back in the pack, but when you start on pole, the focus is on you. And in this case actual contact was made, so the stewards felt moved to act.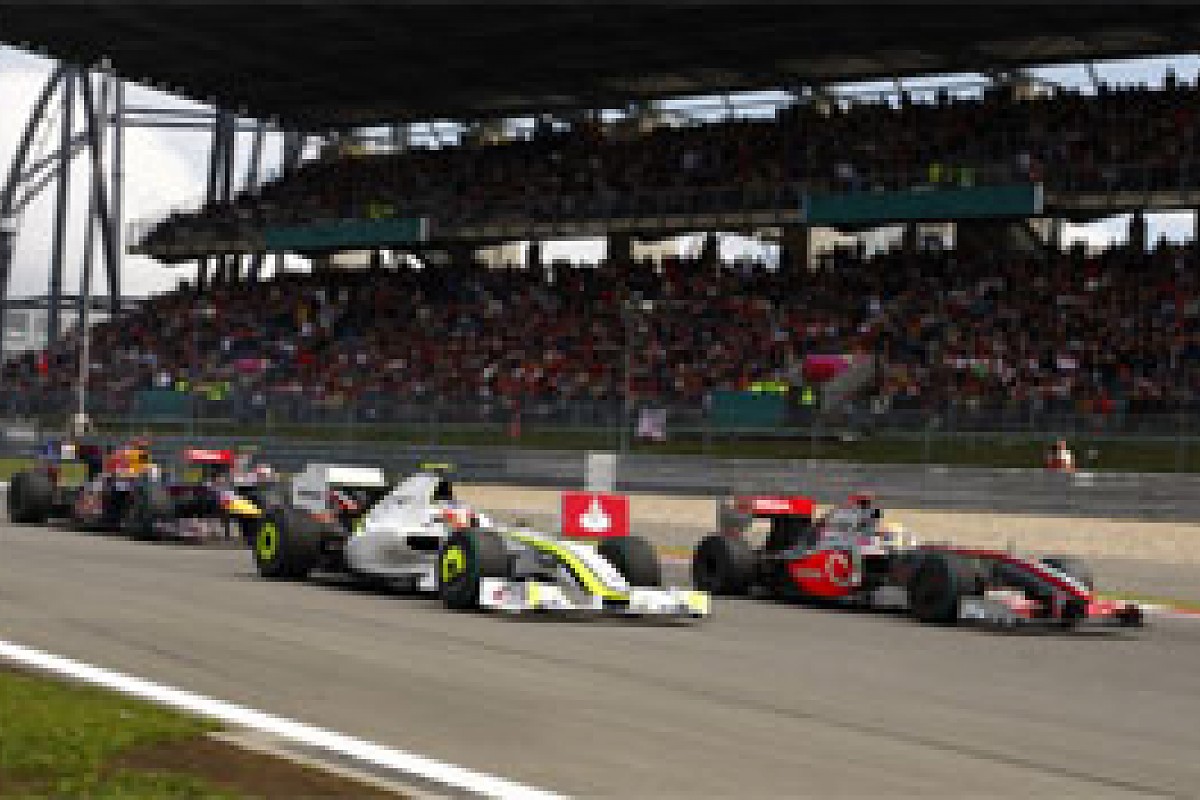 Lewis Hamilton and Rubens Barrichello lead into the first turn ahead of Mark Webber © LAT
"The start was not fantastic," Webber explained after the race. "I thought Rubens made even a worse start, but I couldn't really see or find him at some stage there. I was moving across a little bit to just get track position down to Turn 1, and then I bumped into him. That was the first time I saw or felt him, so a bit of a surprise. Sitting behind him cruising was all good and then my engineer rang me up and said we have a drive-through penalty.
"I thought, 'this is not what we planned!' I had a great opportunity to win, and now I have a drive-through. I took the penalty and I just pushed like absolute hell to make sure that maybe I still had a chance to win the race."
After that he didn't put a foot wrong. He's logged a series of great drives this year, jumping cars ahead on several occasions by making strategies work, and barely putting a foot wrong. It's strange that for all these years he's been criticised for underperforming on Sundays, and yet in 2009 he has been awesome.
"The second stint when very, very well for me. The Brawns were not fast. Jenson was behind me and I could pull away from him very, very easily. His tyres weren't good, and they were on a three-stop strategy, so the Brawns were not in the picture for me anymore. In the end, the race was quite straightforward, because Sebastian had a lot of traffic in the first stint.
"To win this grand prix like I did, fighting at the front and then opening the gap as I did, it was emotional for me to cross the line, and I was very, very relieved and happy.
"It won't change my life too much, but for sure I'm happy to get it. No one can take it off me now. To win at this level you need everything perfect. The team delivered for me today. I was happy that the race wasn't handed to me, I had to work for it, it's a grand prix that I can be very proud of winning."
Ciaron Pilbeam: A first for the family
Another man enjoying his first grand prix victory was Mark's race engineer, Ciaron Pilbeam. If that surname sounds familiar it should do, because he's the son of famed hillclimb and sportscar constructor Mike.
Before doing his own thing, Mike was once BRM's chief designer, and he was also the man behind David Purley's 1977 Lec F1 contender. His best result came when his BRM P201 managed a second place in South Africa with Jean-Pierre Beltoise in 1974, so this was also a first grand prix win for the family.
"It's a fantastic result for Mark," smiled Ciaron after the race. "It's been a long time coming and it's very welcome when it has come. He drove a fantastic race. He's had a good weekend - every session he's been quick, so it's nice to convert the good qualifying that we had yesterday into a race result. We've had things that haven't always gone our way, but sometimes they do go your way."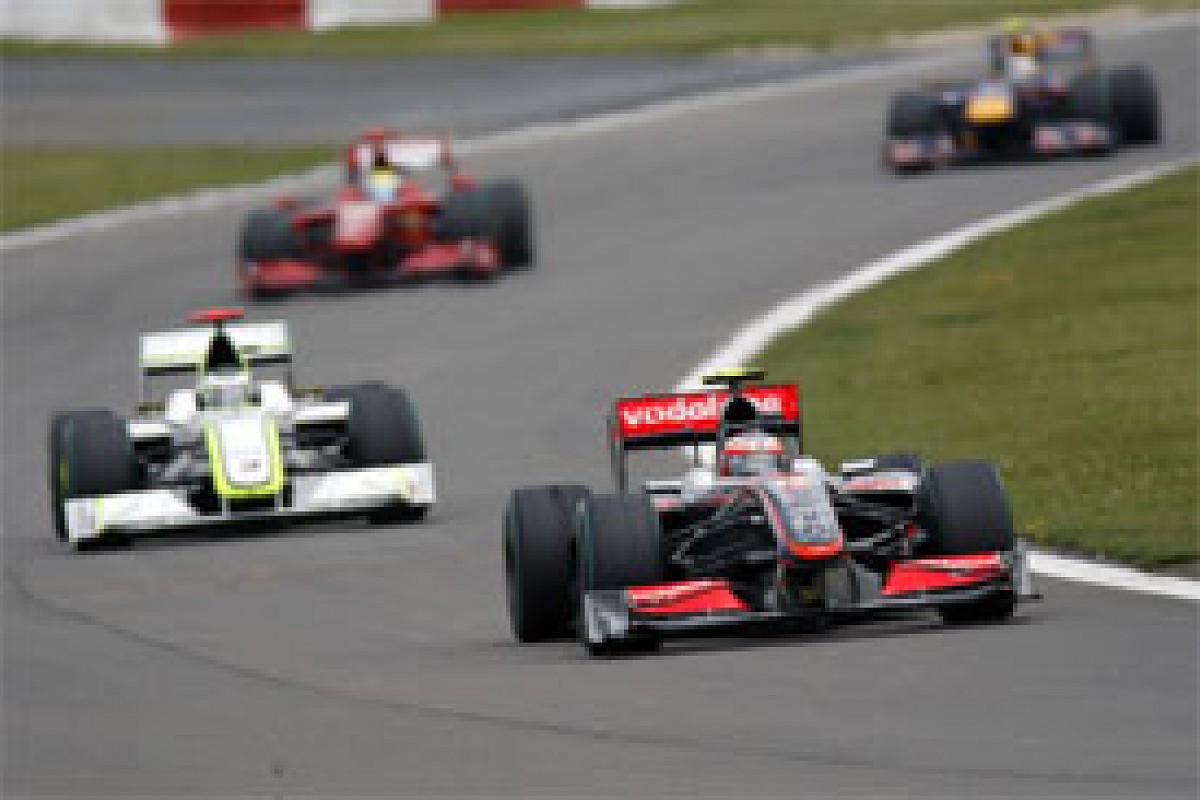 Heikki Kovalainen holds up the field as Rubens Barrichello and Mark Webber pull away © LAT
In the end it was Heikki Kovalainen holding up the pack that allowed Mark to take his penalty and still win.
"That looked very good for us when Heikki was holding the pack up. We knew we were longer than Rubens at the first stop. The penalty nearly dropped us back into the pack, which would have been a problem. As it was, we came out just ahead and were able to pull away again. Fortunately, we were quick enough to take the win anyway.
"We ran supersoft at the start, with most people, and then went prime, prime after that. It worked very well. The option was good for the start of the race for the good warm-up and good start performance. It suffered a bit of degradation towards the end of the stint, which is why we went prime after that.
"Mark's middle stints this year have been very good, but his first stint was as well. It was good to be in that position at the first stop, even with the penalty. The car's been quick all weekend and if you've got a quick car you stand a chance of winning the race."
Of course the assumption is that in the hotter conditions of Hungary, Brawn will bounce back.
"It's certainly a commonly held belief. We'll see in Hungary which way it goes. We're looking forward to it. We're on a bit of a high, we're coming off the back of two good results, so we're looking forward to every race at the moment. The championship is getting close, and we think it's do-able.
"The car is quick, Mark and Sebastian have been pushing each other quite a lot all year, they've been within a tenth of each other in most sessions throughout the year. I think both of them are getting the most out of the car. Mark's driving as well as I've seen him drive, and it's good to watch.
"Obviously we're still almost 20 points behind so we've still got a bit of work to do. The other teams seem to have gained a bit this weekend, Ferrari, and McLaren have picked up, and [Fernando] Alonso looked very quick in the race, so we're not expecting an easy run of it at all."
Ann Neal: Stand by your man
The Nurburgring was a great day for Webber's closest supporters, led of course by his father Alan and his long-time partner in life and business, Ann Neal. Ann, who first met Webber when he was in Formula Ford, has been alongside him through all his struggles to the top. He never had any massive sponsorship and ultimately it was the patronage of Flavio Briatore that made things happen. But even so, it's not been an easy run for Mark.
"When he started in F1 he only had a drive I think for a couple of races, because we didn't have any money to come into F1," she recalled after the flag. "It was really done on a wing and prayer really, and people believing in him like Paul Stoddart and Ron Walker back in Australia.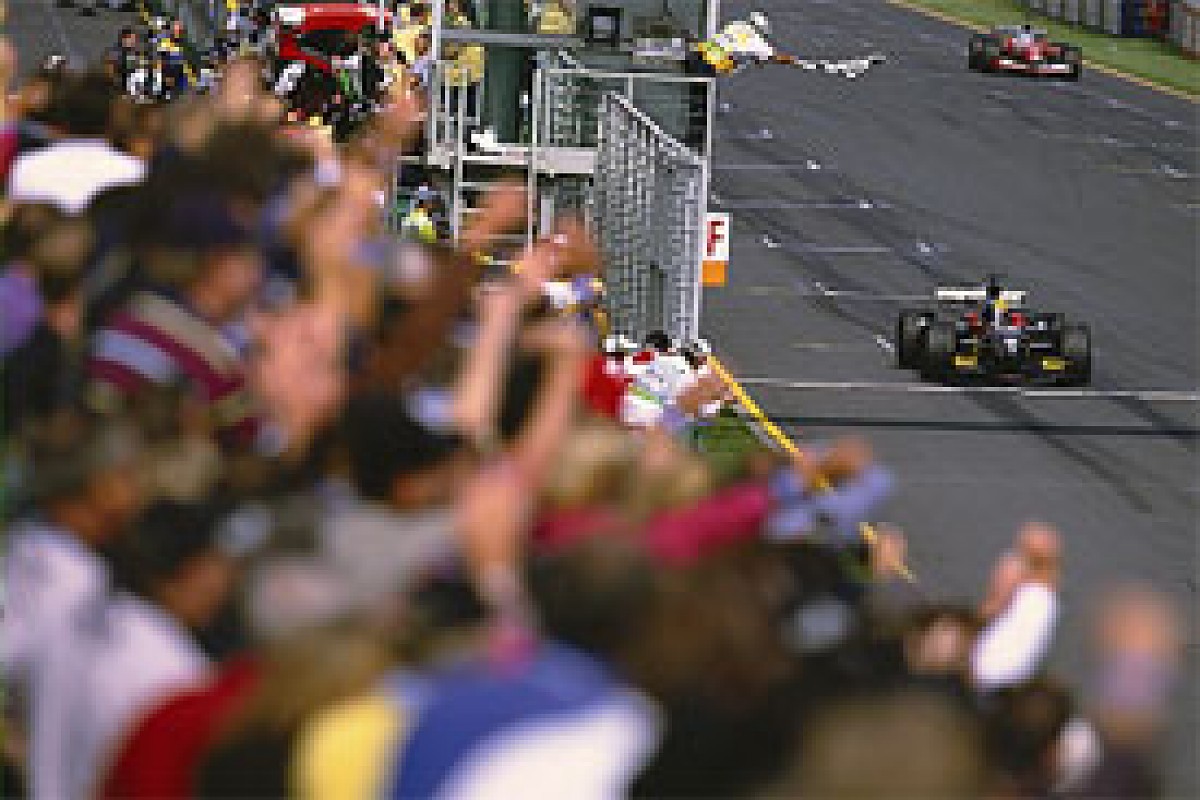 Mark Webber finishes fifth on his grand prix debut in 2002 at Melbourne in a Minardi PS02 Asiatech © LAT
"It was important for him when he first came in to try and make an impression, and that first race in Melbourne was amazing. That obviously meant his seat was secure for the rest of that year because that was a great result for Minardi. Then he had to chip away and try and make an impression in a car that's at the back of the field, which is difficult. We saw Adrian Sutil do that this weekend. So you can do it, but not that often.
"Then you have to try and claw your way up in another team. Jaguar came along and that was the next step of the apprenticeship. I suppose he probably felt at that stage after two years with Jaguar that he was ready to step up into a car that could win races.
"We really thought that was going to be Williams, because they'd won the last race of the previous year. But it was bad timing and it sort of signalled their downturn unfortunately. Then we really had that tough two years. It was tough for him, but in the second year he drove for himself, I don't think he drove for the team.
"Then the chance at Red Bull came. Flavio had told him not to go to Williams in the first place, and we didn't heed that advice, we said Williams was the team for Mark. We weren't going to ignore his advice a second time, so when he said Red Bull was the place to go, we said ok! And obviously it was Renault as well, so that was part of the family anyway. Again it wasn't a team that was doing a huge amount, but it was nice because a lot of the boys from the Jaguar days were still there. It felt like going home for him. He's always wanted to make Red Bull work, he loves how Dietrich operates.
"So this means a great deal. It's all those years coming together, it's the people that helped him after the accident last November. That was hard for him, probably harder than he ever let on I guess. Now everything's fine, but when he said in February/March I'm fully fit to race this car - well, knowing where he is now six months down the line, how much fitter he is again..."
We'll probably never know just how much of a blow the accident was to Mark, and how much stronger he might have been in the first few races had he had a normal winter's preparation.
"His physio Roger has played a huge part in making him fit to go racing. It's like anything. You talk to doctors, you talk to physios, and they all have different ideas on how to do it. That was actually quite a big challenge, who to believe. He talked to Mick Doohan quite a bit in the early days, because that kind of injury is quite commonplace in the bikes.
"It's good having those people around, telling you what to believe in. Mick said not to look backwards, always look forwards, it's going to get better every day. It's broken, you can't look back, don't wish it didn't happen because it did. You've just got to focus on going forwards. There were some tough days, but we both knew from the first day that he would be back in time for the start of the season. That's why we do the Challenge in November, because if anything happens, we've got a bit of a break before they go testing again!"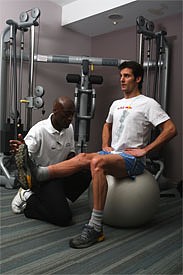 Mark Webber rehabilitating his leg with physio Roger © Red Bull
Even Ann isn't sure whether he was really under par at the start of the season, and only latterly has been at his best.
"It's hard to say, I don't know. I don't suppose even he could answer that question truthfully. He would have thought at the time that he was fully fit. I just know that he can now go and do more on his bike. It's a mind thing, getting back to where you were, that kind of level."
We've always known that Webber was good, even if he rarely had the machinery in which to prove it. But running consistently at the front this year, has he found that little bit extra?
"I think the momentum builds, doesn't it? It's the same for the engineers, they're tasting it for the first time. Obvious Adrian [Newey] has, but there's a lot of learning for everyone, and for Mark as well. Once you've won one, you want to win another one. You've got to keep the momentum going. It's a great team, they were very supportive over those tough winter months. They just gel very well together."
Helmut Marko: Joining the fan club
The fascinating thing now of course is the dynamic within the team, for just like Brawn, RBR has to juggle the demands of its two drivers.
It's clear that many in the camp favour Vettel. He is after all a Red Bull protege and a German speaker, and with due respect to Mark, he's the man of the future. But if Webber continues to match and even beat him, then the politics of the situation are irrelevant and it really will be a question of what happens on the track. Even Helmut Marko, Vettel's biggest supporter, appears to have become a Webber fan.
"It's getting better and better," said the Red Bull motorsport boss at the 'Ring. "He of course expected to be in the front at Silverstone, but that was ruined through the qualifying by [Kimi] Raikkonen, but he came even stronger here. Normally you'd maybe think he missed his big chance at Silverstone where he was always really outstanding, but he was even stronger here. He drove an immaculate race and the whole team did a fantastic job."
So does RBR now have a sniff of the world championship?
"We never gave up. We knew we had to turn it round and if we wanted to turn it round, we had to succeed at Silverstone. We will keep pushing, we are not so far away. We won't do in such an early stage what Brawn did today... It was just one point difference what they did. And we wouldn't do that, because we go for the big results."