Long awaited
Alan Jones (Williams FW07C Ford) 1981 Grand Prix of the United States, Las Vegas © LAT
Mark Webber scored his maiden Formula 1 pole position and victory at the Nurburgring.
• At 32 years, 10 months and 15 days, Webber is the 22nd oldest of the 93 drivers to have scored at least one pole in F1. The oldest is Nino Farina, who was 43 years, 6 months and 13 days old at Silverstone in 1950. The last driver to have been olden than Webber at the time of taking his maiden pole was Thierry Boutsen, who was 33 years and one month old at the 1990 Hungarian Grand Prix).
• Webber took his maiden pole in his 132nd qualifying session, beating Jarno Trulli's existing record of 119 (up until Monaco 2004).
• Before the Nurburgring, Webber shared the record for the highest number of second places without a pole, four, with Eddie Irvine, Jean Behra and Richie Ginther.
• He is the third Australian to score an F1 pole position, taking his nation's 20th, following Sir Jack Brabham and Alan Jones, who scored the last pole for an Aussie in the 1980 German GP.
• Webber's victory in his 130th race means he takes the record for most starts before a first win away from Rubens Barrichello, who had 123.
• As with the pole position record, he is the first Australian to win since Alan Jones, whose last success came in the 1981 US Grand Prix in Las Vegas.
Ross is right
Commenting on Rubens Barrichello's frustration at not winning the German Grand Prix, team boss Ross Brawn said: "Rubens had the 11th fastest time in the race today. You cannot win a race, whatever strategy you have, if your best lap is only 11th quickest, it's just not possible. Those are the facts."
He is correct. In the history of Formula 1, only two out of 812 races have been won by a driver who posted the 11th or worse fastest lap. These were the 1997 Belgian GP, won by Michael Schumacher with the 11th fastest lap and the 2008 Italian GP, won by Sebastian Vettel with the 14th fastest lap. But on both occasions the races were affected by rain.
Qualifying notes
• Nelson Piquet Jr outqualified his team-mate for the time in his 27-race Formula 1 career. • Fernando Alonso was the last remaining unbeaten team-mate this season, having made the top 10 in every race prior to Germany, while the Nurburgring was his first event outside the top 10 and Piquet's first in it.
• Adrian Sutil recorded his best grid slot in seventh. It was also the first time he's made it through to Q3.
• Nico Rosberg failed to make it to Q3 for the first time this season.
• Fernando Alonso's 12th place was his worst qualifying performance since the 2008 Singapore GP, where he was 15th.
• Lewis Hamilton made it into the top 10 for the first time in five races. It was also the first time this year that both McLarens made it to Q3.
• Red Bull scored its third straight pole; the first time a team has had three pole positions in a row since McLaren last year (Britain to Hungary).
Race notes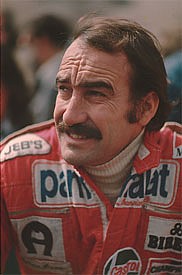 Clay Regazzoni © LAT
• Fernando Alonso scored his first fastest lap in 31 races, the last being at Monza in 2007.
• Felipe Massa finished on the podium for the first time since his victory in last year's Brazilian Grand Prix. It was the 28th podium for Massa, bringing him level with Clay Regazzoni in 27th place on the all-time list.
• Sebastian Vettel completed a run of three straight podiums for the first time in his career.
• Jenson Button's fifth place took him past 300 career points. With seven more, he will reach Juan Pablo Montoya, who occupies 18th spot on the all-time list.
• Mark Webber has scored more points (45.5) in the first nine races of this season than he has in any other full campaign. His previous best was 36 for Williams in 2005. Like Vettel, he has also scored three consecutive podiums for the first time.
• Lewis Hamilton has now gone 10 races with a win, pole, front row start or a podium finish, the worst streak of his career so far.
• A Brawn GP driver failed to finish on the podium for the first time this season.