Sebastian Vettel turns 22
On July 3, Sebastian Vettel turned twenty-two with three wins, four pole positions, one fastest lap and five podiums already in the bag.
It's interesting to compare these results with the other young talents and the recent World Champions at their 22nd birthday:
• Fernando Alonso at 22 was still waiting for his maiden win, which came a while after at the 2003 Hungarian Grand Prix, when he was 22 years and 26 days old. After turning twenty-two, Fernando had scored one pole, one fastest lap and three podiums. Fernando made his debut at 19 years, seven months and three days in the 2001 Australian Grand Prix.
• Lewis Hamilton made his debut at 22 years, two months and 11 days (2007 Australian Grand Prix) and his maiden win came three months later at the 2007 Canadian Grand Prix.
• Kimi Raikkonen began his F1 career at 21 years four months and 15 days and when he turned 22 he had scored only nine points in his 16 grands prix run. His maiden win came when he was 23 years and five months old (2003 Malaysian Grand Prix).
• Felipe Massa made his debut at 20 years and 10 months and scored points at his second attempt, but he had to wait until he was twenty-five to claim his maiden win (2006 Turkish Grand Prix). When he turned twenty-two he was having a sabbatical year, testing for Ferrari after being sacked by the Sauber team. Up until that point he hadn't posted any poles, podiums or fastest laps.
• Jenson Button entered F1 at 20 years one month and 22 days and at the time he became the youngest driver ever to score points, in the 2000 Brazilian Grand Prix, his third race. At twenty-two he had scored 14 points in 34 races. He had to wait to until he was 24 to climb on the podium (2004 Malaysian Grand Prix) and 26 to post his maiden win (Hungary 2006).
• Nico Rosberg made his debut at the 2006 Bahrain Grand Prix at 20 years, eight months and 13 days, scoring points and and becoming the youngest driver ever to post a fastest lap, but he had to wait until he was 22 years and eight months old to climb on the podium (Australia 2008).
•
Mika Hakkinen (Lotus 102B Judd) makes his debut at the 1991 United States Grand Prix at Phoenix © LAT
Michael Schumacher joined F1 at 22 years, seven months and 22 days and won his first race one year after (1992 Belgian Grand Prix).
• Mika Hakkinen started at 22 years, five months and 10 days, and had to wait until he was 29 to claim his maiden win at the 1997 European Grand Prix.
• Jacques Villeneuve started racing in F1 when he was 24 years, 11 months and one day and won his maiden race, the 1996 European Grand Prix, at 25 years and 19 days. At twenty-two he had yet do participate in his first Champ Car race.
Three times
Jenson Button and the Brawn GP team are working wonders compared to previous seasons. Button has so far scored 64 points in eight races, only one less than the sum total he achieved with a Honda in the last three years. The same applies to Brawn: 105 points in eight races, only one less than the three seasons when the team was called Honda, from 2006 to 2008.
Two Italians
Jarno Trulli will celebrate his 208th start in Germany, joining Andrea de Cesaris in the seventh spot on the participations list. With two more starts Jarno will reach Gerhard Berger, then it will be a long way to Coulthard, who stopped at 246.
Personal scoreboard: Germany
• Lewis Hamilton won from pole in the only German Grand Prix he has contested. He had a dismal weekend at the Nurburgring in 2007 when he crashed in qualifying and finished ninth.
• Felipe Massa climbed the podium in the last two German Grands Prix and also in the race held at the Nurburgring in 2007. Before that, his best result was a seventh in his debut year, 2002.
• Nick Heidfeld'[s best result in his home race came last year with a fourth place (and the fastest race lap) at his eighth attempt. His best qualifying effort is a seventh place, scored twice, in 2001 and 2005. Nick took his only pole position in F1 at the Nurburgring in 2005 when he was racing for Williams.
• Nelsinho Piquet finished second last year in his only German Grand Prix, having started from seventeenth on the grid. That was his maiden podium and the only one to date.
• Mark Webber scored points only once out of six German Grand Prix, finishing sixth in 2004. That was the only time he crossed the finish line, in all the other cases he retired, albeit being classified in eleventh in 2003 after a spin in the closing laps. In 2006 and 2008 he was victim of mechanical problems, but in 2007 at the European Grand Prix he climbed on the podium in third.
• Rubens Barrichello's maiden win in Hockenheim in 2000 is the only high point for the Brazilian in the German Grand Prix, as he retired nine times out of fifteen starts, six of them for mechanical failures. His last points finish was in 2002 with a fourth place; from then on he managed only a twelfth, a tenth and three retirements.
Other notes about the German Grand Prix
• It's the first time since 1985 that the German Grand Prix will be held at the Nurburgring. That year Michele Alboreto scored his final F1 victory. The Italian lost his life testing at the Lausitzring, in Germany, in 2001. From 1999 to 2007 the Nurburgring was the host of the European Grand Prix.
•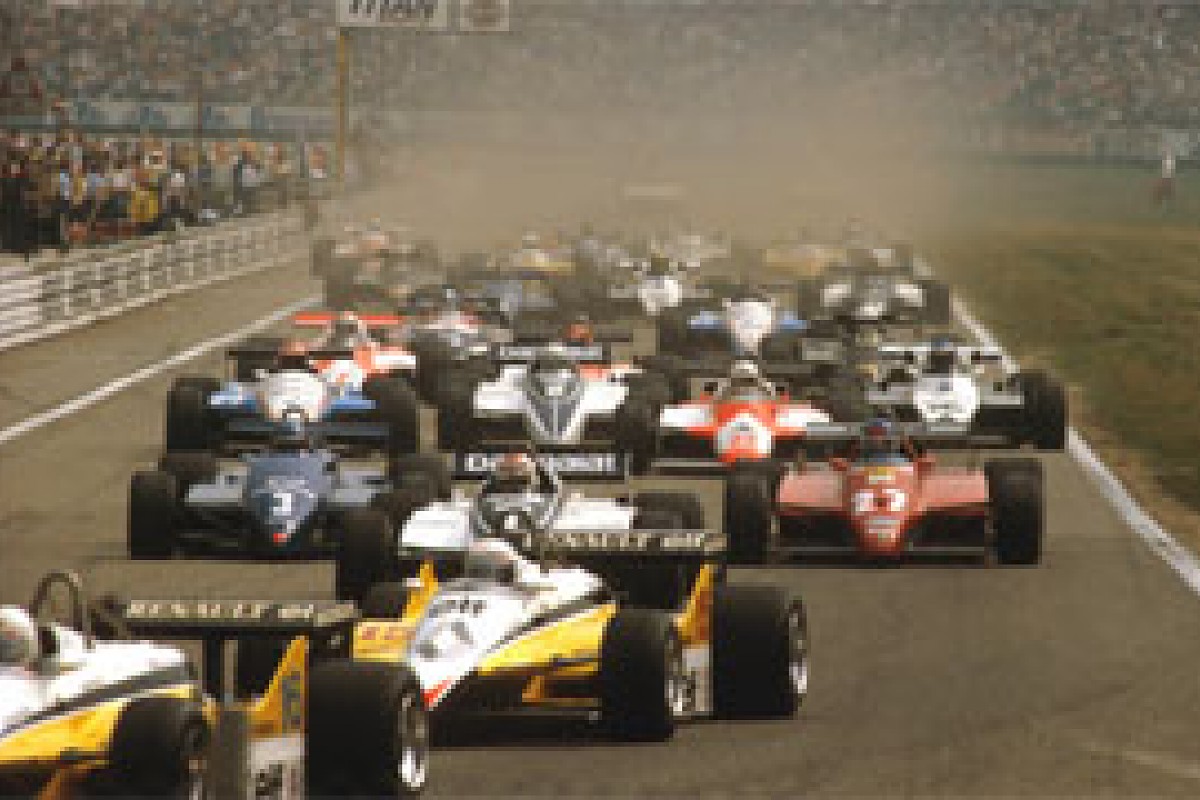 Rene Arnoux and Alain Prost (Renault RE30Bs) lead the start of the 1982 German Grand Prix at Hockenheim © LAT
Ferrari has won the German GP 19 times, an all-time record. In the last ten German GPs Ferrari has missed the podium only in 1998, 2003 and 2005.
• McLaren has finished on the podium and started from pole in the last three German GPs, and won the race last year. McLaren recorded its 100th pole exactly ten years ago with Mika Hakkinen. It's tally has increased to 141 since then.
• The last time Williams cars finished in the points in Germany was in 2004 when Juan Pablo Montoya finished fifth.
• The last time a Renault car qualified on the front row in the German Grand Prix was back in 1982, with a second place by Alain Prost. Drivers for the French team were able to climb on the podium four times in the last five German GPs, winning in 2005. The team missed the rostrum only in 2006, when its 'mass damper' was considered illegal at the start of the race weekend.