PRACTICE
Practice 1 - Friday am
While Formula 1 teetered on the brink of implosion due to the political warfare in the paddock, Red Bull got on with the important business of restarting a meaningful title challenge. Mark Webber and Sebastian Vettel held first and second for most of the morning in their upgraded cars, swapping places near the end of the 90 minutes and beating the chasing Brawns by 0.8s.
Fernando Alonso took fifth for Renault, ahead of Ferrari's Felipe Massa, as an uneventful session was enlivened by spins for the Toyotas and Nelson Piquet.
Practice 2 - Friday pm
Another Red Bull one-two in the afternoon, with Vettel knocking Webber off the top spot near the end again. Webber ended the session parked at the side of the track, having caused his electrics to shut down when he smacked the Becketts kerbs.
Amazingly third went to Adrian Sutil, who was flying in the revised Force India. Kazuki Nakajima was a surprise fourth, ahead of Alonso.
Jenson Button was only 14th, while the Ferraris languished in 17th and 18th, and Robert Kubica emerged from a lightning fast 35-minute engine change to take 11th for BMW.
Practice 3 - Saturday am
Nico Rosberg, Williams FW31 © LAT
Once again, Nico Rosberg set the pace on Saturday morning, in a session that began on a damp track following some overnight showers. The circuit dried up after some 20 minutes and so the final part of the session was somewhat frantic.
The Williams driver led team-mate Nakajima in the timesheets, as the British squad showed promising form ahead of qualifying. Jarno Trulli, Vettel and Felipe Massa completed the top five in a pretty much incident-free session.
Things continued to look less than perfect for championship leader Button, who was hindered by the low temperatures, ending up down in 12th.
Qualifying
1. Sebastian Vettel - Red Bull-Renault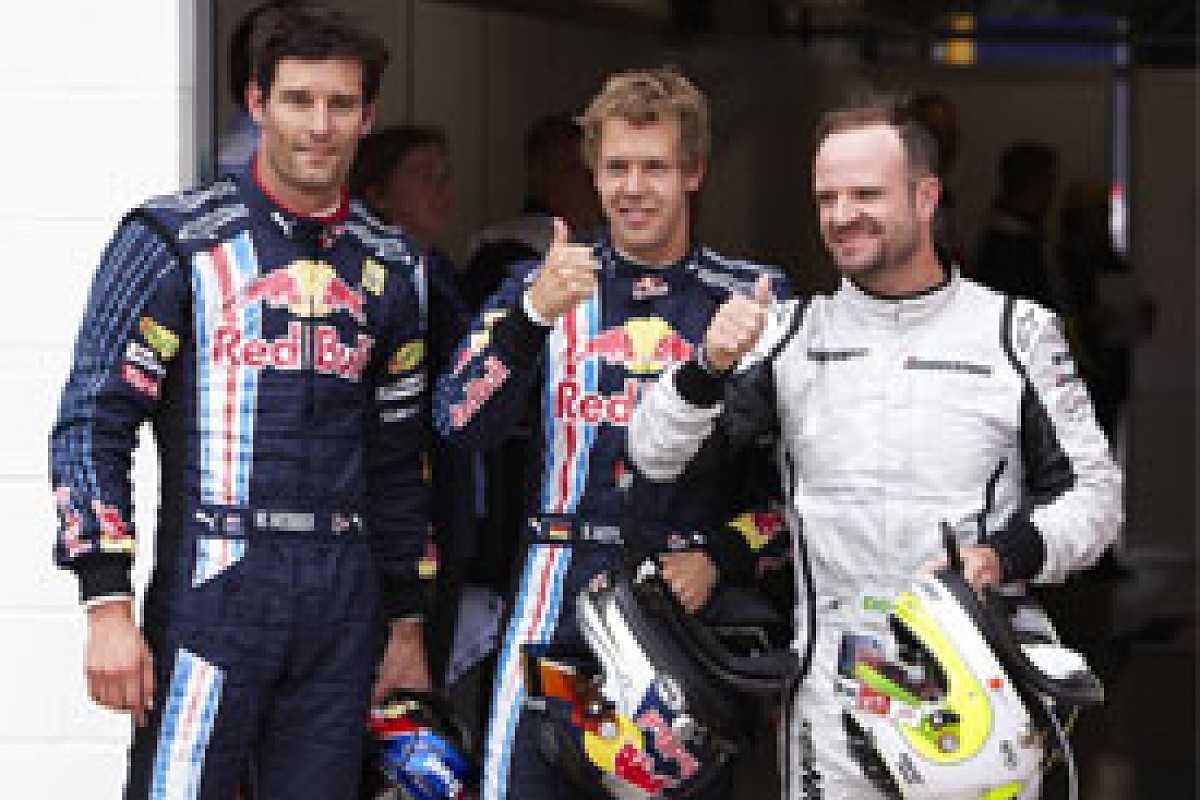 Mark Webber, Sebastian Vettel, Rubens Barrichello © LAT
Everything went smoothly for Vettel right from the start of the weekend, and there were few who were not expecting the German to be the main favourite for pole. Red Bull, introducing several updates for the weekend, was dominant since Friday and Vettel flew to his third pole of the season with the heaviest car of the top ten drivers.
2. Rubens Barrichello - Brawn-Mercedes
Always feeling at home at Silverstone, Barrichello looked like the stronger Brawn driver for a big part of the weekend. Some overnight changes improved his car's handling and Barrichello faced qualifying confident of a good result, although he admitted he did better than expected.
3. Mark Webber - Red Bull-Renault
The Australian was angry at Kimi Raikkonen after he believed the Finn had slowed him down in his final run, when Webber felt he could have been closer to the top spot. At it was, the Red Bull driver had to settle for a place outside the front row.
4. Jarno Trulli - Toyota
The aero updates Toyota took to Silverstone worked well and allowed the team to take a small step forward. Trulli made good use of the improved car to put himself in a position to fight for the podium, although the Italian claimed third place on the grid had been possible.
5. Kazuki Nakajima - Williams-Toyota
Both Williams and Nakajima seemed to be 'on' from the start of the weekend. The Japanese driver was very strong in practice and among the quickest in all three qualifying segments. Not only did he out-qualify Rosberg for the first time this year, but he also achieved his best ever starting position.
6. Jenson Button - Brawn-Mercedes
Struggling with his car due to the low track temperatures, the championship leader had the toughest time of the year so far. Understeering in the fast corners and oversteering in the slow ones, the Brawn made Button's life harder than he had expected, leaving him without a chance to continue with his amazing winning run.
7. Nico Rosberg - Williams-Toyota
Rosberg felt there was potential for a better result after Williams took a step forward at Silverstone compared to its rivals. But Rosberg was unable to extract the maximum from the revised chassis in Q3 and, although pleased with his car, he was less happy with his position.
8. Timo Glock - Toyota
From the start of the weekend, Glock had problems with getting his tyres up to the right temperature, meaning he was unable to match the pace of team-mate Trulli. In qualifying things got better though, and the German was pleased with his performance.
9. Kimi Raikkonen - Ferrari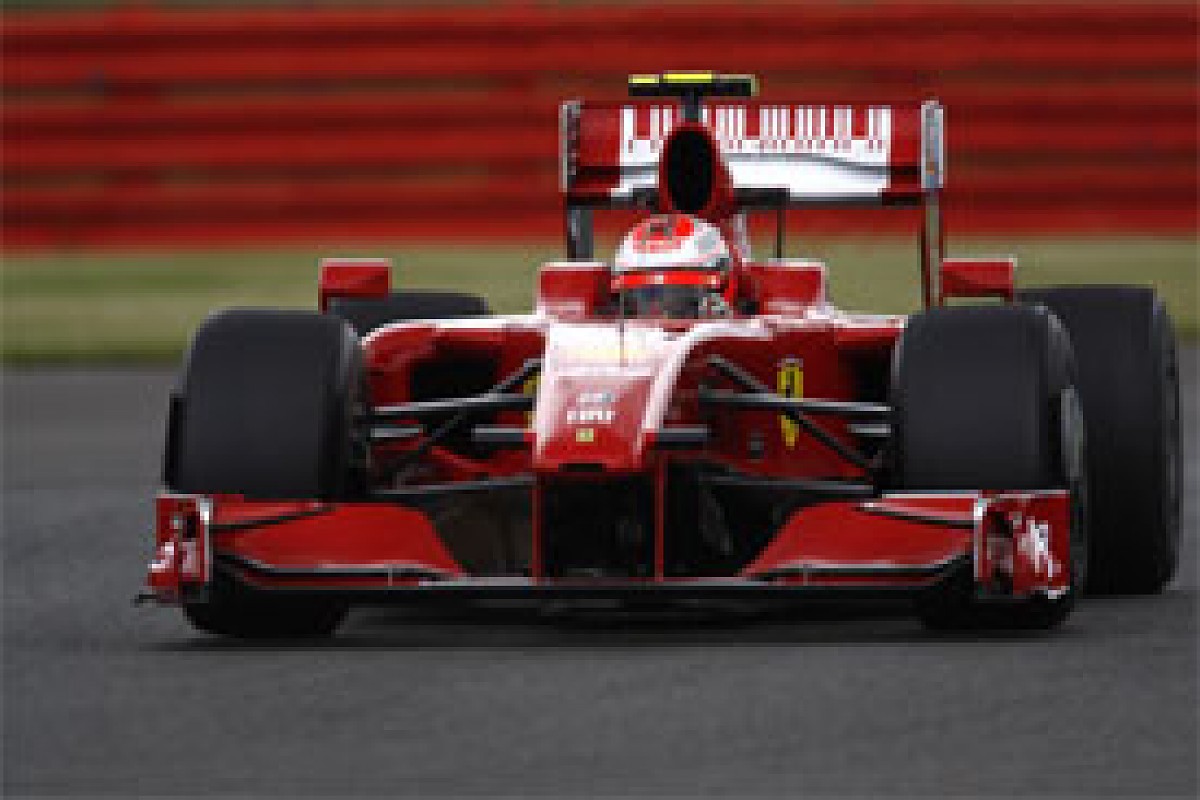 Kimi Raikkonen, Ferrari F60 © LAT
Ferrari's lack of grip was highlighted by the nature of the Silverstone circuit, and although Raikkonen was comfortable with the handling of his car, the speed was just not there. Ninth place was nothing to write home about, but after Turkey the Finn could not have expected much better.
10. Fernando Alonso - Renault
Things started promisingly for the Spaniard, who was fifth quickest on Friday. From there, however, it was business as usual, as he fought to make it into the top 10. This time, Alonso opted for a heavier car for Q3, which meant there was little chance of making it any further up the grid.
11. Felipe Massa - Ferrari
Although the Brazilian said he could have made it to Q3 if not for a mistake on his final flying lap, there was no denying the Ferrari was miles away from the leading teams. Massa said his car was balanced, but simply not fast enough, leaving him outside the top ten.
12. Robert Kubica - BMW-Sauber
It was a difficult weekend for Kubica, who has hit by technical problems in all practice sessions, covering just 10 clean laps in total before qualifying. With that in mind, there was little the Pole could do to achieve a better result with a car that's far from the best.
13. Heikki Kovalainen - McLaren-Mercedes
On a very difficult weekend for McLaren, Kovalainen extracted the best from his car. With an error-free run, the Finn wound up six places ahead of team-mate Hamilton which, given McLaren's form, was the best news he could have hoped for.
14. Nelson Piquet - Renault
Piquet felt comfortable with his car at the start of qualifying and had no problems reaching Q2 this time. However, his Renault developed a problem with the rear end in the second segment and the Brazilian had to abort his final run.
15. Nick Heidfeld - BMW-Sauber
Unlike team-mate Kubica, Heidfeld managed to completed more trouble-free running in practice, but the German admitted that, despite a new front wing, his expectations were not high. And his prediction was spot-on, as he never came close to making it into the top ten.
16. Giancarlo Fisichella - Force India-Mercedes
The Italian was bullish about his chances for qualifying, and said he was aiming to be in the top 12 at the end of the day. But things didn't work as planned, and Fisichella was first slowed by Buemi and then hit by the red flag caused by his own team-mate.
17. Sebastien Bourdais Toro Rosso-Ferrari
Bourdais felt more confident at the wheel of his Toro Rosso thanks to some developments introduced since the Turkish Grand Prix. In qualifying, however, the Frenchman was hampered by the red flag caused by Sutil. He felt he could have gone into Q2.
18. Adrian Sutil - Force India-Mercedes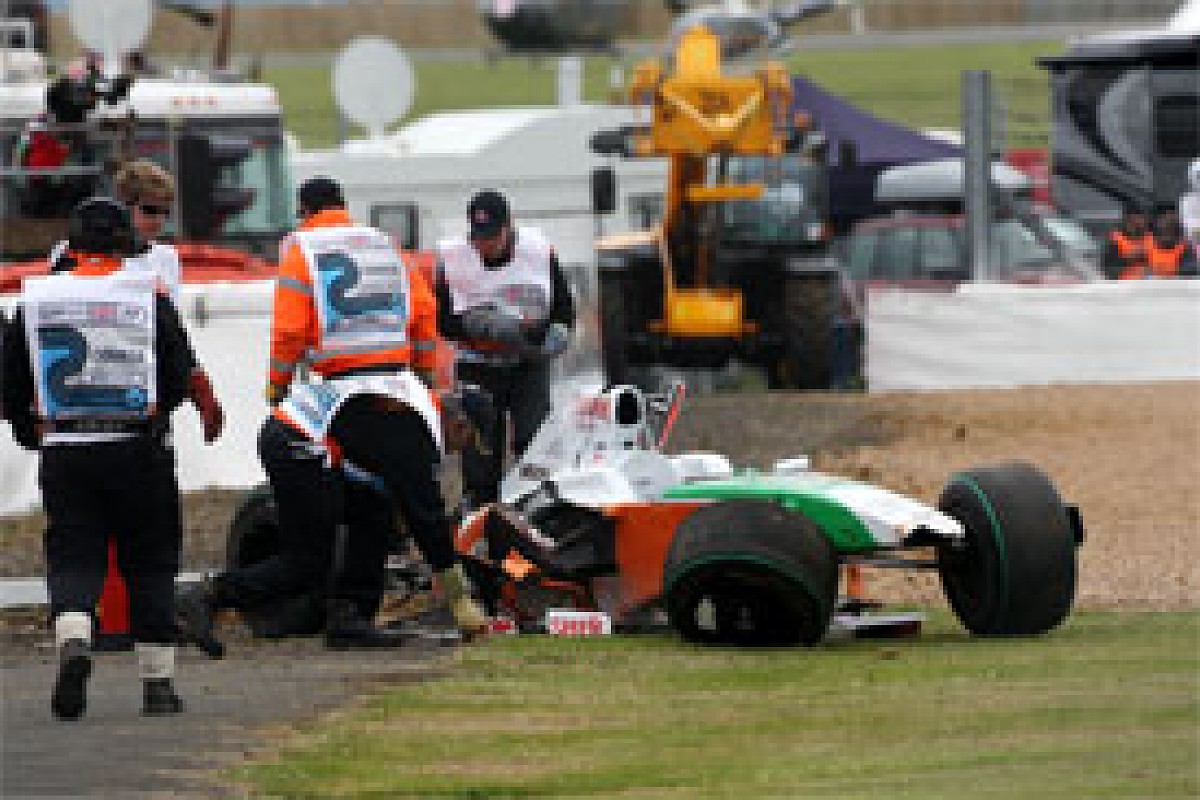 Adrian Sutil's Force India © XPB
A promising third quickest on Friday, Sutil's qualifying came to a sudden end when he suffered a brake problem at the Abbey corner. The Force India car slammed heavily against the barriers and the German was lucky to walk away from it. Even so, he still managed to outqualify two cars.
19. Lewis Hamilton - McLaren-Mercedes
Even without the red flag at the end of the session, Hamilton said he was unlikely to be able to make any progress, which said it all about the performance of the McLaren at Silverstone. Although he felt his car had improved since Friday, the lack of downforce left him with little room to show strongly. In the end, and for the third time in a row, he was knocked out in Q1.
20. Sebastien Buemi - Toro Rosso-Ferrari
Struggling with his set-up since the start of the weekend, Buemi conceded the British Grand Prix would be difficult for him, as it was the case. In qualifying, he was also hindered by not being able to use the quick-shift on the gearbox, something he claimed cost him some three tenths.
QUALIFYING RESULTS
Pos  Driver       Team                       Q1        Q2        Q3
 1.  Vettel       Red Bull-Renault      (B)  1:18.685  1:18.119  1:19.509
 2.  Barrichello  Brawn-Mercedes        (B)  1:19.325  1:18.335  1:19.856
 3.  Webber       Red Bull-Renault      (B)  1:18.674  1:18.209  1:19.868
 4.  Trulli       Toyota                (B)  1:18.886  1:18.240  1:20.091
 5.  Nakajima     Williams-Toyota       (B)  1:18.530  1:18.575  1:20.216
 6.  Button       Brawn-Mercedes        (B)  1:18.957  1:18.663  1:20.289
 7.  Rosberg      Williams-Toyota       (B)  1:19.228  1:18.591  1:20.361
 8.  Glock        Toyota                (B)  1:19.198  1:18.791  1:20.490
 9.  Raikkonen    Ferrari               (B)  1:19.010  1:18.566  1:20.715
10.  Alonso       Renault               (B)  1:19.167  1:18.761  1:20.741
11.  Massa        Ferrari               (B)  1:19.148  1:18.927
12.  Kubica       BMW-Sauber            (B)  1:19.730  1:19.308
13.  Kovalainen   McLaren-Mercedes      (B)  1:19.732  1:19.353
14.  Piquet       Renault               (B)  1:19.555  1:19.392
15.  Heidfeld     BMW-Sauber            (B)  1:19.559  1:19.448
16.  Fisichella   Force India-Mercedes  (B)  1:19.802
17.  Bourdais     Toro Rosso-Ferrari    (B)  1:19.898
18.  Sutil        Force India-Mercedes  (B)  1:19.909
19.  Hamilton     McLaren-Mercedes      (B)  1:19.917
20.  Buemi        Toro Rosso-Ferrari    (B)  1:20.236

All timing unofficial


RACE
Sebastian Vettel had been here before. This might only have been his third pole of 2009, but it certainly wasn't the first time that he had what appeared to be the fastest car in the field after Saturday, and the best strategy for the race.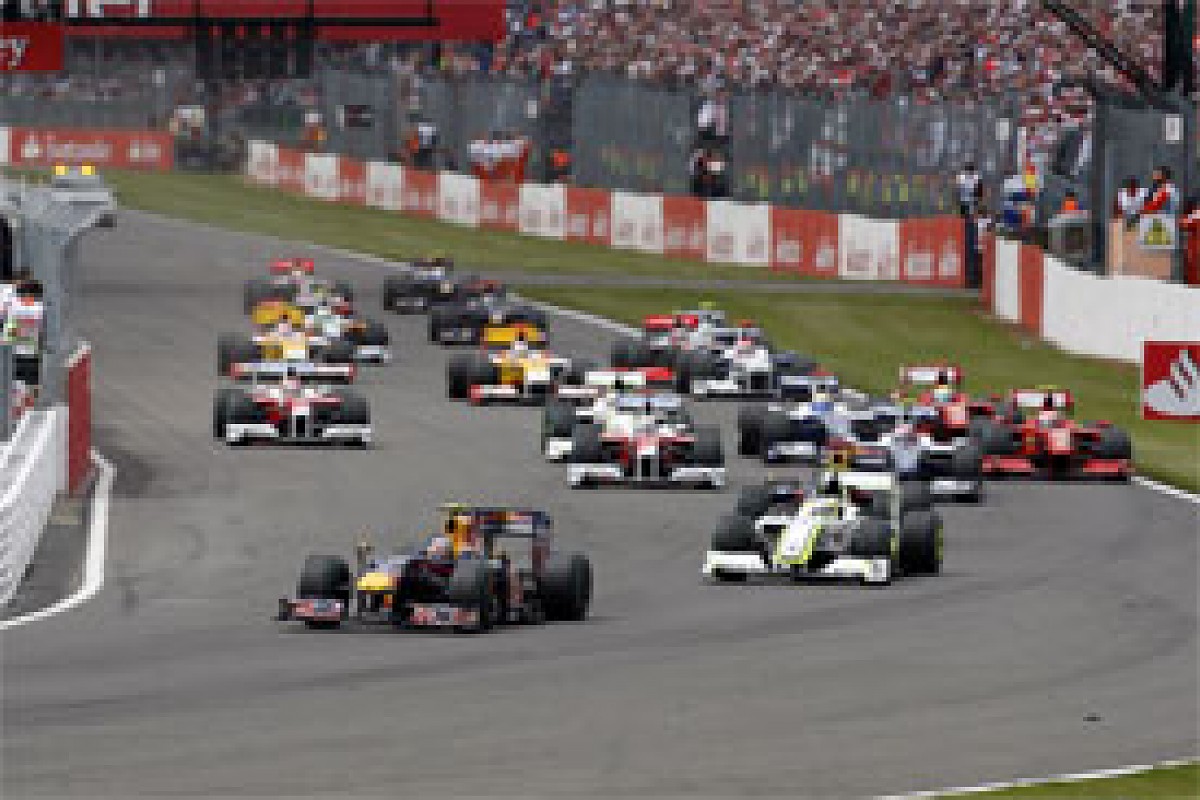 The start of the British Grand Prix © LAT
Yet other than on that wet afternoon in China, he had so far failed to convert those opportunities into the victories he needed to stop Jenson Button running away with the championship lead. Whether it was due to bad starts, odd strategies, pesky KERS-shod cars, or just the sheer flakiness he showed on the opening lap in Turkey, Vettel had finished behind Button time and time again, even though his had probably been the quicker car at least 50 per cent of the time.
Now with the revised Red Bull-Renault looking capable of dominating at Silverstone and Button a downcast sixth on the grid, this was a chance Vettel absolutely could not afford to let slip through his fingers.
And this time, finally, he got the job done - in emphatic style.
There was never anyone else remotely in contention for victory in what may or may not be Silverstone's last grand prix. Vettel set fastest lap after fastest lap in a relentless first stint charge that saw him lapping a second clear of his nearest pursuers over and over again. The performance was all the more impressive given that he was carrying more fuel than the rest of the top eight.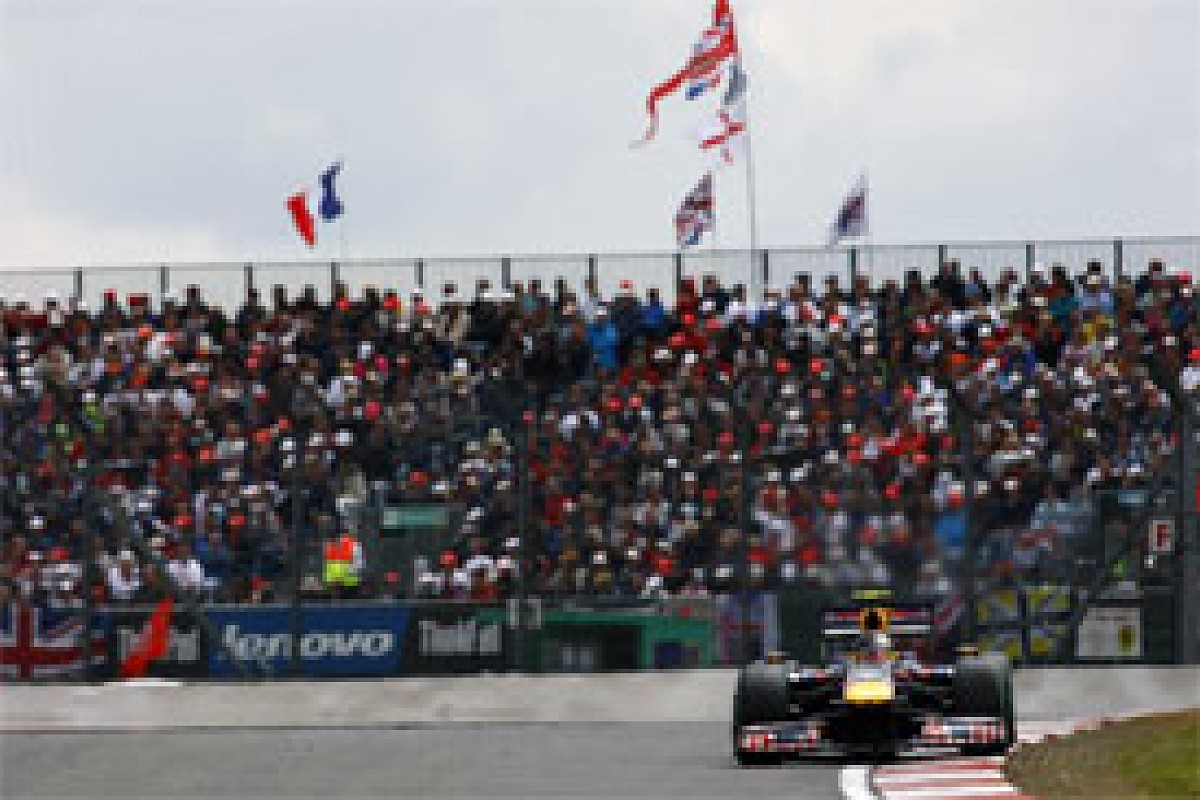 Sebastian Vettel, Red Bull RB5 © LAT
"I tried to push as hard as I could to pull away and make a gap which I knew would be crucial as then I would benefit basically the whole race from it," said Vettel. "It worked perfectly."
The only man who probably could have kept pace with him was his team-mate Mark Webber, but he was to spend the first stint bottled up behind Rubens Barrichello's Brawn.
"I said before the race, the first race is with Rubens and if that happens quite quickly then maybe I can have a race with Sebastian," said Webber. "If my first stint was behind Rubens then Sebastian was going to have a boring race - and that turned out to be the case.
"It's very hard to get close at Silverstone, so it was a question of me saving fuel. I was just saving fuel and more fuel and then just making sure I jumped him at the first stop. Obviously it was disappointing to see Sebastian disappearing because I knew how important that situation in qualifying was which happened to me."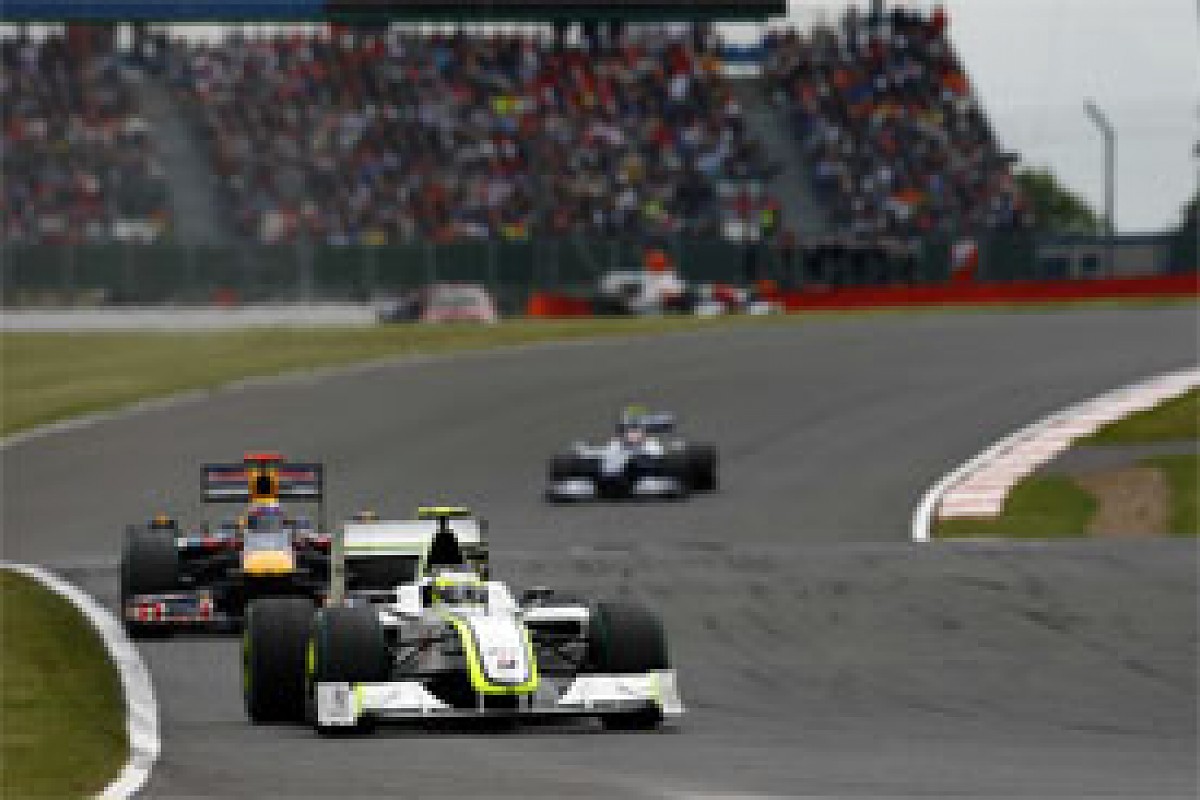 Rubens Barrichello (Brawn BGP001) and Mark Webber (Red Bull RB5) © LAT
Webber only had one lap to make sure he vaulted Barrichello at the first stops, but he did enough to emerge from the pits a few feet ahead of the Brawn, and then to hold Barrichello off until his tyres were up to temperature.
After that, he strolled off into the distance as Red Bull demonstrated the superiority of its new package in crushing fashion, eventually beating Barrichello by 40s despite both drivers feeling the middle stint was akin to a "slalom" given the level of traffic they were encountering.
Normally this year if a car has been leaving the field for dead, Button has been at the wheel of it. But at the race he most wanted to be dominating, Button was going backwards rather than forwards, having been boxed in at the start and pushed back to eighth.
"Jarno Trulli, in front of me, got a really slow getaway, as they normally do, and I had nowhere to go," said the frustrated championship leader.
"I tried to go to the inside, but that wasn't there, and I tried to go to the outside and that was full, and then everyone shot by me on the outside."
He was in the middle of a loosely connected high speed train headed by Kazuki Nakajima, who held a confident fourth in his first stint and looked to be on course for his best F1 performance yet. It wasn't to be, though, as he tumbled out of points contention after becoming the first man to pit, on lap 15, and then lacking pace as others made the most of their light fuel laps.
The Williams was followed by Kimi Raikkonen's Ferrari, Nico Rosberg in the second Williams, Trulli and then Button, with Timo Glock's Toyota and Felipe Massa's slightly heavier- but quick - Ferrari lurking behind.
Nakajima's slump gave Button one position, but this was cancelled out by Massa leapfrogging four places up the order thanks to his longer first stint, as he rejoined fifth behind Rosberg, who also gained ground at the stops, while Button stayed behind Raikkonen and Trulli.
Jenson Button, Brawn BGP001 © LAT
Although there was little difference between the two tyre compounds at Silverstone, in race trim the Brawns had an unhappy time on the harder rubber - and both were on that tyre for long middle stints. This, and his heavier fuel load, meant that Barrichello was reeled in by Rosberg and Massa, and that Button was struggling to even keep pace with Trulli.
It paid off in the end, though, as Barrichello's additional four low fuel laps over Rosberg and two more than Massa ensured his third place stayed safe, while his pursuers swapped positions with Massa jumping ahead of Rosberg, and Button stayed out until lap 49 and comfortably cleared Trulli and Raikkonen.
On fresh soft tyres he then set about hunting down Rosberg, getting within a second before dirty air turbulence intervened and ensured that Button finished off the podium for the first time in 2009.
That reduced his championship lead to 23 points over Barrichello and 25 over Vettel - still a comfortable advantage unless Red Bull one-twos start becoming a trend...
Button's late charge took him a long way clear of Trulli, who beat Raikkonen to seventh, while the Finn held off a determined challenge - including a bold last corner lunge - from Glock to secure the final point.
Perhaps the most impressive drive of the race came from the man who finished 10th. Giancarlo Fisichella's move to Force India was supposed to be a chance for him to rediscover the gallant underdog form that saw him rated so highly before his star waned alongside Fernando Alonso at Renault. So far there had been little sign of such performances, but at Silverstone he revelled in the upgraded package and really came alive.
After a great start, he passed both BMWs and Alonso - diving through when the Spaniard and Robert Kubica ran wide together while dicing at Stowe - on the second lap and found himself in 11th. He then tagged along behind the points battle for the rest of the race, passing Nakajima in the final stops and finishing right on Trulli, Raikkonen and Glock's tails.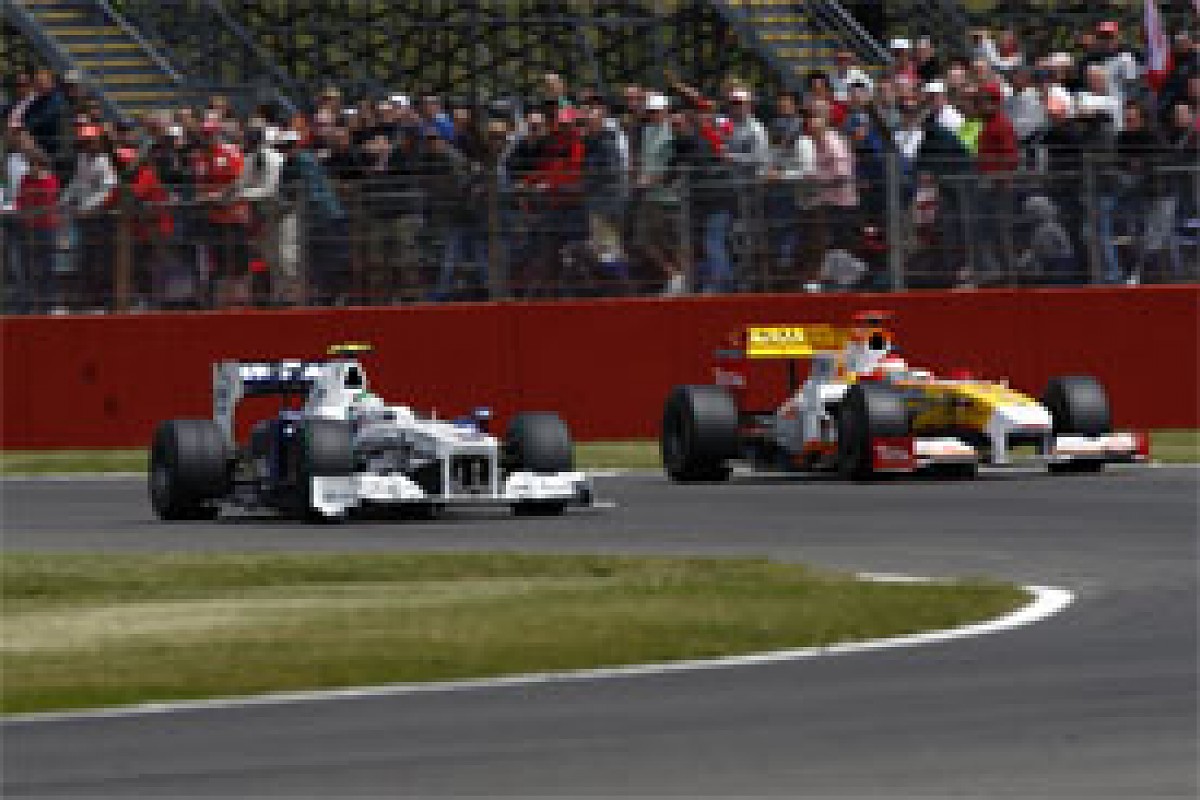 Nick Heidfeld (BMW Sauber F1.09) holds off Fernando Alonso (Renault R29) © LAT
Alonso was at the centre of most of the wheel to wheel action in the race. A poor start dropped him into a pack that his struggling Renault lacked the pace to escape from. He almost got passed by a charging Lewis Hamilton when he had a wild moment at Becketts early on - the McLaren taking to the grass in avoidance and being overtaken by Kubica - then spent the first stint trapped behind Nick Heidfeld's heavy and wounded BMW, which had bent its front wing at the first corner. Try as he might - and his efforts were relentless and inventive - Alonso could not get around Heidfeld, and he was nearly a minute adrift of the lead when he lost more ground with a relatively early first pitstop.
He then spent the rest of the afternoon dicing with Hamilton, getting passed when he ran wide at Woodcote, then grabbing the place back when it was Hamilton's turn to get sideways through Becketts, as the two world champions and former bitter rivals wrestled with their uncompetitive cars in the midfield. Alonso eventually finished a frustrated 14th - his worst classified finish since his Minardi days, stuck behind his team-mate Nelson Piquet (who changed to a one-stop strategy mid-race, an option impossible given Alonso's short first stint) and Kubica.
Hamilton had a mid-race spin at Vale and came home 16th behind Heidfeld. It was a far cry from last year's heroics, but he still gave the crowd something to smile about with some post-race doughnuts in the Club run-off.
Forced to start from the pits in a new chassis with a fuel pressure problem, Adrian Sutil could only ponder if he would have emulated Fisichella but for Saturday's brake-induced crash. He chased Hamilton home in 16th, with Sebastien Buemi completing the finsihers.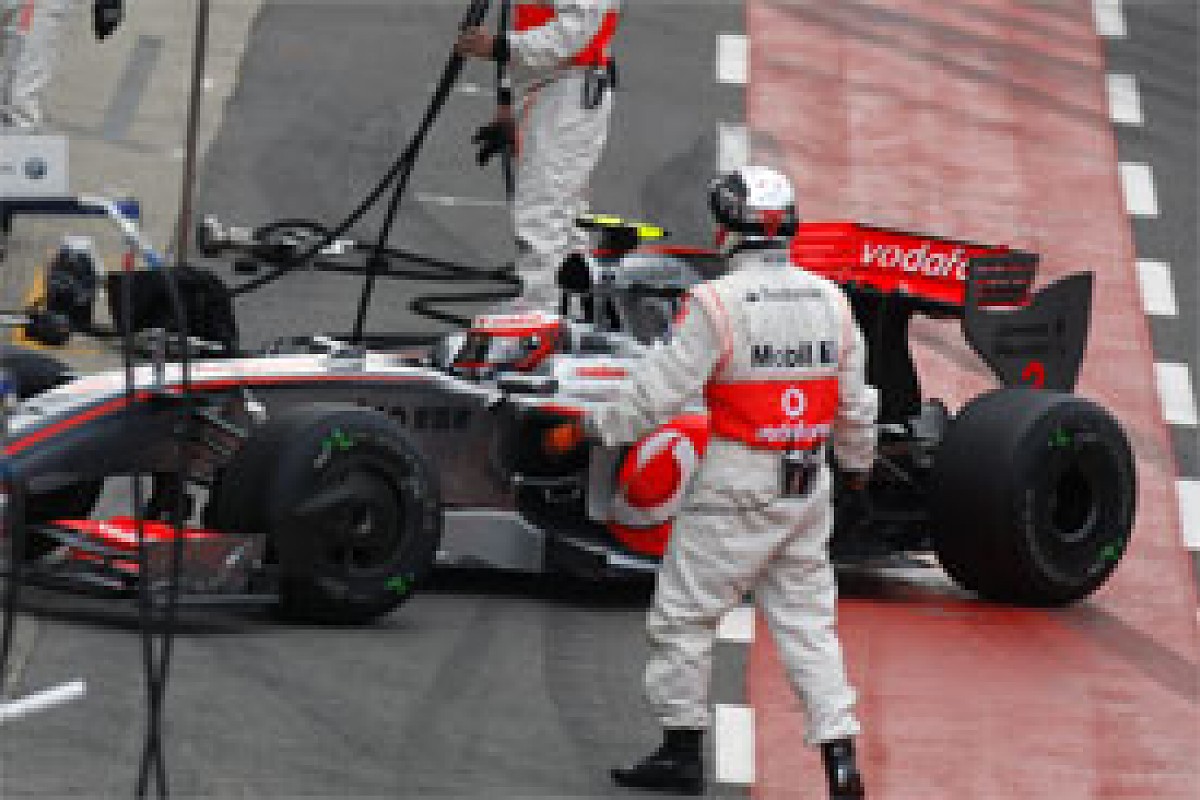 Heikki Kovalainen (McLaren MP4-24) retires after clashing with Sebastien Bourdais © LAT
His Toro Rosso team-mate Sebastien Bourdais was one of only two retirements, having lost water pressure shortly after a collision with Heikki Kovalainen. The McLaren had rejoined after its sole stop just ahead of Hamilton, who passed it at Stowe. Bourdais tried to follow at Vale but clipped the back of Kovalainen's car, slicing off his front wing and damaging the McLaren enough to force it out.
It was an ignominious way for last year's polesitter's race to end, but pretty much in keeping with McLaren's unhappy season.
RACE RESULTS

The British Grand Prix
Silverstone, Britain;
60 laps; 308.355km;
Weather: Dry.

Classified:

Pos  Driver        Team                      Time
 1.  Vettel        Red Bull-Renault      (B)  1h22:49.328
 2.  Webber        Red Bull-Renault      (B)  +    15.188
 3.  Barrichello   Brawn GP-Mercedes     (B)  +    41.175
 4.  Massa         Ferrari               (B)  +    45.043
 5.  Rosberg       Williams-Toyota       (B)  +    45.915
 6.  Button        Brawn GP-Mercedes     (B)  +    46.285
 7.  Trulli        Toyota                (B)  +  1:08.307
 8.  Raikkonen     Ferrari               (B)  +  1:09.622
 9.  Glock         Toyota                (B)  +  1:09.823
10.  Fisichella    Force India-Mercedes  (B)  +  1:11.522
11.  Nakajima      Williams-Toyota       (B)  +  1:14.023
12.  Piquet        Renault               (B)  +     1 lap
13.  Kubica        BMW Sauber            (B)  +     1 lap
14.  Alonso        Renault               (B)  +     1 lap
15.  Heidfeld      BMW Sauber            (B)  +     1 lap
16.  Hamilton      McLaren-Mercedes      (B)  +     1 lap
17.  Sutil         Force India-Mercedes  (B)  +     1 lap
18.  Buemi         Toro Rosso-Ferrari    (B)  +     1 lap

Fastest lap: Vettel, 1:20.735

Not classified/retirements:

Driver        Team                      On lap
Bourdais      Toro Rosso-Ferrari    (B)    25
Kovalainen    McLaren-Mercedes      (B)    24

World Championship standings, round 8:                

Drivers:                    Constructors:             

 1.  Button        64        1.  Brawn GP-Mercedes     105
 2.  Barrichello   41        2.  Red Bull-Renault     74.5
 3.  Vettel        39        3.  Toyota               34.5
 4.  Webber        35.5      4.  Ferrari                26
 5.  Trulli        21.5      5.  Williams-Toyota      15.5
 6.  Massa         16        6.  McLaren-Mercedes       13
 7.  Rosberg       15.5      7.  Renault                11
 8.  Glock         13        8.  BMW Sauber              8
 9.  Alonso        11        9.  Toro Rosso-Ferrari      5
10.  Raikkonen     10       
11.  Hamilton       9       
12.  Heidfeld       6       
13.  Kovalainen     4       
14.  Buemi          3       
15.  Kubica         2       
16.  Bourdais       2         
       
All timing unofficial

Lap-by-lap as it happened on AUTOSPORT Live
TEAM BY TEAM
Ferrari
Massa in particular was downcast after Ferrari proved to be off the pace in practice, and his pessimism proved well founded when he only managed 11th on the grid, two places behind his team-mate Raikkonen.
Both gained a lot of ground at the start, then were pleasantly surprised to find their cars more competitive in race trim, for reasons the team did not fully understand at first. Raikkonen then fifth at first, passed Nakajima at the first stops but lost out to Rosberg and Massa, then dropped another spot to Button at the final stops, so finished eighth, sandwiched between the Toyotas. Massa showed excellent race pace and made great use of his long stints to charge to fourth.
McLaren-Mercedes
No one in the team got too excited about Hamilton's respectable seventh place in practice, but they probably weren't expecting quite such a disaster in qualifying. The red flag curtailed Hamilton's final Q1 lap and left him a career-worst 19th (his third straight Q1 elimination), although the candid world champion reckoned he would have fared little better even if he had managed his last run. Kovalainen at least progressed to 13th.
The Finn made a poor start to the race but advanced up the midfield on a one stop strategy and would have finished somewhere near 12th had he not sustained terminal damage in a brush with Bourdais. Hamilton had some spirited battles with Alonso, spun over the grass at Vale and Club, and finished 16th.
BMW Sauber
Changing Kubica's engine in record time (little over half an hour) in Friday practice was pretty much the highlight of BMW's weekend. A string of practice technical problems left the Pole very under-prepared for qualifying, so he was quite satisfied with 12th, three places ahead of Heidfeld.
The latter damaged his front wing at the start, plugged away at a dreadfully slow pace until the stops, and finished 15th. Kubica lost places at the start but managed to get back to a quiet 13th by the flag.
Renault
Quick times from Alonso in practice suggest that this might be a good weekend, and when he only qualifies 10th he suspects the lowly position is just down to fuel loads. As it happens, he is about the same weight as everyone ahead, and a bad start, some wild early dices and a long time stuck behind Heidfeld's very slow BMW combine with the short stint strategy to leave Alonso a miserable 14th at the finish.
He is even beaten by Piquet, who reports a problem with the rear of the car on the way to 14th on the grid, then switches to a one stop strategy mid-race to ensure he takes 12th.
Toyota
The recovery continues as Trulli takes fourth on the grid and Glock qualifies eighth. So they are both a little disappointed in the race as slow starts and a general lack of long run pace see them fall back. Trulli fends off Raikkonen for seventh, with Glock all over the back of the Ferrari in ninth.
Toro Rosso-Ferrari
With Force India moving forward, Toro Rosso becomes F1's slowest team. Buemi has a particularly poor weekend: slowest in practice, last on the grid, and then the final race finisher in 18th.
Bourdais does a little better, and thinks he might have started higher than 16th but for Sutil's crash and consequent red flag. He battles with the McLarens in the race before retiring with a water pressure issue just after smashing his front wing on the back of Kovalainen's car.
Red Bull-Renault
Dominant from the start of practice to the end of the race, Vettel and Webber take a peerless and very significant one-two finish to keep the championship battle alive.
While Vettel has a flawless weekend, Webber has a couple of minor glitches. A violent trip over a kerb at Becketts caused his car's electrics to throw a tantrum near the end of Friday practice, and he is caught behind Raikkonen's dawdling Ferrari late in Q3 so is a disappointed third on the grid. While Vettel runs away with the race, Webber has to follow Barrichello until the first stops, where he jumps the Brawn and secures second.
Williams-Toyota
Strong practice times, including a one-two on Saturday morning, on a track where Williams has been poor in recent years bode well, and Nakajima impresses in qualifying with a career-best fifth, two places ahead of Rosberg.
After a strong first stint in fourth place, Nakajima plummets to 11th as he loses lots of ground at each pitstop by stopping earlier than those around him.
But Rosberg moves in the opposite direction, pushing Barrichello for the final podium spot mid-race before falling behind Massa at the last stops and taking fifth.
Force India-Mercedes
Sutil is a stunning third on Friday afternoon, and while he admits it's not entirely representative, there is still great confidence at Force India as its latest parts hit the track.
Unfortunately a brake glitch sends Sutil into a huge crash at Abbey in Q1, causing the session to be red-flagged with 24s remaining. That ruins team-mate Fisichella's last qualifying run too, the Italian taking 16th rather than the Q2 spot he had aimed for.
Fisichella makes up for it in the race with a brilliant early charge and consistently strong race pace that secures 10th place, just behind the Toyotas and Raikkonen. Sutil has to start from the pits in a new chassis and can only finish 17th after a quiet race.
Brawn-Mercedes
Poor practice times and Friday pessimism are nothing new for Button, but this time there really is something to worry about. Unable to generate sufficient heat in his tyres, Button starts only sixth, drops places at the start, and then gets back up to sixth thanks to a late final pitstop. He closes fast on fifth-placed Rosberg but there are no chances to pass.
Despite back pain, Barrichello takes 'best of the rest' honours - splitting the Red Bulls on the grid and then finishing third after Webber gets ahead in the first pitstops.