All-time sequences of wins
In Turkey, Jenson Button won his fourth consecutive grand prix, the 11th time a driver has achieved that feat. If he adds the British GP to his streak, it would be only the eighth time in F1 history a driver has won five in a row.
Five of those ended at five wins - Jack Brabham (Netherlands to Portugal 1960), Jim Clark (Belgium to Germany 1965), Nigel Mansell (South Africa to San Marino 1992) and Michael Schumacher (Australia to Spain 2004).
Race winner Alberto Ascari (Ferrari 500) 1953 British Grand Prix, Silverstone © LAT
Schumacher took six on the bounce (Italy 2000 to Malaysia 2001). The record stands at seven and has been achieved twice, the first by Alberto Ascari from Belgium 1952 to Argentina 1953, and the second by Michael Schumacher from Europe to Hungary in 2004.
No driver has ever won five consecutive races in a season and not gone on to clinch the championship.
Fernando the faithful
The British Grand Prix will be Fernando Alonso's 96th start for Renault, placing him inside the top 10 drivers to have raced the most times for one team.
| | | |
| --- | --- | --- |
| Name | Team | Presences |
| M.Schumacher | Ferrari | 179 |
| D.Coulthard | McLaren | 150 |
| J.Laffite | Ligier | 132 |
| M.Hakkinen | McLaren | 131 |
| A.Prost | McLaren | 107 |
| N.Piquet | Brabham | 106 |
| P.Martini | Minardi | 103 |
| R.Barrichello | Ferrari | 102 |
| G.Berger | Ferrari | 96 |
| A.Senna | McLaren | 96 |
| F.Alonso | Renault | 95 |
Personal scoreboard: Great Britain
• Lewis Hamilton last year recorded the largest winning margin in Formula 1 since the 1995 Australian GP (in which Damon Hill won by two laps) when he finished 1m08.577s ahead of second-placed Nick Heidfeld.
• Heikki Kovalainen scored his maiden F1 pole position at Silverstone last year, and went on to finish the race fifth.
• Felipe Massa has never finished on the podium at Silverstone and will want to forget last year's race, in which he spun five times in the wet and finished 13th
• Kimi Raikkonen's fourth place in 2008 was the first time he had missed the podium in the British GP since 2002. He was also on pole in 2004 and set the fastest lap in 2005, 2007 and 2008.
• Nick Heidfeld scored his best British GP result in 2008 with second place.
• Jarno Trulli has retired five times at Silverstone and has never finished higher than sixth.
• Adrian Sutil is yet to finish a British Grand Prix, with an engine failure cutting short his 2007 race before he spun into retirement last year.
• Jenson Button's best result at Silverstone is fourth place in 2004. In the last three British GPs he has had an engine failure, a 10th place and a spin into retirement.
Other notes about the British Grand Prix
•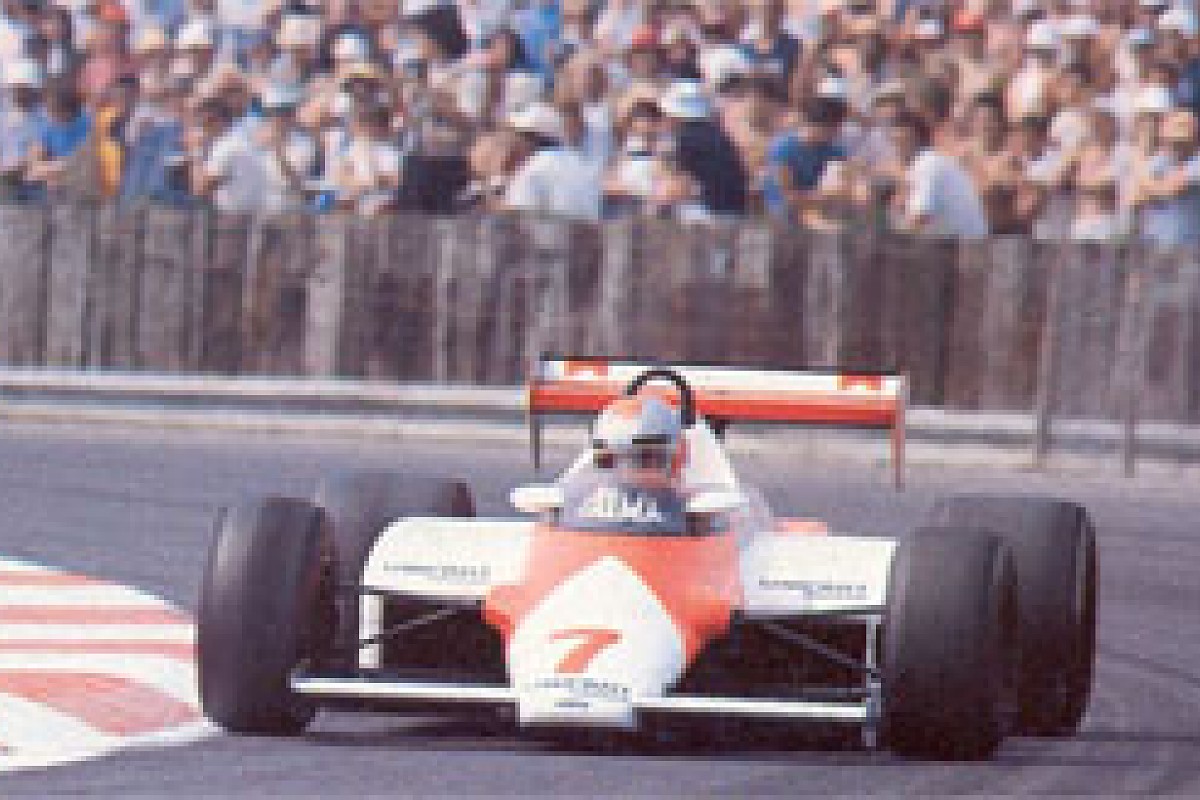 John Watson (McLaren MP4-1C Ford) 1983 British Grand Prix, Silverstone © FORIX

McLaren won the British GP in 2005 and 2008 and has been on the podium every year since 2003. However, if both cars qualify outside the top 10 again - as they did in Turkey - it will be the first time without a McLaren in the top 10 on the grid for the British GP since 1983.
• Ferrari has missed the podium just twice in the last 11 British Grands Prix, in 2005 and 2008. It's last Silverstone pole position was in 2003.
• Red Bull has never scored a point in Britain. Its only top 10 finish was 10th place for Mark Webber in 2008, despite the Australian starting from the front row.
• Toro Rosso is also yet to break into the top 10 at Silverstone, with 11th place for Sebastien Bourdais in 2008 the best result.
• Renault has not finish on the podium in the British GP since Fernando Alonso's victory in 2006.
• Toyota led the British GP in 2003 when Cristiano da Matta was out front for 17 laps, but the Brazilian's seventh place finish that year remains the team's best result - repeated in 2008 by Jarno Trulli.
• Williams has not won the British GP since Jacques Villeneuve's 1997 triumph, which was the 100th win for the team. The last time a Williams qualified in the top 10 at Silverstone was Juan Pablo Montoya in 2004.
• The last six British GPs have been won by six different drivers - Rubens Barrichello, Michael Schumacher, Juan Pablo Montoya, Fernando Alonso, Kimi Raikkonen and Lewis Hamilton.
• Williams won its first grand prix at Silverstone in 1979, with Clay Regazzoni taking what was also the last win for a Swiss driver.
• Last year's British GP was the final podium and points for the Honda team, with Rubens Barrichello, before its exit from F1 at the end of the season.