It is 59 years since Silverstone hosted the inaugural round of the Formula 1 World Championship, and history may record this coming Sunday as the date when it held the British Grand Prix for the final time.
Irrespective of whether or not that comes to pass, this is going to be a significant race. Teams and drivers will tell you that all grands prix are equally important, but for many on the grid a win at Silverstone this weekend could represent a lot more than a trophy and 10 points.
Jenson Button has long spoken of his desire to win in front of his home crowd, and doing so this weekend would strike a massive blow to his rival's hopes of stopping the Briton's march towards the world title. We've already seen Button win at slow circuits, technical circuits and conventional circuits this season. It's an exaggeration to say that adding a fast circuit to the list would strike a blow to the morale of those trying to beat him, but it would serve as an unwelcome reminder of how difficult it is going to be to stop a team and driver operating at the top of their games.
For that precise reason, everyone else's situation is exactly the opposite, particularly if your surname begins with 'Bar ...' and ends with '...ello'. Rubens has watched a team-mate take win after win in the past, but that was when he was contractually obliged to do so.
This year he has the best car on the grid and the freedom to win as many races as he can; the problem is that after seven rounds that tally still stands at zero. If he wants to salvage any sort of hope of winning the title, he needs to address that, and Silverstone - a track that he loves - is one of his last opportunities.
The same goes for Red Bull and its dreams of overhauling Brawn in the constructors' championship, Toyota and its efforts to recapture the speed it showed in Bahrain, Ferrari's attempt to return to the top and Williams' desire to unlock the potential of the FW31. You want sub-plots? Silverstone's going to have plenty.
Talking points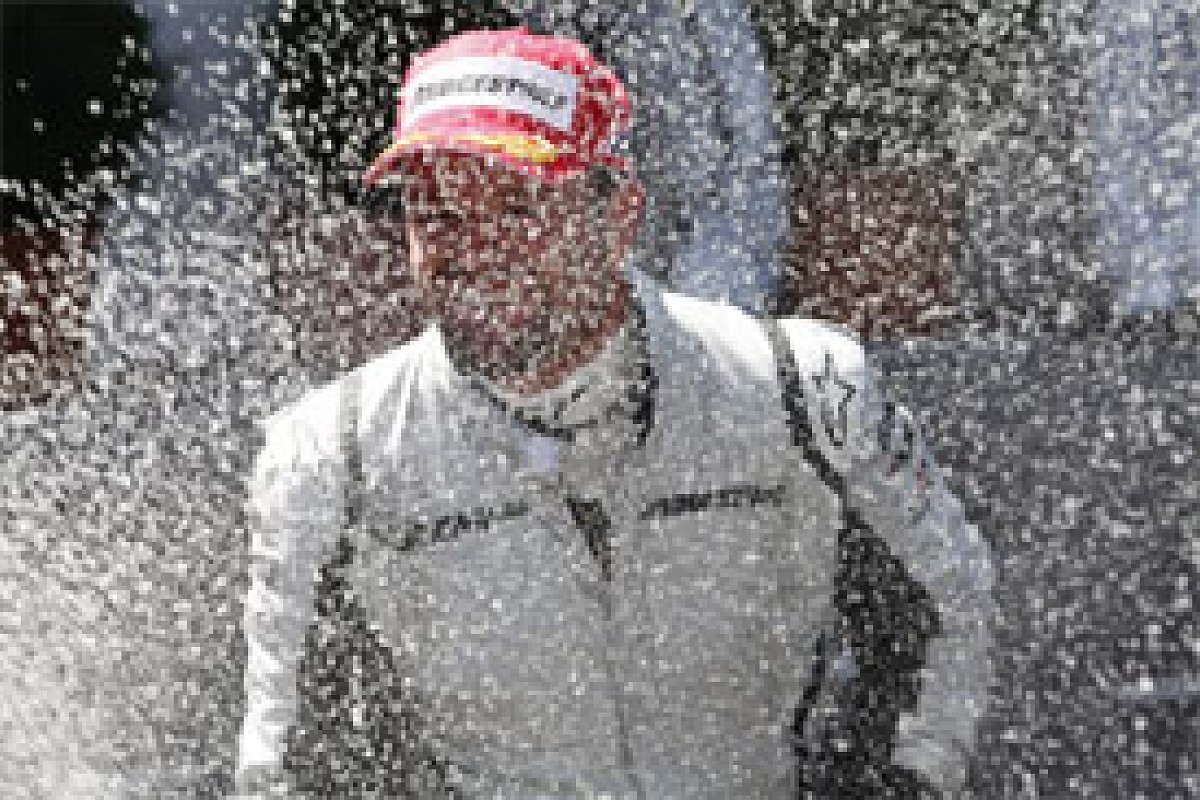 Rubens Barrichello © LAT
1. Can Rubens win?
This pops up in F1 race previews so often that it almost deserves its own section. The Brazilian veteran is still talking the talk and he has an exceptional record at Silverstone, as evidenced by his drive to third in the awful Honda RA108 last year.
2. Red Bull's pitwall
Red Bull Racing has attracted some criticism for its strategic judgement so far this year. Questions were asked as recently as Turkey, when Sebastian Vettel was put onto a three-stopper that ultimately shuffled him one place behind Mark Webber, although the combination of Vettel's errors early in the race and Webber's excellent second stint also played a large part. Nevertheless, Red Bull expects to be competitive at Silverstone, but having a quick car won't help if it's not used properly.
3. Force India's improvement
Just over a month ago, Force India had never made it through to Q2. Now, it has done it twice in a row and will go to Silverstone aiming for a hat-trick. Some of its chances will rest upon poor performances elsewhere, but the team does have some major technical updates planned for the VJM-02 this weekend.
4. Williams in a rut
It might seem harsh to suggest that a team that is regularly scoring points is 'in a rut' but it's hard not to think that the FW31 is a rather better car than its current sixth in the constructors championship would suggest. Williams has some happy memories of Silverstone and a good result for Frank and Patrick would be an appropriate send-off for the circuit.

5. Is this Silverstone's swansong?
One of the main topics of paddock chat this weekend will be centred around whether this really is the end for Silverstone. The figures behind Donington Park appear to have steadied what was a badly-keeling ship, but there is still a lot to be done between now and the 2010 British Grand Prix. Bernie Ecclestone has repeatedly said that Silverstone is gone irrespective of what happens to Donington, but F1 rarely works in absolutes and things can change surprisingly quickly.
Key factors
1. The weather
This is England we're talking about, so this is a walk-up start. Silverstone is capable of anything from bright sunshine to an absolute deluge; potentially within the same afternoon. While that has occasionally made life difficult for spectators who returned to their cars after the race and found them up to the axles in mud, it has also been responsible for some memorable races - last year's being a perfect example.
2. Safety cars
Silverstone and safety cars are fairly well acquainted. There have been six safety car appearances in the past nine British GPs, which according to Williams' calculations, makes it the fifth most likely race to be led by Bernd Maylander in a Mercedes road car.
3. KERS
On current form, only McLaren and Ferrari will be using KERS at Silverstone but the circuit's long straights could make it a significant factor, especially in qualifying.

Strategy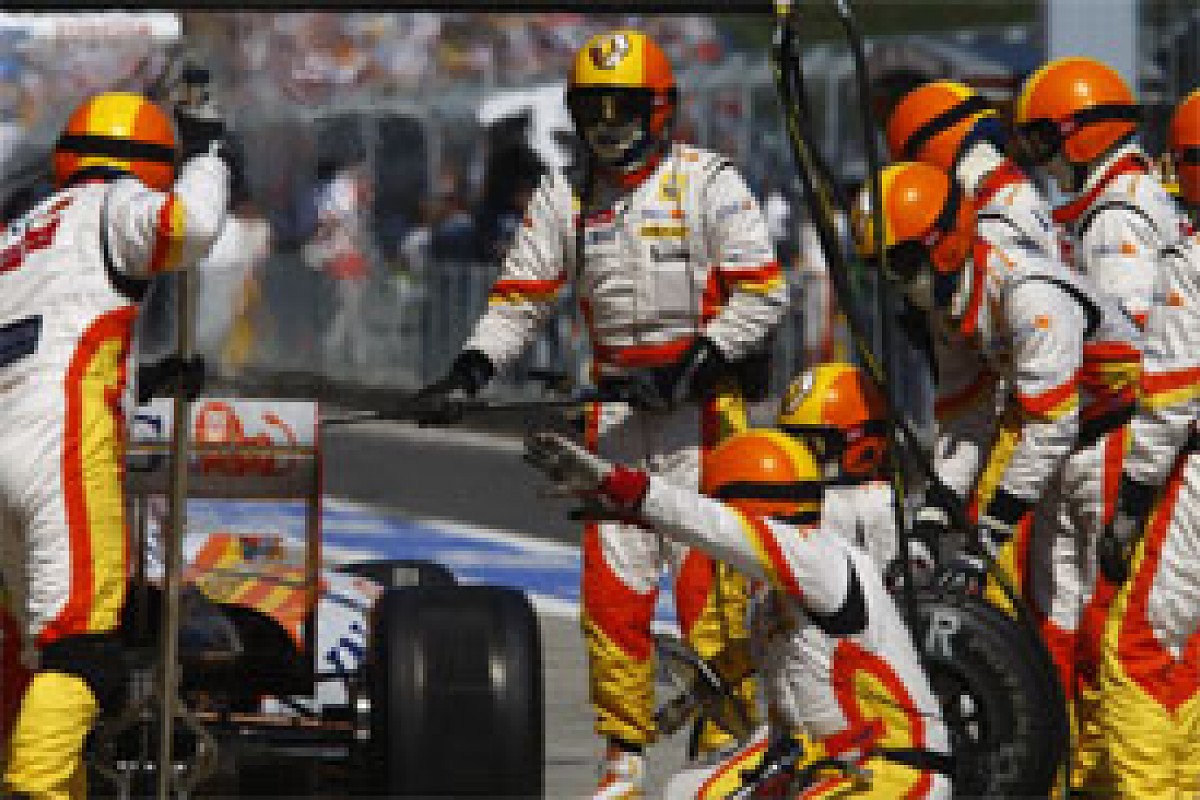 Renault mechanics after a pit stop © LAT
Silverstone should be a regulation two-stopper for most, with the usual heavyweight one-stoppers lurking around the place to get in the way after underachieving in qualifying.
A three-stopper would be very difficult to make work, as always, but chances are someone optimistic will roll the dice in the hope of avoiding traffic and taking advantage of a light fuel load. Will it work? Probably not, but it's worth a try as overtaking is certainly possible around Silverstone.

Rain is a constant threat - Kimi Raikkonen was well-placed to deny Lewis Hamilton his famous win in 2008 until a decision to stay on warn wets (now intermediates) in drying conditions and was made to look foolish when heavy rain struck a few minutes later.

Honda also capitalised, fitting extreme wet tyres to get its crate of a car onto the podium with Rubens Barrichello, although it's hard to see the Silverstone specialist needing some help from the weather to get into the top three this time.
Race history

The British Grand Prix is famous for holding the inaugural world championship race, but Luigi Villoresi won the first Formula 1 race to be held on British soil at Silverstone two years earlier. Baron de Graffenreid won the first race at the track to be carry the name "British Grand Prix" the following year, although the 1948 race is generally granted retrospective grand prix status.

But it was on May 13 1950, when 21 cars from Alfa Romeo, Maserati, Talbot-Lago, ERA and Alta lined up on the grid that the British Grand Prix really got into swing. That race was won by Giuseppe Farina for Alfa, but Jose Froilan Gonzalez's triumph the following season was arguably more momentous as it was the first in the world championship for Ferrari.

The prancing horse dominated at Silvertone with Gonzalez and Ascari until 1955, when Stirling Moss led home Mercedes-Benz team-mate Juan Manuel Fangio in a new track around the perimeter roads of Aintree racecourse - the home of the world-famous Grand National. It was the first home win for a British driver in the world championship era and kicked off an era during which the race was shared between Aintree, Silverstone and Brands Hatch.

During that period, there were home wins for Stirling Moss/Tony Brooks in the Vanwall in 1957 and Peter Collins for Ferrari in 1958. Jim Clark took a unique four-in-a-row from 1962, winning the same grand prix at three different tracks.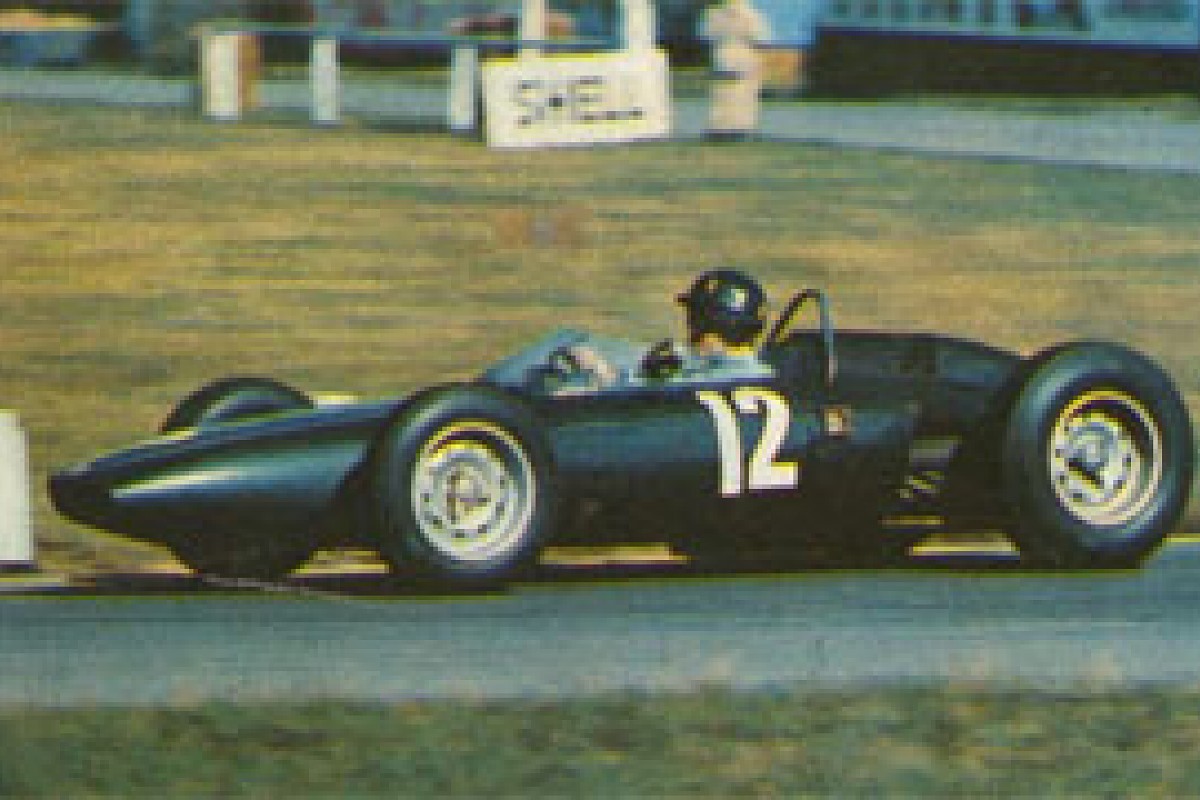 Graham Hill (BRM P57) 1962 British Grand Prix, Aintree © Rainer Nyberg/FORIX
In 1962, Aintree held the last of its five grands prix and the race started to alternate between Silverstone and Brands Hatch. Jo Siffert took a famous win at Brands for Lotus in 1968, with Jackie Stewart defeating Jochen Rindt in a classic duel the following year.
In 1970, there was another classic, with Jack Brabham fighting his way past Rindt's Lotus, only to run out of fuel on the last lap because his engine hadn't been leaned-off after being warmed-up at full rich.
Three years later, the young Jody Scheckter triggered one of the most infamous moments in British Grand Prix history. He dropped his McLaren while running fourth through Woodcote at the end of lap one, spinning across the field and wiping out 11 cars - including all three Surtees-Fords. Despite the size of the impact, only Brabham driver Andrea de Adamich was injured and Peter Revson went on to win.
The following year, a hailstorm triggered a pile-up at Club Corner and a red flag. Scheckter made amends for his misdemeanour the previous year by winning, leading home Emerson Fittipaldi and Jacky Ickx.
In 1976, there was once again controversy. At Brands Hatch, Ferrari pairing Niki Lauda and Clay Regazzoni clashed at the first corner and triggered a red flag. James Hunt opted to use a short cut back into the pits in his damaged McLaren, and was initially deemed by stewards not to be eligible to restart as he hadn't completed the full lap after the red flag flew. The crowd got nasty and Hunt was allowed to start, and win, the race only to be disqualified at a later date and victory handed to Lauda.
Hunt made amends with victory at Silverstone the following year, and two years later another major protagonist in that 1976 race delivered a famous victory. Williams had been knocking on the door of its first win for a few races and Regazzoni at last delivered Frank Williams and Patrick Head's maiden triumph.
In 1981, it was time for another home win, this time for Northern Irishman John Watson. It was also the first win for Ron Dennis-era McLaren, and the start of a run of four in five years for the team separated only by Alain Prost's Renault win in 1983.
In 1987, the British Grand Prix once again took up permanent residence at Silverstone. Nigel Mansell marked the occasion with a home win after a stunning charge on fresh rubber to chase down Williams-Honda team-mate Nelson Piquet. With six laps to go, he sold the Brazilian that famous dummy and dived down the inside into Stowe to triumph.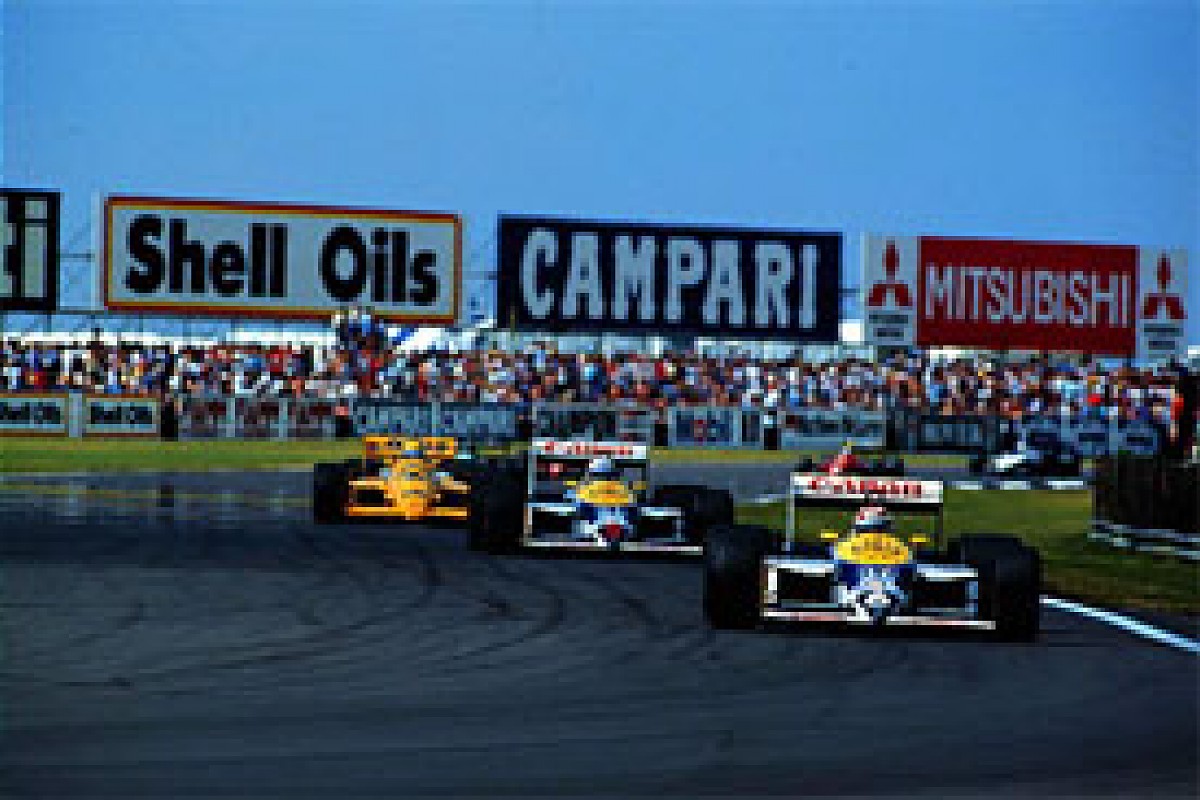 Nelson Piquet and Nigel Mansell (Williams FW11B Hondas) lead Ayrton Senna (Lotus 99T Honda) during the 1987 British Grand Prix at Silverstone © LAT
Mansell was the darling of the crowd in this period. He didn't win the following year, but did take a stunning second place driving the normally-aspirated Williams-Judd in wet conditions behind Ayrton Senna. After watching Alain Prost win the next two races at Silverstone, Mansell triumphed again in 1991 before his crowning glory - a fifth British GP victory in his championship year in 1992.

Damon Hill picked up home hero status in 1993, leading until his engine failed and handed victory to Prost, and the following year he won after Michael Schumacher was given a stop/go penalty and subsequently disqualified from second place, for overtaking on the warm-up lap.

The following year, Hill made a rash move up the inside of Schumacher at Priory, and put both out on the spot. This handed the lead to Johnny Herbert, who won the race after David Coulthard's challenge was neutralised by a stop/go penalty.

Jacques Villeneuve won back-to-back British Grand Prix wins over the next two years, and in 1998 Michael Schumacher took an acrimonious victory for Ferrari after pitting to serve a stop/go penalty on the last lap and crossing the line in the pits.

For the next three years, Silverstone was McLaren territory with Coulthard bagging wins in 1999, the year Schumacher broke his leg, and 2000. The following year, it was Mika Hakkinen's race.

Schumacher returned to winning ways in 2002 and 2004, sandwiching Rubens Barrichello's win in a race made famous by the track invasion of a bizarrely-clad "priest".

In 2005, Juan Pablo Montoya took his first McLaren victory after passing Fernando Alonso on the opening lap, with the Spaniard avenging his defeat by winning the following year.

Over the past two years, the race has been won by the eventual world champion. In 2007, Kimi Raikkonen won despite Lewis Hamilton starting from pole, and last year Hamilton took a stunning win in torrential rain.