Six out of seven is an impressive record by any standards, but what's remarkable about Jenson Button's run of wins is that he makes it all look so easy, when in fact few of his successes have been as clear cut as they appear.
Istanbul followed that pattern, and after a slightly dodgy start to the weekend - he was only 12th on the slippery, green track on Friday - Jenson emerged with the fastest package come qualifying and the race. And he made full use of it, putting in another faultless performance.
Sebastian Vettel may have got pole, but he had to run 6kgs lighter than Jenson to do it. Fuel corrected, Button was actually fastest, something that the man himself would not have expected after the first day. But not for the first time he worked away with the Brawn engineers until things were just so. Given that the track changed dramatically over the weekend as rubber went down, it was a good effort by all concerned.
"I was 12th yesterday," Jenson admitted after qualifying. "I don't think we were that far out on fuel loads compared with a lot of people. But some of it was the wind, and some of it was the set-up, it wasn't really working for me. I had a moving rear end. We made a lot of changes overnight, most of them positive.
"We also had a few problems yesterday aerodynamically that we solved, which cost me a lot of time and we didn't know about after running. And today the car was much better. We just tweaked it before qualy, and it was very much improved. So I'm much happier with the car, and the circuit's got more grippy, which seems to suit our car."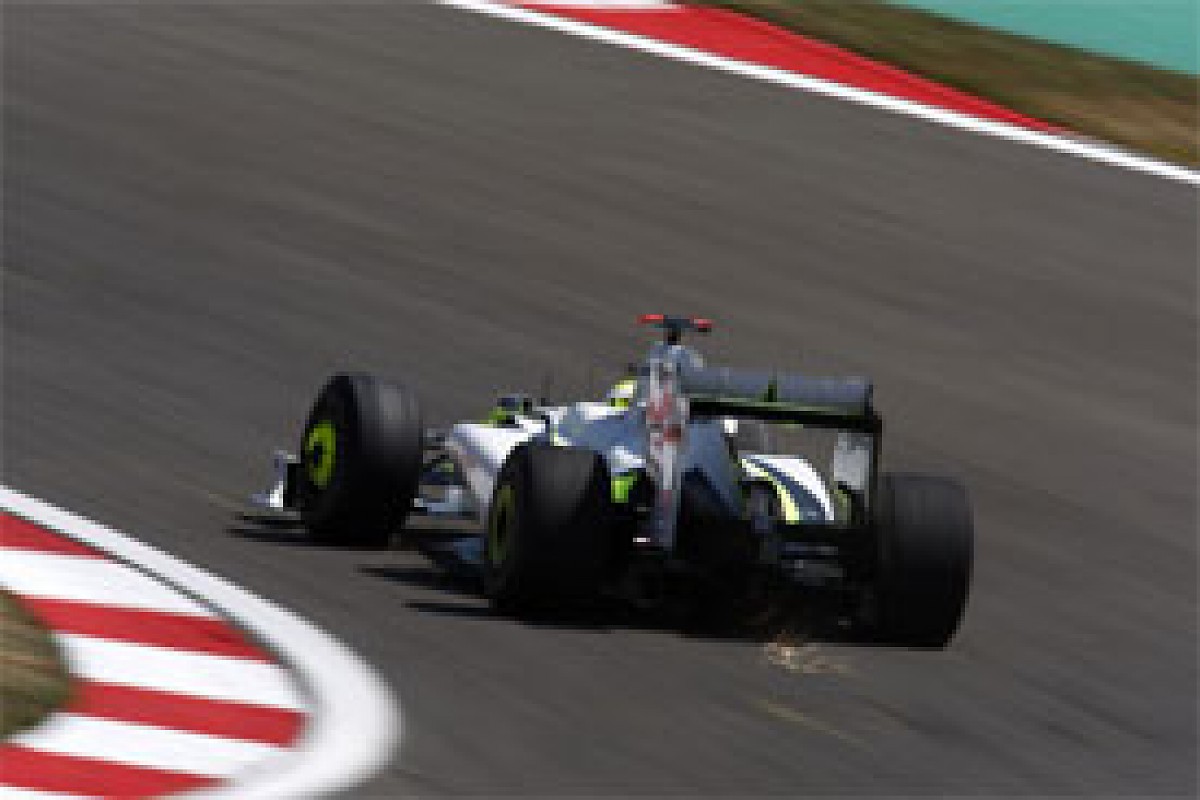 Jenson Button at speed through turn 8 © LAT
Even Jenson conceded that this time he had not been entirely confident that the car would make its now traditional improvement from the first day to the second.
"If I haven't had the speed on Friday I've normally had Rubens to look at and think well he's found the [pace]... You know the speed is in the car, because he's quick. But yesterday, neither of us had the pace, and we were wondering where the pace had gone.
"It's still the same car from the last couple of races, with maybe a slight improvement. We found the right direction last night, and we found the pace today. It's not that we're driving round slow on Fridays, it's not that at all. The car just seems to come to us, and I'm very happy that it does, because yesterday was a tough day."
Intriguingly while Barrichello ultimately went fast with the hard tyre, Jenson had made the more obvious choice of the soft, having felt confident with it in Q1.
"I just felt a lot more home with the soft tyre, a lot happier, so that's the tyre I stayed with the rest of qualifying. That was important, and I discussed that with Ross before qualifying. If I find a tyre I like in Q1 I'm sticking with it, I'm not chopping and changing, because you get lost."
He wasn't entirely happy with his quick lap, and even hinted at a little gamesmanship from Mark Webber. It's not like Jenson to make excuses, so from where he was sitting, it must have looked deliberate, even if that wasn't the Aussie's intention.
"It wasn't the tidiest lap for sure, which was a pity. On the first timed lap in qualy I've struggled to get the tyres to work, and I've had to push really hard on the out lap. I think Mark in front of me might have known that, and I think the Red Bulls can do a much slower out lap. I was behind him and I kept slowing down, but it wasn't enough. And I got to the last three corners of the out lap and I didn't have the right tyre temp up. Anyway, P2 is good, and I might not have beaten Vettel anyway."
Before the race Jenson had a real fear that his team -mate would get ahead. While he had the later stop, there was no guarantee that he would be able to jump the Brazilian, and even if he did, he would still have had Vettel to deal with.
To make matters worse, while he had done a practice start from the grid at the end of the session on Friday, he simply forgot to take up the chance on Saturday morning, and drove straight into the pits after the flag. "I got a bit of a telling off for that. But lucky enough I was going to do it on the right side. But I've done one on the left, that's where I've put the rubber down. And hopefully it will make a difference in the race..."
In the event the start could hardly have gone better, because Rubens barely moved and Jenson held on to his position. He could now focus his attention on the Red Bull up ahead.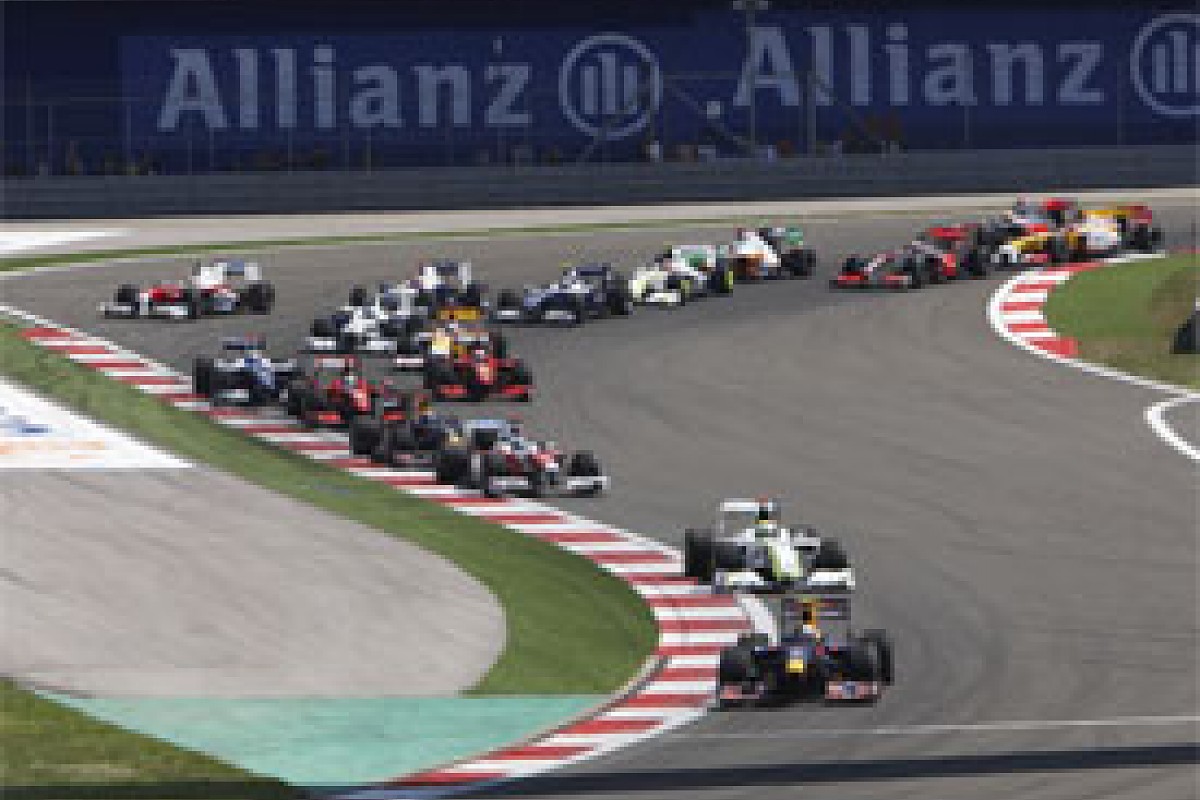 Sebastian Vettel leads at the start © LAT
"When I got off the line in second I was very happy, because starting in P2 here has never been a good thing," he explained. "Getting away in second, I thought our pace would be good. I didn't really know what Sebastian's would be like, he hasn't really done many laps this weekend."
The issue became academic when Vettel made one of the most costly mistakes of his season so far, later saying that a change of wind direction had caught him out.
"Sebastian ran wide at Turn 10, and I knew there was an opportunity. I actually thought he was going to spin completely around, so I was quite cautious, I thought he was going to hit me in the side. I was able to get in front, and he kept it on the circuit."
One can imagine that Jenson had a huge smile on his face as he accelerated through the big space where the RB5 should have been. Far from being pitched down to third, he was now in front, and in control of his own destiny.
"He was sat behind me for a couple of laps, and I just took it easy on the tyres, because I didn't want to damage them. Then I started pushing and the car felt fantastic. Most races this year the car has felt pretty good, but it's not been completely to my liking.
"From then I knew that I was stopping one or two laps later. I think I only stopped one lap later [it was actually two], just in case of safety cars. I was able to pull out a 5s lead, but the car just felt great in that stint."
In the second stint things got more interesting. Red Bull's strange decision to keep Vettel on a three stop strategy saw a shorter first stop for the German. And then with a significantly lighter load - his second stop was to come on lap 29, and Button's on lap 43 - he was able to reel in Jenson.
Had he been able to force his way by, we might have had more of a race, but as soon as he got into Button's wheel tracks he lost any momentum he had. Again Jenson made it all look so easy. But it wasn't.
"It's difficult, you can either push that little bit extra - he's on lower fuel than me so he's always going to be quicker than me - or you can just back off that little bit and cover your lines, and that's what I did.
"Even when he was on low fuel catching me from behind I wasn't too worried, because the car was so nice to drive and I knew that we had the pace. I just had a lot more fuel on board. But even so, when you see a car in your mirrors it's a strange feeling knowing that he's leading the race and he's catching you for your position. It doesn't matter whether he's on a three-stop, you still don't like that feeling, and there's so much can go wrong in that situation. But it didn't, and today we were the quicker team and we had the quicker car."
Although he gratefully accepted the first lap gift from Vettel, Jenson maintained that he would have got by anyway.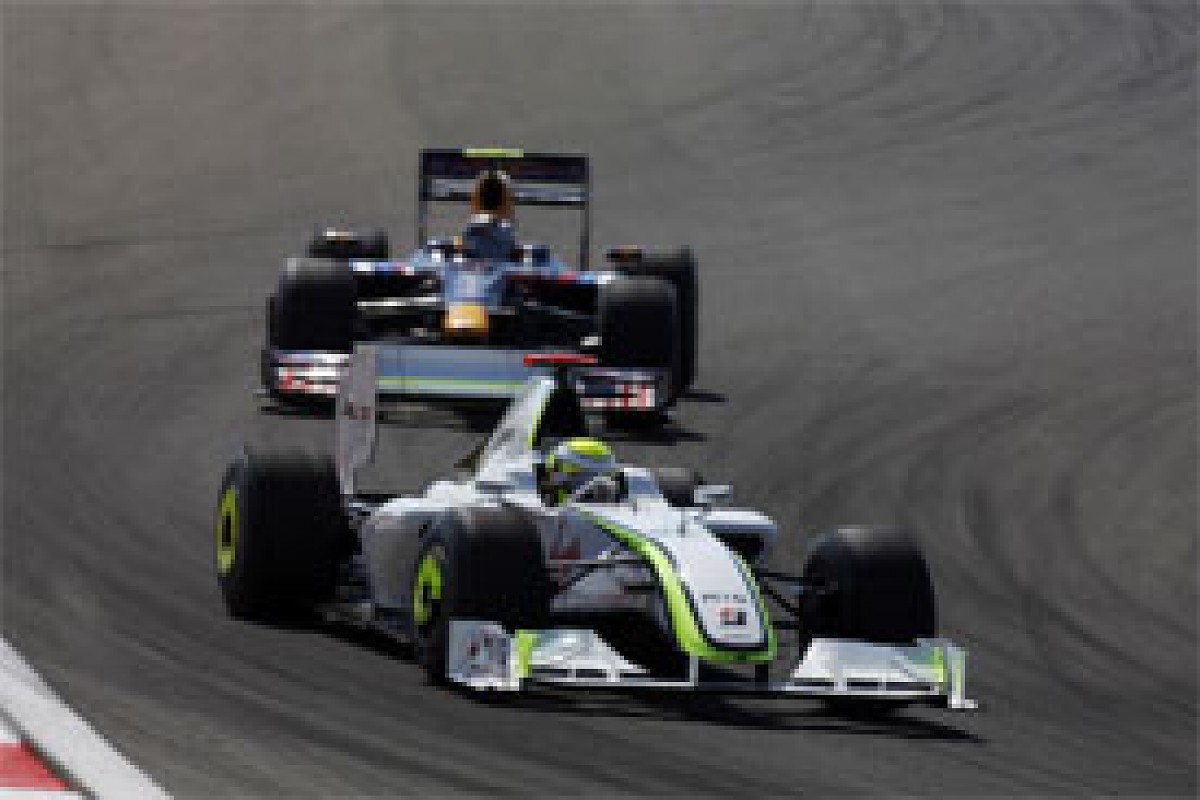 Sebastian Vettel, running a three-stop strategy, closes on Jenson Button © LAT
"I would have probably had a chance to overtake him in the first stint, if I didn't hopefully I would have got him at the first pit stop. There's always ifs and buts, but we won the race by a good margin, we had the quickest car, and I think we as a team did the best job.
"I think they've been a little bit unlucky [in other races] because they've struggled with being stuck behind a KERS car. Their pace has been very good. We've come here and we didn't expect to be qualifying so far up, because we struggled on Friday. We qualified second and now we've come away with a victory.
"For me, this and Monaco are the first couple of races that I felt we do have a quick car. Before that I think the Red Bulls had the same pace as us. Bahrain, Barcelona, we were doing the same lap times, and they were just unlucky. I think here we were a little bit superior, and hopefully that will continue at Silverstone."
What really caught the attention after the race was the way Jenson enthused about the BGP001. After the awful machines he's driven over the last few years, his joy was all too apparent.
"This race was very enjoyable, and in a way I was quite surprised how good the car was. The car was fantastic. Other races we've been quick, but it's been a handful to drive, but here it really suited my style. I could really get hold of the car and do what I wanted with it, and that's where the pace came from.
"It's not been far away from great, but here the car was just fantastic. I enjoyed every minute, every second of driving this car, and I just wanted to carry on..."
Barrichello: Out of the points
Istanbul would have been the perfect time for Barrichello to take a few points off Jenson, especially with Silverstone - one of his favourite venues - coming up. Instead he ended the day with nothing as he registered Brawn's first retirement of the year, although even if he hadn't suffered a late gearbox issue, he would have been well out of the points.
Once again he appeared to have started the weekend in better shape, only for Jenson to gain momentum when it mattered. In fact Rubens had a little handicap going into final qualifying.
"I'm disappointed," he told me after he emerged from the post-race debrief. "It would have been such a nice comeback, because when the track was green, I was definitely faster than Jenson. When the track picked it up, he improved quite a lot. Having said that, in qualifying I lost 10 points of downforce, part of my floor was broken. And it was those two last runs.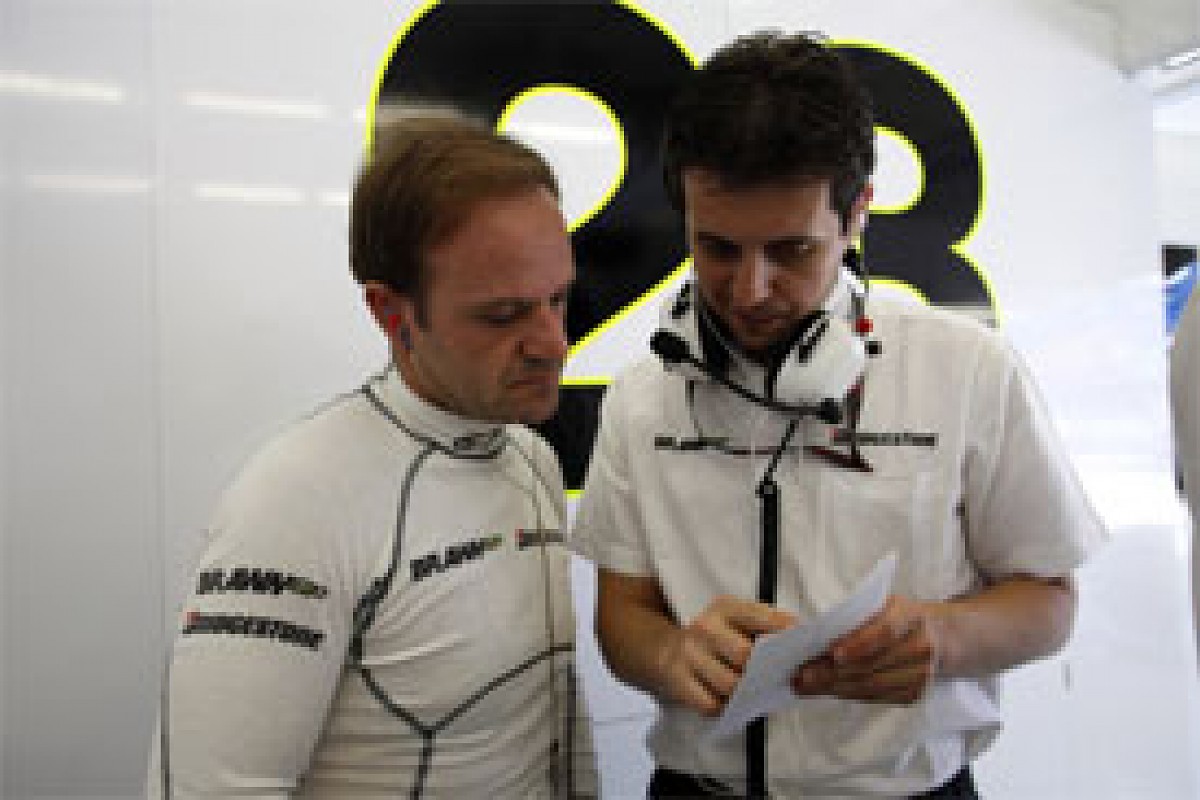 Rubens Barrichello confers with an engineer © LAT
"So I didn't improve, I was actually borderline, I made it into Q3 with the older tyre. It was working. When I put new tyres, the balance wasn't there. And then I used the harder tyre, it was such an effort to qualify third. I was happy for that, and happy that I was going to get the 10 points of downforce back for Sunday!"
As it happened, third was a comfortable position for Rubens. He was convinced that from the cleaner side of the track he could beat Jenson away, and then try and turn things in his favour over the course of the race. His lighter fuel load - he was due to stop at least a lap earlier than his team-mate - meant that he would have had to open up a big enough gap.
Unfortunately for Rubens, he had another bad start. Both drivers have had trouble this year - Barrichello notably in Australia - but this one was a total disaster, dropping him to 12th.
"I couldn't imagine any different scenario than overtaking him at the start, because I had the perfect line and everything. I had a good pull away on the formation lap, and then we had a faulty clutch. They're going through an analysis, but the thing that I can quite clearly say this time is that I didn't do anything wrong, and it was just the clutch didn't bite. There was an over-torque situation because it was anti-stall and I had to come out of it and so on."
Rubens found himself stuck behind Heikki Kovalainen's McLaren, and was given a useful lesion in the benefits of KERS as a defensive tool.
"To make things horrible I was eight seconds [per lap] on the limiter - it was just a wrong gear ratio. And I was fighting with the fastest car on the straight, I was fighting with Kovalainen, and he's on top of the speed sheets. I had to be a go-karter and try silly things, try the inside here and the outside there just to make it work..."
On lap eight his frustration became apparent as he hit Heikki and spun, falling back even further. A few laps later he bumped into Adrian Sutil, crunching his front wing and necessitating a premature first stop. After that all hope was lost, and he eventually retired.
"It was fun, it was just frustrating that I didn't manage to get into the points. The gearbox was going to seize because the temperature was rising a lot."
Interviewed straight after his retirement, he was as disappointed as he was in Spain, asking - in something of a conspiratorial tone - why bad things always seemed to happen to his car. A couple of hours later, he was more relaxed.
Rubens Barrichello battles for position with Heikki Kovalainen © LAT
"Of course that's the heat of the moment, I got a bit frustrated that it's really happening to me. What can I say is I don't wish that to happen to Jenson, but if it does, I have to be there winning races."
He has to win soon, with or without problems for Jenson. Silverstone, where he won in 2003, is next. "I love it, so I'm ready for that."
Of course he doesn't just have to beat Button on home ground, but also the Red Bulls. It promises to be a fascinating contest, and even Jenson admits that Brawn's main rival could set the pace.
"This race I don't think the strategy really mattered, we were just too quick," he said. "Full stop that's it. I'm sure going to Silverstone they're thinking they have much more of an opportunity, and I think they do, because aerodynamically they've always been very strong, and at Silverstone the first half of the circuit is all high speed. That's an area they're going to be strong, and we've just got to hope that in the slower sections, we can gain the time back."