Button's record tracker
Jenson Button became the first driver to win four consecutive races since Fernando Alonso in 2006 (Spain to Canada). It is also Button's sixth victory in the first seven races of the year, making him just the fourth driver in history to achieve the feat. The previous cases were Jim Clark (1965) and Michael Schumacher (1994 and 2004). Schumacher is the only driver to have won seven of the first eight races (in 2004), in fact he won 12 of the first 13 that year.
Only twice in Formula 1 history has a driver scored more points in the opening seven races of a year than Button has in this campaign. Schumacher scored 66 in 1994 and Alonso 64 in 2006. If full points had been awarded for the Malaysian GP, Button's total would be 66, equalliing Schumacher's all-time record.
James Hunt (McLaren M23 Ford) 1976 Dutch Grand Prix at Zandvoort © LAT
Critical points
Button's advantage in the championship table is now 26 points over team-mate Rubens Barrichello. A margin that great has only twice been overcome - in 1976 James Hunt trailed Niki Lauda by 35 points after nine of 16 races and came back to win it by one point, although Lauda was sidelined for four races following his Nurburgring accident. In 2007, Lewis Hamilton was 26 points clear of Kimi Raikkonen after seven of 17 races. Raikkonen claimed the title by a single point after Hamilton squandered an advantage of 17 in the last two races.
Turkey qualifying notes
• Sebastian Vettel claimed his third career pole position, becoming the youngest driver to collect three of them, at 21 years, 11 months and four days. Alonso was the previous youngest to pass that milestone in the 2004 French Grand Prix at 22 years, 11 months and five days. Vettel also prevented Button from scoring his third straight pole, something no driver has been able to acheive since Felipe Massa in Malaysia, Bahrain and Spain 2007.
• The Turkish GP produced the closest Q2 of the year so far, with just 0.457s separating Vettel first and Alonso in 10th.
• Adrian Sutil equalled his best qualifying performance of 15th, recorded for the first time in Monaco two weeks earlier.
• Lewis Hamilton has now gone three consecutive races without starting inside the top 10 for the first time in his career. He was also been eliminated in Q1 in back-to-back races.
• Toro Rosso recorded its worst qualifying performance since the 2007 US Grand Prix with Sebastiens Buemi and Bourdais 18th and 20th on the grid.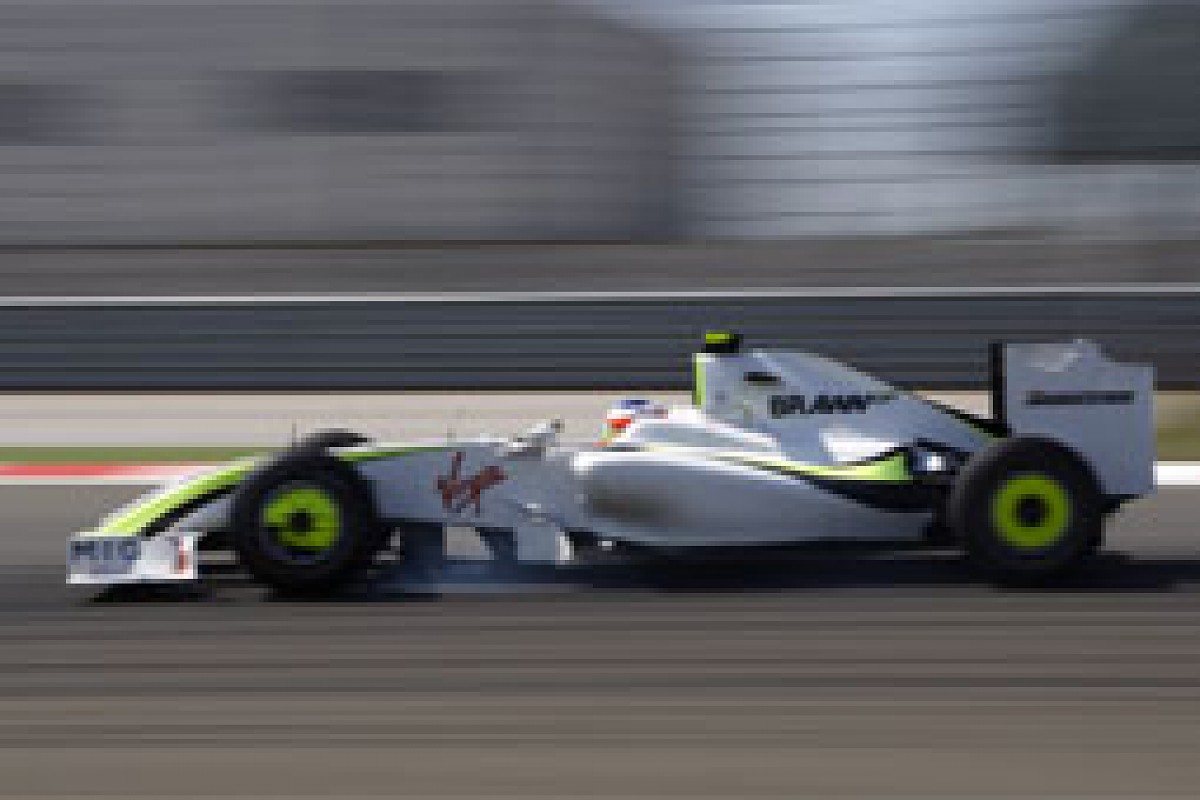 Rubens Barrichello (Brawn BGP001 Mercedes) 2009 Turkish Grand Prix at Istanbul © LAT
Turkey race notes
• It is now seven races since either McLaren or Ferrari won a race. The last time that happened was back in 1995 between the French and Australian GPs when only Benetton (eight) and Williams (three) tasted victory.
• A Brawn car retired for the first time this season with the team's first ever mechanical failure.
• Nick Heidfeld extended his all-time record for races without a retirement due to an accident or a spin to 50.
• Robert Kubica ended his longest streak of races without a point at seven.
• Red Bull has scored more points already this season than in the last two championships combined (24 in 2007, 29 in 2008, 56.5 in 2009). The team also had both cars on the podium for the second time this season.
• Nico Rosberg finished in the points for the third consecutive grand prix, for the first time since Hungary-Belgium 2007.
• Turkey was the third straight race with no McLaren in the points, the first time that has happened since 2004 (Spanish to European GPs). A fourth race outside the points would be the first occurence since 1981.