It seemed unlikely just a few weeks ago, but there's a very real chance that in Istanbul this weekend Ferrari could score its first win of the season.
Felipe Massa for one will certainly be highly motivated. He's won the last three Turkish Grands Prix - all of them from pole position - and if he wins again he'll join an exclusive club of drivers (all world champions) who have won four races in a row at the same venue. There can be no better place for him to turn the team's season around.
It's been the worst start for the Scuderia since 1993, just prior to the arrival of Jean Todt. Over the first few races of 2009 the team endured strategic errors, unreliability and sheer bad luck. Along the way a lot of points went astray.
Should the team hit winning form, those wasted opportunities could well prove very expensive, as Jenson Button and Brawn have built up such a lead. There's no hiding from the fact that performance was missing too, and using Red Bull as a benchmark, it wasn't all down to the lack of a double diffuser.
The first real signs of a renaissance were in Spain, where Massa was heading for third until that strange refuelling problem became apparent. But it was in Monaco, a circuit where until last year the team had lagged behind, that the team really began to gain some momentum. It says a lot that when Kimi Raikkonen and Massa ultimately finished third and fourth, right behind runner-up Rubens Barrichello, everyone in the camp felt that it should have been a lot better.
"To be honest I think it's a good sign that we're a little bit disappointed to come away with third and fourth!" said engineering chief Chris Dyer. "Compared to where we've been in the first part of the season, it's a great step forward. I think we've scored twice as many points today as we scored in the last five races. That's the good side. On the bad side we're probably all a little bit disappointed that there was probably a second place possible, and we didn't quite manage it."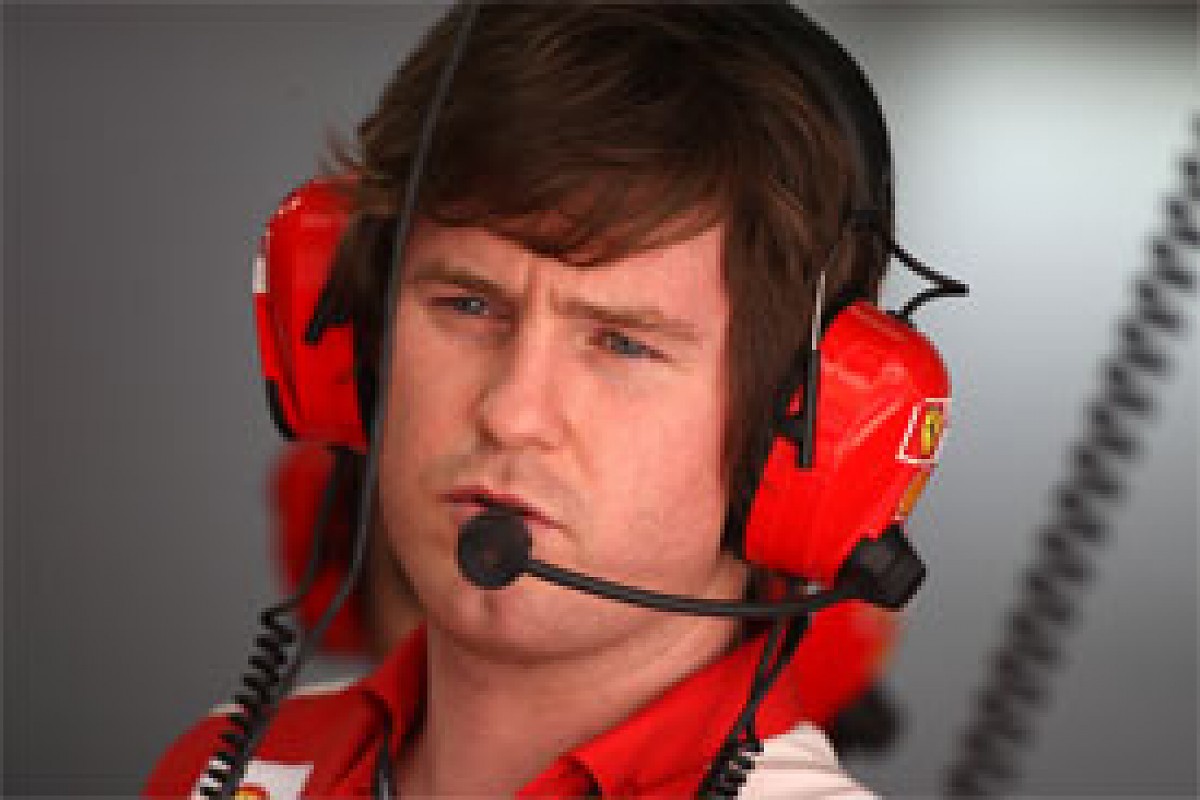 Rob Smedley © XPB
Massa engineer's Rob Smedley, whose energetic support of the Brazilian is a now a highlight of TV team radio transmissions, looked a little offended when I suggested that Ferrari now had the second quickest package.
"I don't know about whether we were the second quickest to be honest," he said. "If you look at Felipe's middle stint with all the fuel we had in he was quite a bit quicker. To be perfectly honest, without the traffic in qualifying yesterday, with a bit of a better run at it, we were right there to win the race today. I'm really happy with him, very proud of the way he drove."
Smedley certainly has a point, and a closer look at how the weekend unfolded reveals that it could have gone Ferrari's way. Indeed, the numbers show that not only did Ferrari claim fastest lap in the race, but also the fastest lap of the weekend. That's pretty impressive stuff.
It was Raikkonen and not Massa who was quickest in Q2 - with that fastest lap of the weekend of course - and by a useful margin of 0.3s over the tightly bunched pursuing group. But when it mattered in the final session, he was beaten by Jenson Button by the tiniest of margins. One lap of fuel less in the tank, and he would have been on pole. Not that the team had any regrets, as Dyer insisted: "If you play that game every Saturday night you only depress yourself! I think we're pretty comfortable with the amount of fuel we had in the cars."
On pole last year, Massa didn't help himself with his little nose crunching incident at the start of qualifying, but he put that behind him to ease through in seventh in Q2. The team was confident that he would get on the front row, but in the end traffic proved expensive.
"Overall we lost three-tenths on the lap just sat behind Webber," said Smedley. "And we didn't do the second lap, and there's another two or three tenths in the lap. So we were well on course to be on pole."
Still second and fourth was a pretty good launch pad for Sunday. The team went into the race knowing that it was in the fight for victory, something that hasn't happened for a while. And when Brawn took off its tyre warmers on the grid to reveal that both of the white cars were on the less favoured supersofts, Ferrari had some cause for optimism.
"We were pretty confident with the tyre choice at the start of the race," said Dyer. "I was very surprised to see them on the soft, and really that put us in with a chance."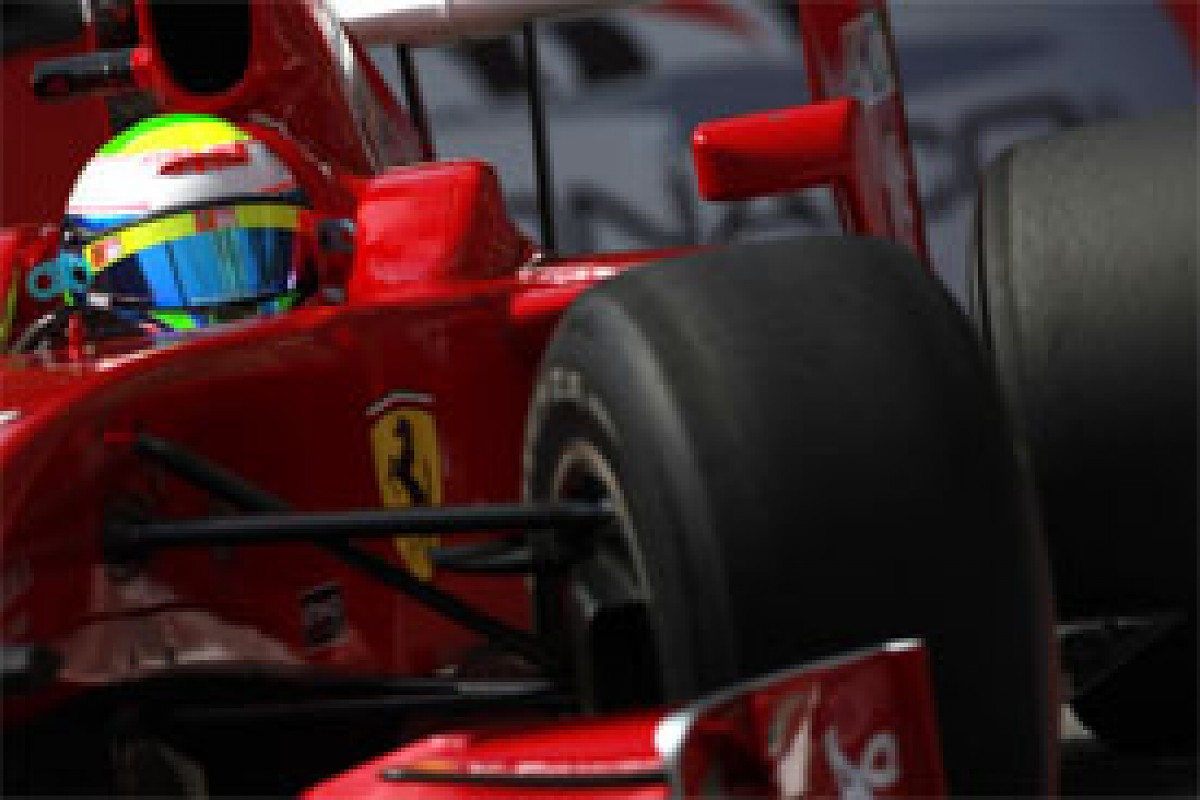 Felipe Massa © LAT
Smedley was equally non-plussed by the Brawn decision: "We thought a lot about it, we did all our calculations. We thought a lot about what happened historically this year, not only in previous years. We did all our analysis, and I think we made absolutely the right choice."
Ferrari has made some great starts this year - even without KERS functioning properly Felipe gained ground in Spain - but the much shorter and tighter run to Ste Devote meant it was harder. But not impossible, given that Button had made some poor getaways this year.
But this time he didn't. Not only did Kimi fail to pass him, he found himself bumped down to third by Rubens.
"To be honest we didn't think we were in any position to challenge Jensen, because the KERS advantage here at the start is very small," admitted Dyer. "And we've seen quite a lot of times in the past starting from second position here your main job is to fend off third place, not to think about passing first! The most disappointing thing is losing that place to Rubens, which really set us up for a struggle for the rest of the race. I think if we'd been in front of him at the first corner it would have been a very different race..."
And that's the whole point of the story. Had Kimi stayed ahead he would undoubtedly still been there at the end, beating a Brawn fair-and-square. What we will never know is what might have been able to do with regards to leader Button, especially when Jenson's tyres began to grain. Had he not been stuck behind Rubens - who slowed with tyre woes a lot earlier - he just might have been able to make life really difficult for the Englishman.
Jenson was sure that it didn't make any difference, and he would have opened up a lead in any case. He certainly had the speed, but as I pointed out last week, in those crucial early laps Button was able to protect his tyres by pacing himself. Had it been a Ferrari and not his team-mate in his mirrors, he might not have been able to focus on tyre management to quite such an extent. And when his tyres did begin to fade, Kimi would have been there to keep the pressure on, and the process would have accelerated.
Instead, the red cars stayed third and fourth throughout. A slight delay on a wheel at the second stop cost Kimi any chance of jumping Barrichello, and then Massa's hopes of getting his team-mate were spoiled when Button came out of the pits right in front of him, fuelled to the flag. In other words things didn't go to plan for either man.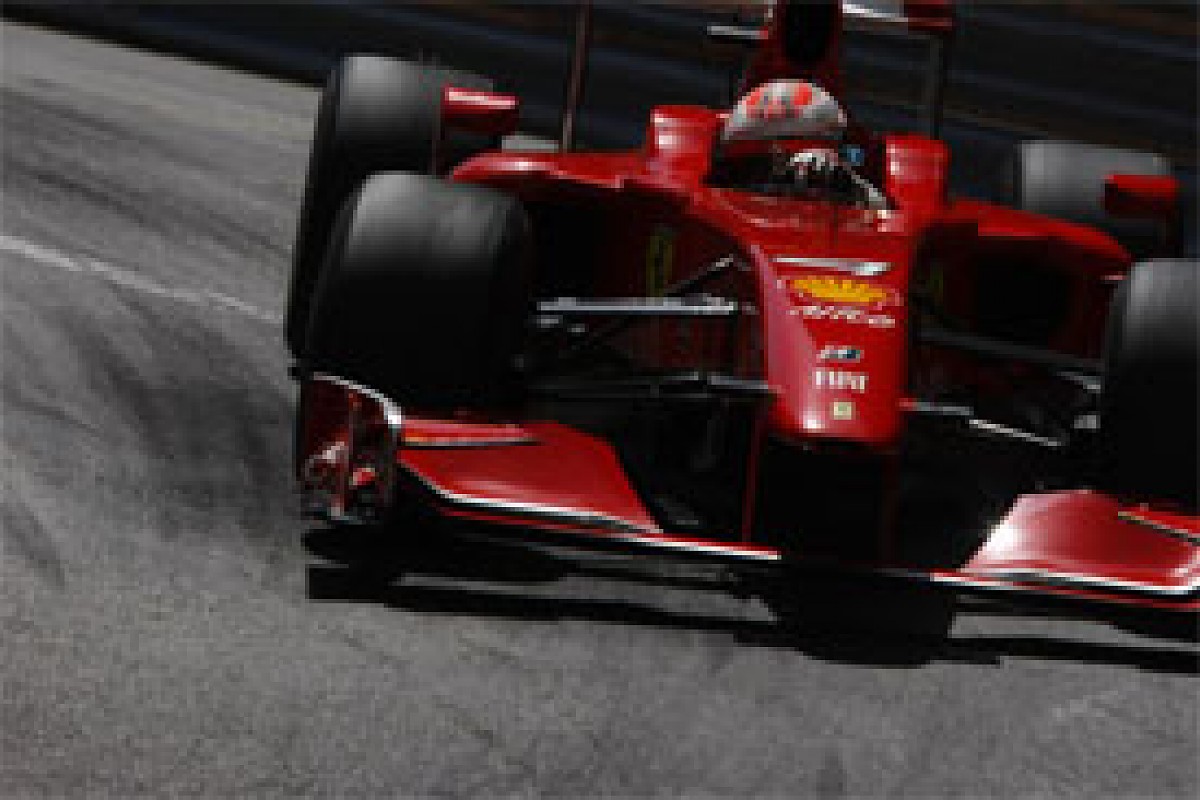 Kimi Raikkonen © LAT
"It was always going to depend on what happened with Button's pit stop," said Dyer of the intra-team battle. "We could see both our cars were very tight to either be in front of or behind Button when he came out of the last stop. As it turns out he became out between the two cars, which gave Kimi a little bit of breathing space, and made life difficult for Felipe.
"It was very close. Obviously Kimi in the end had a problem in the pit stop - the right rear wheel change was a bit slow. But it was really tight with Rubens and it was really tight between the two of those, so it could have gone either way. Without the problem in the pit stop he would have been right there with Rubens as well. I can't say without the problem we would have been in front of Rubens, but we would have been side by side coming out of the pits, I think!"
Smedley has no doubt that getting stuck behind Jenson cost his man a podium: "Yes it did. He would have been past. Third would have been nice, but we were more or less on for the win. In the end this place is so dictated by traffic, and because we missed out a bit yesterday, it was the difficult to do our race today, He was absolutely flying all the way through the race."
Fastest laps are not always an accurate barometer of performance - sometimes the winner simply doesn't have to go flat out at the optimum point of the race - but Felipe's pace was nevertheless impressive. And had he been at the front from the first lap, it's hard to imagine that Brawn could have done anything about it.
Turkey is a very different kind of track, and one where tyre management is going to be particularly crucial throughout, because Bridgestone is taking its hard and soft tyres (no mediums), and Turn 8 will give the options a hard time. We know Brawn has done better than most on the tyre front this year, but it would be dangerous to discount the Scuderia.
"I think there's been a few surprises this weekend," said Dyer in Monaco. "We thought that Red Bull would be much more competitive. I suspect it's a circuit related thing and I expect to see them strong again in Turkey, and probably the circuit here helped us a little bit as well. We've got some new things coming for Turkey as well, so hopefully we can make a step forward and as always we have to see how big a step forward everybody else takes."
"We've got car improvements coming there," noted Smedley. "The car's going really well, we had good reliability this weekend as well, so we'll wait and see how it goes. But I'm pretty confident."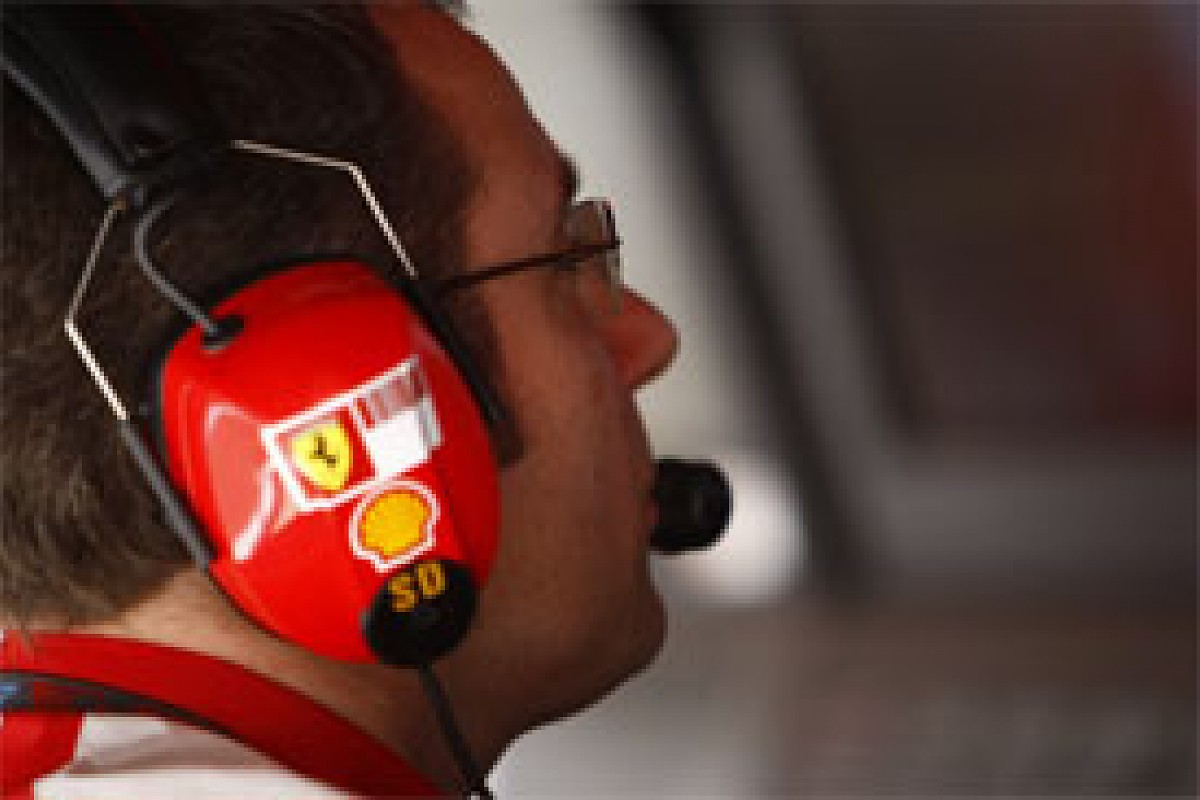 Stefano Domenicali © LAT
And that's the key word. Ferrari looked in disarray just a few weeks ago, but the mighty machine that achieved so much success over the last decade is still in place, grinding away, making the car quicker. It might have needed some maintenance, but it seems to be up to speed again. Everyone is back in that winning frame of mind, and without the stresses associated with a title battle, both drivers can go all out.
Team boss Stefano Domenicali has done a great job to - as he likes to say - ensure he takes the pressure off the team and onto his own shoulders. The political rows may be something of a distraction, but there's no doubt that Ferrari is back.
"For sure I'm very happy about the result," said Stefano. "Because it shows that what we are doing at home at this moment is good. We are working in the right direction. The Brawns are for sure still quicker at the moment, but we are catching up, we are getting closer, so this is very positive. I'm very happy because the boys at home at home are working very, very hard, and I want to thank them for what they are doing. I'm sure this is just the start."