With six races in the book, the Formula 1 World Championship Is moving towards the half-distance mark and it's still all about Jenson Button and Brawn.
He's won five races and is just four points off a maximum score, so we can assume that it'll be yet another victory in the only grand prix that is technically held in Europe but geographically in Asia!
Well, there's a good chance, and if he does so he'll be just one victory off his personal record for victories during a car racing campaign, set on his way to the British Formula Ford Championship title back in 1998! But it will be harder in Turkey than it was in Monaco.
Red Bull disappointed on the streets of the Principality, and Sebastian Vettel gave the Brawn boys even more breathing space by crashing out at Ste Devote shortly after his first pitstop. But he and Mark Webber have reason to expect to have the best car in Turkey. After squandering potentially race-winning pace in Bahrain and Spain, and with the Brawn juggernaut sprinting away, now is the time to start winning regularly.
Plus there's Ferrari to worry about. It has an ever-improving car, the KERS roadblock-induction system to get in the way of fellow victory contenders and the only drivers on the grid ever to have won the Turkish Grand Prix. Kimi Raikkonen won the inaugural race here back in 2005, and since then it has been Felipe Massa all the way.
Rest assured, both Ferrari and Red Bull are not interested in seeing Button make it four in a row.
Talking points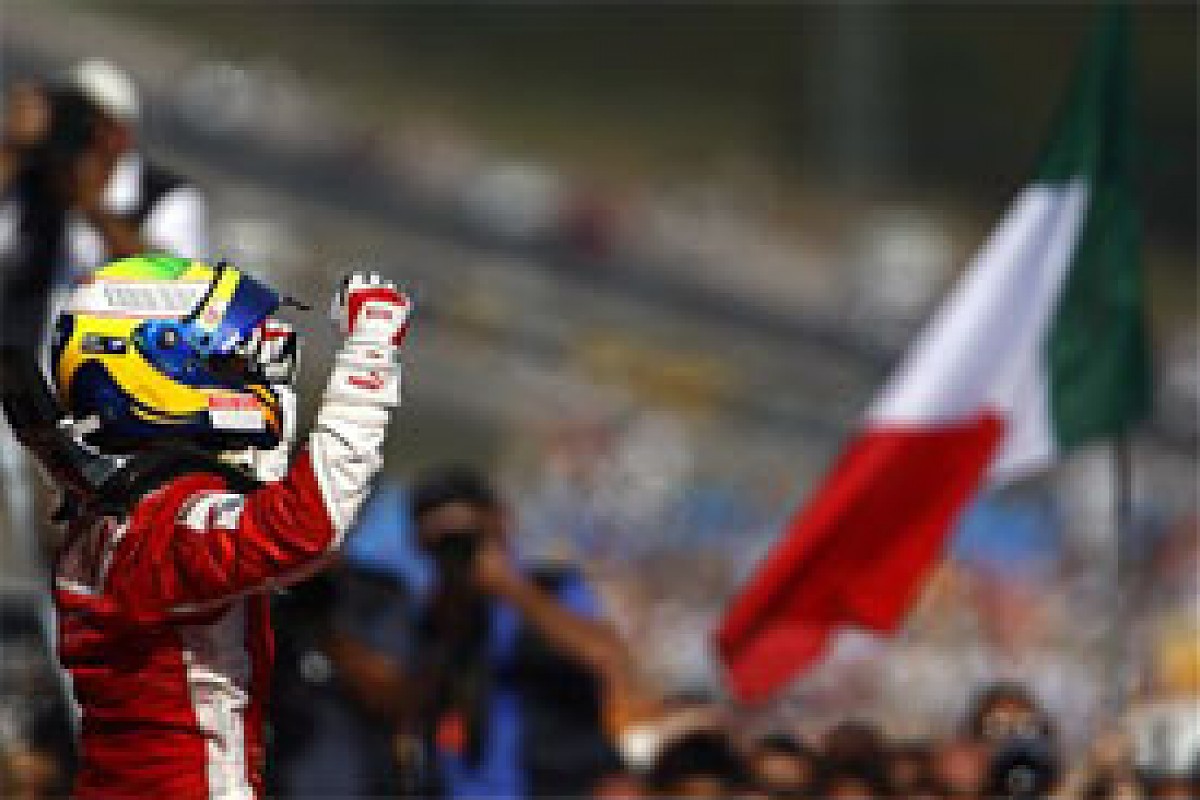 Felipe Massa celebrates in parc ferme © LAT
1. Massa's mastery
Felipe Massa is the man when it comes to Istanbul Park. But for the first time since his Sauber days in 2005, he comes to the Turkish Grand Prix with a car that isn't necessarily at least second favourite. But the Ferrari F60 is getting better by the race, to the point where it should have at least a decent podium shot. This could be the first chance for the dominant Massa of 2008 to put in an appearance.
2. BMW's double diffuser
BMW-Sauber introduces its double diffuser at this weekend's Turkish Grand Prix. If it's a massive step forward, it could lift Robert Kubica back into Q3 contention. More likely, it'll be a clear sign that the team is dug into the midfield for the foreseeable future. The window of opportunity for a Teutonic revival in time to win races this year, is closing fast.
3. Toyota's room for improvement
Toyota performed an astonishing feat in Monaco. After locking out the front row in Bahrain, Jarno Trulli and Timo Glock managed to take sole occupancy of the bottom of the timesheet in Monaco. What went wrong? Absolutely everything, short of falling in the harbour. With a long wheelbase for extra stability, it's not the most nimble car and the TG109 wasn't getting its tyres up to temperature in the required time. Things will improve in Turkey, but Toyota really needs to get its head round why it couldn't get its aerodynamic upgrades to work in Spain a month ago.
4. Barrichello's quest to win
Although there is an element of the predictable in watching Brawn stack up win after win, a Rubens Barrichello victory is surely due soon. After letting his frustration show in Spain with hints of strategic shenanigans hobbling his run to victory, the Brazilian was again the supporting player in a Brawn 1-2 in Monaco two weeks ago. It's his 274th grand prix and with his team-mate edging ahead in the title race, every fortnight now is the time.
5. The Lewis Hamilton show
Monaco was a massive missed opportunity for Hamilton and Istanbul Park is hardly top of the list of McLaren-friendly circuits. Then again, the way the MP4-24 is going there is no such thing. After his qualifying shunt in Monaco, another solid run to a few points would be a real tonic for the world champion, who - Mirabeau aside - has been driving superbly this year.
Key factors
Qualifying strategy
This is rapidly becoming the defining battleground in 2009, with teams struggling to second guess each others' fuel loads. Overtaking is possible in Turkey, but the problem is those KERS cars. Sebastian Vettel discovered in Bahrain and Spain that getting wedged behind Lewis Hamilton or Felipe Massa can mask your pace - although fuelling light in qualifying is no guarantee of pole if you hit traffic.
Balancing the set-up
There's a good mix of high-speed and low-speed at Istanbul Park, so although you want a stiff car for the strongly aero-dependent sections, that needs to be tempered with a compliant car for the twisty bits. It can be hard on tyres, so that must be factored into the equation as well.
Turn 8
The everlasting left-hander at Turn 8 takes its toll on tyres and drivers, so getting the car quickly through this section has a big say in laptime. The longest corner in F1, you need a combination of big balls and technical precision to be quickest here.
Strategy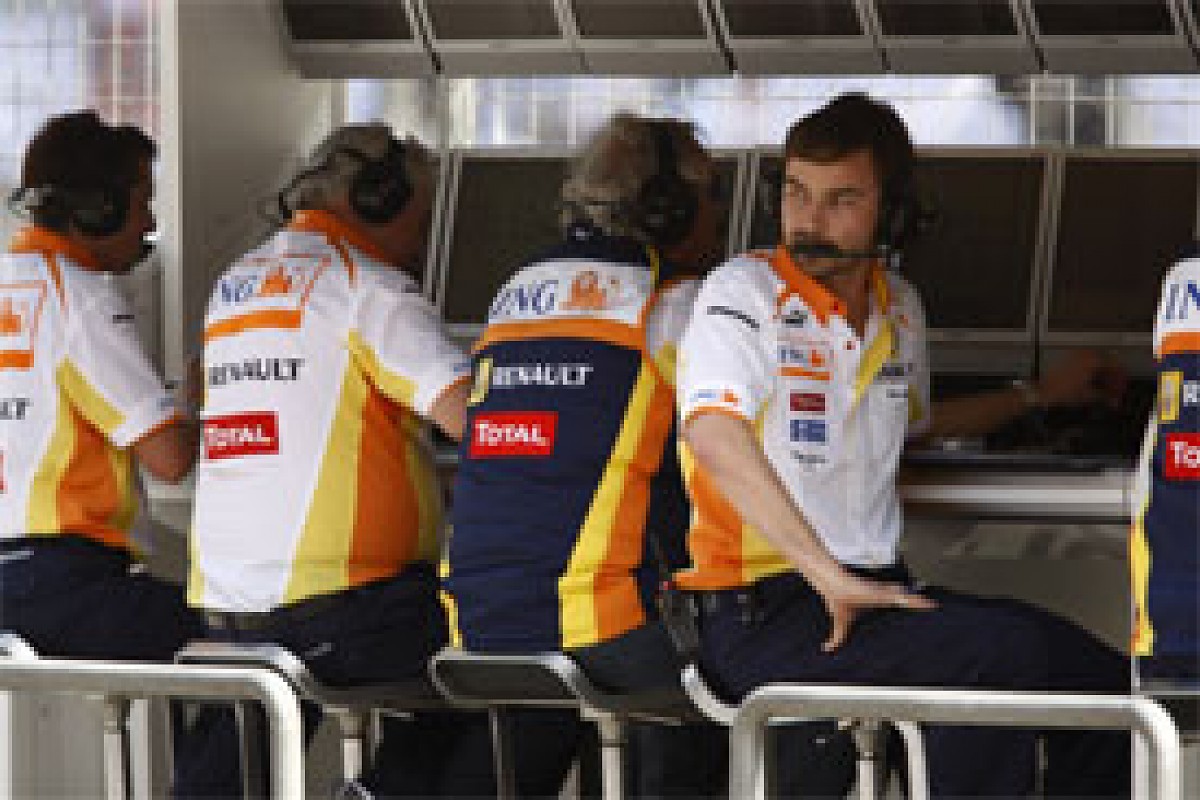 The Renault pitwall © LAT
A pretty orthodox track in terms of strategy, with the frontrunners choosing between the standard two-stopper and the more adventurous three-stopper. Much will depend on tyre degradation, although with soft and hard tyre options the race won't be hit by the dropping-off-a-cliff effect that some drivers experience with the super softs.
Inevitably, there will be a few one-stoppers lurking around some of the drivers behind the front three or four rows, although with overtaking possible at Istanbul Park, getting bottled up behind them is not as big a risk here as at the likes of Monaco.
Race history
The Turkish Grand Prix is one of a raft of new venues created in emerging Formula 1 markets in the 21st century. The Hermann Tilke-designed Istanbul Park circuit was a big hit when it made its world championship debut in 2005.
Giancarlo Fisichella led early on in that inaugural race after a flying start from second on the grid, only to run wide and let Kimi Raikkonen take the lead. The Finn, then with McLaren-Mercedes, went on to win, although title rival Fernando Alonso slipped past Juan Pablo Montoya on the penultimate lap to bag second place.
Since then, it has been the Felipe Massa show. The Ferrari driver claimed his first F1 victory in 2006 after dominating from pole position. Team-mate Michael Schumacher finished third in that race after losing time queuing behind Massa during a safety car pitstop, which handed second place to championship leader Alonso.
In 2007, Massa made it two out of two by holding off Lewis Hamilton until the McLaren driver dropped back, and last season the Brazilian dominated despite a battling three-stop performance from Hamilton.