A change in sight?
Jenson Button scored the 21st podium of his career last time out in Monaco. He's now one behind Lewis Hamilton's score as the active British driver with the most. The all-time British record is held by David Coulthard, who amassed 62 - the last being in Canada last year.
Hamilton still holds the advantage in number of wins with nine to Button's six. He also has 13 poles to Button's seven.
Following his third place in Monaco, Kimi Raikkonen is also closing in on a podium record. He is just one shy of seventh on the all-time list - currently Nigel Mansell with 59. The record holder is Michael Schumacher with 154.
Fernando Alonso (Minardi PS01 European) 2001 Austrian Grand Prix, A1-Ring © LAT
One third gone
After six of 17 races, the Formula 1 season is now past the one third mark.
• Fernando Alonso has scored two more points than in the first six races than he did in 2008, making this his third worst start to a year since his debut with Minardi in 2001.
• Rubens Barrichello has made his second best start to a season, scoring 35 points in the first six races. He bettered that in 2004 at Ferrari with 38.
• Jenson Button is having his best season so far with 51 points beating his previous best of 32 from 2004. He has now scored as many points this year as he did in the first six races of the last five seasons (2008-2008) combined.
• Robert Kubica has failed to score points in the first six races for the first time in his career.
• Nelson Piquet Jr has now failed to score in the first six races in both of his F1 seasons so far.
• Kimi Raikkonen has made his worst start to a season since 2004, when he had just one point from six races after retiring from four of them.
• Sebastian Vettel has scored nearly six times as many points as he had at this stage last season, improving from four to 23.
• Mark Webber is having his best ever start to a season with 19.5 points from six races. His previous best was 18 in 2005.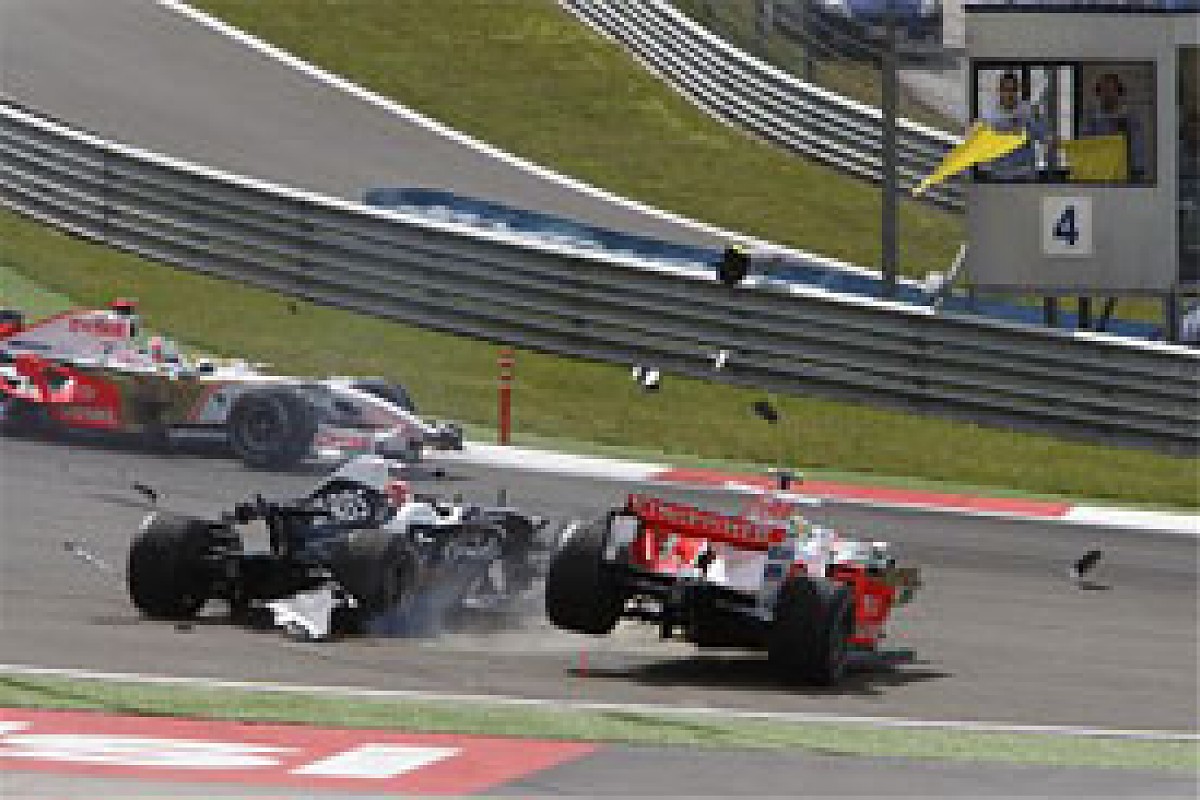 Giancarlo Fisichella crashes over the top of Kazuki Nakajima at the start of the 2008 Turkish Grand Prix © LAT
Turkey personal scoreboard
• Felipe Massa is the undisputed king of the Turkish Grand Prix, having won the last three events from pole position. He is the only active driver to have won the same race three times in a row, along with Kimi Raikkonen who won at Spa in 2004, 2005 and 2007 (there was no Belgian GP in 2006). Massa is bidding to become only the fifth driver in history to win four consecutive races at the same venue. Juan Manuel Fangio, Jim Clark, Ayrton Senna and Michael Schumacher are the others to have achieved the feat.
• Kimi Raikkonen won the first Turkish GP in 2005 for McLaren. He was also on the podium in 2007 and 2008, but his only pole at the track was in 2005.
• Robert Kubica has improved his form at Istanbul over the years, finishing 12th in 2006, eighth in 2007 and fourth last season. He has started the race fifth in the last two years.
• Fernando Alonso is the only driver to have finished in the points every year in Turkey, including podiums in 2005 and 2007.
• Rubens Barrichello's best result at Istanbul was eighth place in 2006. He has also never qualified in the top 10 at the circuit.
Other notes about the Turkish Grand Prix
The Turkish GP has been won from pole position every year, but the winner has never posted the fastest lap of the race.
Toro Rosso has never finished in the top 10 at Istanbul, the team's best result being a 13th place for Scott Speed in 2006.
The last time a Toyota scored points in Turkey was in 2006 when Ralf Schumacher finished seventh.