I just heard Harriet Harman on the radio trying to defend Alistair Darling. Seemed to be struggling a little, her questioner pressing the point that, of all people, the chancellor's finances needed to be whiter than white.
The point was made that as the man looking after the nation's money, he didn't need to be so preoccupied with his own. So he should go. One rule for all.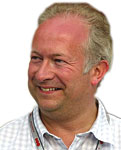 Max Mosley © XPB
All this MPs expenses palaver makes for good copy but, seriously, who is really that surprised? It would have been a bigger surprise to me if the majority weren't on the take. What's funny, relative to motor racing, is that it all kicked off at a time when the FIA is talking about budget caps and squads of auditors heading for the accounts of F1 teams.
Nobody is suggesting that the ins and outs of F1 team spending are about to be made public, God forbid, but I wouldn't mind betting that F1 being what it is, not every aspect of every team's accounts would be immediately, fathomable, let's say. Just as I'm not in the least surprised to find an MP claiming five grand's gardening expenses for a sixth floor apartment window box with a couple of petunias, so it wouldn't surprise me to learn of the odd irregularity in the accounts of an F1 team.
I suspect that some of the panic about the FIA's budget cap bombshell was its immediacy. For a 2010 budget cap to work it was going to be necessary for FIA auditors to look into existing accounts. Now I'm not saying that would be inconvenient for anyone, but you never know...
As one newspaper commentator said, come on, let's get real and leave poor old Alistair Darling alone. So what if he's changed his mind about his principal residence four times in as many years, at least he's not embarrassing himself with nubile 18-year-old blondes like Mr Berlusconi.
The inference was that half the things we get our knickers in a twist about in this country wouldn't even warrant a mention abroad. So in that case, it wouldn't be any problem at all for the FIA finance police to go trawling through Ferrari's books, would it?
You wouldn't have thought so, but there are practical issues too. Such as the fact that some of the Scuderia's spending is covered by Philip Morris (Marlboro) and that the agreement between the two companies includes confidentiality clauses that would apparently be breached by an army of money inspectors.
As far as the immediacy of the FIA's actions are concerned, Max has made it clear that to procrastinate risked watching the sport disappear down the toilet. But you wonder too, what he might know. If he knew that the lack of any 'cleaning' time before the money inspectors arrived might seriously embarrass people - as did the poor Speaker in the Commons - then he'd also put himself in a very strong negotiating position by acting without delay.
Indeed the message from the FOTA teams in Monaco seemed to be okay, just leave us alone in 2010 and we'll come to the table properly for 2011 and beyond.
That's the outcome I'd have bet on, particularly in view of the fact that the FIA has already compromised by excluding drivers, engines and marketing from the budget cap. That being the case, I can't quite see why anyone can't sign up for the auditors. Unless of course...
Why has Frank Williams signed up and entered the 2010 series unilaterally, bringing about his team's suspension from FOTA? Frank has more experience of Mosley than anyone else in the paddock. And he knows that having opened up the entry to new teams - some of them reputable, potentially serious operations, despite Ferrari's observations - he really can't, and won't, backtrack.
If a block FOTA entry with conditions attached was judged to be invalid, there may just not be enough seats left when the music stopped. Then what? Doubtless Frank could see that coming and felt he had no choice. What's surprising perhaps, is that McLaren didn't do likewise. Their core business is, after all, what? Brave?