I always watch the Monaco GP from the Swimming Pool, and then at the end of the race I head through a tunnel under the track that pops up in the pitlane, right by parc ferme. It's always interesting to spend a few minutes there watching the cars arrive and the drivers alight, as the body language can say so much.
This year there was something different to see. As I leaned on the railings Jenson Button drove in and parked right by my feet, and began to climb out. It took a couple of seconds to register, and then it suddenly clicked in my mind - what on earth is he doing here?
Five years after his previous Monaco podium appearance, Jenson had forgotten that the top three go to the grid, and no one in the team had reminded him. He finally got the message from an FIA official, and set off on his now famous run back to the last corner, and along the pit straight. Meanwhile I kicked myself for not having my camera with me, and missing a completely unique shot...
It would have been a lot quicker to head down the pitlane, but by chance Jenson created a little bit of sporting magic, and provided a great bit of TV. You never know, it might even become something of a tradition, a bit like drinking the milk at Indy.
"I parked in the wrong place," he smiled later. "So I ran round to the start line. Four hundred metres with your helmet on after a race in Monaco, normally you'd think 'crazy,' but when the adrenaline's pumping, you'll do anything. It was great, it was really an emotional moment. I'm sure that everyone who wins Monaco is going to want to do the same, because it's different, and you're running down and everyone's high-fiving you."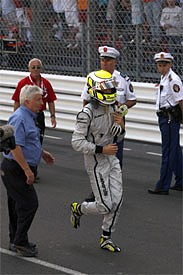 Jenson Button runs to the podium © LAT
His wrong slot on the slowing down lap was the only mistake during what was a fabulous weekend for Jenson. Taking pole and leading all the way is a great achievement at any race, even if you have a wonderful car. But at Monaco it's extra special, as there are so many hurdles that can catch you out.
If Jenson does go on to win this year's World Championship, Monaco could prove to be the tipping point where things really began to go in his favour. Five wins from six starts is an exceptional record, and as the man himself pointed out, he's still the only driver to have won a race on slicks since 1997!
"I crossed the line and I said to the boys, 'Yeah Monaco baby!' And it's so true, this one means so much for all of the team. I said before the race that it doesn't. That might have been a little white lie, I didn't want to put any pressure on myself. But yeah, to win here is exceptional. The team have worked fantastically. I know I keep saying it, but it's the truth. I cannot say how much they've helped me over the last few months, and well done to them all."
He made it all look so easy, but obviously it wasn't. On Thursday he was eighth and fourth in the two sessions, and in both he was slower than his team-mate, albeit by less than 0.2s in the afternoon. Sometimes one can draw little from such an outcome, but after the race he admitted that things hadn't gone entirely to plan. In Spain he'd had to borrow Rubens Barrichello's set-up, and again this time he had to work to get the car to his liking.
"The most special thing for me this weekend is that in the first practice session I didn't feel comfortable. We started in the wrong direction at the start of the week, but we improved it. The whole team really worked hard over Thursday night and Friday night to improve the car, and we arrived Saturday morning with a much better car, went into qualifying and put it on pole. It's not just been out the box quick, and that's why it's been exciting."
On Saturday morning Jenson was second only to Fernando Alonso, and a slender 0.015s in front of Rubens. Clearly things were going better, but even in the middle of qualifying the team radio revealed that he was struggling with understeer, and not entirely comfortable.
These things are all relative (just ask the BMW and Toyota guys how they felt at that point), and Button is operating at such a high level this year that any deviation from perfection is going to catch his attention. Second in Q1, a low-key eighth in Q2, he then popped up with a brilliant pole lap. He edged out Kimi Raikkonen by just 0.025s, so the slightest error would have made the difference, as indeed would a lap of extra fuel in the tank.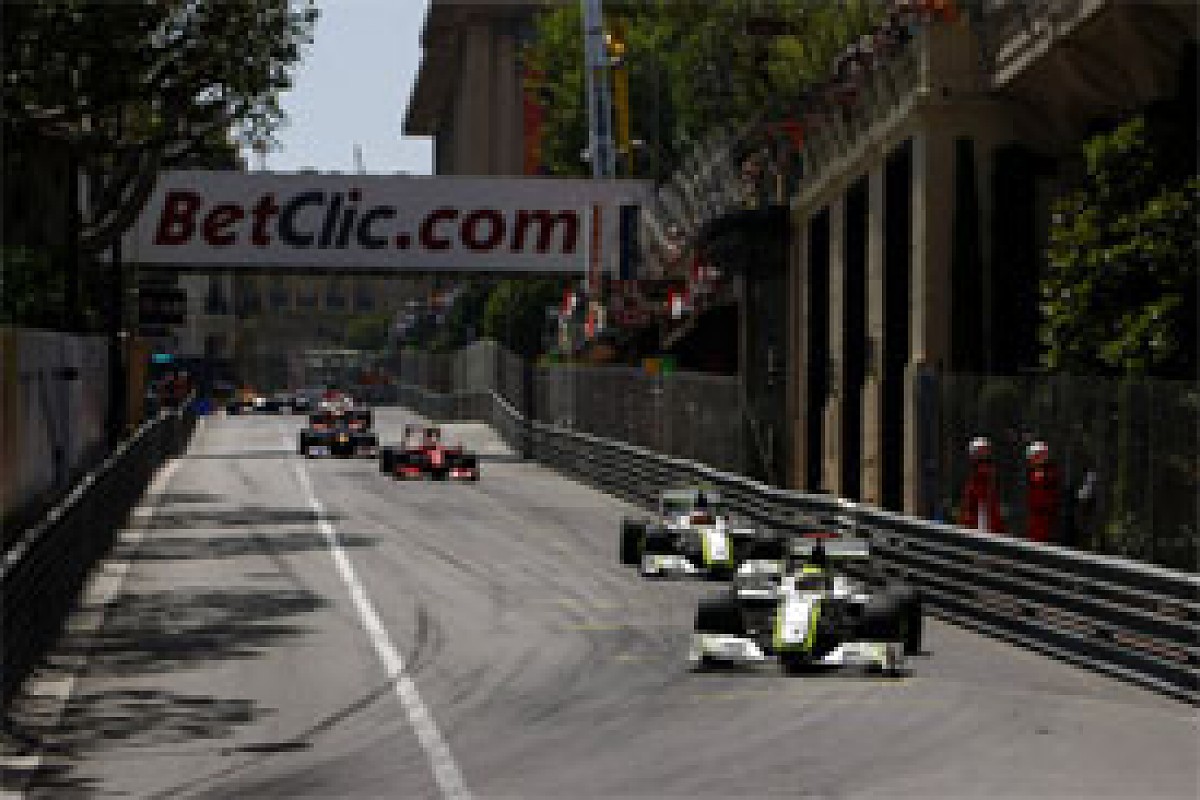 The Brawns pull away from the field © LAT
Brawn really surprised the opposition when the tyre covers came off on the grid, and both cars were revealed to be on the supersoft. For Sebastian Vettel, back in fourth with his ultra short opening stint, it seemed a logical choice. But would they last long enough on the two Brawns?
Jenson got over his first hurdle by getting a great start for once. Raikkonen's KERS was never going to be a huge help on the short run to Ste Devote, and crucially he was jumped by Rubens, who was helped by a little extra push from those supersoft tyres. This gave Jenson a priceless advantage - he knew exactly what he was dealing with, whereas a Ferrari in his mirrors would have created a lot more stress.
Jenson didn't pull away for the first few laps, but you had to be following the timing to really understand what was happening. In fact he pretty much drove those laps as slowly as he could, mindful of the need to keep the tyres in good shape.
"For the first three or four laps I didn't push the car too much, I didn't plant the throttle on corner exits, and it really worked for me. Rubens was dropping back, and I wasn't really giving the car 100%. I pushed a bit more and was able to pull a big gap."
His first three flying laps went 1m19.3s, 1m18.5s, 1m18.3s. Then it was time to get a move on as he did 1m17.7s, 1m17.2s, 1m16.6s, and then a succession of laps in the 1m17.1s bracket. On lap 5 the gap to Rubens was 1.5s, by lap 10 it was 4.2s. And then as the Brazilian began to suffer severe graining, it shot up to 12.5s by lap 15.
That came as no surprise to Button: "Mark [Webber] had said to me, 'Those option tyres are going to be tough aren't they, they're graining after 13-14 laps.' 'Really?' I was stopping on lap 20-21! We knew that we'd have to look after them for the first few laps, and the engineers, if you heard on my radio, were saying, 'Jenson look after the rear tyres.' I did.
"We actually thought the supersoft tyre would be the better tyre. We didn't think it would grain. Always in Monaco the supersoft tyre works. Throughout the weekend the circuit grips up, you lose the rear graining. To be fair in my tyre I was happy. And I pulled a good lead. If Rubens wasn't there, I don't think Kimi would have caught me, he would still have been 15s behind. It was the right call."
"I guess that my problem was that I was running too close to Jenson," Rubens explained later. "I had a pace that was really good to begin with, I was even saving fuel big time. I was amazed that I could keep up with him so well, still saving fuel. But as I ran too close I was probably losing downforce, and with that, I was forcing the tyres more. The rear graining came in too suddenly. In four laps he was winning three and a half seconds on me, and that made his race.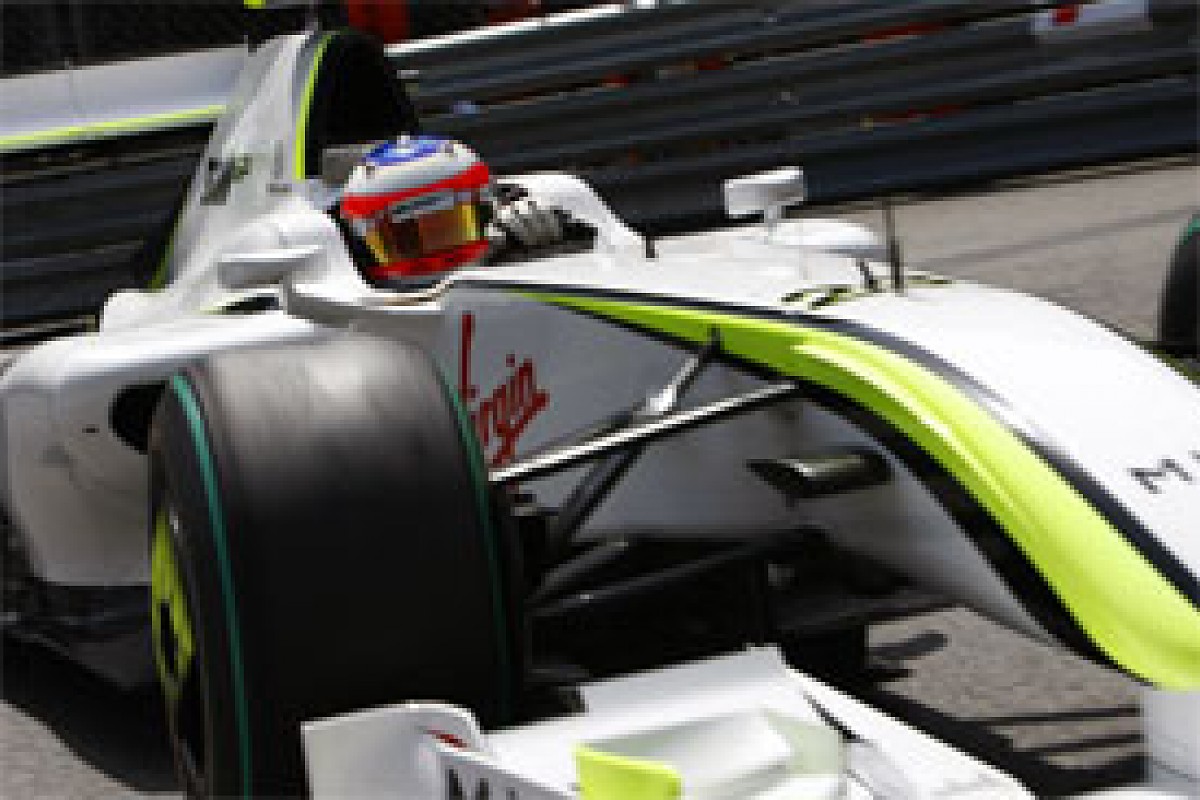 Rubens Barrichello © LAT
"I don't think that Jenson had a problem with the graining as much as I had, because he had free air, so he could control. I was actually very surprised, I was driving like Le Mans, I was saving fuel and my pace was very good, so I was safe, really safe. I wasn't doing anything silly. I was amazed. I came on the radio and said, 'I think the pressures are going up.' It was, 'Unfortunately we saw on TV you have graining.' And then you change subject a little bit, you have to defend yourself...
"By the regulations you have less downforce anyway so you're putting more effort into the tyres... When you're following other cars, you lose even more. The tyres were prone to have this graining effect, we knew that. But it's funny, at the beginning of the race I watched the other cars on the other tyres. For the first five laps we pulled away so much that I thought wow, we're going to get a lap to everyone, but I shouldn't have said that! All of a sudden I started going backwards, and that tyre was the better one..."
Rubens had to stop as early as lap 16, while Jenson, who had also begun to suffer, came in a lap later.
"My first stop I had to anticipate quite a lot, and that was the cause of everything," said Rubens. "I had 23 laps to go for, I don't know which lap I stopped, but it was so early because of the graining rear."
After the first stops Jenson crucially came out just in front of Felipe Massa - the quickest car not to have pitted - so he could continue at his own pace. Rubens had fallen some 16-17s back and was containing the threat from Raikkonen, so now it was a question of bringing it home.
"You've got a big enough lead, you run on the good tyre for the rest of the race, the deal's done. It was the right choice for us, and we made the best out of it, we didn't destroy the tyres.
"Having a 16s lead at the first pitstop meant a lot. I knew that I'd looked after the tyres more than Rubens had. We put the primes on, the car was working well. Rubens was catching me a bit. I don't want to sound like I had it under control, but I think I did. Then I pushed at the end of the stint and pulled out two to three seconds.
"From then on you have an inkling that there's a possibility of a win, but you don't get carried away, because Monaco is Monaco, and it's so different to anywhere else. As you drive round the barriers seem to go like blinkers in front of your eyes. It made it quite difficult.
"Even when you're out in the lead with a big gap, you've got to concentrate like you would not believe. The last two laps I did slow down, I took it all in. It was a very enjoyable two laps. I had the biggest smile on my face, my jaw was hurting! But a great end to the weekend..."
Rubens Barrichello and Jenson Button on the podium © LAT
Monaco was another frustrating result for Rubens, albeit not quite to the same degree as Spain. But still everything is going Jenson's way, and when it counts, Barrichello is just that little step behind. A win in the principality would have been a great way to celebrate his 37th birthday, but a victory can't be too far away. He's still close enough in the title battle that a win for him - and perhaps a retirement for Jenson - will make things rather interesting.
"I'm knocking on the door, I won't stop fighting," he insisted. "I lost the race basically yesterday in qualifying, that's how I see it. I had a perfect weekend in terms of set-up, I had a perfect weekend in terms of dominating everything, but not the last qualifying. You could see at the start of the race I had a better pace than Jenson, and I just struggled with the graining rear, and that basically set me back.
"There is a negative way of looking into that and saying 'yeah, once again Jenson won', or a different way and a much more positive one, Monaco you don't overtake but I started third and finished second, and I've got to be happy with that. I can say I'm one of the few that made an overtaking move today!"