Nobody, but nobody, could have predicted the five Q1 victims at Monaco. We had Lewis Hamilton, world champion and last year's race winner, Jarno Trulli (winner in '04), Nick Heidfeld (second in '05) and two drivers as competitive and combative as Robert Kubica and Timo Glock.
The Hamilton story, at least, was understandable. This was Lewis's best - some would say only - chance of winning a race this year. He was right there on the opening day of practice and he was taking no prisoners.
He wasn't letting it build, like Jenson did, he was flat-out from the first moments of Q1. He'd just set quickest sector one time when he flung the McLaren through Casino Square, seemed to take slightly later, more urgent action to avoid the bump on exit, and was still a bit out of shape when he went on the brakes for Mirabeau.
The escape road may have saved him but once he committed the car to Mirabeau he was gone. The MP4-24 rear-ended the tyre barrier hard enough to spell the end of Lewis as a competitive proposition for Monaco '09.
Perhaps it was significant that he didn't remove the crash helmet as he walked in, better to mask the undoubted anger, disappointment and frustration. It's not been a good year so far.
"Where might you have qualified?" someone asked.
Pretty irrelevant really, Lewis said, before adding that Heikki Kovalainen had shown the true pace of the car and had put it seventh, so probably somewhere around there.
It was said, no doubt, out of respect for Heikki. McLaren insiders suggested that Lewis was hoping to be right at the sharp end, which is why it was such a disappointment.
In the race, Kovalainen, before he crashed, set his quickest lap at around the same time as Raikkonen, whose strategy was not too dissimilar. It was within 0.3s of the Ferrari, which had been right on the pace all weekend. It's not impossible that Lewis would have been a contender for outright victory.
The BMW and Toyota positions were more baffling. You may need reminding that Mario Theissen's squad came into the year as championship favourites in many eyes. They have certainly not lived up to such billing but you would not have marked them down as Q1 failures at Monaco.
Simply, neither Heidfeld nor Kubica could generate any heat in the tyres at all in qualifying, despite track temperature in excess of 42 degrees. It was the same story at Toyota. Trulli and Glock were propping up the entire timesheet.
It was almost too much for Jarno to take in. He'd driven bad Toyotas at Monaco but he didn't feel this was one of them. It wasn't the balance. There was just no grip. Nothing that either he or Glock did to the set-up made the slightest difference.
It wouldn't be F1 if there wasn't a conspiracy theory. Away from the track, the FOTA versus Max Mosley budget cap arguments rumbled on. There were team principals meetings, meetings with Max, more FOTA meetings, more meetings with Max and on and on.
You had a bit of a chuckle at the irony of the first big get together on Friday when the TPs hustled off to discuss the ins and outs of cost-cutting on Flavio Briatore's plush luxury yacht, moored in prime position on the harbour front and with gold signwritten 'FB' - just like his pillowcases apparently - adorning the funnel, which was about the size of the Titanic's.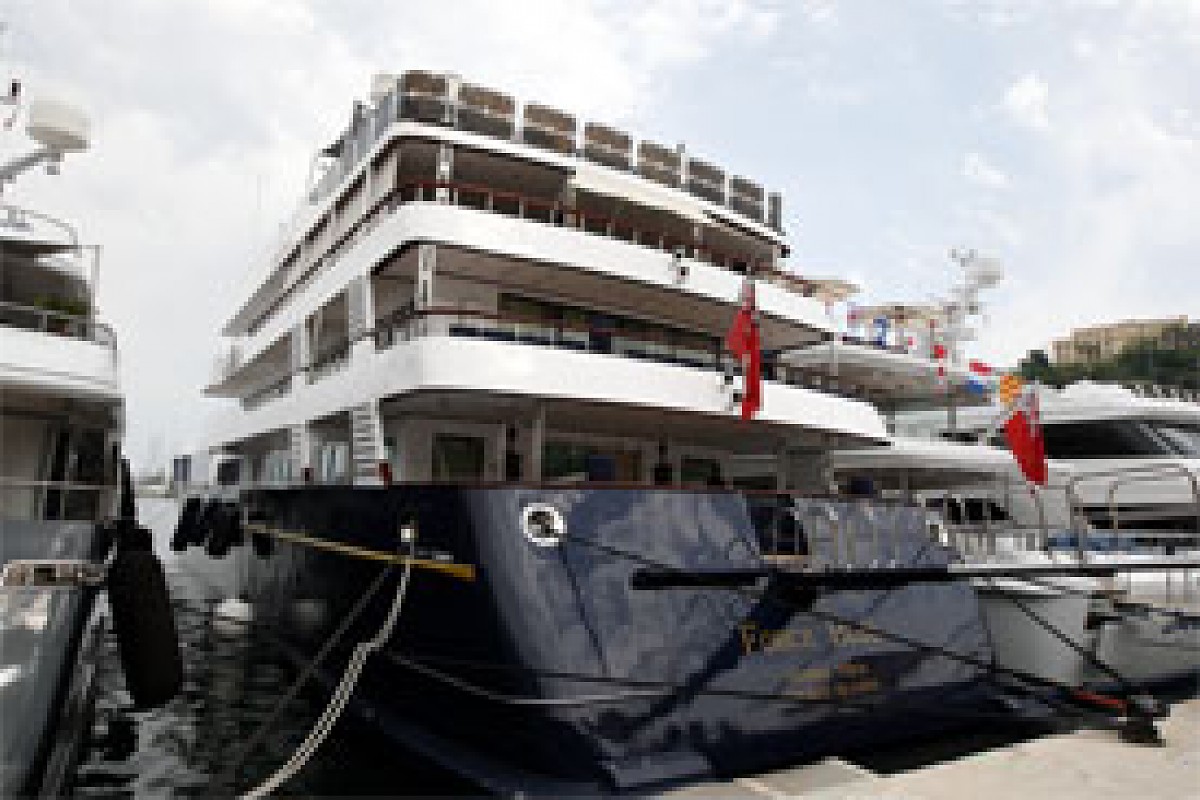 Flavio Briatore's yacht © XPB
Anyhow, someone rather mischievously pointed out that those teams tooling around at the bottom of the Q1 sheet - one of which had locked out the front row just two races ago - just happened to be two of the manufacturer teams making the most waves against the budget cuts and the sport's governance. Weren't they going to look a bit daft taking such a stance when they were lining up behind Force India on the grid for the Monaco GP, F1's blue riband event watched by a massive worldwide audience?
It was a point, but if there was some jiggery-pokery on, surely the Ferraris would be back there as well, given the noises they have been making of late. Well maybe, except that F1 really needs the red cars...
Let's just say that if you wanted to, how would you slow down a couple of teams to the point of embarrassment? Well one conspiracy theory suggested that if their tyres weren't quite the same as everyone else's, if they were a little bit harder let's say, that would do it.
I remember well covering Monaco F3 races in the 80s. The drivers with Michelin deals, usually the Frenchmen, picked up their sticky Michelins, which looked like blistered bits of chewing gum post-race, and they disappeared into the far blue yonder. Any British series regulars without access to them and on other tyre makes, seemed to have rubber that would last a whole season. They had a big enough struggle persuading their cars to turn into Loews Hairpin. They didn't have an earthly.
Let me say here and now that I don't buy this conspiracy theory at all. First off, it's offensive to Bridgestone, a company which consistently does a great job for all of its supplied teams. But, mention it and one of the affected teams did admit that it had been joked about.
The reality though, is that all teams pick up their tyres for the weekend in one go and it is the teams that select which tyres they use when. Toyota admitted that they just could not switch the tyres on at all, that they'd checked the compounds and were at a loss to understand it. You do get different batches they pointed out, and there was no suggestion of anything untoward.
The race itself seemed to rubbish any such ideas too. Trulli and Glock recorded 1m16.01s and 1m16.06s respectively, which wasn't great (11th and 12thquickest overall) but significantly better than the 1m16.54s ad 1m16.78s they'd managed in Q1 on empty tanks. It was the biggest time difference - Q1 to fastest race lap - of all. It demonstrated how much they'd struggled on Saturday.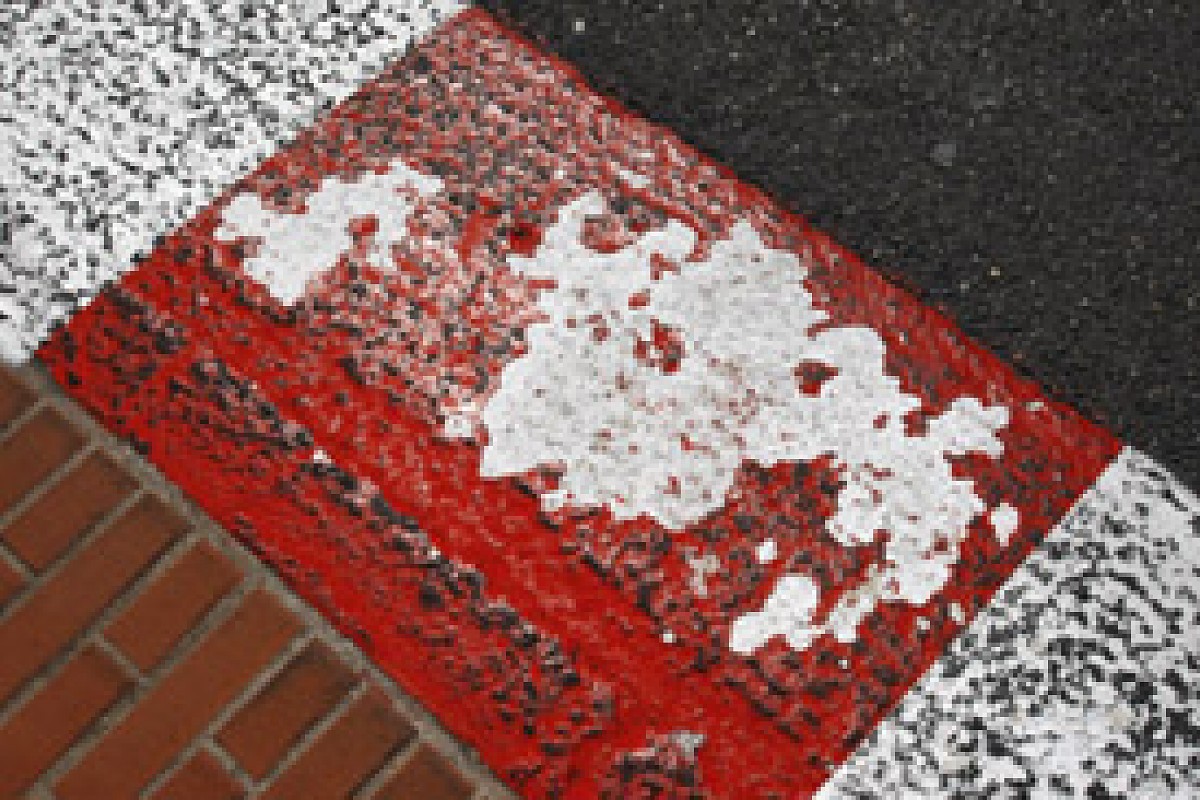 A well worn kerb © LAT
The Monaco track surface evolves like no other during the course of the event. It's at its grippiest and fastest at race end, with the most rubber down. That's logical enough, it's just that the effect is even more pronounced in Monte Carlo. It's why fastest race laps were often so unusually close to the old pole times and, today, to the best empty-tank Q2 runs.
Any inability to use the tyres to best advantage costs dear. Sebastian Vettel, for example, was fuelled lightest of all in Q3 but could only put the Red Bull fourth when, clearly, he'd have been aiming at pole. In the race, he started on the supersofts, like the Brawns, but chewed them up much earlier than Rubens and dropped 3s, becoming a mobile chicane before crashing after his stop.
Mark Webber, in the other RB5, did just the one Q3 run because he was taking so long to switch the tyres on that he felt there was insufficient time to get in two attempts. He was aiming for the top six but qualified eighth. In the race, he set quicker laps than anyone bar Button and Massa but had to be content with fifth.
Monaco is a one-off but it was business as usual for Brawn. No such problems there. They were at one end of the tyre spectrum, Toyota and BMW the other. The team is just getting the job done, everywhere.