PRACTICE 1 - Thursday am
After an early battle for the top spot between Timo Glock and Felipe Massa, it was 2008 race-winner Lewis Hamilton who established himself at the head of the times for much of opening practice.
But then Rubens Barrichello - eager to make up for the frustrations of Spain - threw in a 1m17.189s with 25 minutes to go. That ended up being the benchmark as an engine failure for Sebastian Vettel then slowed the track for a while, and traffic subsequently hampered many efforts to improve in the frantic 10-minute sprint at the end.
Massa and Hamilton took second and third, ahead of their team-mates Heikki Kovalainen and Kimi Raikkonen. Jenson Button had a minor brush with the armco and was eighth.
In addition to Vettel's problem, Red Bull was further hampered by a transmission issue on Mark Webber's car, while both BMWs were slowed with brake worries.
PRACTICE 2 - Thursday pm
Nico Rosberg, Williams FW31 Toyota © LAT
Both Hamilton and Massa featured at the front again during the afternoon session before - for the ninth time in the opening rounds of 2009 - Nico Rosberg grabbed the top spot for Williams. Hamilton stayed second, followed by the Brawns and Massa.
As had been the case in the morning, the entire field managed the once-unthinkable feat of avoiding any significant impact with the Monaco barriers for the whole session. There were various visits to escape roads, including an excursion for Rosberg at Mirabeau just after he jumped to first position, but no damage to report.
That meant the main incident of note was Robert Kubica's BMW engine detonating on the Beau Rivage on his first flying lap, making his already bad day even worse.
PRACTICE 3 - Saturday am
Saturday's practice was another incident-free session in which Fernando Alonso made good use of a low fuel run with the super-soft tyres to jump to the top of the times with his Renault. The time, however, was not very representative of the Spaniard's true pace, as he would struggle to get near the top five in the afternoon.
After a quite difficult start on Thursday, Button continued to make progress with his car's set-up and shadowed Alonso's time, finishing less than a tenth behind.
Kovalainen, Barrichello, Massa, Raikkonen and Hamilton completed an incredibly tight top seven covered by slightly over two tenths of a second. Jarno Trulli, slowest in the session, finished just over 1.5 seconds adrift, showing how competitive the battle would be in qualifying.
QUALIFYING
1. Jenson Button - Brawn-Mercedes
The championship leader felt he had started the weekend far from perfectly, with his car not handling as expected. However, the Briton made significant progress on Saturday, and by qualifying he was ready to attack. Again, Button left it until the final seconds to complete his final run and, again, the Brawn driver emerged on top.
2. Kimi Raikkonen - Ferrari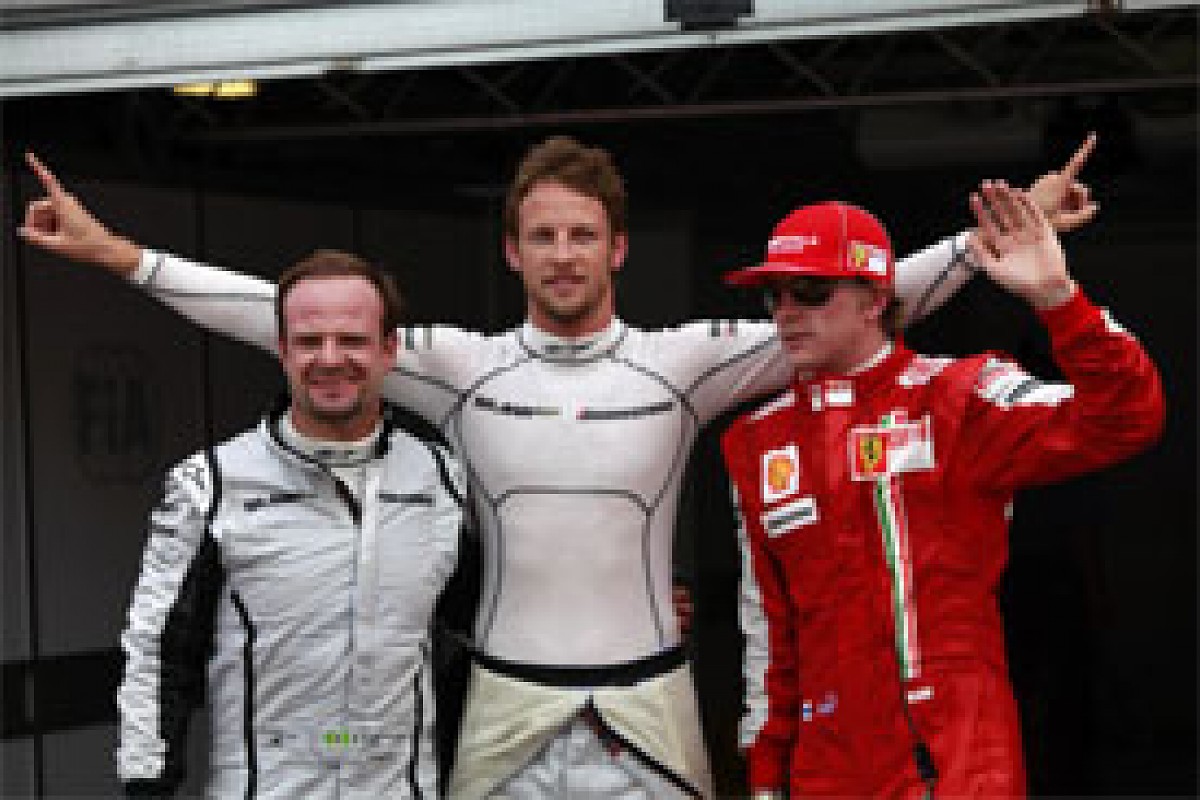 Rubens Barrichello, Jenson Button, and Kimi Raikkonen © LAT
Despite returning to the front row of the grid for the first time since last year's Chinese Grand Prix, Raikkonen was disappointed to miss out on pole by just 0.025 seconds. Nonetheless, Ferrari put on its strongest qualifying of the year so far, so the feeling at the Italian squad was positive following its below-par start of the season.
3. Rubens Barrichello - Brawn-Mercedes
Barrichello started the weekend feeling very good about his car, and that continued going into qualifying. The Brazilian believed he had a good shot at pole position after what he described as a "great" lap. In the end, however, Button put on a "fantastic" one and out-qualified him again.
4. Sebastian Vettel - Red Bull-Renault
It was a disappointing day for Vettel, who finished at the bottom of the second row despite having the lightest car of the field. The Red Bull racer said his final flying run in Q3 had been spoilt by Nakajima, who was almost stopped at the Rascasse corner.
5. Felipe Massa Ferrari
Massa felt reaching the top three was possible, but traffic and small errors left him on the third row. Despite that, the Brazilian was left encouraged by Ferrari's improved performance. The Ferrari driver had a scare in Q1, when he lost control of his car and damaged his front wing, although luckily he could continue.
6. Nico Rosberg - Williams-Toyota
Rosberg predicted Monaco would be his Williams team's strongest outing of the season, and that seemed to be the case for most of the qualifying session. The German was quickest in Q1 and a very close fifth in Q2, so sixth place on the grid left him disappointed at the end of the day. Rosberg complained of balance issues and traffic on his final run.
7. Heikki Kovalainen - McLaren-Mercedes
The Finn was comfortable with his car right from the start of the weekend, feeling it was much more stable, especially over the Monaco bumps. That aided Kovalainen in getting into the top ten for the first time since the start of the season. Hamilton's error also left him as the only McLaren driver with a realistic chance of fighting for points.
8. Mark Webber - Red Bull-Renault
The Red Bull driver decided to do just one run in Q3 and hope the strategy would pay off in the race. Webber believed the RB5, running with the double-decker diffuser for the first time, was simply not suited to the circuit, but was still pleased with his effort.
9. Fernando Alonso - Renault
Alonso admitted there was not much more he could have done after finishing 12th in Q1 and ninth in Q2. The Renault was simply not as fast as its rivals and the Spaniard had little chance to get inside the top three rows as he carried the same amount of fuel as most of the other cars in Q3.
10. Kazuki Nakajima - Williams-Toyota
For the first time this season, Nakajima managed to make it into the top ten, confirming the Williams was stronger than usual on the streets of Monte Carlo. The Japanese was closer to Rosberg than in any other qualifying this year, although in Q3 he was out of option tyres and so decided to go out with a heavier car.
11. Sebastien Buemi - Toro Rosso-Ferrari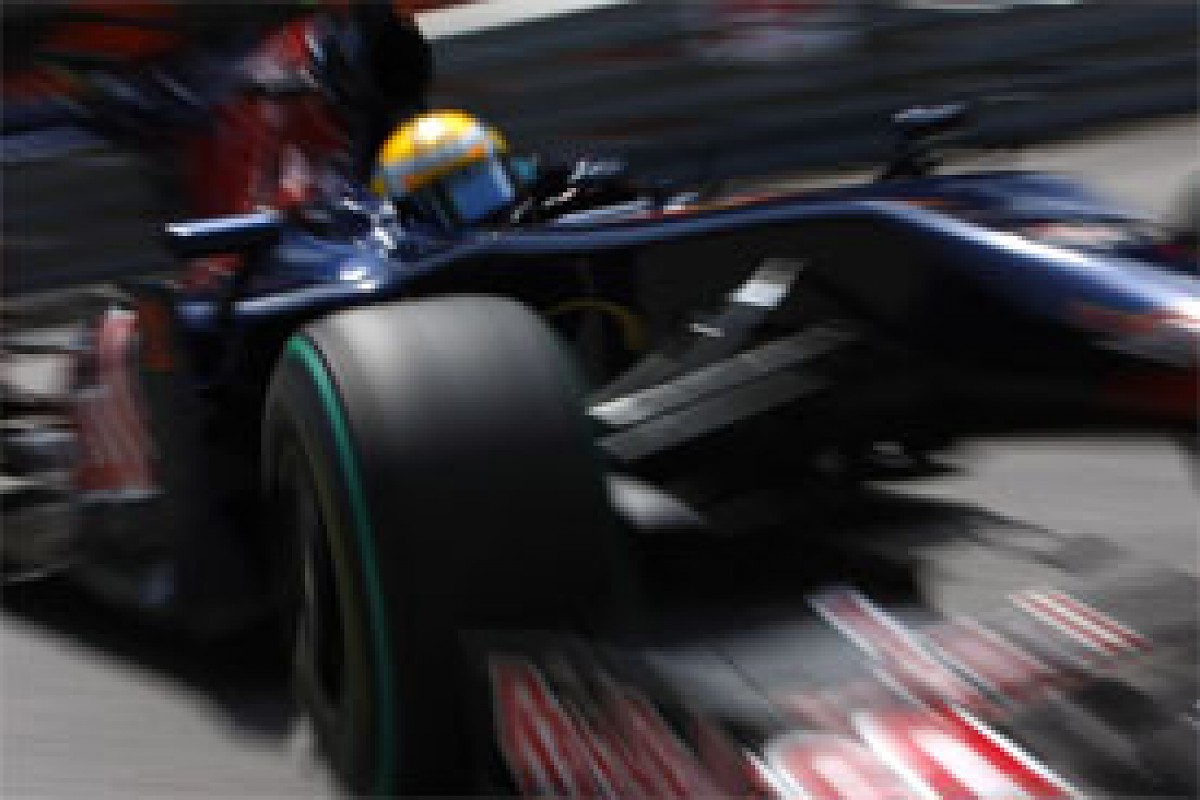 Sebastien Buemi, Toro Rosso STR4 Ferrari © LAT
Again one of the stars of qualifying, Buemi continued to show strong form in his first outing in grand prix machinery at the tricky Monte Carlo circuit. The Toro Rosso driver showed no problems adapting and put on his best qualifying effort of the season, missing the cut for Q3 by three tenths.
12. Nelson Piquet - Renault
Hindered by brake balance issues, Piquet thought he could have had a shot at making it to Q3. In the end, however, the Renault driver had to settle for 12th, the same position as in Spain. Although he was close to team-mate Alonso in Q1, in Q2 he was six tenths off the Spaniard's pace.
13. Giancarlo Fisichella - Force India-Mercedes
Clearly suited to the Monte Carlo circuit, the Force India looked its best so far this year. Fisichella was obviously happy with his performance, not having qualified so high up the grid since last year's Italian Grand Prix.
14. Sebastien Bourdais - Toro Rosso-Ferrari
Bourdais believed his car was strong enough to make it to Q3, but the Frenchman claimed the balance had changed completely compared to the morning's practice and was incapable of extracting the maximum from it. It was still a solid performance, but once again less impressive than Buemi's.
15. Adrian Sutil - Force India-Mercedes
For the first time in his F1 career, Sutil managed to go into Q2 after 41 attempts. The German also helped his team have both its cars in the second session for the first time in its history. Although he was unlikely to repeat last year's star performance in the race, Sutil admitted 15th felt like pole position.
16. Lewis Hamilton - McLaren-Mercedes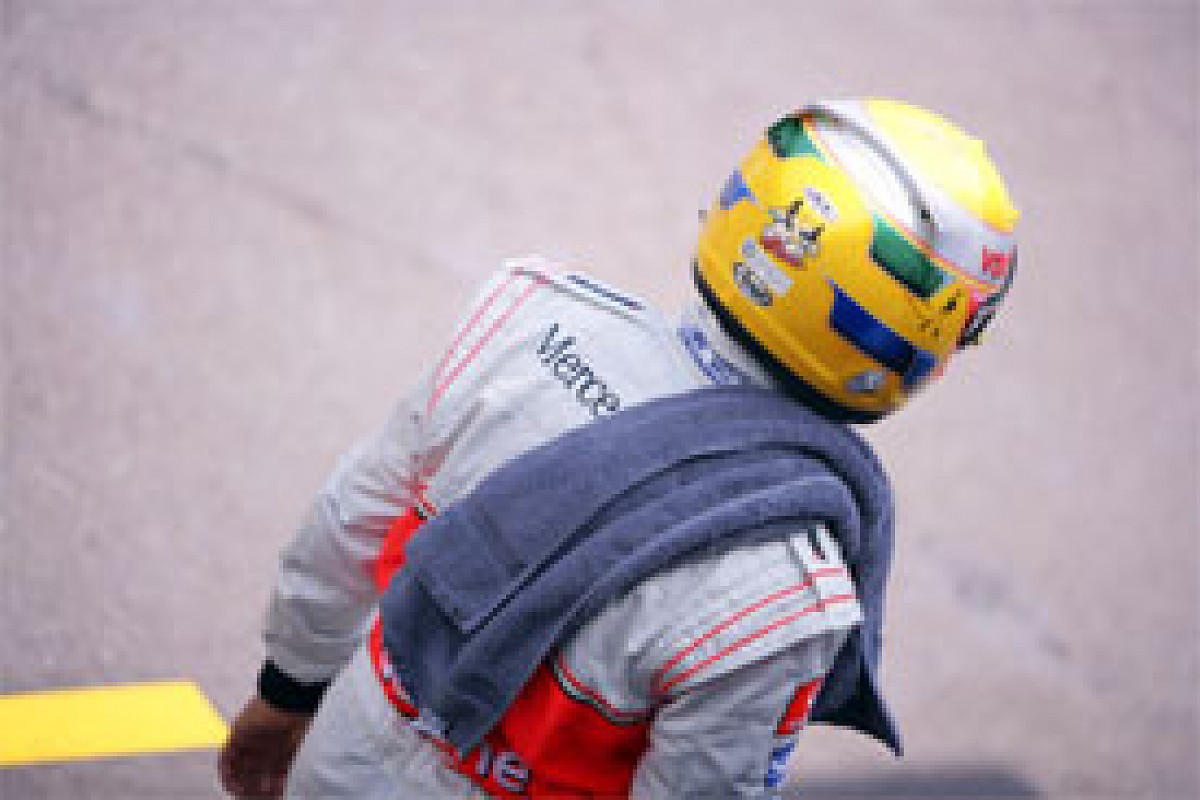 Lewis Hamilton © LAT
Having talked up his chances of fighting of victory at Monaco, the world champion must have been furious when he was knocked out of qualifying in Q1. Hamilton lost control of his car at Mirabeau, where the Briton left his braking too late, and crashed against the barriers, damaging his McLaren and causing the session to be red-flagged. Another day to forget.
17. Nick Heidfeld - BMW-Sauber
BMW's step forward in Spain was nowhere to be found in Monaco, the team struggling for pace right from the start of the weekend. The situation was so bad that Heidfeld decided to change his car's set-up completely for Saturday, a move that only made things worse. In the end, as Heidfeld himself admitted, it didn't make much of a difference.
18. Robert Kubica - BMW-Sauber
On top of the problems his team had with the car's speed, Kubica's weekend was made even worse by an engine failure in Thursday's practice. The lack of track time, added to the F1.09's poor form, left Kubica unimpressed and again in a difficult position for the race.
19. Jarno Trulli - Toyota
It was baffling to see Toyota's form over the weekend, the Japanese squad just a shadow of the team that started the season strongly. Trulli, however, was made look even worse when he was slowed down by Alonso during his final flying run. The Italian claimed that, without that, he would have made it to Q2 easily.
20. Timo Glock - Toyota
Unlike Trulli, Glock could not blame traffic for his performance, the German admitting his car simply had no pace, despite not being completely dissatisfied with its handling. Like the whole team, Glock was at a loss to explain the TF109's lack of speed in Monaco.
QUALIFYING RESULTS

Pos  Driver       Team                       Q1        Q2        Q3   
 1.  Button       Brawn-Mercedes        (B)  1:15.210  1:15.016  1:14.902
 2.  Raikkonen    Ferrari               (B)  1:15.746  1:14.514  1:14.927
 3.  Barrichello  Brawn-Mercedes        (B)  1:15.425  1:14.829  1:15.077
 4.  Vettel       Red Bull-Renault      (B)  1:15.915  1:14.879  1:15.271
 5.  Massa        Ferrari               (B)  1:15.340  1:15.001  1:15.437
 6.  Rosberg      Williams-Toyota       (B)  1:15.094  1:14.846  1:15.455
 7.  Kovalainen   McLaren-Mercedes      (B)  1:15.495  1:14.809  1:15.516
 8.  Webber       Red Bull-Renault      (B)  1:15.260  1:14.825  1:15.653
 9.  Alonso       Renault               (B)  1:15.898  1:15.200  1:16.009
10.  Nakajima     Williams-Toyota       (B)  1:15.930  1:15.579  1:17.344
11.  Buemi        Toro Rosso-Ferrari    (B)  1:15.834  1:15.833
12.  Piquet       Renault               (B)  1:16.013  1:15.837
13.  Fisichella   Force India-Mercedes  (B)  1:16.063  1:16.146
14.  Bourdais     Toro Rosso-Ferrari    (B)  1:16.120  1:16.281
15.  Sutil        Force India-Mercedes  (B)  1:16.248  1:16.545
16.  Hamilton     McLaren-Mercedes      (B)  1:16.264
17.  Heidfeld     BMW-Sauber            (B)  1:16.264
18.  Kubica       BMW-Sauber            (B)  1:16.405
19.  Trulli       Toyota                (B)  1:16.548
20.  Glock        Toyota                (B)  1:16.788

All Timing Unofficial

RACE
With a lighter fuel load than the Brawns and a KERS button at his fingertip, Kimi Raikkonen looked like a major threat as the cars lined up for the start.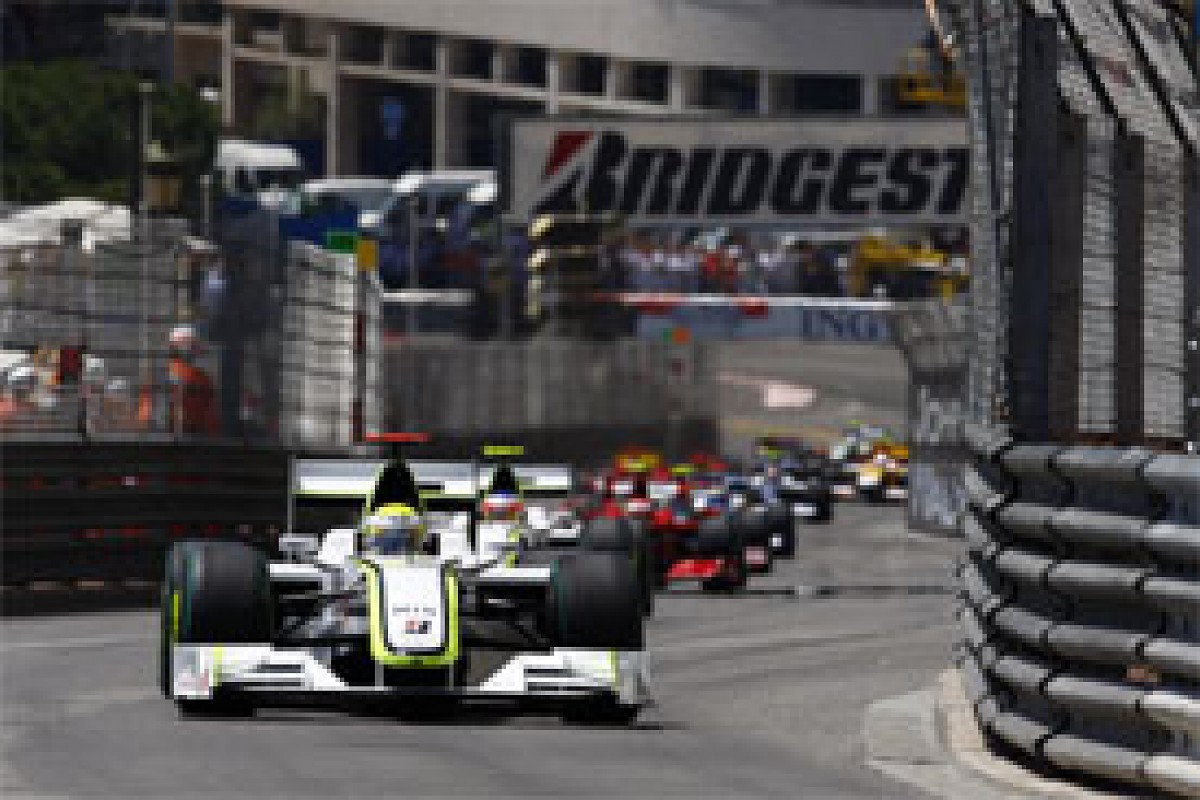 The start of the Monaco Grand Prix © LAT
But when the lights went out, it was the white cars of Jenson Button and Rubens Barrichello that scurried away into a clear lead, as Raikkonen fell back to third, just ahead of Sebastian Vettel.
The decision to start on super soft tyres was key to the Brawns' quick getaways, but was also somewhat risky given predictions that the rubber would wilt after a dozen or so laps.
That was certainly the case for the other drivers on the softer rubber, who did not even get that far before tumbling off the pace. Towards the rear of the field, Lewis Hamilton and Adrian Sutil took the super soft gamble for their first stints, and were in to get rid of the struggling tyres on laps 10 and 11 respectively.
More significant were Vettel's similar tribulations. Despite his light fuel load, he was soon struggling to keep pace with the three heavier cars ahead. By lap six, he was losing 3s to the leaders every time around, and a growing queue of cars was lining up on his rear wing.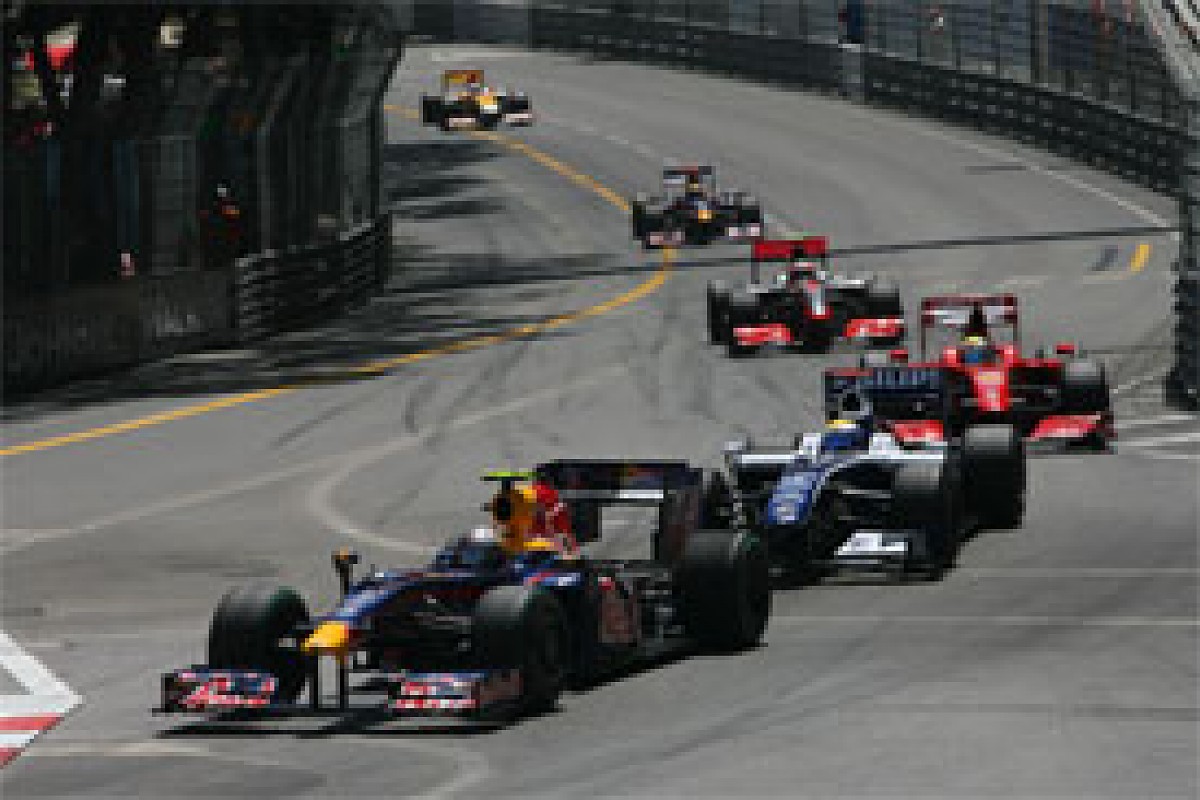 Sebastian Vettel leads Nico Rosberg, Felipe Massa, Heikki Kovalainen, Mark Webber, and Fernado Alonso © XPB
Felipe Massa was at the head of the traffic jam and very eager to make progress - climbing all over the back of the Red Bull at the chicane. On lap seven he got a bit too close and had to cut the corner in avoidance, then brake to let Vettel repass - a moment the close-following Nico Rosberg took full advantage of by diving inside the Ferrari at Tabac.
"It would have been better to go to the left and make Vettel pass me on the right," Massa mused afterwards, "and then I would have been inside for the corner. It was a bit stupid from my side."
Rosberg pulled off the move Massa had been attempting with more success two laps later, by which time Vettel's tyres had become so frail that Massa and Heikki Kovalainen also got through within the next few corners. The Shanghai winner gave up the struggle and headed for the pits, but his frustrating weekend would end completely on lap 15 when he slid into the Sainte Devote barriers.
By that time he was already the third visitor to that famous run-off, as four laps earlier Sebastien Buemi had run into the back of Nelson Piquet's Renault and ushered both cars into the tyres and out of the race.
"It was a stupid accident," raged Piquet. "These young drivers need to calm down. Buemi just slammed right into the back of me."
Buemi apologised and said he had been caught out by where the Renault braked.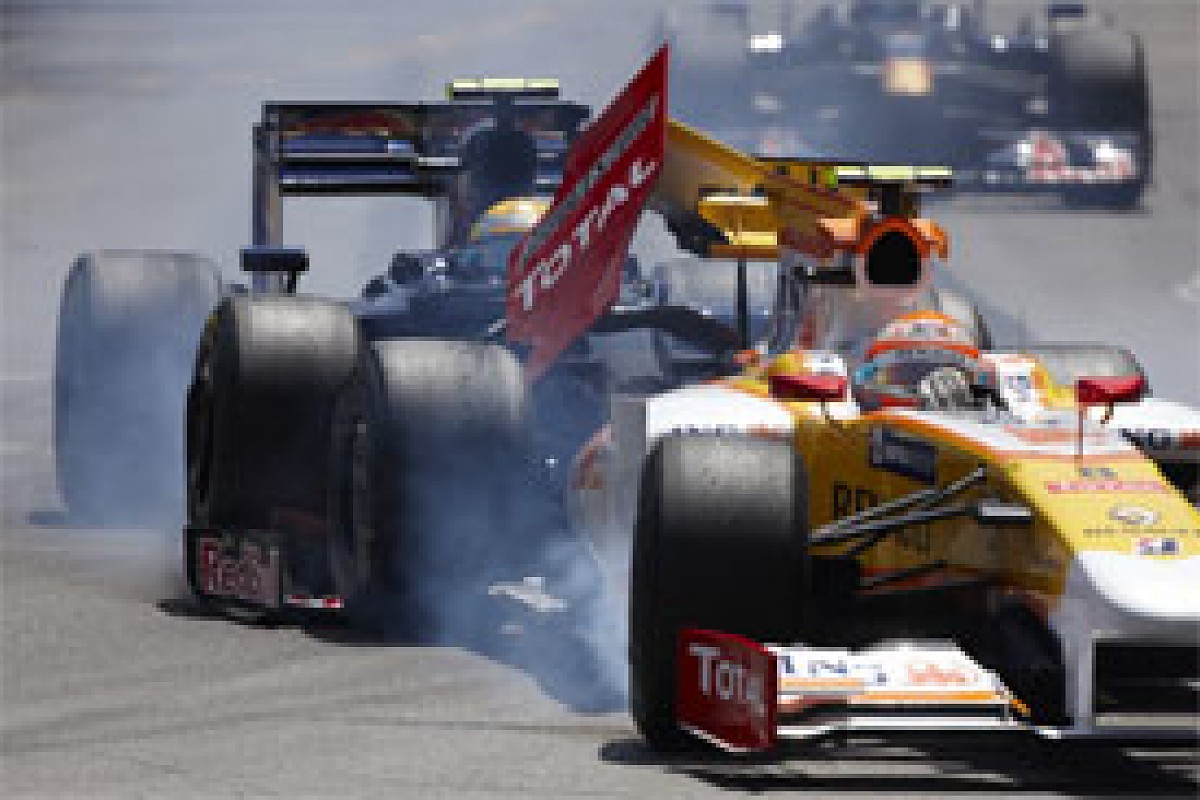 Sebastien Buemi hits Nelsinho Piquet © LAT
"I was right up behind Piquet, in his slipstream and when I tried to pull out and make my move he went on the brakes and I could not get out from behind him," he explained.
As has been the case all year, the Brawns fared better than their rivals on troublesome tyres - and Button fared far better than his team-mate. Barrichello had matched the Briton's pace at first, but once tyre wear kicked in, the leader's advantage shot up from 2s to 13s as Button started lapping 2s quicker than Barrichello.
Raikkonen remained bottled up behind the second Brawn, while Rosberg and Massa started setting new fastest laps as they revelled in their harder tyres to advance into podium contention.
Despite his rubber issues, Barrichello stayed out until lap 16 - which ensured he remained ahead of Raikkonen as the Ferrari was only fuelled until lap 15, and came out in traffic behind Kovalainen and Webber.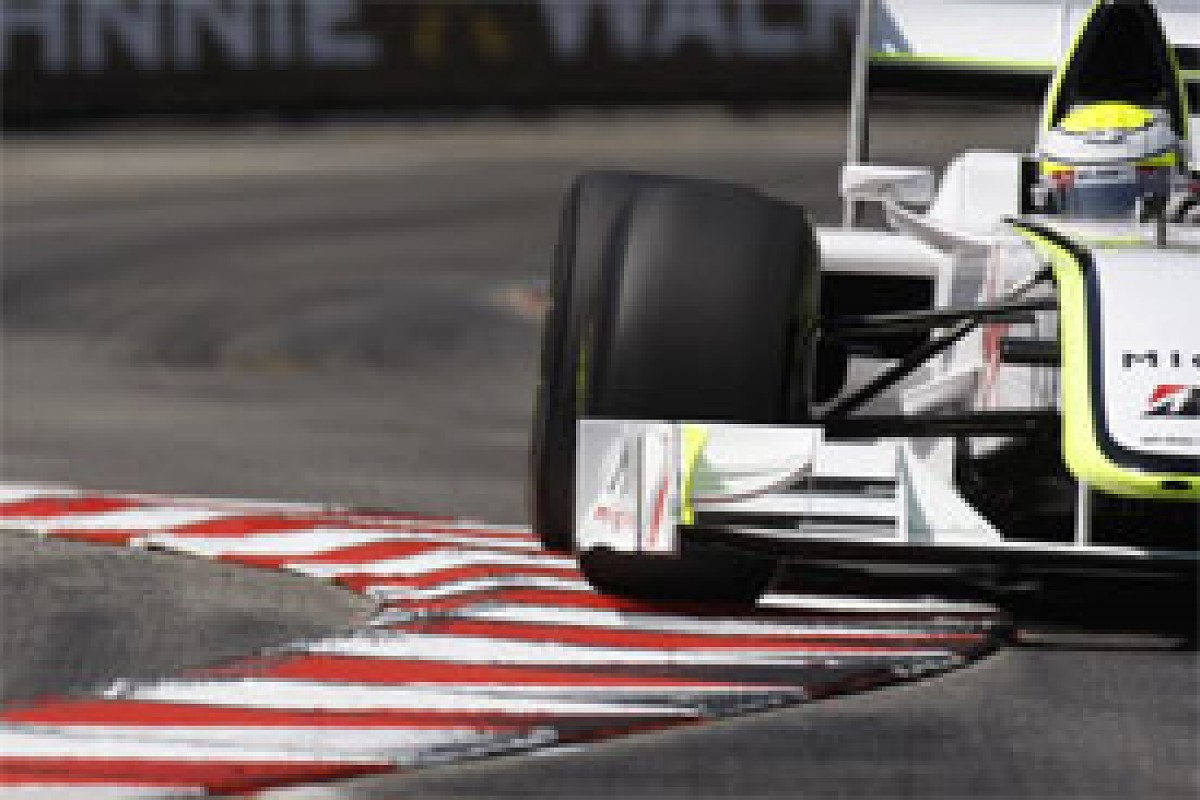 Jenson Button, Brawn GP001 © LAT
By the time the first stops were completed, Button led Barrichello by 15s, with the two Ferraris close behind, Massa having benefited from Raikkonen's time caught behind the Brawn and a few extra low-fuel laps to catch up with his team-mate.
Webber got up to fifth as Rosberg (who briefly led thanks to his long first stint), Kovalainen and Fernando Alonso (who ran as high as fourth as he stayed out until lap 28) took on hefty fuel loads with the aim of spending as little time as possible on the super softs at the end.
This plan did not quite pay off, though, as all three dropped away from the lighter top five during the middle of the race, and matters became even worse for Kovalainen when he dropped the McLaren on the exit of the first part of the Swimming Pool on lap 53 and mangled both ends on the barriers.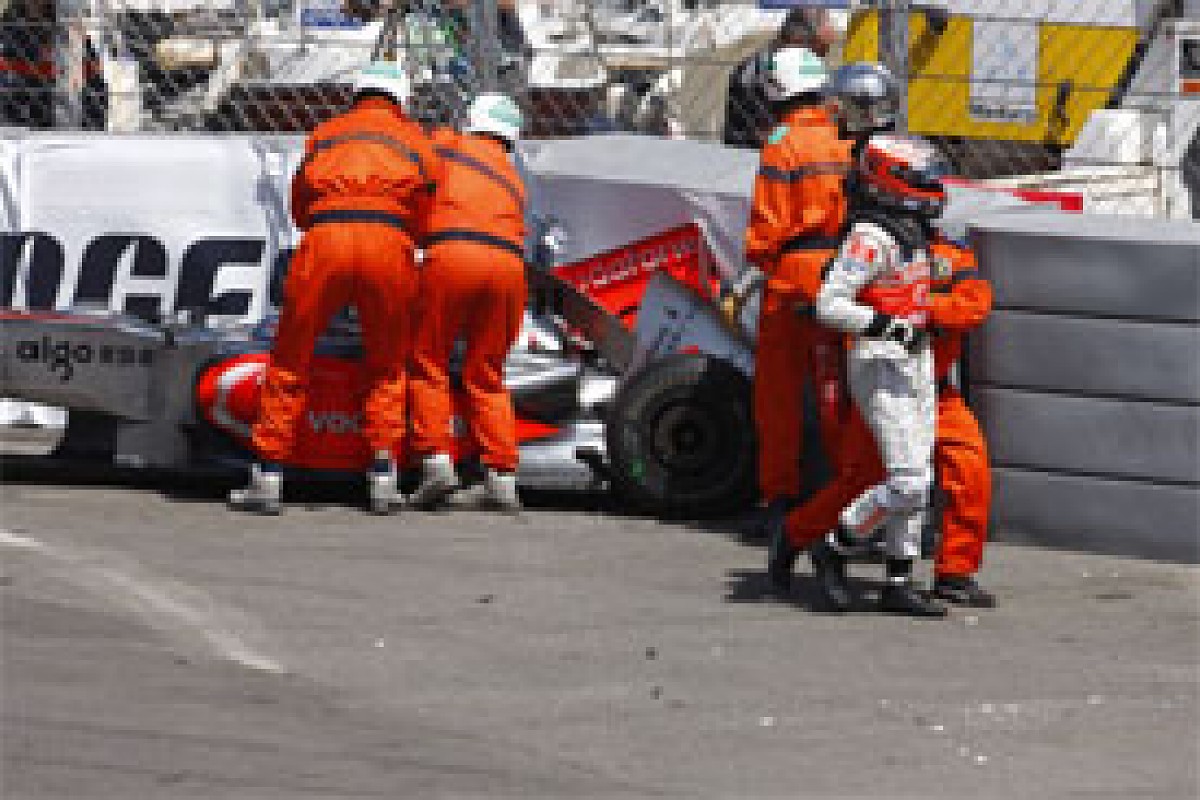 Heikki Kovalainen, McLaren MP4-24 Mercedes © LAT
Unfortunately for the fans, the marshals were a bit too efficient and swept the McLaren debris up without recourse to the safety car that might have revitalised what had become a pretty uninspiring race.
Once on soft tyres rather than super softs, Barrichello was a match for Button again, but by that time the gap was too big to close and the Brawns headed for their second one-two in a fortnight.
The Ferraris followed in formation, dropping away a little when it was their turn for super softs, although with everyone's pace tailing off in the final stint and all their pursuers in the same situation, there was no great drama. Webber hoped he might benefit if the Ferraris were "in the s**t with the tyre", but instead he had to settle for following them home in fifth.
Rosberg and Alonso came in sixth and seventh, while Sebastien Bourdais produced his best drive of the year to beat Giancarlo Fisichella to eighth, as both did a great job to make a one-stop strategy work, with Bourdais holding off the Force India despite Fisichella staying out slightly longer.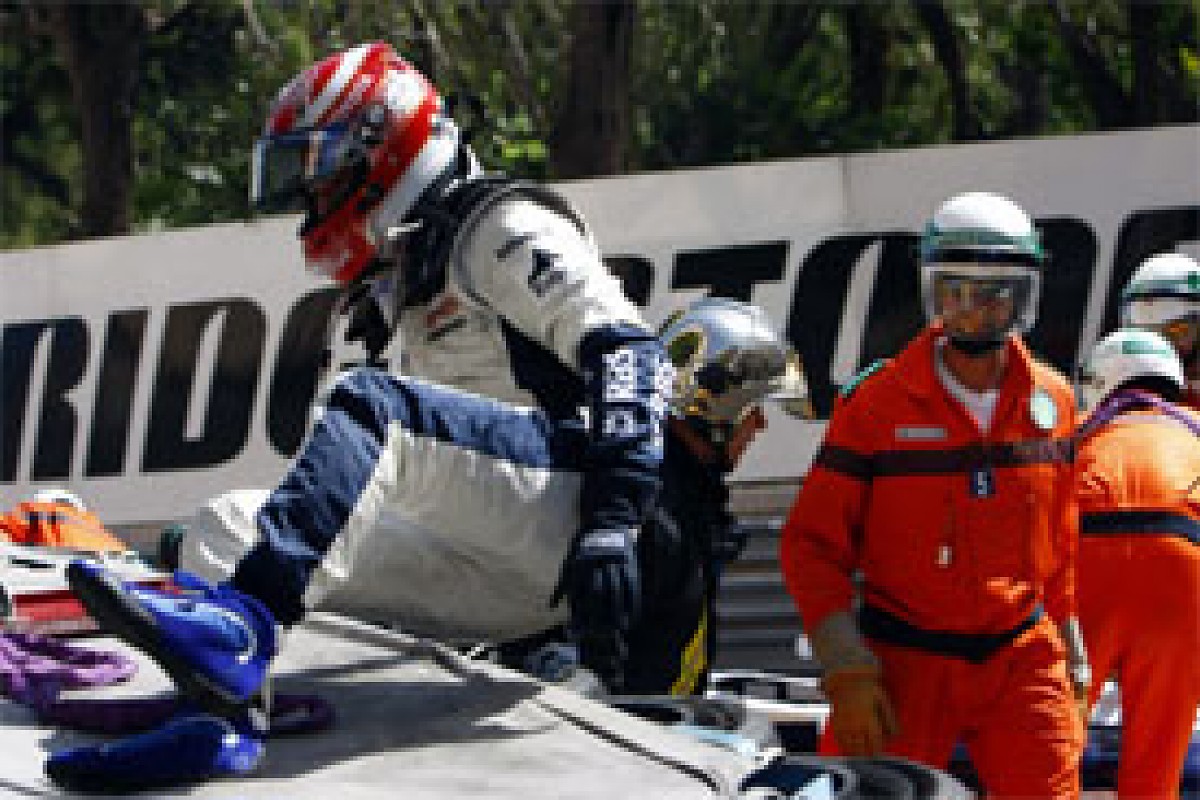 Kazuki Nakajima © LAT
They had already beaten Williams's Kazuki Nakajima even before the Japanese driver dumped his car in the Mirabeau barriers on the penultimate lap.
His crash allowed Timo Glock to get into the top ten despite starting from the pitlane. The Toyota carried an enormous 57-lap fuel load at first, then spent the last 21 laps keeping the super softs alive.
While Robert Kubica had to pit on lap two with a puncture and later dropped out with brake problems, his BMW team-mate Nick Heidfeld at least salvaged 11th, fending off Hamilton (who showed much better pace after changing a front wing damaged from repeated contact with the BMW), Jarno Trulli and Sutil.
The only glitch in Button's perfect Monaco afternoon came after the chequered flag, when he forgot that at Monaco the top three park on the grid ready for the unique podium arrangement and instead took his car to parc ferme, prompting a 'lap of honour' jog down the grid before he could celebrate.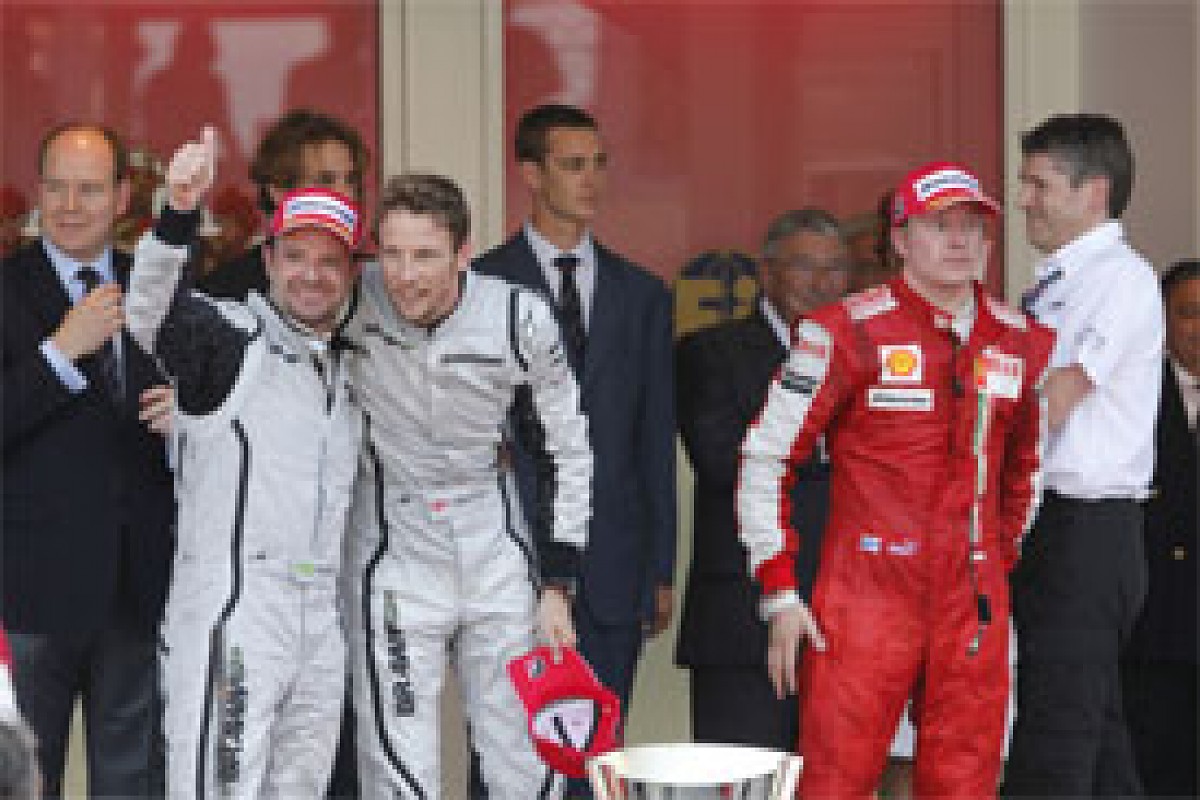 Rubens Barrichello, Jenson Button, and Kimi Raikkonen on the podium © LAT
"It's amazing how much energy you've got when you cross the line first but it was a bit embarrassing," he confessed.
Button has become accustomed to winning this year, but his delight in Monaco was particularly profound. He admitted that despite his best efforts to play down the significance of the race, a victory in Monte Carlo meant more to him than any result except a home win.
"Before the weekend I said that this grand prix doesn't mean anything different to any other grand prix," he said. "I think that was more to stop the pressure on myself but we all know the truth.
"To win here was fantastic. This circuit is very different to anything else. I struggled at the start of the week and for me that makes it even better to come away with the victory. As I crossed the line I shouted on the radio to my engineers, 'we have got Monaco, baby.' It means a lot and a one-two finish for Brawn is exceptional."
RACE RESULTS

The Monaco Grand Prix
Monte Carlo, Monaco, Monaco;
78 laps; 260.520km;
Weather: Sunny.

Classified:

Pos  Driver        Team                      Time
 1.  Button        Brawn GP-Mercedes     (B)  1h40:44.282
 2.  Barrichello   Brawn GP-Mercedes     (B)  +     7.666
 3.  Raikkonen     Ferrari               (B)  +    13.443
 4.  Massa         Ferrari               (B)  +    15.110
 5.  Webber        Red Bull-Renault      (B)  +    15.730
 6.  Rosberg       Williams-Toyota       (B)  +    33.586
 7.  Alonso        Renault               (B)  +    37.839
 8.  Bourdais      Toro Rosso-Ferrari    (B)  +  1:03.142
 9.  Fisichella    Force India-Mercedes  (B)  +  1:05.040
10.  Glock         Toyota                (B)  +     1 lap
11.  Heidfeld      BMW Sauber            (B)  +     1 lap
12.  Hamilton      McLaren-Mercedes      (B)  +     1 lap
13.  Trulli        Toyota                (B)  +     1 lap
14.  Sutil         Force India-Mercedes  (B)  +     1 lap
15.  Nakajima      Williams-Toyota       (B)  +    2 laps

Fastest lap: Massa, 1:15.154

Not classified/retirements:

Driver        Team                      On lap

Kovalainen    McLaren-Mercedes      (B)    52
Kubica        BMW Sauber            (B)    31
Vettel        Red Bull-Renault      (B)    16
Piquet        Renault               (B)    11
Buemi         Toro Rosso-Ferrari    (B)    11

World Championship standings, round 6:                

Drivers:                    Constructors:             
 1.  Button        51        1.  Brawn GP-Mercedes      86
 2.  Barrichello   35        2.  Red Bull-Renault       42.5
 3.  Vettel        23        3.  Toyota                 26.5
 4.  Webber        19.5      4.  Ferrari                17
 5.  Trulli        14.5      5.  McLaren-Mercedes       13
 6.  Glock         12        6.  Renault                11
 7.  Alonso        11        7.  Williams-Toyota        7.5
 8.  Raikkonen      9        8.  BMW Sauber              6
 9.  Hamilton       9        9.  Toro Rosso-Ferrari      5
10.  Massa          8       
11.  Rosberg       7.5       
12.  Heidfeld       6       
13.  Kovalainen     4       
14.  Buemi          3       
15.  Bourdais       2       
       
All timing unofficial
Lap-by-lap as it happened on AUTOSPORT Live
TEAM BY TEAM
Ferrari
Two cars within 0.25s of the pace in final practice proves Ferrari's recovery remains intact. Qualifying cements it further when Kimi Raikkonen takes the team's first front row start of the year. Felipe Massa also qualifies strongly in fifth, despite knocking a front wing off in Q1.
The Scuderia leads the pursuit of the Brawns in the race, as Raikkonen admits there is nothing he can do about Jenson Button and Rubens Barrichello, after he is beaten off the line by the Brazilian. He then drives an aggressive race to record the team's first podium of 2009.
Massa is one of several to get stuck behind Sebastien Vettel's slow Red Bull. But once clear of the German, Massa jumps Nico Rosberg at the first stops to take a strong fourth, following an aggressive middle stint.
McLaren-Mercedes
Lewis Hamilton ends Thursday with the third fastest time of the day as McLaren is encouraged by the MP4-24's potential around the Principality. Heikki Kovalainen then backs up that promise with third fastest time in Saturday morning practice.
Hamilton dashes hopes of a podium when he crashes at Mirabeau in Q1, relegating the world champion to 16th on the grid. That becomes last when the team changes his gearbox. Kovalainen saves some McLaren face by qualifying seventh - his best of the season.
The Finn blows a points finish in the race when he crashes out of seventh on lap 51 at, the swimming pool complex, while chasing Nico Rosberg. Hamilton equals his second-worst finish, placing 12th a lap down, having struggled with understeer. The world champion required a new nose after contact with Nick Heidfeld and the barrier.
BMW Sauber
BMW baffled by a disastrous lack of pace on Thursday that renders Nick Heidfeld 17th and Robert Kubica last. Initially both drivers complain of brake problems. But as the team fails to improve its form in qualifying - 17th and 18th - the data points to problems getting the tyres up to operating temperature.
Heidfeld finishes 11th on a one-stop strategy. Initially held-up by Adrian Sutil the German is hit from behind by Hamilton. He continues, but using the delicate option tyre proves bad news for the underperforming F1.09. Kubica retires with brake problems having pitted early with a right rear puncture.
Renault
Fernando Alonso signals Renault's intent with fastest time in final free practice. The double world champion then qualifies ninth, pointing out he believes this is the real potential of the car. Team-mate Nelson Piquet unlucky to make it into the top ten as brake balance problems lock him out of Q3 in 12th.
Alonso is one of several cars held up by Vettel but he makes up ground by going long on his first stint. Finally pitting on lap 29 he moves up to eighth, which becomes seventh when Kovalainen crashes out. Piquet's race is destroyed when Sebastien Buemi rams him under braking for Ste. Devote on lap 11.
Toyota
An absolute disaster for a team that had looked so strong at the start of the season. The team plays down slow practice times, but cannot hide its poor performance when Trulli and Glock line up on the very last row of the grid, Trulli blaming traffic and Glock slowed further by a spin.
Glock salvages an impressive 10th place by running until lap 57 before making his only pitstop, while Trulli's two-stop plan proves less successful and he ends up 14th.
Toro Rosso-Ferrari
As some of the bigger teams flunder, Toro Rosso gets two cars comfortably into Q2, with Buemi 11th for his first Monaco F1 start and Bourdais 14th having struggled with a change of balance during qualifying.
Their fortunes are reversed in the race, as Buemi only lasts 12 laps before shoving Piquet into the wall and ending his own race at the same time, while Bourdais drives well on a one stop strategy to take a morale-boosting eighth place.
Red Bull-Renault
The double diffuser arrives, but Red Bull has its hardest weekend of the season to date, starting with an engine failure for Vettel and transmission problems for Webber on Thursday.
Vettel goes aggressive in qualifying, so is massively frustrated when traffic prevents him from getting higher than fourth on the grid on a very light fuel load, while Webber chooses a different strategy and starts eighth.
Starting on the super softs then backfires for Vettel, who quickly runs into huge tyre troubles, has to pit on lap 10, then hits the barriers on lap 15 while trying to recover. Webber has a much better drive and chases the Ferraris home for fifth.
Williams-Toyota
Rosberg adds to his collection of fastest practice times on Saturday morning, then takes sixth on the grid, with Nakajima showing his best Saturday form of the year in 10th.
A longer than average first stint allows Rosberg to briefly lead, but he loses touch with the Ferraris and Webber when running very heavy in the middle of the race. He finishes sixth.
Nakajima cannot make his very heavy fuel load strategy work and is only 10th when he crashes out on the penultimate lap.
Force India-Ferrari
Delight for Force India on Saturday as its strong practice times and pre-race optimism are finally rewarded with two cars in Q2, as Fisichella and Sutil take 13th and 15th.
Starting on super softs proves disastrous for Sutil, who pits earlier as he struggles with the tyres and can only finish 15th thereafter.
But it's a much better race for Fisichella, who nearly beats Bourdais to ninth as both run one stop strategies, and is left kicking himself for allowing the Toro Rosso to get ahead off the line and deny Force India its first point.
Brawn-Mercedes
Button struggles with his set-up in practice while Barrichello goes fastest in the opening session of the weekend. But yet again their roles are reversed on Saturday, as Button snatches another stunning last gasp pole, and Barrichello is surprised to find himself back in third.
The Brazilian jumps ahead of Raikkonen at the start and the stage is set for a Brawn one-two. They run in close company at first, but Barrichello cannot handle the fading super soft tyres as effectively as Button and falls 15s behind. He manages to resist pressure from the Ferraris, but cannot catch his team-mate, who claims his fifth win in six races and leads Brawn's third one-two.