With judgement in the Ferrari vs Federation Internationale de L'Automobile matter set down for pleading before no less than three judges in Paris's Tribunal de Grande Instance (France's equivalent of the High Court) due at 14 00 CET on Wednesday, speculation on the outcome would be nothing short of premature, made all the more so as the exact grounds for Ferrari's case are not (yet) in the public domain.
Ferrari obviously believes it has a case, but is it founded on (the recently amended) Appendix 5 of the FIA's Sporting Regulations, on its alleged veto or the fact that the Formula One Commission has effectively been disbanded through non-convention despite no Concorde Agreement - which bound Formula 1's various players together between 1981 and 2007 - being in place and agreed by the FIA, FOM and all teams?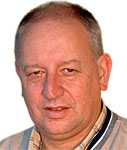 FIA and Ferrari trucks in the paddock © XPB
Equally, the FIA believes it has a credible defence, but is it based on a belief that Ferrari broke the terms of said veto by joining FOTA - in fact, played a crucial role in the body's creation - or that said veto could just be illegal or the inadvertent continuation of a practice since superceded by an EU mandate, and therefore null and void? Or could there be still further revelations of undesirable practices? Or even that London, not Paris, is the correct jurisdiction for the matter.
That the issue has headed for court is hardly a bolt from the blue - despite terms like 'surprising' and 'shock move' being used to describe Ferrari's action - for, as this column pointed out fully two weeks ago, Luca di Montezemolo, the Italian company's president, 'insisted' on Ferrari's rights being respected - and given the governing body's recent attitude to the Prancing Stallion, the only route open to Ferrari to gain relief was by turning to the courts within the jurisdiction laid down in the Concorde extension signed in January 2005 between Ferrari, the FIA and FOM.
Whatever the outcome, the losing party is likely to file an appeal in the appropriate jurisdiction before the matter ultimately heads for the European Court in Strasbourg (probably sometime in 2010), so this issue is certainly set to run for many months regardless of what the trio of judges hands down this week.
More than a few folk wonder about the possible fall-out from the court case, for both parties are obliged to file full disclosures and do so under oath, and there exists more than a passing chance that 'Steely Ms. Neelie' Kroes, - EU Commissioner for Competition, whose predecessor Mario Monti directed the FIA to desist from involving itself in F1's commercial matters as part of his approval for the FIA/FOM deal - may closely examine proceedings.
In the meantime the 2010 entry clock is ticking towards the rather hastily imposed entry window of 22-29 May, and the riddle is, of course, the exact team count come 18 00 on that Friday. Given that the 2010 regulations require entrants to commit to paying the FIA a fee of €309 000 by no later than 1 November instant - seemingly an entry-on-credit arrangement - there is little doubt that paperwork will soon flood the brown building situated at 8, Place de la Concorde, 75008 Paris.
(Tellingly, though, late entry fees are not specified, merely that 'a late entry fee to be fixed by the FIA' will be levied. €100m to enter a $50m championship, anybody?)
Already FIA President Max Mosley has indicated that he expects 'between three and six (existing) teams' to enter by the deadline. That Brawn GP, Force India and Williams will do so is virtually a given, thus meeting Mosley's lower estimate. So, who could make up his presumed maximum?
Martin Whitmarsh leaves the FOTA meeting in Barcelona © LAT
The reformed (in all senses of the word) McLaren team has yet to indicate which way it intends jumping, but its silence points to a break with FOTA, making it a possible four.
Could he be banking on the Red Bulls, who are certainly independents despite their owner, Dietrich Mateschitz, arguably having access to as much of the folding stuff as any manufacturer team? If so, that would make it six; if not, another two are needed - assuming Mosley's top estimate is on the money.
Ferrari - highly unlikely; ditto Toyota. BMW? Possibly, if the two-tier cap is binned (see below). Renault? Ditto, on condition that the budget cap is raised. Still, the number is likely to be closer to four, rather than six.
The trick, then, is to attract at least six newcomers, and this is where the difficulty arises. Yes, Litespeed (exactly) announced last week that this National F3 (effectively Class B) outfit with no real history of success was looking at stepping into the BIG TIME.
Lola, too, made a rather optimistic announcement late last week - conveniently timed to hit the press just as team principals were heading for their Friday pre-meeting - making it a total of six possibles with McLaren; five without. Then there is the USF1 Team (as it will likely be known), plus, according to Bernie Ecclestone, another US team said to be interested, but how often have we heard that circuits in the world's north-western corner are keen to host F1. Another one of those?
And that is it? Well, some GP2 outfits have made the right noises, as had Prodrive (since semi-rescinded), but the present legal wrangle is hardly conducive to persuading prospective teams and sponsors to commit to what is still the costliest sport on Mother Earth - even if both the FIA and FOTA have slashed the costs of entry and competition.
Yes, some may eventually take the step, but can more than two do so by March next year? Of the seven or eight hopefuls, how many actually have access (at this crucial stage) to the minimum €40m (€40m less €10m from FOM) required to make it to the grid and commit to a year? So, it seems, F1 can bank on around eight teams next year - just meeting the minimum 16 cars required to satisfy most promoter and TV contracts - but the field is hardly likely to produce the world-class expected from F1.
With Ecclestone declaring the two-tier concept effectively dead - with no denial from the FIA, despite Mosley stating unequivocally that the governing body had made no compromises during its meeting with FOTA - and that he, Bernie, considered it to 'always having been a bit stupid' despite there being no evidence that he objected to the concept when first it was tabled during the World Motor Sport Council's meet on 17 March or voted against it on 29 April, it seems that a single regulatory system will operate in 2010.
As unlimited testing and full-size wind tunnel models, plus movable aerodynamics and less restricted engines, presumably impose less financial strain than do the current regulations (how else could they have been justified under the stringent £40m voluntary cap?), do Ecclestone's comments indicate more freedom will be permitted under the 2010 regulations regardless of cap?
If so, according to technical directors questioned in Barcelona, F1 can look forward to cars at least three seconds a lap quicker than the present generation, for, according to simulations, that is the sort of advantage 'cost-cap' cars would have had over 'standard' kit...
However, the burning question facing every team at present is at what level, if any, will the cap be set for 2010? Until that question is irrevocably answered, no F1 team, whether existing or aspiring, can make a cast-iron commitment to F1 for 2010.
Along the way, a misconception exists about Mercedes's role within FOTA. That this is so is hardly surprising given the company's central role in the GPWC, and the GPMA which succeeded the first manufacturer lobby group.
However, as far as the Formula One Teams' Association (note emphasis) is concerned, Mercedes is a non-member, for the company is certainly no team, nor even majority shareholder (whether by voting stock or percentage) in McLaren, and as such has no rightful place within FOTA, just as Ferrari minority shareholder Mubadala has no seat at the FOTA table.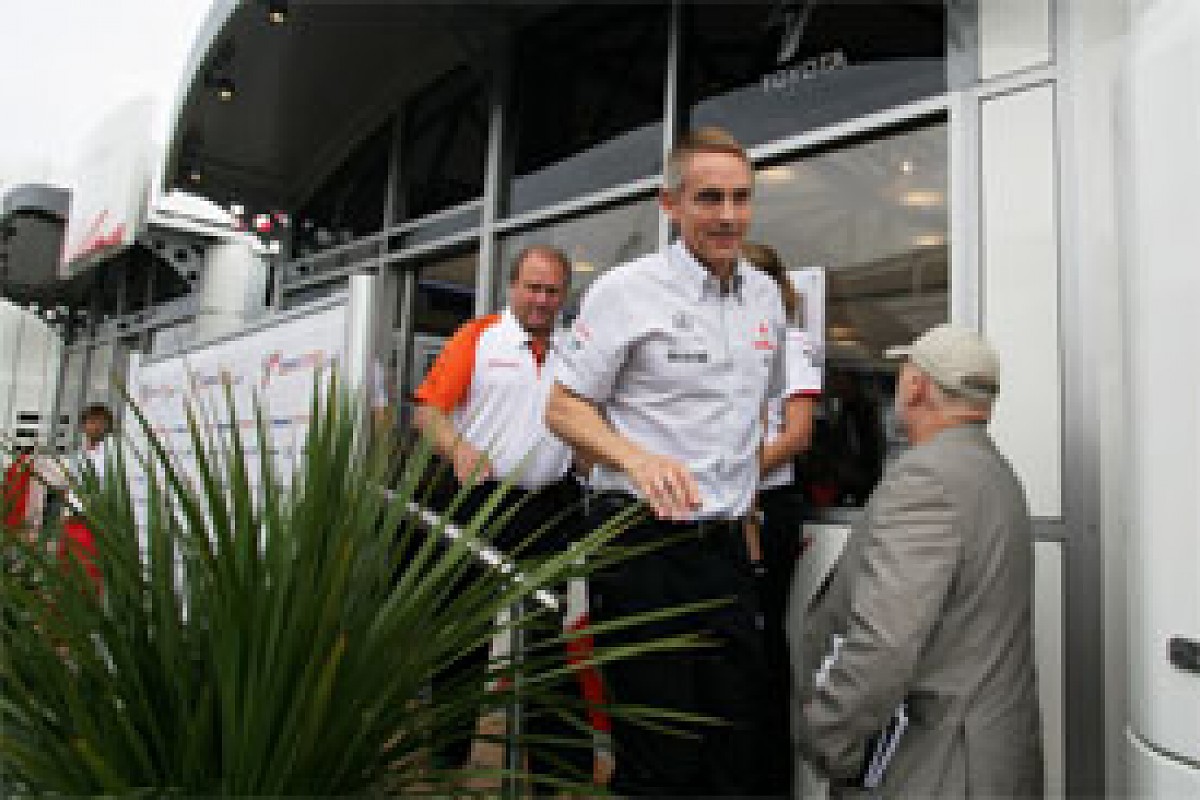 Jean Todt, Flavio Briatore, and Christian Horner confer while Norbert Haug looks on © LAT
Thus, when Mercedes straddles the FIA/FOTA fence it does so as engine supplier, as would Cosworth were the company active in F1. Thus, if Mercedes intends remaining in F1, it is as engine supplier to teams, and its presence or statements should not be taken as a sign that McLaren intends breaking ranks with FOTA. Or not.
The opposite applies to Williams/Toyota: although a long-term deal is in place for Sir Frank's team to be powered by Toyota, the British team has already stated its intention to enter by the deadline ('what else can I do', commented the team owner). Conversely, the Germany-based Japanese outfit was first to side publicly with Ferrari. If Toyota exits F1 as team owner, it could still supply engines to Williams.
Therein lies F1's dilemma: at which point does it turn its back on manufacturer teams in the hope of attracting newcomers? Sure, it could attract three newcomers, but would they do the sport justice? Equally attracting three or four teams to lose five or six hardly serves F1 well. The war is far from over, regardless of the pending judgement, die to be handed down at 12 00 GMT tomorrow, of three wise men in Paris...