One of the neatest additions to FOM's TV coverage in recent years has been the backstage access we get when the drivers are preparing for the podium ceremony. The body language can be fascinating, and since the drivers sometimes forget that the cameras are there, they let their true feelings out.
Last weekend, as Rubens Barrichello sat and contemplated his afternoon, it was not hard to guess how he was feeling. In fact I didn't have to guess at all, because I could still hear the sound.
"I don't know how the hell I lost that race man," he said to team-mate Jenson Button. As honest as ever, the winner said that he was happy for himself, "but I feel for you."
A somewhat surprised Jenson also asked Mark Webber how he had managed to end up as part of the ceremony, when for most of the event he had not appeared to be in the fight for a top three result.
"Massa f***** Vettel's race," he said by way of explanation. At that point everyone looked, with some embarrassment, at the live camera.
"He's Australian," smiled Rubens, still able to see the funny side despite his obvious frustration...
A little later, after the podium and press conference, I asked the Brazilian to articulate how he really felt.
Rubens Barrichello and Jenson Button in the press conference © LAT
"Bitter," he said with a shrug. "I should have won the race. I don't know. I need to get back there and see what the hell went wrong, why did they change the strategy on Jenson. I guess they're going to tell me that my pace wasn't good enough on one of the sets, but in the first place we said three stops for both of us, and then he changed. I need to understand that."
To be fair, later Rubens did accept the team's explanation that Jenson's strategy had been changed in order to improve his overall race, rather than specifically to give the Englishman a chance of jumping his team-mate.
However, he was still frustrated that he hadn't been told what was happening - and, after all, he was pitting later and could have reacted - and more importantly, he questioned whether three stops ever was the optimum strategy for the race, since no other team seemed to think that way.
Although he did see the bigger picture, it's still worth looking back at what he had to say after alighting from the car. A driver's first reaction after stepping out of parc ferme can often be illuminating, for the very reason that he hasn't had time to consult with the team. The classic example was Lewis Hamilton in Australia, of course...
He seemed to have done everything right during the weekend, including setting the fastest lap achieved by anyone when he topped Q2. Jenson - carrying slightly less weight - beat him when it mattered in Q3. But for some reason Rubens finished his flying lap a little prematurely, whereas Jenson's run came at the ideal time, in the dying seconds. It wasn't intended to be tight and it could have gone wrong, of course, but his amazing 2009 luck held and he made it across the line to start his lap by 1.6s.
"He had my set-up today," Rubens explained after the flag. "We both went quite fast yesterday. I was disappointed again because I didn't get pole position, there was a small mistake, there went a little bit more fuel into my car which I don't understand, but all in all it worked in my favour today.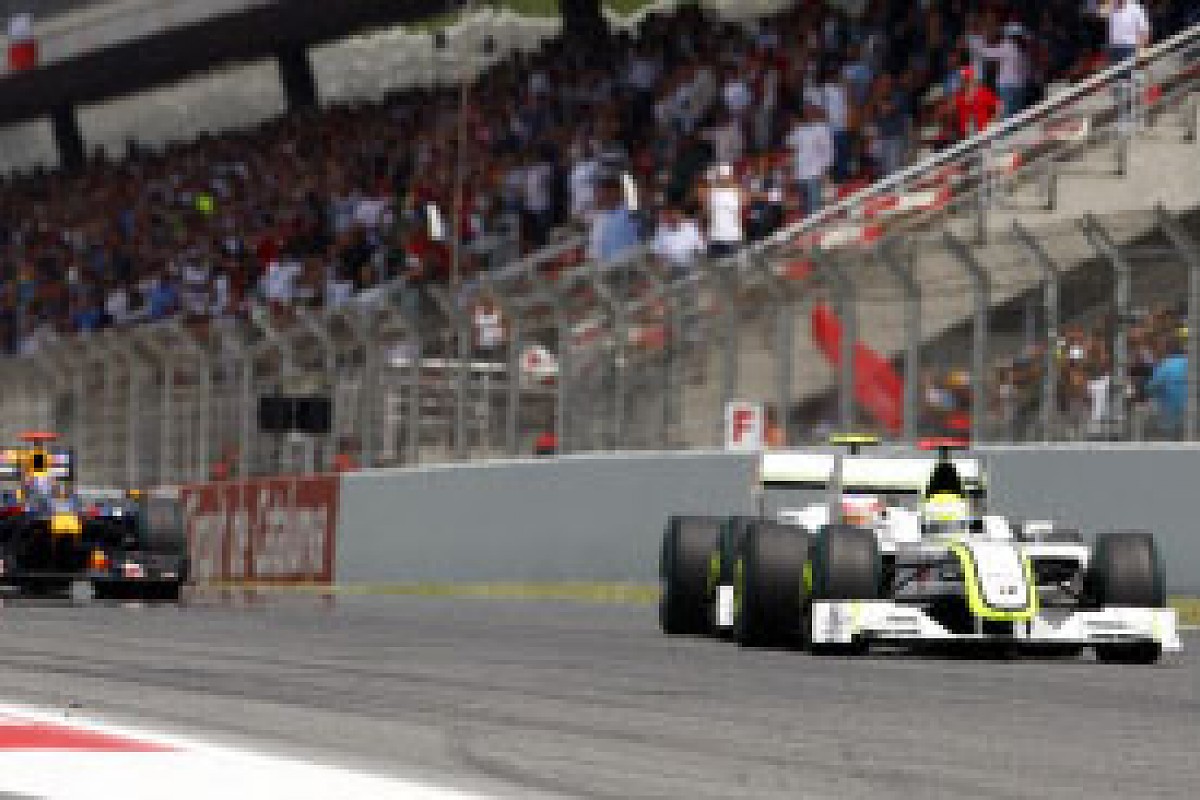 Jenson Button and Rubens Barrichello at the start © LAT
"I had done a perfect start, was running in front, pulling away so much from other people, pulling away from Jenson, and I haven't won the race. The 19.9s in qualifying was great, the pace in the race was great, and I still got only eight points. I need to understand why it went wrong..."
One thing he certainly got right was the start. He was immediately behind Jenson on the clean side of the grid, which gave him a good run on Sebastian Vettel, but getting past his team-mate as well was pretty impressive. Jenson, who said recently that he had still to be aggressive and not think about points, had to give way.
It's interesting to recall that not so long ago the Honda team-mates collided at that very point when one of them was heading out of the pits, while Rubens also once had a problem there with then Ferrari team-mate Michael Schumacher.
"I had a great start, it was a great reflex on the light, and then I used the slipstream very, very much. I think I surprised Jenson a little bit with that. I presumed the focus was on Massa with the KERS, and although I knew he had everything to play with I was on the right side of the grid, and if I used the slipstream of Jenson, I could keep at least Massa at bay. And that's what I was focussed on. And it worked perfectly, because I went round the outside. I didn't even see Felipe coming, I just went round the outside, and had a great first lap."
In fact, both Brawn guys were helped by the fact that Massa's KERS didn't work off the start.
Rubens, meanwhile, knew he was going to pit later than his team-mate, and thus being in front of him was just perfect. Of course, if the guy you're racing pits before you, you can always react by ensuring that you also pit later than him next time, and so on. Matters are complicated when your rival is in the same team.
"Before the race the agreement was that both cars would be doing three stops. So I wondered why they didn't change myself, who was the longer one, to two stops.
"I had more fuel than Jenson, so I was quite safe in that direction. I had a great start, and then the safety car came. For five laps it may have helped to go to two stops, so I wonder why they didn't change myself as well."
That was a good point. The safety car didn't help anyone on a short first stint, because it obviously gave them less opportunity to get away and use a lighter load to full advantage.
But the team's explanation was a logical one. If Jenson had continued on a three-stop strategy, after his first pit visit he would have come out just behind Nico Rosberg, who was on a long first stint. And since he would have been stuck behind, Jenson would not have been able to take advantage of his light load and potentially quick pace.
In contrast, a slightly longer stop (thanks to the extra fuel required for a two-stopper) dropped him a little further behind the Williams. And because he was now heavier, his potential speed was lower, and he was unlikely to catch Nico.
The numbers suggest that was a good call. After stopping on lap 18 Jenson came out 6s behind Nico. He was now carrying fuel for 30 laps (let's say approximately 68kg), while Rosberg had just seven to go on his run (16kg). That's a huge difference even when you're driving a Brawn, and by the time Nico pitted seven laps later, the gap was still fluctuating around 4-5s.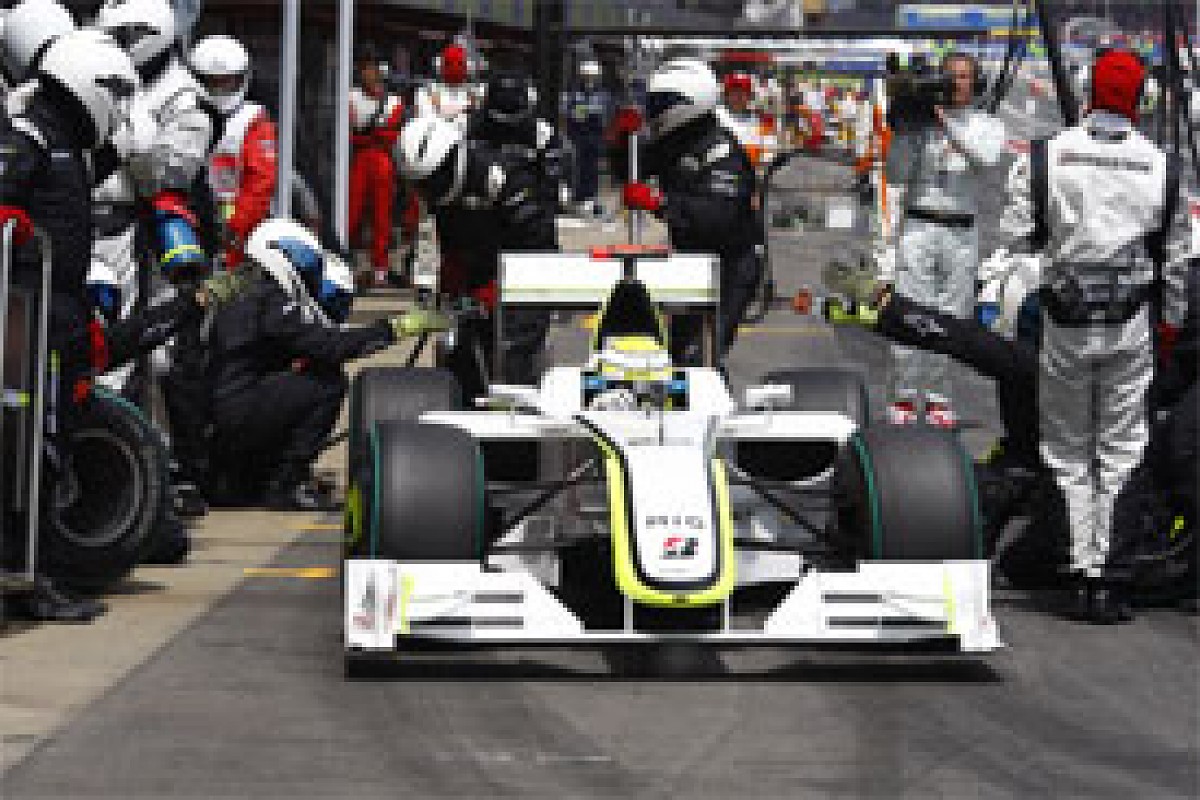 Jenson Button pits for his first fuel stop © LAT
As noted, a shorter stop and lighter load (27kg if had matched the 12-lap second stint of Rubens) would have ensured that he would soon have been right on the gearbox of the Williams, and unable to run his true pace, albeit for only a handful of laps.
The fear was that might be enough to make him vulnerable to the Massa/Vettel battle, even if on the surface that didn't appear to be the case. You only have to look at the way Mark Webber eventually jumped those two to realise how things can change over the long haul of a race.
Of course, none of this was known to Rubens when he'd just got out of the car, and he was left to puzzle over it.
"I don't know why they didn't change Jenson. For me it came as a surprise when they said that he was changing to two. With the pace that I had, pulling away from him with him right behind me, I really thought that I had it in the bag. Then all of a sudden [before] my third stop I had a tyre that wasn't working particularly well, and then I saw he was in front of me, which was very disappointing.
"The thing that I can say is I'm giving my very, very best, and I think with that I'm not just helping myself, but helping even Jenson. He already said how much he appreciated the set-up of my car this weekend, because he had to go my way. I was so glad and fast with the car. So I should have won the race, but it's two points less than I wished."
That third stint was the key to it all, of course. The team still insists that he had the optimum strategy, and indeed in the second stint, things seemed to be going his way. But in the third he just didn't have the necessary pace, and complained of understeer.
Some in the camp seemed to be a little sceptical about his explanation, but it's worth noting that by definition on a three-stopper you had to run three sets of super softs. Rubens had a new set for the start (as did Jenson), but then he had to use two "secondhand' ex-qualifying sets. Choosing the best sets to salvage for the race isn't an exact science, and it could just that the second of these just wasn't quite as good as it should have been.
After six years alongside Michael Schumacher at Ferrari, no driver in the history of the sport has as much experience as Rubens does of how it feels when the team's focus is on the other guy. Inevitably, he had to field direct questions on whether the team was favouring Jenson over him, and he clearly had mixed feelings.
"I hope not. I've been in a team that was very much in favour of somebody else. Ross has been in that team. I think Ross likes me very much, that's why I'm racing for this team. Again I would say I have to put my hands to the sky and thank the opportunity to race such a fantastic car. I have the ability to win races, and today I must be happy with myself. It is disappointing that I haven't won it, but I have to keep on trying. After all I went through in my career with team orders, I wouldn't accept them anymore. That's it.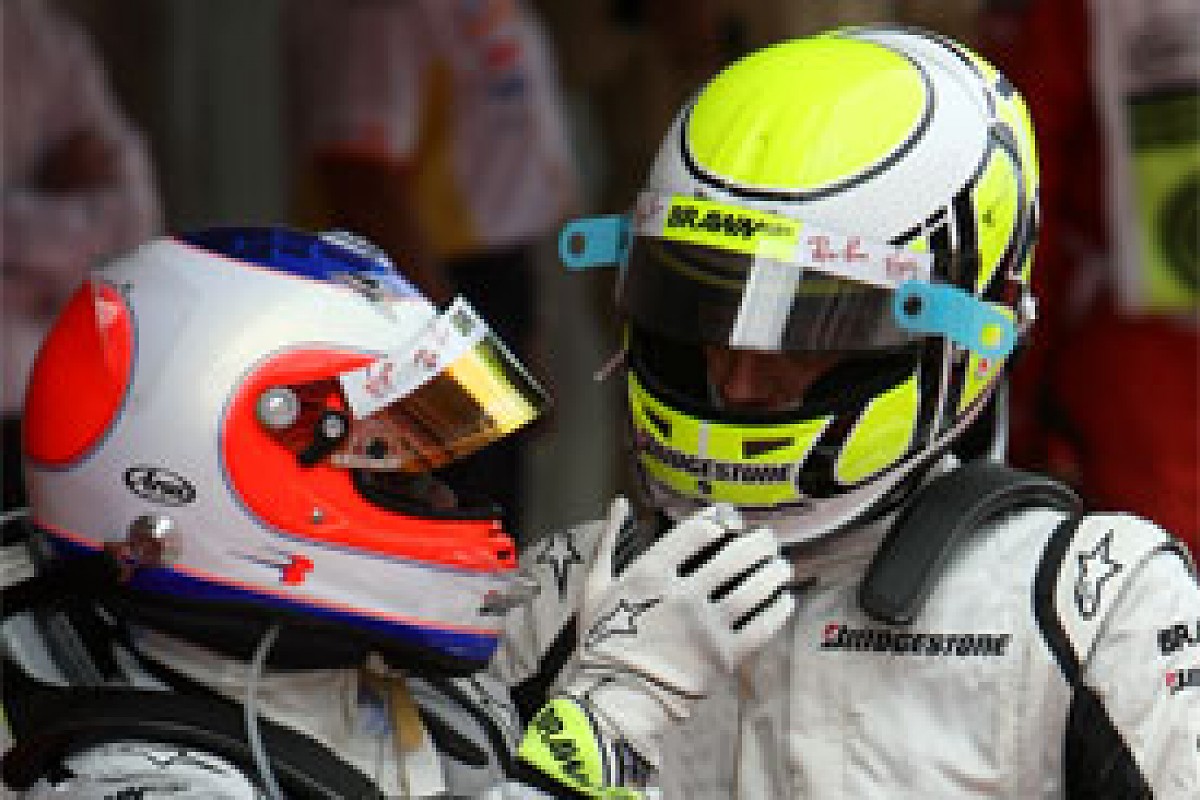 Rubens Barrichello and Jenson Button in parc ferme © XPB
"If people think I'm really happy to finish second and get money, they're very wrong, because I'm running for no money at all, my salary is six times below last year's [now that was a throwaway line!], so money is not my main case. My feeling and my challenge to win, and I deserve to win because of my work, and I'm just pushing that. Today it didn't work. I don't know why it didn't work."
He saved his most intriguing quote for when he was speaking to SpeedTV's Peter Windsor and myself: "If I ever think that Ross has done something to favour Jenson, I will put my boots up and call it a day. I won't go into that direction. It's so much a softer atmosphere, and it was Ross that called me to be driving for him. He's a guy that I believe in very much, and a guy that I think likes me. So I cannot believe in that. The day he tells me he gave a favour to Jenson is the day that... He won't see me any more in this, because I don't need that, I'm much bigger than that..."
As noted earlier, he did come to accept and understand the team's view. But Barcelona was a watershed moment, as for the first time the issue of Jenson being given some degree of priority treatment came to the fore. It seems that wasn't really the case this time, but it may be hard for the Brawn team to continue to provide complete parity as the season goes on.
It's a difficult one, because while everything is going right for Jenson just now, it won't take much for Sebastian Vettel - the most likely candidate of course - to really be piling on the pressure. Come October, two points lots of gained here and there could be priceless. This opportunity may never again come the way of Brawn or indeed Jenson, so it makes sense to secure every available chance to add to his total. [In fact Red Bull Racing faces a similar dilemma, and Helmut Marko was reportedly unimpressed that a similar strategy change allowed Mark Webber to jump Vettel in Barcelona, and ultimately steal third place from the company's golden boy...]
On the other hand, as he implies, Rubens is not there just to back up his team-mate. Last year he outqualified and outscored Jenson, although admittedly the latter was less comfortable with the awful RA108E. When Barrichello's future was in doubt at Interlagos last year, I mentioned the numbers to a very senior team person, who responded by pointing out how motivating it can be if a driver was out of contract. I was tempted to ask if that's the case, why does Jenson appear to have been given a lifetime deal?
Of course things have moved on since then, but that conversation was an indication that not all in the camp were - should that be are? - entirely supportive of Barrichello. The frustrating thing for him is that he has not done a lot wrong this year, and has even outqualified his team-mate in a heavier car. But luck has been conspiring against him, just as it has been falling in Jenson's favour.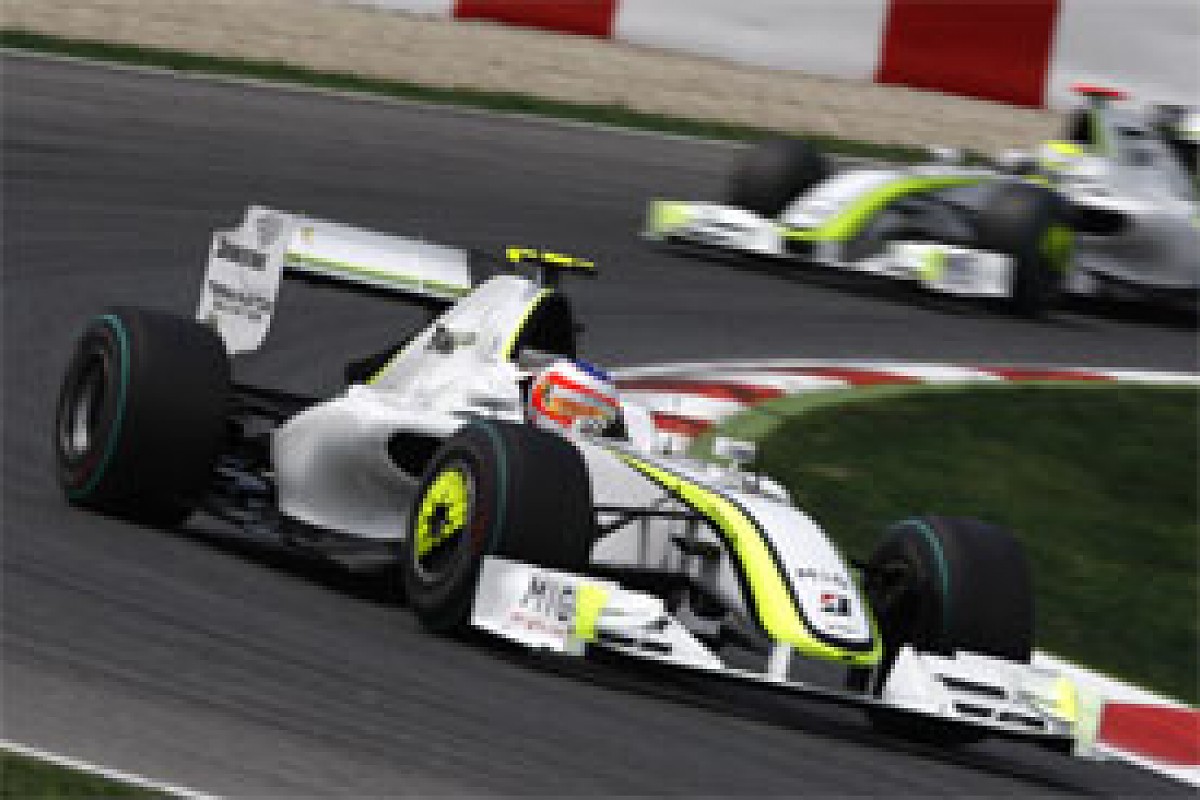 Rubens Barrichello leads Brawn team-mate Jenson Button © LAT
There's no denying that Button has done a consistently brilliant, near faultless job, and no one can begrudge him his current success after all that pain and struggle. But twice safety cars that might have harmed him have instead come out at a perfect time, and even his bad starts ultimately don't seem to cost him as races have played out.
In contrast, things just haven't quite fallen into place for Rubens, but it wouldn't have taken much for him to have logged at least one win, which would have massively strengthened his position.
"It's a good moment for Jenson, it's a good time," he told me on Sunday. "I need to be ready whenever the moment stops for him.
"I have to keep on going flat out as much as I can, because I believe I have the ability to win the championship. Right now everything is going in favour of Jenson - the sky is in favour of him, not that the team is - so I just have to keep it up."
Could the moment stop for Jenson in Monaco? He was second there in 2004, but that remains his only points score in the principality - although to be fair a practice crash kept him out of one race, and an FIA ban another. I'm pretty sure the weekend won't just be about Brawn, but it could be a chance for Rubens to redress the balance.
"I go quite well there," he said last weekend. "It's a bit of a pressure on my shoulders right now because obviously my team-mate has won four out of the five races, I have won none. So it's time to start winning as well.
"I'm expecting it to be a competitive race for us as well, but we can expect Red Bull to be there, we can expect Toyota to be there. We don't know about Ferrari and McLaren. Although Ferrari ran quite well here, and from now on they're going to be good.
"I love it, especially in qualifying. So I hope to put the car on pole there! The car is quite tough, and good on traction, mechanical and so on. So I hope we can keep it up."