Many who remember the days when one, maximum two, motor manufacturers graced grand prix grids - usually as engine supplier, at that - wish for a return to days of team owner-engineers and fast thinking entrepreneurs. Budget caps, they say, will herald a return to the 'good ole days', a time in Formula 1's history when ingenuity and not wallets reigned supreme, when F1 was fun, when politics were games played by dour-faced gents revelling in their inherited titles.
But, those who view the sport through rose-tinted spectacles need be exceedingly careful about what they wish for, for a wholesale departure of manufacturer teams is almost guaranteed to cause the sport to implode, so dependent has F1 become on their free-spending ways.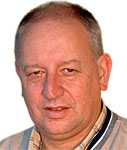 Bernie Ecclestone © LAT
F1's business model, honed in the immediate aftermath of the sale of F1's 100-year commercial rights to Bernie Ecclestone's Formula One Group, has been structured around three primary income sources: TV broadcasting/electronic media rights, race hosting fees, and 'other' - licensing rights to F1's commercial properties, track signage, merchandising and vending areas, hospitality and sundry revenue generators.
Almost simultaneously F1 attracted the automotive industry's big hitters rather than aspiring F3000 outfits - effectively excluded by dint of a daft $48m bond, which ensured that entry to F1 was closed to all bar the best-heeled multinationals. Thus, in rapid succession, Ford, Renault, Mercedes, Honda and BMW returned to F1, buying into, or outright, privateer teams to do so. Toyota was the sole start-up.
In the process they inherited (or, in Toyota's case, signed up to) the Concorde Agreement, which contractually bound them to F1 until end-2007. Rapidly they realised, though, that their presence made the Ecclestone family trust exceedingly rich, sowing the seeds for the GPWC/GPMA initiatives which sprung up, only to fade through disunity.
Initially Ecclestone welcomed them, for he realised that they spent big money in his Paddock Club, bought circuit signage, featured F1 in marketing programmes, rented expansive merchandising areas at astronomical cost, and, equally importantly, attracted sponsors and partners who, too, spent large sums on FOG's goods and services.
Now, though, the rules of engagement have acrimoniously changed, epitomised by their refusal to sign up to a new Concorde, and a suddenly united front with former turncoats Ferrari. Subsequently the manufacturers have been made increasingly unwelcome, for not only do they hold formidable collective power, but are also able to come and go as they please. As Honda did.
Matters came to a head with last week's release of the FIA's two-tier regulations, with Ferrari publicly threatening to exit F1 (having tabled the issue for this week's quarterly board meeting), and Toyota exclusively telling AUTOSPORT that "(we) believe we have been a good corporate citizen within the F1 environment, but now we must reflect long and hard on what we do in the future."
These two are not alone in reconsidering their F1 involvements, even if others have not been as vocal. Rumour has it that BMW, burnt by what it perceives as a tilted equivalence formula in the FIA's World Touring Car Championship, is considering exiting F1, whilst Renault's Flavio Briatore has already warned against 'cheapening' the brand through the admission of budget teams.
Team principals meeting in Barcelona © LAT
"All cost-saving measures, including those which affect F1, must take into account its unique nature," he told
Welt am Sonntag
in Barcelona. "If we can find a solution, then the threats made by Ferrari and BMW (to exit) will disappear."
Note his reference to BMW, even if the German company elected to make no official comment...
In fact, the only manufacturer-backed outfit to shy away from confrontation is, understandably, the emasculated McLaren operation - presently racing under a 12-month suspended sentence for bringing the sport into disrepute. However, one can guess where this archetypical racing team's sentiments really lie.
Assuming no settlement is reached between FOTA and the FIA during the 'urgent consultations' requested by the team collective, how would F1's primary revenue streams be affected if they exited F1 stage left?
Electronic Media Rights (±40% of F1's £900m annual revenue stream)
TV/radio broadcasts are beamed to around 160 countries, with certain territories enjoying twin feeds. In the main these are free-to-air broadcasts, subsidised by advertisers and sponsors. The primary funders of such transmissions are, logically, participating manufacturers, their networks and distributors, plus their partners - who, by their nature, are bigger spenders than those of the independents.
Would said advertisers have the same motivation to support race coverage featuring Brawn, Williams and Force India cars, plus a rag-tag collection of upgraded GP2 teams? Factor in the inevitable drop in audience ratings, and question why they would even wish to be seen on the same screen as, say, a Prodrive-Cosworth?
Thus broadcasters are likely to vote with their budgets (or even charge for airtime, as is the case with A1GP, of which more anon), which, in turn, would severely impact on F1's ability to properly remunerate the independents, placing their survival in doubt - resulting in a self-evident and vicious spiral.
Race Hosting Fees (40%)
Apart from the obvious fact that a grid full of Ferrari, Mercedes, BMW, Renault and Toyota entries (with their world-class drivers) holds way greater attraction than a score of Cosworth-powered chassis built down to a budget cap, and that such grids attract supporters of the brands in addition to F1 fans, consider that manufacturers and sponsors heavily support - directly or via their networks - local grands prix.
Thus Mercedes sponsors massive grand stands at Germany's two circuits, thereby guaranteeing promoters a certain number of ticket sales. At Spa, Toyota Europe purchases tickets by the grandstand, whilst BMW dealers support events across the world, with the company's Race Club attracting thousands of fans. Who can forget the sight of that grandstand at Magny-Cours, always resplendent in Renault colours?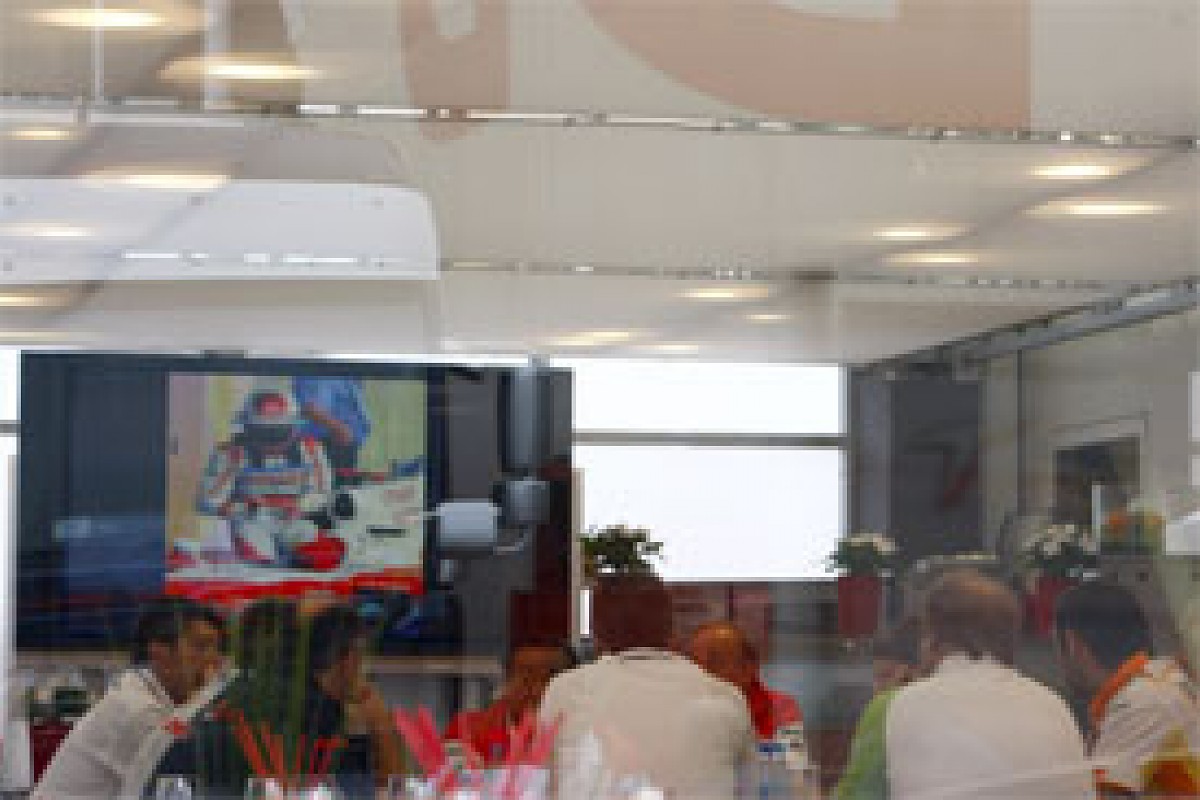 The Mercedes-Benz grandstand at Hockenheim © LAT
In Malaysia, wide swathes of Petronas caps are visible in Emerald seating areas, yet, come A1GP races at Sepang they are strangely absent - proving a point or two.
With F1 being Ferrari and vice-versa, the drop-off in attendance were the iconic brand to disappear is likely to be catastrophic. History provides a precedent: in 2005, when Ferrari endured a bum year, travel operators across Europe reported drops in business of around 20% - despite the Schumacher factor. Imagine now the effects without the driver and the team.
Estimates show that upwards of 30% of tickets are purchased by fans with some form of manufacturer interest - direct manufacturer/dealer support, marque clubs, sponsors/partners - and whilst some fans would no doubt patronise F1 Lite, many would have no motivation to attend. A (conservative) 20% stayaway factor equates to 20 000 seats at around £300 each equals £6m per race or around £100m per annum taken straight out of the F1 economy - further impacting on FOG's profitability and its ability to remunerate teams.
Already race attendances have declined approximately 40% due to prevailing economics (2007/8 Spain = 135,000 on race day, 2009 = 90,000; Australia similar percentage drops). Now imagine the effects of a further 20% drop on circuit viability, particularly where space-age monstrosities were built by governments to feed the frenzy generated by manufacturer interest.
Other (20%)
Here the manufacturer teams and their sponsors once again hold the whip hand: in the Paddock Club, the exclusive hospitality facility purchased by CVC Partners (de facto owners of F1's commercial rights) for an estimated £250m two years ago, the Big Five are responsible for ± 70% of business. Ditto merchandising, where the likes of Williams, Force India and Brawn have virtually zero presence, particularly given rentals within the zones of up to £80,000 per race!
Track signage, too, is mainly the preserve of major sponsors, although FOG has of late attracted numerous 'outsiders' - although these are assuredly present through a desire of sharing track space with prestigious brands rather than GP2 cars... Equally, PSP and such intellectual property deals depend upon the allure of premium brands rather than no-name teams, some of which have swapped identities more regularly than they score points.
The foregoing proves that the manufacturer teams hold the economic aces, meaning that a mass withdrawal will likely result in the collapse of F1, certainly as it is structured at present. Should there be any doubt as to their clout, consider that the FIA's proposed budget cap has been specifically amended to exclude marketing costs - providing tacit admission of their value.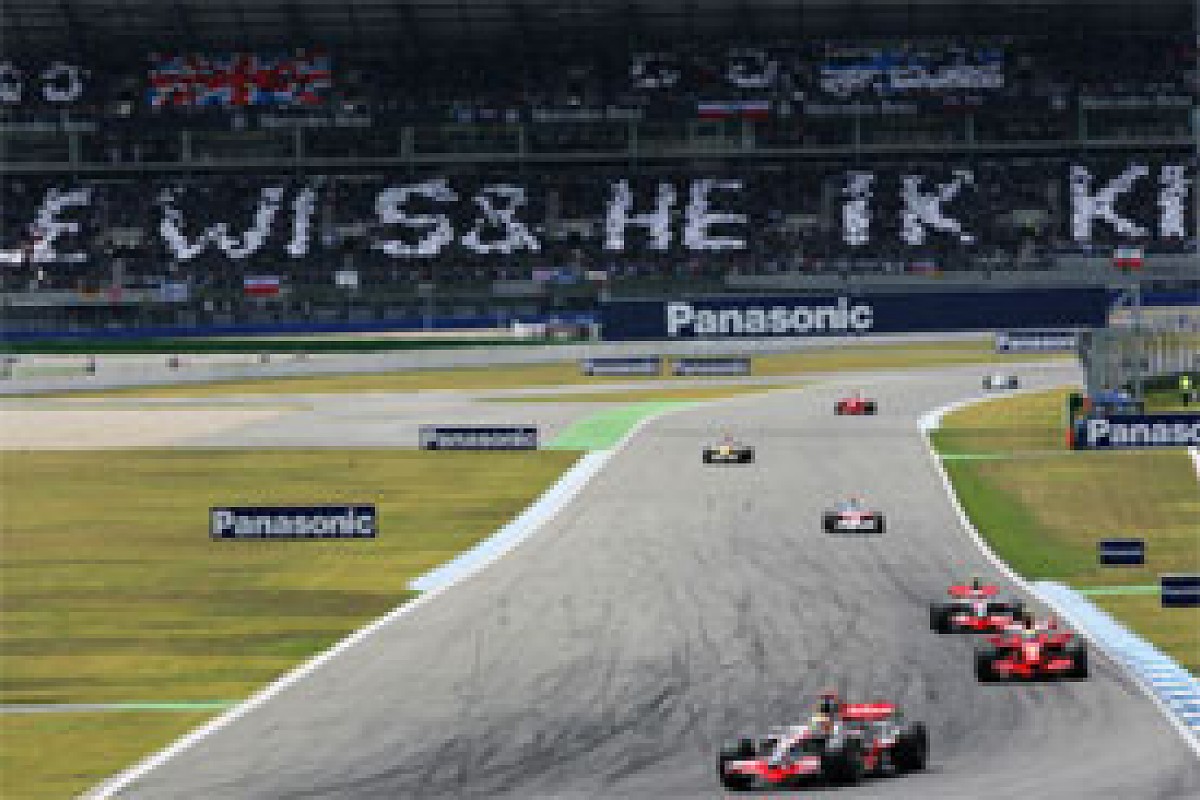 Parc ferme at Sakhir © LAT
The manufacturer teams have the pre-eminent drivers of this generation under contract - bar Sebastian Vettel and Mark Webber, which will be addressed shortly - they have the cars and kit (and, through the FIA's insistence, own the intellectual property thereto); they have big-spending sponsors, who have invariably elected to partner manufacturer teams due to the inherent B2B opportunities; in fact, they have everything bar a race series where they are made to feel welcome.
There exists a misconception that the withdrawal of manufacturers from F1 will result in their withdrawal from international motorsport, resulting in mass layoffs and mothballing (or sale) of their facilities. Not so according to Toyota team president John Howett, who states simply, "we'll just find somewhere else to race. We want to use motorsport as a means of promoting our brand and products."
Honda's withdrawal from F1 has not seen them exit the IRL or MotoGP, and equally it is unthinkable that BMW, Mercedes and Renault, let alone Ferrari, would totally desert motorsport - other series would simply benefit from their presence. The question, then, is where would they go were no settlement to be reached PDQ?
With Red Bull's Dietrich Mateschitz - once a staunch ally of Mosley, with whom he went snowboarding - stating this week that "If the proposed rules for 2010 remain unchanged, we (Red Bull Racing and Scuderia Toro Rosso) will not enter next year's championship" that makes it potentially seven teams seeking alternate playgrounds.
A further misconception is that no alternate series exists for them to enter with immediate effect, whilst sceptics suggest that they will not be able to formulate a breakaway series by 2010. All true - except that an off-the-shelf solution does exist, and, according to sources, has been investigated.
Ferrari (and therefore FOTA's president) has close ties to A1GP on account of supplying the technology for the cars introduced for the self-styled World Cup of Motorsport's latest season. It is no secret that the series has not taken off, and that it exists a hand-to-mouth basis whilst carrying a massive creditors book.
Having burnt through an estimated £600m since its inception in 2005 (with no real end to the haemorrhaging in sight), owners Antonio 'Tony' Teixeira and the beleaguered RAB Capital vulture fund could be tempted to off-load A1GP for its lock-up value - £200m, or around £30m per breakaway team, coincidentally the same figure as the original budget cap against which they have kicked so violently, and approximately 10% of their current annual budgets.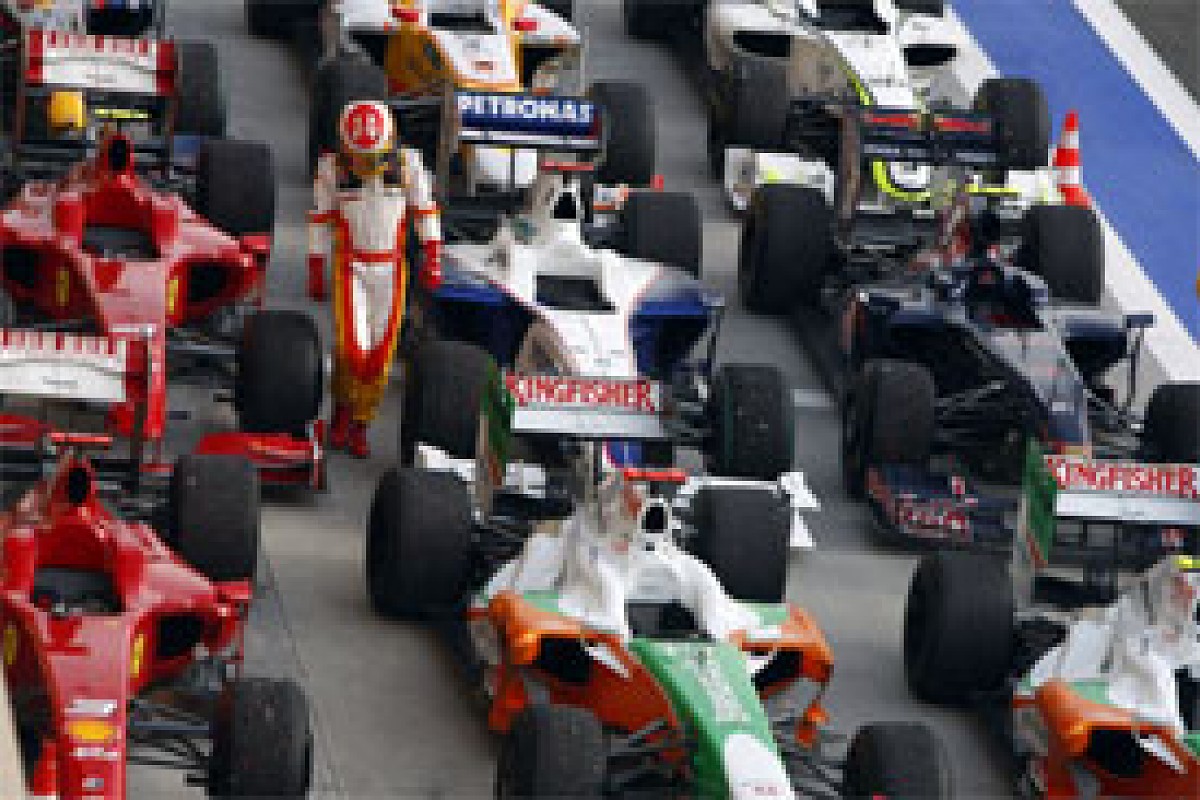 A1GP racing at the Algarve circuit in Portugal
For their money they would acquire an FIA-approved series with the required international infrastructure, circuit contracts with the likes of Mugello, Kyalami, Portimao, Surfers' Paradise, Zandvoort, Brands Hatch and Sepang, with plans to go to Interlagos, Laguna Seca, Montreal and India. And, hang, one look at the Automobile Club de Monaco's long term commitment to the IRC rather than the FIA's WRC shows which way the principality may jump, particularly given the allure of Ferrari...
Factor in the immediate availability of one (or both) German circuits, Silverstone, Magny-Cours, Toyota-owned Fuji, the Red Bull-controlled A1-Ring and either Jerez or Valencia's permanent track, plus previous A1GP circuits such as Brno, Shanghai and Estoril, and a ready-made calendar stares one in the face, one in which the manufacturers can accommodate their own series (having sold or scrapped A1GP's race hardware), with support programmes made by their own junior formulae - FBMW, FRenault or even DTM and touring cars.
A1GP has a turn-key freight forwarding operation, race operations base, fully-fledged high definition TV operation with contracts in 160 countries and video streaming possibilities, race administration and a media centre in which internet outlets are welcome, the Pangea hospitality facility, merchandising contracts and, above all, a Michelin tyre deal.
Reflect for a moment on the manner in which the French tyre company was squeezed out, and imagine how gleeful it would be to once again partner a restructured Ferrari, BMW, Mercedes, Renault and Toyota - to the detriment of arch-rival Bridgestone, to whom Original Equipment contracts and partnerships are of eminently greater value than stickers on independent teams.
Whether this neat reversal of fortune for both F1 and A1GP at all comes to pass depends on the outcome of a series of meetings scheduled for the next week between the FIA and FOTA. But, according to one source in Barcelona, the chances are "Already better than 50%..." All the seven teams have to do is to enter three cars each, which will result in a 21-strong grid. Plus, of course, ticket and hospitality prices could also drop by at least 50%.