Unclip the padding, climb out, cursory wave, onto the scales, helmet and HANS off, up the stairs to the podium holding room, swig of water, watch back on, quick ruffle for what's left of the hair, polite acknowledgements for Jenson and Mark. Everything routine but Barrichello's face gave him away. That one was supposed to be his.
Before Barcelona, someone who knows told me that the smart money would be on Rubens. The Circuit de Catalunya is home from home for an F1 driver, so frequently do they test there. And Rubens is very good there, normally quicker than Jenson. He's very good in the fast Turn 3, through T9 and under braking for T10. The place suits his style.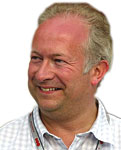 Jenson Button and Rubens Barrichello in parc ferme © LAT
And so Rubens was visibly disgruntled to be starting third with his team-mate on pole, the Brawns split by Sebastian Vettel's Red Bull, which, fuel-adjusted, was quickest of the lot. Rubens had set the fastest lap of the weekend in Q2, a quarter of a second up on Jenson, and there hadn't been a lot wrong with his Q3 lap. All he could think was that he'd gone on track a bit early and that Jenson had got the best of the conditions.
Button could not have left it later. You leave it late to run with the most rubber down, but you don't leave it that late, as Ross Brawn admitted.
"It was too tight. It was really just good luck that we didn't get caught out."
Did Ross know how much time Jenson had left when he crossed the line to begin that last Q3 flyer? You bet.
"One point six seconds, wasn't it?" came the sheepish grin. "We knew when he went past sector two he was okay so long as he didn't lose too much. He had four seconds in hand when we radioed him. He judged it well I must say... It was touch and go. And not what was planned.
"He came into the pits with just a little bit too much time to keep the engine running (overheating) and so we had to stop it and start it again. Then when we got him out he was tangled up with Robert Kubica, who was on a slower lap than we expected and it all became a bit of a mess."
It was a surprise to the team when Jenson nailed the pole.
"I honestly didn't think he'd do it because he'd been struggling a bit with the balance," Ross said. "I was far from certain but he's impressed us all year."
Brawn has always been aware of Button's quality but last year's Honda was hardly the best conduit for it.
"If you remember," Ross went on, "at the start of last season he seemed to hit anything that was moving. And the guys who knew him told me it was really out of character. So I had to be patient but then there were races where he was exceptional but that was hidden by the car we had."
There's no doubt Jenson has momentum right now. Pole, 1m20.527s. Rubens, third,1m20.762. When the weights were published Rubens was 3.5kg heavier. Ten kilos around Barcelona is worth close to 0.4s. So, fuel-adjusted, Rubens should have been around 0.13s behind but the gap was twice that, on 'his' track... It's why the reaction in the Jenson cockpit and on the Button side of the garage was even more ecstatic.
But Rubens didn't lie down. He made a storming start, sliced in front and once he had his nose ahead with a heavier fuel load, that should have been it.
Brawn's computer simulations had shown that a three-stop race was optimum. To make three-stoppers work though, you need to be able to lap to your potential. Safety Cars are not good news. When you're light and should be making time for the extra stop, everyone's sitting there behind you with more fuel losing no time. The FIA's Mercedes was out for four laps following the first lap shunt in Barcelona and that spelt recalculations at Brawn.
Rubens Barrichello leads Jenson Button during the early laps © LAT
Jenson, due to stop a lap before Rubens and behind him, was compromised more. Shortly after the Safety Car resumption Jenson was already making radio appeals for Rubens to go quicker.
Fortunately for Brawn, Vettel, who had race-winning pace, was trapped behind Massa's KERS-assisted Ferrari. When Button was told they were swapping him to a two-stop race, he assumed that's where the problem was - he hadn't gained enough time to clear the Ferrari and Red Bull, which both went two laps longer, at his first stop. Consequently, he thought, Brawn would fuel him heavier so he could hopefully get them back at his second stop.
In fact, the problem was Nico Rosberg. As they crossed the line on lap 17, one before Jenson was due in, Nico, helped by the Safety Car, was still just 18.5s behind Jenson despite being fuelled to run to lap 25. Jenson was going to come out behind him and, this being Barcelona, wouldn't stand a cat in hell's chance of passing him. That was going to seriously hurt him and so the three-stopper was abandoned.
For Rubens, clearing Rosberg was going to be desperately close. He was 1.4s further up the road than Jenson at the end of lap 17 and scheduled to run one lap further. They went for it. He'd needed to get the hammer down and his lap times tell you how well he was driving. From lap 12 until his stop: 1:23.10; 1:23.09; 1:23.02; 1:23.07; 1:23.08; 1:23.09; 1:23.01.
Superb high-speed consistency and, clearing Nico by the smallest of margins, it should have won him the race. Rubens ran a very short 12-lap second stint, doubtless part of the short stop needed to clear Rosberg, but the damage was done on his 19-lap third stint, where his times weren't quick enough and he dropped behind Jenson, only just clearing Webber's two-stopping Red Bull at his final stop.
Rubens's response to Button's question in the holding room was clear enough - body leant forward, arms crossed, the universal racing driver pronouncement of understeer. Fair enough on the last set of tyres, the primes, but he couldn't understand why he'd been so slow in the third stint. The distant look spoke volumes. It wasn't anger, more bewilderment.
Through the motions on the podium then, and on into the unilateral room for the TV interviews.
"On the third set I just didn't have the pace, I was locking wheels everywhere," he explained. "I hope the guys come back to me and say there was a small problem somewhere." With something like tyre pressures maybe.
Imagine it. You've just lost the race, the one you know should have been yours, it should be 3-1 now, but it's 4-0. You're a competitor. You're tired, hot, hacked off. The world's media wants to know what happened but you can't tell them. You'd like to know too...
"I heard they had changed Jenson's strategy and that I had to keep on pushing," Rubens said when he came to speak to the written media. "It's good for the team that we had one and two but I would like to understand why we changed that. This morning we decided three stops was the way to go and then out of the car we came straight here, so after this we'll have a meeting again and then we have some answers."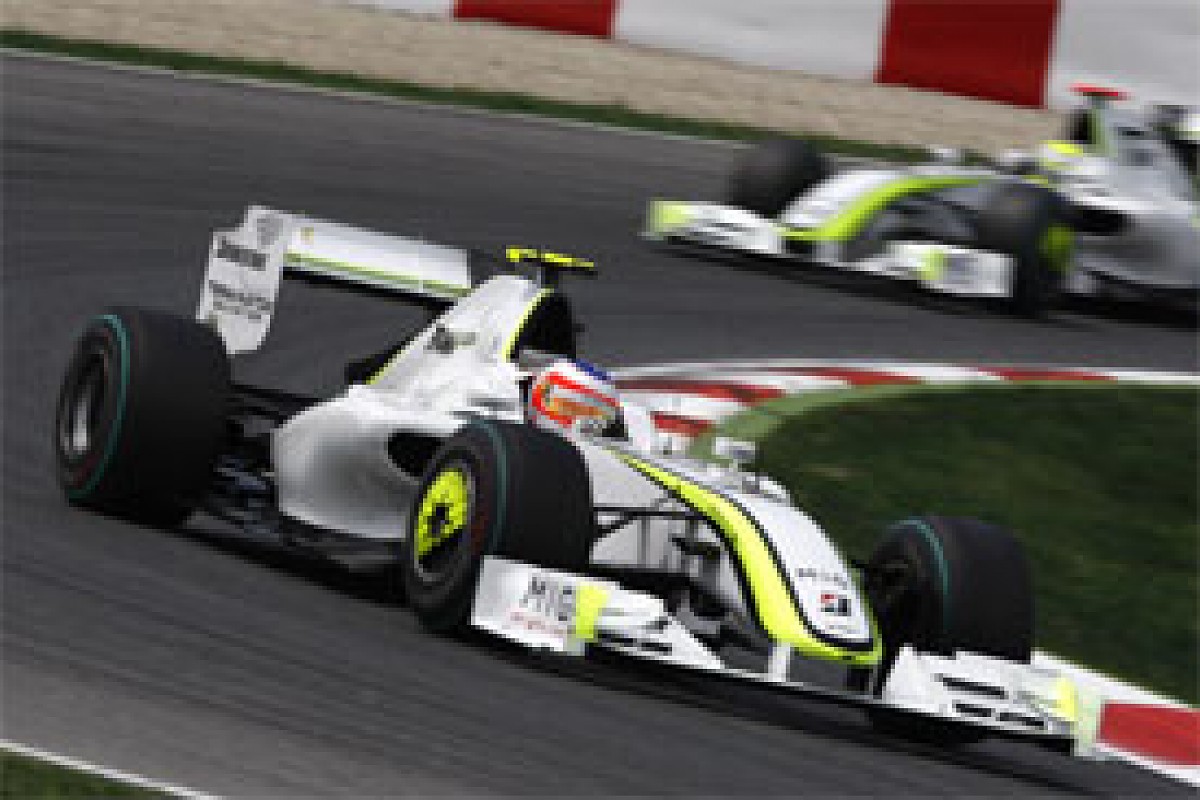 Jenson Button and Rubens Barrichello in the press conference © LAT
That was all it took. Was this a bit like Austria 2002 at Ferrari - when Rubens' deserved win was sacrificed in the interests of his team mate? Someone was going to ask it.
"I'm very experienced with that..." Rubens replied. "If that happens I won't be following any team orders anymore. I'm making it clear now so that everybody knows!"
Now Button, understandably enough, was getting a bit twitchy.
"I'm going to answer this a bit as well because it affects me," he announced. "Our strategy said a three stop was quicker. Full stop...." Got that!
Rubens, still bemused, still wondering, still frustrated, hadn't meant to prompt that line of enquiry.
"It's true," he said. "I mean it's much different to Ferrari and we have a much friendlier situation. I'm not blaming this or that. I'm not going to sit here crying about it. It's in my best interest to learn what went wrong today because I had the ability to win the race. But I didn't.
"Jenson is on a flyer, doing very well but this weekend was good for me, the setup and everything, I worked hard and we both pushed each other. There's more pressure on my side because he's won four races and I've won nothing, but I'm there, I'm working and I won't stop working.
"Not long ago people were putting flowers on my grave and saying thanks for your job and so on, but I'm here, very much alive, happy and I'm going to make it work. It's as it was some years ago."
That last line probably didn't help either. He meant in terms of having a competitive car again rather than the enforced subservience. I think...
It didn't stop another question to Jenson about how he felt about hints he might be getting his results via an advantage with the car or tactics.
"I don't even want to go down the avenue of talking about that because it's so far from the situation in our team," Button said, half laughing.
It was a laugh which said, 'listen, you have no idea what I've just done and how chuffed I am to pull it off against the run of play'.

"I had to push so hard in that second stint on heavy fuel," he explained. "The car was moving around quite a lot at the back and it took me a while to find my feet. Shov (race engineer Andy Shovlin) was on the radio telling me I had to put in the laps.
"The closer and closer it got to Rubens' second stop they were telling me that he had a three second advantage and I had to keep on pushing."
It meant an aggressive, sliding, untidy style which is the complete opposite of Button's normal silky-smooth style. It was how you got a lap time out of the Brawn at Barcelona.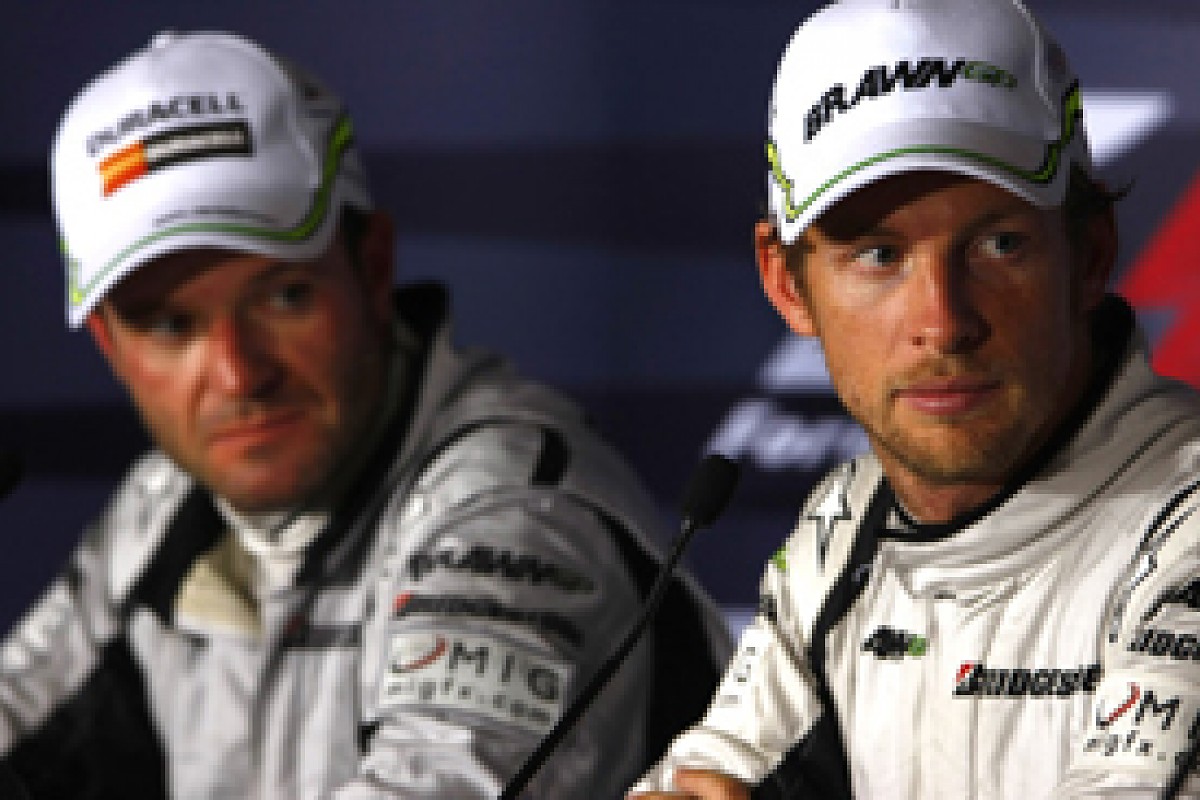 Jenson Button at speed in Spain © LAT
"Every lap was flat out and I've never driven in that style before. I damaged the tyres quite a bit but I could still get the lap time out of the car. That's the good thing about it. You can be aggressive and it doesn't seem to eat up its tyres. I had to take that approach for this race and it made the difference.
"Rubens had his understeer problems on his third set of tyres and when I got onto the prime tyre I could still get a reasonable lap time out of them, which most people couldn't. Lots of little factors all came together and I crossed the line first in a race where I really didn't think I was going to."
Earlier in the weekend Jenson had readily acknowledged that Rubens was quicker, that he'd taken some of his set-up and studied his data. All you had to do to know it was a proper race was to look at the faces on the opposite sides of the Brawn garage. This one belonged to Rubens and Jenson had nicked it. Sport at its finest.