The Spanish Grand Prix was always going to be a watershed in the 2009 Formula 1 World Championship. The rapid-fire nature of the opening four races - which took place over just five weekends - meant that teams had little time to make big changes to their cars.
As a result, the competitive pattern was largely unchanged, with Jenson Button and Brawn winning three out of four races, albeit with increasing difficulty, and Red Bull and Toyota leading the challenge.
Right now, Button leads the championship by a handy 12 points from team-mate Rubens Barrichello, with Brawn not far off having twice as many points as its nearest constructors' championship challenger, Red Bull.
The Spanish Grand Prix will give us the clearest indication yet whether Button will be world champion 13 races down the line.
Every team on the grid, from Brawn down to stragglers Force India and Ferrari will be introducing a raft of development parts for the Spanish Grand Prix. For Brawn, the aim is simple - it wants to maintain a competitive advantage that has looked shaky in the past two races.
It's a similar story for Red Bull and Toyota. Both teams have found their way to the front this season and will being trying out plenty of new aero parts in Friday's free practice. So too Williams, which is hoping that its new aero bits will allow it to maintain its place in the competitive order.
For the rest, it's all about closing the gap. If the likes of Ferrari, McLaren, BMW-Sauber and Renault aren't able to break free of the midfield and get in among the Brawns, Red Bulls and Toyotas on pure pace, time will be running out.
Several of them will have diffuser developments that will improve rear-end grip that will definitely be worth time. The real question in Spain is, will it be enough.
Talking points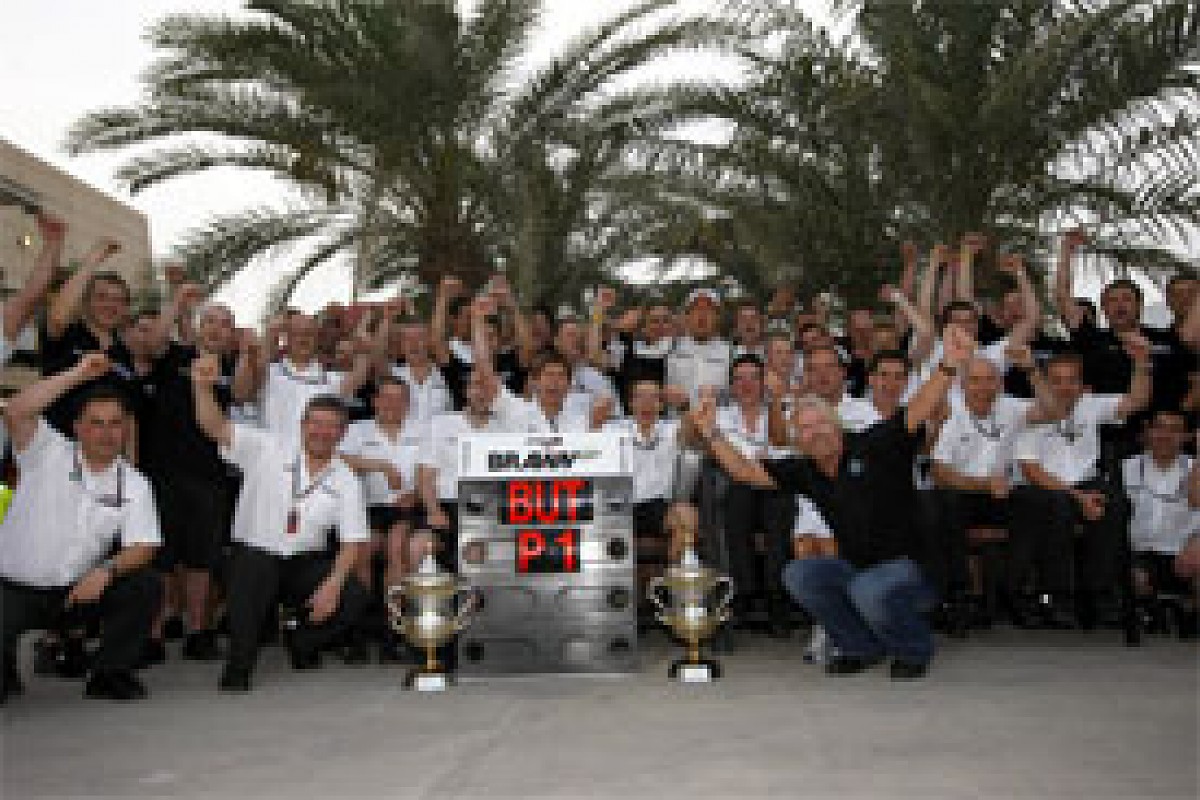 Jenson Button and Brawn GP celebrate victory in the Grand Prix of Bahrain © LAT
1. Can Brawn stay ahead?
Brawn has a significantly revised aero package coming on stream for Barcelona, including a major redesign of its sidepods. Originally designed for the Honda powerplant, the cooling requirements of the Mercedes V8 are less extreme, which allows more compact sidepods to be incorporated. Brawn reckons this alone could be worth 0.3s, and that's only one part of the aero change.
2. Ferrari back on track?
Let's get this straight, the Ferraris have not been completely uncompetitive this year. Three points is a poor return for the car which should be a rock-solid points contender every race. The Scuderia has a comprehensive development package for Spain, which will include its first iteration of the double-decker diffuser. With a weight saving also in the car, this will add up to a performance gain. But of how much? And has reliability improved?
3. Will McLaren keep progressing?
After only scraping into the top 15 in qualifying in Melbourne, McLaren made rapid progress over the opening four races to the point where it emerged best of the rest behind the three diffuser gang teams and Red Bull. It doesn't have as comprehensive an update package as some - favouring constant introduction of new parts on a race-by-race basis, but will have a new front wing and floor. Its problems have largely been aero, so a heavily aero-dependent track like Barcelona will give a fair indication of just how much ground it has clawed back.
4. BMW back on song?
BMW-Sauber's performance in the past two grands prix has been disastrous for a team that harbours title aspirations. It too has a major aero package, although it will not have a double-decker diffuser until at least the Monaco Grand Prix. It's reckoned to be worth half-a-second, which could haul it back into Q3 contention, but even that would be barely enough to convince anyone that the German marque is able to become a race winner.
5. Toyota's strategy nightmare?
Things were looking good for the only team on the F1 grid never to have won a grand prix in any of its incarnations, with Timo Glock and Jarno Trulli leading the first part of the race. Then they bolted on the slower prime tyres and embarked on a long middle stint that turned a potential 1-2 into third and seventh. The car has the pace and should stay up there with new front and rear wings, but needs to be operationally sharper to turn that into a long-awaited win.
Key factors
1. Tyre treatment
Barcelona can be pretty hard on tyres - it was here in the pre-season that Brawn's incredible long-run pace first showed up. With medium and hard tyres available, the cars with the most downforce and the best balance should gain more of an advantage than usual.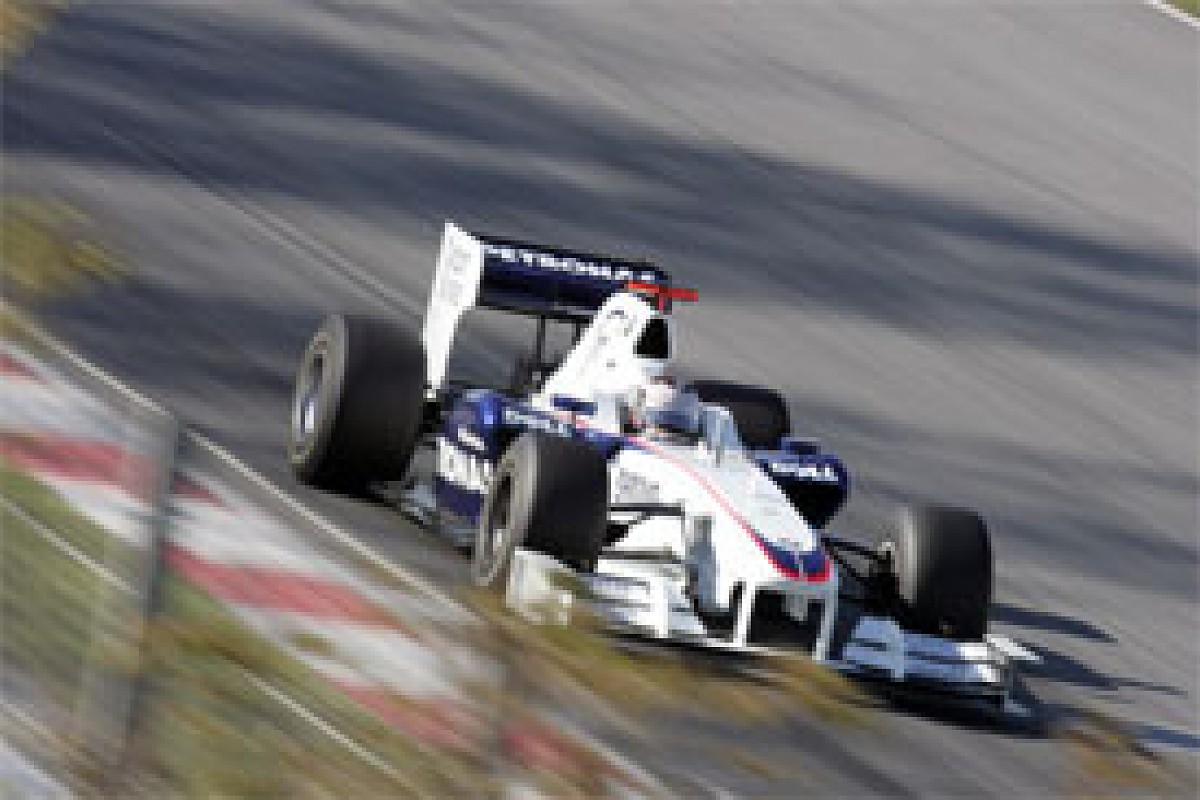 Christian Klien tests the BMW Sauber F1.09 at Barcelona © LAT
2. Aero acid test
There's a very good reason why Barcelona is such a popular testing venue - and it's nothing to do with the night-life in the Catalan capital. It's a great test of the aerodynamic characteristics of you car, so will offer arguably the best indication of the true competitive order we've seen in 2009. Plus the chicane at the end of the lap means that mechanical grip is important too.
3. Overtaking improvement
Barcelona + Formula 1 = processional racing. That has been the formula for most of the 18 grands prix at the track. But there's every sign that things might improve this year. Cars can run closer under the aero regs, so perhaps there's scope for more of the Nigel Mansell v Ayrton Senna wheel-to-wheel action that was the highlight of the inaugural race there.
Strategy
It should be a relatively straight two-stopper for most, although some of the under-achievers in qualifying might try running longer first stints to make up some ground.
Event history
The Spanish Grand Prix is one of the oldest in the world and can track its history back to 1913. It was held intermittently in the pre-war years, with several great drivers winning including Robert Benoist in 1927, Louis Chiron in 1928-1929 and 1933 and Rudolf Caracciola for the Silver Arrows in the 1935.
The race first appeared on the world championship calendar back in 1951, when Alfa Romeo driver Juan Manuel Fangio won on the Pedralbes track on the streets of Barcelona. F1 returned in 1954, this time with Mike Hawthorn winning for Ferrari, but the track's days were numbered.
It wasn't until 1968 that the Spanish Grand Prix returned, with Jarama gaining a place on that season's world championship calendar after a successful non-championship race a year earlier. From 1968-1975, Jarama and Montjuich Park, located around what became the main stadium for the Barcelona Olympics of 1992, alternated the event.
Montjuich's days as a grand prix venue ended after the 1975 event, during which a row over barriers clouded practice. In an incident-packed race, Rolf Stommelen had climbed into the lead when a rear wing failure pitched him into the barrier. He rebounded, flying over the barrier on the opposite side of the track, killing four people. Jochen Mass was declared the winner in a shortened race, his sole grand prix victory.

From 1976-1981, Jarama was a regular on the calendar, although the 1980 race, won by Alan Jones, was retrospectively stripped of championship status. In 1981, it was the scene of one of the most remarkable grand prix victories, with Gilles Villeneuve holding off a string of chasers after taking the lead when Jones went off.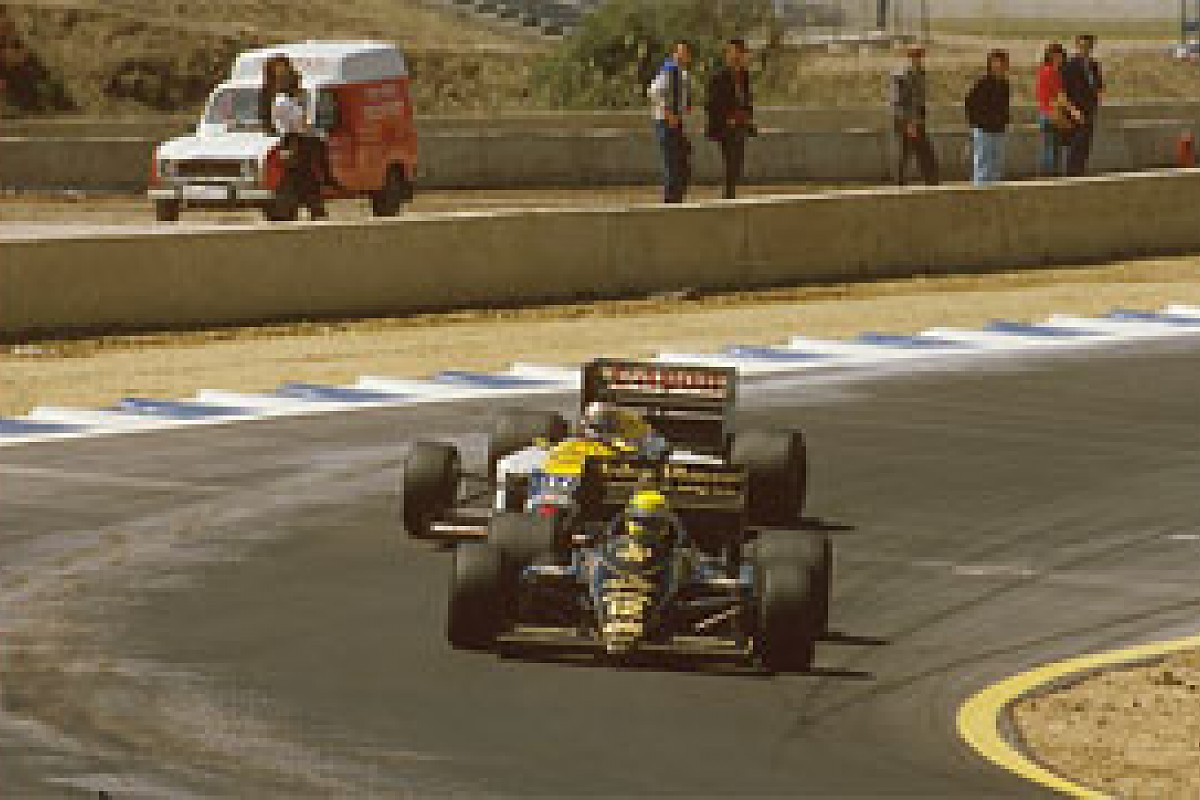 Ayrton Senna (Lotus 98T Renault) battles Nigel Mansell (Williams FW11 Honda) for the lead in the final corner of the 1986 Spanish Grand Prix at Jerez © LAT
After four years off the calendar, the Spanish Grand Prix returned with Jerez, not far from Seville, taking over the event. That year, Ayrton Senna held off Nigel Mansell to win by just 0.014s, although the Briton made up for it a year later by winning. Jerez held its last Spanish Grand Prix in 1990, although it returned to host the European Grand Prix in 1994 and 1997.
For 1991, the race moved to the new Circuit de Catalunya just outside Barcelona. Mansell also won that race after a duel with Senna, the first of four consecutive Williams wins.
Michael Schumacher put in two of his legendary drives in the mid-1990s at the track. In 1994, he became stuck in fifth gear while leading and still finished second to Damon Hill. Two years later, he claimed his first win for Ferrari in wet conditions.
Mika Hakkinen was the king of Barcelona from 1998-2001, although he was denied victory in the final of those four seasons when he suffered a hydraulic failure on the last lap. That handed victory to Michael Schumacher, won also won the following three races.
Fernando Alonso became the first Spaniard to win his home race in 2006, while over the last two years it has been Ferrari territory, with Felipe Massa and Kimi Raikkonen sharing the wins.
Such is the popularity of F1 in Spain since the rise of Alonso, the Spanish Grand Prix is one of two world championship rounds in the country. Last year, the Valencia street circuit became Spain's sixth venue in history, with Ferrari's Felipe Massa keeping up the Scuderia's domination in Spain.
To continue reading this feature, subscribe to Autosport Plus today.
Expert opinion. Technical insight. Unbeatable analysis. Subscribe today for unlimited access to the world's best motorsport journalism.
Get unlimited access now
No more monthly limits. Get complete access to all our news and Autosport Plus features.
Subscribe to Autosport Plus
Completely ad-free environment.
Access Autosport Plus - the best motorsport analysis, insight and opinion.
No monthly news limit.
Explore Forix, the world's most comprehensive motorsport stats database.