Watching the early laps of the Australian Grand Prix, as Jenson Button made his escape from Sebastian Vettel, a thought popped into my head. This race was about Ross Brawn's team against Adrian Newey's car. In other words, it was exactly the same as 10 years earlier - except that both men had since changed camps. Having found their feet in their new jobs, they now seemed to be earning every penny of the salaries that had tempted them on board.
Three races into the season and the signs are that it could really be a Brawn/Newey year. The rest cannot be discounted, but they still have a lot of catching up to do - and they're chasing a moving target. Having said that, these first few races have been a little hard to judge properly, thanks to rain and safety cars stirring things up.
It's interesting to note that Shanghai was far from the first time in recent years that a team has scored its maiden win in the wet, and with both cars to the fore. It happened with Jordan at Spa in 1998 (a 1-2), with RBR's forerunner Stewart at the Nurburgring in 1999 (first and third) and with BAR in Hungary in 2006 (first and fourth).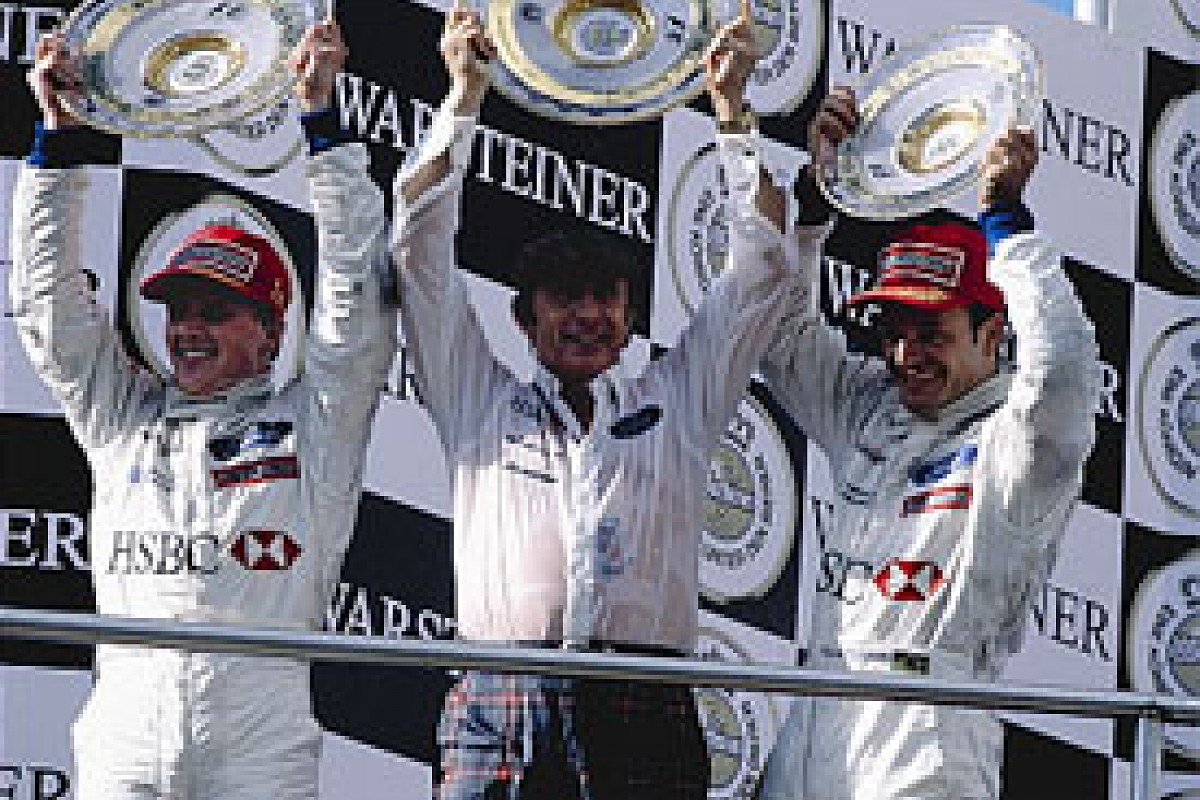 Johnny Herbert, Jackie Stewart, and Rubens Barrichello on the podium of the 1999 European Grand Prix at the Nurburgring © LAT
In both the latter cases, the second driver was Rubens Barrichello and with a different strategy he would have been closer to his team-mate. And at Monza last year, Sebastian Vettel scored Toro Rosso's first win in the rain. Had he not been left behind on the formation lap, his team-mate Sebastien Bourdais might have got a decent result as well.
The point is that in the wet a driver needs to have the right package under him - just look at acknowledged rainmaster Lewis Hamilton's struggles in China - and Vettel certainly had that. But he still had to get the job done and the whole weekend was another demonstration of his prodigious talent.
It was very apparent in qualifying, where he mentally dialled out all the driveshaft problems and put in awesome last-minute single runs in both the second and third sessions. This was real pressure and yet he responded magnificently. The fuel load was favourable of course, but it was a truly impressive effort.
Rain was expected for Sunday from several days ahead. There's an established theory that it's good to start with a heavy fuel load and give yourself maximum flexibility on strategy. But, as Vettel proved at Monza, there is no substitute for using a lighter load to help you start at the front - as long as you can clear off into the distance.
So once again he was handed an ideal situation, but he had to make the most of it. While there are advantages of being in front and not in anyone's spray, you don't have anyone else's wheel tracks to drive in either, and you're the first one to have to judge conditions that are changing with every lap.
The safety car eradicated much of the advantage of anyone with an ultra-light load, and of those Renault and Fernando Alonso blinked first and came in for more fuel at just the wrong time. It was a disastrous decision, although obviously the team weren't to know that the FIA would call the safety car in within seconds of Fernando heading down the pitlane and rejoining at the back.
When it did finally go green, Vettel had just seven flying laps in which to make the most of his strategy. He remained three seconds clear of Webber, who pitted on lap 14 (despite being marginally heavier in qualifying) and when Vettel came a lap later he'd extended his advantage over Jenson Button to 13s, and to 23s over a brake-troubled Barrichello. In just seven flying laps.
Clearly the RB5 package was working to perfection in the wet, just as the STR3 was so effective at Monza. Button gave an insight into just how good it looked from where he was sitting.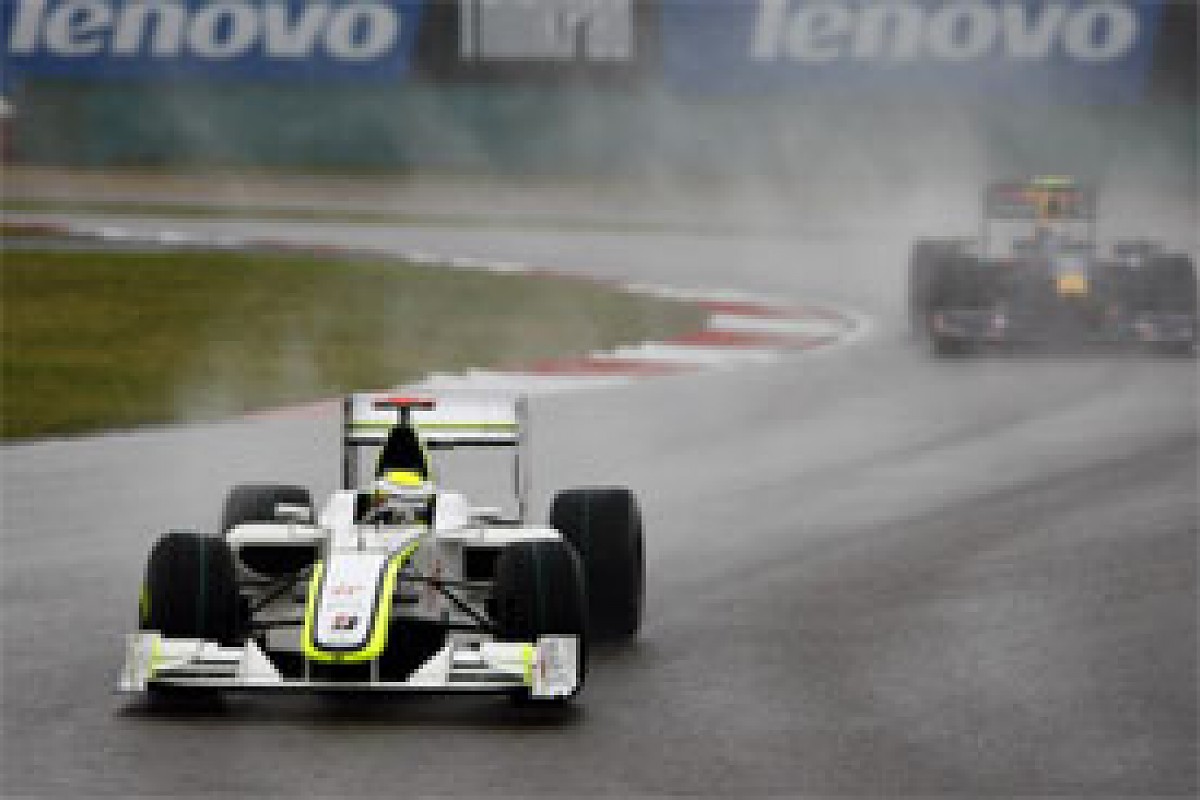 Jenson Button leads Sebastian Vettel © LAT
"In the dry I think we would have been a lot more competitive," explained the championship leader. "But in the wet we don't have the pace of Red Bull - you can see it in high-speed corners. When I was behind them - not for long because they disappeared quite quickly - they can keep a really tight line around the high-speed corners.
"We turn in and we end up on the outside of the corner. It just feels that we're not going through the water, it feels as though we're just floating across the surface of it. That's something that we need to look at. Maybe we're just running the cars too low at the front and that's causing an issue. But it's costing as quite a bit of time."
Vettel had the ideal tool for the job then, but it wasn't just a question of steering the thing round. This was one of those rare races where the cars ran throughout on extreme wets (everyone except Nico Rosberg that is!), and on every lap there were multiple chances for things to go wrong. Don't forget, it ran for just a couple of minutes less than two hours and, as several drivers showed - and Vettel himself demonstrated in Fuji in 2007 - even those laps behind the safety car required utmost concentration. But fortune was smiling on him, not least when he survived an assault from Sebastien Buemi without incurring any harm.
"It was a very difficult race, a very long race," said Vettel. "We did 56 laps but in terms of time, I don't know how long it took. It was extremely difficult, because there was a lot of water - some standing water, some rivers, even some lakes. Cars were going off, the team was telling me by radio 'be careful, be careful'. So I had all the time a warning.
"I had a lot of moments with aquaplaning where the car just started to slide and I was hoping the tyres would stick again. Fortunately with all these moments, I had back the control of the car a bit later, so I'm extremely happy.
"Ten laps to go I thought 'ok, I have a big gap, so it should be no problem', but then I tried to forget and focus on every single corner, because there was so much water on the circuit. It was extremely difficult. I was basically continuing to push. I could see the gaps to the guys behind and at the end I'm very happy to have won."
Afterwards he was asked if he could compare himself with that other rainmaster, Michael Schumacher: "I think he was outstanding, no matter if it was wet or dry, he had an awful long career. Comparing anyone to Michael is a bit over the top. I think I keep my feet on the ground. I like driving in the wet. Both times now I've won the grand prix when it was wet."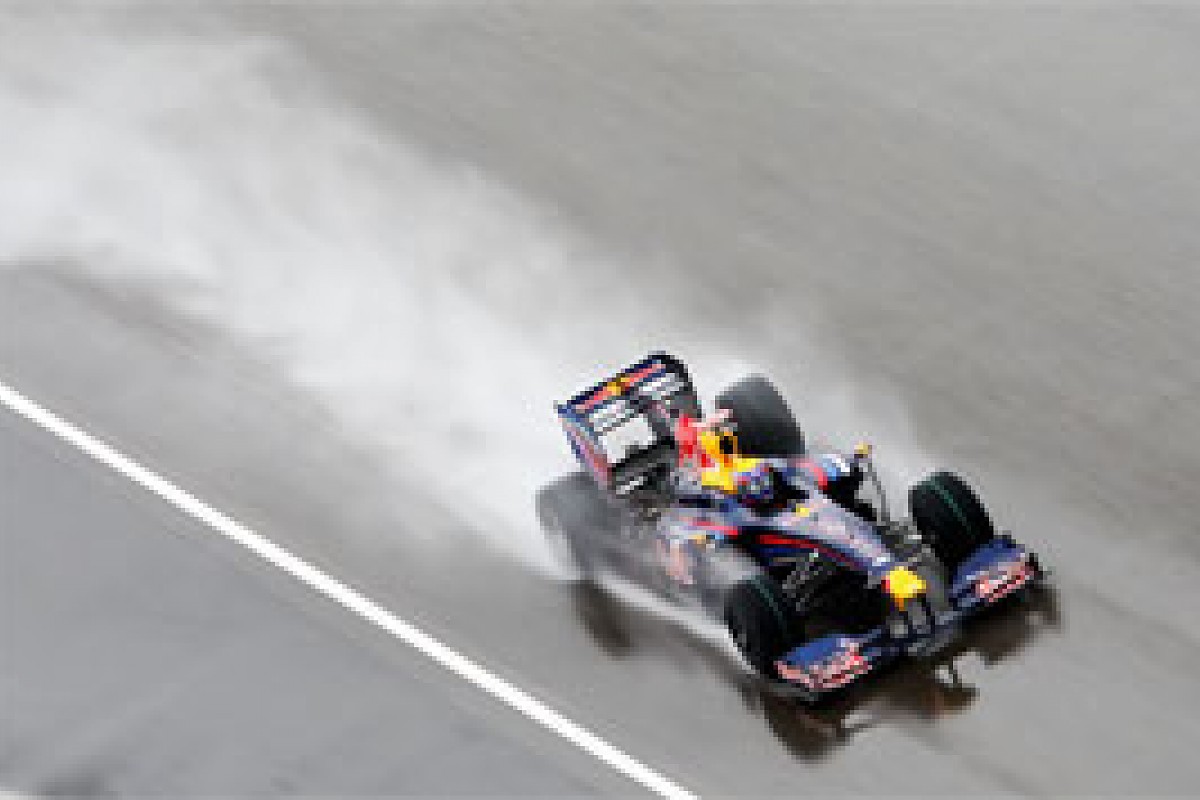 Mark Webber © Red Bull
It was a pretty good effort too from Mark Webber. Not many people fully appreciated how competitive he was in Malaysia in the rain. Had the red flag arrived a couple of laps later, he could very well have finished second. And had there been a restart, he had at least some chance of overhauling Button.
In China, his chance of staying on terms with his team-mate was spoiled when Button got ahead during the safety car sequence, so Webber was stuck behind him at the restart. By the time he got through, Vettel was 10s up the road. Funnily enough, at the flag 24 laps later the gap was still 10s, although obviously the German had paced himself.
"They were challenging conditions," Webber said. "Sebastian had a nice clear run at it, but he drove a very good race. Second was the next best thing I could do.
"He drove a fantastic race, together we were pushing each other at times. It's never easy in the rain to try and close the gap, and after the safety car Jenson was ahead.
"That was a great opportunity for Sebastian to escape. But for Red Bull today it's absolutely incredible. We had problems with the driveshaft coming into the race, and to score a 1-2... today Red Bull was unbeatable. Sebastian and I hit each other in these conditions a few years ago and got no results, today there were also Red Bulls hitting each other a little bit.
"In these conditions we seem strong. We've still got work to do in the dry. Jarno was very fast in qualifying yesterday, as were the Brawns, so we have work to do."
Can he finally sense that first victory, I asked?
"Of course. We've got a strong season ahead of us. When you finish second fair and square, that's what I like. Today, we deserved second. One more position to go."
The team certainly deserves credit, not just for producing what is clearly a superb car, but for successfully managing the race weekend. It's not easy to get everything right when you're not used to running at the sharp end, but they did.
Then there was the panic over the driveshaft boots, resolved by borrowing spares from Toro Rosso, a highly unusual situation. Under parc ferme rules of course teams can only replace damage or suspect parts with identical ones, and team boss Christian Horner insisted that was the case, and that they'd come out of the same mould. It's ironic that not so long ago the two teams used to tell us that everything was different in order to take the heat off the customer car controversy.
Horner also deserves a lot of credit for putting all the pieces in place and being the oasis of calm at the centre of a team that has occasionally been sent off kilter by Austrian politics.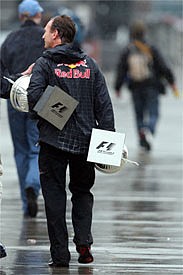 Christian Horner © XPB
"I had a funny feeling coming here," he told AUTOSPORT. "I said to both the drivers if we really attack this weekend, I think we can win it. It really came together for us, the car performed brilliantly, teamwork was excellent, and the drivers' performance was exemplary. We were very close in Melbourne to Button, but things didn't go our way there. In Malaysia we should have been on the podium. For it all to come right today, with the 1-2, was just a fantastic result.
"We had a scare on Saturday morning and then going into qualifying. Basically the driveshaft boot on Sebastian's car failed on his first run in Q1, rather than looking clever, we were actually conserving the car by only doing one lap in Q2 and Q3. We had some concerns for the race, but also confusion. It's a component that we've run for 6500kms, so we can only think that we had a batch problem.
"In fairness to the boy, he just did an unbelievable job in difficult conditions. It was the perfect team result. They knew that the strategy we were on was reliant on really making the most of the clear air that they had. And both of them delivered. Both of them outperformed Jenson and Rubens. I think it would have been a lot harder in the dry, but from what we saw in Q2 in outright pace and so on, we could have taken the fight to them.
"I think with about 10 laps to go we just gave both drivers the times that the Brawns were doing. Mark wasn't going to catch Sebastian, there was a big gap between them, they just drove to a pace that they were safe within the conditions."
The team will have to work harder than most to get decent returns from a double diffuser route, thanks to its gearbox/suspension layout, but there has to be extra speed in it. Nobody would have thought it a few weeks ago, but Red Bull has now to be considered a genuine title contender.
"Now obviously the expectations rise, but I don't think it's unreasonable at all. We've got a good car, but we know that McLaren and Ferrari aren't sleeping dogs, they're going to come back with a vengeance. We've got some great competitors out there - BMW, Toyota, Williams - and they're not going to stand still. We just have to keep pushing, keep getting as much performance as we can."
Just imagine what would have happened if Vettel hadn't got involved with Kubica in Australia. He would have been at least third there, and gone to Malaysia without a 10-place penalty - where he had a very good chance of being on the podium with or without the rain. That collision could prove even more expensive than appeared at the time.