Amid all the fuss about the Lewis Hamilton affair, it's easy to overlook the fact that there was a victim in the form of Jarno Trulli, who immediately after the Australian Grand Prix had found himself robbed of third place.
It was a hard-earned one too, since Toyota's controversial wing arrangement forced both the Italian and team-mate Timo Glock to start from the pit lane. Having used up the less favoured supersoft tyres in a short opening stint, Jarno took advantage of his early first stop and the first safety car situation to jump up the order.
The Vettel/Kubica crash promoted him to third, but just after the second safety car appeared he made a silly error when he slid off at the penultimate corner (curiously, team-mate Timo Glock also did exactly the same) and Hamilton passed him.
It was of course that initial mistake that led to the post-race drama. Jarno was kicking himself for losing third when the McLaren appeared to move over and let him back through. It seemed an innocent enough manoeuvre at the time, until Lewis insisted that he hadn't voluntarily let the Toyota past.
Losing any position after a race is bad enough, but when you've been part of the podium celebrations, it's really painful. That Sunday night in Melbourne Trulli had good reason to think that the world was weighing heavily on his shoulders.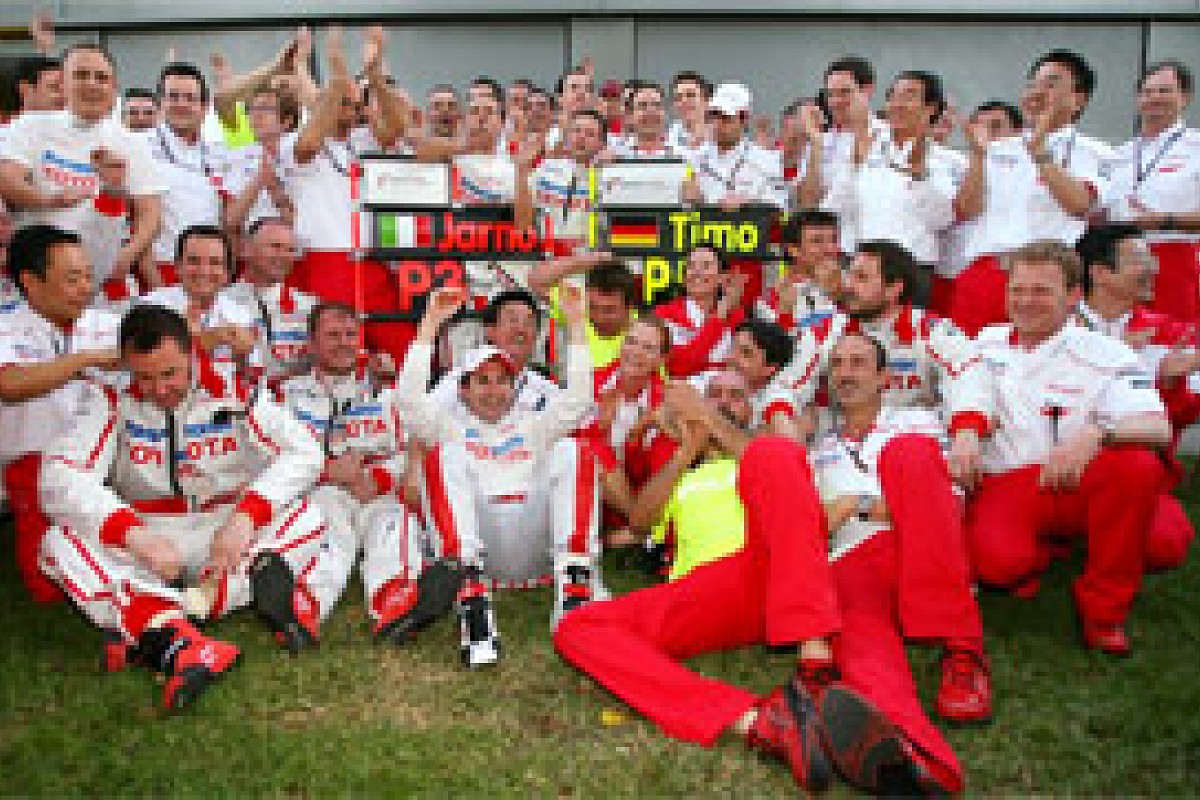 Toyota celebrate their podium in Melbourne © XPB
"It's very difficult to describe the feeling," he says. "I would say I was angry inside, very angry, because I couldn't believe what was going on. On the other hand, I just thought that's the way F1 is, even though I don't, let's say, share this kind of feeling. I would like to live in a fair world, no matter if it's F1 or in normal life.
"I felt something was not fair with me. It was difficult to accept as well, because from my point of view it was so clear, so obvious, but people couldn't see it. In fact, after the race I didn't even comment on it, really nothing.
"I don't want to really talk about the others, because we cannot know what happened there, no one knows what happened in that room. Someone has lied, but I don't know who and I don't know why. Honestly, there was nothing to lie about in there. If everyone had said the truth, as it should be, the case would have been solved straight away, without any problems.
"When I left the circuit on Sunday night, my initial problem was why do I have to look so stupid in front of people when I haven't done anything wrong? I knew that I couldn't overtake under yellow flags. But even if I'm telling the truth people will think, yeah but... maybe. And this I didn't like. When I make a mistake, I make a mistake. I accept it."
Jarno says he is well aware of the hazards of getting it wrong behind the safety car, and he was penalised at the German GP nine years ago, while driving for Jordan.
"A problem like this happened to me and I paid for it with a result. I remember very clearly Hockenheim in 2000, I was basically third the entire race. The safety car came out because one crazy person came in the middle of the circuit. [Rubens] Barrichello was in front of me because he didn't stop yet, he pitted right when the safety car slowed us down. We got through behind the safety car and Barrichello came out of the pits right next to me. The result was that I was third and he was fourth, but I got a stop and go. From that time on, Charlie [Whiting] changed the rules.
"The other thing was two years ago in Japan, the race that was really, really wet in the beginning. While I was warming up the tyres behind the safety car, I made a mistake and had a spin. We were all queuing up and two cars overtook me. In that particular occasion I stayed behind the other cars and I didn't get the positions back. There was a strong communication between me and the team just to make sure that I couldn't get my position back. I knew exactly the rules."
Although Toyota went through the motions of filing an appeal on the Sunday night in Australia, Jarno knew that nothing would change. In normal circumstances the 25-second penalty could not be rescinded.
"I knew straight away that there was nothing they could do, so for me the result was gone. Once again I was doing something great and once again it was taken away by a mistake or bad luck, I couldn't believe it! But because I have had so many of these things in my career, so many times bad luck, I'm kind of used to it. All I do is re-set and go ahead for the next race. I think it will be better."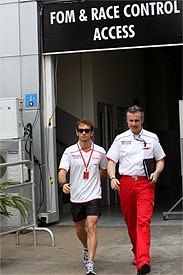 Jarno Trulli leaves the stewards meeting at Sepang © XPB
After the race, Jarno had three days to relax and attempt to clear his head. Then in Malaysia on Thursday morning he got a call from the team. The case had been re-opened and he was required to provide his evidence once again.
"When I woke on Thursday, the team called me and said 'you had probably better come as soon as possible, the FIA people want to listen to you'. I couldn't believe it. What's going on? I could never, ever believe that they will listen to us again, in order to make the situation clear. Normally the FIA doesn't do that. Once they've taken a decision, they don't normally come back.
"So in my head there was nothing else to do, for me that was it, finished. I was just trying to get this unfortunate episode out of my head. I was thinking 'why do they want to listen to us again?' I had said all I had to say.
"I was thinking it was very strange that they want to listen to us again. Maybe they want to investigate more. I had nothing else to do and nothing to lose, but still in my head, I promise you, I didn't have any faith in that. Ok I'll go, but it's not going to change my life."
Jarno's role was basically just to repeat what he'd said in Melbourne, in essence to help get replacement third steward Surinder Thatthi up to speed.
"I just tried to explain again exactly what happened. For me it was just like a movie, I knew exactly what happened there and I can tell you exactly again. We just went through it again, nothing else."
However, the team did have some supplementary evidence in the form of telemetry that showed how slow he was going when he passed Hamilton, relative to the previous and subsequent laps.
"We tried to supply them some extra evidence in Melbourne, but probably they were too busy, or it was too late, and nobody paid too much attention. Once they decided to re-open the case, we went there again with some further evidence. We compared four laps; a standard lap, the first lap through that corner with the safety car deployed, the lap when it happened between me and Hamilton, and the next lap again when we went through there behind the safety car.
"Looking at the data, it's so clear. Normally through that corner, I think around 250km/h was the speed. Then the second lap was when I came through that accident and the safety car was deployed. I think it was around 210-220km/h. The next lap was the overtaking between me and Lewis. The slowest speed near that point was 81km/h. That was when I was next to him, because he slowed down and I slowed down.
"The next lap behind the safety car, the speed was around 120km/h. So it shows that during that lap with Lewis we were particularly slow, for whatever reason. Somehow for me it was so obvious and the team also agreed with me."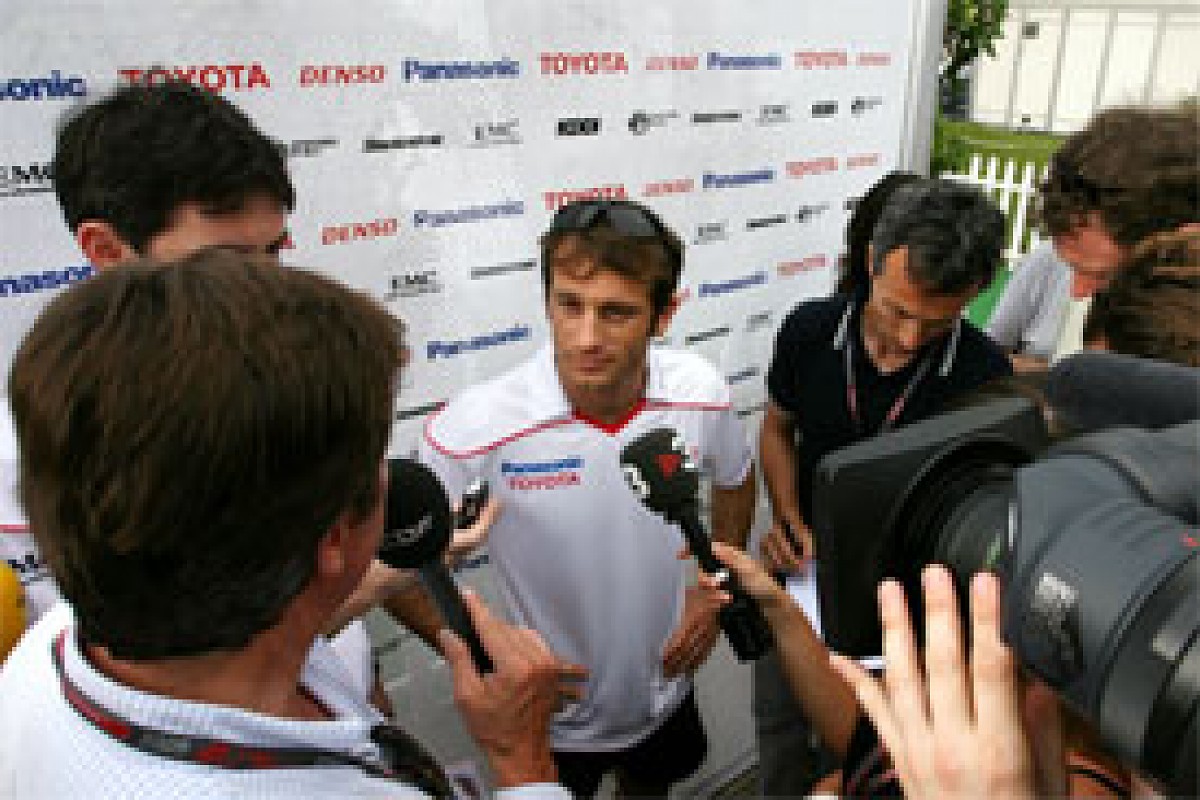 Jarno Trulli speaks to the media after regaining his 3rd place © XPB
So too, at the second attempt, did the stewards. Later that afternoon, they confirmed that he had got his third place back.
"In fact my feeling is that the FIA took such a strong decision because they felt that someone was taking a joke of them at the end of the day and they want to show to everyone that the FIA is just like a judge. Go in front of the judge and you have to be honest and tell the truth. You might get away with it once, but it's better not to do it. You take a lot of risk. This is what happened, basically."
Trulli insists that he holds no grudge against Hamilton, nor the McLaren team, for what happened, despite the fact that initially he was made to look a bit silly for apparently making such a basic error.
"I think it was a very, very unfortunate circumstance for both of us. I personally don't know who had lied and why he had lied. In my opinion, there was no interest there to lie. Really, no interest. But someone has really misjudged the rules.
"Personally I'm not here to blame anyone. The problem is on that particular occasion I looked stupid and I haven't done anything wrong. I'm not the kind of person who thinks about revenge or anything, I get on with everyone. I use a sentence like live and let everybody live.
"It was great that once they announced the decision of giving the position back, afterwards I was doing some interviews with some journalists, and two of the stewards walked straight up the paddock to find me and shake my hand to say you deserve it, because you have been honest - in front of all the press. This was really appreciated by me.
"That's why I say in that particular case I believe that the FIA has shown good common sense and a lot of strength, re-opening a case that was basically closed. They felt and they smelled that something was wrong, they were good enough to do it. This pays a lot of credit to the FIA, after so much trouble in the first race with so many problems."
A driver praising the FIA? That doesn't happen very often.