Hey, I'm back. Or at least I was. Just for a little while.
And now I remember why I liked coming to the rallies - it was so I could have journalists asking me questions all of the time! And now AUTOSPORT have asked me to write a column for their website. It's always something with those guys...
Marcus Gronholm and Timo Rautiainen in a Prodrive Subaru on Rally Portugal © LAT
So, that was Portugal. My first rally back. I enjoyed it you know. Okay, not all of it, but on Friday the feeling was quite nice. I was back in the fight again.
I didn't know too much about what to expect from the Subaru. I hadn't done so much testing, but the car felt good. I had heard a lot of blah, blah, blah about the car, but actually it was not so much blah, blah, blah!
Actually, as we came towards the rally, the car felt a lot better than my head did. I had been sick for a while and still didn't feel so good, my sinuses felt like shit. And not feelng 100 per cent on the rally was annoying. The same thing happened when I was supposed to do a ski marathon near my home a while ago. I trained for five months - and felt in the best shape ever - and then I got sick four days before the start. I was very pissed off.
The Ford I used to drive was a little bit different to the Subaru. The Impreza's engine was something I had to get used to. With the Focus, the torque was there all of the time, you didn't have to change gear so much. But in the Subaru, the engine is more aggressive, you have to be on top of the motor and drive it hard. You know: parp, parp parp, all of the time. It was a bit of a problem for me to remember to shift the gears all of the time.
The suspension on the Subaru is not 100 per cent. When you turn in, it moves and then moves again. It is something I am sure could be sorted out with more testing and more time in the car. But I didn't want to start getting into that kind of thing in Portugal - you know a [suspension] click here or there.
It was good to get back into the World Rally Championship. There was some chance that I could have done more this year. There were some talks with Subaru and the whole season had been talked about. It took a lot of talking to get me to come to Portugal. I guess, in the end, I was just too weak to say no. I wouldn't say that my life has been quiet without the WRC, we have some work at home and I'm busy with that, but the fight and the adrenaline was missing.
Could I do a full season again? I don't know. Maybe I would be too weak again if a manufacturer came up with something. And, hey, don't forget, it's not just me that would have to make this decision; my wife said it was okay for me to come and do this rally, but I don't know about any more.
The times on the first day of the rally were quite good. Okay, we had a good place on the road, being a bit further back, but I was happy. I think we could have led the rally. But then, we thought we should drop some time in the last stage and run fourth on day two. Timo [Rautiainen, co-driver] told me to slow down at the yellow board.
He thought it was 100 metres to the flying finish, so we could cruise over the line and drop a few seconds. But then at the yellow board, I was looking. "Hey, where is finish line?" I shouted. "Shit! It's 300 metres, not 100! Where is is?" We had to drive like crazy again. We lost more time. We were trying to do some maths on our fingers while we were in the stage - this was not so clever.
It was also not so clever to roll the next morning. It was stupid, stupid. We were in a narrow section, there was a bump and I saw the tree coming, but I thought: "Okay, we might just squeeze through there. I think we've got away with this..."
Bang.
We hit the tree with the back of the car and that sent us into a roll. We landed on our wheels, but we were in some field. I couldn't find the road out, but this guy eventually showed me the way. We dropped 90s messing around like this. Otherwise, the roll wouldn't have been bad for the time. We did about another five kilometres before some lights came on on the dashboard, so we switched the engine off.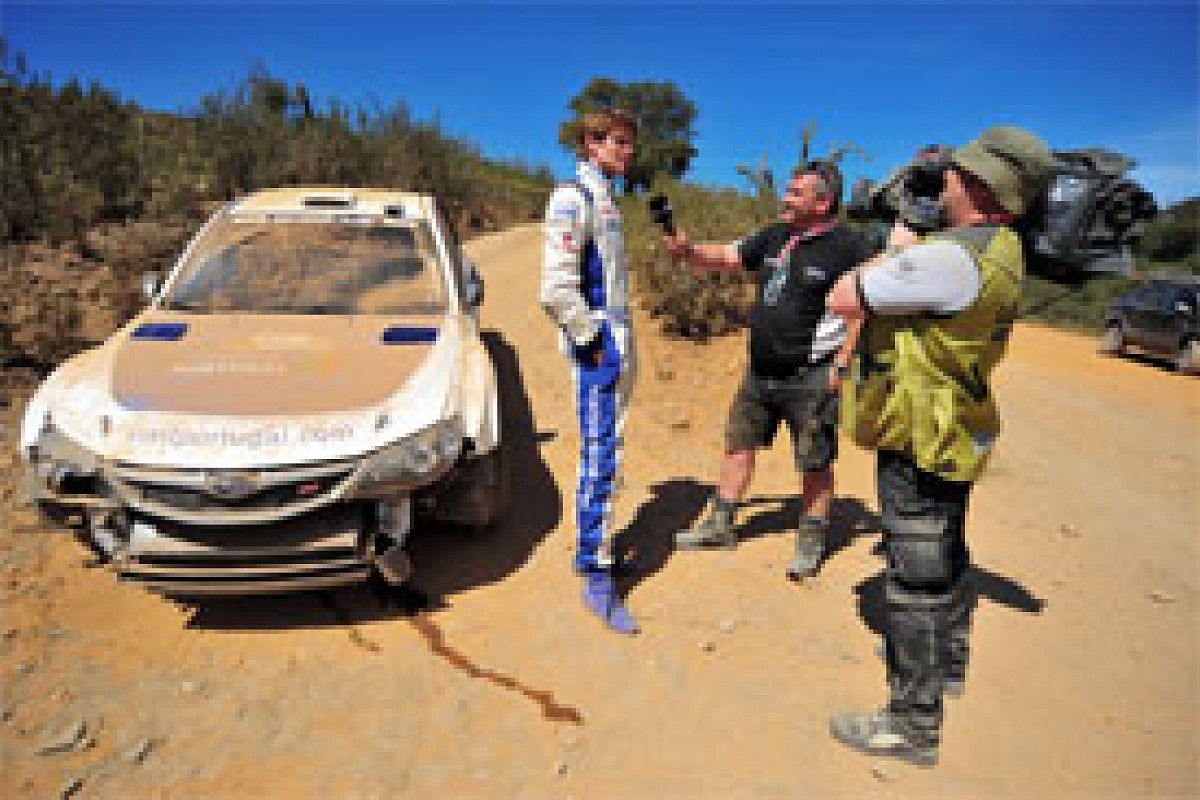 Marcus Gronholm speaks to the media after his latest accident © LAT
What is it about me and rolling cars? I think it must be 50 or 60 times now, or something like that. Even last year, when I was doing the rallycross, I still managed to roll. Hey, that was a quick roll. When we were upside down, I said to Timo: "What the f**k are we doing here again?"
So, now I don't know what we will do next. There is some talk about the Azores Rally. There has been some contact about that, but nothing is sure. I don't know. And then people keep asking me about something which is happening in Finland in August... I don't know what that's all about! AUTOSPORT tell me I could win in Finland, but what do they know?
People were also asking me if I thought I could beat Sebasien [Loeb]. I really don't think I had him scared. I don't think anything scares him. To come from my sofa to the stages, it was always going to be really tough to beat him. But somebody has to.
The WRC is having a tough time now, but I'm sure it can be good again. For me, I am planning something with Andreas Eriksson, the guy I did rallycross with last year. But, I'm not going to tell you what it is. That's enough answers for now. But I will tell you soon.