Practice one - Friday am
Brawn looked set to pick up where it left off in the Australian Grand Prix by taking first and second in opening practice at Sepang.
Nico Rosberg was fastest again throughout practice © LAT
But instead, a late charge from Williams helped Nico Rosberg and Kazuki Nakajima to repeat their Melbourne opening practice 1-2, ahead of Jenson Button and Rubens Barrichello.
The Ferraris were next up, despite Kimi Raikkonen parking his car with a small on-board fire after a short circuit in its KERS device.
Amid the furore over his misleading of the Australian GP stewards, Lewis Hamilton gave McLaren some encouragement with seventh.
Raikkonen's drama aside, the only significant incident of the session was Nelson Piquet having an excursion due to a wheel problem.
Practice two - Friday pm
Ferrari surged to the front in second practice. Raikkonen again had some issues with his KERS, but it did not stop him topping the session with a 1m35.707s lap, 0.125s ahead of team-mate Felipe Massa.
Sebastian Vettel had another good run for Red Bull to take third, with his team-mate Mark Webber fifth behind Rosberg, and the Brawns only sixth and seventh, prompting Button to suggest that the competition was catching up.
Giancarlo Fisichella became the first man to hit the barriers this weekend, going off at Turn 10 in his Force India.
Practice three - Saturday am
Rosberg returned to the top of the times to continue with his dominance of practice in 2009, having been quickest in five of the six sessions run so far.
The 60-minute session, which started with some damp spots on track, saw the Williams driver outpace Red Bull's Webber by just a tenth of a second, as the Ferraris slipped down the order, with Massa in third and Raikkonen down in seventh following his time-topping performance on Friday.
The Brawn GP cars continued with their low-key weekend, with Barrichello down in ninth, one place ahead of Button. The McLarens were even further away from the top, Hamilton in 12th and Kovalainen in 13th in a session that saw almost no incidents.
Qualifying
1. Jenson Button (Brawn-Mercedes)
Button played down his chances of fighting on top after struggling with his car's balance on Friday. Come Saturday, however, the Briton had solved the issues and showed he was favourite for pole after being over two tenths of a second quicker than his rivals in Q2. In the final session, only Trulli, with a slightly lither car, could get close to Button.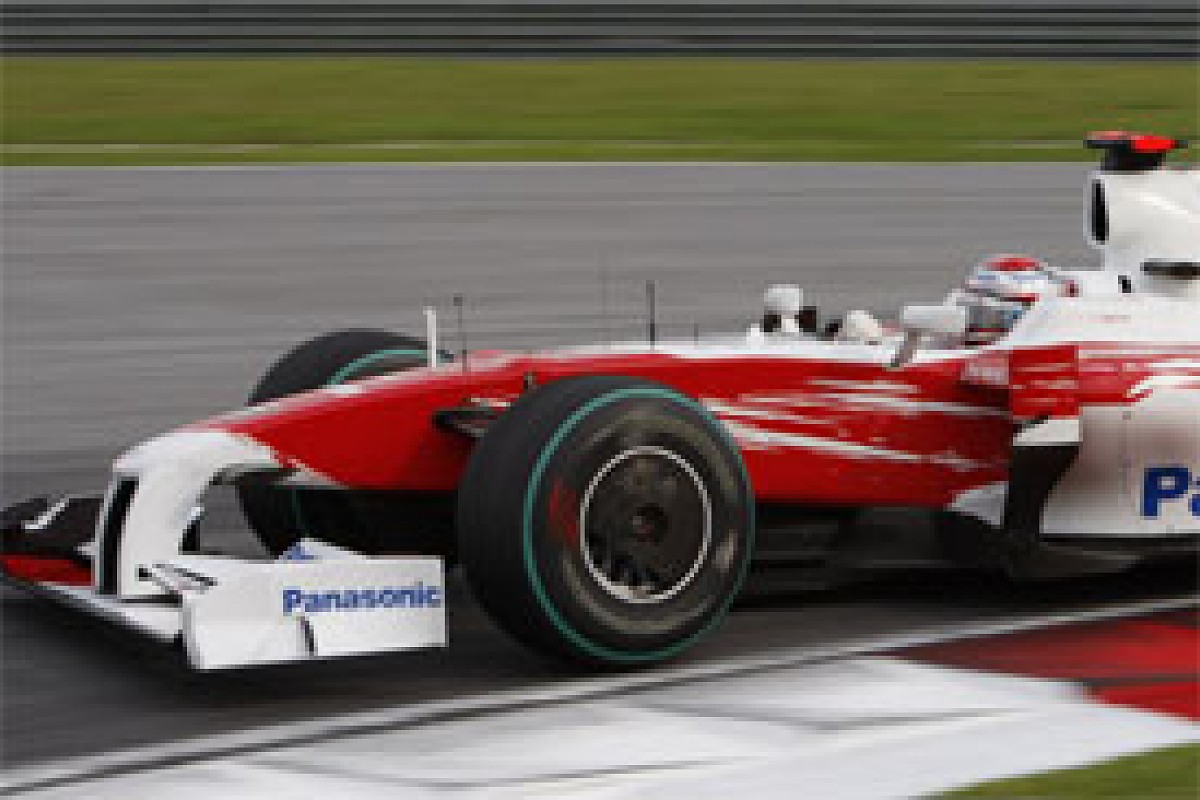 Jarno Trulli, Toyota TF109 © LAT
2. Jarno Trulli (Toyota)
A one-lap specialist, and a fan of Sepang, Trulli was very strong in all the qualifying segments with the fast TF109. Like Button, the Italian admitted he did not expect to be fighting for pole after a difficult Friday, but when it counted, Trulli felt very comfortable with his car and finished less than a tenth behind his Brawn GP rival.
3. Timo Glock (Toyota)
Completing another strong outing for Toyota, Glock managed the fifth fastest time in Q3, but was elevated to third thanks to the penalties for Vettel and Barrichello. The German was happy with his effort, but felt he could have done better had he not felt uncomfortable adapting to the heavier fuel load in his car.
4. Nico Rosberg (Williams-Toyota)
Rosberg confirmed Williams's form in Australian was not a one-off, topping two of the three practice sessions of the weekend. The German felt his car worked better with a bigger fuel load on board, which allowed him to shine again in Q3. Thanks to the penalised drivers ahead of him, Rosberg secured a place on the second row of the grid.
5. Mark Webber (Red Bull-Renault)
The Australian was happy after avoiding the troubles that hit his Red Bull team during practice in Australia, but felt a better result was possible in qualifying. Outqualified by team-mate Vettel for the second race in succession, Webber had to settle for seventh position, which then became fifth on the grid.
6. Robert Kubica (BMW-Sauber)
Kubica and his BMW Sauber team did not look comfortable at Sepang all weekend. A low-key Friday was followed by a discreet performance in qualifying, with the Pole, not using KERS, feeling his car was bottoming too much around the Malaysian track.
7. Kimi Raikkonen (Ferrari)
A lot more was expected from Ferrari after Raikkonen finished on top of the times on Friday. The Finn, however, had to accept his car was simply not competitive enough to fight near the front and he struggled to make an impression, finishing a distant ninth quickest.
8. Fernando Alonso (Renault)
The Spaniard arrived in Malaysia not feeling 100 per cent following an ear infection after Australia. His Renault team's form at Sepang did not make him much better, with the R29 less competitive than the team had expected. The Spaniard decided to not even complete his final run as he had no more soft tyres.
9. Rubens Barrichello (Brawn-Mercedes)
Barrichello's qualifying was compromised on Friday, when the Brawn GP team decided to change his gearbox as a precautionary measure. The Brazilian felt he had the pace to end qualifying on top and take the start from sixth, but, like in Australian, his car became understeery in the final session.
10. Nick Heidfeld (BMW-Sauber)
Like team-mate Kubica, Heidfeld was not too comfortable with the balance of his car on Friday. Despite that, the German looked quick enough to make it into Q3, but traffic on the out-lap prior to his final run meant he was unable to warm up his tyres properly and Heidfeld endued up missing the cut for the second time in a row.
11. Kazuki Nakajima (Williams-Toyota)
The Japanese driver felt good with his car and had no complaints about its handling. Despite that, he was unable to match the pace of team-mate Rosberg and was left outside the fight for the top ten positions by a mere tenth of a second.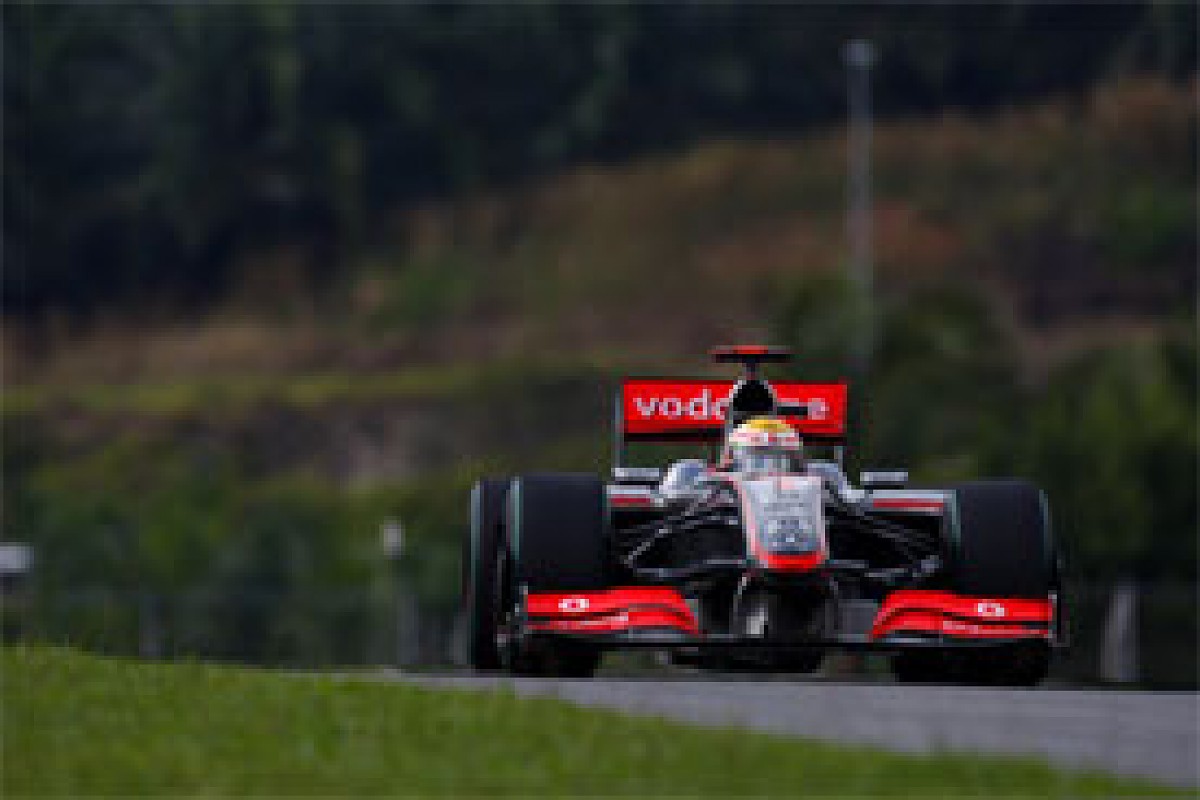 Lewis Hamilton, McLaren MP4-24 Mercedes © LAT
12. Lewis Hamilton (McLaren-Mercedes)
In a week full of controversy, Hamilton had little reason to be too happy with his on-track showings. The McLaren was simply not fast enough in Australia and it was unlikely to get much better just a few days later. New developments can't come soon enough for the current world champion.
13. Sebastian Vettel (Red Bull-Renault)
Once again, Vettel was one of the quickest drivers on track, and managed to mixed it up with the 'diffuser gang' with his Red Bull car. Third quickest in qualifying was a good effort, but the penalty he was carrying from Australian left him with no chance to achieve a good starting position.
14. Heikki Kovalainen (McLaren-Mercedes)
Kovalainen fared well, in comparison with his team-mate, during most of the weekend. The Finn outpaced Hamilton in practice on Friday and was within a tenth of the Briton in Q2. In the end, however, 14th on the grid was not a great result.
15. Sebastien Bourdais (Toro Rosso-Ferrari)
After finishing at the bottom of the times in Australia, Bourdais showed better form at Sepang, the Frenchman moving into Q2, albeit thanks to Massa's problems. Nonetheless it was a good showing, managing to outqualify his rookie team-mate Buemi in the process.
16. Felipe Massa (Ferrari)
Ferrari made a huge error of judgement with Massa's strategy in qualifying. The team felt the Brazilian had been quick enough in his final run and decided not to send him again in order to save a set of tyres. The result was Massa having to watch from his garage how he dropped down the order and outside the top 15.
17. Nelson Piquet (Renault)
With a car that was not competitive enough, Piquet was set for a tough day, and it proved to be so. The Brazilian was half a second off Alonso's pace in Q1 and, a mistake on his final run, meant he was unable to improve on his previous best. Twenty grands prix later, the Brazilian is yet to outqualify his team-mate.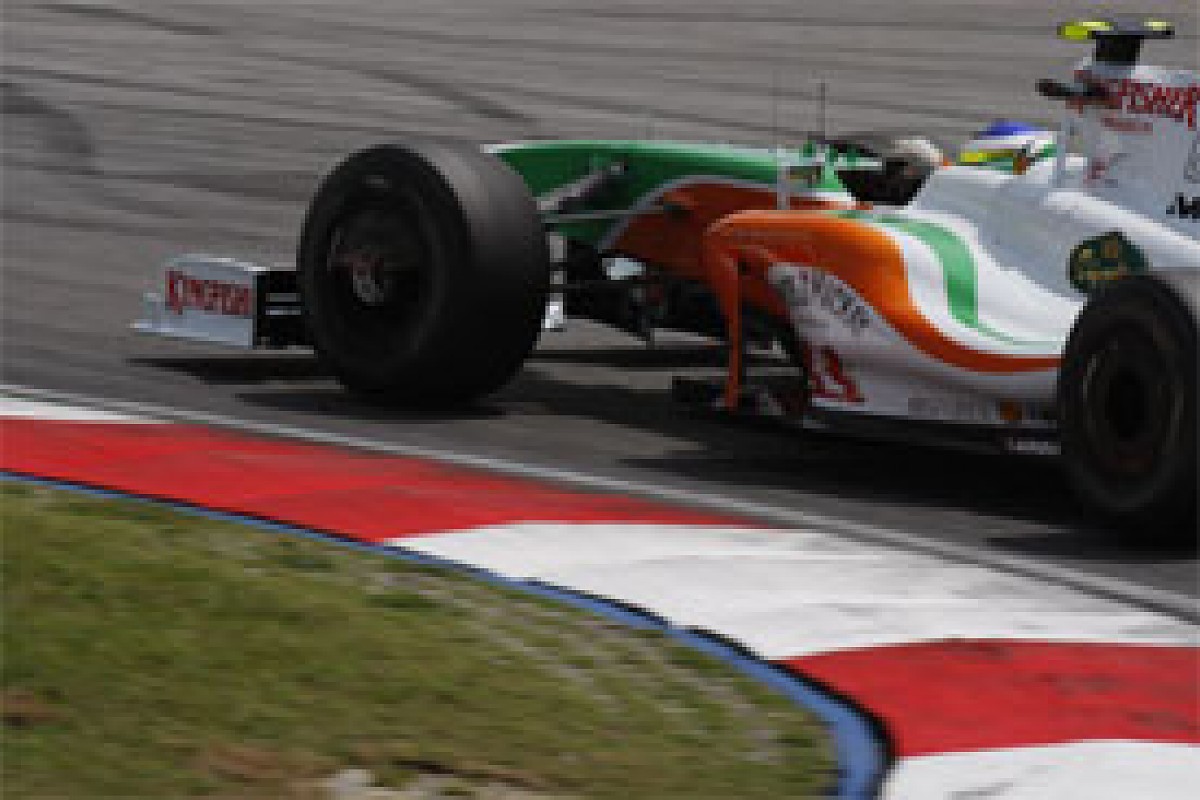 Giancarlo Fisichella, Force India VJM02 Mercedes © LAT
18. Giancarlo Fisichella (Force India-Mercedes
Despite having closed the gap to the top cars, Force India remained at the bottom of the times. Fisichella had a problem with his throttle which meant he was unable to complete his three runs. Even so, the veteran Italian finished ahead of his team-mate.
19. Adrian Sutil Force (India-Mercedes)
Sutil was happy with his efforts on Saturday, admitting there is not a lot more to extract from the car. The Force India machine was still lacking grip and the German could not escape the final row of the grid.
20. Sebastien Buemi (Toro Rosso-Ferrari)
The Swiss driver was left lamenting a costly error during his penultimate qualifying run, when he lost control of his car and spun into the gravel. His first, and only, flying lap was not enough to beat any of his rivals.
QUALIFYING RESULTS

Pos  Driver       Team                       Q1        Q2        Q3      
 1.  Button       Brawn-Mercedes        (B)  1:35.058  1:33.784  1:35.181
 2.  Trulli       Toyota                (B)  1:34.745  1:33.990  1:35.273
 3.  Vettel       Red Bull-Renault      (B)  1:34.935  1:34.276  1:35.518
 4.  Barrichello  Brawn-Mercedes        (B)  1:34.681  1:34.387  1:35.651
 5.  Glock        Toyota                (B)  1:34.907  1:34.258  1:35.690
 6.  Rosberg      Williams-Toyota       (B)  1:35.083  1:34.547  1:35.750
 7.  Webber       Red Bull-Renault      (B)  1:35.027  1:34.222  1:35.797
 8.  Kubica       BMW-Sauber            (B)  1:35.166  1:34.562  1:36.106
 9.  Raikkonen    Ferrari               (B)  1:35.476  1:34.456  1:36.170
10.  Alonso       Renault               (B)  1:35.260  1:34.706  1:37.659
11.  Heidfeld     BMW-Sauber            (B)  1:35.110  1:34.769
12.  Nakajima     Williams-Toyota       (B)  1:35.341  1:34.788
13.  Hamilton     McLaren-Mercedes      (B)  1:35.280  1:34.905
14.  Kovalainen   McLaren-Mercedes      (B)  1:35.023  1:34.924
15.  Bourdais     Toro Rosso-Ferrari    (B)  1:35.507  1:35.431
16.  Massa        Ferrari               (B)  1:35.642
17.  Piquet       Renault               (B)  1:35.708
18.  Fisichella   Force India-Mercedes  (B)  1:35.908
19.  Sutil        Force India-Mercedes  (B)  1:35.951
20.  Buemi        Toro Rosso-Ferrari    (B)  1:36.107

RACE
The clouds looming over the circuit were almost pitch black in places, and when not talking about diffusers or McLaren scandals, the hot topic all week had been the possibility of an early evening cloudburst. The forecasters had no doubts either - it was not a case of if rain would hit the Malaysian Grand Prix, but when.
Most reckoned that 'when' would come within the first half hour of the race, but the track was dry when the field blasted off the grid, with pole-sitter Jenson Button losing ground immediately as Nico Rosberg made a flawless start from fourth and shot straight to the front.
Nico Rosberg takes the lead at the start © LAT
Button's bid to reclaim the lead on the outside at Turn 1 ended in a big twitch of oversteer, allowing Jarno Trulli to pick up second, and Fernando Alonso to muscle his way through to third after an amazing KERS-assisted start in his Renault.
He did not stay there long, sliding wide at Turn 13 and allowing Button to begin his progress. Rubens Barrichello was also moving forward in the second Brawn, hustling up to fifth with an assertive opening lap, ahead of Kimi Raikkonen's Ferrari, Red Bull's Mark Webber, and the baffled Timo Glock, who allowed himself to be bullied down from fourth to eighth in the first few corners.
"I couldn't believe Fernando and Kimi were in front of me at the first corner," he said. "I didn't know where they came from."
Further back, Heikki Kovalainen made his second successive first lap exit when his McLaren snapped into a spin while dicing with team-mate Lewis Hamilton, while Robert Kubica's BMW started emitting strange noises on the formation lap, crawling off the grid at reduced power, and then set itself on fire while he was pondering whether to keep going.
The new-for-2009 published qualifying data meant that everyone already knew Rosberg was lighter than the other leaders, but he made the best of his strategy by edging away of Trulli, soon opening up a three-second advantage while the Toyota driver focused on the ever-larger white blob of Button's Brawn in his mirrors.
"It is a while since Williams have been out the front on pure performance," said Rosberg, who was delighted to finally be fighting for victory.
The top three were assisted by Alonso, whose Renault was both heavy and slow, but also hard to pass, thanks to its KERS and wily driver. Although Barrichello, Raikkonen and Webber all got ahead of the former champion eventually, they had to work extremely hard for their passes, with Alonso repeatedly retaliating before finally being shaken off.
Rosberg's run at the front ended when he pitted on lap 15, with Trulli then picking up first place for two laps before his own stop allowed Button to hit the front. Once in clear air, the Brawn unleashed some devastating new fastest laps, and when he emerged from the pits at the start of lap 20, the Melbourne winner was ahead again - 4s clear of Rosberg and 9s ahead of Trulli.
In a normal dry race, that's probably how it would have ended, but things were about to get much, much more complicated.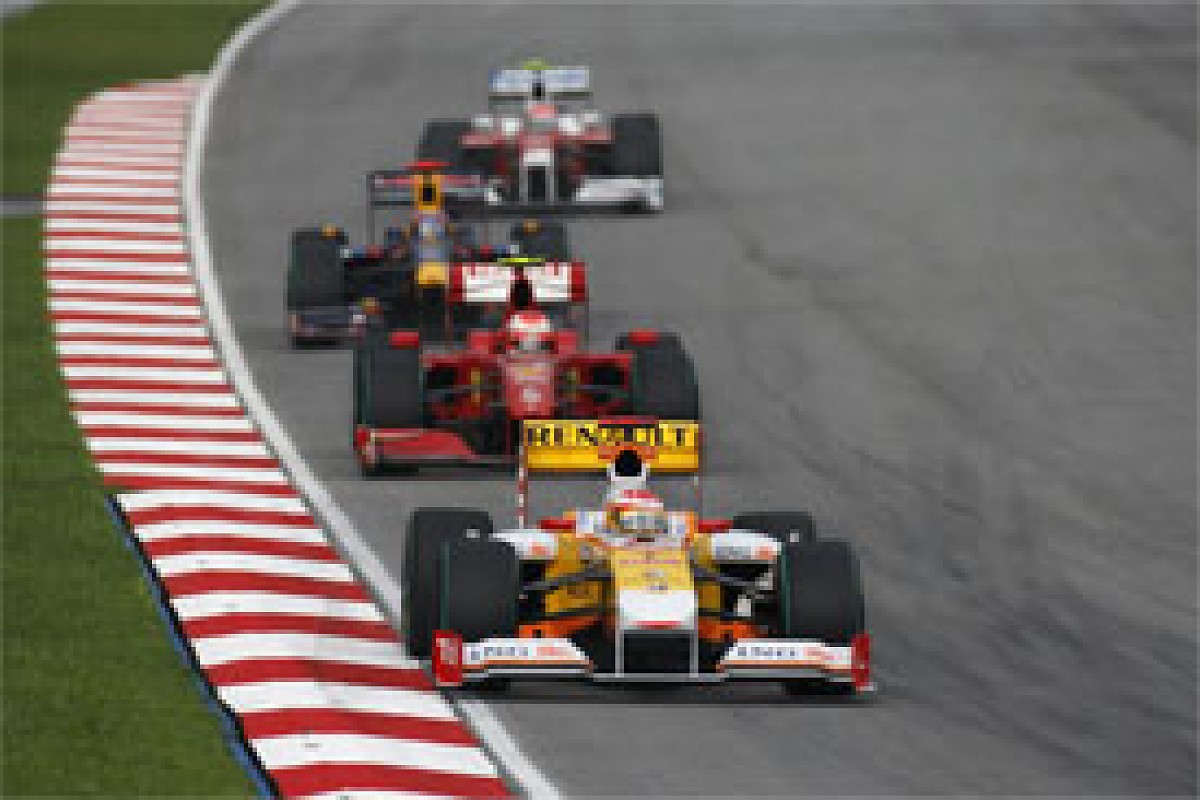 Fernando Alonso (Renault R29) leads Kimi Raikkonen (Ferrari F60), Mark Webber (Red Bull RB5 Renault) and Timo Glock (Toyota TF109) early in the race © LAT
Lightning was flashing across the sky and spatters of rain were starting to appear. Confident that a deluge was imminent, Ferrari put extreme wets onto Raikkonen's car when he stopped on lap 18.
It was a disastrous gamble. The rain stubbornly refused to increase, and the wet rubber disintegrated on the bone-dry track, leaving Raikkonen up to 20s off the pace.
"We had information that the big downpour was coming, we felt some drops of rain at this stage, so because of this 'one plus one', that was our decision," rued team boss Stefano Domenicali.
Three laps later, the rain did start, causing Alonso to spin the unwieldy Renault and lose a lot of ground ploughing a path back out of the gravel.
This time everyone dived for the pits, with all choosing extreme wets bar Glock, who picked intermediates.
"(The rain) took just so long and we were so close to the first pit stop, so I said 'okay I will take the risk and we will go for it and go to inters,'" Glock explained.
The Toyota driver's first stint had been miserable - spent mostly staring at the back of a slow Renault. He also lost a chunk of front wing on Webber's Red Bull as they queued up, and then dropped to 15th when he pitted because the field behind Alonso was so tightly packed.
But his inspired tyre choice transformed the German's fortunes. Despite the fearsome clouds, the rain was refusing to escalate beyond 'moderate shower' status. This was ideal for Glock's inters, and he started catching the leaders by up to 10s per lap, driving around the midfielders as if on fast forward.
Others were making good progress even on wets, with Barrichello and Webber rapidly catching Rosberg and Trulli. Barrichello overtook both in quick succession on lap 27, although Glock was soon sweeping past them all.
His speed - and the continued lack of heavy rain - convinced the rest to start ditching their wets for intermediates too. When Button did so on lap 29, Glock moved into the race lead.
However Button emerged right behind him and swiftly regained first place, with Glock then diving straight into the pits to finally take on full wets. Once again he was ahead of the game, for although his stop was partly motivated by the state of his overworked intermediates, it also coincided perfectly with the late appearance of the promised monsoon.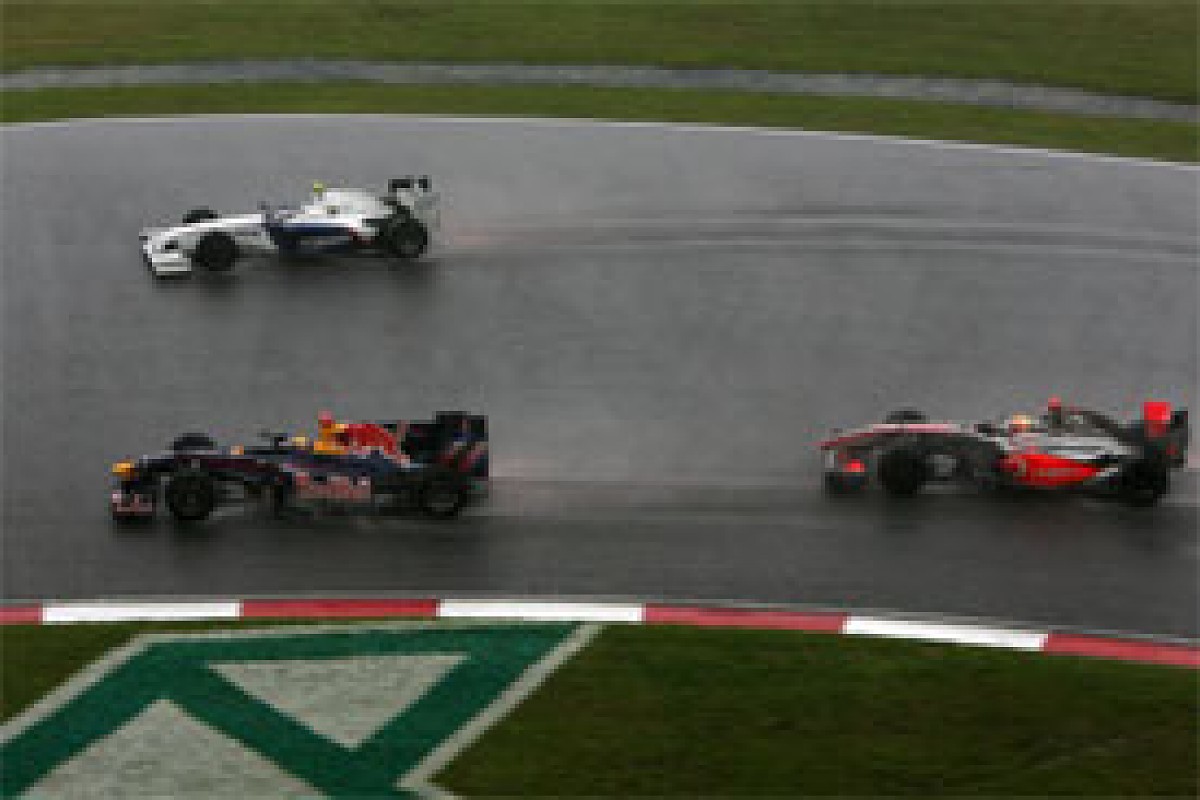 Mark Webber (Red Bull RB5 Renault) battles with Nick Heidfeld (BMW Sauber F1.09) and Lewis Hamilton (McLaren MP4-24 Mercedes) © LAT
It had taken its time arriving, but the downpour certainly lived up to its billing. The track was soon sodden and staying on the road even on extreme wets was nearly impossible. All those who had just taken on intermediates were back in the pits to return to wets within one or two laps.
The safety car was inevitable, and swiftly followed by a red flag on lap 33. The order appeared to be Button narrowly ahead of Glock, with Nick Heidfeld popping up in a surprise third having ignored the fashion for incessant pitstops and stuck with the set of extreme wets he took on in his first pit visit on lap 23.
"Just when they told me to pit (for intermediates) it started to rain heavier and actually it was just 200 metres from the pit entry and I said 'no, no I'll stay out as it's starting to rain more heavily,'" said Heidfeld.
But with pitstops having been ongoing when the yellow came out, and with the leaders unable to form up behind the safety car before the stoppage, working out the actual result took time.
With the clock ticking on, darkness encroaching, and the rain scarcely abating, the drivers were relieved when the race was finally declared over after 53 minutes of sitting on the grid getting drenched.
The result was counted back to lap 31, which gave Button victory even though he had been in the pits at the time. Glock fell to third, as his pass on Heidfeld and the BMW's lap 32 spin had now effectively happened after the race had ended.
The multiple pitstop confusion saw Trulli, Barrichello and Webber classified fourth, fifth and sixth, while Rosberg went right back to eighth place, behind Lewis Hamilton, who had steadily crept into contention in the group behind Alonso early on.
His first point of the year was some comfort to the world champion after an incredible week that saw him disqualified from third in Melbourne for misleading the race stewards, veteran McLaren sporting director Dave Ryan suspending for encouraging him to do so and Hamilton then giving a highly emotional press conference to apologise for his actions.
Felipe Massa made quiet progress from 16th on the grid, reaching ninth by the end, while 10th-placed Sebastien Bourdais was one of the few disappointed by the lack of a restart.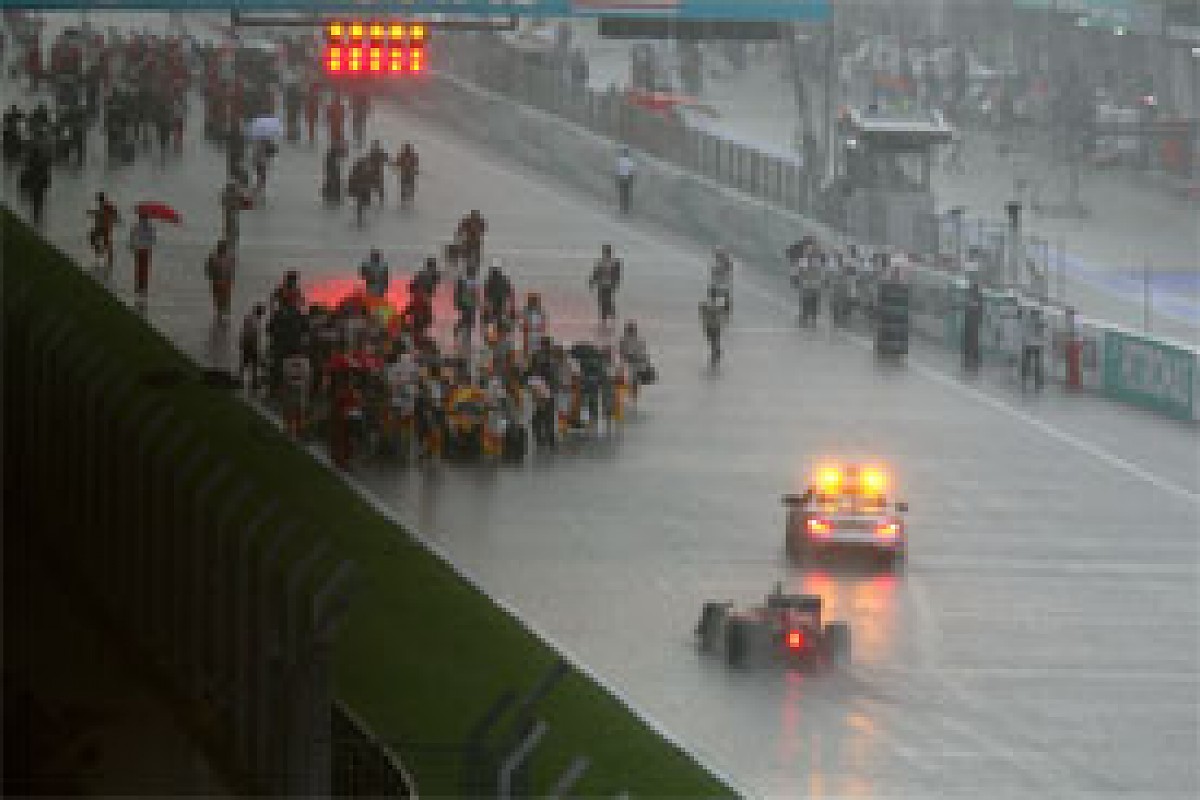 Cars come to the starting grid after the red flag © LAT
Alonso's spin left him 11th, with Raikkonen only 14th. A KERS glitch meant his participation in any restart would have been doubtful - the Finn making his opinion on the subject clear by swiftly changing out of his overalls and grabbing an ice cream in the pits while the rest sat in the rain on the grid!
Sebastian Vettel (who had got up to ninth from 13th on the grid before his first stop), Buemi and Giancarlo Fisichella all spun out late enough to be classified, which meant that officially 18 of the 20 cars made it to the flag - a far higher number than probably would have been classified had the race continued into the storm and gloom.
"When the safety car is pulling away at 20 seconds a lap, you know that it's too wet for an F1 car," concluded Button, who nevertheless proved that no matter what circumstances, rivals and nature throw at him, he is the man to beat in early 2009.
RACE RESULTS

The Malaysian Grand Prix
Sepang, Kuala Lumpur, Malaysia;
31 laps; 171.833km;
Weather: Sunny, then wet.

Classified:

Pos  Driver        Team                      Time
 1.  Button        Brawn GP              (B)  55:30.622
 2.  Heidfeld      BMW Sauber            (B)  + 22.722
 3.  Glock         Toyota                (B)  + 23.513
 4.  Trulli        Toyota                (B)  + 46.173
 5.  Barrichello   Brawn GP              (B)  + 47.360
 6.  Webber        Red Bull-Renault      (B)  + 52.333
 7.  Hamilton      McLaren-Mercedes      (B)  + 60.733
 8.  Rosberg       Williams-Toyota       (B)  + 71.576
 9.  Massa         Ferrari               (B)  + 76.932
10.  Bourdais      Toro Rosso-Ferrari    (B)  + 102.164
11.  Alonso        Renault               (B)  + 109.422
12.  Nakajima      Williams-Toyota       (B)  + 116.130
13.  Piquet        Renault               (B)  + 116.731
14.  Raikkonen     Ferrari               (B)  + 142.841
15.  Vettel        Red Bull-Renault      (B)  +  1 lap
16.  Buemi         Toro Rosso-Ferrari    (B)  +  1 lap
17.  Sutil         Force India-Mercedes  (B)  +  1 lap
18.  Fisichella    Force India-Mercedes  (B)  +  2 lap

Fastest lap: Button, 1:36.641

Not classified/retirements:

Driver        Team                      On lap
Kubica        BMW Sauber            (B)     1
Kovalainen    McLaren-Mercedes      (B)     0


World Championship standings, round 2:                

Drivers:                    Constructors:             
 1.  Button         15       1.  Brawn GP               25
 2.  Barrichello    10       2.  Toyota                 16.5
 3.  Trulli         8.5      3.  BMW-Sauber             4
 4.  Glock          8        4.  Renault                4
 5.  Heidfeld       4        5.  Williams-Toyota        3.5
 6.  Alonso         4        6.  Toro Rosso-Ferrari     3
 7.  Rosberg        3.5      7.  Red Bull-Renault       1.5
 8.  Buemi          2        8.  McLaren-Mercedes       1
 9.  Webber         1.5
10.  Hamilton       1
11.  Bourdais       1
       
All timing unofficial

Lap-by-lap as it happened on AUTOSPORT Live
TEAM BY TEAM
Ferrari
Raikkonen bounced back from a small KERS-related fire on Friday morning to lead a Ferrari one-two in second practice. But then the team's pace vanished. A galling misjudgement saw Massa sit calmly in the pits late in Q1 believing he will easily make the cut, only to be pushed down to 16th as the track improves. Raikkonen qualified ninth.
A fast start took the Finn up to sixth, and he passed Alonso during the first stint. Then it all fell apart again when Ferrari put on wets at his first stop - three laps before the rain actually arrived, by which time his tyres were ruined and he had fallen down the order after lapping 20s off the pace. He finishes 14th.
Massa makes quiet progress during the truncated race but can only get up to ninth.
McLaren-Mercedes
Hamilton arrived at Sepang in the centre of a whirlwind after it emerged that he and sporting director Dave Ryan had misled the Melbourne stewards. Amid Ryan's suspension, Hamilton's heartfelt apologies, and rumours of a major rift between the world champion and the team that had nurtured him, the car's performance gave little cause for cheer - with Hamilton and Heikki Kovalainen only 13th and 14th in qualifying.
It got worse for Kovalainen when he throws the car into the gravel and out of the race before lap one is complete. But Hamilton made good progress through the field, surviving a late spin in the downpour to be classified seventh.
BMW Sauber
Way off the pace on Friday, BMW still got Kubica to eighth (which became sixth) in qualifying, although Heidfeld was edged out of the top 10 at the last minute and took 11th before the penalties ahead.
Kubica's race was over before it really began thanks to instant engine problems, while Heidfeld didn't seem to be surging forward at first. But the German's decision to make just one pitstop and then stick with his extreme wets as the rain varied really paid off, allowing him to rise to second. He also escaped a quick spin just as the race was halted.
Renault
An ear infection left Alonso feeling under the weather, and his off the pace car didn't help. He still qualified 10th, then vaulted to third briefly with an amazing start.
On a heavy fuel load, Alonso held up a queue of traffic and was shuffled down to seventh before the first stops. He lost more ground with a spin as the rain began and could only finish 11th.
Another poor qualifying left Piquet only 17th on the grid, and he made little impression on the way to 13th in the race.
Toyota
Thanks to the Hamilton controversy, Trulli got to keep his Melbourne podium after all. He put himself on course to challenge for another when he pushed Button hard for pole and took the outside front row spot.
He ran second early in the race but was wrong-footed by the multiple tyre changes in the rain and fell to fourth.
Glock was the sensation of the event. Bundled down from fourth to eighth at the start, he took the bold gamble of choosing intermediates as everyone else played it safe on extreme wets and surged through the field - lapping 10s quicker than the rest - to briefly lead before pitting for wets at last. He couldn't quite hold off Button and ended up third behind Heidfeld once the safety car confusion and countback had shaken out.
Toro Rosso-Ferrari
Bourdais improved on his Melbourne form to qualify 15th, with Buemi right at the back having gone off the road in Q1. The rookie was then delayed further when he broke his front wing in a first lap brush with a Force India, and eventually spun out.
Bourdais kept pace with the upper midfield in the race and gradually edged forward to finish a satisfactory 10th.
Red Bull-Renault
A low fuel load helped Vettel to third on the grid, which became 13th following his penalty for the Melbourne crash. Webber qualified seventh, which then became fifth as Vettel and Barrichello were demoted.
Vettel had a frustrating race, only making it up to ninth before his first pitstop and then later spinning out in the rain having not recovered much ground.
Webber was caught up in the Alonso queue for a while, then ran sixth after passing the Renault. Among the fastest on wet tyres, he fought for a podium for a while then ended up sixth thanks to the timing of the stoppage relative to his tyre changes.
Williams-Toyota
Rosberg led another Williams 1-2 in Friday practice, and then went fastest again on Saturday morning. He maintained that form in qualifying, taking fourth once the penalties were applied. But Nakajima disappointed on Saturday once more and only managed 11th on the grid.
While Nakajima made a bad start and only recovered to 12th, Rosberg flew into the lead off the line and was comfortable at the head of the field until making his first pitstop. He still looked set for second behind Button until the rain came and ill-timed tyre changes plus some bad luck with the red flag meant he was only classified eighth.
Force India-Ferrari
Still off the pace of most of the rest and the field, Fisichella and Sutil qualified back in 18th and 19th, the former having crashed on Friday.
They remained at the back in the race. Changing to wet tyres very early was just as unproductive for Fisichella as it was for Raikkonen, and he had two spins, the second terminal. Sutil made no impact on the way to 17th.
Brawn-Mercedes
Another triumph for Button, who shrugged off a poor start that dropped him from first to fourth by charging back into the lead by the time the stops were complete. He pulled away further when it rained, successful rebuffed Glock's challenge, and emerged with his second straight victory.
Barrichello was in the wars again, dropping from fourth to ninth on the grid thanks to a post-practice precautionary gearbox change. He charged to fourth in the early part of the race, then showed great pace in the rain to hold second for a while before falling back to fifth thanks to the additional tyre stops.