PRACTICE ONE
Some thought Brawn would dominate from the outset, others that the potential 'new world order' was all hype and that Ferrari and McLaren would resume normal service in Melbourne - but few would have predicted a Williams one-two in the first session of 2009.
That's what Nico Rosberg and Kazuki Nakajima delivered, though, as they pushed Ferrari's Kimi Raikkonen back to third in the final part of the session.
The much-talked-about Brawns took fourth and sixth, split by McLaren's Heikki Kovalainen, who showed surprisingly good form for the troubled squad, although his champion team-mate Lewis Hamilton was only 16th.
Sebastian Vettel's season got off to the worst start of all - a hydraulic problem stopping him after just four laps.
PRACTICE TWO
Nico Rosberg, Williams FW31 Toyota © LAT
In case anyone thought Rosberg's morning time was a fluke, he repeated the performance in second practice.
This time Rubens Barrichello was his main challenger in second for Brawn, ahead of Jarno Trulli's Toyota, as the three teams at the centre of the diffuser row filled the top three places.
Mark Webber was the best of those outside the 'diffuser gang' - taking fourth for Red Bull. His team-mate Vettel's woes continued as the young German spun off and out of the session at Turn 3, but only after setting what stood as the eighth-fastest time.
PRACTICE THREE
Things remained pretty much unchanged in the final practice session, with Rosberg still on top but with Trulli right behind him, just 0.003 seconds behind. The 'diffuser gang' continued to dominate, with Button posting the third quickest time in the Brawn.
Massa showed better pace with his Ferrari, finishing in fourth just two tenths of a second off the pace. The session, however, was poor for team-mate Raikkonen, who managed just five laps after being hit by a hydraulic problem.
The McLaren duo also enjoyed a stronger session than on Friday, with both Hamilton and Kovalainen featuring near the top for some time before dropping down the order near the end.
QUALIFYING
1. Jenson Button (Brawn-Mercedes)
It was little surprise to see the Brawns dominating qualifying following the confirmation that their testing pace was completely real. Button felt right at home from the start of the weekend and, despite being slower than team-mate Barrichello in Q1 and Q2, the Briton returned to the top spot for the first time in three years.
2. Rubens Barrichello (Brawn-Mercedes)
The happy Brazilian was the fastest man on Saturday, but had understeer issues during Q3 and could not match the laptime set by his team-mate. Nonetheless, Barrichello was all smiles on Saturday afternoon and it wasn't hard to see why.
3. Sebastian Vettel (Red Bull-Renault)
Despite three troubled practice sessions, Vettel was one of the stars of qualifying, finishing as 'the best of the rest' behind the unmatchable Brawns. More impressively, the German finished seven places ahead of team-mate and qualifying specialist Webber.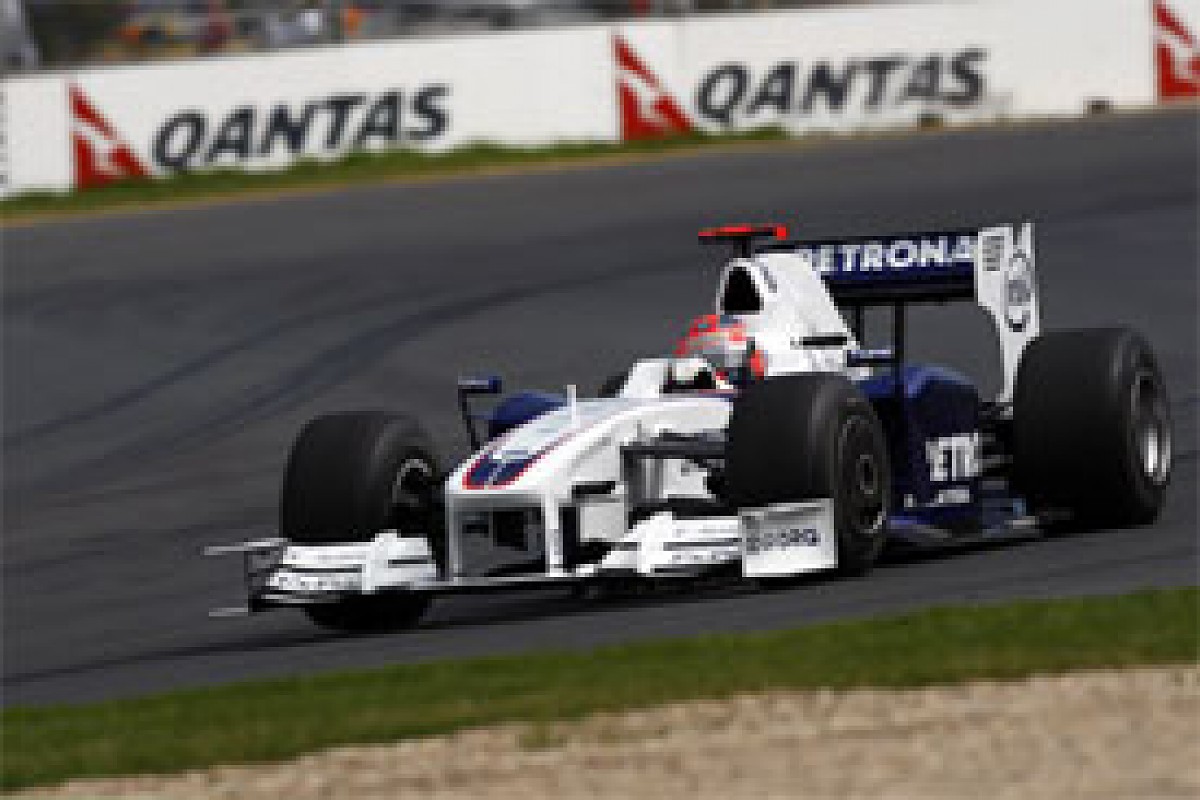 Robert Kubica, BMW Sauber F1.09 © LAT
4. Robert Kubica (BMW-Sauber)
After three low-key practice sessions, Kubica showed progress in qualifying and was especially strong in Q2. In his final effort he lost time due to dust put on track by Rosberg and ended up fourth, to his own surprise following the lack of speed shown in practice.
5. Nico Rosberg (Williams-Toyota)
Rosberg admitted he was happy to be disappointed with fifth, having topped all practice sessions with the promising FW31. Despite missing out on the first two rows, Rosberg was carrying a heavier fuel load than Kubica and was upbeat about his chances for the race.
6. Felipe Massa (Ferrari)
Practice suggested it would be difficult for Ferrari to fight for the top five in qualifying, and that proved to be the case. Massa moved up to sixth thanks to the exclusion of the Toyotas, but the Brazilian's car was lighter than four of the five cars in front of him.
7. Kimi Raikkonen (Ferrari)
Originally ninth fastest, Raikkonen gained two spots thanks to exclusion of the Toyotas, but it was far from a satisfying result. The Finn, who missed most of final practice due to a mechanical problem, was not happy with the handling of his car come qualifying and it showed.
8. Mark Webber (Red Bull-Renault)
It was an unusual qualifying for the local hero, who lost out to team-mate Vettel by four tenths of a second and seven positions. Webber, still recovering from his leg injury, admitted his final flying lap was far from perfect.
9. Nick Heidfeld (BMW-Sauber)
The German missed the cut in Q2 after getting it wrong in the final sector of his final lap. Despite that, Heidfeld felt he had been making progress since the start of the weekend and that starting from ninth place but with the freedom to choose his strategy was not a bad position to be in.
10. Fernando Alonso (Renault)
It wasn't a good weekend for Renault right from the start. Alonso arrived in Melbourne hoping to have the pace for a podium, but ended up with the 12th fastest time after aborting his final run when he overshot the penultimate corner.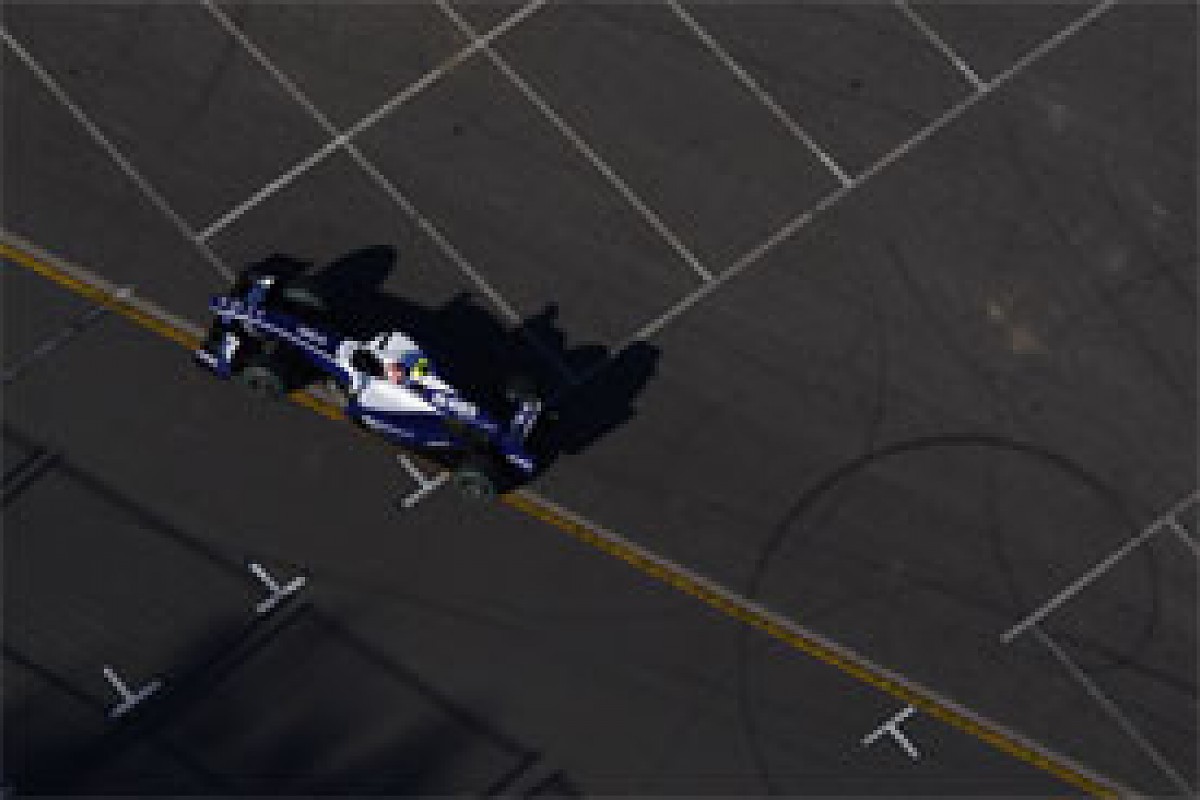 Kazuki Nakajima, Williams FW31 Toyota © LAT
11. Kazuki Nakajima (Williams-Toyota)
Half a second separated Nakajima from team-mate Rosberg in Q2, meaning the Japanese driver ended up outside the fight for the top ten position. Nakajima felt his car was capable of going into Q3, but a driving error in his final run put him out of contention.
12. Heikki Kovalainen (McLaren-Mercedes)
It was no secret that McLaren did not have the pace to fight near the top and, despite progress in the last weeks, the team was nowhere near the front. Kovalainen felt his car's balance was good, but complained about an overall lack of grip and was eliminated in Q2.
13. Sebastien Buemi (Toro Rosso-Ferrari)
The only rookie on the grid put on a very decent performance in the STR4, missing the cut to go into Q2 by just a tenth of a second, and out-qualifying team-mate Bourdais in the process. Thanks to the problems ahead of him, Buemi had every reason to be happy with his position.
14. Nelson Piquet (Renault)
It wasn't a good Saturday for Piquet either, as Renault struggled for pace. The Brazilian was never too comfortable with his car on a track he doesn't enjoy. Adding to that, the Brazilian made a mistake during his last run and ended up missing the cut in Q1, just like last year.
15. Giancarlo Fisichella (Force India-Mercedes)
The Force India car showed progress throughout the weekend, narrowing the gap to those in front. That didn't change its positions much, however, and both Fisichella and Sutil were eliminated in Q1. The Italian admitted he could not drive the way he wanted, having problems with his brakes since the start of the weekend.
16. Adrian Sutil (Force India-Mercedes)
After a promising start on Friday, Sutil was hoping for better in qualifying. With the ninth quickest time in second practice, the German hinted at a better performance on Saturday but, despite being happy with his car's handling, he was still feeling a lack of grip.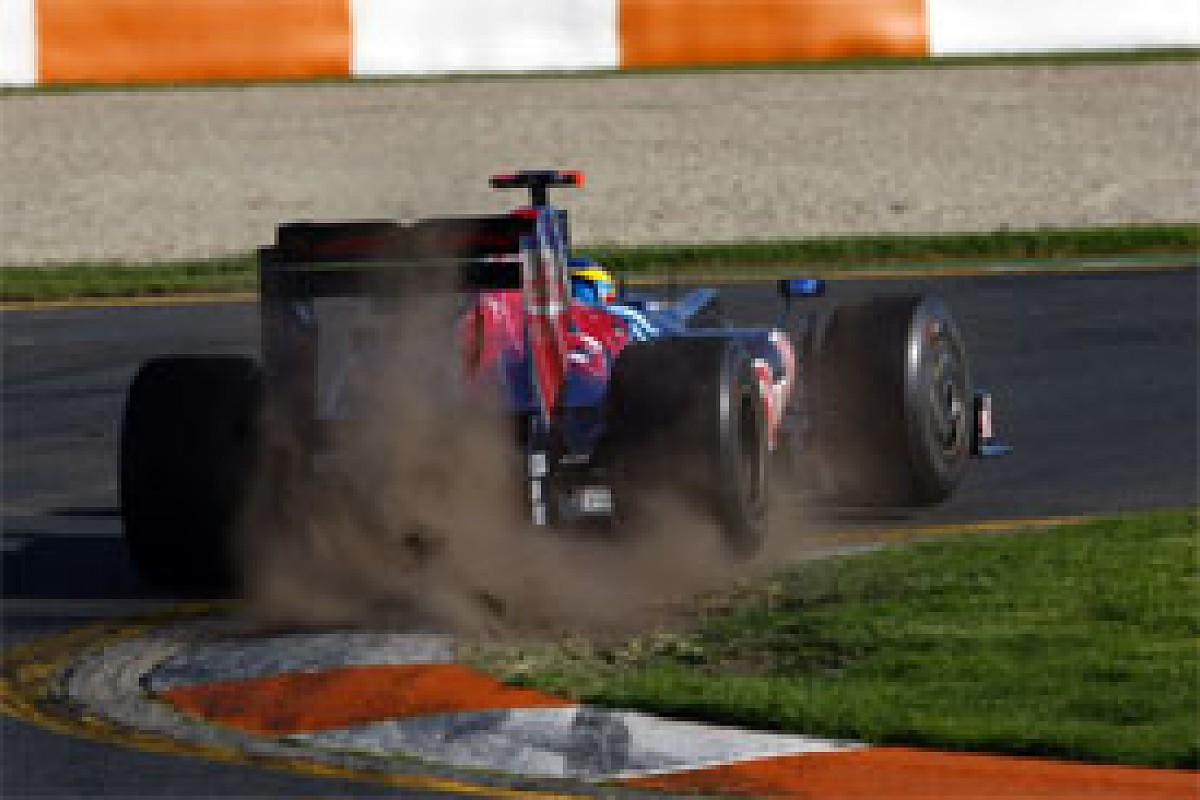 Sebastien Bourdais, Toro Rosso STR4 Ferrari © LAT
17. Sebastien Bourdais (Toro Rosso-Ferrari)
Bourdais was left encouraged by the progress made by his team since introducing its new car. Despite that, the Frenchman finished at the bottom of the times. He conceded his out-lap had been too slow and his tyres were not up to the right temperature for his final run.
18. Lewis Hamilton (McLaren-Mercedes)
Hamilton's qualifying ended ahead of time when he lost fourth gear at the end of Q1. The world champion was unable to go out in the second session. McLaren decided to change the whole gearbox ahead of the race, meaning Hamilton started from the back of the grid.
19. Timo Glock (Toyota)
More was expected from the Toyotas in qualifying following the team's strong testing pace. Glock, however, had balance issues both on Friday and Saturday and, despite finding some solutions for qualifying, his set-up was still not perfect and had to settle for sixth. In the end, it was no use, as Toyota was excluded over the flexibility of its cars' wings.
20. Jarno Trulli (Toyota)
Trulli said his car felt very different in qualifying than in final practice, the Italian unable to bring enough heat into his tyres. He was left disappointed with his eighth quickest time, and things did not get any better when he was forced to start from the pitlane because of the wing infringement.
QUALIFYING RESULTS

Pos  Driver      Team                      Q1        Q2        Q3     	Laps
 1.  Button      Brawn-Mercedes        (B) 1:25.211  1:24.855  1:26.202 19
 2.  Barrichello Brawn-Mercedes        (B) 1:25.006  1:24.783  1:26.505 21
 3.  Vettel      Red Bull-Renault      (B) 1:25.938  1:25.121  1:26.830 21
 4.  Kubica      BMW-Sauber            (B) 1:25.922  1:25.152  1:26.914 19
 5.  Rosberg     Williams-Toyota       (B) 1:25.846  1:25.123  1:26.973 21
 6.  Glock       Toyota                (B) 1:25.499  1:25.281  1:26.975 19
 7.  Massa       Ferrari               (B) 1:25.844  1:25.319  1:27.033 21
 8.  Trulli      Toyota                (B) 1:26.194  1:25.265  1:27.127 20
 9.  Raikkonen   Ferrari               (B) 1:25.899  1:25.380  1:27.163 21
10.  Webber      Red Bull-Renault      (B) 1:25.427  1:25.241  1:27.246 20
11.  Heidfeld    BMW-Sauber            (B) 1:25.827  1:25.504           14
12.  Alonso      Renault               (B) 1:26.026  1:25.605           12
13.  Nakajima    Williams-Toyota       (B) 1:26.074  1:25.607           16
14.  Kovalainen  McLaren-Mercedes      (B) 1:26.184  1:25.726           15
15.  Hamilton    McLaren-Mercedes      (B) 1:26.454  no time             5
16.  Buemi       Toro Rosso-Ferrari    (B) 1:26.503                     10
17.  Piquet      Renault               (B) 1:26.598                     12
18.  Fisichella  Force India-Mercedes  (B) 1:26.677                     10
19.  Sutil       Force India-Mercedes  (B) 1:26.742                      9
20.  Bourdais    Toro Rosso-Ferrari    (B) 1:26.964                     10


All Timing Unofficial

RACE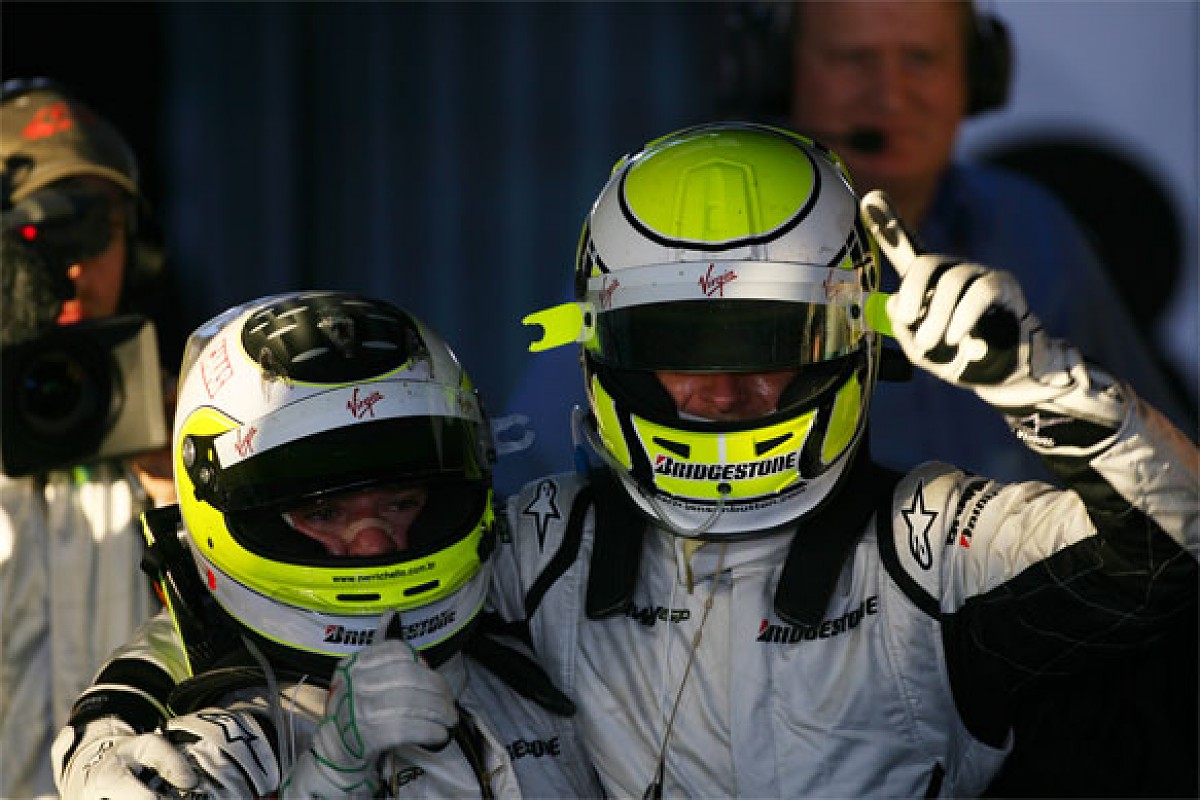 A Brawn GP victory looked almost guaranteed after just one lap in Melbourne - but a Brawn one-two seemed highly unlikely.
While Jenson Button had calmly cruised away from pole, Rubens Barrichello had stuttered off the grid after triggering his anti-stall system.
As Barrichello tumbled down the order, the handful of KERS-equipped cars surged forwards, leading to an inevitable mess at the first corner.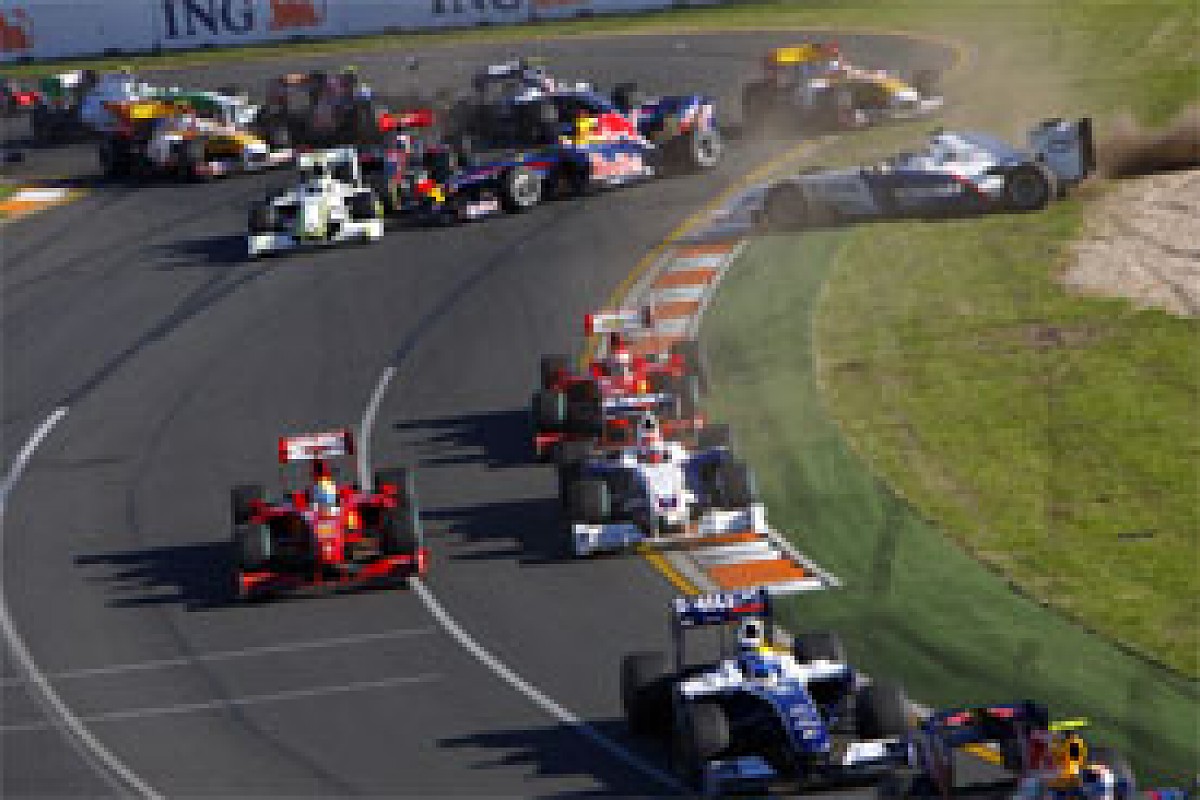 The start of the Australian Grand Prix © LAT
A shove from Heikki Kovalainen ushered Barrichello into Mark Webber's Red Bull, which in turn collected Nick Heidfeld's BMW then slewed back into Kovalainen's McLaren before also being hit by Adrian Sutil. Fernando Alonso also took to the gravel when confronted by the spinning Heidfeld, falling to 14th but escaping intact.
Broken suspension meant Kovalainen's weekend was over, and Sutil, Webber and Heidfeld had to pit for repairs, with the latter duo hampered by their wounded cars for the rest of the afternoon. Barrichello's Brawn was fairly mangled at both ends too, but he continued in seventh place, ahead of Kazuki Nakajima, Nelson Piquet, Sebastien Buemi, Giancarlo Fisichella, Sebastien Bourdais and Lewis Hamilton, who had all vaulted up the leaderboard as the carnage unfolded.
"It was a fairly big hit and I thought my race was over," Barrichello admitted. "But if people think that our car is only good because of the diffuser, well, that big hit from behind broke the diffuser completely..."
While his team-mate caused something of a diversion ("Rubens made it sort of easy for me..."), Button scampered away the front, leading Sebastian Vettel by 3.9s after just one lap.
Ferrari had used its KERS to good advantage to move Felipe Massa and Kimi Raikkonen up to third and fifth, sandwiching Robert Kubica and ahead of Nico Rosberg. The particularly bad news for practice star Rosberg was just the three cars in front were (along with Hamilton, Bourdais and Jarno Trulli) using the fragile super-softs and were soon losing 3-5s per lap as the tyres wilted.
"The tyres were a bit of a risk, but in these conditions sometimes a risk can be good," said Massa. "But after five laps the soft tyres did not work anymore, so we stopped much earlier than we were supposed to."
By lap 12 all six had pitted for medium compounds, though not before Rosberg had sliced past Raikkonen into Turn 1, with Barrichello following at Turn 3 - and losing another chunk of front wing in the process having locked his rear brakes and clattered into the Ferrari... Once in clear air, Rosberg could equal the evenly-matched Button and Vettel's times, but was already half a minute adrift, and then lost a further 10s with a left-front wheel problem at his first pitstop on lap 16.
Meanwhile his team-mate Nakajima was all over the back of Barrichello's limping Brawn, and looking set to challenge for a podium given his ample fuel load. That was until lap 17, when Nakajima ran wide exiting Turn 4 and slammed into the opposite wall, eventually causing a safety car, though only after an extended period of deliberation in which most of the leaders managed to make their first pitstops.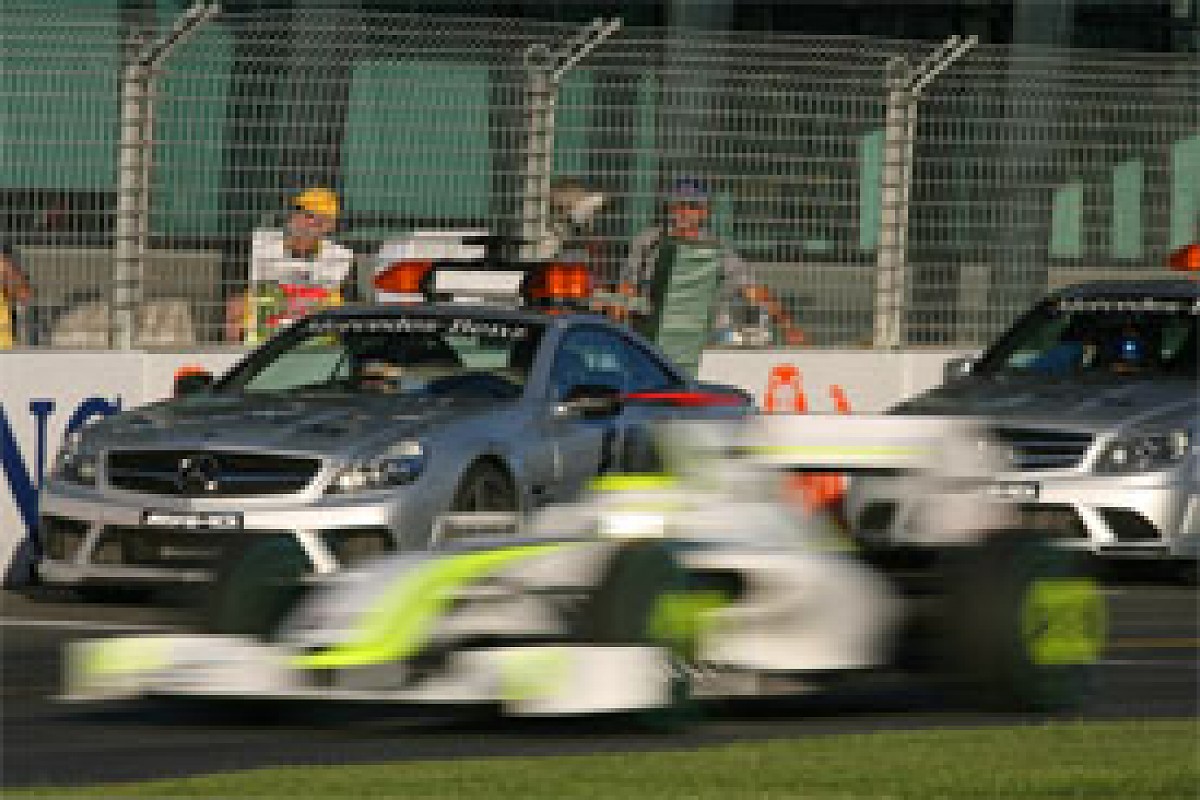 Jenson Button whistles past the safety car © XPB
With the safety car initially picking up Vettel rather than Button, six laps would be spent under caution getting both the track clear and the field into order. Button still led Vettel, but the early stoppers' strong pace on new medium compound tyres meant that Massa, Kubica and Raikkonen were back up to third, fourth and fifth, ahead of the delayed Rosberg.
Button kept the lead at the restart despite flat-spotting a tyre at the final corner as he tried to make a break, with Massa not close enough to use his KERS to attack the leaders. Further back, Piquet pounced on Rosberg on the outside into Turn 1, only for his car to snap into a spin as he braked, oscillating luridly in front of the Williams before sliding deep into the gravel.
The looming cloud for Button and Vettel was that they still had to lose the super-softs that had proved so desperately slow for others earlier on - and now they no longer had a 30s cushion over the pack, and their leading pursuers had already got their super-soft stint out of the way.
However the Ferrari challenge swiftly accounted for itself: Massa had been switched to a three-stop strategy and had to come in again on lap 31, which was too soon to build a gap over those behind. He fell to 14th and retired with handling problems, traced to a broken nose support, soon after. Raikkonen spun into the wall at Turn 9 shortly after his final pitstop, smashing his front wing, and ultimately dropped out with a differential failure when running last.
"This was definitely not a start worthy of Ferrari, from any point of view," team boss Stefano Domenicali admitted.
But Kubica was a much greater threat. He set a new fastest lap as he hunted down Vettel before making his last stop on lap 39, and although Vettel and Button ran six and eight laps further respectively, Kubica's relentless pace after his stop kept them in his sights.
He was helped by a poor stop for Button, caused by the Briton parking in second rather than first gear and causing delays for the mechanics, which meant that with all the stops complete and six laps to go, Button led Vettel by just 2s and Kubica by only 4s - with the BMW driver revelling in his grip advantage as he homed in on his targets.
With three laps to go, Vettel had a scruffy run through Turn 1, allowing Kubica to charge down his outside at Turn 3. Vettel tried to hang on, but succeeded only in tapping the BMW into a half spin that ended with the two cars entangled mid-corner. They continued, then both slammed into the wall on the next straight as their broken machines cried enough.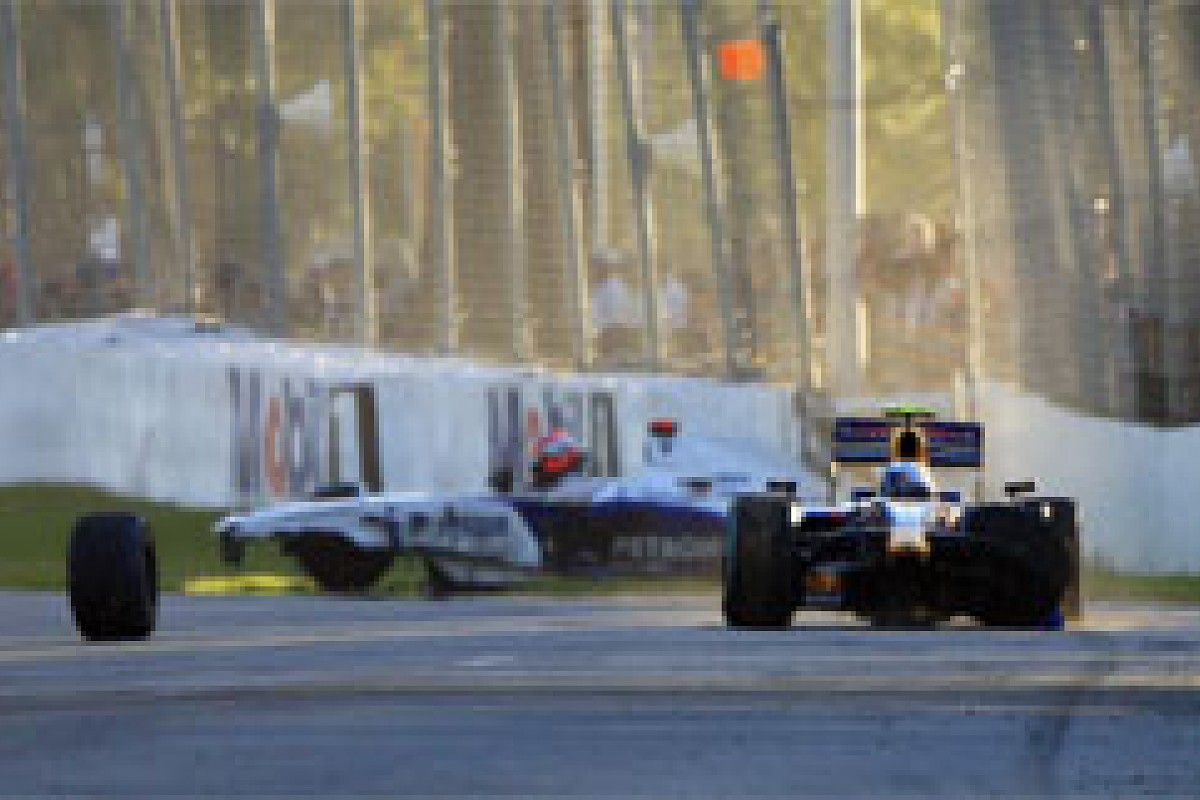 Sebastian Vettel (Red Bull RB5 Renault) and Robert Kubica (BMW Sauber F1.09) clash at the end of the race © LAT
"It's difficult to say who is at fault," said Kubica. "I think he was a bit optimistic. If that was the last corner of the last lap it's OK, but in the first race it's important to score points."
Vettel, who was fined and given a grid penalty for Sepang, described it as a "stupid racing accident" and gave a fulsome apology to both his team and BMW, which was certain it had lost a potential victory. Button wasn't so sure, though.
"I actually wasn't worried," he said. "I was purposely driving very slowly to the pace I thought we could do to look after the tyres."
The crash left debris everywhere and prompted a safety car finish - and a surprise Brawn one-two after all, for Barrichello had gained ground with a long second stint and a fresh front wing, then passed Rosberg for fourth as the Williams floundered on super-softs five laps from the end. That became second thanks to the destruction ahead.
"A millisecond after the start, I never really thought we could have imagined finishing first and second," he admitted. "It was a tough afternoon but I had a lot of adventure there."
Third was an even greater shock. Rosberg's plight became so great that he was passed by both Toyotas, Hamilton and Alonso within three laps. That meant Trulli mounted the podium after starting last - although he would later have to hand that trophy to Hamilton when he was adjudged to have passed the McLaren during the safety car period. Toyota lodged an appeal against the consequence 25s penalty and demotion to 12th, Trulli having been under the impression that Hamilton was in trouble and waving him past.
It was an unfortunate way for two quietly assertive drives to end, for both Trulli and Hamilton had come through the pack in fine style and were both worthy podium finishers.
Behind the disappointed Rosberg, the final points went to the Toro Rossos after a remarkable debut for Buemi. His strategy allowed him to run in the top five at times, and he more than held his own in spirited battles with Massa and Hamilton during the second stops. He also had the edge on team-mate Bourdais, who finished behind.
Force India failed to score but did took its best ever combined result in ninth and 11th, split by Heidfeld's damaged BMW. Sutil recovered superbly from his earlier wing breakage, benefiting from a very short middle stint on super-softs to gain ground on medium tyres as others pitted later. But Fisichella could only rue a desperate pitstop misjudgement that saw him miss his stall and turn in way too late, causing a long delay while he was shunted into position.
"I was just confused with last year as we were always in the last slot in the pitlane, so I just overshot and had to be pulled back," he explained.
Fisichella had been running ahead of eventual fifth place man Alonso at the time, so clearly missed out on a lot of points - but he certainly wasn't the only one left kicking himself as the Brawn team celebrated on Sunday night.
REVISED RACE RESULTS

The Australian Grand Prix
Albert Park, Melbourne, Australia;
58 laps; 307.574km;
Weather: Sunny.

Classified:

Pos  Driver        Team                      
 1.  Button        Brawn GP
 2.  Barrichello   Brawn GP
 3.  Hamilton      McLaren-Mercedes
 4.  Glock         Toyota
 5.  Alonso        Renault
 6.  Rosberg       Williams-Toyota
 7.  Buemi         Toro Rosso-Ferrari
 8.  Bourdais      Toro Rosso-Ferrari
 9.  Sutil         Force India-Mercedes
10.  Heidfeld      BMW Sauber
11.  Fisichella    Force India-Mercedes
12.  Trulli        Toyota
13.  Webber        Red Bull-Renault
14.  Vettel        Red Bull-Renault
15.  Kubica        BMW Sauber
16.  Raikkonen     Ferrari

World Championship standings, round 1:

Drivers:                    Constructors:             
 1.  Button        10         1.  Brawn GP               18
 2.  Barrichello    8         2.  McLaren-Mercedes        6
 3.  Hamilton       6         3.  Toyota                  5
 4.  Glock          5         4.  Renault                 4
 5.  Alonso         4         5.  Williams-Toyota         3
 6.  Rosberg        3         6.  Toro Rosso-Ferrari      3
 7.  Buemi          2
 8.  Bourdais       1

All timing unofficial

Lap-by-lap as it happened on AUTOSPORT Live
TEAM BY TEAM
Ferrari
A strong run in Friday practice was as good as it got for Raikkonen, who stopped with hydraulic problems on Saturday morning and was only ninth in qualifying, two places behind Massa, although both gained from the Toyota penalties.
KERS helped them to third and fifth at the start, but their super-soft tyres saw them soon tumbling off the pace and pitting early. Massa's switch to a three-stop plan left him mired in the midfield until he retired with a broken nose support, while Raikkonen had a chance of points before spinning into the barriers in the closing stages and eventually parking with a differential problem.
McLaren-Mercedes
McLaren warned it would be off the pace, and it wasn't exaggerating - but thanks to a slice of luck and a battling drive from Hamilton, it snatched an unlikely podium two hours after the race.
Hamilton had started last after a drivetrain problem in Q2 that required a gearbox change, although the failure meant he had only qualified 15th anyway. He made good progress with an aggressive short first stint on soft tyres, then stealthily moved into contention later on as others had to take on the less popular rubber. The Kubica/Vettel crash moved him up to fourth, which became third when Trulli was penalised for passing him under the safety car.
Kovalainen looked more comfortable than Hamilton in practice but only managed 14th in qualifying and sustained broken suspension in the first corner traffic jam.
BMW Sauber
Kubica was underwhelmed by the car in practice, so was pleasantly surprised to qualify fourth. He started on super-softs, coped with them better than the Ferrari duo, then charged into contention on medium tyres in the second half of the race. A tangle with Vettel as he passed the German for second with three laps to go cost him a clear shot at another win.
More qualifying woe had Heidfeld only 11th on the grid before the penalties ahead, and he was blamelessly entangled in the start shunt. BMW repaired what it could in the pits and he trundled around for 10th.
Renault
Alonso was concerned by his lack of practice pace and looked unlikely to qualify in the top 10 even before the Q2 excursion that left him 12th. He fell to the back avoiding the first corner tangle but drove a sensible and stealthy race to salvage fifth.
Piquet was off the pace in practice, and only 17th in qualifying, but again showed much better race pace and was challenging Rosberg for sixth when he spun out at the mid-race restart, citing brake problems.
Toyota
Toyota displayed excellent pace all weekend but kept losing results retrospectively. Glock and Trulli's sixth and eighth places in qualifying were taken away due to excessively flexible wings.
Trulli got his super-softs out of the way with a short early stint while at the back anyway, then gained ground rapidly on medium tyres. The late carnage saw him emerge third - only to receive a 25s post-race penalty for passing Hamilton behind the safety car, dropping him to 12th.
Glock picked up fourth, despite a quick spin while stuck behind Alonso and a brief grassy excursion.
Toro Rosso-Ferrari
Last year's heroics seemed a long time ago as Buemi and Bourdais were only 16th and 20th in qualifying, but the race proved much better.
Buemi jumped to 10th at the start and comfortably held his own with the front-runners, mixing it with the likes of Massa and Hamilton in impressive style when they mingled during pit sequences. He eventually finished seventh once Trulli was penalised.
Bourdais inherited the final point after a low-key race. He had to pit very early when his super-soft tyres give up, he took on a huge amount of fuel under the first safety car, allowing him to run to the end and move up as others stop.
Red Bull-Renault
Vettel had a hellish time in practice - hydraulic failure in the first session, spinning and stalling in the second, and visiting the gravel thanks to brake issues in the third - but still qualified a superb third, behind only the Brawns. He was Button's main threat throughout the race, only to crash out in a failed bid to rebuff the charging Kubica three laps from home.
A poor second lap in Q3 saw Webber tumble from a potential third on the grid to 10th, and his race was ruined by damage at the first corner. He finished an unhappy 13th.
Williams-Toyota
Rosberg dominated practice, so was disappointed to only manage fifth on the grid. He was trapped behind the struggling Ferraris on their soft tyres early in the race, but matched Button and Vettel's pace once released.
A wheel problem at his first stop, and later Piquet spinning in front of him, cost him further ground, but he was on course for fourth place (which would have become second post-crash) until his super-soft tyres utterly ran out of grip. He was eventually classified sixth.
Nakajima backed Rosberg up with second on Friday morning, but a qualifying error left him only 13th when it mattered. He showed good race pace on a heavy fuel load, sticking with Barrichello and gaining places as others stop, only to crash out when running a strong fourth.
Force India-Ferrari
Sutil was optimistic after setting top 10 times in practice, but the team continues to lack qualifying pace, and he was only 19th on the original grid, one place behind team-mate Fisichella.
At the start, Sutil lost his front wing in the first corner tangle while Fisichella benefited from the mess and vaulted to 11th. But their fortunes later reversed. Fisichella ran as high as fourth, showing strong pace, only to miss his pit stall and lose a lot of time while being re-positioned. He finished 11th. Sutil recovered well, got his super-soft tyres out of the way with a short middle stint, and came through to a praiseworthy ninth.
Brawn-Mercedes
After the team's amazing testing pace, a one-two in qualifying and the race didn't seem as surprising as it should be. The full astounding significance of the result will take time to sink in.
While Button controlled the race from pole to chequered flag, Barrichello's anti-stall system kicked in and he tumbled from second on the grid to somewhere near 10th, before getting deeply involved in the first corner tangle. He continued in seventh with a battered car, knocked a bit more off it running into Raikkonen, then got a new wing in his first stop and started recovering ground.
He was on course for fifth place before passing the struggling Rosberg and then gaining two more places as Vettel and Kubica crash ahead, giving him second after all.