There were five laps to go when they hung out a board from the Williams pit. At the top of it was the Canadian maple leaf, and beneath it the word 'SLOW.' In the press room there were murmurings about team orders, but anyone with eyes to see knew otherwise: for 20 or more laps the white on Damon Hill's car had been turning yellow, which meant that Jacques was losing oil.
Thus, the Australian Grand Prix lacked the fairytale ending for which most, to be honest, had hoped. Villeneuve, warned now that continuing at his current speed risked not finishing at all, backed off on the next straight, allowing Hill through to victory in the first race of the 1996 Formula 1 World Championship.
More significantly, it was the first race of Jacques' career and marked the most impressive debut anyone could remember. As it was, the young man started from pole position, which only Mario Andretti and Carlos Reutemann had done before, and led calmly from the start, if not by much, until the moment that the board went out. When he crossed the line, second or not, the roof of the main grandstand nearly came off.
Such opposition as the Williams-Renault drivers faced on the marvellous new Melbourne park circuit came only from Ferrari. World champion Michael Schumacher ultimately retired with brake problems, but ran with Villeneuve and Hill for the first 20 laps, and Eddie Irvine then picked up the slack with an impressive third place. The rest, it seemed, have much to do.
Qualifying: Pole history for Villeneuve - By Andrew Benson
Jacques Villeneuve's Formula 1 career could not have got off to a better start in Melbourne after the 24-year-old French-Canadian became only the third man in history to qualify on pole position for his maiden grand prix.
Villeneuve joins exalted company. The last man to achieve the feat was the great Argentine Carlos Reutemann in 1972 and the other man in the history books is the 1978 world champion Mario Andretti.
Williams' new star wasted no time serving notice of his intent. Quickest by the end of private testing at Melbourne's new Albert Park track on Thursday, he was second, 0.237 seconds behind team-mate Damon Hill on Friday and then quickest in both free practice sessions and official qualifying on Saturday.
Nevertheless, for most of the final session, pole position looked to be heading Hill's way, with Villeneuve around a second slower than his team-mate. But with 15 minutes to go he came out onto the track as Hill streaked across the line to dislodge Michael Schumacher's Ferrari from the top spot.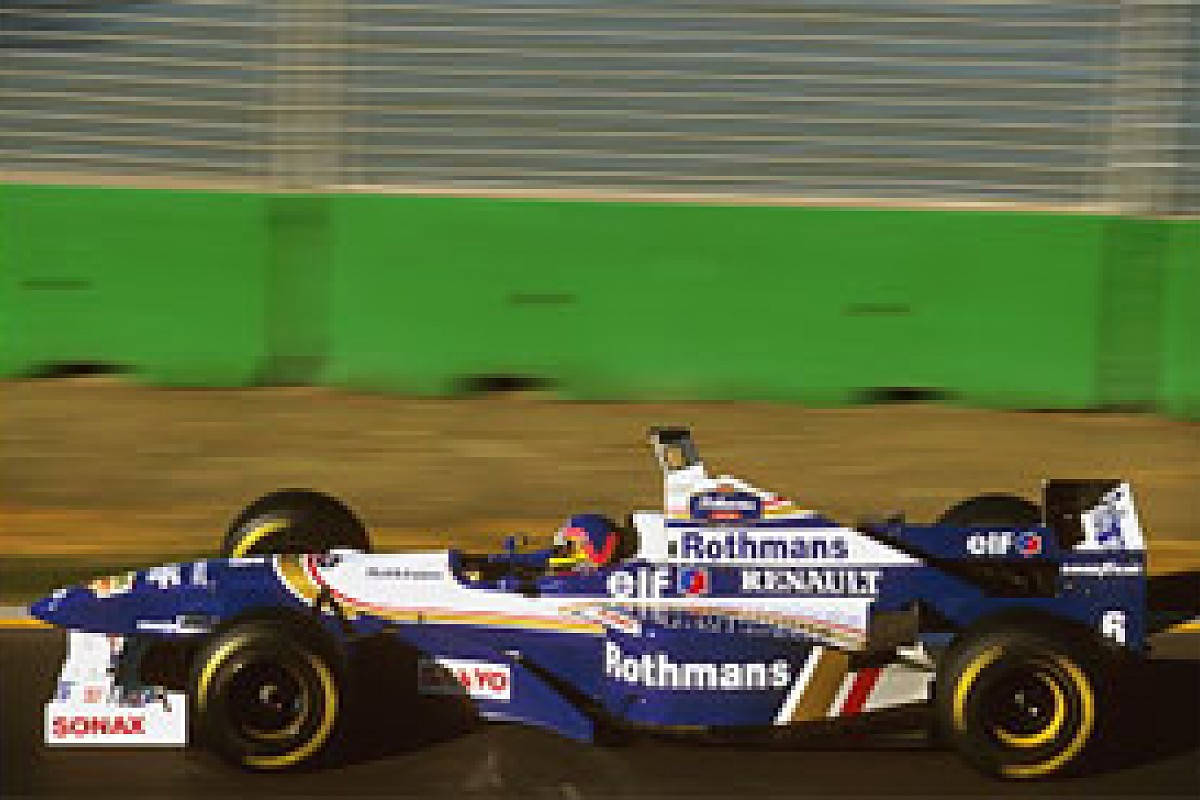 Jacques Villeneuve (Williams FW18 Renault) en route to pole position © LAT
Three minutes later the press room erupted into applause as his name shot to the top of the grid, his lap of 1m32.371 beating Hill by 0.138 seconds.
"I'm not surprised," said Hill, doing well to disguise his disappointment. "I've been watching Jacques in testing and he's obviously very competent at his job, as pole position has proved."
Close behind the Williams drivers, but not quite close enough, was the sensation of the session, Eddie Irvine outqualifying team-mate Schumacher by almost a quarter of a second.
But if everyone was deeply impressed, Irvine modestly admitted that Schumacher still has an advantage over him. "He has an edge in consistency," Irvine said. "I've always felt I can get a corner as good, if not better, than him, but stringing them together has been my problem. I'm catching him and today I popped ahead."
A cracked gearbox in the Saturday morning session had relegated Schumacher to the spare car, which did not handle as well as the race car, and then a Gurney flap fell off the rear wing, further slowing him. But despite that, he said the front row was not in sight, even if his race car had been trouble free.
"I might have been a fraction quicker than Eddie, but I don't think it would have been enough to challenge the Williams."
Irvine's pace dropped off at the start of qualifying: "I was two seconds off Michael and I thought 'Jesus, I'm going to struggle here.' But I just improved the car and the last run was a reasonable lap - but not mega by any stretch of the imagination. Now the pace isn't so bad. And as for the gap to the Williams, that time is in the car."
With that in mind, might the world champion think a win was possible? "Let's not dream," he said.
Irvine backed him up, Are you happy with the reliability? He was asked. "Are you taking the piss?" he fired back. But Ferrari did have a secret weapon. "I'm going to have both Williamses off at the first corner," he grinned.
"You know what?" Hill asked immediately. "I don't think he's joking either."
The race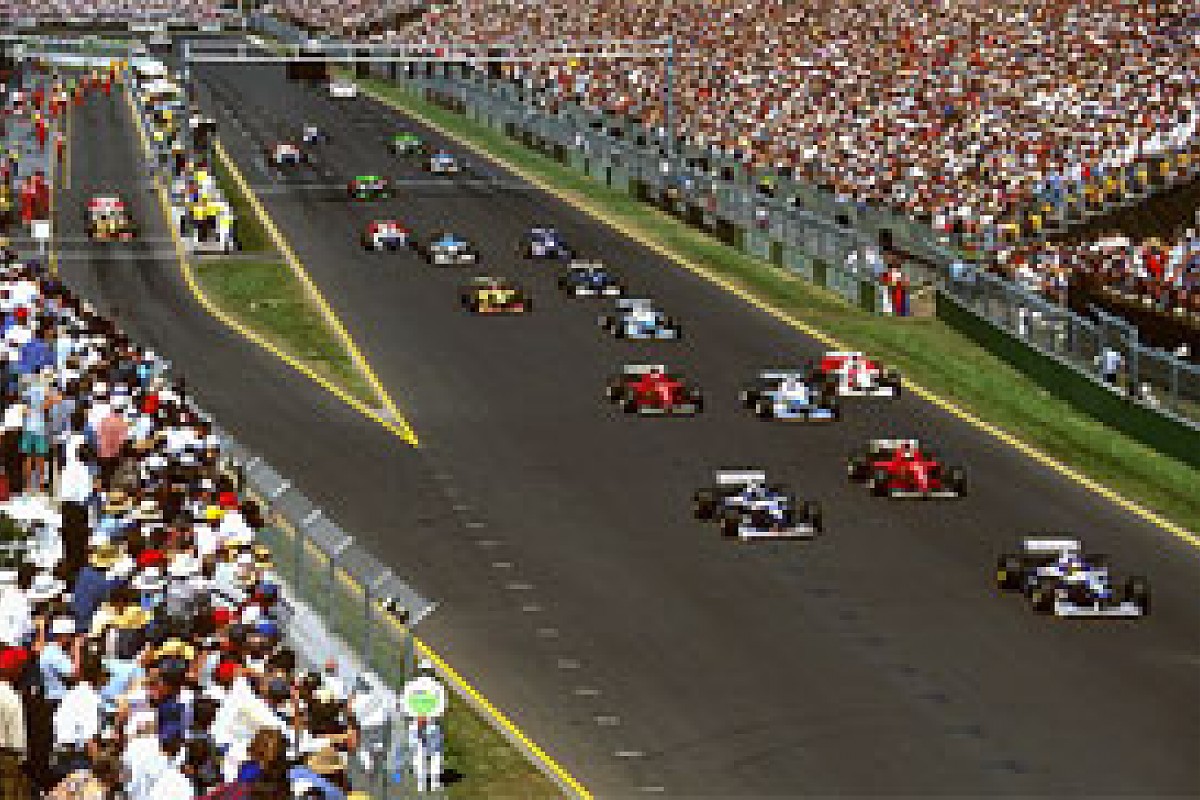 The start of the first Australian Grand Prix at Melbourne © LAT
"Can the kid take the heat?" broadly summed up the gossip in the paddock on Sunday morning. Villeneuve had stunned everyone with his performances in practice and qualifying, but there were those who muttered that the pressure of race day was a different matter. This was his first grand prix, after all, he was on pole position, there was a new starting procedure, and...
There were not many who felt this way, however, who had watched Villeneuve in an Indycar, nor seen him in either pit or press room during the practice days. This is indeed a cool one.
Race morning, however, was rather less satisfactory than Jacques would have wished, for in the warm-up his Williams-Renault stopped out on the circuit following the failure of a pipe in the hydraulic system. As a consequence the pole-sitter completed only eight laps. Ninth fastest, he was not too concerned.
The other FW18, Hill's car, duly set the best time, followed by the Benetton-Renaults of Jean Alesi and Gerhard Berger, both of whom were rather happier with their cars than in qualifying. Schumacher and Irvine were fourth and sixth with the Ferraris, sandwiching Heinz-Harald Frentzen's Sauber, and to the fore, too, were Mika Salo and Jos Verstappen, giving Tyrrell and Arrows a shout.
Twenty cars only started the Australian Grand Prix, the lamentably slow Fortis having failed to qualify under the new 107 per cent rule. If this was a source of disappointment to the team's personnel, it was one of relief to every other driver, who dreaded the presence of these yellow chicanes on a track otherwise refreshingly free of them.
Before the race there was a degree of apprehension about the new starting procedure. These fears were groundless, however, for the lights on the gantry flicked on, four, three, two, one, none, and Villeneuve, with just a touch of wheelspin, catapulted away into his first F1 lap - at the head of the pack.
The next concern had been the first corner, a tight right-hander, followed immediately by a left, which seemed like an invitation for closely-bunched cars to run into each other. Again, there was no problem, although Hill, who had not got away well, went in on a tight line and got out of shape, whereupon both Irvine and Schumacher zapped past him.
"At that moment," Damon said, "it was looking like a very long race..."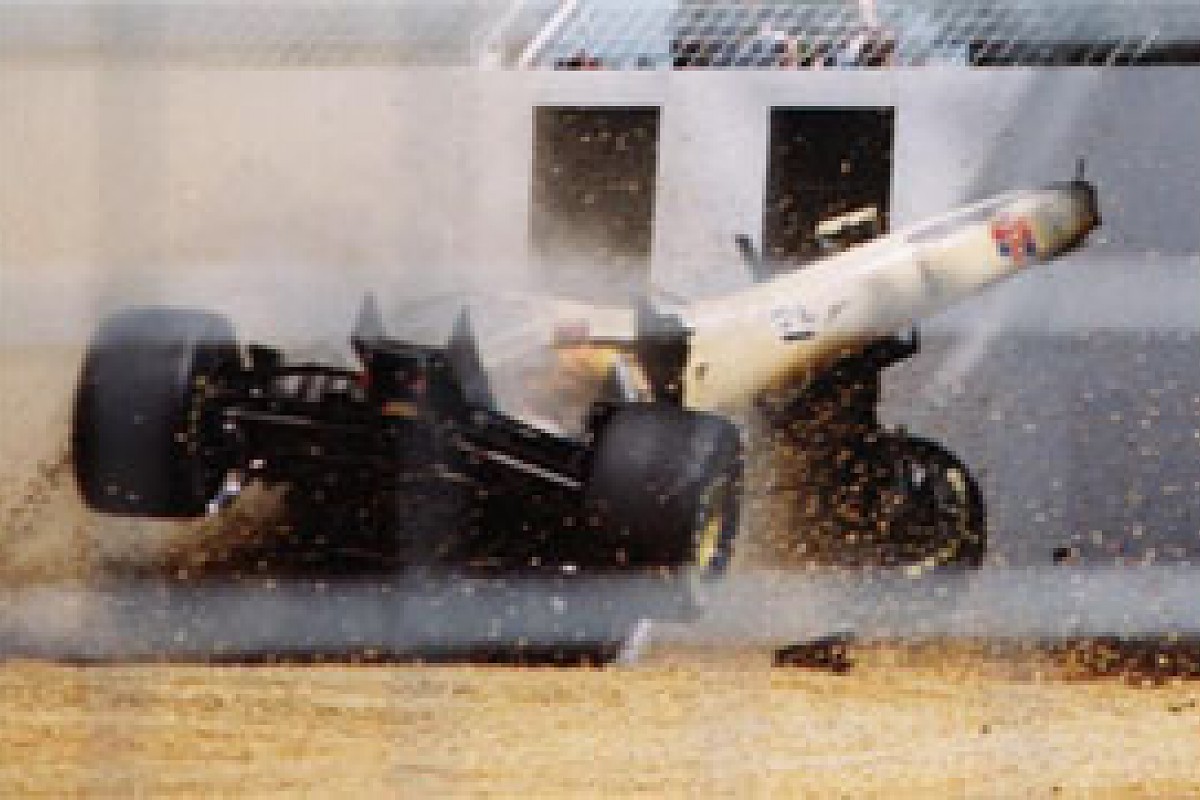 Martin Brundle crashes the Jordan 196 Peugeot © Jason Newton/Forix
As it was, though, he was to get another chance, for at the end of the opening lap the red flags were out, the race stopped. Back at the second turn Martin Brundle was upside down, his Jordan-Peugeot effectively chopped in half. Despite the fact that the cockpit survival cell was plainly intact, it was with some incredulity that we watched him scramble from the wreckage, apparently without injury.
Brundle was the victim of a chain reaction triggered by his team-mate Rubens Barrichello, who moved across Olivier Panis's Ligier in defence of his place, obliging the Frenchman to brake hard. Directly behind was Coulthard, and David believes his car was nudged from behind. Whatever, the McLaren swerved across the road and hit Herbert's Sauber - which had Brundle's Jordan immediately behind. In a flash, the yellow car was tumbling over the pair of them, landing upside down and skating along for a considerable distance, before coming to rest in a gravel trap.
Martin was brought back to the pits in an ambulance and, once there, was seen to be running down the pit-lane in search of the race doctor, Sid Watkins. Just as Derek Warwick took the re-start at Monza in 1990, following a fearful accident, so it was clear that Brundle had the same in mind.
"I felt absolutely fine," he said. "I knew the car was a write-off, but there was no way I'd travelled halfway round the world to watch the race..." Once 'Prof' had checked him over and pronounced him fit, Martin gave a thumbs-up to the crowd, then ran for the T-car. The accident had occurred at around 165mph. They are not normal, these people.

Elsewhere, Coulthard was strapped into the spare McLaren, but for Johnny Herbert there was no such luxury. His car had been damaged beyond immediate repair and now the spare Sauber was pressed into service for Frentzen, whose original car had stopped with an electrical problem on the final parade lap.
Half an hour later came the restart - and again Villeneuve got it absolutely right, as also this time did Hill. Out of the first corner, the two Williams led from the two Ferraris, and then followed Alesi's Benetton, Hakkinen's McLaren, Barrichello, Frentzen, Berger's Benetton and Salo's Tyrrell.
On lap two, the unfortunate Brundle had another mishap - at the very same corner as before, albeit with less severe consequences. "When you start from the pit-lane, you don't get the final warm-up lap," he explained. "So of course the tyres are relatively cold. I was behind Diniz and I simply couldn't believe how early he braked for the corner. I just slid into the back of him..." The Jordan stalled, and what Martin described as "the weekend from hell," was over.
The Williams boys were having a rather good time of it, however. At the front, Villeneuve continued to lead from Hill, but the gap was never much more than a second - usually less. Behind them though, Schumacher had swiftly got by Irvine and was moving up. At this stage of the game, it seemed that the Ferrari might genuinely challenge the Williams, although there was little doubt that Schumacher was right at the limit - his car noticeably more twitchy than the FW18s.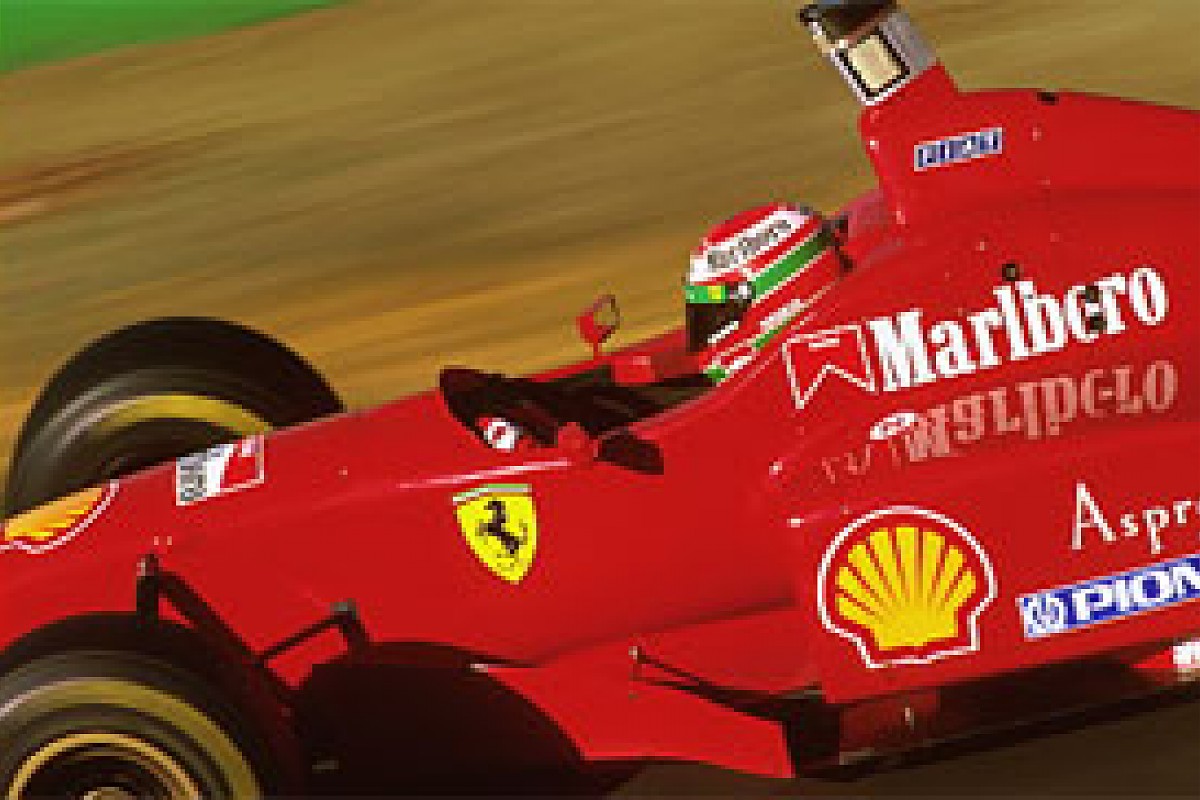 Eddie Irvine, Ferrari 310 © LAT
It is strong, though, the F310, as we came to appreciate on lap nine when Irvine's car shrugged off a savaging from Alesi's Benetton. Once more the scene of the drama was Turn 2, and quite what Jean had in mind seems unclear.
"My lap times were quicker than Irvine's," he said. "And it was important to overtake, because the first three cars were getting away. I tried to pass, but it did not work..."
It did not. From impossibly far back, the Benetton lunged down the inside of the Ferrari and the inevitable contact followed. "With Alesi, you never know what to expect," said Eddie dryly. The Ferrari continued without apparent damage, but the Benetton's left sidepod was in pieces.
Villeneuve, Hill and Schumacher continued to run up front, covered by a couple of seconds or so, but Irvine, fourth, was now nearly 10 seconds adrift and falling back all the time. Irvine was well clear of Mika Hakkinen, driving a wonderful comeback race in a somewhat less than competitive McLaren. Right up with Mika were Barrichello, Berger and Salo.
"I should have been higher up," said Gerhard. "But while my first start was great, my second was terrible and when you're in a bunch of cars here, it's difficult to get by. I decided to wait until the stops."
They began in earnest on lap 20. Villeneuve, Hill and Schumacher had been trading new fastest laps, but Michael broke up the lead patter by heading off for tyres and fuel. At 12.9 seconds, it was a good stop and Irvine's, on lap 22, was quicker still. As the Williams duo continued to circulate though, the true state of affairs in this race became apparent. Villeneuve and Hill would be stopping only once and their major rivals - notably Schumacher - twice. With a considerably lighter fuel load in the early stages, the Ferraris had flattered, but not to deceive for long.
Schumacher, moreover, was clearly in trouble after his stop, retaining his third place but now losing seconds a lap to the leaders. The Ferrari was running out of brakes and on lap 32 Michael came in. His mechanics attempted to bleed the front brakes but the real problem lay with the rears, and immediately after rejoining the car ran briefly off the road. It didn't hit anything, but clearly there was no possibility of continuing and Schumacher cruised gently back to the pits where he retired. Michael is not accustomed to these things.
As the Ferrari departed, so the tussle at the front intensified. On lap 30 Villeneuve came in for his one and only stop, which at 17.6 seconds was not too speedy, but almost a second faster than Hill's, which followed two laps later. Despite that, Damon squeezed out of the pits marginally ahead of his team-mate and for half a lap the two blue cars were all but tangling as Jacques, his tyres fully up to temperature, sought a way by. This he finally found and Hill correctly made no attempt to chop him. "When you're racing against your own team-mate, you obviously have to keep one eye on the team's results, as a whole."
So Villeneuve was now back in the lead, but his Williams seemed to lack some of the fluency it had shown before its stop and Jacques later confirmed that his second set of tyres had not the grip of the first. As well as that, he made a mistake, skating briefly off the road on lap 34, but holding on to his lead - just - as he rejoined.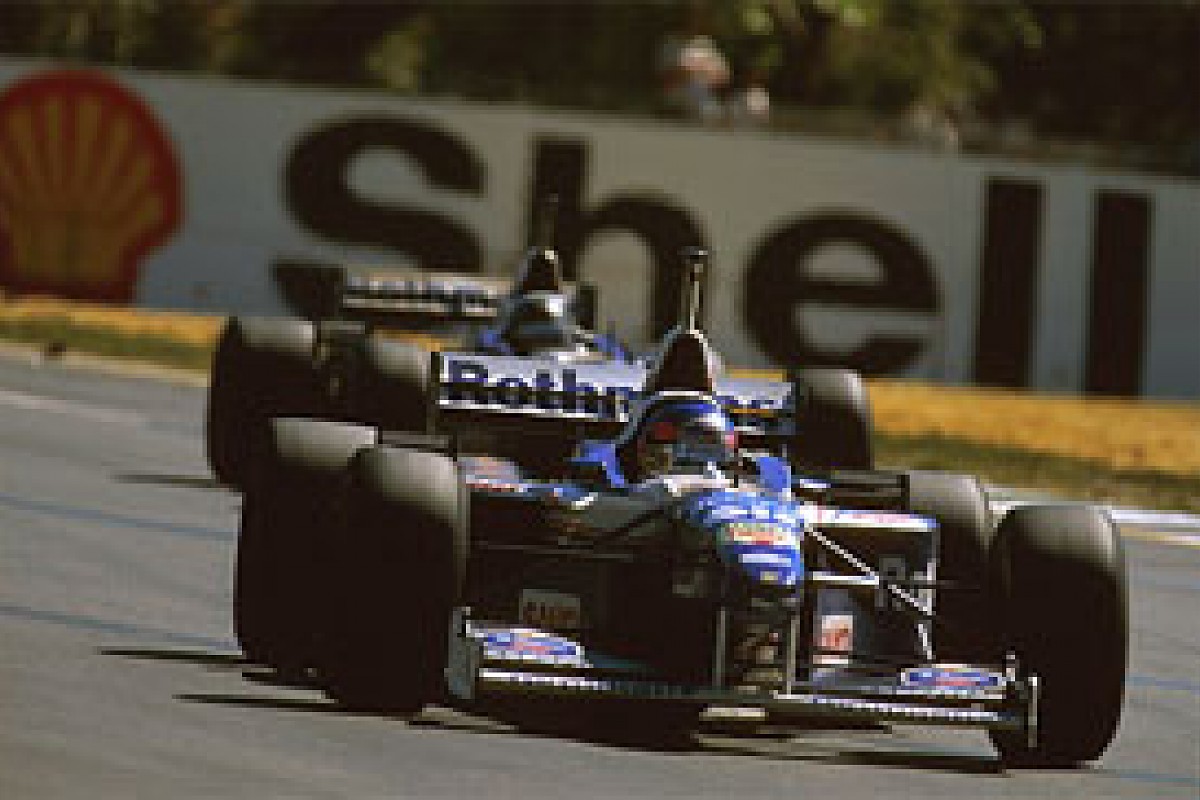 Jacques Villeneuve and Damon Hill (Williams FW18 Renaults) run in formation © LAT
"It was my fault," he frankly admitted. "The car was heavy with fuel, and I left my braking too late. On the bumps it's easy to get the back wheels light under braking and afterwards I was quite surprised to find myself pointing in the right direction."
Hill was surprised too. "I really thought he'd lost it and then I was worried that maybe he might clip me when he came back on the track, but fortunately it didn't happen. I had to lift off though and of course, by the time I'd got back on the power, he'd gone."
Despite the occasional lurid moment though, there was not a trace of animosity between the team-mates afterwards, which bodes well for the season.
As Jacques and Damon continued to battle, so Irvine's Ferrari began to catch them a little, but the local commentators, who got very excited by this, had perhaps overlooked the fact that Eddie would be stopping again for fuel and tyres while the Williams pair would not. On lap 42, running 18 seconds adrift of Hill, the number two Ferrari was in, rejoining without losing its third place, but now nearly 50 seconds off the lead.
Melbourne was strictly a fight between two drivers.
The last 15 laps were mesmeric. For some little time there had been the hint of trailing smoke from Villeneuve's car and Hill's, close behind, was becoming grimier by the lap.
"I reckon Jacques started losing oil from about the time of our stops," said Damon. "I was getting covered in it - it was down my neck and everything. I'd used all my visor tear-offs and was wiping my visor with my glove, which just made visibility worse, of course. As well as that, I was worried that his engine might go bang and we'd both go off on the oil."
Thus we came to the closing laps, to the worsening oil smoke, to the board from the Williams pit to the leader. "They were screaming in the radio for two laps," Jacques said. "So I understood that something was wrong. They could see the smoke where I couldn't and they had the telemetry as well. But then the red lights started coming on in the corners and I knew the pressure was going down."
It must have broken his heart to do it, but Villeneuve heeded the warning board and surrendered his lead.
"Of course it was disappointing, because the win was there. We had fought until those final laps and, without the problem, it would have been a battle to the end. But, you know, second place in my first grand prix is great, so I feel very happy."
Over the last four laps, Jacques indeed rolled off, aware of a considerable cushion to Irvine and thinking - as Bernie Ecclestone had predicted to him - "all the time in the world" in terms of winning the championship. At the finish he was 38 seconds adrift of Hill, but could not have stood higher in the eyes of those who looked on. When the two of them stepped from their cars, their body language suggested that the battle had been fierce but fair.
Jacques Villeneuve and Damon Hill in parc ferme © LAT
No, Jacques said later, he didn't feel that he had been robbed. "In racing, everything is pushed to the edge and anything - car, engine, driver - can go wrong. Today it happened to me, but on another day it could happen to Damon or Eddie. It's part of racing."
He may be understandably weary of the constant comparisons with his famous father, but this good-natured honesty, this lack of guile, brought back to mind another Villeneuve we once knew.
Hill, leading the world championship for the first time in a year, was of course elated by victory and quite reasonably so. It was also evident that Irvine was agreeably surprised to finish third in his first race with Ferrari, and no surprise there either, for this was a fine drive in an under-developed car with a brand new engine.
For Benetton, Melbourne was a disappointment, although Berger's fourth place at least yielded some points. Hakkinen took fifth for McLaren, but his expression afterwards suggested that the team still has a mountain to climb. Williams folk apart, perhaps the happiest face in the paddock belonged to Harvey Postlethwaite, in whose under-financed Tyrrell 025 Salo finished an excellent sixth.
Everyone, though, was talking about the new kid on the block, who had so startled Formula 1, if not, apparently, himself.
Take a trip down memory lane and visit our 1996 Australian Grand Prix gallery