Ages
The average age of the grid has fallen from 29.3 at the start of the 2008 season to 28.5 at the beginning of 2009. Brawn GP is the oldest team on the grid, with Jenson Button and Rubens Barrichello averaging 32.5, while Williams is the youngest team on the grid, averaging 23.5. The youngest driver is Sebastien Buemi at 20 and Barrichello the oldest at 36.

Landmarks
At Melbourne, Jarno Trulli is set to become the 10th driver in grand prix history to make 200 race starts. The first nine are: Barrichello (267), Riccardo Patrese (256), Michael Schumacher (248), David Coulthard (246), Giancarlo Fisichella (212), Gerhard Berger (210), Andrea de Cesaris (208), Nelson Piquet (204) and Jean Alesi (201).
If Kimi Raikkonen makes it to the end of the Australian Grand Prix, it will be his 100th race finish.
Rubens Barrichello Stewart SF01 Ford) in the most recent race on slick tyres, the 1997 European Grand Prix at Jerez © LAT

Tyres
The Australian Grand Prix will be the first race on slick tyres since the 1997 European Grand Prix at Jerez. The infamous title-deciding race was also Mika Hakkinen's maiden victory.
The only drivers on this year's grid to have raced in F1 with slick tyres are Barrichello, Trulli and Fisichella. All three are race winners, although none of the trio scored a victory during the slick tyre era.
Michael Schumacher was the most successful driver in the grooved tyre era, scoring 64 wins to Alonso's 21 and Hakkinen's 19. In that time, Ferrari scored 96 wins, to McLaren's 55 and Renault's 20.

Switzerland
Sebastien Buemi is set to become the first Swiss driver to start a grand prix since Jean-Denis Deletraz, who raced three times in 1994-95 for Larrousse and Pacific. Since then, Neel Jani and Giorgio Mondini have taken part in Friday test sessions for Toro Rosso and Midland respectively, but neither started a race.
If Buemi scores a point, he will be the first Swiss driver to do so since Marc Surer's Brabham-BMW finished fourth in the 1985 Italian Grand Prix at Monza.

The one and only
Buemi is also the only F1 rookie in 2009. The last time there was only a single rookie in a season was 1995 when it was Pedro Diniz.
In the previous 59 years of the F1 world championship, there have been six seasons with no newcomers at the start of the year, 1958, 1969, 1973, 1975, 1977 and 1985.

Hot spots
Melbourne is traditionally a circuit with a lot of accidents during races. Turns 1 and 3 are the most prolific spots, with the following crashes in recent years:
Turn 1 - 1997, three cars at the start. 2002, eight cars at the start. 2006, three cars at the start plus Felipe Massa and David Coulthard's collision later in the race.
Turn 3 - 1996, Martin Brundle and Johnny Herbert on the first lap. 2001, Jacques Villeneuve and Ralf Schumacher. 2007, Alexander Wurz and David Coulthard.

Personal scoreboard - Australia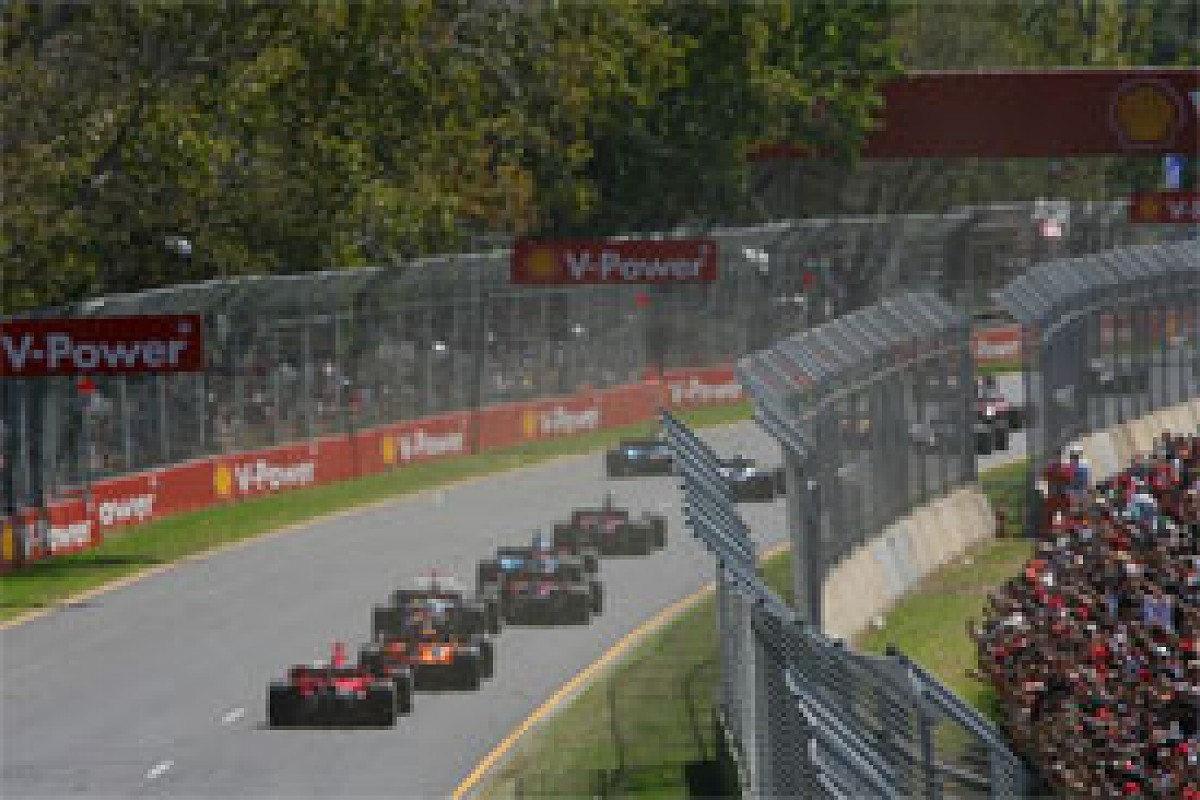 Felipe Massa chases the field on the opening lap of the 2007 Australian Grand Prix © XPB
• Lewis Hamilton has finished on the podium in both of his Australian Grands Prix so far; third in 2007 and first in 2008.
• Kimi Raikkonen has scored points in seven out of eight races at Melbourne, including a victory in 2007 and podiums in 2002, 2003 and 2006. His only front row start was pole position in 2007, and he has set the fastest lap in Australia four times - one shy of the record of five set by Michael Schumacher (1992 and 1994 at Adelaide, 1991, 2001 and 2004 at Melbourne).
• Felipe Massa has only scored points once in Australia, finishing sixth in 2007 after starting at the back. He crashed in 2002 and 2006 and had engine failures in 2004 and 2008. Massa has also qualified in the top 10 only twice, 2002 and 2008.
• Fernando Alonso has scored points at Albert Park every year since 2003 and was on the podium from 2004-07, including a win in 2006. But he has only once started from the front row, in 2007.
• Timo Glock had an action-packed debut for Toyota in Australia last year. He qualified ninth but was penalised five places for a gearbox change and a further four for impeding another driver in qualifying. He then crashed out of the race in spectacular fashion.
• Nico Rosberg scored his first ever podium last year in Australia.
• Jenson Button has only scored points once at Melbourne, when he was sixth in 2004. He qualified on pole position in 2006, when the Australian Grand Prix was the third of the season.
• Giancarlo Fisichella won from pole position in Melbourne in 2005 and is one of the few drivers in recent times to have won the first race of the season and not gone on to win the title. The only others since 1990 are David Coulthard (1997 and 2003) and Eddie Irvine (1999).

Other notes about the Australian GP
• McLaren, Ferrari and Renault have won all the races here since 1997. The last for another team was Damon Hill's victory in a Williams in 1996.
• In 2008, both Ferraris retired with engine failures - the first double engine failures for the team since the 1994 Belgian Grand Prix.
• Last year, the Force India cars ran only eight racing laps, as Fisichella was victim in the first corner accident and Adrian Sutil retired shortly after with a hydraulical failure.
• Renault haven't finished on the podium since 2006, when Alonso won.
• Rosberg's third place last season was of the two for Williams during the year, the other being Rosberg's second place in Singapore.
• Michael Schumacher is the only driver to have won more than two Australian Grands Prix. None of the current field has won more than one.
To continue reading this feature, subscribe to Autosport Plus today.
Expert opinion. Technical insight. Unbeatable analysis. Subscribe today for unlimited access to the world's best motorsport journalism.
Get unlimited access now
No more monthly limits. Get complete access to all our news and Autosport Plus features.
Subscribe to Autosport Plus
Completely ad-free environment.
Access Autosport Plus - the best motorsport analysis, insight and opinion.
No monthly news limit.
Explore Forix, the world's most comprehensive motorsport stats database.