No denying it, there's big uncertainty about Formula 1 at the moment. As I write, I'm at 38,800 feet heading for Oz with the distinct feeling I could be flying straight into a war zone.
To say that the last week has been 'newsy' in F1 terms would be dramatic understatement. First came the announcement that points no longer mean prizes, then a quick reversal: yes, they still do, for another year at least.
Max Mosley © LAT
It was a classic Max Mosley spoiler. On the autosport.com forums, the 'champions must be winners' subject prompted an avalanche of responses - more even than the climax of Spygate when McLaren's $100 million fine was announced. Some 70% of it was vigorously against changing the current system.
I'm not deeply moved about it either way. Had Lewis Hamilton needed to beat Felipe Massa in Brazil last year to be world champion, I can't see it would have dished up any greater drama than we had - which was nigh on impossible. As an upside, it would have saved us from the uncomprehending critics who castigated Timo Glock for taking 1m44s to skilfully keep his slick-shod Toyota on the sodden track and suggested he gifted the championship to Lewis.
The subject does get people going though, which will be what Max had in mind. While everyone was busy with the reactions of Schuey, Lewis, Fernando et al, the big bomb went off. A budget cap, folks. You're all going to go racing on 30 million.
All the politicking about the FIA rejecting the Formula One Team's Association (FOTA) desire for a mild tweaking of the points and introducing Bernie's winners plan was a load of old guff. Of course, the FIA knew they couldn't change the system with no notice without the unanimous agreement of the teams. But they didn't care. The message seemed to be - we're not taking you guys too seriously. Doubtless they knew they would have to go into reverse when a stink was kicked up.
Oh dear, sorry, we thought everyone wanted it, they said. Oh well, if you don't, best leave it alone until we can impose it of our own free will. People like Mario Theissen had been saying on record all winter that they weren't in favour. I'm sure the FIA was comfortable they would cope with a couple of 'embarrassing climbdown' headlines in the papers. What the mischief-making gave them was a smokescreen and handy distraction from the real story, which was a new budget F1 that, as far as I can see, will make every major manufacturer left in F1 rethink its involvement.
One team insider told me last week that he received 24 hours notice of the FIA's radical budget-capping announcement. And he works for a team that was always going to be in favour!
This was weighty stuff and didn't make for good newspaper copy. It was political, complex and unexpected. Whether Lewis Hamilton had to win or merely rack up the points to defend his title was much better fare - although looking at the McLaren presently, it may not much matter...
This was Max declaring war. The response of FOTA to his calls for cost-cutting had been 'weak'. That was the word he used. Okay, all well and good that some of the manufacturers could see their way to getting budgets down from $300 million to $150 million, but he couldn't see them having even that much in a year's time.
So, folks, this is what we are going to do - 30 million. When budget caps have been brought up in the past there have always been doubts as to whether they can be imposed legally. You get into issues of competition and trading practices. Which is why, I guess, there is the proposal for the two-tier system. What Max is saying is that, legally, you don't have to sign up for my cut-price F1. You can carry on spending shed loads if you want, but you won't have as much technical freedom. And, oh yes, we reserve the right to tweak the rules further if you're still winning...
Jarno Trulli, Toyota TF109 © XPB
So, Mr Toyota, you can still spend half a billion if it takes your fancy, but you're going to finish behind Frank and Ross, who are doing it on less than 10% of your spend. How d'ya fancy that!
Mosley has always been the consummate politician, wasted in the relatively trivial world of motorsport. The fact that he survived last year tells you all you need to know. With the knowledge and experience he has, and the contacts, he rarely gets his timing wrong.
So when he drops this bomb now, you know that it is because he feels the time is right. The opposition is weak. And it's easy to see why.
A few years ago, looking at it logically, there was no doubt in my mind that we were heading for a breakaway championship run by the car manufacturers. Whether it was a good thing or not is another matter but I thought it would happen once the 2007 Concorde Agreement was run.
What was pointing to it? Money and circumstances. For Bernie, as far as I could see, it was Job Done. He'd taken F1, made it into the hugely valuable worldwide spectacle that it is - the greatest feat in the history of promotion - and then he had sold it. The money was in the bank. Max, through his dealings with Bernie as FIA president, had facilitated it.
Post-tobacco, the car manufacturers had been F1's cash cow and the dollars had continued to flow freely. But the car makers didn't like that F1 was run like a gentleman's club. They wanted more transparency and more input. And they didn't see, either, why Ecclestone should take so much out.
When they set up first GPWC and then GPMA it seemed to me that it was only a matter of time. This wasn't a bunch of racing enthusiast entrepreneurs, it was big, powerful corporations. I couldn't see it being an easy fight for Max and Bernie. And with Bernie approaching 80 and rich beyond imagining, and Max looking at 70, I didn't see them having the will or the need to fight it. It just seemed like the natural end of an era. I guess I didn't know them!
The FIA? Well, okay, it was their bat and ball and they could make it a bit difficult for various people but nothing that couldn't be sorted out in three or four months, I was told. Whatever Max or Bernie said, logic told you that the manufacturers were a big threat.
Wasn't last year's FOTA formation just the teams looking back in history and taking Bernie's FOCA blueprint? As the owners of all the teams and all the kit and a determination to speak with a single voice, I couldn't see how they could be other than a serious force.
But then, Bang! It's worldwide meltdown, no credit, unsold product, redundancies, short time working, general panic. Away goes Honda and, if you listen to the word on the street, Toyota and Renault are shaky.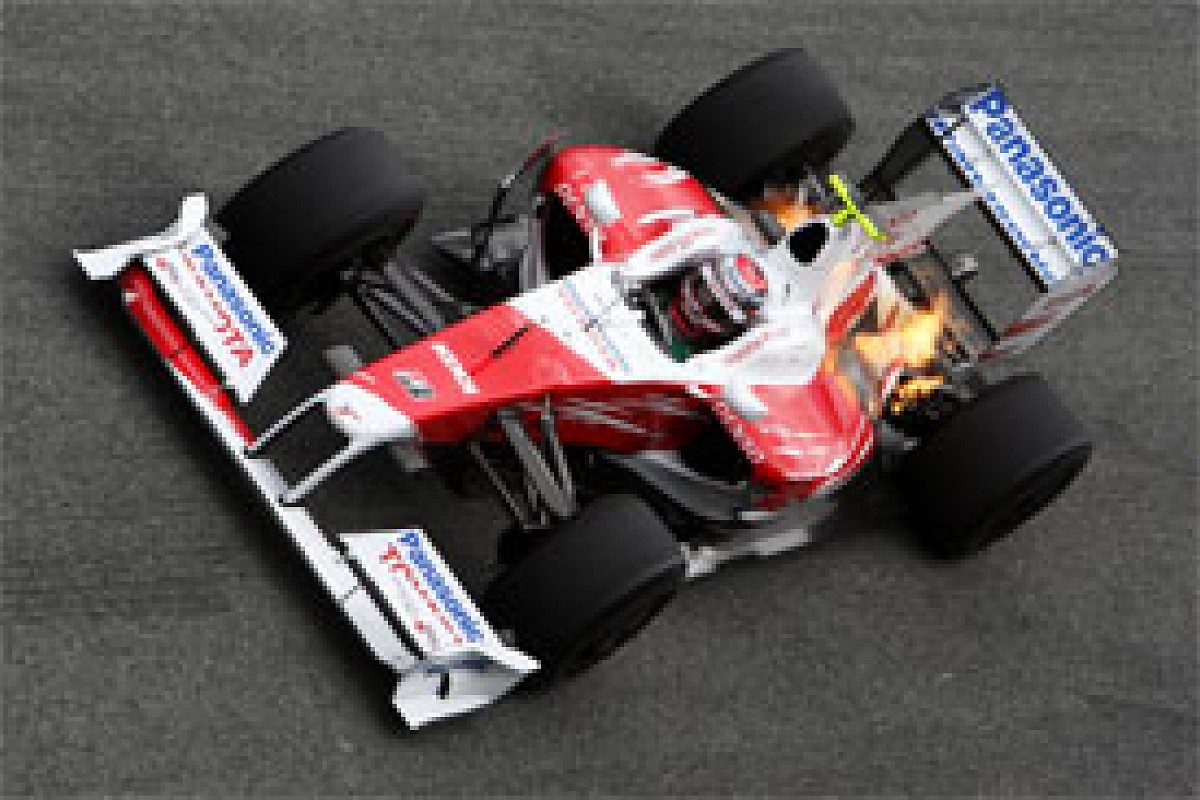 Kimi Raikkonen © XPB
Ever the opportunist, in goes Max with his 30 million, to include team principal and driver salaries!
Schuey must be glad that didn't happen 10 years ago! And Kimi's hat is probably being hung on his hall peg as we speak. Well, folks, you can have Kimi and two cups of coffee all year, or....
You've got to think Max is allowing a little room for negotiation, but probably not a lot. Alejandro Agag, come on down! Come in, David Richards! Mr Sears, you still interested? Oh look, we've got 13 teams again and, oh what a shame, the manufacturers are no longer numerically superior. Oh well, problem solved... Hello, Mr Ferguson? You still got some of those Cosworth motors? And Flav, it's about time you had an engine company again.
And you lot at CVC can relax. You're not going to be left holding the baby after all! We've got these entrepreneur chaps back in again and the beauty of it is, we're going to stop the plonkers spending, so they can't squawk about how much we're not giving them. Clever, eh! Points? Diffusers? Don't make me laugh...