Nelson Piquet's rookie season was not an easy one. It was never going to be, bearing in mind he was up against a double world champion and in a car that was uncompetitive for much of the season.
A run of mistakes didn't make things any easier, but in the end he survived and retained his job. It was good to see a major team willing to acknowledge that, give or take the odd exceptional case such as Lewis Hamilton, these days an F1 driver needs at least a season to learn his craft. Kicking him out after underwriting a year of education makes no sense. There was no obvious candidate ready to step in and do a better job, so Flavio Briatore gave him a second chance.
It's pretty obvious that if he doesn't show clear signs of progress this year, Nelson is unlikely to get a third chance. But he's confident that he'll earn an extension on merit and is heading to Australia feeling much better prepared than 12 months ago.
"I think there's no comparison with last year," he says. "Last year when I left the garage in Australia on the Friday it was, 'whooah!'. It was big for me. This time it's going to be one more weekend, knowing the procedures and everything.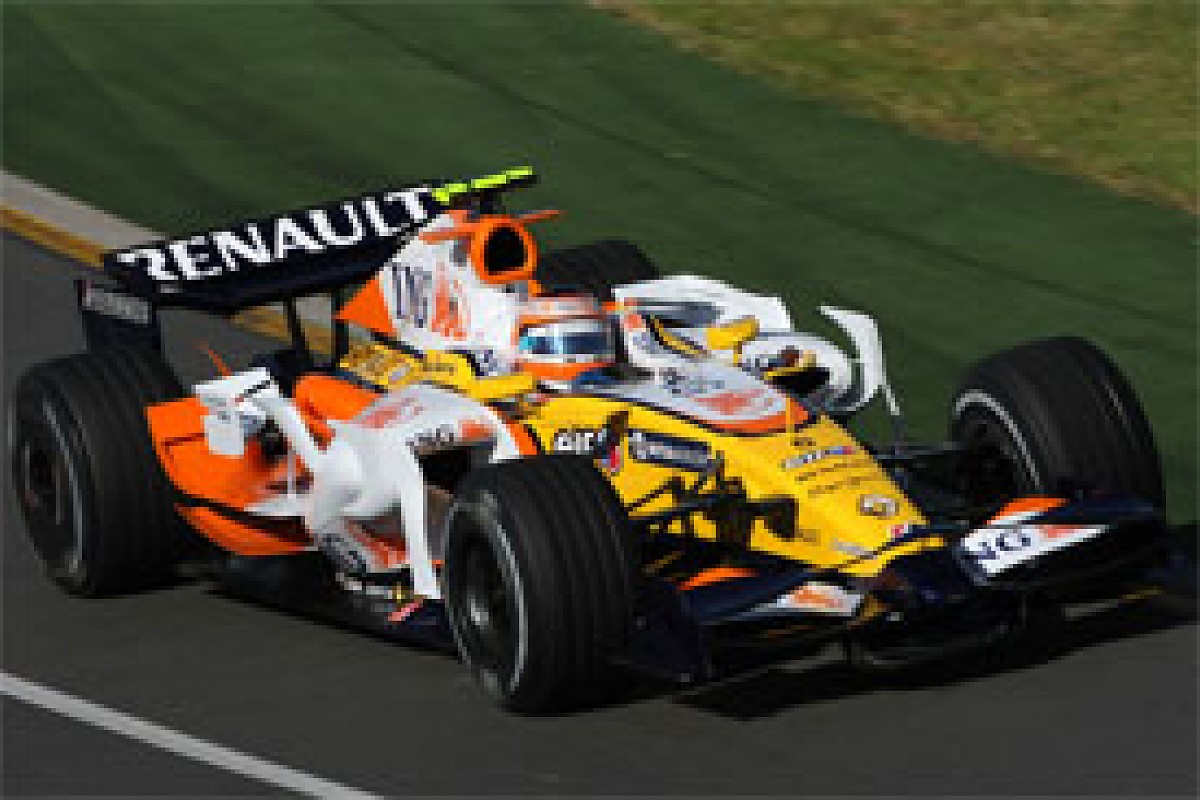 Nelsinho Piquet in the Renault R28 during his Grand Prix debut at Melbourne © XPB
"When I arrived in Australia last year, I'd never done a start. I'd practiced at the exit of the pits, but never done a simulation of a grid or anything like that. I had my engineer explaining procedures at the start step-by-step nearly, because we didn't have time to practice it.
"Anyway, I started right at the back because I had a problem in qualifying. In the race I had broken bodywork at the rear which was slowing me down one or two seconds a lap. If I'd known I would have stopped earlier, but because I didn't know I tried to drive the car thinking it was my fault I was slow..."
Things didn't get much easier after that and Piquet seemed to lurch from one frustrating error to another. Times were hard, but Nelson denies that he ever lost confidence.
"I just think I had a bit of bad luck. I did a few silly mistakes that I didn't need to do and it just looked really bad. My two worst mistakes were Silverstone and Spa, maybe Monaco as well. If I was just a bit more easy and more calm, I would have finished in the points. That's a bit frustrating, because mistakes shouldn't happen. But you learn with it."
Inevitably at an early stage, there were suggestions that Nelson would not be retained for 2009, or perhaps even be replaced before the end of the 2008 season. It was not easy to ignore the pressures, but he did his best.
"To be honest it's something I managed not to keep in my head, I managed just to concentrate on my job and do my thing. The only tough thing is having Flavio bollocking you all the time and sometimes saying things that don't help, because he likes to put pressure on the drivers. He thinks that it helps drivers, but in actual fact, it doesn't. Maybe with some drivers it does, but not in 80 per cent of the cases. I just had to learn how to deal with it.
"But I had two deals in hand already, so if I didn't have one I would go to another. It wasn't something I was worried about."
In the end, his rookie season finished on a high note after some improved performances. Just after the final race, he was confirmed for 2009.
"Japan was good, China was ok, qualifying in Brazil I was really happy - I was really close to Fernando without knowing the track and everything. Obviously a lot of people just see Q3, but if you see Q2 in a lot of places I was quite close to him."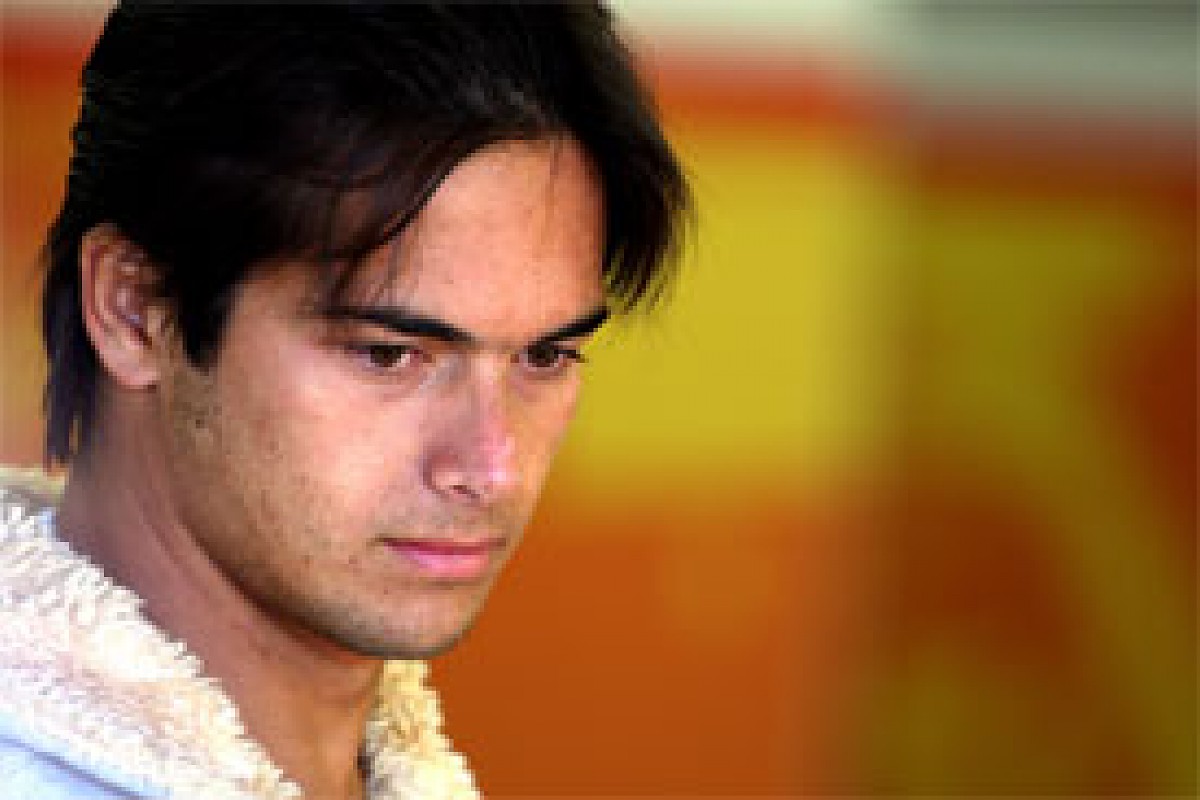 Nelsinho Piquet © XPB
It's been a long winter and Piquet has had plenty of time to gather his thoughts and prepare for a fresh start this season. But he insists that having some time off hasn't made much difference.
"To be honest if I had Australia three weeks after Interlagos, or four months like we have now, it would be the same for me. If I had to choose I would prefer three weeks only and get back to it straight away and not lose the momentum, let's say."
Nevertheless, there's been a lot to do this winter. Like the other drivers, Nelson has had to adjust to the new era of slicks, low downforce and KERS. Testing has been cut back for everyone and for a driver with only one season behind him, every lap is still of huge value, especially given the aforementioned changes.
Renault was the first team to make a public commitment to running KERS in Australia, and Nelson is certainly looking forward to having some new toys to play with.
"It's good, I don't think it's going to be complicated like everybody says. It's something we're going to get used to, like we got used to doing the traction control, or the multi-map. Every year we have something new. Maybe it's a bigger step than most of the years, but I'm sure we're going to get used to it sooner or later.
"I don't think the adjustable wing is something we're going to be playing with a lot. When the car is good, on most of the tracks it's good the whole time. Obviously if the car is really crap at the end of the run then ok. But I don't think it's going to be a case of changing it all the time, it's going to be once in a while.
"The most difficult thing is going to be knowing exactly how to use the KERS. You can save it to use at the end of one lap and the beginning of one lap, so you can put two uses together. There are a lot of things you can do and a lot of things you have to think about. We have how much we can charge it and how much we can release it.
"That depends on where and when you are going to release it. The simulation is going to say release it in 12 different places on the track, but obviously we won't be able to. We'll have to choose the three best ones. It's exciting, it's different. Hopefully our engineers will manage to get ahead of the other guys and try to find something that the others don't know."
There's a common view that the big changes have given teams such as Renault, Toyota, Red Bull and Williams an opportunity to make a leap forward. There's certainly some truth in that but, on the other hand, by the end of last season Renault had built some momentum and might have benefited had the rules remained stable.
Nevertheless, Piquet sees the changes as a positive.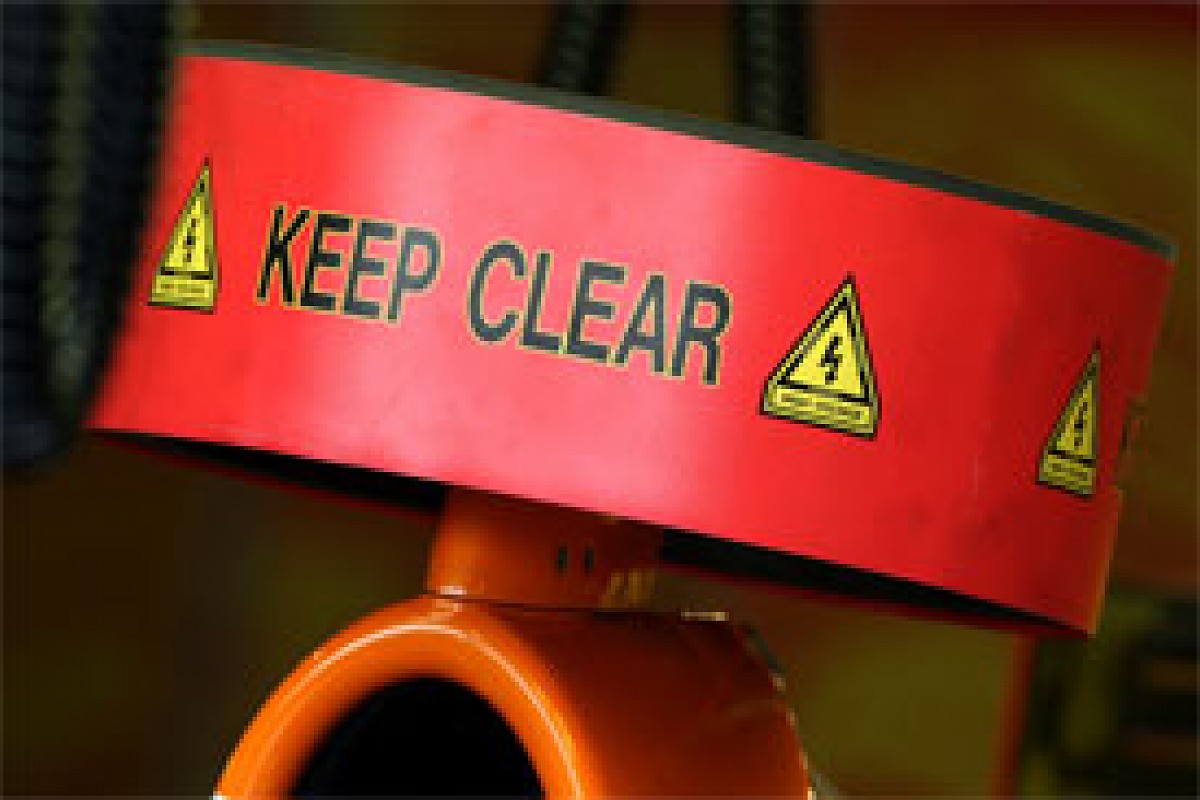 KERS warning on the Renault R29 © XPB
"The only bad thing in all this is we're not the team that has the biggest budget and the KERS system is bloody expensive. That's a bit of a shame because we've been investing in the right things, getting good results last year and then suddenly KERS comes - not that I'm against it.
"It's a shame, because teams like McLaren and Ferrari have all the money they want and they can get the best. If they don't get it right, they can do it again. We have one chance, one shot, that's the only bad part. That's why I'm also in favour of a budget cap for everybody."
We were talking before this week's major announcement from the FIA and in retrospect it's interesting to hear the views of a driver who had clearly thought it through.
"The testing ban, I'm completely against. For a young driver, for everybody, it's shit. Then there are teams spending millions in simulators. The simple thing is to just put a budget cap. You can control everything. You can maybe take off employees' salaries, take off the drivers' salaries, but put a budget cap on the development of the car and so on. I think that would help a lot. It's a thing you can move up and down, depending on the economy."
If anything, the lack of in-season testing protects Nelson from the next wave of talent and specifically Renault's third driver Romain Grosjean, who might otherwise be putting pressure on him every couple of weeks.
"Yeah, but I don't think that way. I've been in their position and I wouldn't like to be. It shouldn't be that way, I still think everyone should get more testing. Ok you can cut budgets, but why testing? Teams spend millions. Look at the salary of Fernando...
"How much testing could be done with that? Teams complain that tests are expensive, but I think they are one of the cheapest things we do. It's not the worst of what we are spending. If you didn't have the KERS, you could add an extra 20 days of testing! I think it's going to hurt all young drivers, which is a shame. I'm more worried about the new guys who are coming up, what are they going to do? It's too difficult, F1."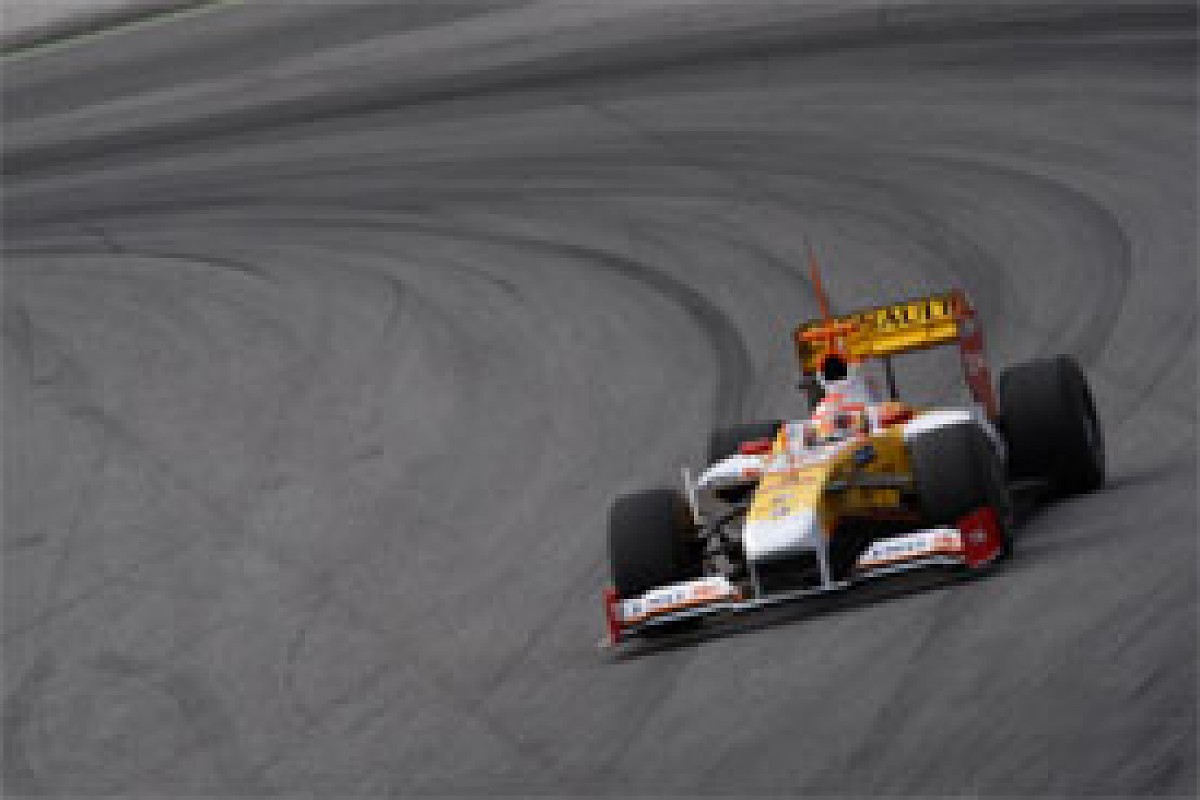 Nelsinho Piquet testing the R29 at Barcelona © LAT
The less experienced drivers aside, others who could suffer this year are those who have a specific problem adapting to their 2009 packages and won't get a chance to go away and sort themselves out. Last year the likes of Kimi Raikkonen, Nick Heidfeld, Heikki Kovalainen and Jenson Button all suffered relative to their team-mates because they weren't comfortable. Interestingly, Nelson never ascribed his 2008 struggles to such an issue.
"I've never understood that very well. I've never had a problem with these kinds of things. If a driver's good and he has a problem, he should just change the way he drives. If Michael [Schumacher] does the Race of Champions, he's quick. A driver needs to be able to adapt. It's the same thing when it's dry and it starts raining in a race situation, you don't have an excuse. You need to do it in the rain as well.
"Let's say I'm driving too hard and the front tyres are graining too much. So drive differently. It's not a mystery and you don't need days to learn it and get used to it. I have never been through this kind of thing. Maybe one day it will happen to me, but I don't see it as a huge problem."
Nelson already starts this season at some disadvantage to his team-mate. Our colleagues at Forix record that Piquet has completed 3433km of testing in preparation for this season, and Alonso 5050km. But those figures include running in November/December with the old car, when Nelson did much of the legwork. When you consider only laps in the R29, Fernando is much further ahead. At Barcelona he ran three days to Nelson's one, and at Jerez this week the ratio was two to one.
Of course teams are free to do what they want, and focusing on your star driver who has years of experience and is a potential title challenger is a valid approach. But most other teams have taken more care to split the available mileage more equally. It's one clear sign of the uphill struggle that Piquet continues to face as he tries to come to terms with Alonso. Will he ever really be able to make an impression?
"If the team gives me the same chances with strategy and all that, I'm sure I can do it. But the thing is Flavio and Fernando are together here, and it's a difficult pair to beat. Not that I'm against them or anything... You know how it is, they want everything for themselves, they want the best for themselves, and they don't care about anything else. I'm a young driver. How I'm going to get through all this is very tricky..."