"You only get one chance to celebrate a 50th anniversary."
Aston Martin chairman David Richards' words explain why the historic British sportscar manufacturer will be on the grid for the Le Mans 24 Hours in June with up to three Gulf-liveried LMP1 coupes. The spectre of missing the half century of Roy Salvadori and Carroll Shelby's 1959 Le Mans victory motivated Richards and his team to work all the angles to put together Aston's strongest bid for outright honours at La Sarthe in decades.
Behind the glorious powder-blue-and-orange colour scheme and some sexy bodywork styled in conjunction with Aston design chief Marek Reichman, not to mention a liberal helping of Richards' PR schmooze, this Aston Martin Racing programme run out of Prodrive headquarters in Banbury is a relatively modest one, at least in comparison with the big-buck factory efforts from Audi and Peugeot. But then that's the way it should be, claims Richards.
"Aston Martin has always punched above its weight in racing and we are continuing in that vein," he says. "We shouldn't be afraid of taking on a challenge that others might be afraid of. Even if we should fail, it won't be for lack of trying. We won't regret trying."
AMR has had to think laterally to put together its 2009 Le Mans campaign. There is no funding from Aston and its new consortium of owners. "At this time Aston Martin can't spend money on motor racing," says Richards. "It has been up to AMR to secure the necessary funding."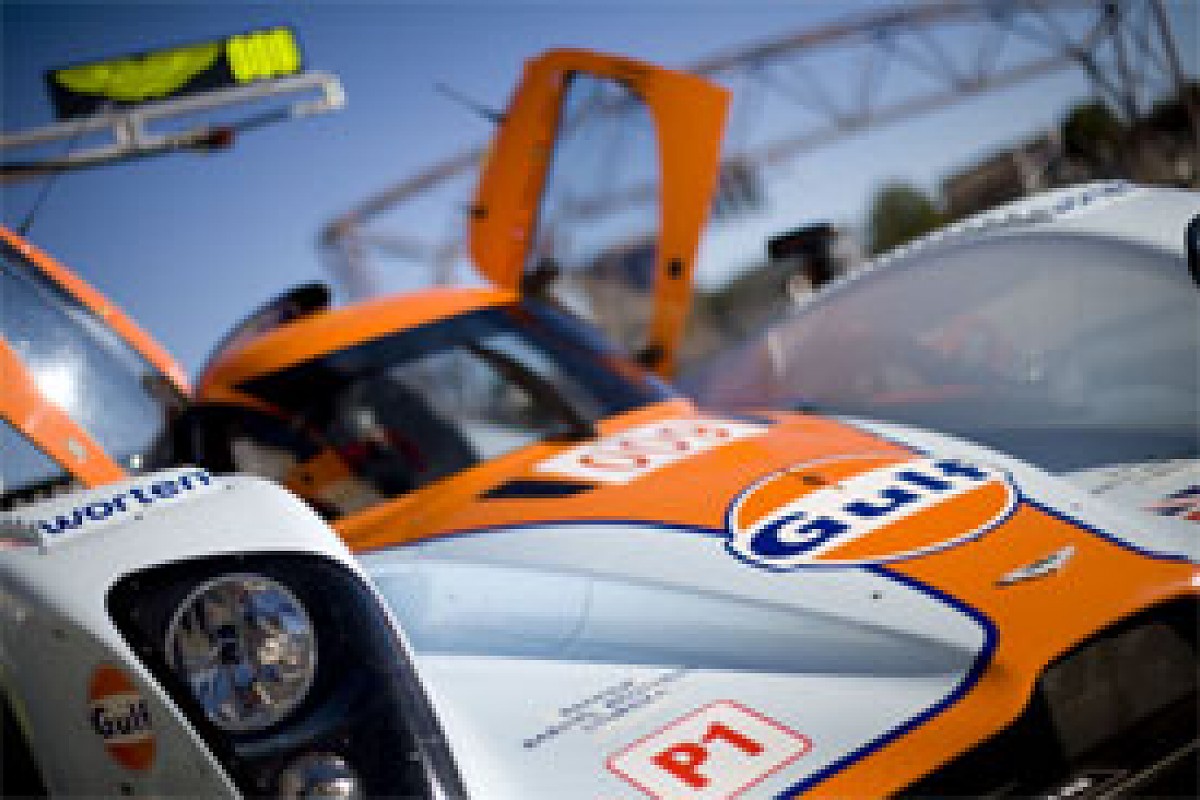 Gulf colours on the Lola-Aston Martin LMP1 © LAT
No-one has put a figure on the sponsorship from Gulf Oil, but it probably covers less than 10 percent of the budget, perhaps not even five per cent. Instead Richards and AMR "had to be creative" to get on the grid.
Two of the Lola-built cars that will grace the grid at Le Mans have already been pre-sold to collectors. How much for remains a secret, but Richards has revealed that one of the AMR's class-winning DBR9s has been sold for a million bucks.
Czech entrant Toni Charouz, who funded last year's Prodrive-run LMS assault with the forerunner of this year's car, is providing some of the budget, which may or may not stretch beyond paying for son Jan to drive the lead car. Also bringing funds to the table are sportscar regulars Harold Primat and Miguel Ramos, who like it or not fall into the category of rent-a-drivers.
Richards won't put a figure on how much AMR will need for its assault on the big one in France in June and the five-race Le Mans Series, which kicks off at Barcelona next month. "There's no finite figure," he says. "Motorsport budgets don't work like that. If more funds become available, we will do more testing."
Modest the AMR programme may be, but the Prodrive-based team has "had a mountain to climb" getting two cars ready for the LMS pre-season test at Paul Ricard. Richards describes the AMR Lola-Astons as "effectively Aston Martins" after "a radical re-design", a reference to the work his organisation has put into this year's AMR LMP1 challenger.
AMR and Prodrive may have a year's experience with a Lola coupe powered by its GT1-spec six-litre V12 powerplant, but this project didn't get the green light until early December. Or to put it another way, a couple of weeks before Audi's new R15 ran for the first time.
Richards is keen talk up the differences between the AMR P1 coupe and the Lola on which it is based, or as he puts it, "to show how significantly we've changed the car from last year". Every body component bar one has been changed, including a re-design of the rear end that extends the tail to the extremity of the car.
That kind of talk is one of the reasons why the Aston project has barely been out of the headlines since sportscar racing's worst kept secret of the winter was finally confirmed in late January. The first images of Gulf-backed contender ensured this exciting project got the coverage it deserved upon its launch. Then came a public spat with Lola boss Martin Birrane.
There's no doubt that some of Richards' comments, such as AMR's desire to "turn an ugly duckling into a swan", riled Birrane, a motorsport enthusiast fiercely protective of the company he rescued in the late 1990s. Birrane talks of a customer who "has done some cosmetic work on our car". That's a statement that clearly underplays the work Prodrive has undertaken on the Lola design.
The presence of a full set of body bucks for the AMR Lola-Aston at Prodrive's Milton Keynes composites facility is evidence of that work. The rear suspension on last year's Charouz car was already modified from the Lola original courtesy of the switch from the original Lola gearbox to an Xtrac for packaging reasons. We'll have to take Prodrive's word for it that the suspension is largely new.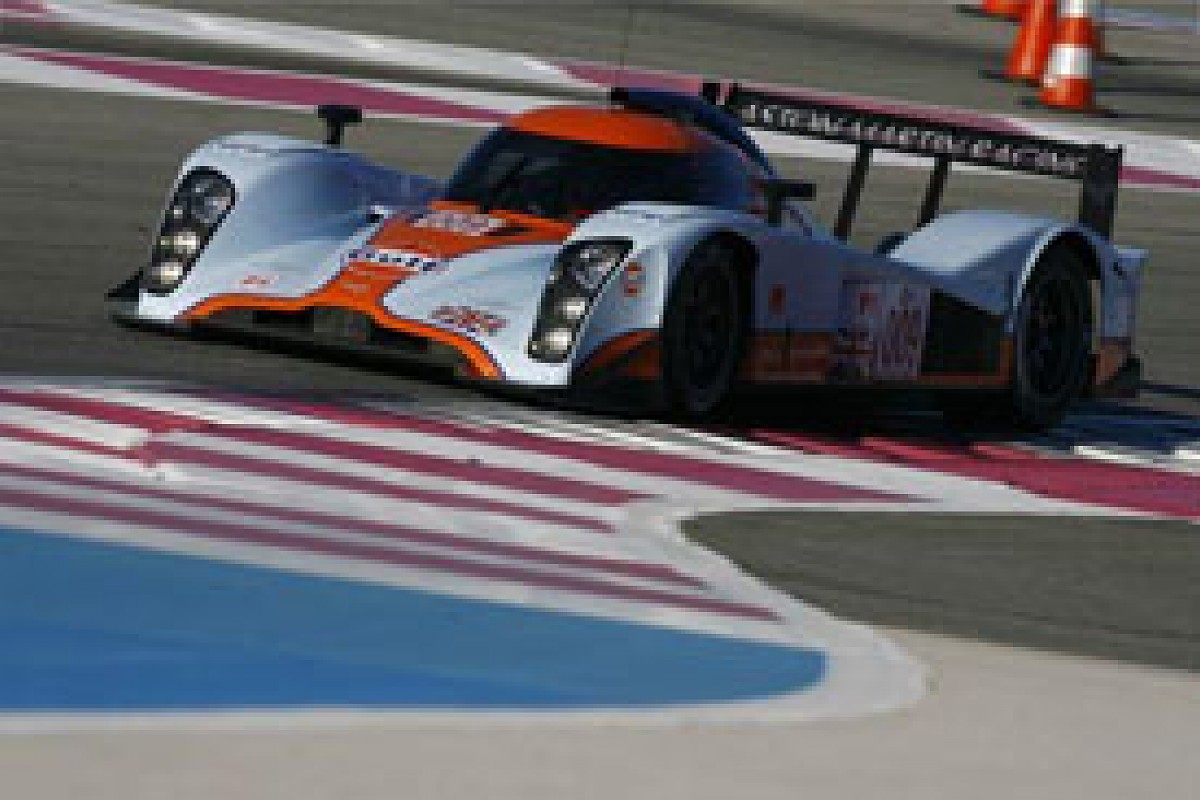 The Lola-Aston Martin LMP1 at speed in Paul Ricard © LAT
What really upset Birrane, however, was what he perceives as an attempt by Aston to effectively hijack the car. No-one, Richards included, is claiming that the AMR entries will be listed as anything else but Lola-Astons on the Le Mans entry for homologation reasons, but he believes that they will come to be known by an as-yet-unannounced Aston Martin name.
A statement responding to Richards' claims was quickly issued by Lola Cars International
"Aston Martin contracted with Lola in December 2008 to buy our cars because... Aston Martin didn't have time to develop its own car," it read. "When Aston first mooted rehomologation of the Lola and was given the cost of its contribution to IPR [intellectual property rights] and R&D negotiations broke down. It is completely inappropriate that Aston Matin should now attempt to achieve 'ownership' through misrepresentation in the media."
Next came the official Le Mans Series test at Paul Ricard. The two cars ran with only minor issues in the opening session and Stefan Mucke ended up second in the timesheets in the 007 car he will share with Charouz and Tomas Enge this year. In the afternoon, Enge jumped to the top of times, only for the red flags to fly moments later. The mercurial Czech was the reason for the session stoppage.
The high-grip Ricard run-off couldn't save the Enge's Lola-Aston from clouting the barriers with a 13g impact. But then he did lose it on the exit of the sixth-gear Signes right-hander at the end of the long Mistral Straight. The crashbox did its job, but the monocoque was written off in the shunt.
It wasn't what the doctor ordered for a new car in need of test miles. Not only did AMR lose the better part of a day and half's running on the 007 car crashed by Enge, but it has increased the team's workload in the run-up to Barcelona. There is also, of course, a financial implication.
On the other hand, AMR left Ricard content with the progress its new contender had made.
"We were really pleased," said AMR team principal George Howard-Chappell. "While it is not a brand new car, an awful lot has changed since last year and it ran without a hitch. That was very satisfying."
There was no attempt at a time by the 009 car, in which LMP newcomer Darren Turner joined Primat and Ramos. Turner's fastest time on old tyres was, according to Howard-Chappell, "definitely in the ballpark", even if it was a couple of seconds shy of Nicolas Lapierre's best of the test in the lead AIM-engined Courage-ORECA.
AMR had yet to decide how and where its test programme will continue in the wake of the Ricard test. Its second new Lola chassis arrived at Banbury on Thursday (the 009 car was built up around the Charouz Lola used over the second half of last season) and there is some straight-line testing planned for an undisclosed venue soon.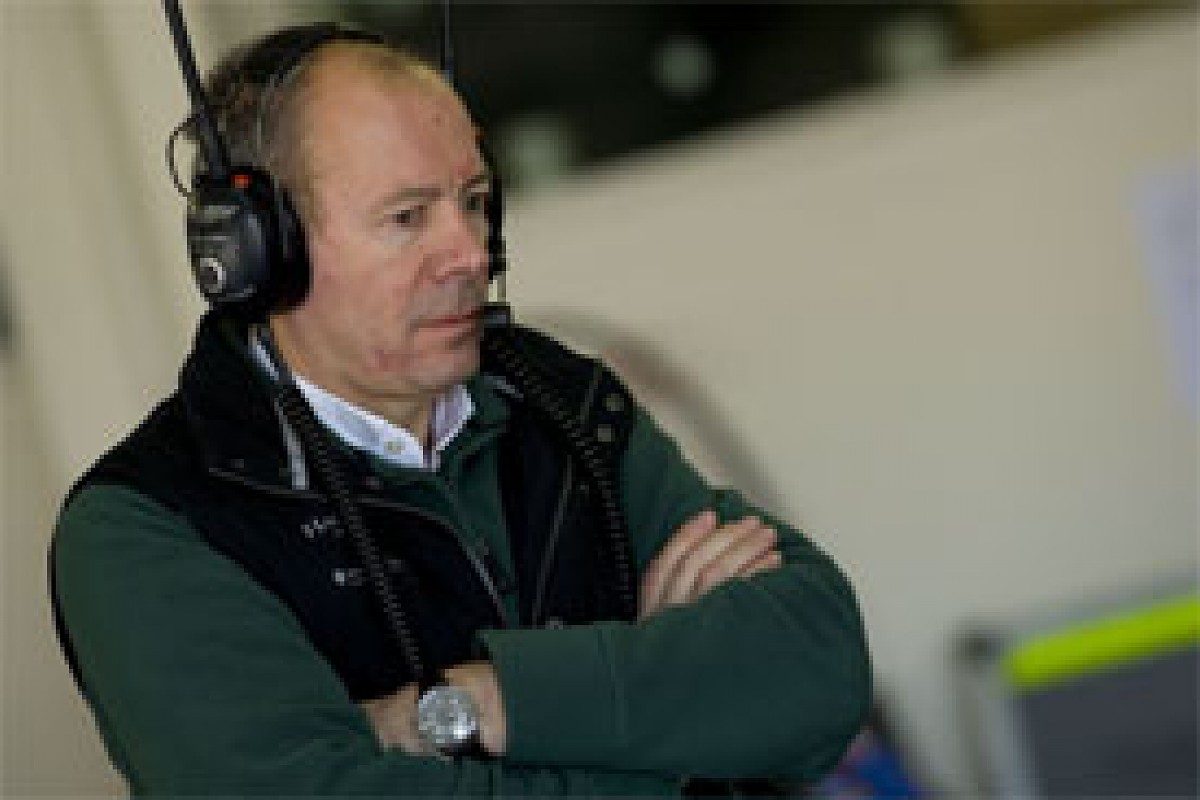 George Howard-Chappell © LAT
"We have to find a balance between testing and making sure we are in good shape in terms of spares and such ahead of Barcelona," says Howard-Chappell, who stresses that the team will "bounce back" from the Ricard shunt.
Howard-Chappell doesn't want to speculate on where AMR wil be in the mix come the Barcelona race on April 5. Turner reckons the lead car is a potential winner in the LMS this year, while the less experienced line-up of which he is a part should be aiming at podiums.
Predictions for Le Mans are best left to Richards, however. "Top petrol car is the immediate goal," he says. "If we get on the podium that would be an amazing result, but we are going to Le Mans to try to win."