Few drivers are looking forward to Melbourne with as much anticipation as Mark Webber. Not only is it his home race, and an event in which a recent unfortunate run of bad luck has made him determined to finally bring home a good result, he's going there armed with what could be the most competitive package he's had to date.

And he's raring to get out there and take on his new team-mate, Sebastian Vettel. Will the German youngster do to Mark what his countryman Michael Schumacher did to such as Nelson Piquet, Martin Brundle and Riccardo Patrese early in his Benetton career?
That's a viewpoint that some share, but it underestimates the true potential of Webber, who has for so long been knocking on the door, but - for reasons often outside his control - has rarely made the most of his phenomenal qualifying pace.
He couldn't have a better benchmark than Vettel.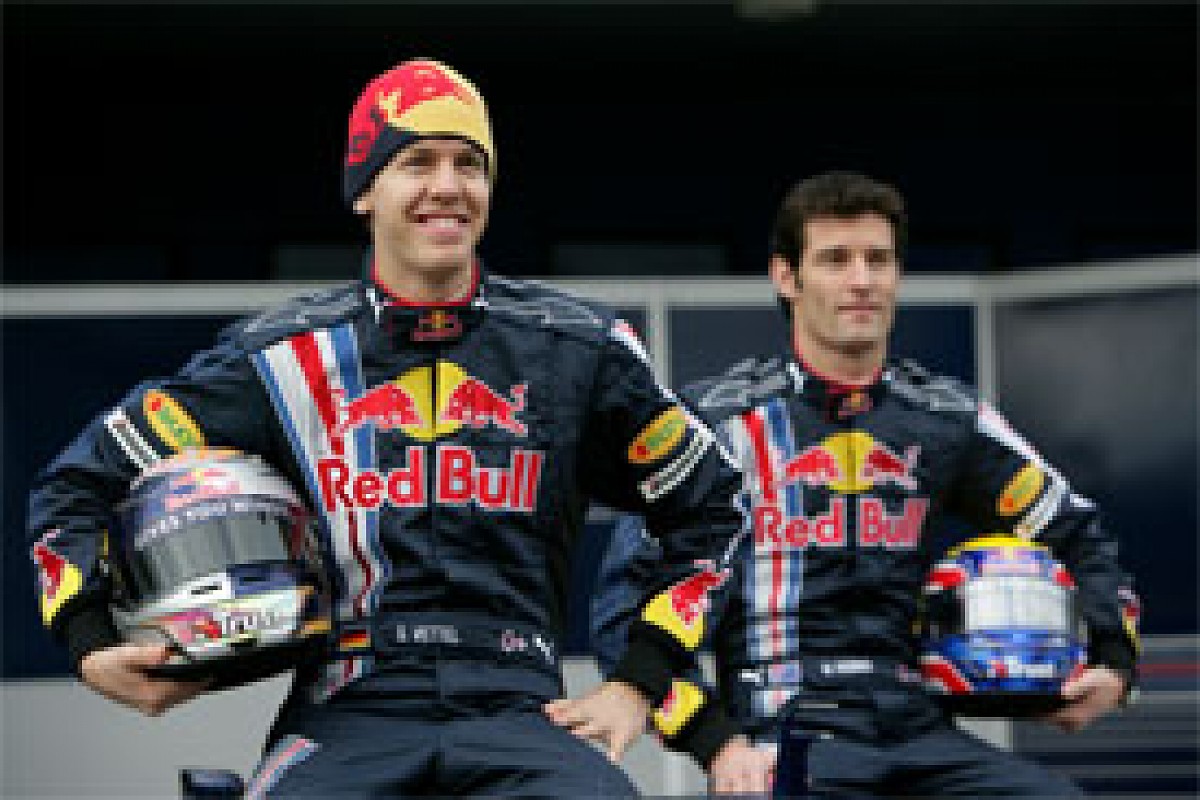 Sebastian Vettel and Mark Webber © LAT
"He's a good young charger," says Mark of his new colleague. "I've had many team-mates in my career, and I think I'm old enough and ugly enough to know that the guys at this level, they're all pretty quick. That's what you want. I'm looking forward to working with him. The most important thing is the team - if we're flying around as a team and doing a really good job all together, that's what I want Red Bull to do this year."
Of course the other reason why Melbourne is special for Mark is that it will be his chance to prove that he is fully recovered from the off-season cycling crash that left him with a broken leg - and yet fortuitously came at a time that did not disrupt his career.
It was just a co-incidence that Webber's accident happened during a competitive event, one that bore his name and reflected his reputation as a man of action. In fact virtually every F1 driver includes cycling as part of his fitness regime - Nick Heidfeld hurt himself on a bike not so long ago - and the incident could easily have happened to someone training in Switzerland or the hills above Monaco in the middle of the season.
"It was a very, very quiet road, there were no cars on it," he recalls. "It was a lane and a half wide. I was flying down the hill and basically couldn't change my line. I was pinching a bit too much of the other side of the road, so it was mostly my fault. The driver did what he could do [to get out of the way]. I was just very aware of just trying to get my head, spine and torso area aware from the car, and that's what I did. But my legs were still behind me.
"The guy stayed in the car. He spoke to my partner before he drove off. He had some young kids in the car, and they could hear me moaning quite a bit - they were panicking, so he took them away and came back later."
The only good news was that it happened A) just after the end of the season and B) on Mark's home ground in Australia. There are worse places to be stuck in hospital than your home country.
"From when I hit the deck to now I've had very good people around me. It was better than being in the back of China or somewhere!
"I'm an active young guy and it's never nice to be out of action at that level. What makes it hard is that you've got no experience of going through that stuff. You can only go through it yourself.

"Other people can tell you things - the specialists and the orthopaedic people, the people who see it quite a lot more, they give you the numbers, they give you the weeks, and they chart the sort of progress you're going to have. It's hard to consume to start with, because it looks a long way away. I learned to obviously be patient and get my head around all the little steps, all the little milestones that we've had along the way, whether it's the first time I got out of bed five days after the crash, the first time I could walk in the water, first time I could walk on land again, first time I got on a bike again."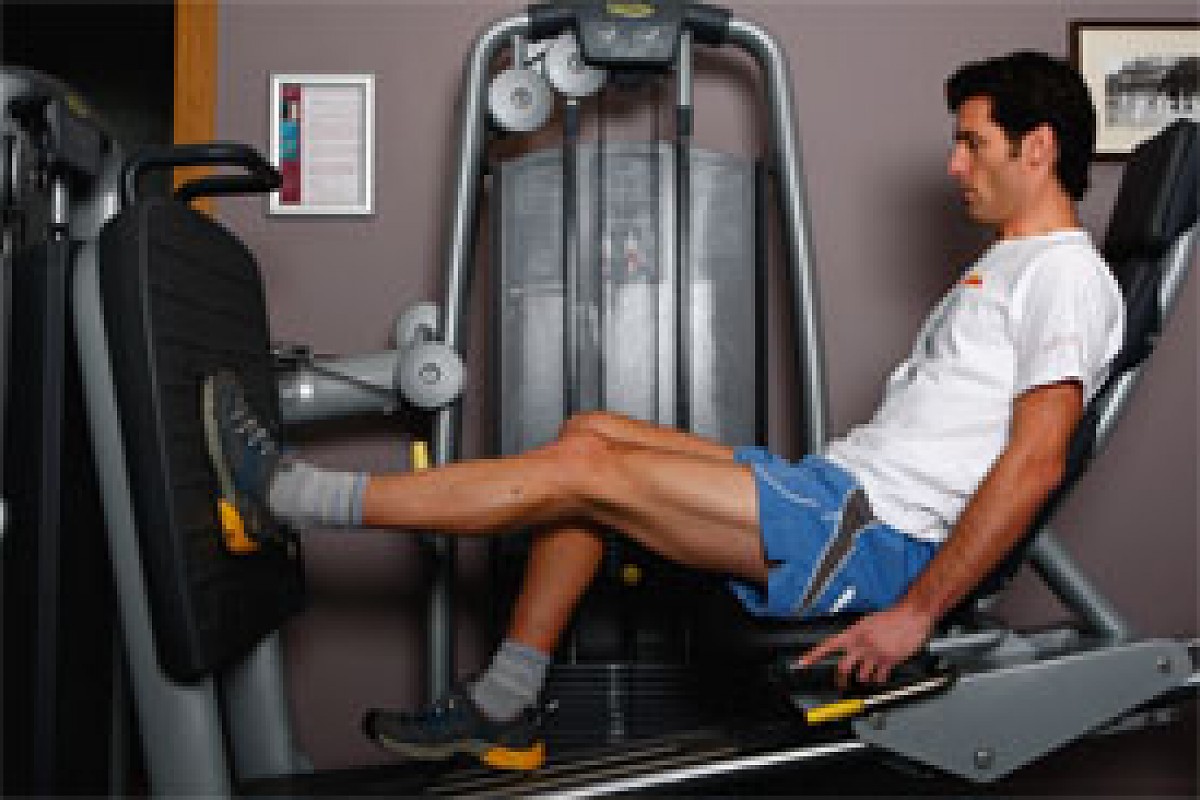 Mark Webber in physiotherapy
Were those first few days in the hospital, contemplating what effect the accident might have on his career, the worst period?
"A week in hospital is never pleasant, it's not an ideal place to be. Everyone there is in there for a reason. The first few days were pretty good actually, because I was still on a lot of painkillers, morphine, whatever! Mentally it was just how awkward it all is early on. Just doing simple tasks and getting around, taking yourself to the toilet, all of that stuff, became an absolute mission.
"And then you finally get used to do doing different things, and you make more progress. There wasn't any particular low point, I think I had little black tunnels. You just come out of the other side, and it's OK."
Any driver has an ability to focus on what matters to his job, and for Mark it was a case of concentrating on getting back to where he used to be, and as quickly as possible.
"The most important thing was to prove to myself my right leg was as good as it was in Brazil. In Jerez [at his first test] I was still a bit tired, but I knew the strength would come before Melbourne. The leg is totally functional to do the job it needs to do, and that's good. My foot works as it used to, my ankle range and so on. We put umpteen amount of hours in to get to the situation of driving an F1 car 11 weeks after."
Of course, the high fitness level of the average F1 driver helps to increase the speed of the recovery. On the other hand the level they have to get back to is much higher than for a 'normal' person.
"I learned a lot of this along the way, talking to the specialists. They're so anal on things. "You just can't do that."
"Why?"
"You just can't do it, you need more time."
They're the experts, you've got to listen to them. But what's definitely helped is the day I hit the car I was probably the fittest I've been in my life. That definitely helped my recovery."
The injury is now part of history, and come Melbourne, it will have no impact on how Mark performs. So there will be no excuses. There's no doubt that, especially with Vettel now on board, this will be a big season for the Aussie.
"Mate, they're all massive," he says. "Your ability to drive at this level is based on your results. You can talk a good game, but if you're not walking the walk on the track, then it doesn't happen for you. You've always got to step up to whatever regulations, tyres and qualy format it is. Whatever they throw at you, you've got to deal with it. It's another year like that for me, so I'm looking forward to it."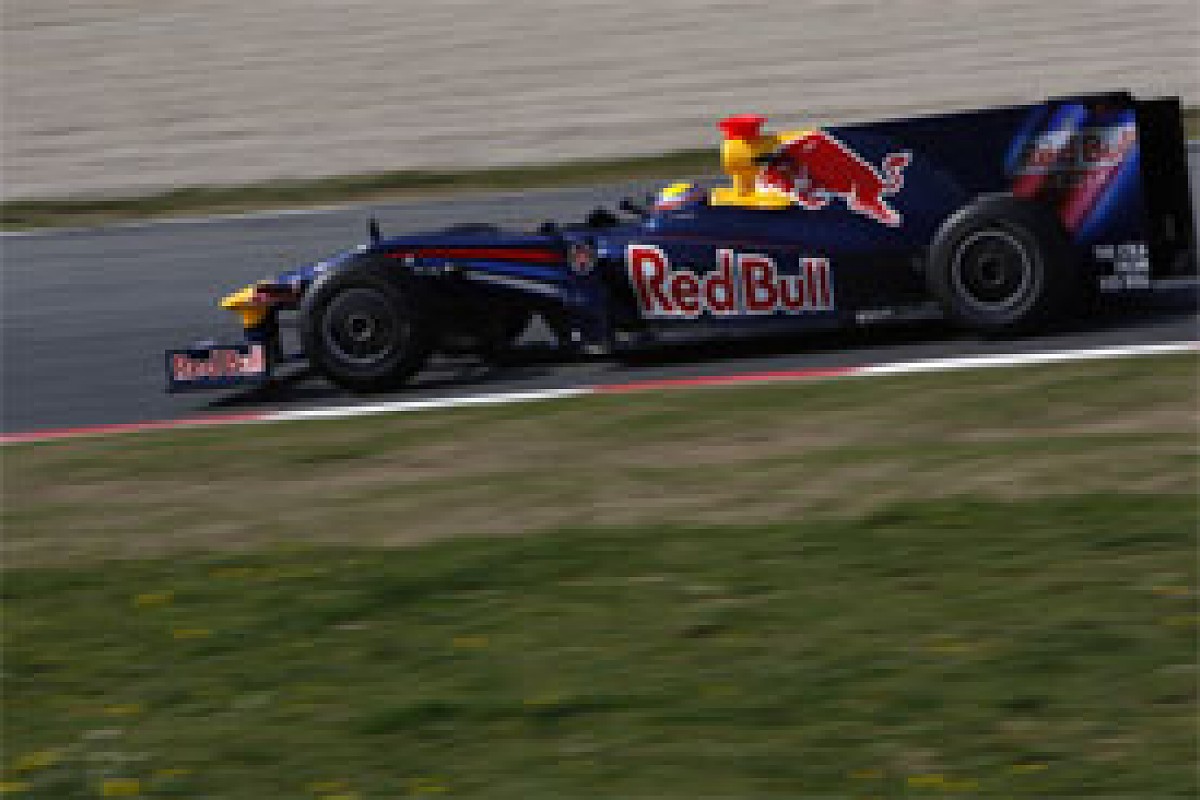 Testing the RB5 at Barcelona © LAT
The RB5 was quick from the start of testing, and it certainly looks the part. The new rulebook could have been written for someone like Adrian Newey, who has an ability to grasp new concepts.
"Absolutely," says Mark. "We know he's a genius, and his car won a race last year with Sebastian. And it wasn't easy to win races last year. He's got an amazing record, and like you say, with a big swing in regulations, he's certainly a bloke I want in my corner.
"The car looks beautiful. Lap times are of course always difficult, we don't know what people are doing with fuel loads and whatever. We've still got work to do. We'll find out in Melbourne, it would be suicide to try and predict anything before then. There's KERS, there's no KERS, there's all sort of things."
Webber agrees that the rule changes have given all the midfield teams a real chance to break into the top group: "It can only be positive for a team like us. When you've got massive stability in the rules the teams that have always had the advantage will just keep building on that cake that they've had. It's very hard to eat into that. It's like someone losing weight. If we've all got the same weight then it's hard to make gains, but when you've got different weights and a whole new thing to work with you can make different gains and maybe have a chance to get a better result. That's the situation we're in."
The RB5 did not appear until early February, as the team decided to extend its R&D time and skip the early tests that the likes of Ferrari, McLaren, BMW, Toyota and Renault were ready for. That fitted in nicely with Webber's recovery programme, but it created a little extra pressure.
"Obviously other people got their cars out for that one test [in Portugal], which turned out to be a bit of a washout," he says. "That was lucky. But those teams learned something down there, they still put mileage on their cars. Mileage is the thing. I think the performance side is a no brainer, you always want to do something as late as you can, that's the same for everyone.

"But in terms of mileage, that's where the trust is in all our componentry and some of the stuff that we've done - hopefully we'll be reliable with that set of mileage.
"Obviously we made that decision before in-season testing was banned, which puts us under a little bit more intensity. But that's what we've got, and we'll deal with it.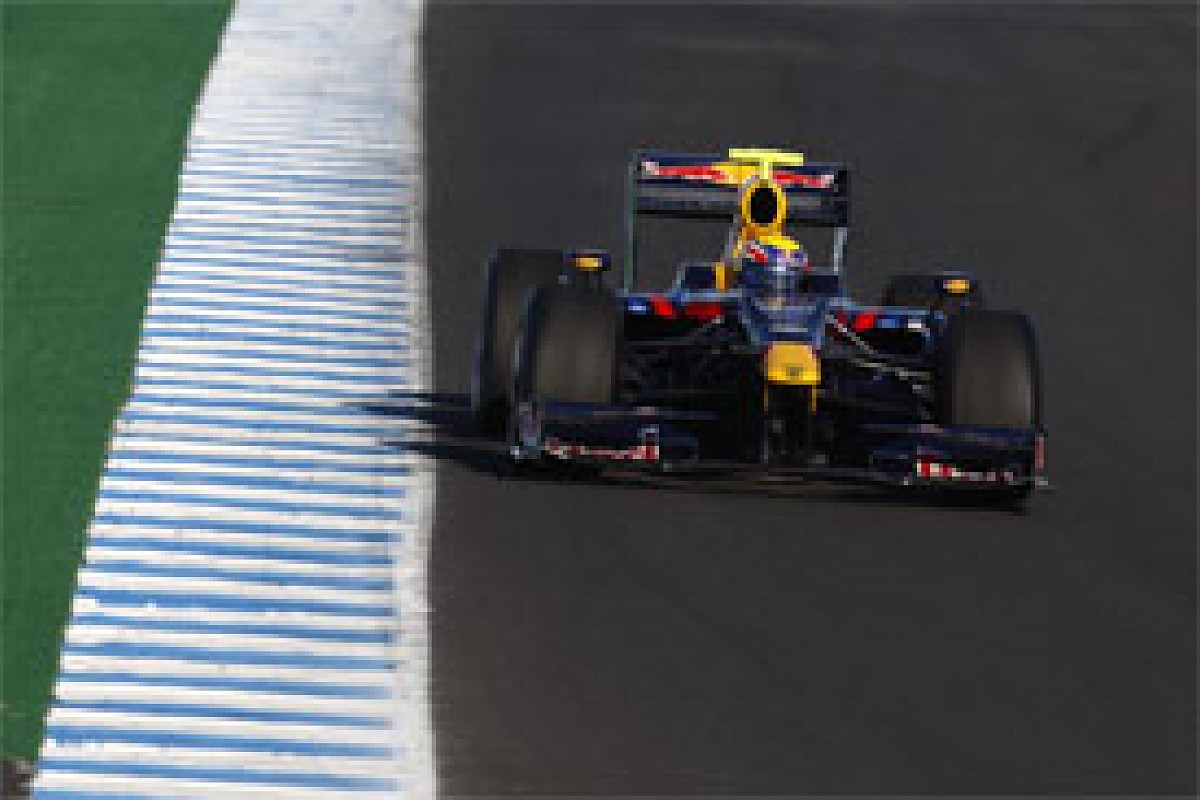 Testing the RB5 in Jerez © LAT
"I'm comfortable in the car. We're still braking very late, so I don't think overtaking is going to be that straightforward. We've found that the tyres are a little inconsistent and it's difficult to see what the car is doing, because the tyres aren't easy to handle after a few laps. That's proving a little bit frustrating."
Webber's not hugely excited by new toys such as KERS and the adjustable front wing.
"I don't see how that's going to overtaking," he says of the latter. "It's like a little leaf going down in the ocean I think! With KERS, I think it's going to be a bit more difficult to explain the sport. Some people have KERS, some people don't, so it's a bit like normally aspirated and turbos back in the day. There's quite a difference if people have it and don't have it.
"Also it's obviously totally out of bed relative to everything else we're trying to achieve to save money, it's a huge cost for the teams to basically do some research for road cars. My personal opinion is I'd prefer F1 not to have KERS. But it's only my opinion. I wouldn't mind an old boost button, so why not just have one of those, instead of spending €10-20m?
"I think it's going to be very hard to compete with the last few seasons we've had, which have been exceptional. Obviously like I said, the rules changes have been good for people like us in giving us a chance to be competitive, but I think the field will probably be more spread out."
An added bonus for this year is the power boost afforded to Renault by the FIA. Last year RBR folk were only too happy to point out that STR's Ferrari had a 30bhp advantage.
"It's good that there's been a lot more dialogue and communication between all the manufacturers and teams and the FIA to try and help the sport in a few different places, and that was one of them. It was good that Renault have unfrozen the engine, made a little tweak, and put the lid back on the freezer again."
The co-operation has been reflected in FOTA's ongoing efforts to keep the sport afloat, and co-operate on cost cutting measures. As a leading light in the GPDA, Webber sees the bigger picture.
"I think everyone's suffered," he says. "A sport as big as this, there's no way that it can't feel a little bit of the financial strain that's going on out there. Obviously it was disappointing to hear that a manufacturer of Honda's status was leaving the sport, it's a legend in motorbikes, with such a big involvement in competition.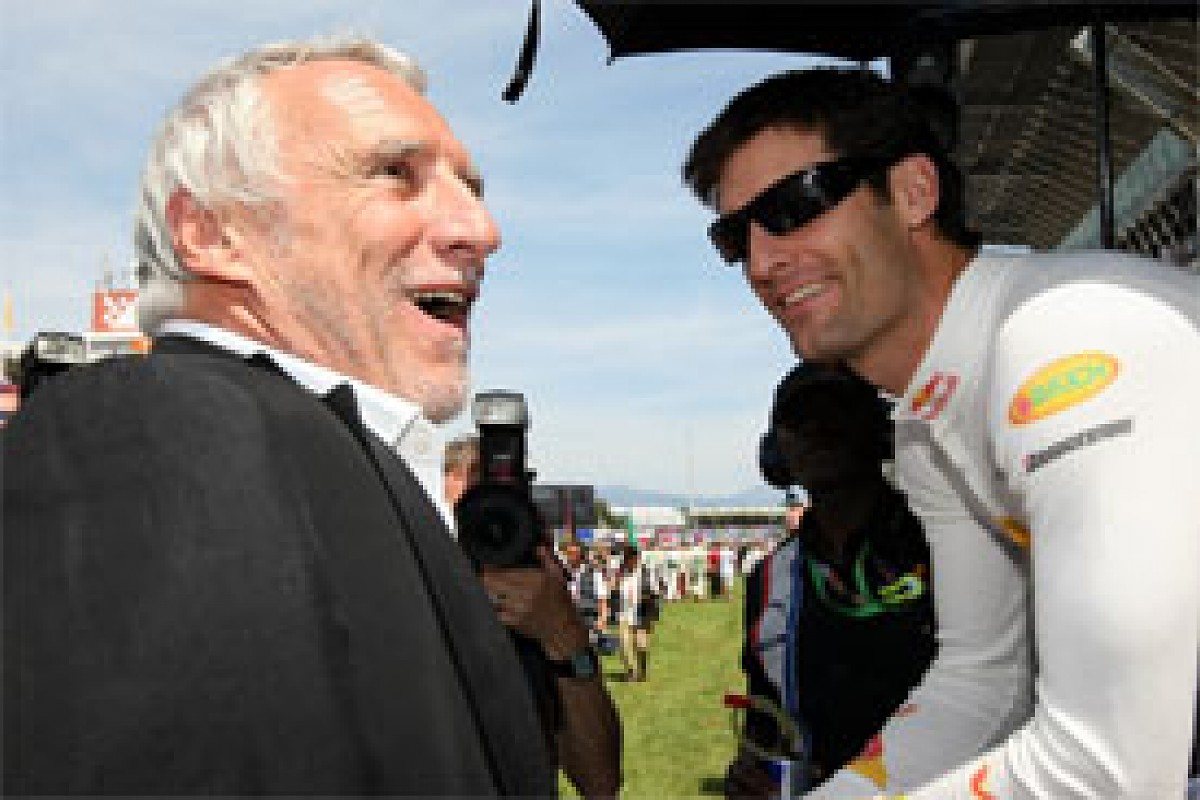 Dietrich Mateschitz and Mark Webber © XPB
"I'm totally comfortable with the fact that the sport is not immune to what's going on out there in the real world, let's call it. We have amazing sponsors and partners from top to bottom in the sport, and that's what' helped us continue on. Everyone knows what' going on out there, and that' the way it is right now."
Even Red Bull has felt the pinch, and Dietrich Mateschitz has cancelled a lot of the marketing spend around F1, and there won't be as many parties from now on. And that potentially means more cash can be ploughed into his race teams.
"That's all good stuff!" says Mark. "It's his train set, and he can do exactly what he wants. Dietrich knows what he needs to do to help his famous can along. And the can has been phenomenal for the sport. What he's done for F1 is amazing in terms of giving it a different light in some ways, and giving it a bit of life in a few areas. So a few decisions are made pretty quickly, and let's move on."
So does Webber think that all the pieces are finally in place for the team to have a good season? "What's a good year or a great year? I think it would be ridiculous for us to sit here and think we're going to win the constructors' title. We've got a massive amount of opposition out there, with a huge amount of experience about how to go about a campaign relentlessly all year.
"Red Bull hasn't been in that situation. Up until half way through last year we had two cars doing very, very well. If you had my first half of the year and Sebastian's second half of the year, and you sort of fold those two together, that would have been a very, very good year for that car. Maybe we need to try and do something like that.
"The car's the most important thing. If you've got to be up there and fighting every weekend, that's what motivates you. I'm not particularly motivated to bomb round in the mid part of the grid forever. I'm not saying I've done it forever, I've had quite a few points come my way. We'll look forward to a good year, and see what comes at the end of it."
But for the moment he's got the start of the year to think about. Isn't it about time his awful Melbourne luck changed?
"Yeah well, let's see. As they say, break a leg, and now I've done that it might give me some luck!"