Fernando Alonso, unquestionably a very great driver. The best? Maybe. There are times when his combination of pace, fearsome fight, relentlessness and multi-dimensional brain make him so, times such as last year's Japanese Grand Prix. Pressing on while directing his crew with fairly complex strategy calls - that turned out to be right - made him look pretty special on a day when title contender Lewis Hamilton had made a ridiculous and unnecessary all-or-nothing mess of the first corner, one which involved the Ferrari drivers, thereby creating the perfect opportunity for Fernando to hijack the race. You cannot give chances like that to Fernando Alonso and go unpunished. He hooks onto them like a heat-seeking missile.
His victory two weeks earlier in Singapore was much luckier. All he had to do there, once his team-mate had crashed and brought the safety car out at the perfect time, was drive around in a lead he'd been gifted without hitting anything. Japan had to be fought for, in and out of the car. He was similarly terrific when taking second in Brazil, beating Kimi Raikkonen, although the latter's race had been compromised earlier on as Ferrari got him to drop back in an apparent effort to tempt Lewis Hamilton into racing against him.
Regardless, in the second half of last season Alonso looked once more like the force he had been in his two title-winning years. It was as if his bruising experience at McLaren had knocked something out of him for a time. "Yes," says Renault's Pat Symonds. "I'd say as the year went on he began to look more and more like the Fernando of 2005, even more than that of '06.
"There was a period when he was clearly frustrated by not being able to fight at the front, but he seemed to regroup and, as we made the car better, he responded superbly."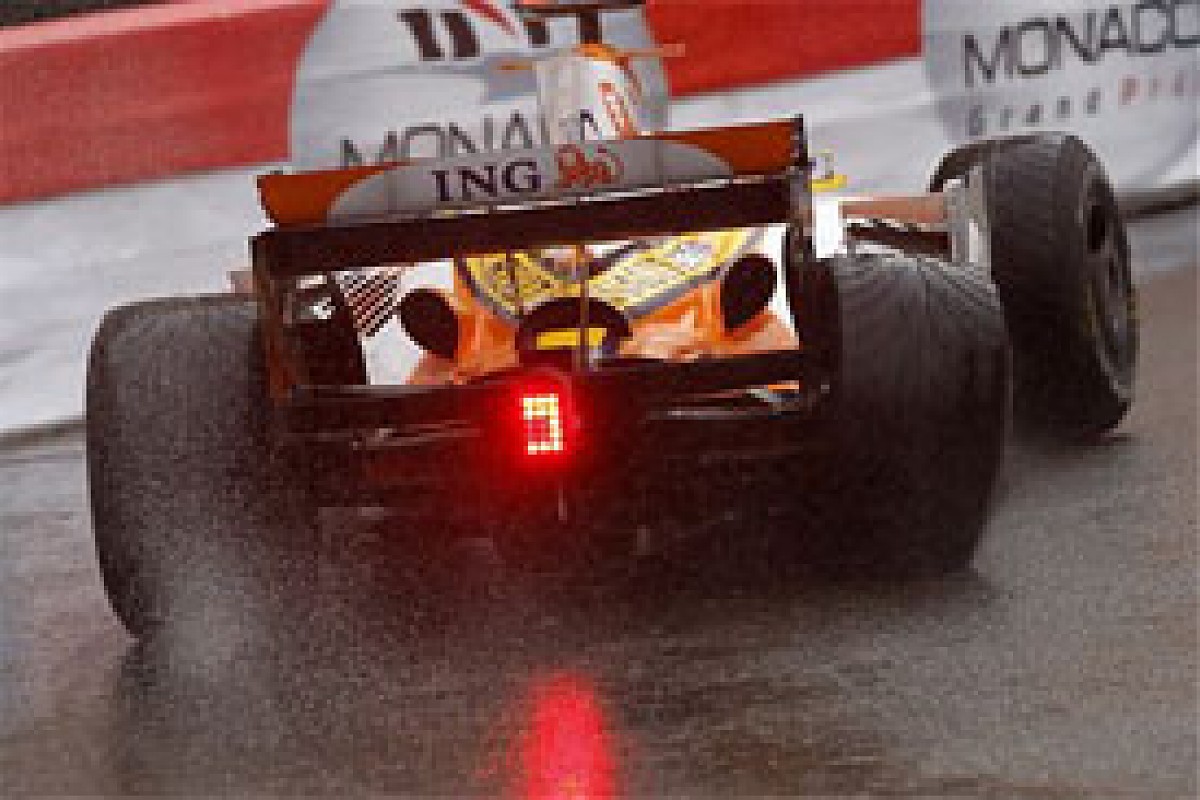 Fernando Alonso limps back to the pits during the 2008 Monaco Grand Prix © LAT
It's this untypical patchiness - not seen at any other point in his career - that makes it difficult to rate him the number one driver of 2008. Errors in Monaco, Montreal and, particularly, Germany destroy that claim in a season when Robert Kubica was generally flawless and every bit as fast.
At Monaco, Alonso attempted a frustrated move on Nick Heidfeld at Loews - and it was never going to work. He started it from too far back and there was nothing Heidfeld could have done short of pulling to one side and waving him through. Had it been Felipe Massa executing such a move he'd have been crucified. Because it was Alonso - because it didn't fit the recognised template - it was shrugged off and forgotten.
In Canada there were extenuating circumstances. The car was suffering gearbox problems and running out of brakes, always a bad combination on a track that's breaking up. But at Hockenheim he fell further back with every botched passing attempt until eventually he was out of the points. This was not typical Alonso, such moves would not have been made by the title-chasing driver of the previous three years. It was as if he couldn't maintain his focus in an uncompetitive car, something further suggested by reports of him leaving the track without attending post-race debriefs.
"When we got the new front wing on the car for Singapore, we were suddenly quick," says Symonds. "But it was beyond any improvement we had seen in the windtunnel. We were possibly into that not fully understood area where the difference in characteristics makes the driver feel more comfortable and he can get more from himself." But it also begs the question of just how much of himself he was putting into the programme prior to that - especially as he was not exactly being pushed hard by rookie team-mate Nelson Piquet.
Alonso acknowledges that last year wasn't his best. "I made too many mistakes," he says, "trying too hard for positions when it was not possible."
So we cannot really know how the real Alonso stacks up against Kubica, for example. We can only say that last year, as an average over the season, he probably wasn't as good, even if an argument could be made that his peak - his drive at Fuji - was higher. We don't even know definitively where he stacks up against Lewis Hamilton, despite them being team-mates through 2007.
Alonso's relationship with the team was infamously bad and he struggled initially with the change from Michelin to Bridgestone tyres. So we maybe didn't see him at his best there and, even though he tied Lewis on points, in terms of raw performance Hamilton was quicker more often, even if it wasn't by much. The way Alonso reacted to this exposed a previously hidden weakness in his temperament, too.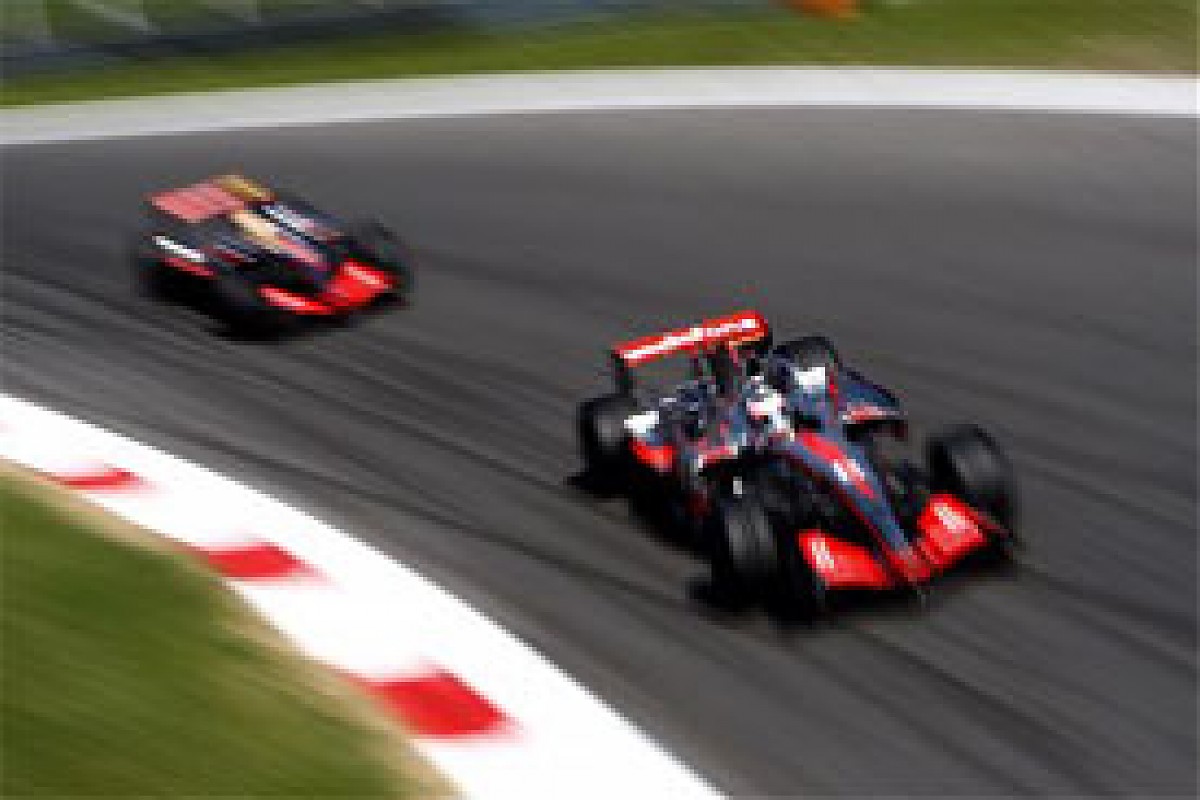 McLaren teammates Fernando Alonso and Lewis Hamilton during the 2007 Italian Grand Prix © LAT
Then there's the complication of how the '07 McLaren dovetailed with their respective driving styles. Alonso ideally likes to lean on the front of the car until it understeers, likes then to balance that against the throttle to give him neutrality through the corner.
Hamilton prefers a more extrovert style, using oversteer as an asset to hurry up the direction change into a corner before he's even reached the apex, thereby getting the car in line with the corner earlier, leaving him to rip through it in a neutral state. The differences are all in the initial transition into the corner - and over a qualifying lap the McLaren MP4-22 appeared to be a car more suited to Hamilton.
Alonso's style better lends itself to repeatability and often this would make it easier for him to reel off the sequence of super-fast laps in the race, but just as often he'd qualified behind and that meant he finished there, too. It would have been interesting to see them together in a more understeering car.
There are many for whom Alonso is still the dream driver. Quoted in the Italian press last month, Cesare Fiorio, Ferrari team manager of the 1990s, said: "Alonso, for me, is still the best driver around. He is stronger even than Hamilton. The two are equal in terms of raw speed, but Fernando has a lower propensity to make mistakes. He's consistent, has a good rhythm inside the car and he's intelligent."
It's true Lewis made too many mistakes last year. But so did Fernando and, in addition, during the first half of that season there was nothing to mark out Alonso from a whole host of other drivers in similarly upper-midfield cars - guys like Mark Webber, Nico Rosberg, Jarno Trulli and Jenson Button. It was only as the Renault came good that he seemed to rediscover his mojo.
But it's a more complex question than that. There's the effect he has on a team and there's no doubt that he's an inspirational figure for the Renault boys. He is part of their self-belief - and that was missing in '07, the year Alonso was at McLaren. So yes, he's a powerful driving force at his team.
At McLaren, however, he was anything but. There was a disastrous chemistry between the free-spirited, highly independent, proud double world champion Alonso and his employer Ron Dennis. This was a fault line exposed by Hamilton's raw performance. It became a fissure thanks to Alonso's paranoia. His actions after 'pitlanegate' in Hungary - trying to use the team's ongoing difficulties with the FIA as a lever to being accorded priority over his team-mate - were naive and ensured he was never going to see out his contract there.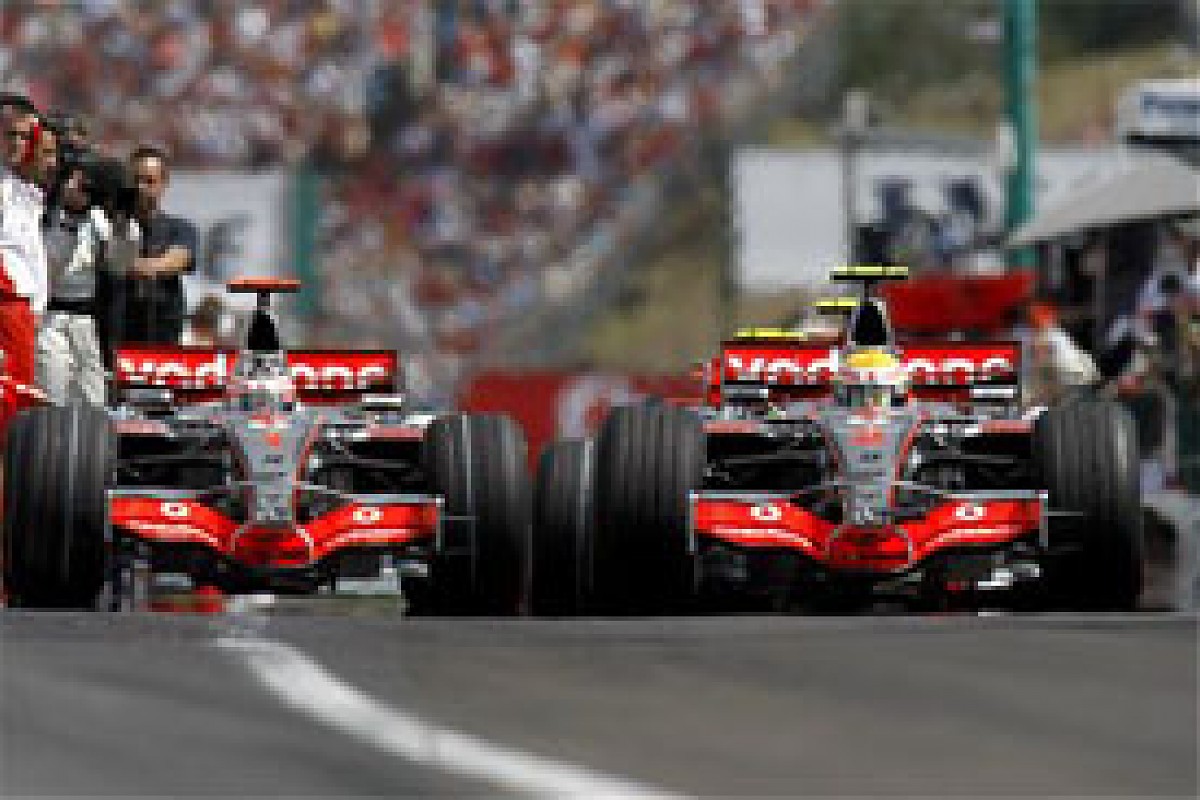 Lewis Hamilton and Fernando Alonso in the pitlane during qualifying for the 2007 Grand Prix of Hungary © LAT
Great driver though he is, taking yourself out of arguably the best car in a fit of pique exposes a weakness, one that put him in that initially mediocre '08 Renault. Looking at it long term, it's also effectively ensured he won't ever be a McLaren driver again. Given that there are usually only two or three teams capable of fighting for a title, and that McLaren is invariably one of them, that was one expensive burst of emotion.
Yet it's part of the same defiance and fight that we relish. We all love the way he reacted to his unjustified 10-place grid penalty at Monza in '06 - he went to see race director Charlie Whiting, raged about the injustice, told him how 'they' still couldn't stop him winning the title, that he was going to do it anyway, kicked a metal wastepaper bin across the room and proceeded to drive a beautiful race the next day. We all love the way he went around the outside of Schuey at 130R, Suzuka, in '05.
But under the strains placed upon him in '07 it seemed his intellect wasn't enough to direct this passion properly. Hamilton has similar 'triggered' emotions in the car - usually when he's trying to make amends for messing up. Both have the same total belief in themselves, which was why that McLaren garage was too small a place for both.
Alonso goes haywire when a team-mate beats him. Hamilton did, too, at Monaco '07 - although that was because he believed he'd been controlled when he was faster. When he was genuinely blown off by Alonso, like at Silverstone, Monza or Spa, he withdrew into himself, tried to regroup. When the opposite happened, Alonso reacted by trying to get senior status, which at McLaren was always, always going to backfire spectacularly.
It's interesting that Symonds says the revitalised Fernando reminded him of the driver of '05, "even more than '06." Staying on top after winning a title tends to take a lot more out of a driver than getting there. The pressure of the spotlight, of being the one everyone else is measured against, the demands of your time - all these things take a huge amount of energy and usually change a driver as he seeks to protect himself. They become more preoccupied, recoil more into their shell, don't communicate as easily, maybe use their new-found status to get what they want, can become more petulant. Alonso definitely seemed to change in '06, became a more 'difficult' character. These are all natural defences to incredible psychological demands.
But into last season's second half, perhaps when he accepted he wasn't going to Ferrari for the time being, he seemed to knuckle down, the pressure seemed to come off and he became more like the guy of '05 again. Is this him maturing? Has that naive streak gone along with the prima donna stance? Can he find equilibrium in this state and still perform? The second half of '08 suggested so.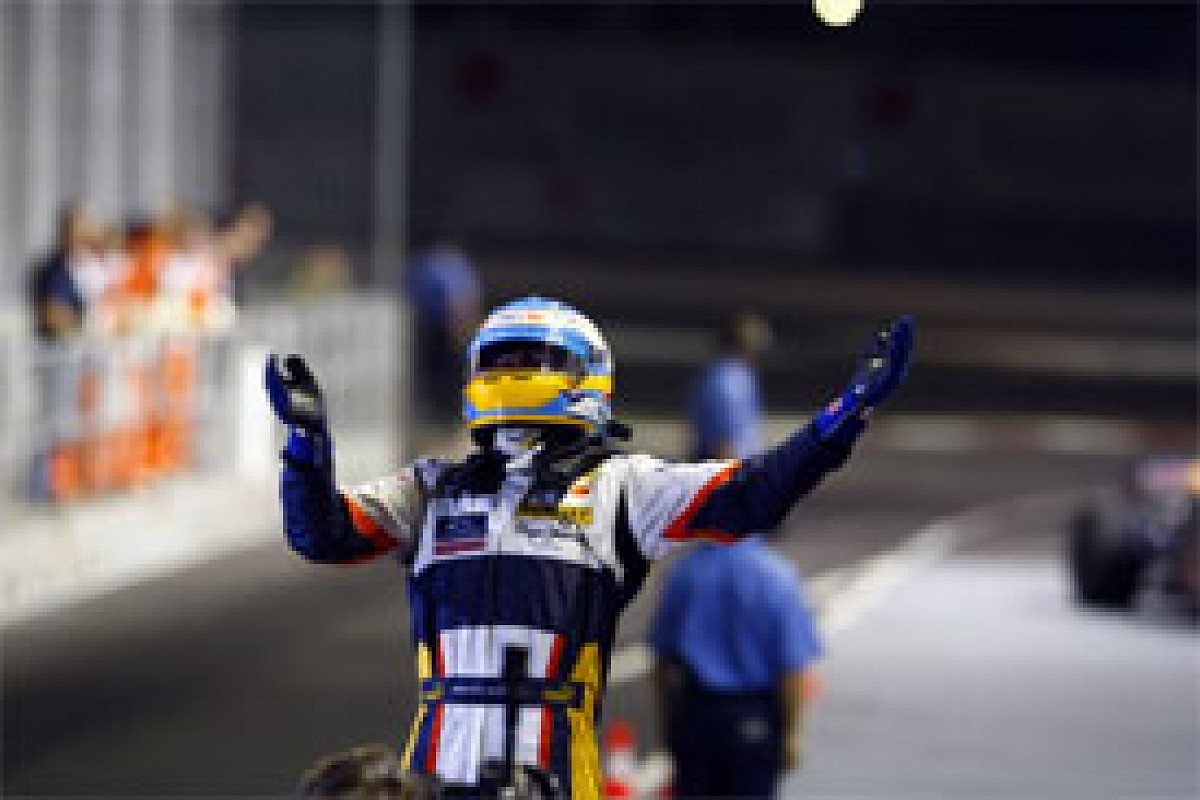 Fernando Alonso celebrates winning the first Grand Prix of Singapore © LAT
He's probably better than Kimi Raikkonen because he's more relentless. He's probably better than Felipe Massa because he's more fully formed, more of a team leader who commands and inspires. But is he better than Kubica or Hamilton? It's far from clear.
Furthermore, even if he is the number one in terms of the job he's doing, it doesn't mean a light if he cannot get his butt into a car that's good enough to fight for the world title. Hamilton's done that. Alonso did that, then made the switch at exactly the right time - as Renault was about to fall off a cliff and McLaren was about to scale it - but subsequently blew it.
Can he help Renault get back to that position? If not, can he get into a team that can? And if so, can he repeat his Renault trick and become an integral part of the set-up, the thing he failed to do at McLaren? He needs to. At his best, he's a great enough driver that a mere two world titles undersell him.