Andy Priaulx's stranglehold on the World Touring Car Championship lasted so long that it seemed hard to imagine him being beaten to a title. For no matter how many drivers went into the deciding rounds of this ultra-close series with a shot at the championship from 2004 to 2007, it was always Priaulx who pulled out the results at the crucial moment and snatched the crown from under his rivals' noses.
But now - after one European and three straight World titles - the king has finally been deposed. Last year even an ultra-efficient title-winning machine like Priaulx was unable to stop the diesel-fuelled SEAT steamroller that ushered Yvan Muller to the championship.
Following such a long unbroken run of success, you might expect Priaulx to be particularly fired up to regain his crown, or at least to have mixed feelings about his new status as the hunter rather than the hunted. But he insists it's business as usual. For the last four years he's regarded himself not as someone trying to defend a title, but as a contender for a fresh championship. For Priaulx, the reset button is hit as soon as each season ends - regardless of whether he ended the year triumphant or defeated.
Andy Priaulx celebrates his third championship with Dr. Mario Theissen © LAT
"The #1 status is purely ego, it doesn't make you any quicker," he argues. "You start the season from zero every time and it will have no effect at all on me.
"Perhaps there is an increased desire to get it back, but that won't help if it isn't channelled in the right way. My approach to this year has been exactly the same as in previous years.
"When you win a championship, you are only the champion for the Sunday night after the race, then the work has to start all over again for the next season."
Priaulx has been called the Michael Schumacher of touring cars, but while he has certainly become the recognised yardstick in his sport, the Guernseyman has not been able to utterly dominate the WTCC in the same way that Schumacher took Formula One by the throat for so many years.
In a series featuring success ballast, reverse grids and performance balancing, not even the best driver on the grid is going to be able to walk away with the championship.
If there's anyone in worldwide motorsport to whom Priaulx should be compared, it's triple NASCAR champion Jimmie Johnson. The American superstar has played his series' system to perfection, staying amongst the front-runners all year then stealthily taking command in the all-important Chase run-off.
Similarly Priaulx made the WTCC rules work for him.
If the BMW was quick and not too laden with success ballast, he'd be a victory threat. If it was heavy or off the pace, he'd invariably claw his way forward in race one and earn reverse grid pole for race two, then fight a doughty rearguard action to win that. If race one was a disaster, you could count on a charge from the back of the grid to at least salvage a few points. Rarely was a points-scoring opportunity wasted.
Only once did Priaulx go into a title-deciding event with the points lead (and even then, in 2007, he only shared the top spot with Muller), but he had an incredible knack for resisting the pressure and snatching the championship at the death.
Even guile and doggedness couldn't help him in 2008, though. The SEATs were simply too fast, and Priaulx's hopes of a fifth title ended in an Okayama gravel trap.
SEAT ultimately won 12 out of 24 races and took the manufacturers' title as well as Muller's drivers' crown. Their rivals were adamant that the technical regulations gave SEAT's turbo-diesel Leon an unstoppable advantage. Priaulx still holds that opinion, but also admits that his RBM BMW team could have done more to at least keep the SEATs on their toes.
"It would have been pretty much impossible for anyone else to win the championship" he says. "However, we could have put a lot more pressure on SEAT. We have learned from the mistakes as a team and we are working hard to implement that this year."
He believes BMW's three works teams - RBM, Schnitzer and ROAL - need to collaborate more.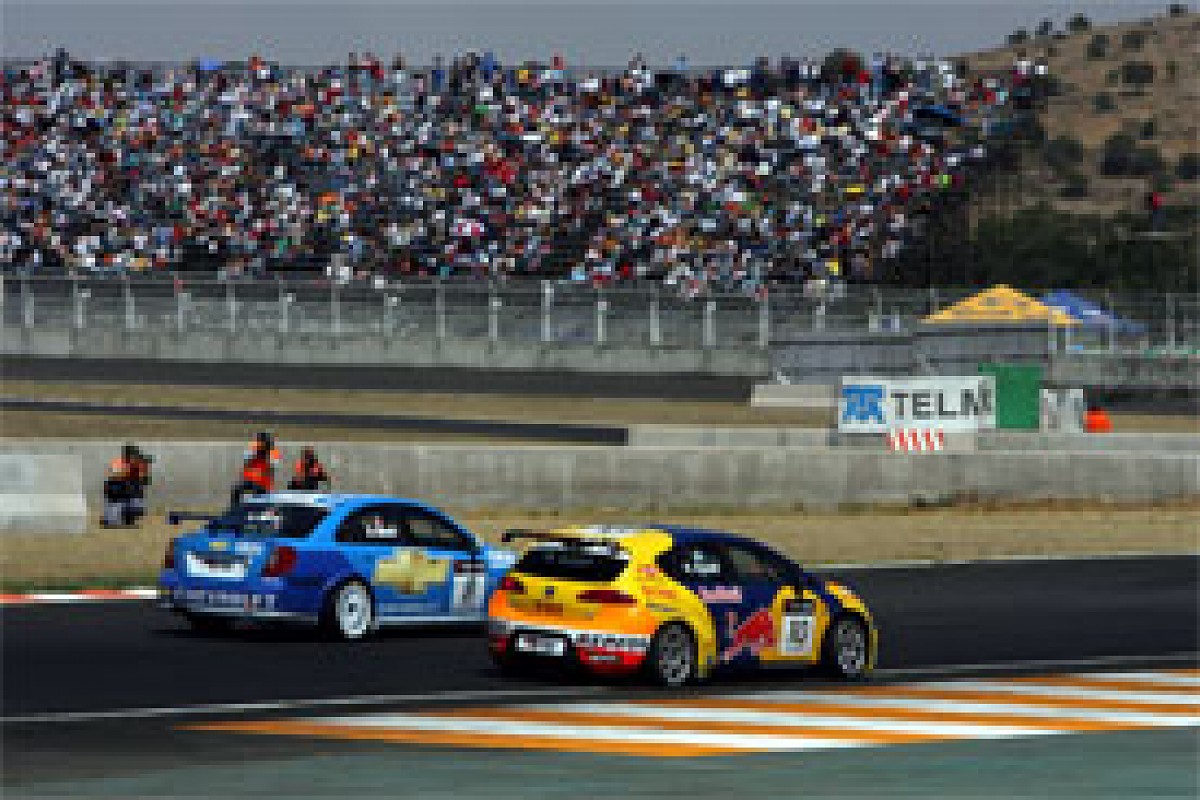 SEAT and Chevrolet battle at Puebla © XPB
"SEAT and Chevrolet have united teams all working together," explains Priaulx. "At BMW, we were competing against each other too much and that cost us a chance to fight for the championship. We are in the process of putting that right now and hopefully we will all have a good season together."
A more pressing problem is getting the RBM car handling to his taste, for right now Priaulx is not optimistic about his chances going into the season-opening South American leg.
"I'm not expecting us to start the season brilliantly because I've not had the best winter of preparation," he says. "I've not got the car how I like it in testing.
"I don't know, I could just be over-concerned, but my expectations aren't too high for Curitiba and Puebla."
Listening to the main contenders at the moment you'd be forgiven for thinking that no-one is actually going to win this year's WTCC title, for Priaulx is certainly not the only pessimist.
The rule-makers have reduced SEAT's boost pressure in a bid to peg the diesels back - a move the champions insist will turn them into underdogs. Chevrolet are also trying to lower expectations as they switch from the race-winning Lacetti to the brand new Cruze model.
But surely someone has to win, and with SEAT reined in by officialdom and Chevy taking a step into the unknown, that must leave BMW's proven package as the favourite?
Not so, reckons Priaulx, who thinks his rivals will be far quicker than they claim, and doesn't expect BMW to leap forward.
"You don't just find time from nowhere in a three-year-old car, so we know pretty well where we are going to be," he says.
"We heard SEAT talking all last year about their struggles but never saw the evidence of it on the track. Don't expect a lot of difference. Don't get me wrong, SEAT have done extremely well to produce a championship-winning car and now they are paying the price for it.
"But I don't feel sorry for them because I've had exactly the same situation for the last four years!"
One thing that will be different in 2009 is the success ballast system. The previous rules effectively meant that the more points you scored, the heavier your car got - hence the title contenders often carrying out their championship fight amongst the midfielders while assorted lightweight cars ran off with the race wins.
This year each manufacturer's average times will be monitored and weight added to or removed from all the company's cars every three rounds to ensure that all the machines are roughly within 0.3 seconds of each other. In theory the rule aims to bring the stragglers into contention more than handicapping the front-runners, but Priaulx is yet to be convinced - especially as a manufacturer like BMW, with three works arms, will see performance varying between its own teams.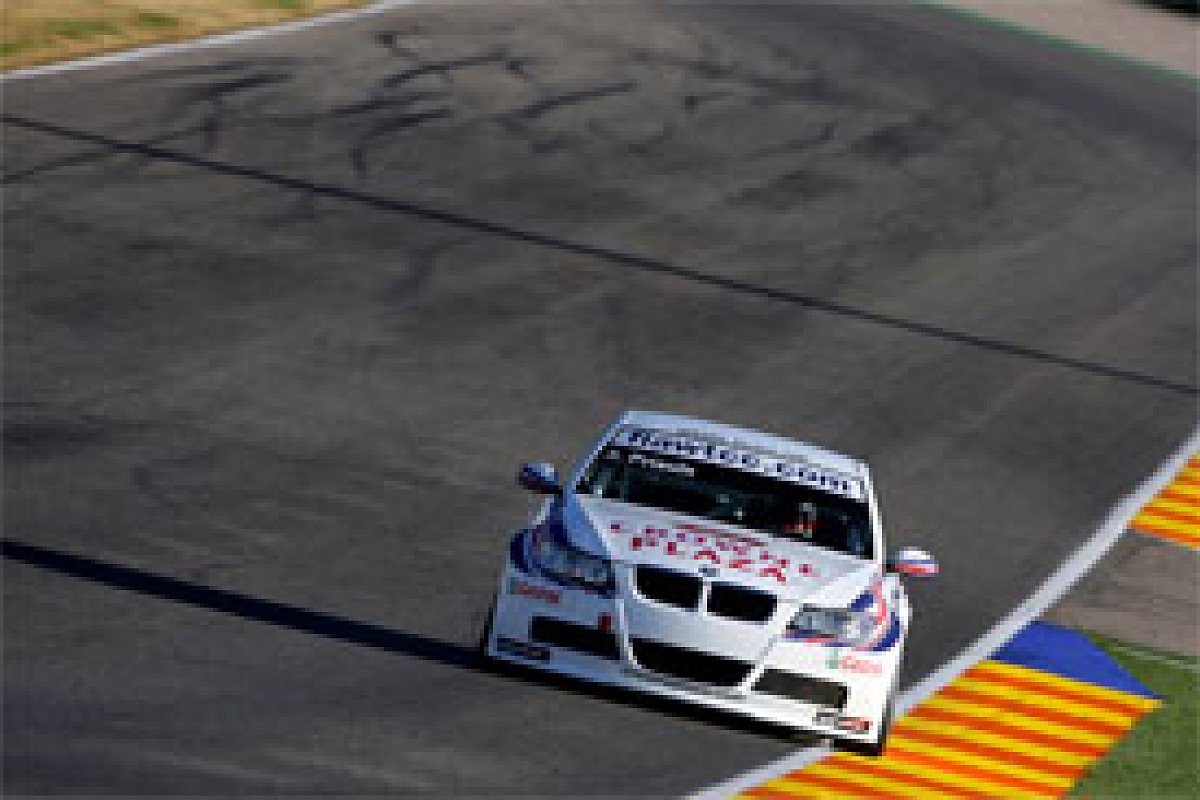 Andy Priaulx testing the new BMW at Valencia © XPB
"The new rules could be interesting from my situation because if one [BMW] team were to struggle and one was a lot better, they would both pay the price when it comes to adding weight to that car. That could cost us heavily when they come to increase the weight of all the BMWs," says Priaulx.
"I think the BTCC has got it right. Alan Gow is straight with it and he doesn't play around."
Whatever the effect of the rule changes, expect Priaulx and RBM to figure out a way to make the best of it. The Briton concedes that having become accustomed to success, last year's failure was painful at the time, but he also thinks the experience will make him even tougher to beat in the future.
"It frustrates the hell out of you when you can't win," he admits. "And as the champion, everyone is gunning for you.
"It's a tough fall to go through, which Yvan will have to deal with now because he's the target now. The fall is tough, but it makes you better and stronger, you become a better driver for it - not just in the car, but in terms of everything you do."
Priaulx has reached that lofty position where it's more of a story when he loses than when he wins, but his successes certainly haven't been straightforward.
In a field littered with ex-F1 racers, it's remarkable that a driver who cut his teeth in hillclimbing - and who was still scrabbling to find the cash for the lowest rungs of the junior single-seater ladder when his rivals were collecting Super Touring titles - has monopolised the title wins.
And losing in 2008 hasn't diminished Priaulx's reputation at all.
Deposing him is an achievement, but surpassing his record is a task of much greater magnitude.
"People think that once you become a champion it gets easier. But it doesn't, it gets harder," he said.
"There are a lot of guys that are winners and you can win a title, but there aren't many multiple champions and the reason they go on to become legends is because they have been able to achieve constant success over a prolonged period in the face of adversity."