The agenda may be short, but Thursday's Formula One Teams' Association press conference in Geneva is sure to be controversial. Consider just one paragraph from the invitation:
"These plans are the result of a series of meetings held over the past few weeks and months, all of them with a common goal: to make Formula One commercially sustainable, environmentally friendly and compellingly attractive for spectators, TV viewers and internet consumers alike for years to come."
The FOTA logo
When the teams body was formed back in July 2008 - in direct response to threats by FIA president Max Mosley that unless they came up with proposals to reduce the sport's costs whilst increasing the spectacle, the governing body would do so on their behalf - many wondered just how long this cosy unity between teams would last.
But, if a week is a long time in politics, in F1 it is an aeon, and since that inaugural meeting held in Maranello shortly before the Hungarian Grand Prix, and thus just eight grands prix ago, the world of F1 has moved at great pace, and with it FOTA has made the sort of progress epitomised by its descriptive but understated logo. There is no mistaking the meaning of the 'T' (as in Team) and its symbolism as the chassis of a racing car.
Along the way there have been obstacles for FOTA to overcome, including the withdrawal of a major team (seemingly saved only through the intervention of fellow FOTA member McLaren-Mercedes, with Force India, a fellow Mercedes engine customer, approving the deal); multiple losses of sponsors affecting virtually all teams; manifold rule changes introduced by the governing body, including suggestions of identical engines, which were seemingly designed to drive a wedge between the 'have' teams (manufacturer-backed operations) and 'have-nots' (independents). These represent purely the start...
Yet, according to the invitation, on Thursday, "the Team Principals of all (note) current teams will (also) be present and available for formal question during and after a formal press conference", all of which begs the question: when last did F1 bosses collectively throw themselves to the wolves, and totally voluntarily at that?
Media members present can expect four presentations: the key address will be delivered by FOTA (and Ferrari) president Luca di Montezemolo, with presentations by Martin Whitmarsh (chairman of the sporting working committee), Flavio Briatore (commercial matters) and Ross Brawn (technical) also thought to be on the agenda. (Brawn may not, though, make it for reasons not unrelated to his pending take-over of the Honda F1 team).
Di Montezemolo has not been backward in coming forward about FOTA's demands for the future, and in addition to demanding an 80% share of F1's income for the teams from 2012 onwards, with more equitable distribution, he is likely to push for a greater say in the structure of the calendar, and overriding authority on rule changes.
In fact, a source has suggested that FOTA will insist upon representation on the board of Delta Topco, the company directly responsible for Formula One Management's operations via the sort of byzantine structures typical of Ecclestone and CVC Partners, the latter being the vulture fund which controls approximately 60% of the lease on F1's commercial rights. Demands for a greater say on the World Motor Sport Council - well up from the present single voice vested in Ferrari - cannot be excluded, either.
Should the demands not be heeded, FOTA could vote with its feet and start its own series from 2013, when the present Memorandum of Understanding (a sort of pre-Concorde Agreement) between FOM and the teams expires. In the absence of a binding Concorde Agreement, and with Ecclestone of late suggesting the MoU has no standing in law, FOTA could well initiate moves to go it alone before then.
Such demands and concepts are likely to bring FOTA into direct conflict with the other two F's in the sport - FIA and FOM - and it can be no coincidence that on Friday last Mosley announced yet another round of cost cuts, which will be made public after discussion at the next World Motor Sport Council meet 12 days after the Geneva summit.
Tellingly, Mosley intends introducing regulations which "will enable a team to compete for a fraction of current budgets but nevertheless field cars which can match those of the established teams," regulations which "will not affect the established teams which now have stable backing from the major car manufacturers, but will enable new teams to fill the existing vacancies on the grid for 2010 and make it less likely that any team will be forced to leave the championship."
How he indents to do that is anybody's guess, but imagine how the haves will react to such regulations, which effectively neuter their hard-earned and -paid advantages whilst enabling the likes of Williams (the only true independent operation), Force India (a semi-works McLaren-Mercedes outfit, the ex-Honda outfit (if/when it comes together), the nascent USF1 operation (which aims to break the mould in various respects) and A1GP's proposed team (with 40% Portuguese government backing) to go head-to-head with the big-buck teams.
Imagine, then, how delighted the have-nots could be with the proposals, for their loyalties lie first and foremost with their own teams and employees/shareholders, then the sport and whatever else that may entail. No driven wedge that statement from Mosley, but a razor-sharp, tempered cleaver...
The FOTA agenda, however, is equally provocative. Consider statements such as making Formula One "commercially sustainable" and "environmentally friendly" - precisely the sermon Mosley has been preaching for four or more years - and that FOTA plans to make the sport "compellingly attractive for spectators, TV viewers and internet consumers alike for years to come."
Just how the FIA and FOM will react to FOTA muscling in on the internet remains to be seen, but Ecclestone will surely respond to the threat - just as the FIA reacted in the early 80s when Ecclestone went about hijacking on behalf of the teams the rights to the then-novel (to F1) spectator medium called television. In the bitter end the teams won...
On Thursday the teams are also highly likely to ratchet pressure on Ecclestone to part with more than the present 50% of current revenues, and again he is likely to counter the pressure by threatening to reduce their payouts - all of which should make for good comedy.
However, now that the teams are effectively 50/50 partners in the sport - and aiming to substantially increase their share - they will likely push Ecclestone to increase F1's merchandising income and seal additional Official F1 Supplier/Partner deals of the type he closed recently with LG, Allianz and DHL. These matters fall squarely under Briatore, who, is of course, a partner with Ecclestone in the Queens Park Rangers round ball club, thus is on better than average speaking terms with the octogenarian-shortly-to-be.
However, the biggest push is likely to come from Whitmarsh's group, for FOTA has regularly expressed its desire for a stable set of sporting regulations which are both easy to understand and implement. A proposal containing a wholesale revamp of the sporting regulations, including changes to the points' structure, qualifying and race formats and weekend timetables can be expected.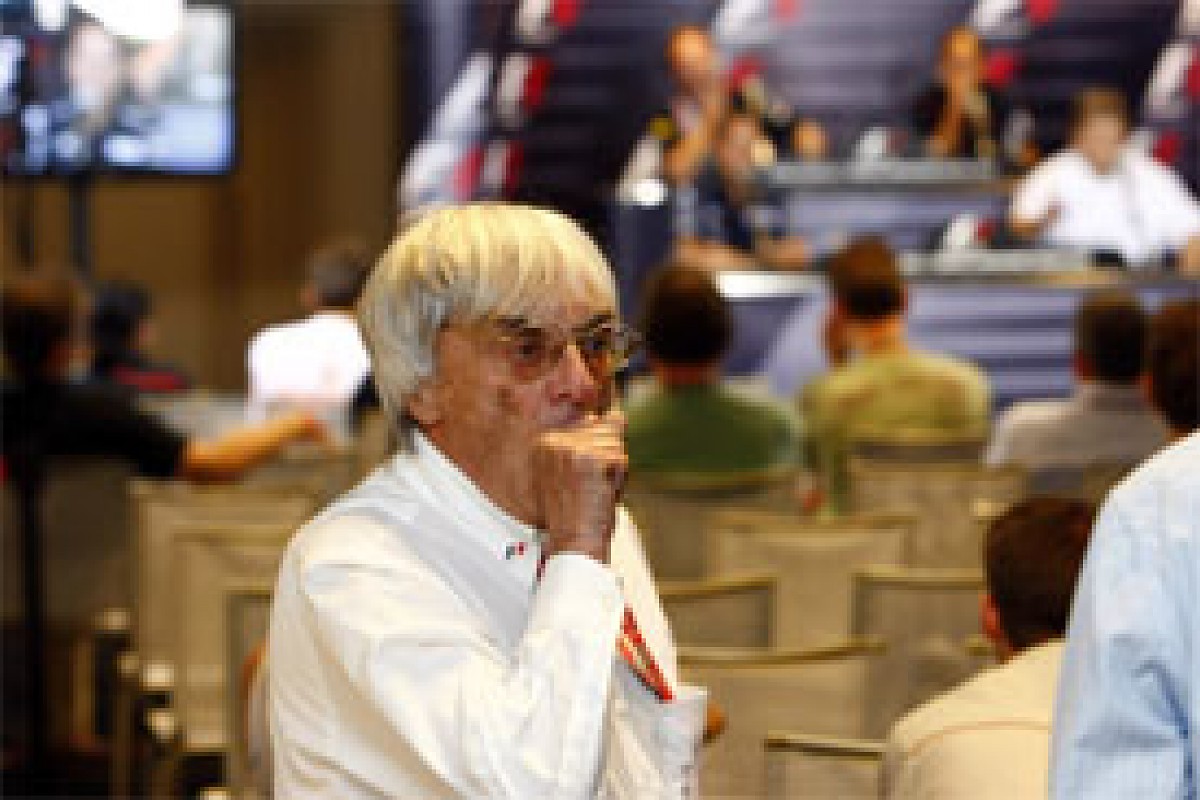 Gordon Murray confers with Carlos Pace in the Brabham BT44B Ford © LAT
Less is known about how FOTA intends addressing technical matters, for Brawn has been rather busy launching his own team - the official function has now been delayed to after the FOTA meeting, as has his new car's first running so as not to detract from the media conference and to enjoy his full concentration. Should Honda matters intervene, his deputy Markus Duesmann will substitute for Brawn at the rostrum.
With the technical working committee having been split into two and BMW's Duesmann providing input on engines, the presentation is likely to be engine-centric. The Bavarian company has of late been pushing for small capacity, turbocharged engines integrated into hybrid powertrains, and, given that most motor industry analysts have identified such technology as being the future, such units could well form part of FOTA's vision from 2012-onwards.
Until that date, FOTA is likely to demand total technical stability as its members regroup after the most expensive (and swinging) rule changes in recent history.
Thursday's meeting - which, despite FOTA's commitment to transparency is, according to a FOTA source, unlikely to be graced by the presence of Mosley or Ecclestone - should be fascinating. Not only will the media for the first time ever be exposed to the teams' collective vision of F1's future, but be able to gauge the spirit of cooperation said to be reigning amongst a group of highly competitive individuals and entities.
The most fascinating aspect will, though, be the reaction of the sport's governing body and the commercial rights' holder to FOTA's proposals and demands. In designing all Ecclestone's Brabhams - including the 1981/3 championship winners - the highly creative Gordon Murray pursued triangular cross-sections on the basis that a pyramid structure, simple as it is, provided the greatest geometric strength of all.
Together with the FIA and FOM, FOTA makes up the third of F1's three F's - in turn providing the sport with almost indestructible strength. Thursday's meeting should precisely how and where the teams collectively fit into F1's new age pyramid.