There he sits: Sir Frank Williams, in his office, bright and early, ready to attack another day with gusto, eyes sparkling with mischief. You could be forgiven for forgetting this was 2009 - the middle of a catastrophic economic crisis that even a member of the government says could last 15 years - and that Frank sits at the head of a Formula One team totally dependent on that outside world for their continued existence (they're sponsored by RBS, for goodness sake!). They're a team with a glorious world title-winning past, but have been mired in the midfield for the last few seasons, with no apparent trajectory.
Yet there Frank sits, in his wheelchair, still loving every minute and looking forward to the next challenge - perhaps the biggest one the sport's ever faced. Forty years after entering F1 on a wing, a prayer, a following wind and a ray of sunshine, he's raring to go.
"Oh, I've done all that avoiding the bailiffs stuff many years ago. Been there, done that!" he smiles. "Could you possibly come back tomorrow? I may have something for you then."
It's a great picture: the bailiff would have needed a heart of stone not to have given Frank a bit more leeway, this bundle of charm, intelligence and vulnerability. It would be easy to miss the core of steel and the defiance. For that's the only reason he's still here, the only reason Williams became one of the all-time great grand prix teams after eight years of operating on the scrappy margins. Tenacious doesn't even begin to describe Frank. So he's not unduly concerned as the sport - and Frank's team with it - apparently enters a minefield in which one wrong move could be fatal.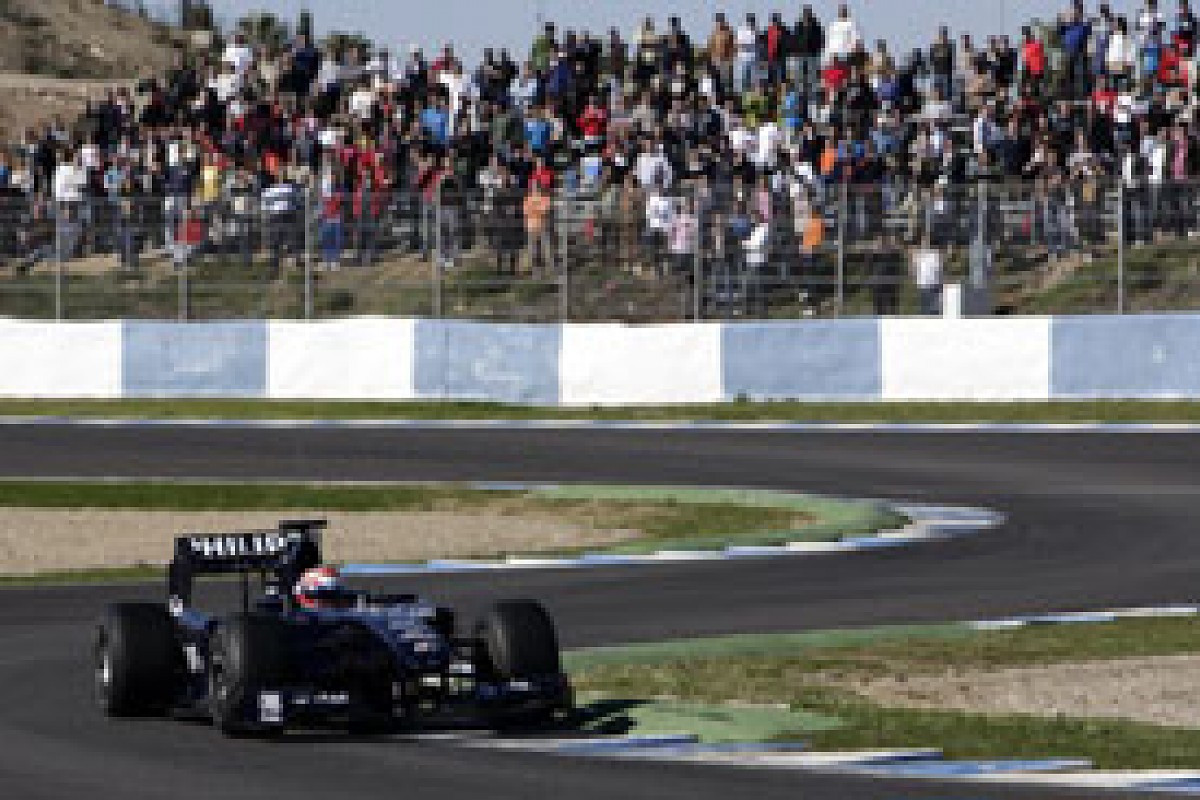 Kazuki Nakajima testing the Williams FW31 Toyota at Jerez © LAT
You get the feeling he might even be looking forward to picking his way through in these lean times. After all, it was the factory teams that prospered during the boom years and the independents like Williams who were left out-gunned. Forced to try to keep pace with the rapid expansion the boom-time car manufacturers brought to F1 - a time when teams
went from around 200 employees to four or five times that, and with facilities to match - Williams built a bigger factory, two windtunnels and took on ever-more staff. And so the stakes got higher. Then sometime last year, the sport's money tap was turned off.
So how can teams shrink fast enough? That's surely the challenge they all face and Williams, as the sole team that exists only to race in F1, looks especially vulnerable. Frank's geniality is instantly replaced by cold, clear intent as he considers his words carefully.
"The teams are united in a clear understanding that we must reduce our costs and at the same time Max (Mosley) also recognises that the escalating expense of running a serious F1 team is becoming unaffordable, given the world's current economic circumstances. He is pushing as hard as he can to make the necessary changes to bring the costs back to an affordable level.
"Affordable for whom is always a moot point - back or front of the grid? Any reduction is welcome. But between the FIA on the one hand and (teams' body) FOTA on the other, some very substantial steps have been taken already. There are a few little areas where we will save a lot of money, won't affect the show and can be applied equally to everybody."
But will it be enough? Here comes the optimism, the spark that fuels the ambition.
"Oh, that's like asking will I die a rich enough man? No one wants to die but you want to have enough money to spend as much as you want and not have anything left when you die! Don't apply that literally to me, by the way, I'm just talking about the principle. Is it enough? Today it may be. But if the same cost reductions had been applied three years ago it would now be generally affordable for 10 serious teams. We can all make ends meet by spending a lot less. Ultimately, we could reduce to 100 people and still turn up for the race, but we'd be at the back of the grid. We just have to cut our cloth."
As befits the head of the company, he's broad brush in his perspectives. So we push him further on the nitty gritty of how an independent team such as Williams can get from boom-time size and structure down to low-cost in, for the sake of argument, the three-year timeframe he mentioned. Now we see the steel:
"A contract is a contract. Our existing contracts are okay, as with us and RBS. We have a major new contract with one of our existing partners that you'll see on the car soon. In the summer we had a very good run and I thought, 'Crikey this is going well' and a lot of it goes forwards for the next few years. But now the market's pretty much moribund. It's very hard."
So multi-year deals done before the scale of the crash was apparent are what will cushion the downsize? That presupposes the entities that agreed to those deals remain in existence, of course. But there's no point worrying about what might go wrong - especially if you're an optimist.
"You're right! I am an optimist. My dear old partner Patrick Head - bless him, what a fantastic bloke - is always telling me that."
Only an optimist would have entered F1 the way Frank did in the first place. Only an optimist would have kept going for years dodging the bailiffs and only an optimist would have still been around to finally find the crown wheel to his pinion, in the shape of technical guru Patrick who, if you were unfamiliar with F1 and listening to Frank you might think had the full name of 'Patrick Bless Him What A Fantastic Bloke'.
If it wasn't for Frank's optimism and drive, Patrick would have stayed with his original plan of building his boat once he'd finished designing Frank the FW06 of 1978 and those multiple world titles would never have happened. Only someone of Frank's optimism could have bounced back from the 1986 crippling, life-changing road accident to run his team even more successfully than before.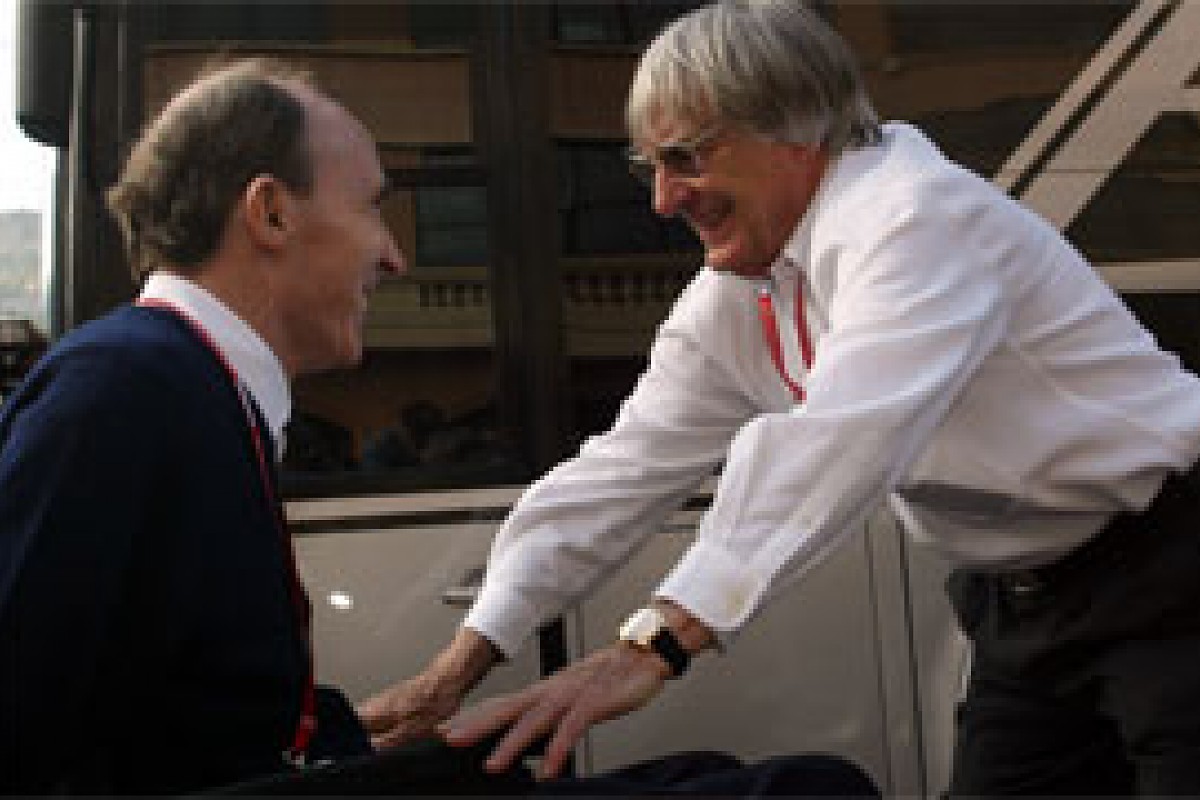 Sir Frank Williams and Bernie Ecclestone © XPB
In the meantime, Frank and Patrick, and all of F1 go about drastically cutting the cost base. Two associated issues then rear their heads: whether that can be achieved without destroying the essence of F1, that of technical competition between the teams as well as sporting competition between the drivers. Then the thorny matter of team income share. On the latter point there's circumspection borne of the pragmatism that's kept Frank in this business.
"I can't answer that question," he says with a regretful tone. But take it as read that he's lined up fully behind all the other FOTA members in wanting their collective slice to be greater than the current 50 per cent, that he resents just how much wealth is taken out of the sport by CVC and Bernie Ecclestone.
"Because of my long history with Bernie I'm not as militant as some," he allows, but he's only talking about his manner in the dispute, not the core point. He is "100 per cent behind FOTA and its aims. Undoubtedly."
Williams, as vulnerable independent, would appear to be an obvious point of attack for either Max Mosley or Bernie Ecclestone to split the unity of FOTA and thereby weaken its negotiating position. But Frank sees a bigger picture than that.
"I think Max and Bernie recognise teams will always try to have a grouping of their own. They separately recognise that some of that group will be saying no to the things they propose. There'll be a bit of pushing and shoving. We've got this far in decades and decades and decades by negotiation - aggressive or gentle. I'm sure it will carry on like that. The important thing is that the decisions made are the best decisions. For the business, for the sport."
So we see another facet: Sir Frank, the sport's statesman. But what about those decisions? The sport's president makes little secret that, given a clear hand, he'd like a spec formula. For the teams that's a non-starter. But where to balance the need to drastically reduce costs - by maybe 75-80 per cent in the long run - with the participants' desire to retain F1's DNA?
"We still want the very best drivers in the world racing the fastest single-seater cars in an F1 world championship. If it's to be spec cars, why not just go and buy some IndyCars? Then I think you'd find all the talent and interest would pretty quickly drift away. There has to be a greater challenge than that, but nothing like as expensive as it has been. Max was absolutely right in bringing us down from 10 engines a race weekend, to two to one - totally right. And everything done on this new drive the teams are all with him. We're all very mindful of having our businesses stay in business.
"There is some disagreement over the precise menu of changes in some areas, total agreement in others. But please, not spec cars. I'm sure Max understands that is the position of the teams. Whether he agrees with it, that's his prerogative. I would imagine Max would be into having teams run by people who are super-competitive in everything they do, who aren't just there because they want to be part of the show.
"F1 attracts these extraordinary people because of what it is. It features all these brilliant brains. People such as Ron Dennis, Max himself, Mario Theissen. In this building there are some very clever people, in all the F1 buildings. It's a fantastic collection of individuals that makes the world go around. I'd hate for that to be shattered. Because if the racing, financial and technical challenges aren't there, such people will find something else more challenging. At the same time, the last people who want to drive themselves out of business are the team principals, so I'm sure it can all be achieved."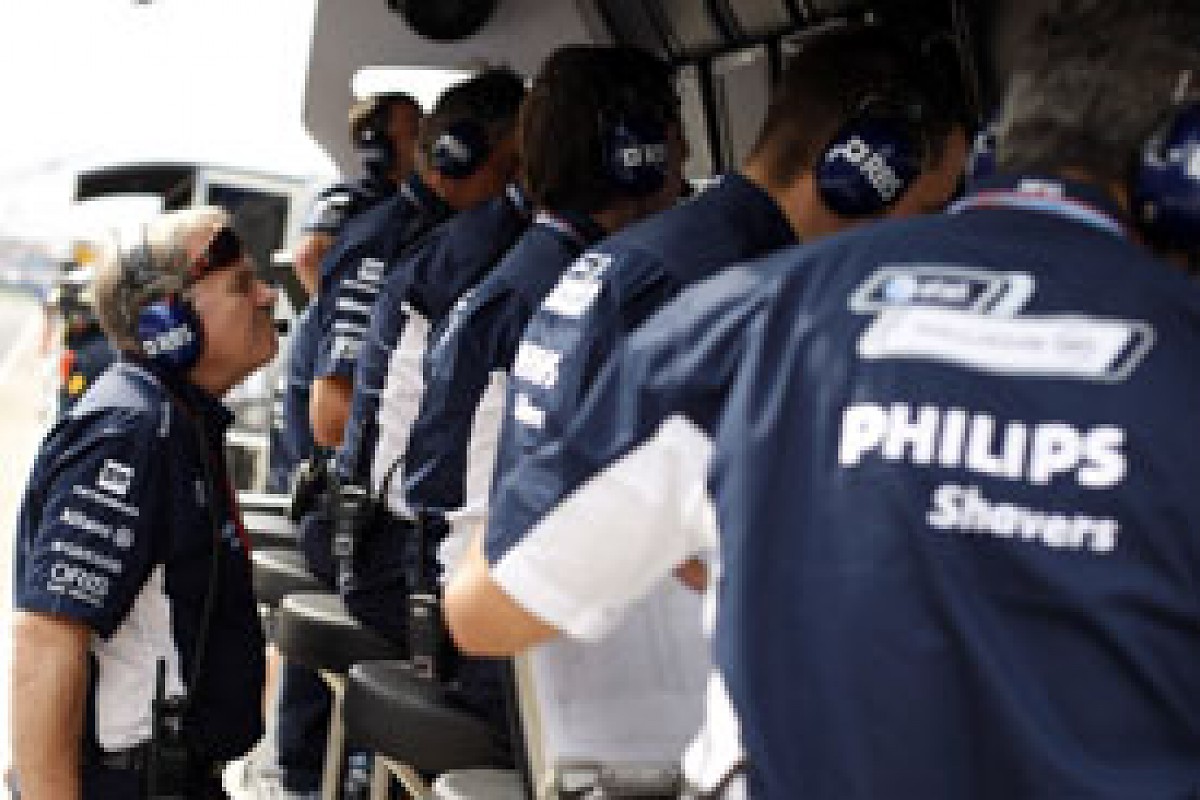 Patrick Head observes the pit wall © LAT
Frank Williams and Patrick Bless Him What A Fantastic Bloke Head are two more of those extraordinary people. But that alone doesn't guarantee you success. Ask Frank about the uncertain tenor of the team's form over the past few seasons though, and you get a certain insight into how he's survived, how he might prosper when the right opportunity arrives, but how a lot is outside his control.
"It's a challenge. We take ourselves seriously. We enjoy what we do, no one makes us do it. It's a privilege being able to participate. It's an amazing sport and business. I'd like to see the costs come down further, but we're not bleeding or in pain. Any private enterprise, no matter how large or small, is always vulnerable to failure. It has no guarantees to its existence. All that does is make you think more clearly and more accurately, and react more quickly. So far we've been nimble to stay in the business and once in a while we make very good cars."
There's nothing there that projects a gung-ho confidence that next year will be the one. That should not be mistaken for a dimming of drive or ambition. Frank refers to a Ron Dennis interview he once read and how Ron described opportunity, likening himself to a pike that simply kept his position in the ebbs and flows of the tide until he saw an opportunity come along, then he would strike.
"I've never forgotten that," says Frank, Ron's long-time friend, ally and rival. That's the perspective from which Frank views his present surroundings.
Williams are not in a position to totally shape their own destiny, not in the way that McLaren or Ferrari might be. Not in the way Williams themselves used to be, before the scale of car-manufacturer money upped the stakes. Were there key decisions along the way that in hindsight put them in this position, a hopeless question to ask an optimist, but what the hell. He simply deflects things with characteristic mischief:
"There's business on one side and engineering on the other and I leave the engineering to my lovely partner PH, bless him. He's totally responsible for that side. So anything that's gone wrong is not my fault!"
But the engineering decisions are driven by the business ones and it's difficult to see Frank Williams as a visionary in the way of Ron Dennis. So Williams did not hitch themselves onto the manufacturer era of F1 in the same way McLaren did, their partnerships with the likes of Honda, Renault and BMW never really developing into full marriages despite their considerable on-track success.
Frank's strengths are his tenacity, cunning, adaptation, irrepressible drive, his absolute total love of the sport and his determination to remain in it - and the sheer inspiration he lends to his organisation. That's what has kept Williams intact during the big spending days and what might enable them to still be around after some of those big-spending car companies have left the sport.
"I do worry about that," he says, the optimist finally admitting to the scale of challenge F1 could be facing. "I think, especially as we bring the costs down, the car companies will still be able to afford F1. But will they be able to justify it? F1 does help sell the cars directly and indirectly but as a ratio of what you're prepared to spend. They'd still supply the engines, I think. I'd expect them to. But the teams they would leave behind are all pretty high-cost operations so it would be quite a burden to run them. You'd have to almost destroy F1's present make up to do that.
Juan Pablo Montoya took the team's most recent victory in the 2004 Grand Prix of Brazil, Interlagos © LAT
"Ultimately, if the money was there for only 200 people, you'd have to start from that premise. You'd get some good technical people to advise you on what you could do with that many people."
If F1 does come to look like that, it just might suit Williams: "I think we're in quite good shape in terms of our technical structure now. Sam Michael has been technical director for a number of years now and is fantastically capable, a workaholic, a very structured thinker, immaculate in his preparations, very organised and is now very experienced. Best of all, he's a born, driven racer. I'm hoping his hour will come soon.
"We've had Ed Wood as our chief designer for three years now and he's been a major success. There's been a bit of throughput in the aero department - partly because Loic Bigois was nicked by Honda - but that's a pretty settled place now. We've got Patrick with an overview on it all. He's on the KERS stuff right now. But he's the best man you'd ever get to understand we need a new tunnel, or we need this or that, seeing the direction things are going, a real director of engineering and probably the best man in the paddock for that.
"Adam Parr (CEO) is in charge commercially and he's one very clever guy. He has that higher intellect that's very similar to Max's actually. He's certainly got Max's attention. He's very mentally acute, charming but tough - he will go for the throat.
"As for our drivers, I'm quite happy with both Nico (Rosberg) and Kazuki (Nakajima). I only wish we could have given them more competitive cars so we could gauge what their real potential was. A driver's only as good as his car. Kaz is still young, very hard working, does anything you ask of him. This year we'll see if he can make it or not.
"I'm sure Nico's impatient with us to provide him with a more competitive car. Each year he hopes, and we hope, and the 2008 car just didn't keep up and we stopped developing about half way through the season to work on the new car. A few months from now we'll know if that was worthwhile."
Now Frank's on the subject of drivers, of racing cars being driven to their limits and he's in a reverie.
"I watched Lewis (Hamilton) in his first time in an F1 car at Monte Carlo practising on the Thursday and I thought this is one of those once-in-every-10-years sort of guys, Jackie (Stewart) and Jimmy (Clark) sort of thing. Phwoar! Right up to the wall every time. He could do it blindfold. The best spot was where the French TV guy was, on the entry to the first part of swimming pool. They come out from Tabac up to the wall and the camera's about three feet above there. It was here in 2004 when Kimi (Raikkonen), Juan Pablo (Montoya) and Michael (Schumacher) were all flat-out together through there, all trying to win at ten-tenths. Just fantastic. That lucky cameraman!"
You would not hear any other Formula One team principal say things like that. This sort of enthusiasm is what burns at the core of Frank Williams, still, after all this time in the game. This is what keeps his fire burning. It's a cliche only because it is true: he is the essence of racer.