The 2009 F1 regulations are like manna from heaven for the sport's top engineers, especially those who, like Renault's Pat Symonds, are charged with seeing the big picture, and allocating R&D resources appropriately. Stable rules lead to ever-diminishing returns and frustration, but major new concepts are always a welcome challenge.
For some teams, the changes represent a one-off opportunity to upset the status quo and close the gap to the pacesetters. Others have more to lose than to gain. Renault are arguably somewhere in between, perhaps leaning towards the latter category.
In the final third of last season, Fernando Alonso scored more points than any other driver. While fortune sometimes smiled on him rather than the actual title contenders, there's no question that Renault developed their 2008 car at a greater rate than anyone else from the first race to the last.
Everything is relative to your starting point of course, but it was an impressive effort. Had the rules continued unchanged into this season, Renault would certainly now be regarded as potential title contenders. Instead, the momentum that the team built up counts for little, since the development race starts anew.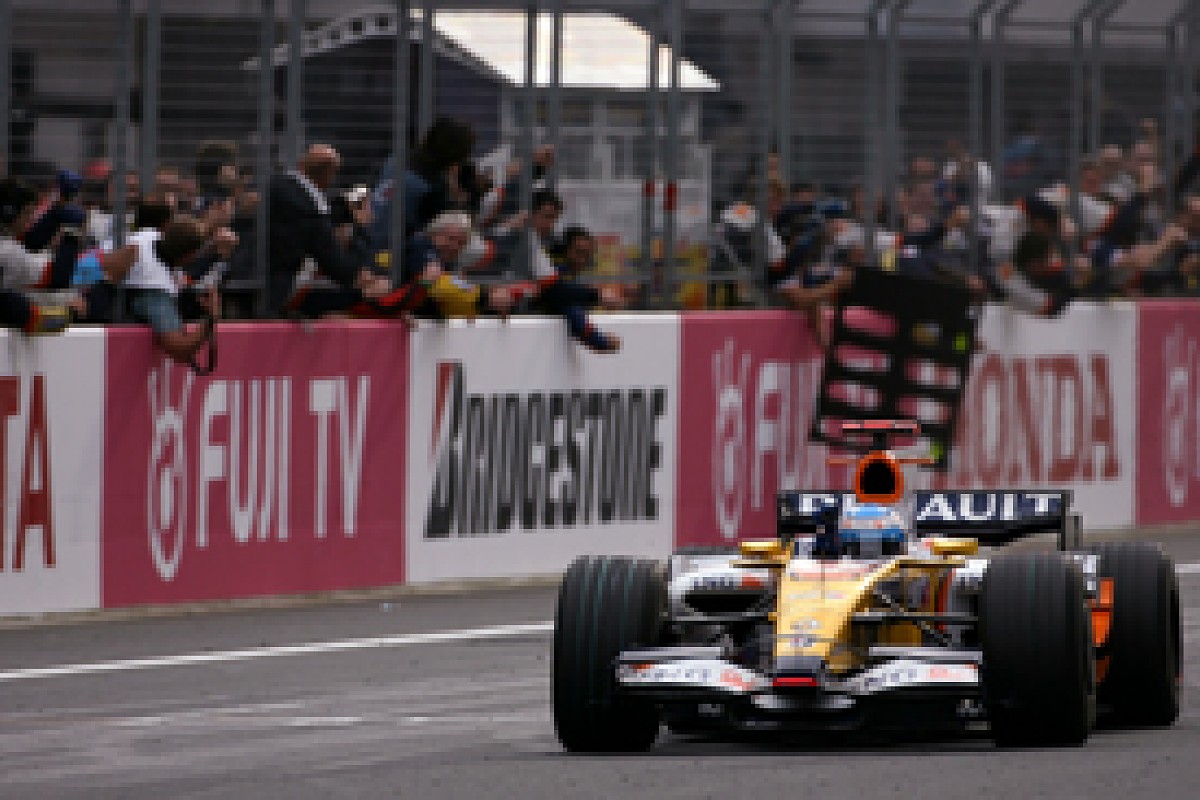 Fernando Alonso winning the 2008 Japanese Grand Prix © XPB
"I hadn't even thought about it until you said that," says Symonds. "I suppose it is true, we were pretty strong at the end of the year. But maybe we'll be stronger. Who knows? Just take it as it comes and work hard at it."
The technological goalposts might have moved, but the laptime gains made last year have had a positive effect. After their two world championship seasons, the team struggled for a year and a half, and thus the return to winning form was a boost to the collective self-confidence.
"I think it's been very good for momentum and human factors," Symonds agrees. "It does give people confidence, and it makes me think these guys did a fabulous job through last summer. I'm sure they can do the same again.
"If you go back to pre-2004, one of the things that were levelled at us was that we might come out with a good car, but we couldn't maintain the pace of development. There were a lot of reasons for that - we weren't as big as the other teams in the early 2000s and we certainly weren't spending as much money. But now we can out-develop even the big guys.
"And even with the fact that the aerodynamics are completely different, I still think there are a few things we did in the latter part of last year where we learned a little bit more about sensitivities - and what was important and what wasn't important. While how you achieve those sensitivities may be completely different now, at least we've got another insight into where the compromises lie."
Renault improved during 2008 while also working hard on this year's project. Everyone had the same choice to make between reaching the full potential of their current models and getting a flying start on the new car. Early testing of the R29 has been inconclusive, but time may yet prove that Renault struck a better balance than most.
"Work on this car started much earlier than normal," Symonds admits. "I suppose we were looking at KERS (Kinetic Energy Recovery Systems) concepts and technology decisions going back a couple of years now. Work in earnest has been going on well over a year. The first aero thoughts were in March or maybe even the end of February. So it's been a lot longer than normal."
So has this been the most exciting challenge in years?
"It's a different challenge. To say this one is exciting implies that the others haven't been, and they have. Everything you do is exciting. But it has been particularly interesting to learn the completely new technology of KERS. I think the aero guys have had to do a lot more lateral thinking - they've had to forget a lot of their empirical design rules. I think everyone has found it interesting."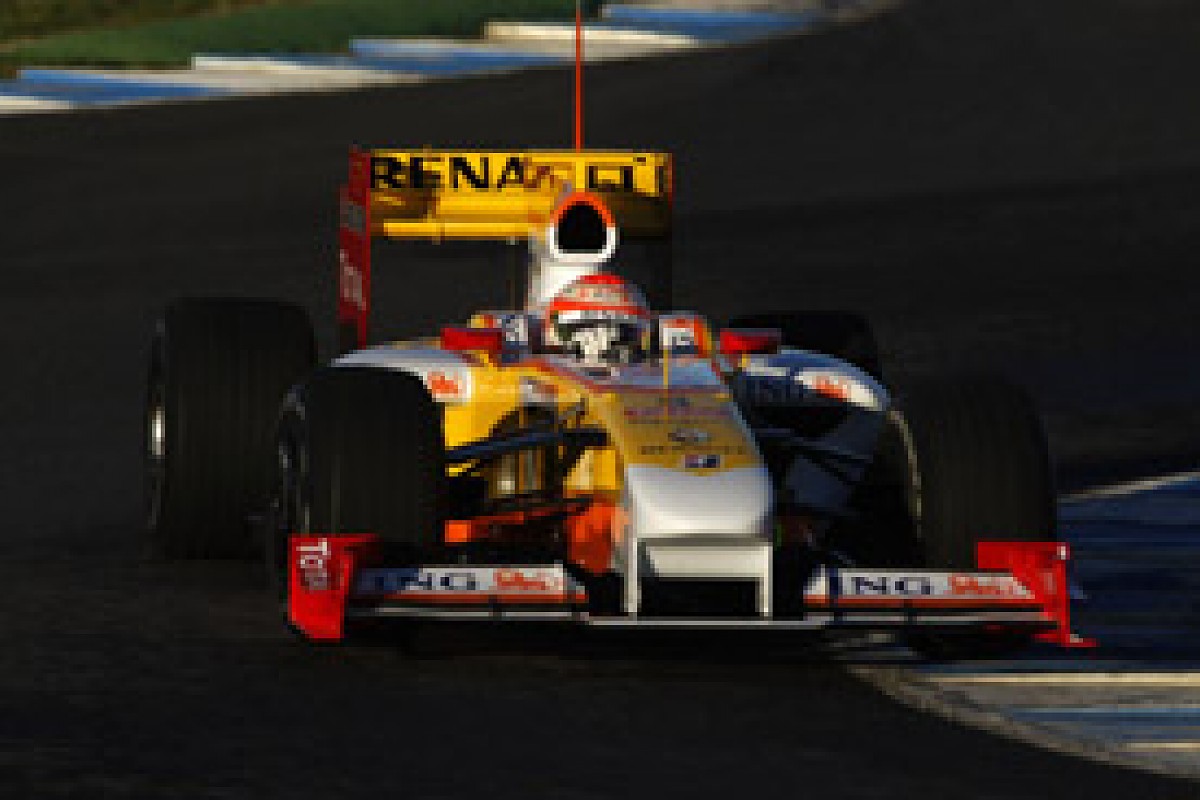 Nelsinho Piquet tests the Renault R29 in Jerez © LAT
What made dealing with the 2009 rules a little different for Symonds was that he had played a part in shaping them. Along with Ferrari's Rory Byrne and McLaren's Paddy Lowe, he was seconded to the Overtaking Working Group, and it was their research that helped to refine the ideas that had been championed by FIA consultants Tony Purnell and Peter Wright.
"When we did that work we acknowledged that it was a very small investigation. Compared with what we teams do for ourselves, it was almost like a student project. But it was something that had never been done before and therefore the knowledge that came out of it was quite large. The science was in understanding the wake, how to control it and how to use it, but there was a little bit more philosophy behind it.

"We did feel that if we reduced the overall downforce then the wake effects would be smaller. It's a little bit poacher-turned-gamekeeper. Knowing how people would take a concept and develop it, we decided we really ought to be targeting about 50 per cent of the downforce. We all sort of realised that by the time we'd finished, 50 would probably be 15 per cent. To be honest, that's probably not far off where it is going to be. So I think we were quite pragmatic."
Getting even closer to 2008 levels will be tricky: "It's not going to be easy because there are fewer areas to work on. It's not just that we've taken it away - we've taken it away before - but we've taken it away and reduced the potential. So progress will be a bit slower, there's no doubt about it."

Nevertheless, the rate at which the teams have already clawed back downforce is already concerning Purnell, who fears that it may mean that the whole concept of allowing the cars to run close together won't be effective.
"I'm obviously worried," Symonds admits. "If you change the total downforce of the car that much, then obviously you change the flow. And have we changed the flow enough to negate the effects? We won't know until drivers tell us a little bit. One of the things that we were very aware of was that we could control the recovery of downforce in the wake reasonably well. We certainly understood all that, but we weren't so certain that we understood exactly how it balanced, which is why we wanted to have a movable front wing.
"Even if the wake recovery is not quite as good as it was on our simplified models, that wing should help a little bit. So I can't believe that we have haven't made a sizeable improvement. Whether it's what we thought it would be, we don't know. But in round numbers we were saying that in order to overtake we wanted the lap time differential to be approximately halved. You needed to be two seconds quicker than another car in order to be able to overtake it, and if we could make that one second, we felt that was pretty good. I don't know whether we have achieved that or not. We'll find out."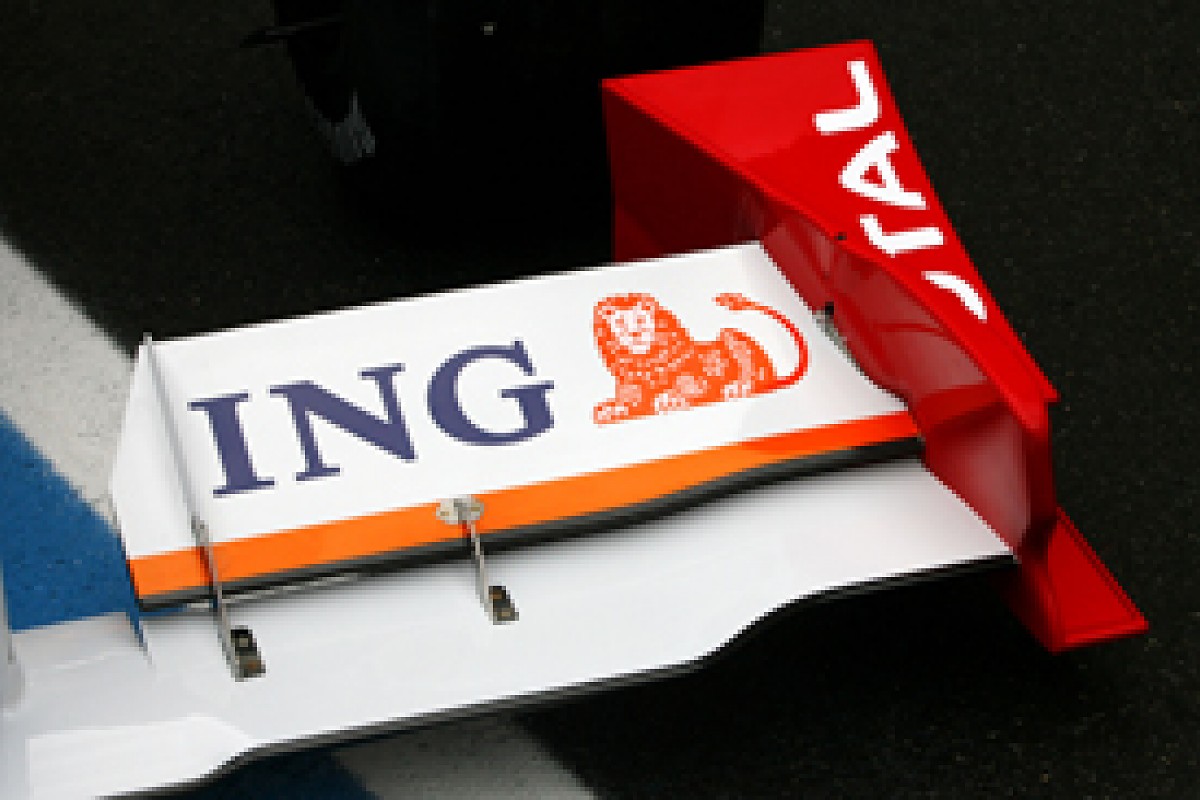 The adjustable front wing of the R29 © XPB
Symonds sees the front wing as a useful tool: "If you are following someone at Monza and you want to have a go at them down the pit straight, then you will put a bit more front wing on through Parabolica to try and stick with them.

"If you're not with anyone, you can still make an adjustment if you want. It might be that in the fast corners it's a little bit nervous. There's no reason why you shouldn't adjust it down for the fastest corner, but you can only make that adjustment once per lap. As a lap time improver it's not a very effective tool, but as an aid to overtaking, it should do what's required of it."
Renault have never been a public supporter of KERS - Flavio Briatore is still exasperated about what he regards as an ill-timed, unnecessary expense - but at an engineering level, the team has enjoyed the challenge.
"There are still a lot of unknowns," says Symonds. "Prior to Christmas, I was very doubtful we could get a car to Australia with KERS on it. Over Christmas, the troublesome area progressed very well. We've now got a few race distances done on the dyno and I'm a lot more confident.

"There's still a long way to go. It's an enormous project, one of the biggest we've tackled in F1 for a long while, because there's so much technology that we had no knowledge of. It's on the scale of when we did things like active suspension. We had to learn a lot of new technologies, and that took us several years before cars were on the track. This has been a much foreshortened project."
In common with several other teams, Renault have worked with Magneti Marelli on the KERS project, although Symonds says it's not clear how much of a benefit that joint effort has been.

"I don't know, to be honest. We're not aware of what problems other teams have had, we don't share that sort of knowledge. I assume that they've been the same as ours and maybe that's helped."
The ever pessimistic Alonso made an interesting observation to the effect that if KERS is not raceable by Australia, there is no point in running it thereafter - essentially because the lack of testing means that there will be no chance to develop it without interfering with race weekends. Symonds can see the Spaniard's point, although he's more bullish.
"There's no doubt that with no in-season testing making judgements on things like that will be all the more difficult.
It's always difficult. The only thing I would say is that the KERS system is something we can run on dynos with reasonable realism. I wouldn't say if it's not on the car in Melbourne it won't be there all year, but obviously it will take a bit longer to get it on the car than it might have done."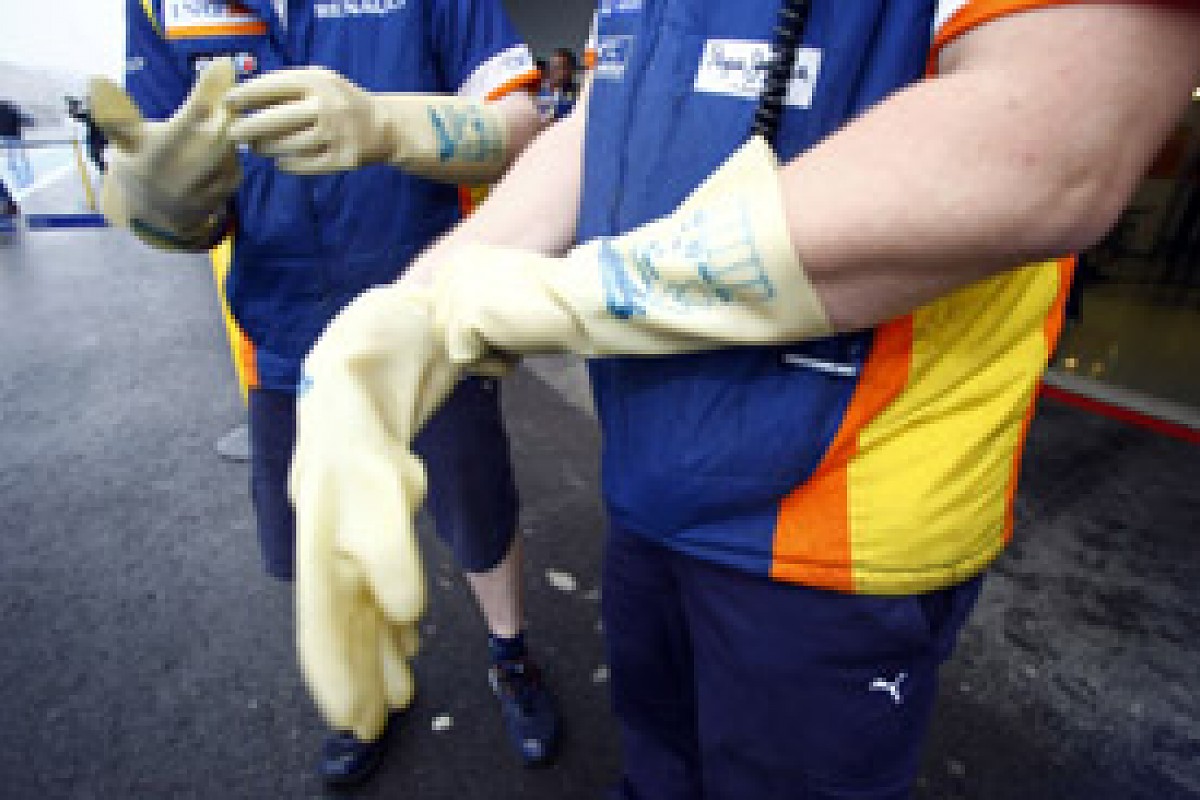 Renault mechanics prepare to work with KERS © LAT
What all the teams have to do is to demonstrate that there's a net performance gain. And even if there is, there will be some circuits on the schedule that don't fit the profile where it would better to take it out and run with an optimum weight distribution.
"I think that there are races where the car might be quicker in qualifying without it. But it may then become a problem to race. But equally if you're that many positions up the grid, who knows? That's why I don't really want to answer the question yet, because we need to know a little bit more about the efficiencies and get our simulations fine tuned."
The other big part of the equation this year is the return to slicks. Some veteran technical guys say that knowledge gained up to 1997 still has some value, but Symonds plays that down.
"I would say I've learned a lot more about tyres in the last 10 years than I ever knew before, so I don't think it's that relevant. But there are a lot of guys I'm working with who have never worked with slicks. They've said things like we won't get graining when we have slicks. I told them we will, but it will not be as much of a problem.
"The early tests in August weren't terribly good. There were a few modifications for the winter tests, but there are still some problems with getting the temperature range into them. But I've spent a lot longer working with slicks than I have with grooved tyres, so there shouldn't be any big surprises."
People have talked for years about a return to slicks helping to improve the racing, but Symonds doesn't agree.
"I don't think it will have much effect at all. It's what I alluded to earlier: a little bit of science, a little bit of philosophy. People have always said what we need is less downforce and more mechanical grip, and whenever I challenge anyone to give us any evidence of that, they can't. It can't be shown mathematically. I would argue that it can be shown circumstantially, in that you do get a lot more overtaking when the track's slippery.

"To me that wasn't a major thing. The reason we went to slicks was to go with the new aerodynamics. We did want to reduce the downforce because that was the only way we could improve the wake. We didn't want the cars to go significantly slower, so we needed to replace that grip with mechanical grip. To me it was never really part of the overtaking thing, I didn't really want to follow the pitlane urban myths."
The Renault V8 F1 engine © XPB
A little bonus for this season is the FIA's decision to allow Renault to tweak their engine, in the light of an unexpectedly large gap to the opposition last year.
"I am very pleased about it," Symonds admits, "it's quite a tribute to the spirit of co-operation in F1 now that other teams agreed to it. Our belief, and I guess we'll never quite know for sure, is that we will approximately halve the gap between what we had last year and what the frontrunners had."
It's harder to judge because the rev limit has been cut to 18,000rpm, as part of the effort to extend engine life. One fascinating aspect of this season will be how teams juggle engines between Fridays and the rest of the weekend. At some tracks they will be prepared to race a high-mileage engine and at others the opposite applies. It remains to be seen how much information about that usage will be released by either the teams or the FIA. But for the moment, Symonds is playing his cards close to his chest.
"For sure you will tactically use the engines," he says. "We will establish (mileage) limits, we will do risk assessments and we will react accordingly. I've thought carefully and planned carefully how we're going to use the engines - but I'm not about to talk about how we're going to do that!"