Consider this: you are a rookie F1 driver, under immense pressure. You've had a poor season. As well as an indifferent car, you've had very little testing and, worst of all, you're being directly compared to the formidable double world champion on the other side of the garage. A driver that the team is in love with, whose every word they hang on, who has been here on and off for many years. You're a bright guy who knows it's a ruthless business. You realise that you're fighting for your very career - and it's not been going well.
This is a team attuned to success and the people here are hardened professionals with no time for excuses. The team boss is not the arm around the shoulder type either; you know he'll ruthlessly plug in another bright young hope if things don't improve. In fact, there's one now, hanging around the garage, just aching for his chance to take your seat - just as you did when that Heikki Kovalainen guy was struggling.

Here we are at Spa, the most challenging place on the calendar. Qualifying's gone okay, but not brilliantly. Half a second slower than Alonso around such a long track is respectable, but it has still left you mid-grid and that in itself is probably not going to save your drive.
The rain that fell hard before the start has now stopped, so it's a case of dry weather tyres on a damp track. Furthermore, the team is running you with a super-heavy fuel load so the car is going to be a handful and everyone around you is potentially going to be quicker. Not the sort of thing that is going to get you feeling relaxed. Imagine sitting on that grid in that situation - the nerves, the butterflies.

It was a scene tailor-made to test the mettle and, from the outside, all that transpired for Nelson Piquet Jr that afternoon was he spun out of 10th place after 13 laps. It was apparently just another disaster, another notch on the ratchet strangling his future prospects.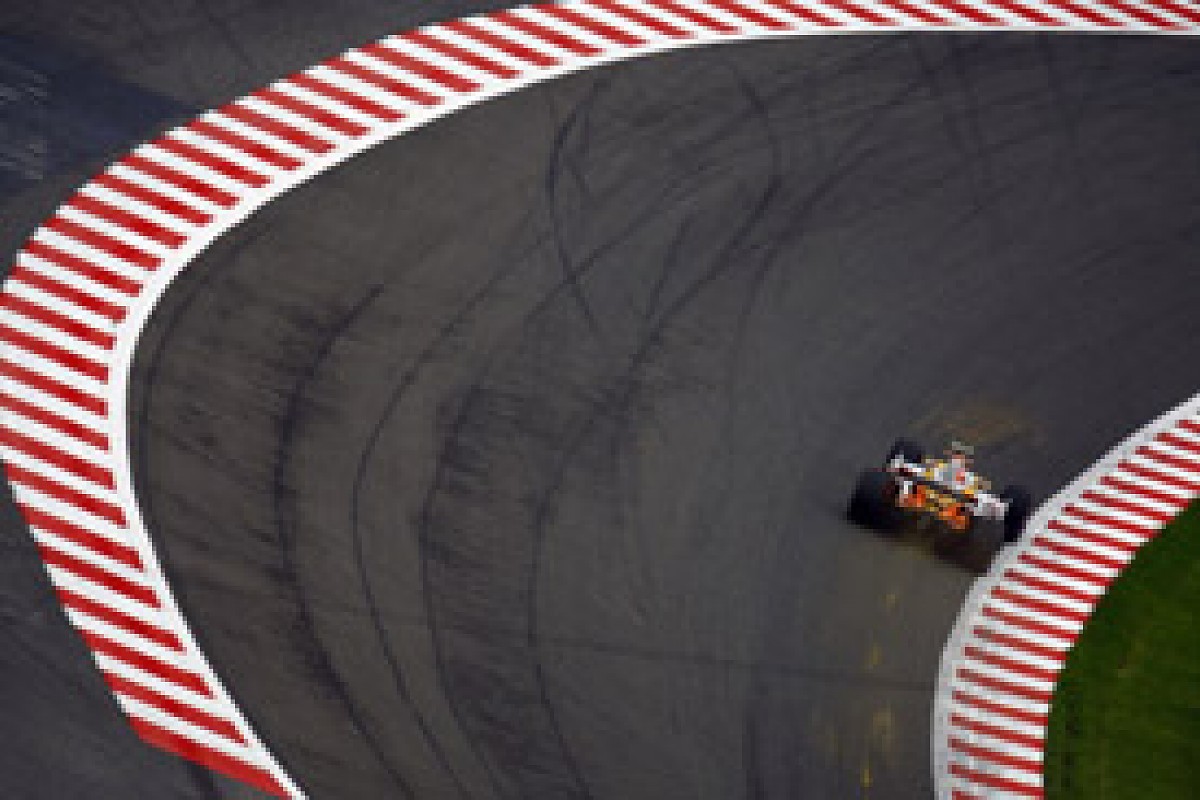 Nelsinho Piquet at speed in Belgium © LAT
But actually... "He was running fantastically at Spa," says Alan Permane, Renault's engineering manager. "We'd fuelled him to run to half-distance. He was massively heavier than the cars around him and when you looked at his pace in that damp period compared to Fernando's, allowing for the difference in fuel weight, he was right on it.
"I was just thinking, 'This is looking really good.' I was reckoning on him springing a real result when he went off."
Such hints of underlying good are probably all that have allowed Piquet to hang onto that drive by the skin of his teeth. There were other promising, and more visible, performances: qualifying within 0.1 seconds of Alonso at Barcelona, running in the top five at Silverstone, a great run to sixth in Hungary, just 11 seconds behind Alonso at the end and fending off big pressure from Jarno Trulli, a sparkling drive to fourth in Japan after harrying Raikkonen.
There was also a second place finish at Hockenheim, but even Nelson immediately acknowledged how that had everything to do with the safety car coming out as he was pitting, leapfrogging him from near the back to the race lead.
His biggest struggle was qualifying. Those extra margins were not there to squeeze, his lack of confidence in what was - until its upgrade for Spain - a tricky, inconsistent car not helping.
"He absolutely hates understeer," says Permane, "and really likes the car on the nose. He tends to run a bit more front wing than Fernando as a result, but as the car improved they converged a little more. But he was usually only three-tenths or so away from Fernando and we know how great he is. Clearly, when Lewis was alongside Fernando at McLaren it was a bit different but obviously he is exceptional. We do rate Nelson. There is definitely something in there not to be ignored."

He began the year 1.4s off Alonso in Melbourne qualifying and ended it 0.04sec behind in Brazil. But the improvement was not really a curve, more a series of ups and downs with a general upward trajectory. Even as late as Singapore he was capable of having a stinker - 1s off Alonso on Saturday, crashing into the wall on Sunday. The fact that his accident had the effect of winning the race for Alonso had conspiracy theorists working overtime. Coming into that weekend the word on the jungle drums was that Nelson had been told he didn't have the drive in 2009. Then his accident brought out the safety car just after his teammate had pitted, but before anyone else had. The rumour went away. Want me to draw you a picture?
But even if - and that's a very big if - it did happen that way, there's logic to Renault keeping him on. Until last year he was always quick, always successful. The driver that pushed Lewis Hamilton for the 2006 GP2 championship is the same guy that showed those glimpses of F1 promise last year. He's intelligent and therefore likely to improve, he's motivated and he now knows the team well.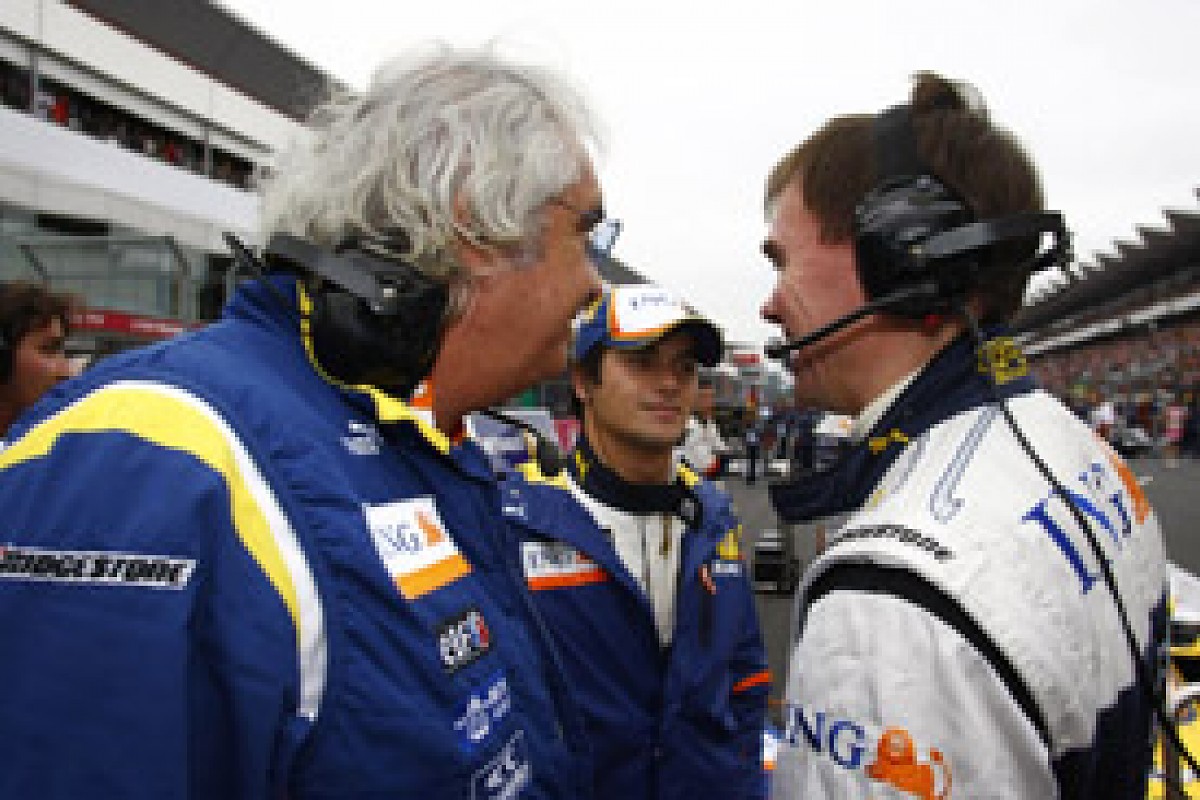 Flavio Briatore, Nelsinho Piquet, and Alan Permane on the grid © LAT
The team have come to know - and like - him too, despite the poor season. "I'd heard all the stories about how arrogant and aloof he was, and being the son of a rich and famous father, that wouldn't have been surprising," says Permane, who worked on Nelson Sr's car in 1990-91 when the team was Benetton.
"But that has absolutely not been the case. He's a smashing guy: very respectful, focused, good with the mechanics, who just quietly goes about improving. He lives quite near to the factory and often visits, even when there's nothing specific to do. He'll just come and spend time with his engineers and hang out."

They can forgive a lack of results, as long as they see a spark and an effort to improve - and he ticks both those boxes. It requires character to retain your self-respect and belief when you're constantly being pounded by your teammate - Alonso out-qualified him 17-0 last season - and all the signs are that these qualities are fully intact with Piquet.

But you might challenge the raw desire of a driver that has never had to struggle before, who has been blessed with not just ability but the perfect circumstances to use it. You might see those questions underlined when you observe the difference in his pace before and after that fluky pitstop at Hockenheim. When he was running around near the back there was nothing about his performance that suggested he was running out of position. But after the safety car put him in the lead, he upped his pace dramatically and looked like he belonged in the front group.
"I think that's quite a common thing among drivers," observes Permane. "They sort of get sucked along with the big boys. That's why it's so important to put your car near the front. Otherwise you're scrapping about on a long-stop strategy hoping to pick up the crumbs of tail-end points and it's a very different mindset.
"Unfortunately, although our car was generally capable of getting into the top half of the top 10 with Fernando, that 0.3s difference between them meant Nelson was usually just on the cusp of the top 10 and back among that midfield. If we'd been able to give them a faster car, the difference between them wouldn't have been so big, I think."

The team did their best to help - which says a lot, because they wouldn't have bothered if they saw little hope. They would regularly run him light on Saturday mornings, giving him an extra set of new tyres, just to get him more familiar with the car ahead of qualifying.

"If we can give them a car this year that can easily run in the top 10, I think it's going to make a massive difference to Nelson," says Permane. "He will be racing the big boys and I'm sure he'll respond well to that.
"He needs to start finishing races regularly - he had a few too many mistakes in the races last year. But I'm confident that will happen. If he can regularly be within a couple of tenths of Fernando, I don't think we could ask for anything more. To get to a position where he was sometimes pushing Fernando or beating him now and again would be asking a lot I think."
Which sort of says everything about how this is Alonso's team, how he's in the very environment that he missed so much at McLaren. Which is just one more reason why Piquet is actually the logical choice.