Sebastien Buemi has got a tough gig. The only rookie certain to be on the grid for next month's Australian Grand Prix, he's a shoo-in for best newcomer honours - so what's the problem?
It's not just that the spindly 20-year-old has got to succeed Sebastian Vettel at Scuderia Toro Rosso... that's the easy bit. His real assignment is to prove to the doubters that he is worthy of a place at the 18-driver top table that is F1.
No one is questioning that he is good, but is he good enough? Or is he, as conventional wisdom suggests, merely the latest pet driver of Helmut Marko, Red Bull owner Dietrich Mateschitz's man on the ground and boss of the energy drinks firm's junior programme?
Buemi, who hardly diffuses this accusation by describing Marko as his "second father", hasn't even got the luxury of weight of titles to fall back on - along with Mark Webber and Kazuki Nakajima he has no major single-seater titles to cite in his defence. Sixth in GP2 last year shouldn't, on paper at least, put him at the front of the queue to break into F1.
So he's a waste of a seat, then? It's easy to leap to that conclusion but, as always, the reality is not so straightforward. Marko's violent revolving-door policy when it comes to junior driver selection isn't compatible with the idea of him promoting a protege just for the sake of it. While Buemi doesn't have a cabinet full of title trophies, he has finished second in major categories three times in the last four years. Chatting with the Swiss in the Toro Rosso motorhome during a rain-enforced break in testing proves that he knows exactly what the critics think.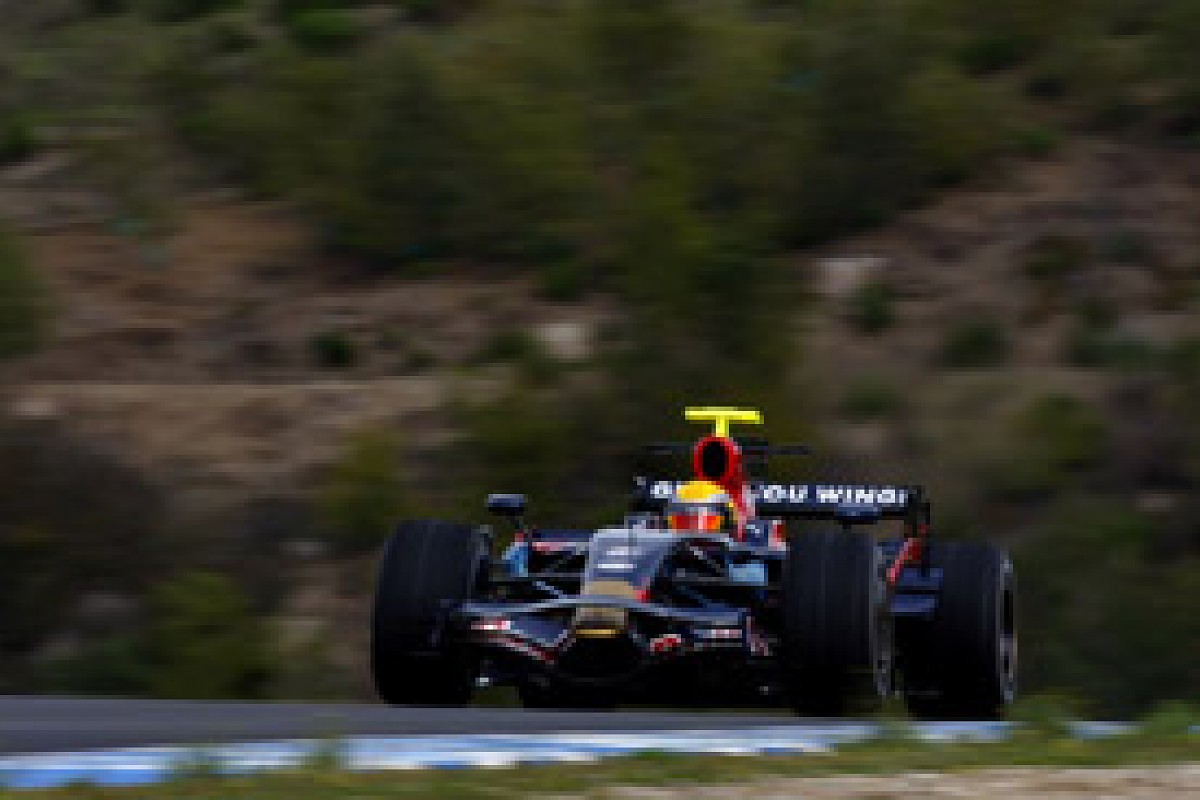 Sebastien Buemi testing the Toro Rosso STR3 Ferrari at Jerez © LAT
"I want to prove myself," says Buemi. "The people who make the decisions at Red Bull are not stupid. They analyse everything and they won't give you the seat if you aren't any good. I want to show that they made the right decision when they gave me the job."
It's a tough ask for Buemi, particularly with STR having little pre-season running with their 2009 car. But Marko sees in him a never-say-die attitude. It was in a strong drive to the podium with a deranged front wing in a German Formula BMW race at Hockenheim in 2004 that brought Buemi to the Austrian's attention.
"He had a broken wing, but he never gave up," says Marko. "I came to see this as very typical of him; he doesn't give up. He reminds me a bit of (fellow Swiss) Clay Regazzoni in that he's always fighting."
Buemi is quick to acknowledge the role Marko has played in his career. Had the Austrian not been impressed with his tenacity that day at Hockenheim, Buemi reckons that a second season in car racing was unlikely. After being run by his garage-owning father in karting, there was enough money for a BMW scholarship-assisted first season in cars, but no more.
Although racing runs in the family - grandfather Georges Gachnang raced at Le Mans in 1960 and cousin Natacha Gachnang will race in the new Formula 2 series this year - Buemi started racing by chance when he was given a kart for Christmas at the age of five. At that stage it was "just for fun, it wasn't that they wanted us to become F1 drivers", for him and Natacha, who also started out with fun karting. In short, although family support had put him through a successful karting career and into car racing, the backing would only go so far.
"Without Red Bull I would not be here," says Buemi, who had funding from the energy drinks behemoth from the start of 2005. "I knew I could do that first season, but that was it, so Red Bull came at the right time. Without them, I would be working with my father now and not racing. Everyone says Marko is hard, but you need to be hard because when you get to F1 there is so much pressure every time you get in the car. You get used to it quite fast with him!
"I speak with him once or twice a week. We don't speak only about racing - we speak about life and watches, because he loves them. He is like another father for me. He knows everything - what I eat, when I wake up. Sometimes it's hard work, but it's positive."
Marko certainly wasn't afraid to steer Buemi towards the right track when he was straying. Early in his first F3 Euroseries campaign in 2006, Marko was quick to intervene when things were going wrong. And it was Buemi's capacity to listen that impressed. In season two, with unfancied Mucke Motorsport, Buemi almost denied hot favourite Romain Grosjean the title.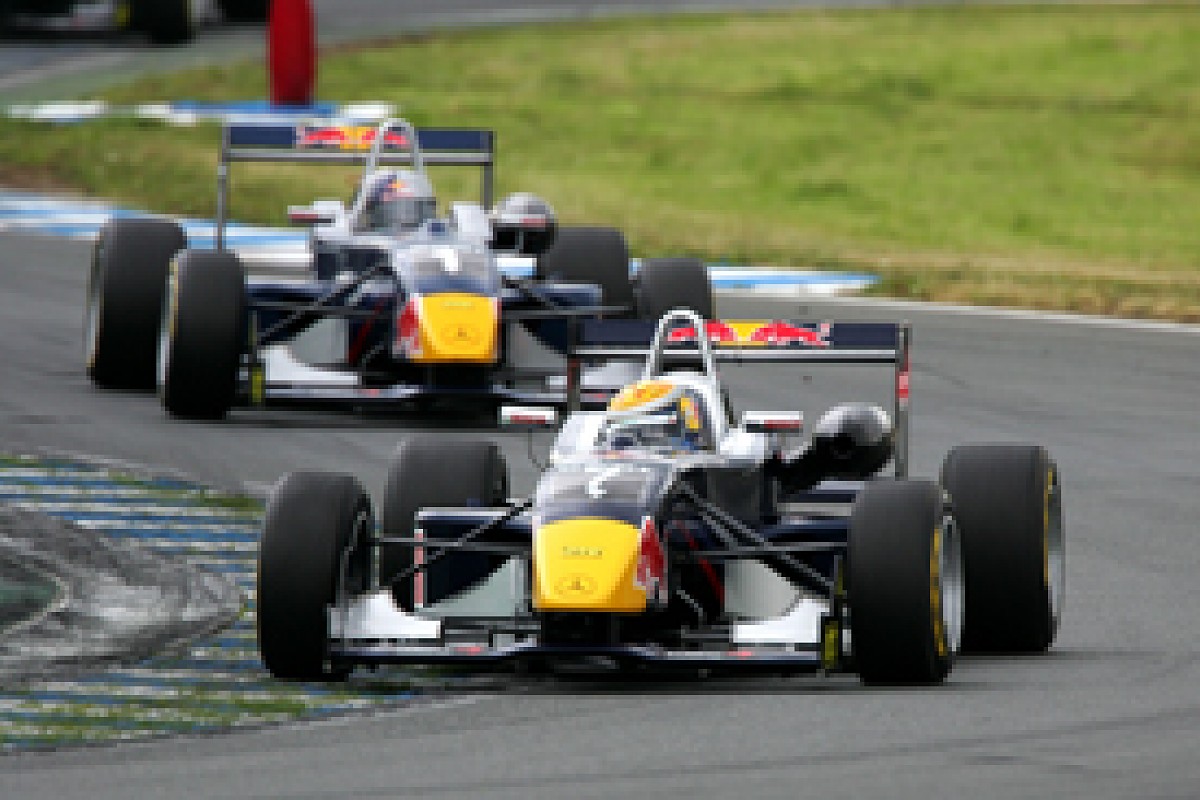 Sebastien Buemi leads Sebastian Vettel in the 2006 F3 Euroseries race at Oschersleben © XPB
"He's a very fast learner," says Marko. "At the beginning of his F3 career he was always shouting at the engineers and we had to sit down and explain that it's no good just saying that the car is shit, you have to explain why. He is a completely different personality to Vettel, he's much more emotional. In 2008 he was coming to grands prix and listening on the radio. He learned a lot from Vettel's very analytical approach and was very impressed by it."
And Buemi had plenty of time to learn in F1 last year. As well as his GP2 campaign, which yielded two wins with Arden International, Buemi was a regular face in the F1 paddock. He even had the chance to take to the track in the final three grands prix of the season behind the wheel of the medical car! Come Melbourne, he won't be unfamiliar with the F1 environment but he is quick to highlight how much he must learn about the team and highly-rated technical director Giorgio Ascanelli in particular.
"It helped to do the medical car stuff and to be in the paddock with David Coulthard and Mark Webber," says Buemi. "It takes away a bit of pressure and shows you a lot. I have spoken a lot with Giorgio - if you listen to him you will improve a lot.
"It will still be new for me in Melbourne. Until the first race, it's difficult to say. This team knows how to work with young drivers and this is very important. You can't know everything when you are new to F1."
It's impossible to say where Toro Rosso will figure in the competitive order, so you can't quantify what would constitute a good season for Buemi. But, with plenty of seat time in testing since the start of November with both STR and Red Bull Racing, he has been given every chance to ease himself into the role of F1 driver. He will probably be rookie of the year, but he may also turn out to be the surprise of the season.