This season marks 30 years since the Williams FW07 began winning races, and 40 years since Sir Frank first entered Piers Courage in a grand prix. Could 2009 prove to be another landmark in his team's history as they attempt to recapture their winning form?
The last victory came courtesy of Juan Pablo Montoya back in 2004, but since then the team that dominated the sport in the early 1990s have been relegated to midfield status. But the massive package of rules changes introduced for this season has forced everyone to start afresh, and given Williams - along with others who have struggled to close the gap to the top three teams - a chance to make a step forward.
That, at least, is the theory. By the time we get to Australia we may well find that little has changed, but there's no doubt that 2009 represents a one-off opportunity for teams that get it right to adjust the balance of power.
Williams technical director Sam Michael agrees that the challenge has been a very motivating one.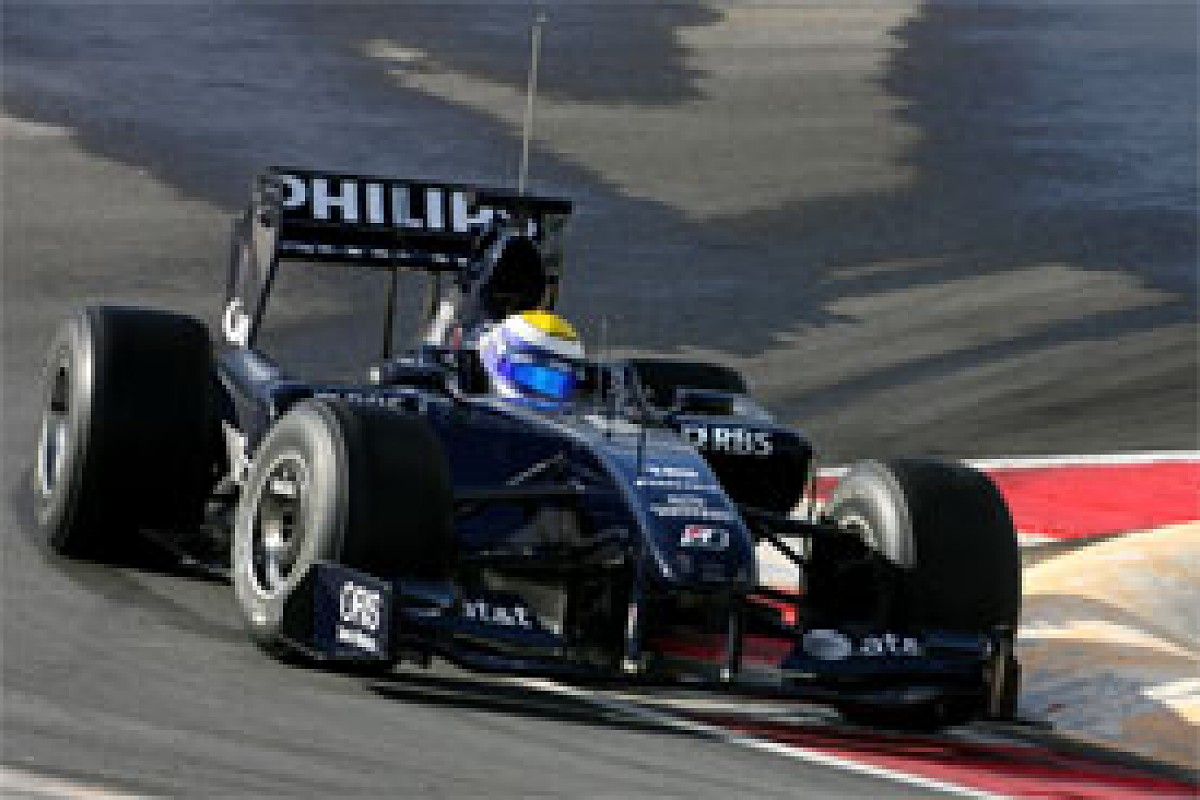 Nico Rosberg testing the new Williams in Portimao © XPB
"From a design point of view it's been fascinating," says Michael, "because it's been such a big change in the regulations, the biggest change since I've been in F1. It's quite exciting really, because it means everyone's trying different things.
"Especially now with the cars running you start to see different bits and pieces from other cars, and see how people have interpreted the regulations compared with you.
"And because there's so much change, it's really good to see different concepts. It's one of the fantastic things about F1. This period right now is one of the most exciting, and it's just really interesting from an engineer's point of view. It's why you're in F1, really, for that sort of challenge."
All teams faced a difficult decision in terms of how to allocate resources between their ongoing 2008 development programmes and preparing for the new rules. Williams made the difficult decision to virtually abandon work on improving the FW30 in order to focus on '09. It was a tough call, especially for the drivers, as other teams leaped ahead during the season.
"The rules were out in October 2007, and we did our first wind tunnel runs in December. There might have been a couple of teams that started earlier than us at that point but, more importantly, throughout 2008 we put a lot of resource on it very early. We put most of the aerodynamic resource on it at an early part of the season, which affected our '08 progress significantly.
"But it was a decision at the board level of the company that that was the best way to try to bridge the gap to the front. We'll see whether it pays off or not."
It's no secret that in recent years the Williams aero department has not always got it right, so the rule changes at least gave a chance for the team to go back to basics and address the dramatic new requirements.
"The aero changes are something that the Overtaking Working Group did with some studies at FOMTEC. Whether they achieve the full objective of more overtaking, I don't know yet. It's going to require a combination of different things to achieve it.

"But it's just been very interesting developing the car around a very different set of rules. Initially when I saw the rules I thought it was quite restrictive. And it was, compared with what you had before. But all it really did was shift you to different regions. There are lots of 'boxes' where you can't put things, but within that set of rules, there are still lots of little challenges. If anything, it's much more challenging, because you don't have the same space to work in to try to achieve the same objectives."
Michael says he was happy to see an end to flip-ups, winglets and other bolt-on extras that have spread like a plague in recent seasons.
"I don't mind if all that stuff goes. We supported banning all that stuff even before OWG was formed."
Not least because the massive windtunnel time required for such details: "That's right. And on top of that you've also got the cost of all the small parts that production are making, and which you're changing all the time. It also helps the sponsors a lot because it tidies the cars up. Even just not having a flip-up in front of the rear completely opens all the tail up for stickers!"
Williams were the first team to give us a clue as to what the 2009 cars would look like when they ran an interim model at the end of last season. Michael says that we will get used to the lopsided appearance.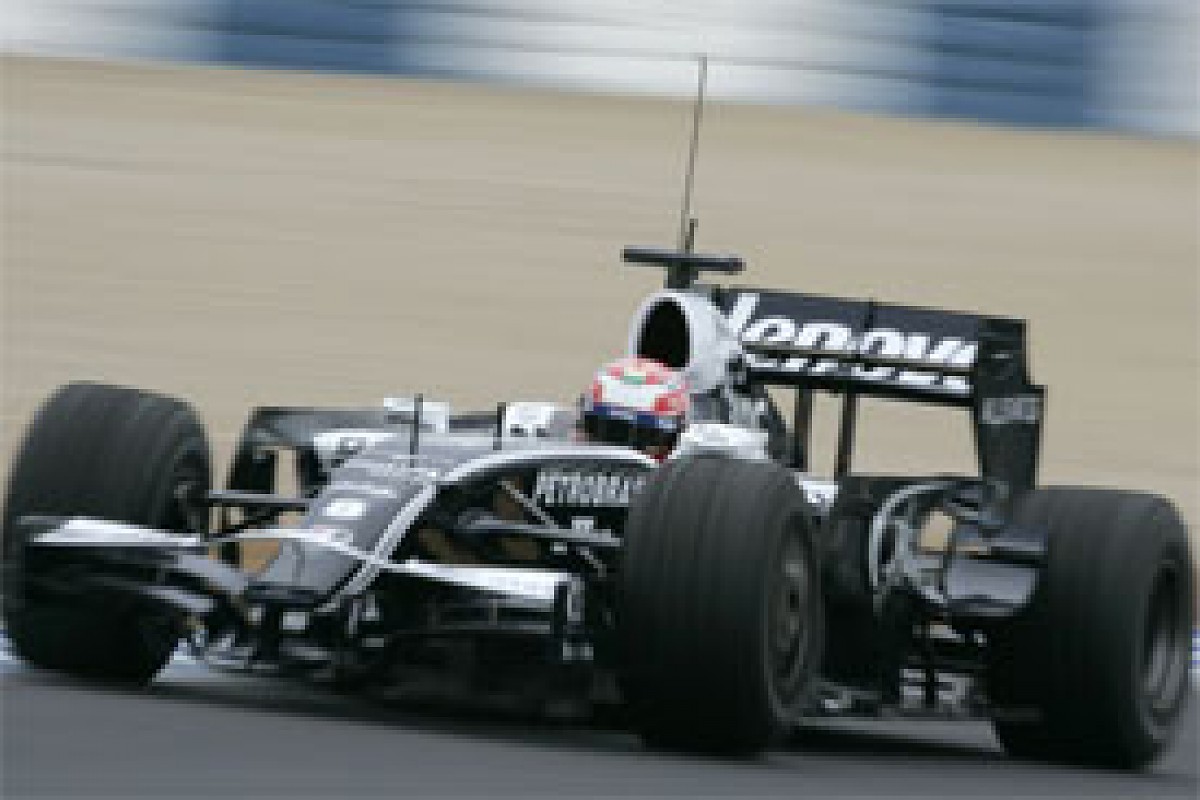 Kazuki Nakajima tests an interim Williams at Jerez last season © LAT
"The interim cars were chopped up old cars, so they were never going to look as good as developed cars. I think they look okay now. When you first see them you think how small the rear wing is and how big the front wing is, but once they start to integrate, people won't notice. We will get used to that very quickly."
Williams were quick to embrace Kinetic Energy Recovery Systems (KERS) as a possible opportunity to find a competitive edge. It was introduced to give the manufacturers something worthwhile to spend their money on, but it also represents an ideal challenge for an independent team that used to be at the vanguard of technical advances such as active suspension. As Michael confirms, many of the guys who pursued those developments are still employed at Grove. And Patrick Head is not a bad guy to have around when you're brainstorming.
"There are a lot of new people obviously as well, but a lot of the people that were around in those days are still here.
"When KERS was announced the main thing we thought was that it was a very good thing for F1 to be doing. It's so competitive, and there's no better way of finding out which technology is the best. Having a technology race in F1 with KERS, in a couple of years, or probably even sooner, means you can work out which is best - whether it's flywheels or capacitors or batteries or a combination. You won't find it out in the road car industry, because they don't have that same level of competition.
"Our primary route is the flywheel. We have a battery system as well, in case it takes us too long to get going with the flywheel or whatever, or in case it's better. We purposely kept a toe in all the waters, really. We're still running R&D programmes on both systems.
"The advantage of a battery is probably packaging, because it's easier to package than a flywheel. You have a lot of environmental and cost advantages with a flywheel, because you don't have to throw it away every race, and it doesn't degrade and have an environmental cost. Performance wise they are pretty similar."
The deciding factor is obvious: "It'll come down to reliability: whether or not we can get a system reliable."
Sam believes that KERS will potentially spice up the racing.
"I think it will have a bigger effect than the aero. If you have two or three straights, you might come out and dummy the guy ahead and he'll think, 'Has he pressed the button or not? I'll press mine to protect myself'. He'll get away from you, find out you haven't pressed it, and then on the next straight you'll take him.
"Eighty bhp is going to give you about 8km/h at the end of a straight where you get to say 250-300. So even if you're not overtaking someone, you'll still be pressing it."
The other major change this year is of course the return to slick tyres. There are many engineers involved in F1 who arrived after 1997 and thus have never worked with them, but Michael did his apprenticeship with Lotus and Jordan in the last slicks era.
"Optimising the car layout for slicks means making sure the wheels are in the right position, making sure you have the right weight distribution and the right suspension geometry. That gets you pretty much there. I'm not saying you can't get it wrong or that we got it perfectly right, but it's been much harder to do the aero development."
Designing the car around slicks is one thing, operating it successfully at the track is another. So is pre-'97 slick knowledge still relevant?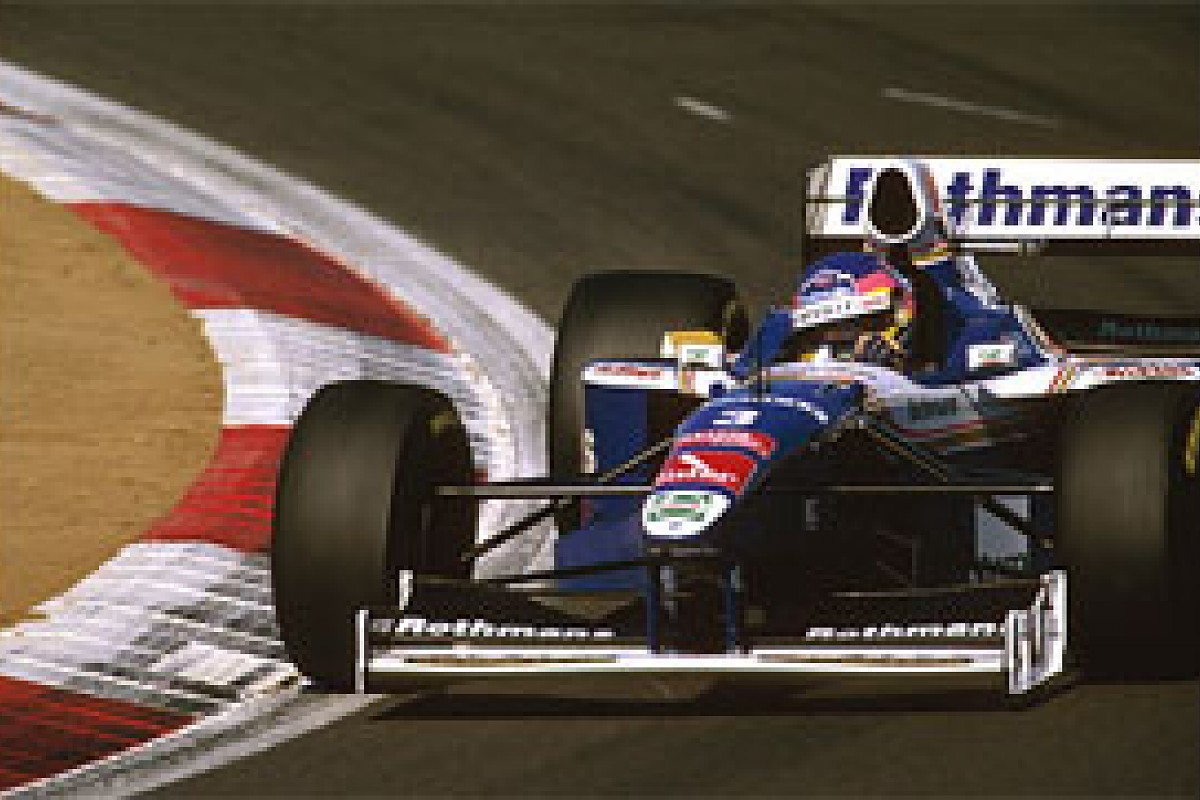 Jacques Villeneuve racing a Williams-Renault on slicks during the 1997 Luxembourg Grand Prix at the Nurburgring © LAT
"It is actually. There are bits and pieces in the way they perform and the stability that they bring that is different to a groove. The thing it affects the most is the warm-up of the tyre, because the working range is tuned around those hot tracks. So on cold days, particularly when it's low grip, it's very difficult to get the tyre into the window straight away. We saw the effects of that in November testing. But I don't think it will be as bad in the races."
As an engineer, Sam would naturally like to see more testing. But in his role as a senior manager of Williams the company, he fully supports any effective cost cutting measures.
"It's to save money and everyone supported it in the interests of driving down the costs of the sport. One way of doing that quickly and achieving the engine numbers that we've got for everyone was to ban in-season testing."
He says the move to having eight engines a season, carefully managing their use with less risk of a driver picking up a penalty, is a good one.
"I think it's a very good thing, because ultimately we don't want people having blown engines and that upsetting the championship. And it's got the same cost saving, because ultimately the thing that's costing you money is consuming engines. If you say you can't use more than eight engines, that's no different from saying three races.
"It's a very good rule and it's allowed the manufacturers to quickly increase the mileage of the engine. Without having that it would have been very difficult to increase the mileage in the short term. I think it will be much better and cheaper as well. For example, most likely in Melbourne you'd run the same engine all weekend, and then that engine would become the Friday engine in Malaysia and for as long as you dare risk it. I think out of your eight engines, one will do one race, five will do two races, and two have to three races."
In the end the most significant rule changes affecting the team may well be those that address costs rather than overtaking. Several names were missing from the FW31 at its launch, and while other sponsors have invested more than previously, and new deals may yet be announced, there can be no denying that Williams has faced particularly tough economic challenges of late.
It might still be a far cry from 1969, but this era of low-cost F1 is being ushered in at just the right time for Sir Frank and his men. And, ultimately, it really could allow the team to move up the grid.