Next week we shall know a little more about how the 2009 F1 cars compare, but even then things will be a little bit grey as Ferrari, BMW and Toyota will be in Bahrain, and everyone else will be at Jerez.
Only when all the top teams get together, with packages that more closely resemble what they will run in the first race, will we have a clearer picture. The intriguing aspect of this year's massive rules changes is what effect - if any - it will have on the status quo.
One of the big question marks concerns Toyota. At the end of last year, the red and white cars were generally solidly in the top eight - Jarno Trulli even started second in Brazil - and the gap to the pacesetters was slim. After seven years, it seemed that the team were finally in a position to move forward, if they could take that extra step.
We'll never know what might have happened had the rules remained stable and everyone continued to search for those incremental gains. Would that situation have favoured Toyota, at last ticking all the boxes after so many years of trying? Or does the real situation, a massive package of rules changes that has forced everyone to start fresh, give Toyota (and indeed such as Williams, Red Bull and Renault) a chance to make a leap forward?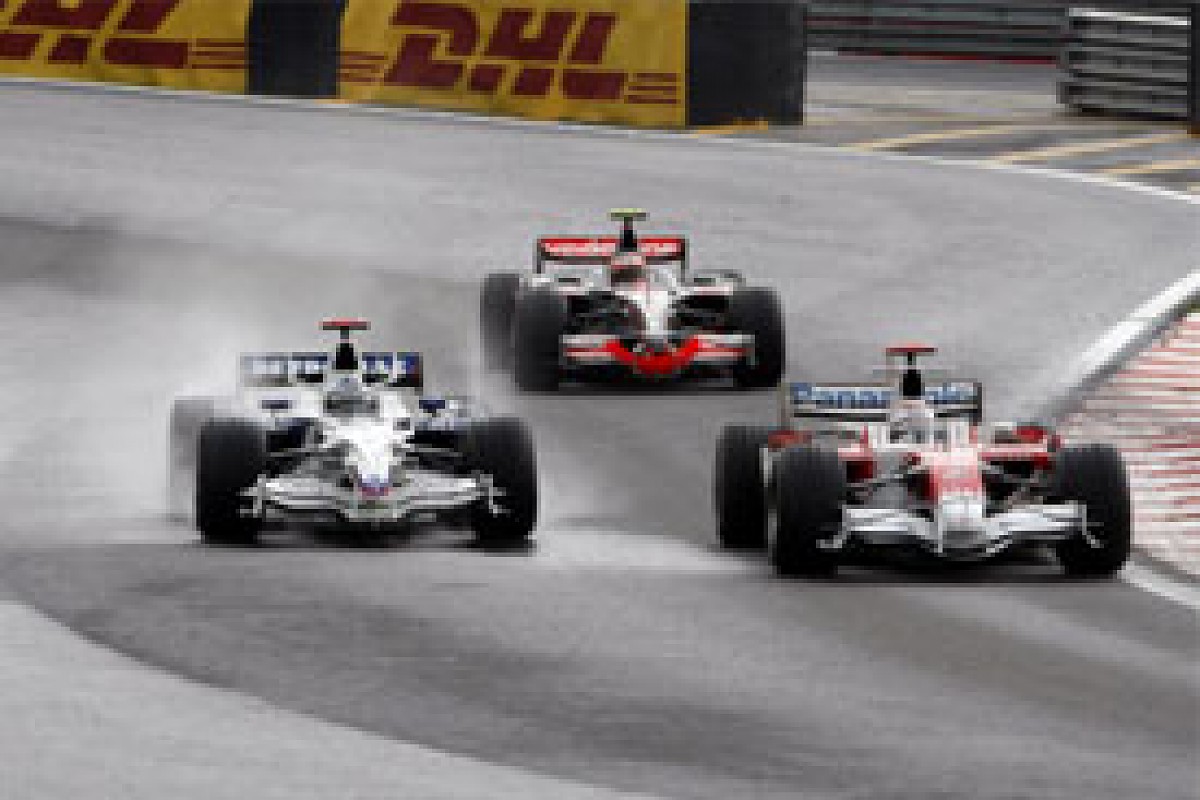 Jarno Trulli races with Nick Heidfeld and Heikki Kovalainen in Brazil © LAT
"It's true that with the previous regulations we had been playing catch up," admits Toyota's chassis technical boss Pascal Vasselon. "Because all the other teams had started earlier. At the end of last year yes, we were very close to the pace of the top teams.
"So on the one hand it was a shame to stop with this set of regulations, but on the other hand, clearly we see it as a mark that we are there, and we have even better reasons to be competitive with a new set of regulations. Because now we are starting from a white sheet of paper like the others, we are not catching up."
He says that getting everything in place for 2009 has been a huge challenge.
"It has been extremely difficult to get prepared for this season. Difficult, but extremely interesting. The reason why it's difficult is that we have changed at the same time the two major performance factors in F1, aero and tyres.
"We have to restart everything, relearn everything in terms of these items. We have new aero, much less downforce, new tyres with a totally different working range, so we have to combine that and see where it goes. It's extremely difficult, especially to anticipate what will be the working window of the car.
"When you have a huge regulation change like that, you have to start early, simply because it's a big change, you have to learn about it, and you have almost nothing to learn from the current car.
"For example, between 2007 and 2008 we were waiting for the 2007 car to race before starting to design the new aero concept. This time we had almost nothing to learn from the 2008 season, so all the conditions were there to favour an early start.
"And from our side we started a lot earlier than usual, in fact the end of October 2007 for the 2009 car - immediately when we got the first draft of the regulations."
Vasselon was keen to see what everybody else has done and he seemed pretty confident after seeing the McLaren, Renault and Williams in the flesh at the Portimao test, and others via photographs.
"It's already visible that our car looks to be well developed compared to the other cars that we've seen so far. It's quite obvious that some of the cars we have seen lack a little bit of development, I would say..."
That's a specific reference to the aerodynamic concepts taken by rivals, or at least his interpretation of what they appear to have done. He admits that the rules have not exactly led to designs with a great deal of aesthetic appeal.
"For sure we've seen a few ugly things in the pitlane. But it's not easy, especially when you want to accommodate the KERS. You have to give some space for the device itself, and its cooling, so in terms of packaging it's a difficult exercise.
"We were expecting to see different solutions, but on the other hand the regulations are more constrained, so you have fewer areas where you are free to develop. So all in all. the cars we see at the moment are quite different, especially the treatment of the nose, of the front wing endplates.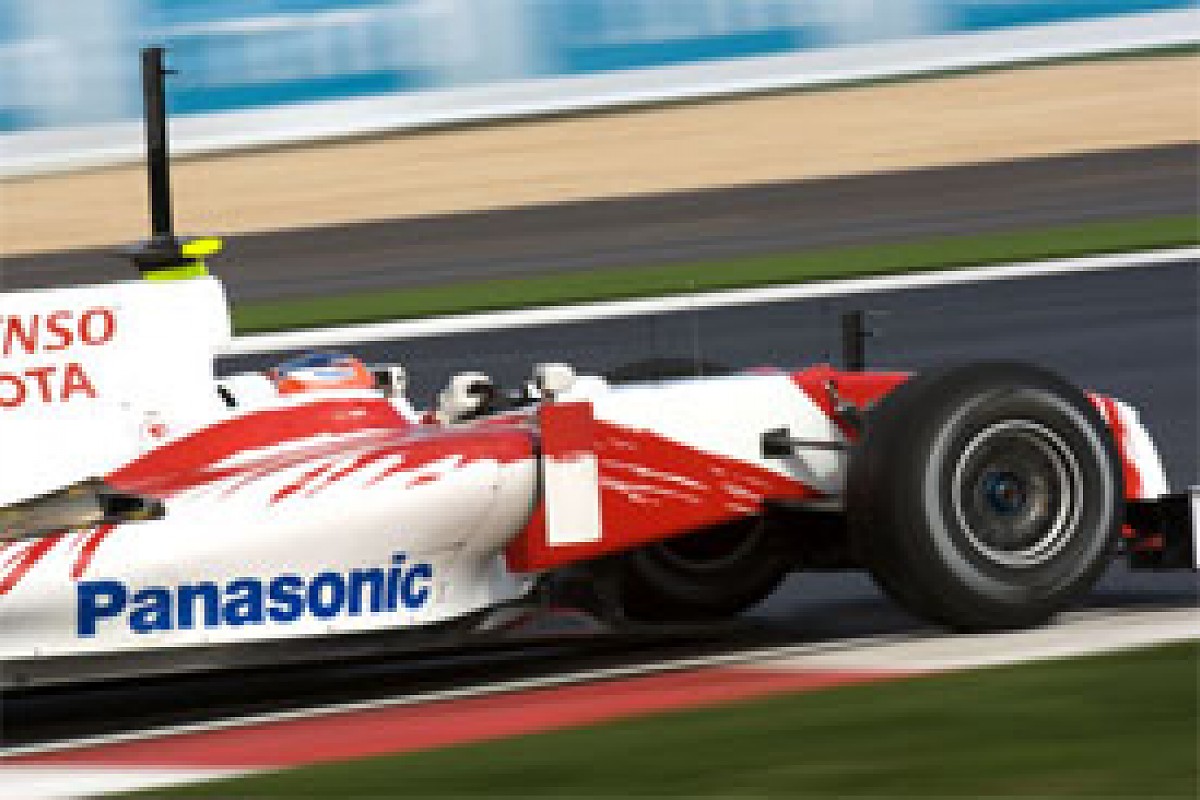 Timo Glock testing the TF109 in Algarve © LAT
"The sidepod inlets follow the same family as just before the regulation change and still we see a large undercut. The rest of the bodywork is completely different because of the cooling regulations, and the different constructors have a different interpretation of the rear end of the car."
Indeed, the diffuser of the Toyota has caused some consternation among rivals, who had an alternative view of what that part of the car should look like.
One of the main targets of every team is to claw back some of the downforce lost over the winter, but it's not going to be easy.
"You have less possibility to put devices on, but still at the moment I would say the progression gradient has been quite steep, from a much lower starting point. I'm curious to see where we end up in one year."
Toyota are already pretty confident about the effectiveness of their adjustable front wing.
"We have been running it since before Christmas and the drivers love to play with it. It works well and it's a very efficient set-up tool. As soon as you make a change the driver can within half a lap change the aero balance to improve the global set-up.
"You have to select carefully what you use it for. One of the solutions would be to compensate for a balance change between high speed and low speed. In testing we use it in a different way; we use it just to balance the car quicker. When you do a weight distribution change, previously we were forced to anticipate by simulation what the aero balance then had to be. If it was wrong, we had to stop the car and to restart.
"Now if we are slightly wrong with the aero balance the driver can adjust it during a lap. So we don't lose a run. We save runs because we don't have to pit the car to adjust the aero balance, so all in all, it makes the set up process faster."
Pascal says that we still don't know if the Overtaking Working Group's ideas will really work.
"It's a little bit early to conclude on the efficiency of the regulations to facilitate overtaking. At the moment, after almost only wet running it's difficult to draw any conclusions. We need some more dry running to have a clearer view of the character in terms of car behaviour, and car dynamics."
Toyota have not exactly been a vocal support of KERS, which is surprising perhaps given that the manufacturer has invested so much in alternative technologies.
Nevertheless, with their underemployed and very strong engine department contributing, the race team seems to be further down the KERS route than some others.
"We tested our KERS in Portugal," says Vasselon. "It was a little bit disrupting for the test itself, because we had to do a lot of function tests, but globally it worked very, very well. We're very pleased with what we have achieved.
"It does what it is expected to do - when you push the button it boosts. So it works. It's clearly a device which is difficult to integrate into F1, and still it's difficult to extract some net performance benefit."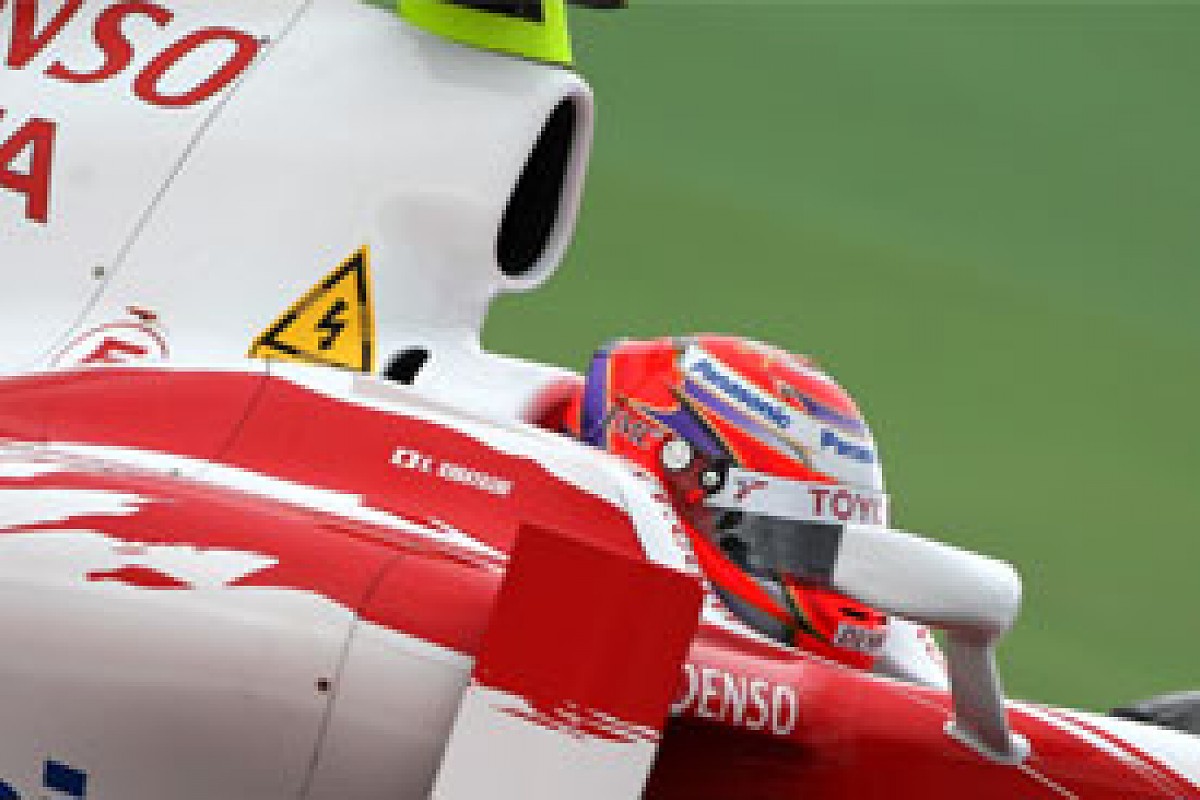 Kamui Kobayashi tests KERS for the first time in Algarve © XPB
Unlike some teams, Toyota chose not run KERS on track before Christmas. Vasselon says he has no regrets about that decision.
"We're quite happy at the moment with our schedule because we have been working a lot on test benches, and we plan to still work flat out on that. The track test went very smoothly, so we do not feel that we lacked testing at the end of last year. We are working according to plan.
"In terms of packaging, we are quite happy about the solution we have been running, because it's not an intrusive packaging, I would say."
Like everyone else, Toyota have put a lot of effort into addressing the weight problems that KERS introduces.
"The weight needed for the KERS cannot be used anywhere else, so for sure it has an impact on weight distribution. It's one of the parameters we have to weigh in terms of performance to decide if there's a chance to have a net performance benefit or not. It definitely changes the centre of gravity position, both in terms of height - a KERS will have a higher centre of gravity than a non-KERS car - and in terms of position. The possible window in terms of weight distribution is changed by the KERS, and is moved rearwards.
"The weight of the KERS has to be in the middle of the car, so it means that you cannot use any more ballast in the front wing for example, as most of the teams do. So for sure it moves the weight distribution rearward."
Teams will consider the likely benefits of using KERS on a race-by-race basis.
"It's clear from simulation that some circuits are more favourable to the KERS, and some others you don't even think about putting the KERS. Basically one of the conditions to have a good use of KERS is to have slow speed traction events, and long straights. That's where you maximise the benefit of the KERS. And as well what we saw in Portugal was that wet conditions are not favourable to KERS. You hardly can use the extra boost and braking is more difficult."
In theory, for those races where teams know they won't need to run KERS, they will build the cars without the system fitted, and with a better optimised weight distribution. But KERS is not something you can unplug and put back on the truck once the weekend has started.
"We would prefer to stick to the option where we have decided before. It will be extremely difficult to change from one option to another in the course of a weekend. I think we will have to commit to one or the other. Of course, you have an intermediate situation possible, but we would prefer to stick to one option."
After his years with Michelin, Vasselon is a tyre specialist and his input will certainly help Toyota adapt to the new world of slicks. He says that the change is not as dramatic as some have indicated.
"At the moment, in terms of slicks and the downforce representative for 2009, we only really have experience from Bahrain [in December], with very good weather conditions. It was no problem, the tyres were in the right window, working quite well, no major balance issue, no major degradation issues.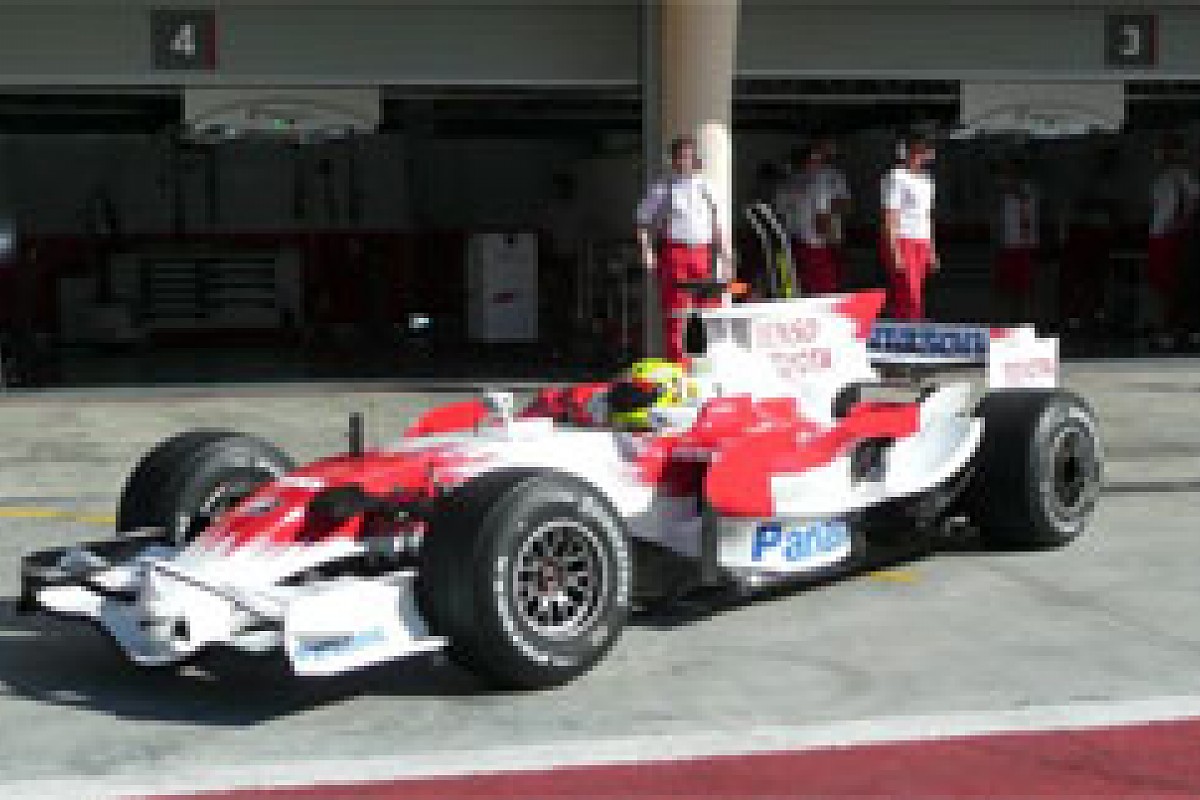 Henkie Waldschmidt testing in Bahrain in December © Toyota
"It will of course depend on the characteristics of the car and the setup. The result we got in Bahrain doesn't give us any major concern in terms of capability to achieve a correct balance and to have degradation under control.
"We have already seen a few interesting things. In the dry, the extra grip of the slicks compensates for the downforce loss, and the performance of the 2009 car may not be too far away from 2008. In the wet, we are using exactly the same tyres, so we see directly the loss of downforce."
Vasselon certainly seems bullish right now, but then so does every technical chief at this time of year. So how does he sum up the team's prospects?

"At the moment we can just wait and see. We are trying to do our best in all areas, and we can just wait and see what the level of competition is. For sure we have high expectations. Anything can happen, but that's what makes racing interesting."