After what seemed like an endless winter break the past week has been busy, with cars being launched and tested all over Europe. First was the McLaren launch in Woking, then to Portugal where Renault and Willams unveiled their cars, and both the MP4-24 and the new Toyota ran for the first time.
There was much to see and even more to talk about, and I came back from the Algarve convinced that one way or another, this is going to be an unpredictable and intriguing season.
But all the chat about new cars, KERS, slicks and aero changes has been overshadowed by the news that Ron Dennis is to hand over the reins of his team to Martin Whitmarsh, or more specifically, relinquish his role of team principal. More interesting was the way the announcement came, slipped into an answer towards the end of a press conference, as if Ron was telling us where he was going for his holidays this summer. Blink and you missed it.
Team principal is a job title which, a bit a like that of technical director, has different meanings in different organisations. There is an accepted official definition within the sport that goes back to the days of FOCA, in that the team principal is the guy designated to represent his team and vote on FOM and FIA matters.
This year Vijay Mallya takes on that role at Force India, but the team owner won't be sitting behind a desk at Silverstone five days a week, and obviously his real input is very different from that of hands-on managers like Christian Horner. Equally, as a salaried employee the Red Bull man can't be compared to Dennis, who built up the company to what it is today over some 28 years, and retains a 15 per cent shareholding.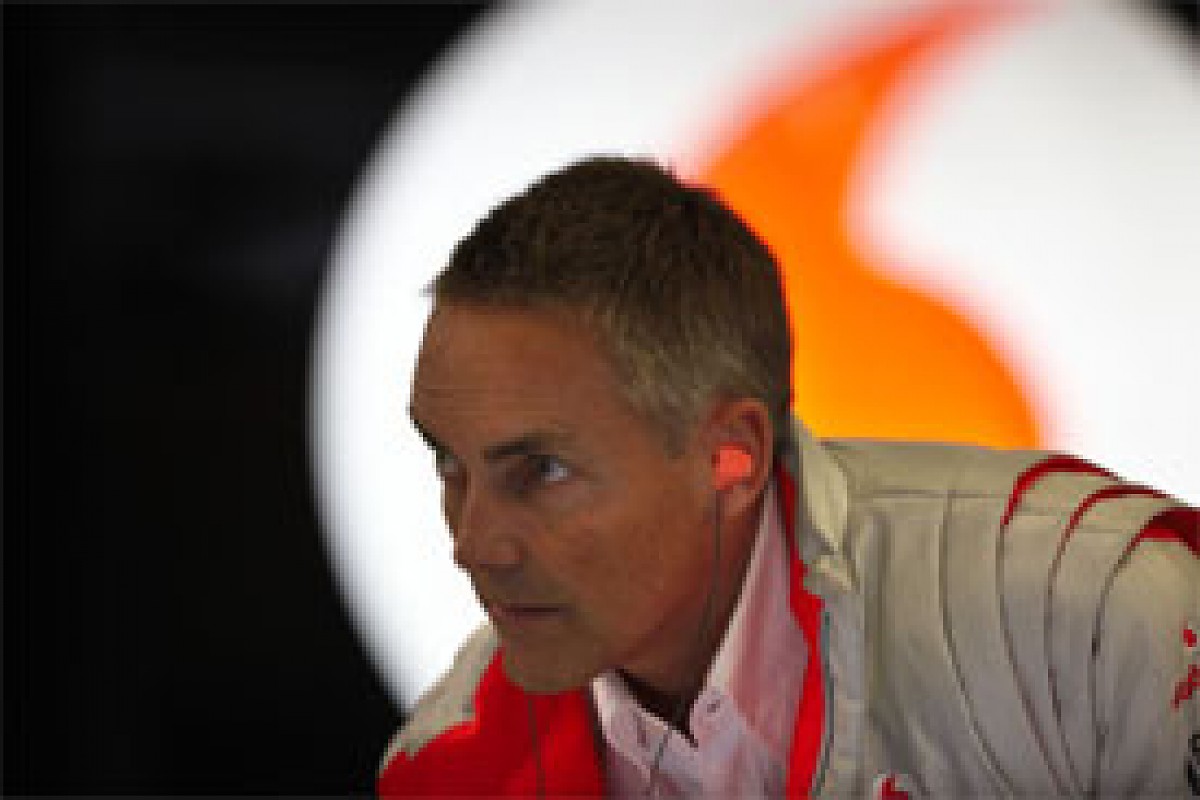 Martin Whitmarsh © LAT
Ron said many years ago that he didn't feature on McLaren Racing's organogram, a phrase that had us reaching for our dictionaries. What he meant was that, in effect, the company could operate without him, so well structured was it.
Whitmarsh's role has clearly become more important over the years, but for outsiders it's impossible to know exactly how responsibilities were (or indeed will be) split with Dennis. They key thing, perhaps, is that Ron indicates he won't be coming to all the races, simply because the busy calendar makes it impossible to do what he really wants to do, which is focus on other things.
When he does turn up at a circuit, it's hard to imagine that he'll take a step back. Whatever his greater role within the company, the thing that really makes him tick is being on the pit wall on Sunday afternoons. While McLaren have armies of engineers and strategists, both at the circuit and back in Woking, Ron has always been right in the thick of things - usually focussed on the race of one particular driver, be it Mika Hakkinen, Kimi Raikkonen or Lewis Hamilton.
He'll still be seen on the pit wall of course - after all his fellow McLaren shareholder Mansour Ojjeh has a seat there when he shows up - and it's hard to imagine that Ron won't be just as involved as before once a race is underway. It's in his blood.
And yet he insists that this is not a case of 'badge engineering', and that he really is going to let Whitmarsh run the show. Shortly after the announcement, he elaborated on what it really means.
"Clearly the primary task of the team principal is to take the final decision during the racing event," he explained. "That now becomes Martin's responsibility. But I will be there, I hope he'll give me an opportunity to have an opinion - but it will be an opinion, he will ultimately take the decision.
"I think the one thing that's important to grasp when looking at this decision, which I've taken on my own with no pressure form anybody, is it's really allowing me to work harder on other things. It should not be an indication of me retiring, very much the opposite.
"I have, with Martin, very strong views on how we want to grow this group. History has shown that if you stay solely and exclusively an F1 team, you are ultimately going to fail. History shows that. We have for many years broadened the base of this organisation and now it's completely appropriate, based on the extensive experience that we have between us - he's been with the company for 20 years - the timing is right. We had a successful season last year and I think we're going to have a very successful season this year. The time is right.
"It's about where we are going forward, it certainly isn't about my retirement. It isn't retirement. I am going to work harder and I am going to put my efforts into other areas with a view to growing the group. My role is full executive chairman, I have many other responsibilities as CEO and my intention is to grow this group in a difficult economic time.
What better time for me to be applying my efforts than when the company needs to have an even firmer pair of hands on the wheel, faced with steering this organisation, like all organisations in the world, through these difficult times."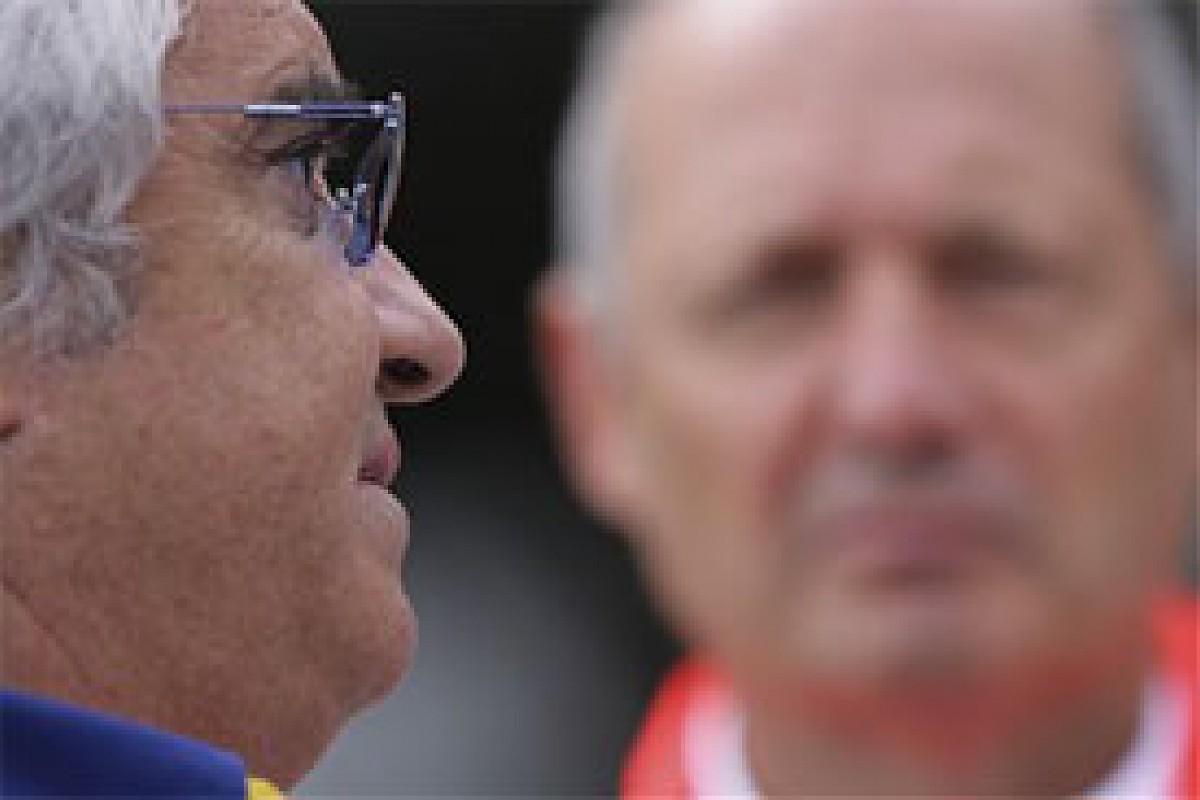 Flavio Briatore and Ron Dennis © LAT
It's a good point. One step removed from the daily grind of getting two cars on the grid once a fortnight, Dennis can take a longer-term view of the future of the company, and the sport as a whole. Not that he wasn't able to do that before, but now he'll be able to channel even more of his energies into the big picture.
Dennis is a great supporter of FOTA, and it was interesting this week to hear Flavio Briatore praise McLaren for their willingness to support the greater cause, even if it meant making sacrifices.
"The teams have been working for six months to consolidate themselves into a focussed organisation, with the right principles and the right statutes," said Ron. "At the end of the day we are now bound together with a common objective. We want to make F1 better. It's not just about cost reduction, it's understanding the future of F1, it's understanding how we can make F1 better and it's how we can increase the income.
"All of these things are being systematically looked at with the right time frame, with the right people involved and then careful consideration being given to the decisions. When the decisions are taken, they are taken in the short term, meaning the future year, unanimously, and in the long term against a 70 per cent vote. So we have, and you could probably argue it's sooner rather than later - it should have been done sooner, but the reality is, we have now reacted.
"Maybe this difficult period for F1 has brought the teams together and got them more focussed on the future of F1, and not just on their own personal futures. We've taken some huge steps to help the smaller teams in this difficult economic climate, but they are steps that are continuously going to be taken. We haven't stopped, we're going to continue to reduce costs, we're going to continue to try and increase income, and more importantly we are now going to turn our attention to making F1 better.
"But it will be made better only as a result of extensive research, which is what the teams have financed. That report will be with us within the next few days, we will look carefully at its findings and then we will take what we think are appropriate steps in conjunction with the FOM and the FIA, supported by hard data. Constructive steps to make F1 better, those are our objectives."
It's unfortunate that the economic crisis has coincided with a major package of rules changes that, by definition, has been very expensive for the teams. On the other hand, in large part they were designed to either improve the show or, in the case of KERS, help make the sport more PC.
"The reality is they are the most wide sweeping the sport has seen probably in 15 years. They are technically challenging, they provide an obvious opportunity for one team to get a technical advantage, or some people feel maybe that it's a levelling of the playing field for all of the teams. I tend to disagree with that. I think people are expecting to see a more even grand prix field and I don't think that's going to be the case. The teams that have the depth, the research capabilities and are able to apply science and technologies to the challenge, they will come out with an advantage.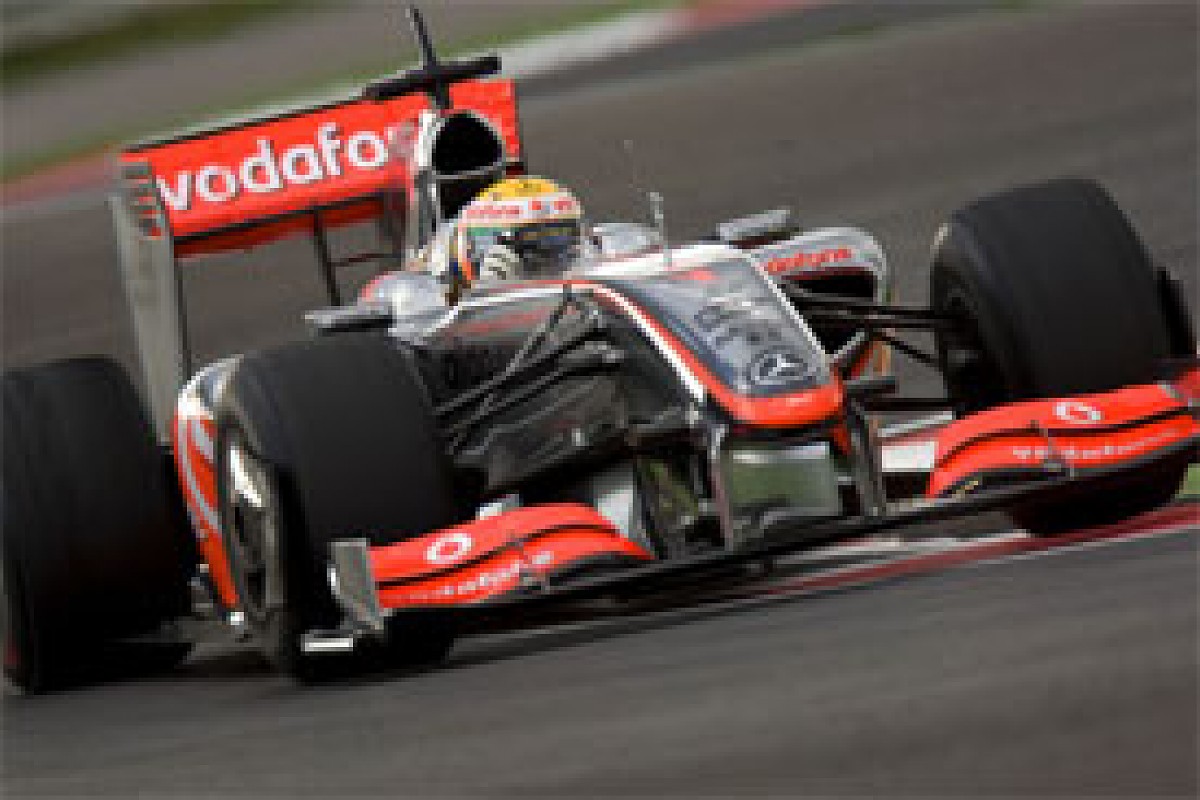 Lewis Hamilton testing the McLaren MP4-24 Mercedes in Portugal © LAT
"But I think it will be a good season, an exciting season, and I think all of the changes should deliver what they are meant to deliver. People tend to forget that a lot of the things we changed are designed to make the cars overtake each other. This is to try to understand the issues of aerodynamic influence on cars that are following. Time will tell if the research that was conducted, a lot of it by McLaren actually, has contributed to that objective. But at the end of the day, we're trying to make the sport better at every opportunity."
No team boss, technical director or driver can really predict how things will unfold this year. McLaren's testing in Portimao earlier this week was spoiled by rain, while Ferrari and BMW were elsewhere. In any case, everyone is still at the start of a steep learning curve and the cars will be quite different by Australia. However, Dennis is confident that McLaren have done their homework.
"I think the stronger you are as a team, the more equipped you are to react to these changes. But there are several teams that are strong and have extensive resources. That's the fascination of the technology of the sport, who can adapt quickly and who can cope with these regulations most effectively. Only time will tell whether we've got it right. It still will be close racing and it's highly unlikely that anyone's going to dominate.
"When you have three or four significant changes to the rules, then it's a question of how you integrate those changes. So the concept of the car is the challenge, it's the concept of the car that you have to get right. There are many ways that you can develop out of a problem, but if the concept is wrong, then you really have to throw away the car and start again.
"Conceptually, we're very comfortable that we've got it right. We've got some, we think, impressive figures from various tools that allow us to measure performance. And now we have to see if we can bring what we believe to be a very competitive situation to bear on the circuit.
"The main competition will come from the strong teams - obviously Ferrari, perhaps BMW and Renault. These are the teams that traditionally are competitive. I can't remember exactly the statistics, but I think we've competed in something like 640 odd grands prix, we've had one of our drivers on 450 or 460 podiums. It gives you a feeling for the ability of the organisation to be always competitive.
"Sometimes you're first, sometimes you're second. Our objective is always to be first, so you look at these other teams and you see what their results are over a period of time. That allows you to get a feeling for how well they can accommodate the regulations. So those three teams are going to be the most difficult challengers, but there is always the opportunity for a lesser team to hit the sweet spot of a design and be strong. But they tend to be one-year performance animals, they don't have the consistency that the bigger teams have."
On the subject of victories and podiums, Ron says he does not object to Bernie Ecclestone's push for a medal system that rewards race winners.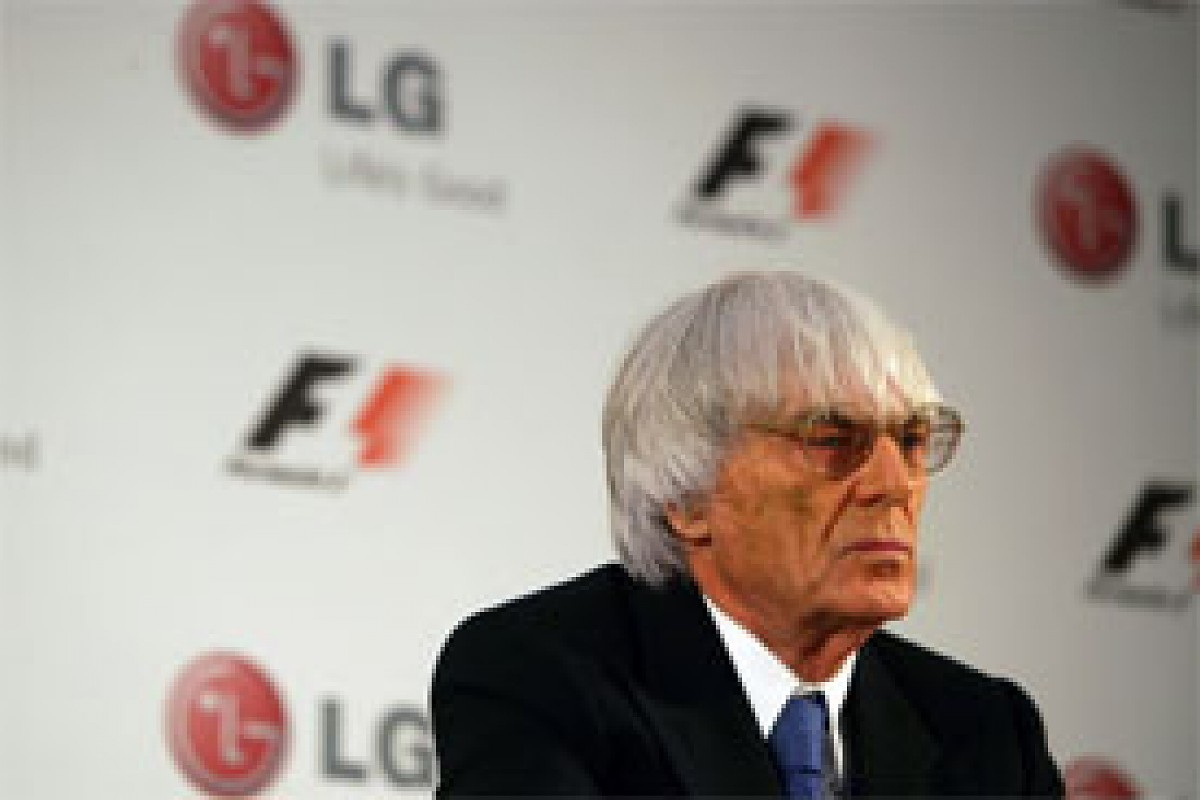 Bernie Ecclestone © LAT
"I have no problem with that change at all, but if that's the exercise then that's what we would have focussed our efforts on last year. You race according to the regulations in place at any one time. Therefore we raced to get the most number of points for Lewis.
"Therefore we went to Brazil clearly knowing that we didn't need to win the race, and if we'd tried to win the race we would have definitely enhanced the risk of not winning the world championship. We fulfilled our objective, we won many, many races last year, we've won many, many races over the years. To say that McLaren isn't a winning organisation focussed on winning races is ridiculous. But that's not the way the regulations were last year. If they change, then we will change our strategy."
So how does he see the 2009 championship unfolding?
"We hope we see it on the basis of McLaren domination! Because that's what we're here to do - win all the races, and that's our objective. But we're under no illusion, we're up against some strong competitors who compete against us, and they will have done a good job as well. Maybe we've got it wrong - I hope not, but time will tell."