The fluffy beard might help to add a few years, but Nick Heidfeld still looks as though he's not long past his teens. And yet this year he not only turns 32, he also celebrates his 10th season as a full-time grand prix driver.
With Rubens Barrichello currently unemployed, only Giancarlo Fisichella and Jarno Trulli have been around longer, and only the two Italian veterans and Mark Webber are older.
"It's strange," he smiles. "It doesn't seem like such a long time. Things go by pretty quickly."
Like the rest of the drivers Heidfeld, will be eager to see how things shape up over the next week or so, as most of the major contenders launch their new cars and undertake their first serious laps.
The new Algarve track is the main destination, but BMW Sauber will be doing their own thing in Valencia, so for a while at least the team will struggle to properly judge where they fit in. But it's not just about instant comparisons, all drivers are keen to discover whether the new cars fit well with their driving style and personal preference.
In 2008, several established names were in the unfortunate situation of being humbled by teammates. Speed and ultimate talent always play a big part, but if you're not happy with the car, or struggle to get the most out of it in qualifying, then things can look worse than they really are. Like Kimi Raikkonen, Heidfeld had problems extracting the most out of his tyres on Saturday afternoons, and his reputation suffered as a result.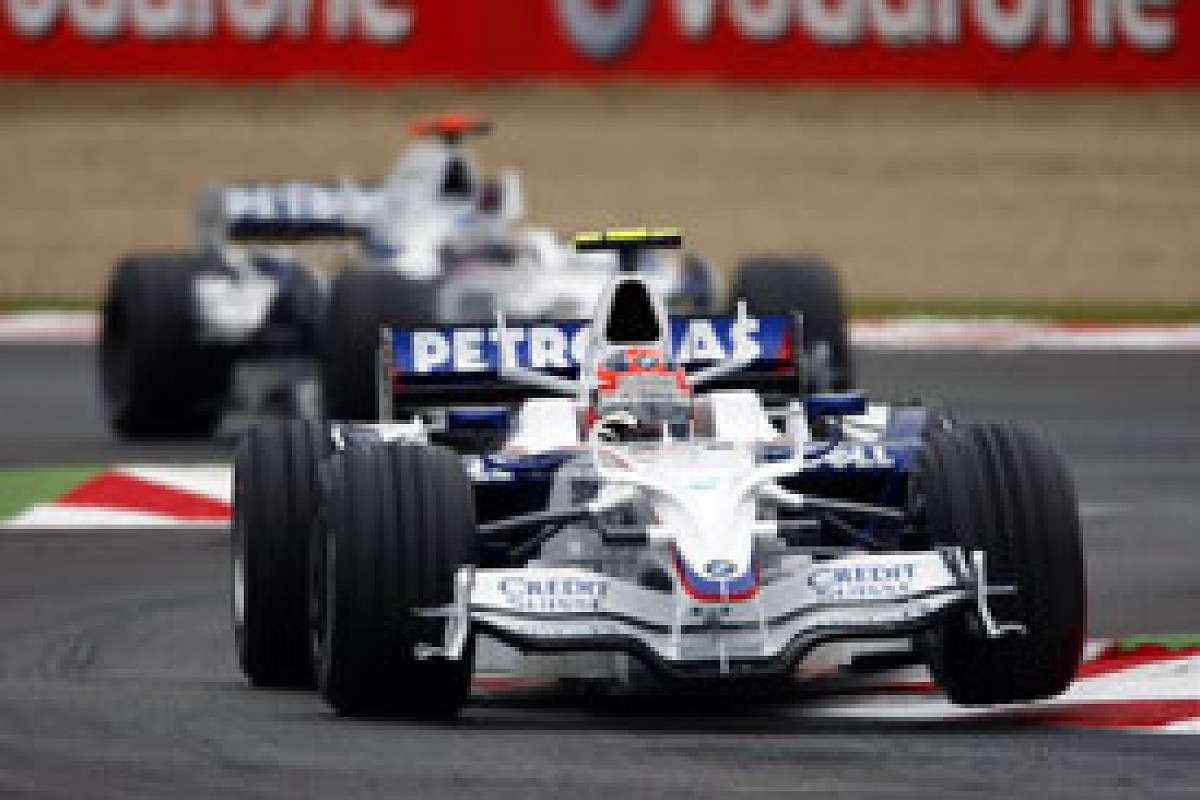 Robert Kubica leads Nick Heidfeld through the chicane at Magny-Cours © LAT
Often he was several rows behind teammate Robert Kubica on the grid, and it didn't look good. For a team that had let Sebastian Vettel and Timo Glock go elsewhere - and was capable of attracting the interest of the likes of Fernando Alonso - the German driver's performances were frustrating, to say the least.
And yet Heidfeld remains in BMW's employ in 2009. That reflects not just the management's faith that, given the right package, Heidfeld can turn things around.
But also the fact that on Sundays Nick often did more than enough to make up the lost ground. In a season with a series of unpredictable races, he brought the white and blue car safely home in second place in Australia, Canada, Britain and Belgium. Not once did he make a mistake that cost him points, and he finished every single race. In the end he amassed 60 points - only 15 less than Raikkonen and Kubica.
Given the potential of the car, it could have been even better - and he didn't suffer the sort of bad luck that afflicted other front runners. But it in the end, points count.
On his own Nick would have finished fifth in the constructors' table, ahead of Toyota! Nevertheless, those qualifying problems have to be addressed in 2009.
"That's the biggest problem I had, my qualifying performance, especially in mid-season," he says. "Luckily my races were good, but obviously with good qualifying I could have finished much higher up. That was disappointing.
"I had some problems in the middle of the season with the tyres, especially affecting qualifying. But on the other hand I had several podium finishes and I was fighting in the championship with Heikki and Kimi, who were not in the worst cars. The first couple of races were ok, so it's not all been negative like I sometimes have the feeling it was looked at from the outside.
"More importantly, what I'm happy about for myself personally is that in the time where I had problems with the tyres and in qualifying I still kept my cool, and maximised the potential I had then. Ok, the potential was not good enough, but I still then drove strong races, I didn't throw the car away, I didn't crash, I didn't do anything stupid. I think that shows with the position in the championship, that it was nowhere near as bad as one might think, looking at the problems I had. So I'm very happy about that.
"Also, I seemed to find my way out of the problems. I changed a couple of things on the car and in my driving, and it was pretty clear that it was improving. That's why I was reasonably happy with a season that, of course, should have gone better. "The biggest part was the warm-up of the tyre and secondly the usage, not only in terms of warm-up. I tried things focussing on qualifying, mainly for heat-up, but found things that also helped me in the race and for general pace."
Of course all that matters is lap time and it's not always easy to convince your engineers that there's a specific reason for your struggles.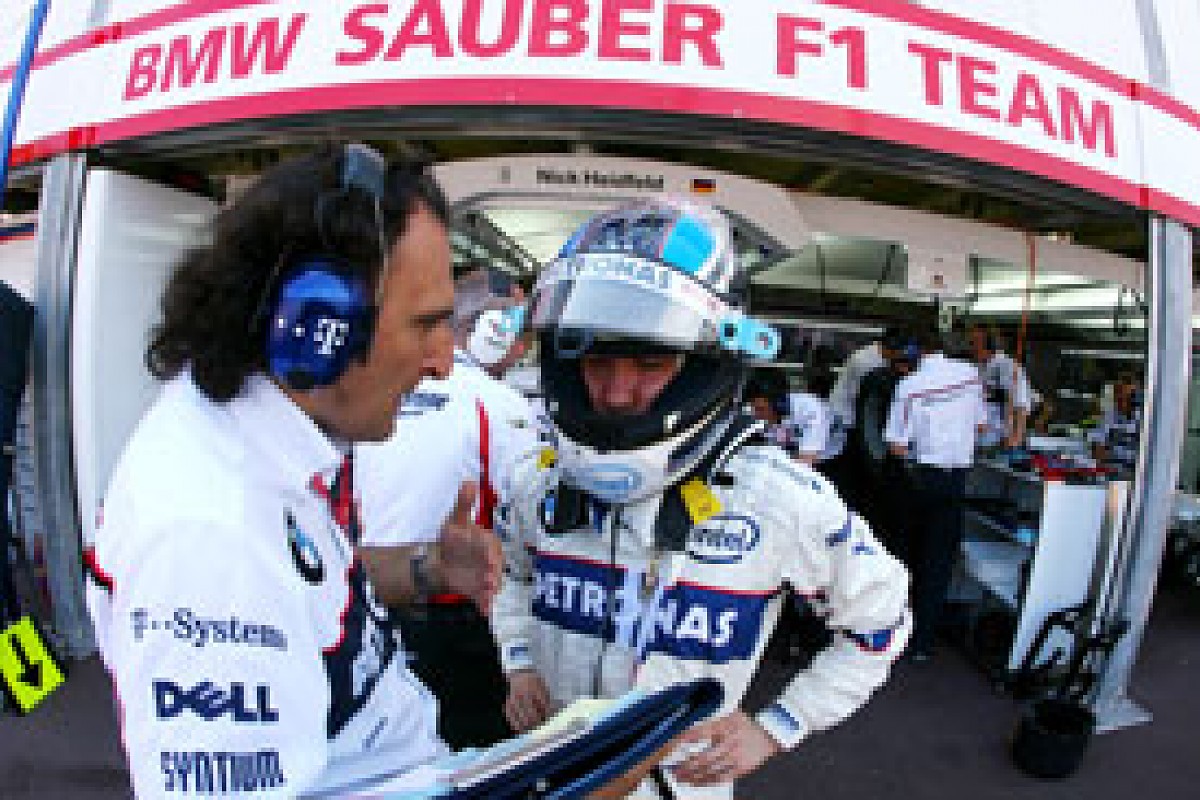 Nick Heidfeld confers with his engineer in Monaco © XPB
"It's easier to do that for me than a newcomer," he insists. "Since I've been in F1 usually I've coped well against my teammates, including Robert. Before that we were together one and a half years and usually I was pretty strong. So I worked also with BMW and Sauber for a long time, and they know what I'm capable of doing normally. They know that it was not normal. For me one side it was not nice, being beaten by your teammate, but on the other side at least I knew what was possible, what I could do, and what I had to work on. That was also a help.
"I think you simply have to look at my career in F1, at the numbers, and maybe especially for 2008 not so much at what was said, because I get the impression that what is said sometimes is that the year was a disaster for me. For me personally it was not anywhere near what I targeted for myself, but if you look at the results, it was still not a disaster, it was still good."
So do we put too much emphasis on qualifying comparisons?
"The most important thing is the points in the end, but qualifying is important normally to achieve that target, and with a better qualifying performance I would have scored more points. That is very clear. But at least as important is your race craft and I think I've shown over the years that I'm pretty good at that. My target and my belief is that I will be good, or close to perfect, in all regards, not only in racing."
With this year's rules changes, including a switch to slicks, it's anyone's guess as to how things will pan out. However, Nick learned last year that initial tests don't always tell the full story.
"The beginning of the season was extreme, actually. Before the new car was out we were very optimistic, we knew the numbers looked nice. Then we drove the car for the first time, and it was really, really bad.
"We were just far too slow, the car was extremely difficult to drive. I've been in F1 for a couple of years now and people in F1 know the rule that once you drive a car, you know what you have. You can't change it.
"Luckily we were able to change it, in not much time that we had before the first race. It was great to see that we made such a big improvement. Some people did think that we were sandbagging, but we were not. At the beginning we were simply extremely slow, and then we never ran low fuel. That was quite an intense time.
"One thing was set-up and I found with the 2008 car it was more difficult to hit the right spot. The window was small. In 2007 you would get to the circuit and you would at least be good. Now you could be out and you needed to find the window. But then we changed something mechanically and aerodynamically. It was not only one thing but a couple of things, and the team worked very well to turn things around very quickly."
In fact, Heidfeld's season got off to a solid start: "After the first couple of races I was second in the championship. Australia was good. There was a safety car phase, but even without that I would have finished third, so I only gained one position. Otherwise it was pretty normal.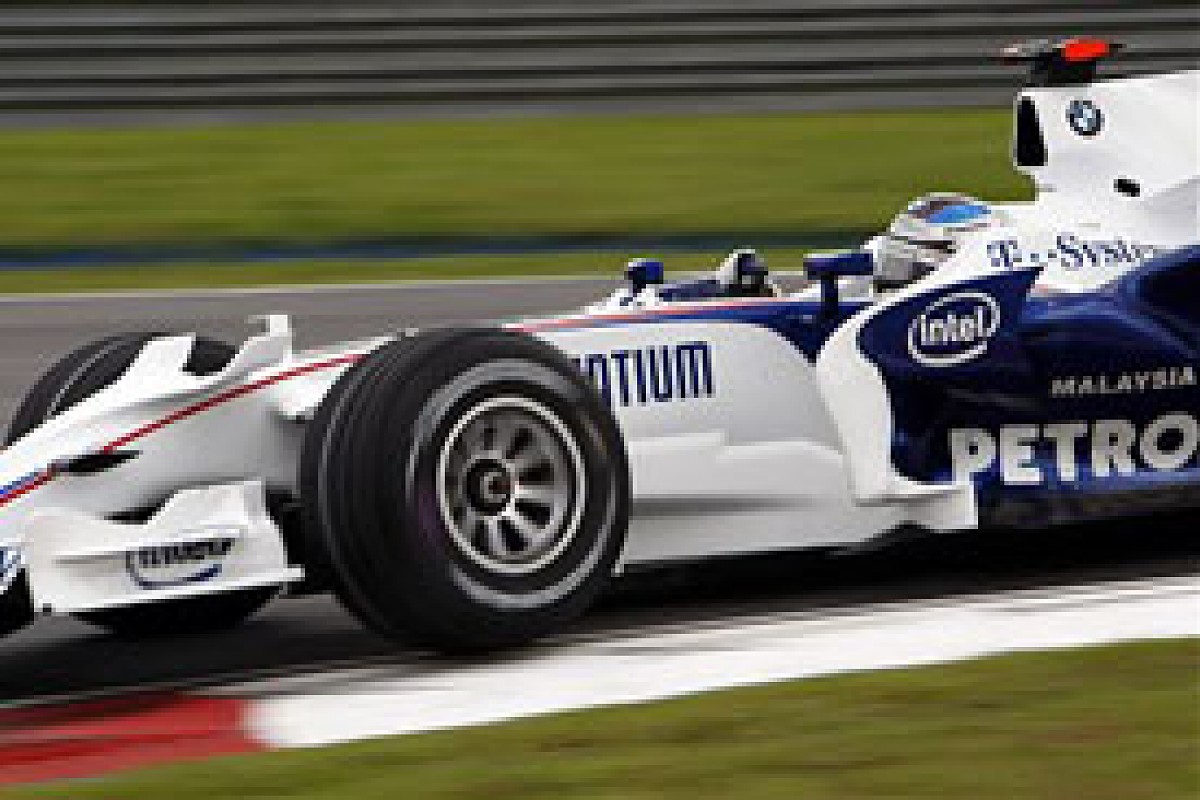 Nick Heidfeld qualifying in Sepang © LAT
"In Malaysia I was not so happy if you remember, I had a lot of cars slowing down on that lap slowing - and after that the regulations were changed to speed up the in-laps for fuel saving. Not that they did it on purpose, but I had the two McLarens in front of me, which I had to zigzag through, and that cost me some positions. I remember it very well, it was so important because I had a relatively low fuel level on board, and if you have that, you pay for it normally in the race.
"You need to start in the front and I could have, but I lost those few tenths that brought me back and made the race very difficult. Still the race was nice, I had my first double overtaking into the last corner - it was Alonso and Coulthard - and I did my first ever quickest lap. That's what I meant earlier, after the first two races everything looked ok."
The second places were the highlights, although at Montreal, where team strategy favoured winner Kubica, it was disappointing.
"Second place in Canada was nice but it was the closest ever, and the only opportunity to date, where I could have won. So obviously I was not happy! I think I had the speed to win. I could have won with the strategy, but in the end it was not bad for the team to have a one-two. It was the best result for the team, but it was a strange day.
"Spa was a special one. It was a bit of a gamble to go to wet tyres and it was my own call to do it. It was a risky call and it just paid off perfectly. After the stop I lost positions and then I just had two laps to go. In the middle of the last lap I made up all the places. I think I would have finished sixth and in the end - with Hamilton's penalty - I finished second. That was just something very nice. It is easy once you are on the right tyres to overtake everybody, but to make that call was the hard thing. What also sticks out is Silverstone for the overtaking, it was good fun again."
The only dramas came in Monaco and at Spa, where Nick was involved in contact, although neither case proved to be terminal.
"In Monaco I was actually in a very good position, I was heavy on fuel, and then Alonso crashed into me. After that my car was shit, I lost all the downforce. I was lucky at Spa, I went to the outside because I thought it was more safe, and then Kovalainen drove into me for whatever reason - maybe somebody else hit him, it can happen. I thought the race might be over. I had minor mistakes during the year, but no big crashes."
So what then of 2009? Last season Kubica made much of the fact that the team's development tailed off as they looked ahead to the challenge of the new season. Not in the fight for the title, Heidfeld was more circumspect.
"I think the development could have been better, but then again it always can. I think the season was good, simply if you look back at where we started. A couple of years ago Sauber were seventh or something in the championship, and we set our targets year by year. BMW had quite high targets. The target for 2008 was to win a grand prix and be in the top three in the championship. And we managed just that.
"If you look at some of the other teams that come to F1, they have the same plan and they're nowhere near. Ok, if you're that close, then you always want more improvement, but realistically I think it's good.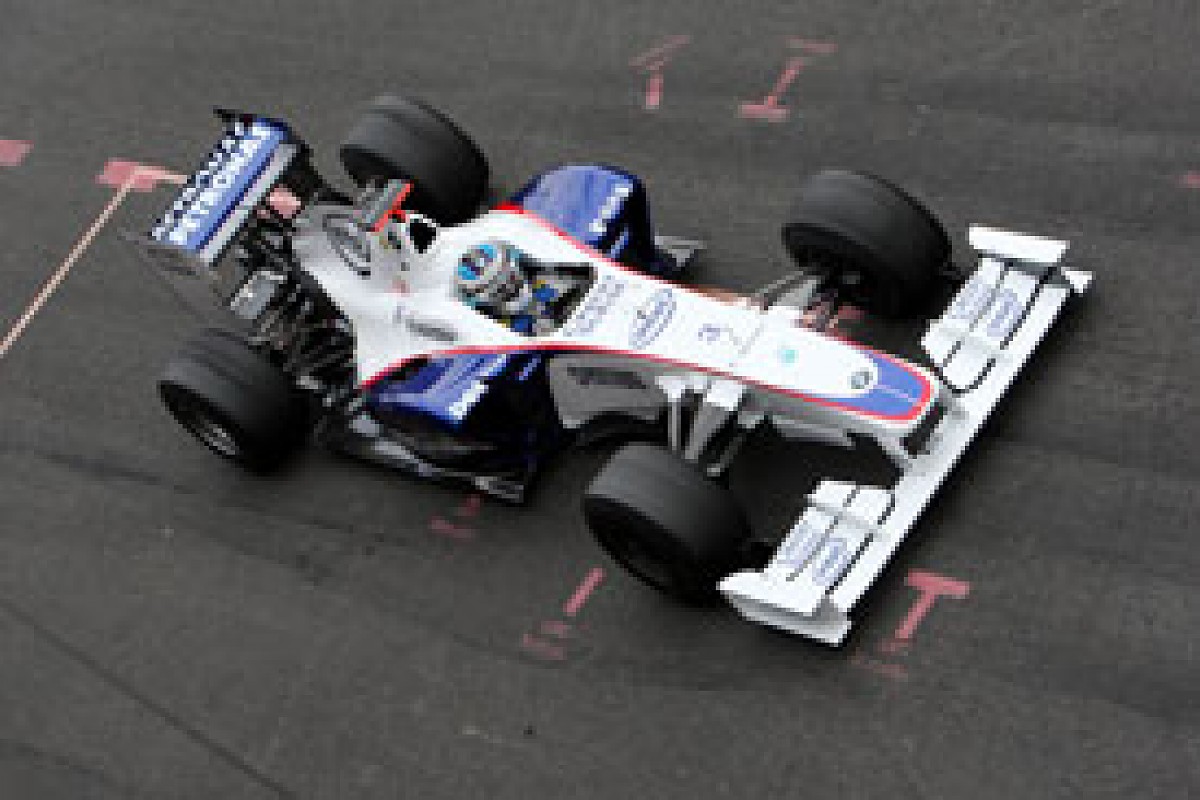 Nick Heidfeld tests a 2009 spec BMW-Sauber © XPB
"Our target for 2009 is to fight for the championship. I think the biggest question mark is that the regulation changes are huge. If we would be on similar regulations, I would be pretty convinced that we would make another nice step towards our target. I hope so, but maybe it's a little bit more unpredictable and more of a gamble."
Nick took his first pole position in his Williams days, and in 2008 twice set fastest lap. However, that maiden victory still eludes him. Wasn't it frustrating to see former BMW teammate Vettel win in only his first full season?
"It's not frustrating at all. That's the wrong word. Of course I would love to win, I want to win. I believe I can win, and I would like to do it yesterday, and not tomorrow. But I'm not frustrated. As I said earlier, the only real chance I had was in Canada, and that was hard. But in all the other years I was in F1 there simply was not the chance."
It's easy to forget now that Nick wasn't much older than Vettel when he first arrived on the scene, with F3 and F3000 success behind him - not to mention the support of Mercedes and McLaren - he was supposed to be the next big thing. Is he still as motivated as he was back then?
"My motivation has not changed, because my motivation is to win the championship. That motivation is still there, I have not done it yet. And I love driving - that's still the case. That's what I'm motivated about.
"It's strange, not only now since I've been in F1 for a while, also in the earlier years I was asked about motivation. I don't get the question. There's never been the slightest problem at all to motivate myself, I never sat anywhere thinking, 'uh, how can I do that, how can I motivate myself?'"
He's certainly more chilled than he was when he started, something that's simply come with the passing years, not to mention being father to a couple of kids.
"I've got more experience, I've grown up more, but I think I'm still the same person. It's easier for other people to say how I've changed. You just change but you don't think about it. It's difficult for me to say. Having two children is definitely the nicest thing that's happened to me in my whole life, and it's a wonderful experience."